Podcast: Play in new window | Download (Duration: 1:02:11 — 85.9MB) | Embed
Subscribe: Google Podcasts | Spotify | Amazon Music | Stitcher | Email | TuneIn | Deezer | RSS | More
Are you looking for the best blogging resources and tools to start or keep your business or blog successful?
Ever wondered what successful bloggers are using to continue being successful year after year?
Do you need to find ways to work smarter rather than harder and still get great results for your blog or business?
If you are one of my regular readers you know that I am always interested in time management and productivity.
The reason for this is that life is too short to spend all your time blogging or in business.
You see many small business owners and bloggers struggle with spending too much time on their blog.
They wonder if there is a way they can complete a task quicker, cheaper and smarter compared to their current scenario.
Truth be told, I am always on the lookout to complete all of my tasks using smarter technology or using a group or tribal approach.
In this post, I will cover over 100 blogging and small business resources that you can use to be a smarter small business owner.
Disclosure: Please note that this post may contain affiliate links. This means that if you buy one of my recommended products I get paid a commission for sharing the link at no additional cost to you.  I only recommend products that I have tried myself and have experienced success.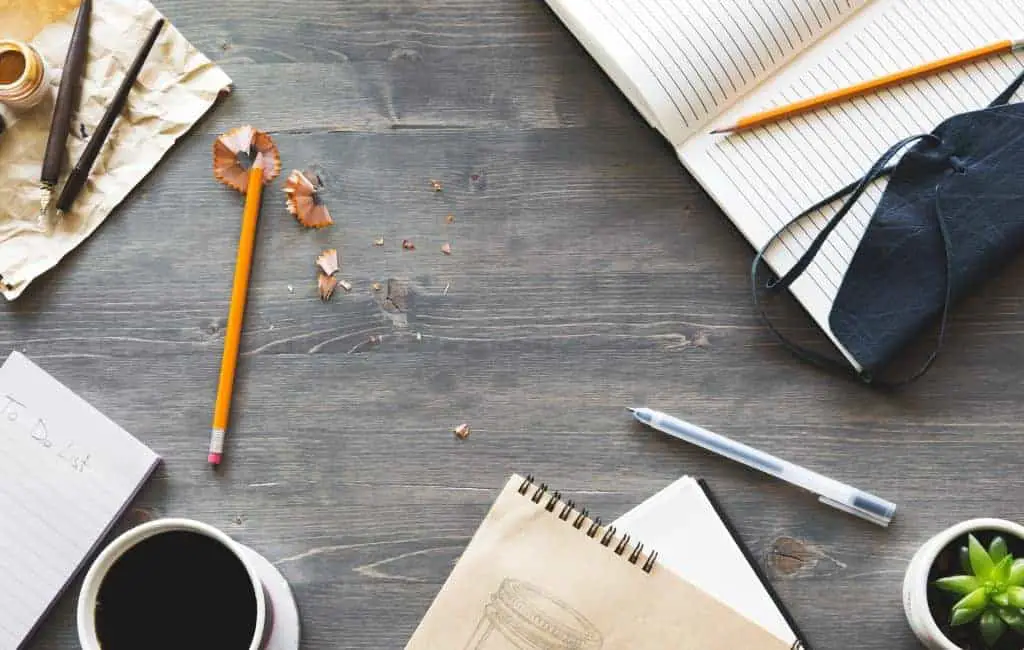 Blogging + Small Business Resource
Before I jump into that big list, let me spend some time clarifying what I classify as a blog or small business resource.
Any piece of advice, software, technology or group that can help you with the following:
Starting a blog or business
Finding a niche
Finding your passion
Improving your mindset
Getting you motivated
Content ideas
Content creation
Podcasting
Marketing assistance
Website traffic
Email marketing
Time management + productivity
Blog monetization
As you can see there are so many aspects to starting and maintaining a small business or a blog.
It is true that one person does not know everything so by sharing what I have learned over the last 10 years I hope it will help you too.
At the end of this post, I will be asking you to share your wisdom so that others can benefit from what you know.
Are you ready? Let's dive into these blogging resources.
Find Your Purpose
Everything that you and I do in this life has a reason behind it. You eat when you are hungry, bathe to smell clean, procreate to keep the world going.
It takes a while for many of us to develop a desire to find our true purpose in life. You will notice that empty feeling when life has no meaning.
Watch over my shoulder as I spend time showing you how I spent time mapping out my passion and purpose in the following videos:
Find Your Passion Demo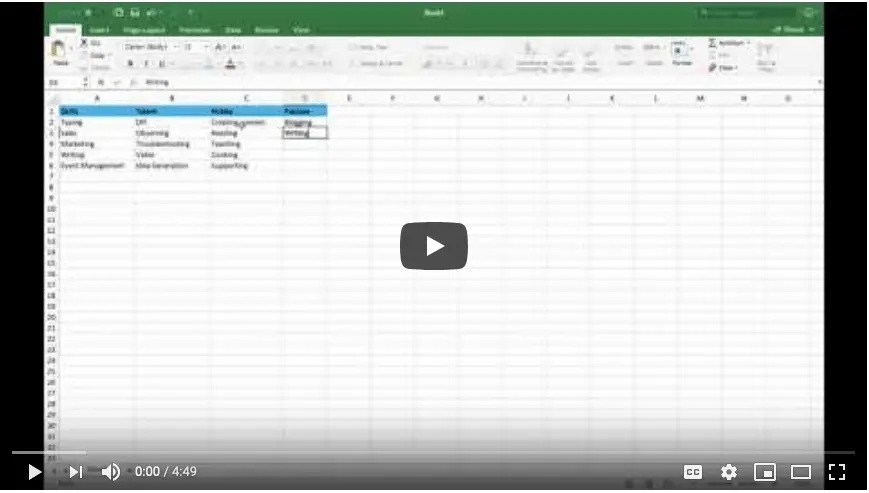 Map out your purpose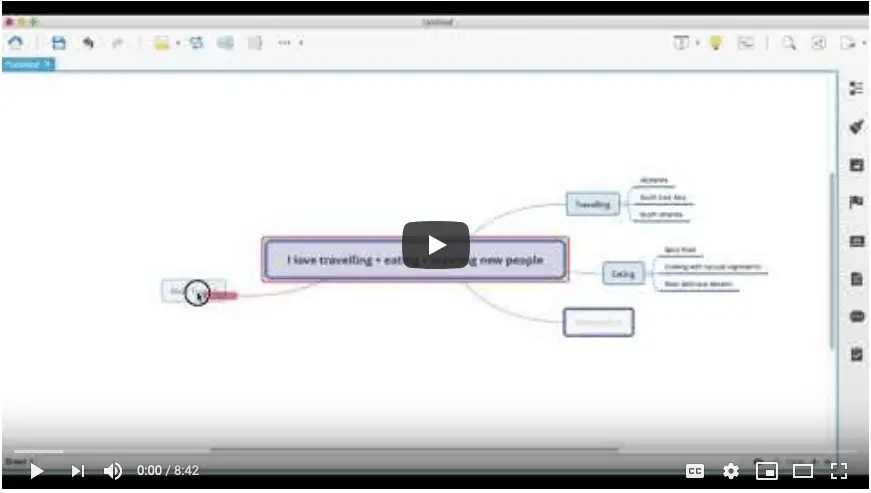 The tool I use in the second video is Xmind. It has been such a great resource for me for 12 months.
My rate of content creation (I create a lot of content) became too much for the free version so I needed to move on to something else.
Mindset
Many people will argue that you need to look at mindset first before finding your passion.
Depending on your needs and where you are emotionally and mentally you can decide to do mindset first.
If you are wondering if this is really something that you need then I can tell you that as an entrepreneur you need this.
It is the one thing that determines if you will succeed or fail. Here are 7 resources that I revisit every year to keep me successful.
1. Simon Sinek – How great leaders inspire action
Just when you thought you understood why people buy products and services think again. Click on the image to watch the video.
Just in case it does not respond here is another link to Simon's video.
2. The Traveler's Gift by Andy Andrews
One of the best books to help you go from the rock bottom of life. It literally shows you that it is possible to be having the worst time of your life and you can still come out on top.
Grab your copy of The Traveler's Gift here.
3. Carol Dweck – Growth Mindset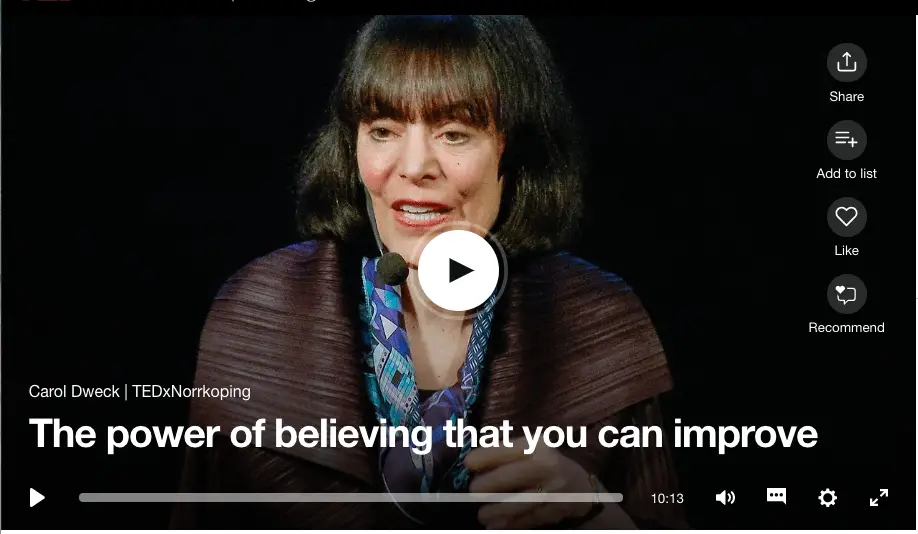 You just got to love the whole idea of having a growth mindset. It really goes to show you that anyone can experience success in life by just changing their mindset.
Click here to access Carol's TedTalk.
4. Rich Dad, Poor Dad by Robert Kiyosaki
Understanding the way money works is one of the secrets to becoming successful. One of the few books that really help me to understand this concept is Rich Dad, Poor Dad.
I suggest that you can give it a read and get a better understanding of entrepreneurship as well. Grab your copy here.
5. Angela Lee Duckworth – Grit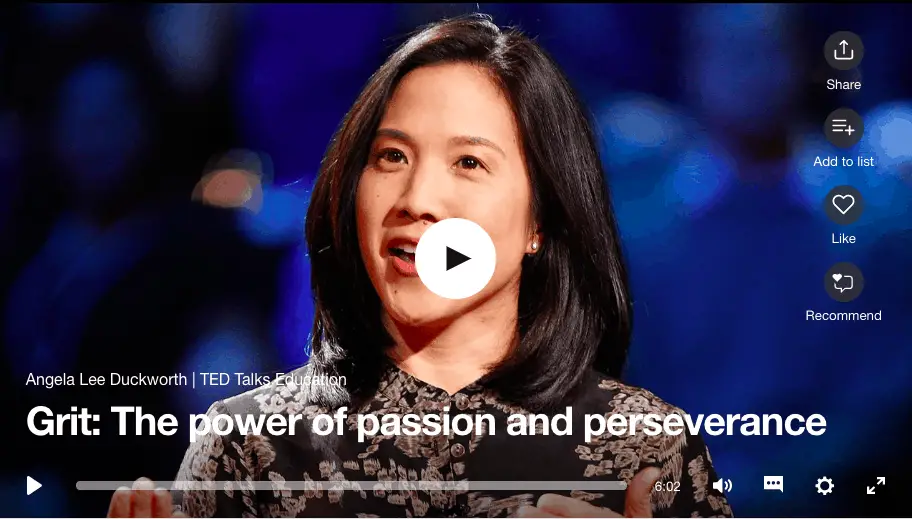 One of the key reasons why I wake up excited almost every day is because I developed this thing called grit.
I remember seeing this video for the first time and thinking if Angela was talking about me.
Many people will give a load of excuses why they did not pass their test or why they did not study or even why they have not started a blog or business.
People like you and I who have grit will just put our heads down and get stuff done while others will look on in wonder, watch the video here.
6. Things Rich People Do
I know I spent time in an entire blog post and podcast outlining all those things that rich people do already.
However, if you did not get a chance to look at it then head over there now and take a look at things rich people do that others ignore.
7. Get Motivated + Stay Motivated
This topic was only recently covered in a blog post and podcast where I gave 9 ways to get motivated.
I also gave 7 ways to stay motivated because it is equally important to stay motivated when you get motivated.
Entrepreneurship
It is important to realise that the drive to become an entrepreneur is not for everyone.
If you are thinking of going on the entrepreneurship journey you need to know that it will not be easy.
The process of becoming an entrepreneur also involves a journey of self-development and self-improvement.
To help you on this journey here are three resources that outline the different types of entrepreneurs.
The good news is that you can remain as an employee and still use your entrepreneurial skills at your employment.
Start a Blog or Business
Now that you have a better understanding of what is possible, what you need to make it happen as well as your passion let's look at how you can get there.
It is possible that you don't have $20,000 lying around in a bank account somewhere and you are strapped for cash.
The good news is that you can start a business with very little resources depending on what you want to do.
I have a resource available that shows you 25 ways to start a business with little to no money over a weekend. Take advantage of this information as it includes step by step guides as well.
If you prefer to just start a blog which is the path to least resistance then enrol in my start a blog in 10 days or less blogging course.
Here is a list of resources that you can use to help you with blogging success:
There are so many blogging resources available for starting a blog or a business that it is nearly impossible to get it wrong.
Monetise Your Blog From Day One
This topic is a little bit controversial because many professional bloggers argue that you should wait until you get website traffic to insert affiliate links.
Another set of pro bloggers believe that it should be done from day one because you will not have the time to go back and insert all those links on 50-100 posts.
I can tell you from experience that it is so very true that when you get to 50 blog posts the thought of editing existing content is frightening.
So, my advice to you is to monetise your blog from day one. There are so many ways to accomplish this feat.
Here are 5 popular ways that top bloggers use:
Sponsored posts
Affiliate marketing
Courses + ebooks
Ad networks
Services + consulting
If you spent time creating your very own blog business plan then you would already know how you will be monetising a blog.
Just in case you need inspiration here are 30+ ways to monetise your blog here. In the event that you need an alternative to Adsense here are 30+ other ways.
Are you looking for inspiration from other bloggers? Grab this blog income report where bloggers across several niches are making money blogging.
Email Marketing
Another element that you need to set up from day one is your email marketing services.
A key way to get paid by blogging is via email marketing. I am not going to leave you stranded as I have resources for this as well.
Generally speaking, email marketing is a great way for you to grow your blog audience as you can communicate with them directly after they join your list.
Here are a few blogging resources about email marketing for you.
Collect leads using Thrive leads plugin
After you have this all set up you may want to consider taking things to an advanced stage by building a sales funnel.
If you were not aware of it a sales funnel can help you get paid by blogging so it is something you should consider here.
Website Traffic
At this point, you are probably thinking that I am forgetting a crucial element of the entire blogging equation.
If you are wondering how to get your blog noticed then this is the section that covers many aspects of website traffic.
One of the keys to a successful blog is spending some time conducting research on the needs of your audience.
Keyword Research
Research on the needs of your audience can be done via keyword research. Here are some blogging resources and tools that can help.
These 4 tools will give you an insight into what your audience is searching for as well as what possible challenges they are facing.
Get Your Blog to Show In Google
While doing your keyword research you may find it handy to get your head around the concept on how to get your blog to show in Google.
This is also known as search engine optimisation. If this is a new concept to you don't worry because I've got your back.
Here are 4 blogging resources that will help you to get your blog to show in Google:
You may feel overwhelmed at first but just know that it is normal to feel this way when you are about to learn something new.
Pinterest Marketing
A great place for newbie bloggers and small business owners to get website traffic is using Pinterest marketing.
If you are new to marketing on Pinterest then don't worry I have a number of resources available to kick-start your progress.
Without further delay here are 7 blogging resources around Pinterest marketing for you:
As you can see there is a lot to learn about marketing on Pinterest so you may want to bookmark this post or pin it to your favourite Pinterest board.
More Blog Traffic Tips
Now that you have mastered the entry-level stuff when it comes to website traffic let's spend some time looking at advanced level tips and tricks.
I am also going to include a few stories from other bloggers so you can see what they did to get website traffic success.
Depending on your niche it can take some time to get to 10,000 page views a month or you can get to 100,000 page views a month in no time.
Your choice of blog type will determine how fast your blog will grow. Essentially, there are 6 different types of blogs in terms of traffic growth.
I created a case study showing you the 4 fastest growing blog types which you can download here.
It is now time to move on and look at the actual content for your website or blog.
Content Ideas
Ever wondered about the type of content to write and when to write it? Well, I have great news for you.
There is no need to reinvent the wheel when it comes to finding content for your blog.
If you think it has all been written before think again. There are many blog posts written about resources for bloggers and small business owners.
However, they are not going to be presented like this one. Everyone is different and the content resonates with each reader differently.
Some readers will like the way I write others will not and that is okay. Here is a list of blogging resources to help you with ideas to generate content.
Buzzsumo
If you want to know what content is popular and on which social media platform then Buzzsumo is your best friend.
For example, if you are a food blogger and you want to know what's trending with pizza just look it up.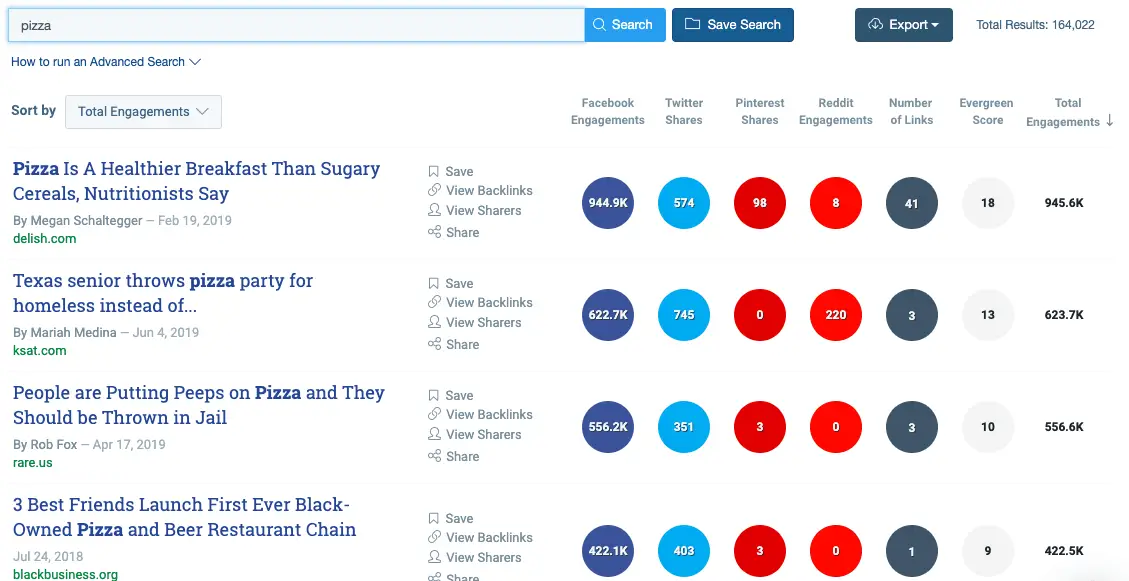 I thought it was strange to see so little engagement on Pinterest for Pizza so I decided to do a search on meal planning instead and surprise!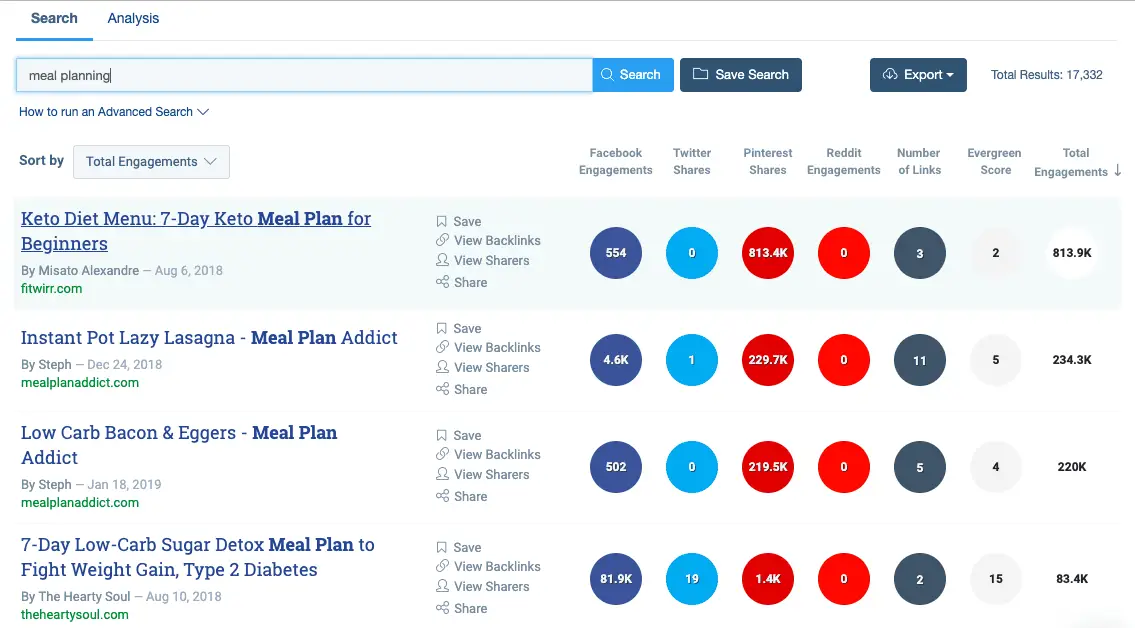 Pinterest Smart Feed
To get an idea about what is popular and trending on Pinterest the best place to look is the smart feed.
At the time of writing this post, here is what I can see in the smart feed and in the trends.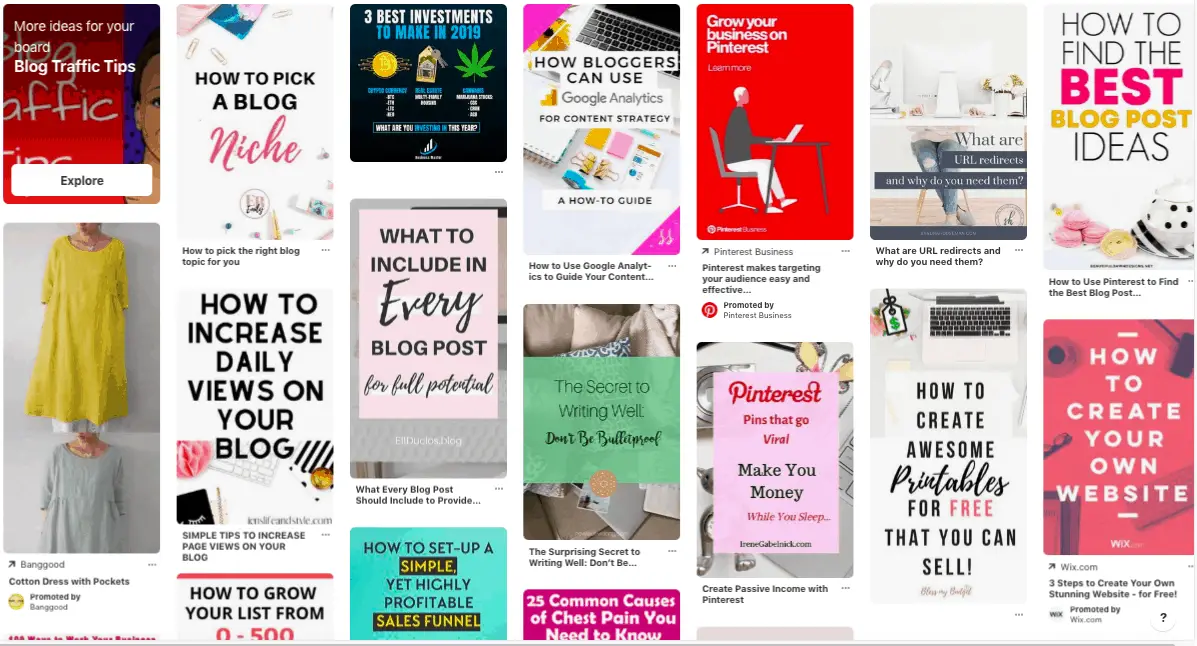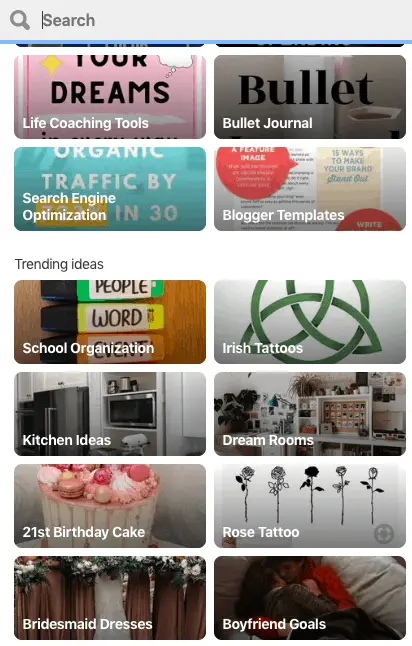 Pinterest Topics
There are two separate areas on Pinterest where you can find out what is popular by category and topic.
Let me pull back the curtain and show you what I mean for a few minutes. Go to pinterest.com/categories and you will see the following:
If your small business or blog is not in any of these categories, you will feel a little bit left out.
However, I have good news for you. Type in the following into to search bar up top. Pinterest.com/topics/your-topic-here.
You will come to a page that looks similar to this one. In this example, I did Pinterest.com/topics/meal-planning.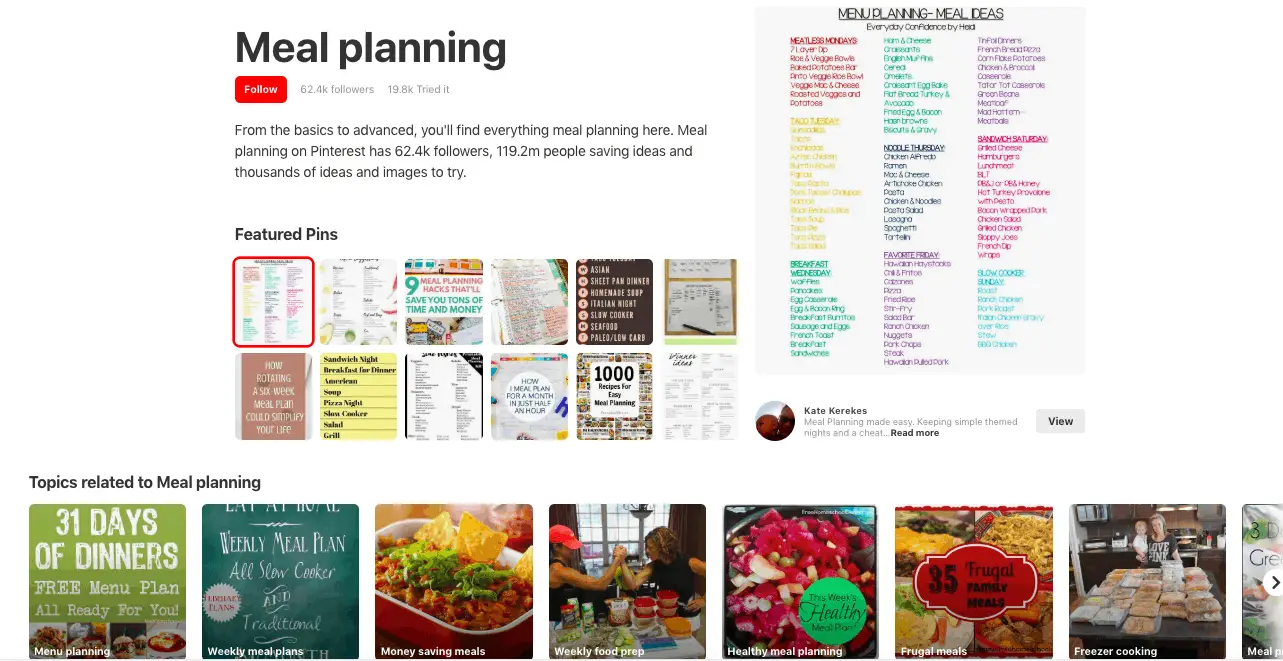 The most important thing to note here is that you get to see how many people actually follow your desired niche topic.
You also get to see all the topics that are related to your niche.
There is so much more that I can outline here but I already wrote an entire blog post here about blog post ideas.
You can also take a look at how you can find even more content ideas via untapped niche markets.
Content Creation
Now that you have a huge list of ideas about the topics you want to write the next challenge you will have is planning your content.
I do have a number of resources that will help you get the most out of your content creation.
Here are you few blogging resources that will help you look like a pro in no time at all.
Evernote
Everyone has a different approach to writing content. Some people prefer to write an outline and write a draft in WordPress or using a 3rd party tool like Evernote.
It appears that I have exhausted all the storage space on 3rd party applications like Evernote and Xmind.
Here is a screenshot of how I organise my content creation using Evernote.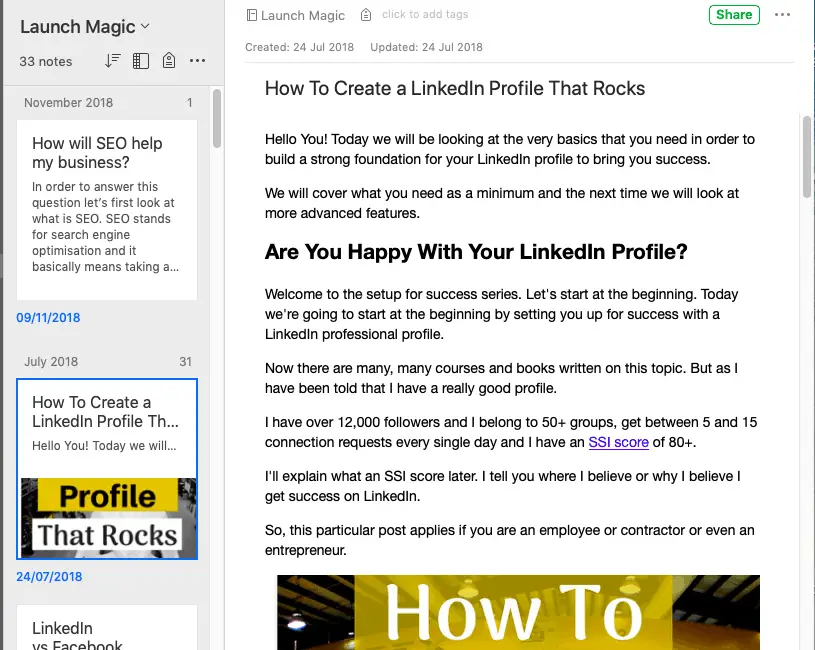 Airstory
Airstory is very similar to Evernote except it really helps with quotes and citations. It has this cool Chrome extension that allows you to save your research as you go.
Below you can see an example of Airstory in action. I am so glad that it is free to use.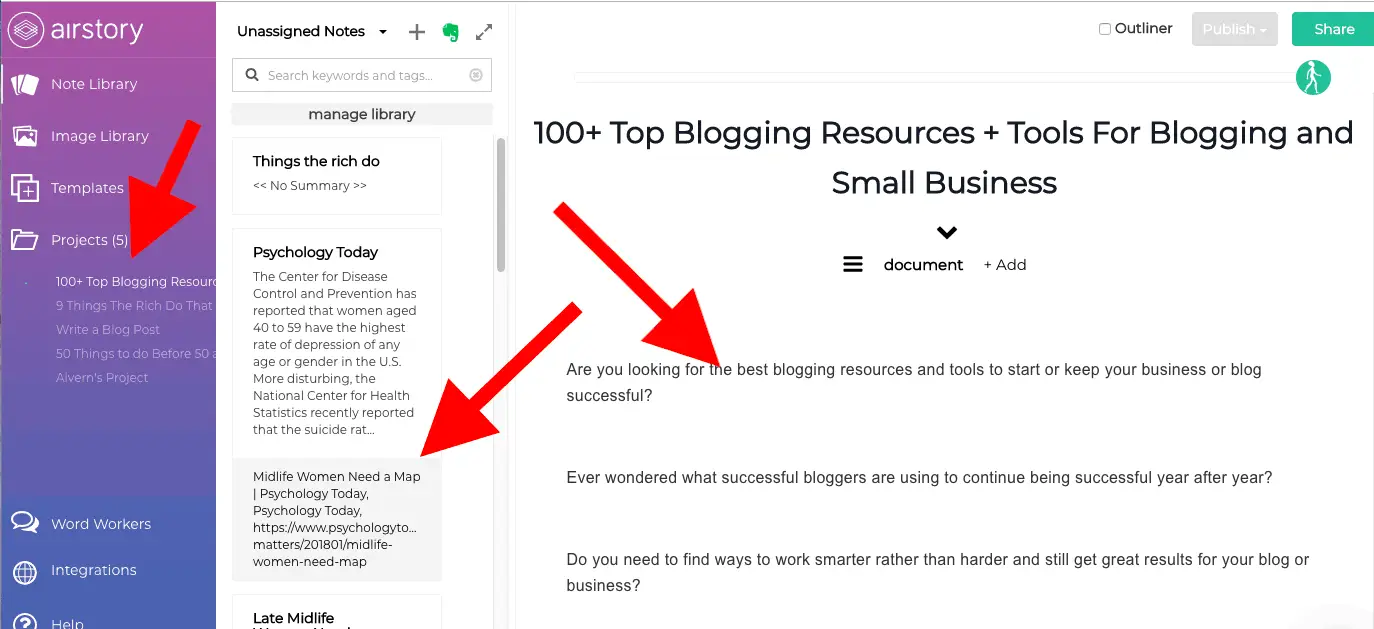 Now that you have a place to create comfortably let me give you some blogging resources to help you become successful.
Grammarly
As a creative, you may struggle with getting the grammar and spelling correct all the time.
I have the same challenge so I use Grammarly all the time to keep my content on point. One day I will consider hiring an editor.
Headlines
You may already be aware of this but it is important to have great, clickable headlines that drive traffic to your content.
As a small business owner you are not necessarily a rock star copywriter so creating awesome headlines may not come naturally.
This is why depending on other tools can help you generate headlines that get the click. Here are 4 amazing tools that can help.
Co-schedule headline analyzer
AMA Headline Analyzer
Sumo headline generator
Portent Title Maker
I use them all at one point or another depending on the type of headline that I need.
Landing Pages
Speaking of headlines you may also need a landing page creation tool so that you can easily present your offers.
Every blog post needs to have a call to action (CTA). Some CTAs may require a separate landing page.
To easily build landing pages there are many options available on the market. However, here are my top 5.
Elementor
Leadpages
Kartra
As a rule of thumb, the higher the price for the landing page software it means that the conversion rates tend to be better.
These industry experts have tested their landing page templates so they know what works in terms of location of fonts, colours and even down to the opt-in fields and buttons.
Video
Before you publish your blog post you may want to consider adding engaging media like a video to your post.
If you are looking for software to create your video then I have a few awesome resources that you can use for over-the-shoulder videos or just talking head.
Quicktime (Mac)
FilmicPro
Ecamm Recorder
Skype
Zoom
Filmora
Loom
Auphonic (levels the sound)
To record talking head videos using your smartphone you may want to consider using a Rode smartLav+ Lavalier mic to improve the quality of the sound.
Image Creation
As a marketer, you understand the importance of using images to communicate your message and increase conversions.
I have been using image creation software for a while now and I continue to experiment with it as new offers come along.
Here are my top 5 suggestions right now.
Canva
Photoshop
Sometimes you need to experiment with 2-3 applications to get the perfect image or to get the perfect message.
As I mentioned to my readers many times in the past, I am not a graphic designer but I make it work for me.
Stock Images
One of the blogging resources that every small business owner needs access to is good quality images.
I don't think I have ever used so many images in my life. For every blog post, I can easily use up to 5 images in one go.
Yes, some of the image creation tools do come with access to quality images but you will not be able to use those in the blog post only for social marketing.
So, what are you going to do? Well, here are a few places where you can get stock images (free + paid).
123RF
Adobe Stock
It is so difficult to find great quality photos for free that have not been used by 100 other people so purchasing a subscription makes a lot of sense.
Marketing
After creating your marketing images and you click the publish or schedule button. It is time to set up a campaign or plan your marketing for a week or a month.
To help you do this effectively there are a number of social media scheduling tools available depending on the time that you have available.
Here are my top recommendations including social media channels.
Buffer (Facebook, LinkedIn, Twitter)
Planoly (Instagram)
TailwindApp (Pinterest)
ViralContentBee (LinkedIn, Pinterest, Twitter)
Airtable (to do marketing strategy)
RecurPost (to remarket old posts)
When you get to 100+ blog posts it is impossible for you to keep going back and market your old blog posts but RecurPost can assist in this area.
WordPress Blogging Resources
Did you know that 34% of websites globally are built on WordPress? This means that there are so many resources available for WordPress users.
In 2018, Google rolled out a major update that penalised many sites for low mobile PSI scores.
This means if you saw a huge dip in your Google search traffic and you tried everything but your mobile PSI scores were in the red then listen up.
A few things you may consider changing are your WordPress theme, Caching plugin, Website host as well as a plugin to handle embedded video.
Here are a number of plugins that I use to speed up my site as well as for security and spam.
Speed Up Site
Cloudflare
WPRocket
WP Youtube Lyte
WPDisable
Shortpixel Image Optimizer
Simple Author Box
Social Pug
Blog Security + Backup
Wordfence
Updraft Plus
AntiSpam
Antispam by CleanTalk
SSL Cert Activation + SEO
Really Simple SSL
Yoast SEO
It is important to have your website or blog running at its best in order to get great ranking in the Google search engines.
Work From Anywhere
If it is your ultimate goal to work and travel from anywhere and you need to see and hear about experiences from other people then check out these three resources.
20-year veteran digital nomad
Now you can use these resources to get to your dream of working while travelling and make it a firm reality.
Time Management + Productivity
It is very easy to become overwhelmed as a small business owner. So, it is important to plan and schedule everything.
If you are planning to outsource some of your daily or weekly tasks then you may want to consider using project management tools.
Here are a few that I recommend highly.
Trello
Asana
Airtable
17 Hats
Dubsado
Acuity Scheduling
Dubsado and 17 Hats come with the ability for you to invoice clients if you are running a consulting business.
With so many blogging resources available it is almost difficult for you to run out of ideas for your small business.
Affiliate Marketing
Affiliate marketing has two sides to their coin. You can become an affiliate marketer for someone else's products.
You can also set up an affiliate program so that other people can promote your products.
In an effort to monetise your blog from day one you may want to consider looking at two affiliate market places.
Clickbank
You will discover that it is more profitable for you to consider high paying affiliate programs as well as recurring commission affiliate programs to get a lucrative commission payment.
If you want to set up your own affiliate marketing program then there are a few options available to you.
SendOwl
Gumroad
Katra
Thinkific
The first two are great for ebooks and simple memberships. However, Katra and Thinkific are better for full-blown courses and complex programs.
Analytics
One of the best ways to check your progress over time is to use tools to set up tracking.
If you don't track it then it is nearly impossible to tweak your content for improvements.
Here are three tools that are great for keeping an eye on your website traffic.
Google Analytics
Google Analytics and Finteza are free but SEMRush comes with a paid and free version.
Conclusion
Starting a small business or a blog can be a daunting task especially if you have no idea about the best blogging resources or tools that you can use.
I have been in your shoes and I can tell you that it can be quite expensive when you choose the wrong solution.
I want you to avoid expensive blogging mistakes by taking advantage of these recommendations so that you can reduce errors in your business.
Over to you what tools or resources have you used that you would like to share with me or your fellow small business owners.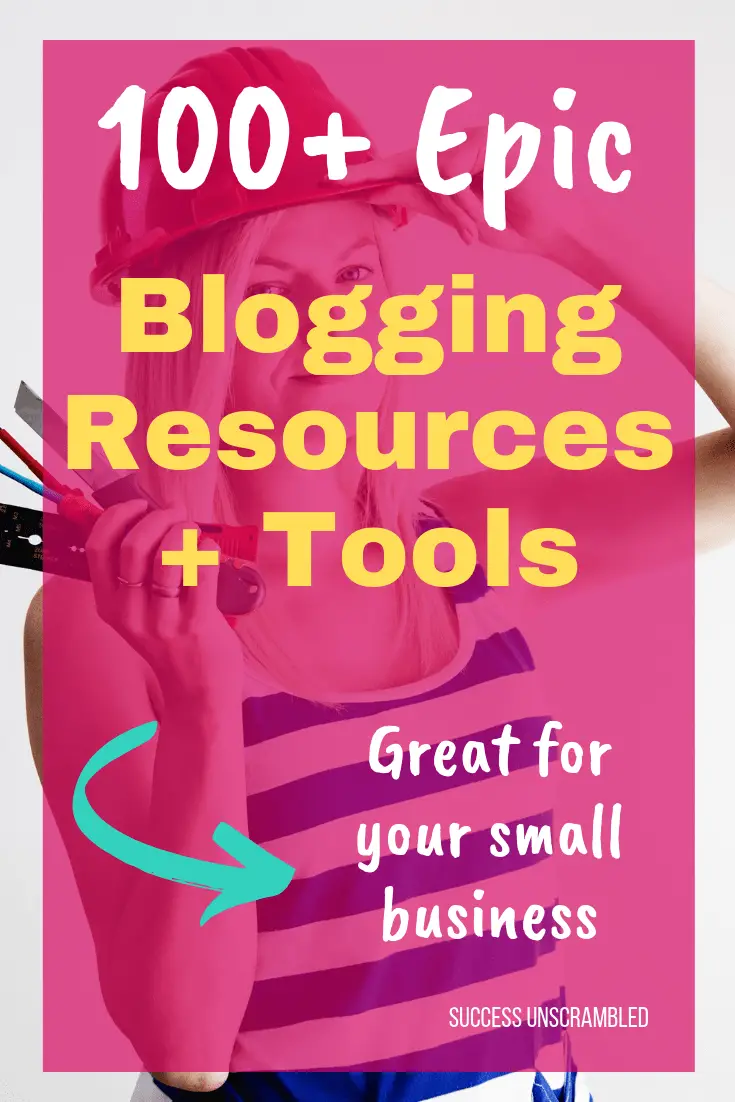 Announcements
Remember to subscribe to the Success Unscrambled Podcast where you will be the first to hear what's happening in the entrepreneurial and digital marketing world.
Your positive review of this podcast is vital to keeping it alive and running for the next 12 – 24 months.
So, please leave a positive review for us on iTunes, Spotify or any of your favourite podcast players.
Are you a teacher looking for extra cash? Check out these side jobs for teachers which are also great for anyone wanting to become a tutor.
One thing that helped me saved time is going on a media fast for 10 years. Do you need help with your tv habits? I have a stop watching tv resource here.
If you are just at the start of your journey where you are wondering what is possible for you in the future then take a look at these 7 books for bloggers.
Are you a startup or small business? You may need to hire a virtual assistant to complete tasks.
Social media marketing, blogging, keyword research or Pinterest account management can be outsourced using these packages.