Podcast: Play in new window | Download (Duration: 35:04 — 48.7MB) | Embed
Subscribe: Google Podcasts | Spotify | Amazon Music | Stitcher | Email | TuneIn | Deezer | RSS | More
Are you immune to blogging mistakes? Wouldn't it be nice to have a blogging kit outlining all the things to do and to avoid?
It is not your fault that you made so many mistakes when starting or while running your blog.
Especially when big companies like Wix, Blogger and Weebly thrive when innocent bloggers create content using their free platform.
While having a blogging kit is the ultimate dream for beginners, advanced and intermediate bloggers the online business world changes so rapidly.
When I started online 10 years ago there weren't as many bloggers as there are now and the path to success appeared to be riddled with potholes.
Now, there seem to be a plethora of blogging kits available and each one seem to have gaps or missing modules.
In fact, you may realise this but the more you learn it seems that there is still so much that you don't know.
The truth is that when it comes to blogging there isn't a single path to success simply because there are several different blog types and niches.
Many bloggers continue to get frustrated because they initially thought that there is a one size fits all solution to creating an online business.
However, the path to success for each blogger is different because of their audience and ultimate goals.
In this post, I will outline at least 17 blogging mistakes that bloggers at every level should avoid.
Disclosure: Please note that this post may contain affiliate links which means that if you buy one of my recommended products I get paid a commission for sharing the link at no additional cost to you.  I only recommend products that I have tried myself and have experienced success.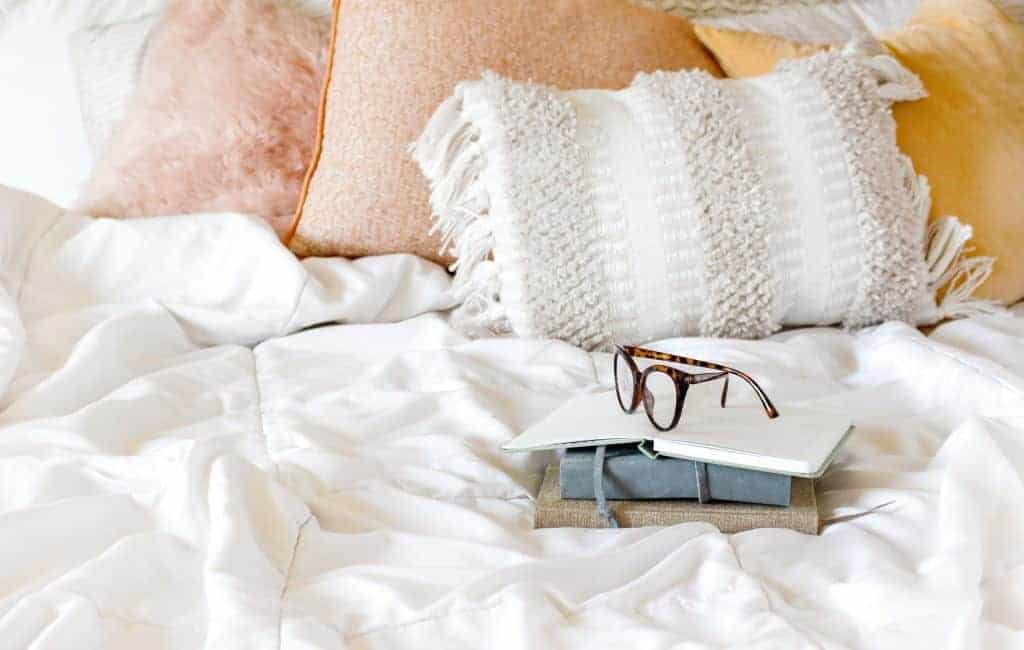 The Transformation
Rather than focusing heavily on a list of things not to do, I wanted to start off by highlighting the most important reason for starting a blog in the first place.
You may or may not be aware of this but your blog is there to help your readers transform into a better version of themselves.
Maybe your blog is about how to get over the fear of spiders (Arachnophobia). So, you help your readers see spiders as awesome creatures who get rid of bugs.
Below is an example of what the journey of your reader should look like if you plan to accomplish your goal as a blogger.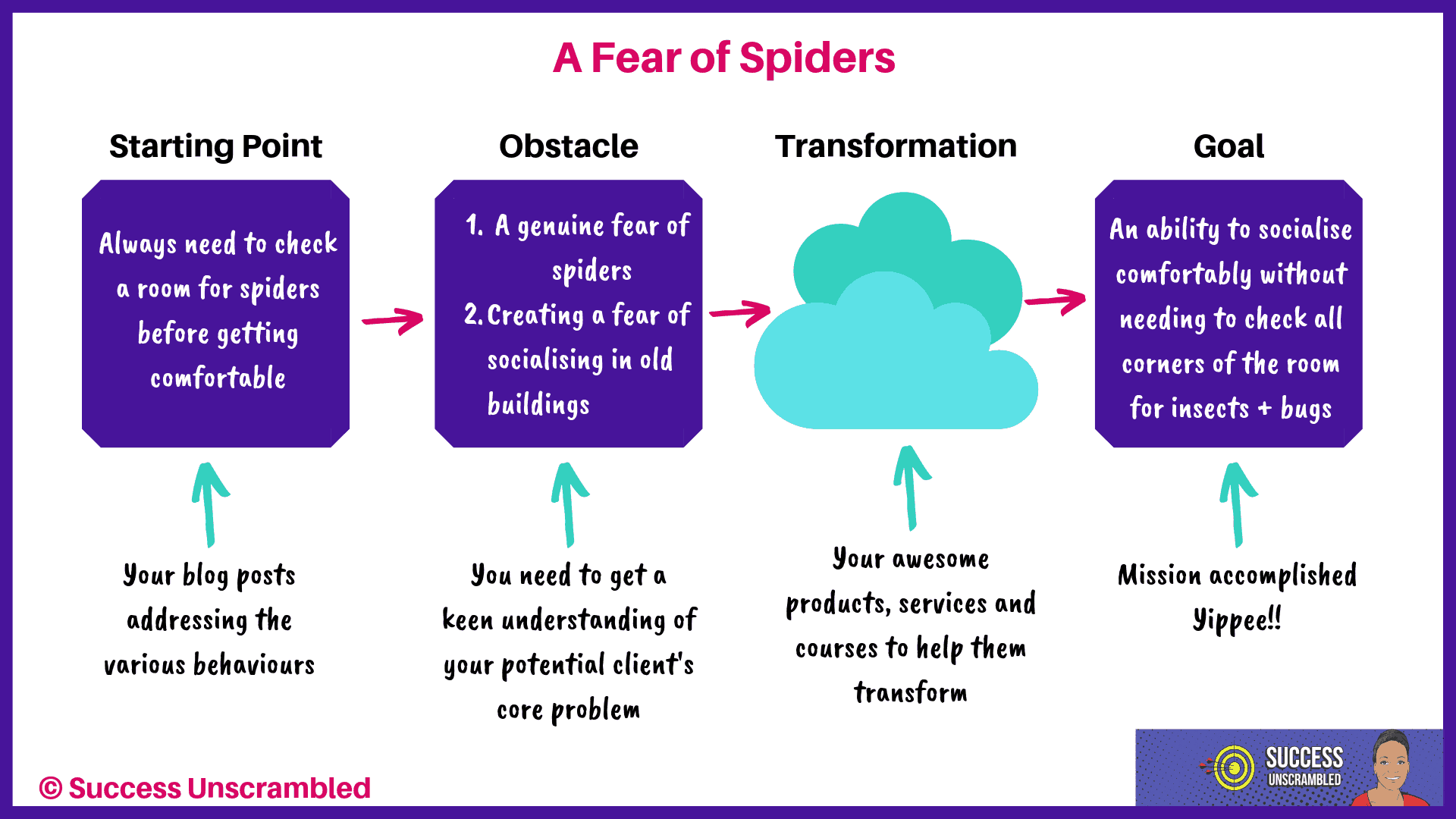 If this is all new to you don't worry at least you now have an idea of what you need to do to help your readers become successful.
Let's spend some time looking at those blogging mistakes so that you can ensure that you can avoid them as well.
1. Refuse to Implement SEO
Search engine optimisation (SEO) seems to be feared as much as people fear spiders and I can see why to a certain extent.
However, because your blog is your business then getting website traffic on autopilot is the lifeblood of any going concern.
Therefore, implementing SEO from day one should be an important element of your blogging journey. If you are new to SEO then grab this SEO for beginners resource.
Maybe it is time for me to develop a course called, "How to get over your fear of SEO". What do you think?
2. Using Free Blogging Platforms
When I first started online many years ago I used Weebly to develop one of my blogs. I also used Blogger and Wix at some point as well.
I can tell you that those are great for when you are just testing the waters. However, the moment you decide that you are ready to take things seriously then go for a self-hosted solution.
The popular ones on offer are WordPress.org and Squarespace. At first, self-hosting was scary for me but I was soon able to create a website in minutes.
Just like anything else in life, it may seem overwhelming at first to use a self-hosted platform but it is so worth it.
If you are looking for time and freedom then don't let free blogging platforms ruin your future.
3. Choosing the Wrong Webhost
I have to admit that if you are new to blogging it can be difficult to decide on the best WordPress hosting provider.
Do you know what? I have tried many hosting companies which is good news for you because you can learn from my mistakes.
So many pro bloggers advise newbies to go with Bluehost or Hostgator but my experience with them was not as pleasant 8-10 years ago.
My recommendation would be to check out Siteground and when you outgrow their package then look at BigScoots. I wrote a post on the best WordPress hosting here.
4. Publishing Low-Quality Content
I was guilty of this offence at one point but thankfully I quickly self-corrected. If you hate writing as much as I did then I understand your dilemma.
You just want to write something quickly, get something transcribed or even outsource this writing to someone else.
Why do you need to spend 2-4 hours writing and editing a blog post anyway? Well, for one it will save you a lot of embarrassment in the future.
Another reason is that you are writing to help your readers. Low-quality content does not really add value to the life of your reader anyway so why bother.
5. Implementing a Slow Theme
Do you have any idea how lucky you are? You are blogging at a time when Google is fussy about page speeds.
This was not a thing 5-10 years ago so I had to put up with what was available in the market place.
Now theme creators are putting their best foot forward and creating super-fast amazing themes that are easy to implement and customise.
One of the fastest themes available is GeneratePress and I can tell you it made a huge change to the speed of my site.
I am really annoyed that it costs $50 because I spent a minimum of $69 on slower themes over the last 5 years and this is only $50!!
6. Creating a Blog Without Passion
Okay, so I am also guilty of this one big time and I classify it as the biggest blogging mistake. If there is one blogging mistake that you need to avoid at all costs this is it.
Thousands of potential bloggers search in Google every day looking for the most profitable blog niches.
Instead of focusing on what they are passionate about. Yes, you can have 2-3 niches that interest you but start with your number one first.
I created over 100 blogs and I can tell you from experience that you get bored after a while when that blog is not your passion.
7. Giving up on Blogging too Soon
Haha!! This one definitely made me laugh a lot. Because I am also guilty in this area. Blogging is a journey of transformation for you and your reader.
I mentioned in a previous blog post about my feelings when I read about other people literally throwing away years of hard work.
Why do people give up anyway? Well, because they realise that they are not passionate about the topic.
Another reason is that they are not generating an income or they got into blogging for the wrong reason.
If they are not transforming the lives of their readers then there is no fulfilment or feeling of success.
8. Lack of Investment in Blogging Education
This is probably one of the few blogging mistakes that I am not guilty of because I enjoy learning.
However, many bloggers prefer to read all the information that is available for free rather than invest in a blogging course.
Yes, at times you need to save up or cut back on other luxuries to invest in blogging education to see a transformation in your online business.
After investing over $10,000 in online business education, I have to admit not all of the education is the best that is available.
9. Not Completing or Implementing the Training
Spending money on blogging education is only good if you do the training and implement what you learn.
I see it all the time when I enrol in courses and the members there say that they purchase the course a year ago and did not go through it.
It is true that there are times when life gets in the way but it is so vital to dive in and learn then implement the teachings.
Remember that you are here to fulfil a purpose and the longer you take to get there is the more that you are robbing the world of your talent.
10. Spending Insufficient Time on Marketing
When you first start a blog you cannot expect people to find you instantly unless you are a celebrity or already have a big online presence.
Marketing your blog in the first year is going to feel like rolling a large snowball uphill.
The reason why marketing feels that way is that you need to build momentum, awareness and authority. Grab these 50+ ways to market your business.
If you studied Physics in school you know that the snowball will get to the top of that hill and will come down on the other side with such a force.
So, just keep marketing until you get to the top of that hill. If you need a structured approach to getting website traffic, grab the free Traffic Boost MasterClass.
11. No Email List
I know the way it feels when you start a blog or you have been blogging for a while and you have a few readers.
You are basically thinking that it is pointless to have an email list or ask anyone to join your community (you and what tribe, haha!).
That is just your mind tricking you into believing that you are too new or too small to have an email list.
The only person who knows that you only have a tribe of one is you so get rid of that self-talk and start offering valuable freebies to your readers.
12. Refusing to Monetise Your Blog
Yes, you don't have a lot of website traffic and you only get 10 readers a month so does that mean you cannot sell anything?
How many sales will it take to boost your confidence? It just takes one sale so why not monetise the blog.
If you wait until you have 50-100 blog posts it is going to take a lot of time, energy and motivation to go back and monetise those posts.
Time is money so use it wisely and monetise your blog from day one.
13. Comparing Yourself to Others
I am guilty of this one as well. When was the last time you compared yourself to another blogger?
Yesterday, last week, last month or maybe 6 months ago. It happens because you and I are human.
The sad reality is that the blogger you compare yourself with is often in a different niche and/or have different goals or passions.
Stop wasting your time, keep your head down and don't compare. It is okay to take notes and adopt good practices.
14. Inconsistent Blogging
Depending on your blogging goals you will come to realise that one of the keys to growing your blog is publishing content regularly.
It is a way to get first-time readers to come back for more valuable content again and again.
If you publish inconsistently then they will not know when next to return for fresh content.
Publishing fresh content regularly also helps with traffic from the search engines. If you need a resource to help you to blog consistently go here.
15. Difficult to Read Blog Posts
This may seem strange but I still see well-established bloggers make this deadly blogging mistake.
I will come across an amazing post and click-through to find text designed to be read with the help of a magnifying glass and a sharpie to trace while I read.
Maybe their readers are Superman, Wonderwoman and a lot of superheroes. It is hard to understand why the text needs to be so small and faint on the page.
I beg you from the bottom of my heart, have some consideration for real people like me. I am slowly losing my 20-20 vision and I don't have superpowers either.
Stick to font sizes of 16-18 so that normal humans including those who have challenges with their vision can see what is written easily.
16. Taking Eternity to Create Your Products + Services
Okay, this one combined with the next point is very related. Are you one of those bloggers who has been planning to create a product for a while?
You have found every excuse on the planet as to why you have not done it yet. The timing isn't right, you need to outsource the graphics.
A member of your family has not been well for some time. You are moving to a new house, you are waiting for inspiration, you are not ready yet.
Can you please stop robbing the universe of your talent and create the product or service already?
17. Lacking Confidence After 12 Months of Launching Your Blog
Are you still suffering from Imposter Syndrome after 12 months? Do you have challenges believing in yourself?
What will it take for you to realise and appreciate your successes so far and that you can do it?
At what point does someone stop being new to blogging? Is it at a point decided by you or the blogging industry?
Well, if it has been 12 months since you created your blog and you are hesitant when it comes to confidence in your ability then listen up.
You have done an amazing job of blogging so far even if you are only 6 months in the game so stop the self-sabotaging and realise that you can do this thing.
Conclusion
None of us was born perfect bloggers when we came out of our Mother's womb but we all have the ability to learn and grow.
You learn differently from others around you and so do I. Some of the biggest blogging mistakes are made when we fail to implement what is taught.
This decade and century are so amazing because you can learn and implement at the flick of a switch or the click of a button.
I cannot imagine what it was like living 100 years ago compared to now. It must have been painstakingly difficult.
Remember it is all about the transformation journey for you and your reader. Focus on this aspect and everything will fall into place.
Over to you, what blogging mistakes have you seen that is quite popular in Blog land? Or what has been your biggest blogging mistakes?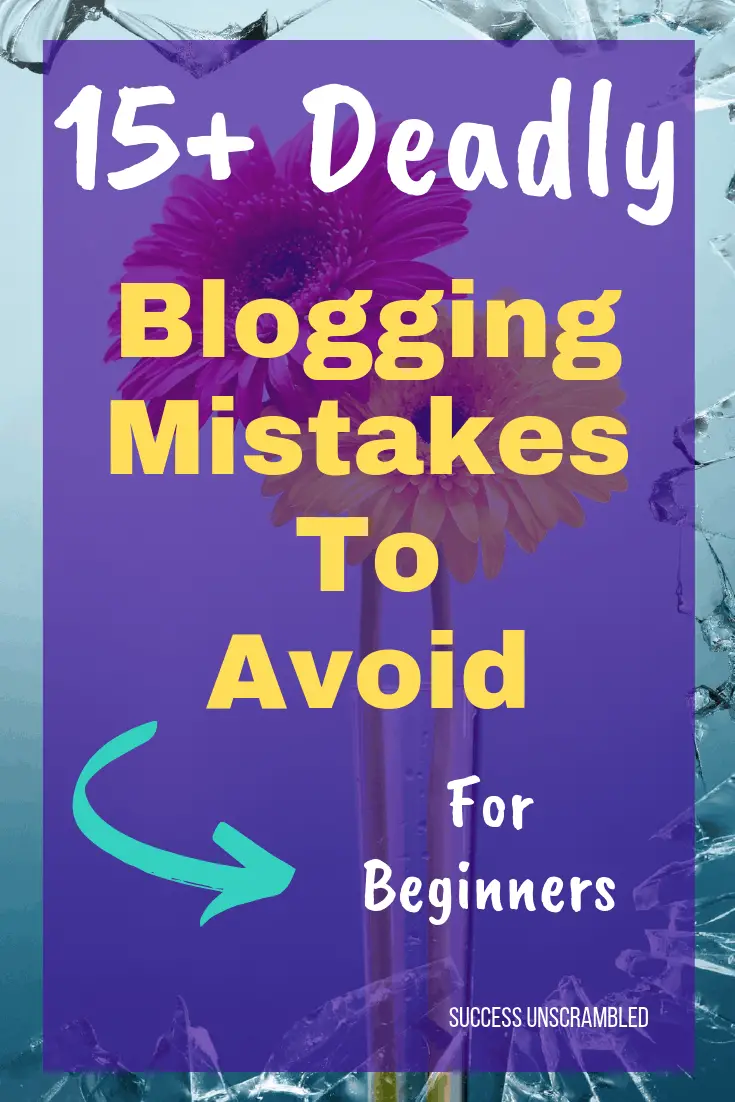 Announcements
Remember to subscribe to the Success Unscrambled Podcast where you will be the first to hear what's happening in the entrepreneurial and digital marketing world.
Your positive review of this podcast is vital to keeping it alive and running for the next 12 – 24 months so please leave a positive review for us on iTunes, Spotify or any of your favourite podcast players.
If you find yourself stuck looking for resources for your blog then check out these 100+ blogging resources for bloggers and small business.
Are you a teacher looking for extra cash? Check out these side jobs for teachers which are also great for anyone wanting to become a tutor.
Want to get back on track after not blogging for a while? Grab these 9 ways to get motivated in order to achieve your goals.
If you are a startup or small business and you need to hire a virtual assistant to complete tasks such as social media marketing, blogging, keyword research or Pinterest account management then take a look at these packages.