Podcast: Play in new window | Download (Duration: 23:00 — 32.1MB) | Embed
Subscribe: Google Podcasts | Spotify | Amazon Music | Stitcher | Email | TuneIn | Deezer | RSS | More
Is your company in the B2B space? Are you looking for a way to target business owners on Facebook?
I still remember what Facebook was like for entrepreneurs over 10 years ago.
It was really simple to create a Facebook business page and within a short time, you'll have 2,000 likes on your page.
However, a lot has changed since then because the Algorithm does not allow pages to be as visible as they use to be.
Let me know if you face these challenges as well.
Your ideal client spends a lot of time on Facebook but getting their attention is hard.
You have an existing business page, but the reach is not great no matter what content you publish on there.
Growing and maintaining a Facebook group takes a lot of time, energy and effort.
If only there was a way to catch the attention of your ideal client by working smarter not harder.
In this post, you'll learn a few secrets about how to grab the attention of your ideal business owner on the Facebook platform.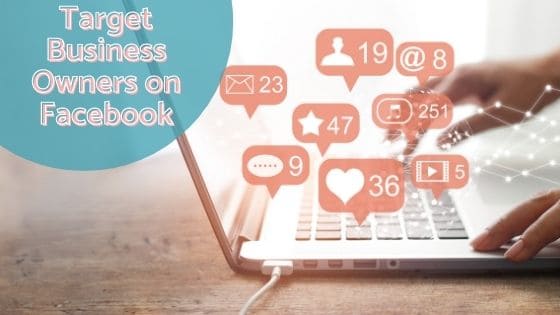 Facebook for Business
If you've been using Facebook since 2004 like me, you'll agree that there have been a lot of changes.
It's hard to tell if things are better or worse. Lol!!
Nobody likes change but change is inevitable because Facebook is free for consumers.
So, the owners of the platform need to generate revenue to keep it going.
One way to accomplish this is to charge everyone a monthly subscription.
However, a much better way to become profitable is via advertising.
Facebook currently has over 2.9 billion active users who scroll through posts every month.
Making it the largest social media platform available.
As of the 2nd quarter of 2021, Facebook Ad revenue for the previous 3 months was 28.5 billion dollars.
You might be thinking isn't it easier for Facebook to charge its 2.9 million monthly active users $10 a month to use the platform?
Let me assure you if money was the only objective then yes that would be good.
What you are not aware of is the data behind the advertising.
If you are into analytics, you'll understand how exciting data can be in predicting your business's future.
The Importance of Data
One of the secrets to targeting business owners on Facebook is inside knowledge.
Wondering what I mean?
So, you know that the people you want to target is on Facebook
However, do you know where to find them? How many times a day do they visit the platform?
When they visit where exactly on Facebook do they spend most of their time?
What kind of posts grabs their attention?
Which videos do they watch?
Of all the ads they see every day which ones do they respond to?
What products or services did they buy in the last month?
Imagine if you were allowed to be Mark Zuckerberg for one day.
In your role, you are given access to all this data.
You have the opportunity to ask the data analysts to drill down that data using specific filters.
What data would you ask them to provide?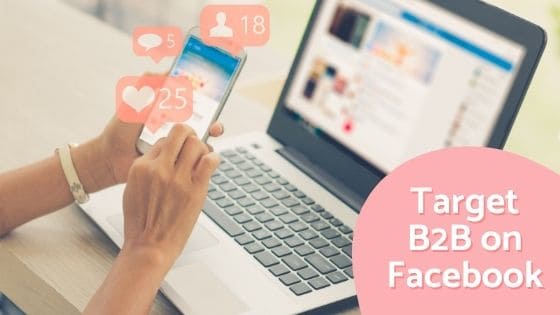 Facebook Business Suite (FBS)
While you are thinking about that question let's spend some time looking at Facebook Business Suite.
As I mentioned previously, I've been using Facebook's business features for over a decade.
When I first started it was simple, nothing too fancy.
However, in September 2020 the Facebook Business Suite was launched with a ton of bells and whistles.
If you are a business owner and you have a business page on Facebook then you already have access to this platform.
Just head over to business.facebook.com and use your personal Facebook logins to gain access.
A key tool used to target business owners on Facebook is the FBS platform.
Because it gives you the ability to do the following:
Set up your business profile correctly
Access your page analytics (must have 100 likes)
Run a page likes Ad campaign
Increase the reach of your posts via low-cost Ads
Schedule 90 days of content in advance to save time
In the next section, I'll go into more detail on those secrets to get the attention of your buyers.
Secret Tool – Facebook Audience Insights
Before Facebook launched Facebook Business Suite (FBS) in its current form you had the ability to analyse audiences using Audience Insights.
A different format of this tool is available inside FBS but you need to dig deep to find it.
The benefit of using this tool is that you'll be able to get valuable data on your audience.
To find it go to Facebook Ads Manager, choose your Ad account, click on the hamburger menu at the top left and scroll down.
You'll see the option called Audience Insights.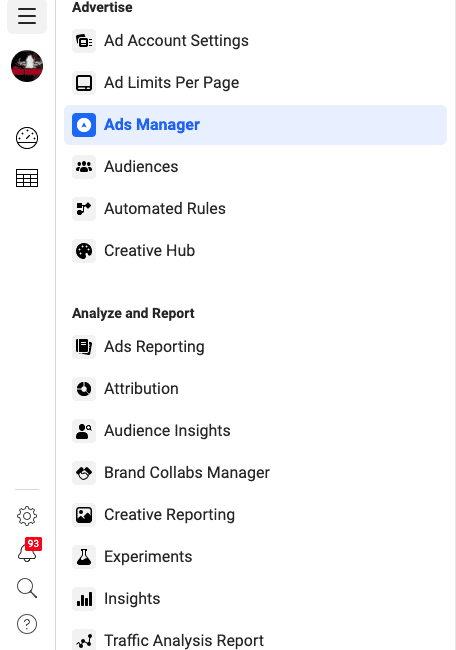 Click on that option and you'll be brought to a screen to search, filter and analyse your potential audience.
It's one of the best tools for b2b Facebook ads as it allows you to select a specific group of people based on your buyer personas.
You'll have the ability to filter by possible job titles, target companies and a specific group of people.
Target Business Owners on Facebook
Now that you've got a better understanding of Facebook and the importance of data.
Let's dive in on how your business can get more attention, leads and sales.
So, you need to set up a business page on Facebook.
Be sure to complete all the areas as much as possible.
Next, write a list of the top 13 questions that your potential client has about your product or service.
If you need help coming up with a list of questions go to Answer the Public for help.
When you enter what you do, you should get back questions people ask.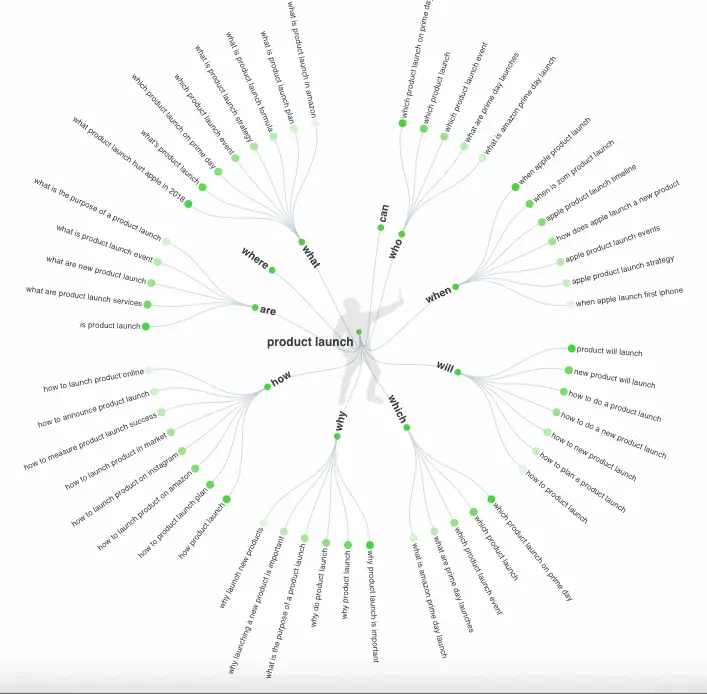 So, I placed the word "product launch" inside Answer the Public and you can see my results in the above screenshot.
After collecting your big list of questions place them in a progressive order.
Going Live
The fastest way to target business owners on Facebook is by using video.
Now, not all videos are created equal on Facebook.
Live videos are favoured more than recorded videos and they get more reach.
So, if you really want to grab the attention of your potential customers I'm challenging you to go live once a week for 13 weeks.
Use one of those questions on your list each week as the topic of discussion.
Mapping out your topics on Airtable, ClickUp or Asana will really help you to get your content right.
I also did a comprehensive review of Todist vs Things if you want a simpler project management solution.
Yes, I know you may be feeling nervous but after you go live the 2nd time it will get addictive.
Using software like StreamYard, Restream or Zoom to go live makes it easier.
Boosting Live Videos
After completing your first 3 live videos it is time to consider boosting them.
For $1-2 a day you can boost your live videos so that you can get more eyeballs on them.
It is a good idea to boost them from inside the Ads Manager.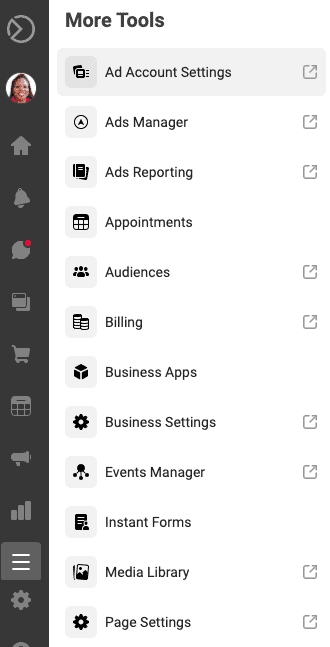 The reason for this is that you get to choose who will see your videos.
So, head over to Facebook Ads Manager and set up a campaign.
Facebook Campaign
Click on the "green" create button and choose your campaign objective as indicated in the screenshot below.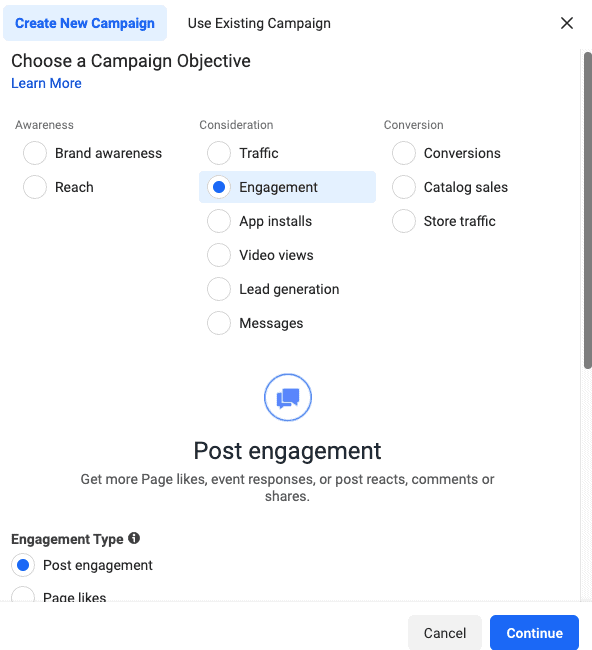 The best goal or campaign objective will be brand awareness, video views or engagement.
Be sure to give your campaign, ad sets and ads a memorable name so that you can see which one it is instantly.
This is especially useful if you plan to run several Ads.
Ad Sets – Audience Targeting
Next, go to the detailed targeting section to choose your audience's different interests.
Customise your new audience by choosing your daily budget, location, age range, gender and interest and/or demographic targeting.
Choose "narrow audience" to get more specific about your target market.
See the video below for more details about audience targeting.
One way to identify a business owner on Facebook is the fact that they are a Facebook page admin.
Sometimes Facebook allows you to target your ad to Facebook followers with a specific interest in a page.
Finally, select the live video that you would like to boost and double-check that you are happy with the tracking using a Facebook pixel.
Once you are happy with everything publish your Facebook Ad.
Retargeting
After going live for 13 weeks it's time to remind those people who viewed your videos about you.
Your audience is now warm and you'll want to create a custom audience of those people who viewed a minimum of 30% – 70% of your video.
A warm audience will yield better results with the right audience.
This time instead of boosting a live video you can run a retargeting ad and show your warm audience an offer.
It could be a lead magnet or a webinar invite to grow an email list or something similar.
The goal here is to get them to take action and give you their email address.
Depending on your offer it is important to choose the right call to action.
If your product or service is $500 or more then a webinar invite is best.
Any offer between $7 and $47 could be sent directly to the sales page.
Let's say that your main offer is between $57 and $497 then it may include a smaller offer with an upsell.
So, you can sell them a $4.97 product with an upsell offer of $97 followed by a one-time offer of $397.
The conversion rate should be higher since you now have a warm audience.
Lookalike Audience
When you get conversions and your ads are profitable, it would make sense to create a lookalike audience similar to those who converted.
A lookalike audience is simply a list of Facebook users who are similar people in terms of demographics and behaviours to your existing audience.
Remember I mentioned earlier how Facebook real advantage is their data?
At a click of a button, they are able to generate a list of 1,000s and sometimes millions of people who will potentially convert on your offers.
Facebook Groups
Another great way to target business owners on Facebook is doing lead generation inside groups.
Entrepreneurs and small business owners hang out inside groups for support.
Running an online business can get lonely.
So, networking with other like-minded people gives that sense of community.
A Facebook group filled with your potential clients is a great way to generate leads.
Here are the steps to implement this technique.
Identify 3-5 Facebook groups with your ideal client (5k to 50k members)
Join those groups and introduce yourself focusing on the results you get clients
Search the groups for the keywords (pain points) your clients use
Comment on those posts by asking one important question
Do this 3-5 times every week
Earlier in this resource, I mentioned that you needed the top 13 questions your clients ask.
From those questions there are at least 3-5 words your clients always use.
For example, my clients are looking to increase conversions and profits.
So, I did a search inside 3 Facebook groups for the word conversion and this is what I found.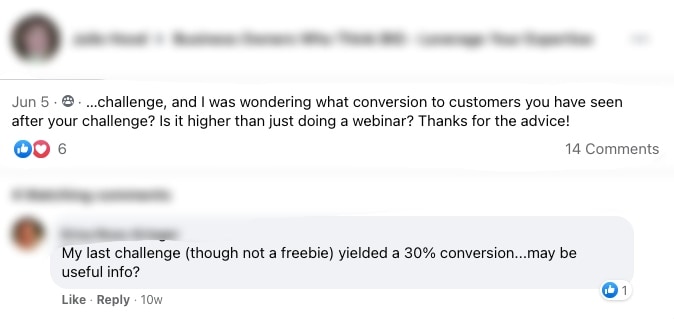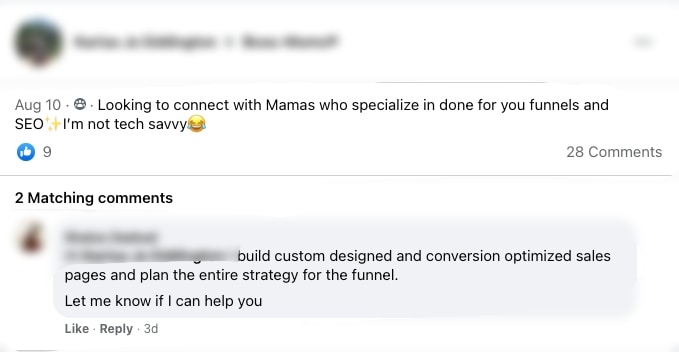 As you can see the possibility of targeting business owners in Facebook groups is real.
Once you find your potential clients who are looking for help just remember to ask more questions compared to just pitching.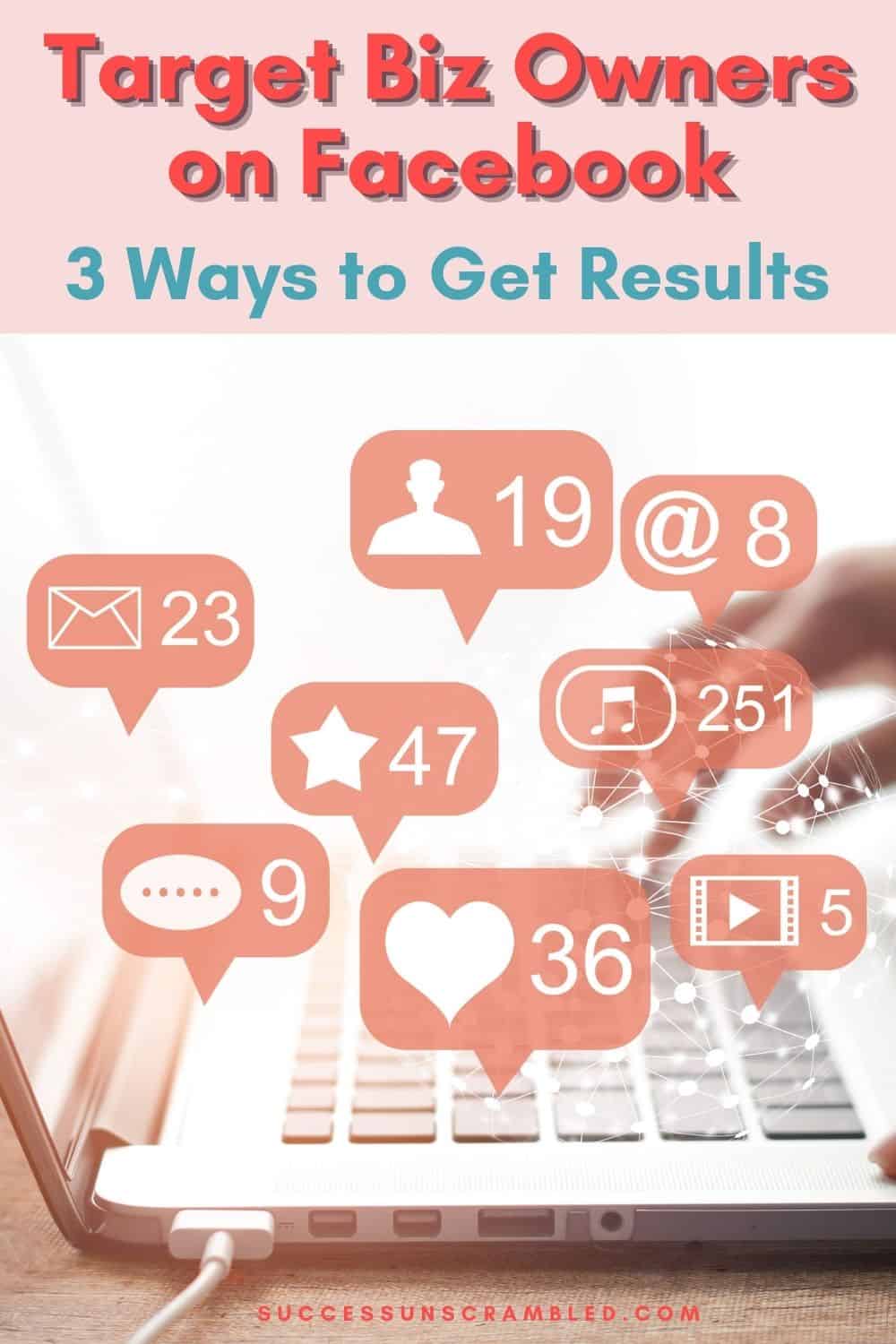 Summary
Everyone believes that the Facebook algorithm is dead when it comes to generating an income on the platform.
While that is true in one sense there are many clever ways to target business owners on Facebook if you know the secrets mentioned above.
It makes a lot of sense to warm up your audience before making an offer.
Video marketing converts really well so using FB Lives makes sense.
You may be thinking that going live is scary.
However, think of the benefits you'll obtain from going live.
You'll be more confident, your audience will get to know you and your business will generate an income.
If you need help setting up marketing funnels grab my service guide to see how I can assist.
Over to you, did you try to target business owners on Facebook?
Announcements
Remember to subscribe to the Success Unscrambled podcast where you will be the first to hear what's happening in the entrepreneurial and digital marketing world.
Your positive review of this podcast is vital to keeping it alive and running for the next 12 – 24 months so please leave a positive 5-star review for us on iTunes, Spotify or any of your favourite podcast players.
Although Facebook's algorithm can be difficult to get the reach that you need for your offers.
It is important to remember that there are marketing techniques available that you can use.
I started this blog in 2017 because I had a burden on my heart to reduce global women's illiteracy.
Because this is a huge undertaking I have decided to help 1,000 women over the next 10 years to become wildly successful in their online business through simplified marketing strategies.
That way we can build a strong business network of women who can donate 1% of their profit and together we can help reduce women's illiteracy worldwide.
Would you like to be part of this movement? Shoot me an email using alvern (at) successunscrambled (dot) com.