Ready to start working together? Let's get started!
Become a Mentee, Achieve Your Dreams
The year was 2016, I was watching a video presentation and what it showed shocked me to the core.
I don't remember where I was or how many people were in the audience with me.  However, I remember thinking this could not be real, not in the 21st century.
There, on the video they were talking about women all over the world who were illiterate.  I thought that maybe a few thousand or so.
The statistic was unthinkably so massive you will never guess the figure in a million years. If you thought it was 1 million you are so far off the mark.
510 million illiterate women and another 76 million girls under 18 are illiterate.  I thought for a second.  That figure just cannot be right, how is that even possible?  I checked that statistics on the Unesco site it was right.
What are people doing to help?  More importantly what can I do to help?  Just when I thought that this was shocking news for the 21st century woman, I saw something worse.
There has been little change to these statistics over the last 20 years.  My heart sank, I could not believe that this is even happening in our modern world.
Over the next 6-12 months I thought over and over in my mind, what can one person from a lower working-class family with no wealth or savings do for over 500 million females?
If I left my job and went to at least one of these countries without any resources what kind of impact can I make?
What talents do I have that can make a difference, even a small one?  What small investments can I make to effect change?
In March 2017, I found out that I needed to have major surgery which was not life threatening at all.  However, I was concerned that after surgery my ability to effect change would be reduced considerably.
The fact that my Mother died in 2015 was not really helping the situation.  Let me tell you something when a parent of yours die, you not only miss them.
You come face to face with the fact that you are next in line for the grave in about 20ish years, if so much.
My surgery date was confirmed for the end of August and I kept thinking I have to do something and fast.
Earlier that year I purchased a domain name.  In fact, I purchased a few with the intention of starting a website, a blog or better yet a movement.
At the start of August, I was inspired to start a podcast.  I had no idea what I was doing or what the podcast will be about but I wanted to have a positive impact.
I knew that I was getting a few weeks off work after surgery, so this was my opportunity to build a strong site seeing that I had the time.
So, a few weeks before the surgery, Success Unscrambled was born where I carved out a path for women to achieve success in their lives.
I recorded at least 3 episodes from my hospital bed as I wanted to leave a lasting impression on the minds of those who listen to it.
Anything is possible if we really want to achieve a goal.  Before I continue with what happened next there is someone I would like you to meet.
Sally just celebrated a significant birthday and she was uncomfortable.  She looked back at what she achieved so far in life but it made her disappointed in herself.
A mother of two children, renting a house in the suburbs, recently went through a terrible separation with zero assets Sally never imagine that life would feel like a failure.
It was at this point that Sally made a promise to herself.  She said that by the age of 40 she wanted to be more successful.
She wanted to be a successful entrepreneur with the ability to afford to purchase things that her children needed.
To achieve that level of success Sally knew that she needed to find her passion, re-educate herself and start an online business.
At the age of 40, Sally did not have an online business yet.  In fact, life was very different.  She had an amazing job that gave her the ability to celebrate her birthday on a tropical island.
She lost full custody of her children the previous year and she was like a mother bear as she just wanted to do everything possible to get them back.
There were so many decisions over the last few years that she made that caused her to lose sight of her BIG goal to grow an online business.
How can she begin to pick up all the broken pieces of her life and put everything back together again?
Who will help Sally to find her way back on the path to success?  Before I continue with Sally's story let me show you a map.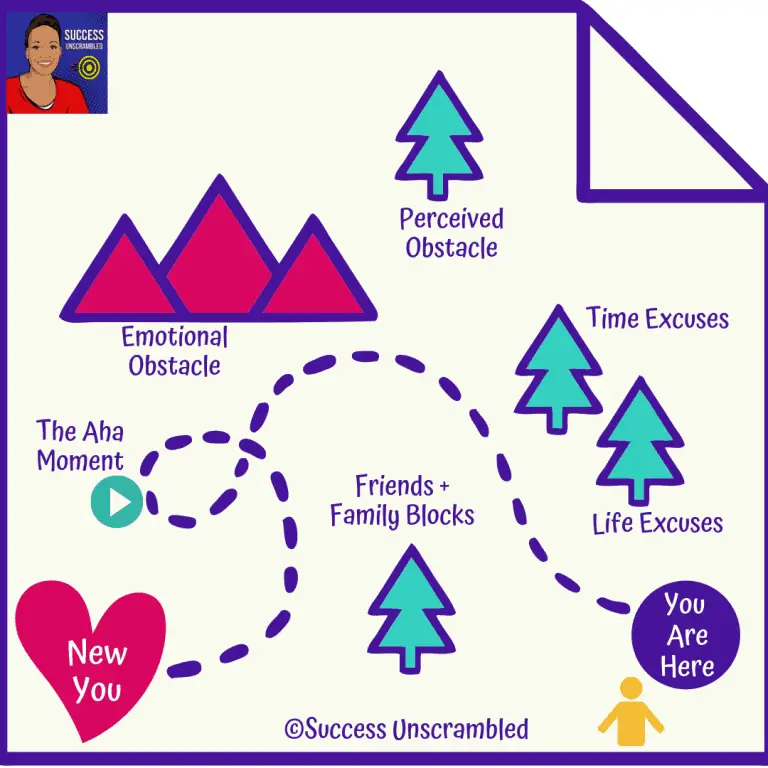 Do you like hunting for treasure?  I enjoy these kinds of games because there are clues along the way.
However, this map is the journey of people like you and me.  It is not a game, in fact, it is life the one that you are living right now.
I wished that I had a guide for my journey in life.  Someone who would show me the way and give me insight about what I needed to do so that I could avoid all the mistakes.
If you look at the map you will see that the path to success is full of so many obstacles and we can choose to overcome them or allow them to deter us.
There will be family and friends who will tell us that we will fail if we try to set up our own online business.
That new job we get that is paying so much more will distract us from our main goal and temporarily carry us off in a different direction.
Sometimes we fall in love with someone who does not share the same or a similar dream to us which causes us to temporarily drop the ball.
It is even possible to lose belief in our dream and long-term vision for a few years when something happens in our family, like the death of a parent.
Maybe you are just like Sally, you want to just get your dream started so that you can fulfil it in a few short months or years.
However, you have no time to do something that big after all who are you to embark on such a journey?
It is possible that you are terrified, you have no idea about the type of business to start and who would even be interested anyway?
In fact, you are working on too many projects right now that is demanding your time that you are concerned about starting another project but not finishing it.
Could it be that your biggest concern right now is that you need a guide someone who will show you the way so that you can make fewer mistakes along the way.
What will it take for you to take the step towards that time and family freedom that you always wanted that seems so far out of your reach?
Every new year comes around and your heart is full of regret about what you should have accomplished by now and how much you really want your life to change.
Maybe your dream involves traveling around the world with your significant other with or without kids and immersing yourself in new cultures and languages.
It is possible that you just want to be able to start and run a successful business from home where you can contribute to the family income and spend quality time with your family.
You want to be able to determine your own hours, afford the things you need and want to a certain extent.  You may even want to pay off your parent's mortgage as well as your own.
Being the example to your children is super important to you.  How could you encourage your children to be entrepreneurs when you are too scared to be one?
How will you get the chance to fulfil your dream if you don't take a step in that direction?  Who will guide you on the journey?
Right now, you have two options.  You can close down this page and get back to your 'normal' life of feeling sorry for yourself.
You just need to wait until January 1st comes around again and you will get that horrible feeling in the pit of your stomach that you still have not achieved your goals.
More importantly, you can continue to listen to your family, friends and naysayers (who are in the same position as you) about how becoming an entrepreneur will lead to failure.
Your second option is to become a mentee.  Enrol in a program where someone (me) will guide down the path to success.
Become a Mentee, Achieve Your Dreams
However, your mentor will need a few things from you as time is a very precious resource. Here is what you need to get started:
A commitment of 20 hours a week
It is important to be coachable
A budget to invest in yourself
The motivation to tear down big obstacles (they are everywhere)
The mindset that it will be hard be it is doable
A winning attitude with some grit
If this sounds like something that you are ready to do click on the button below to complete the form.
Every single person is vetted before getting approved to join this program.  It is for people who serious about achieving success in their lives.
Only 10 people are accepted every 4-6 weeks on this program because it is a one to one mentorship program with lots of hand holding.
Starting an online business can be scary.  Here is that map again to help you visualise the difficulties on this journey.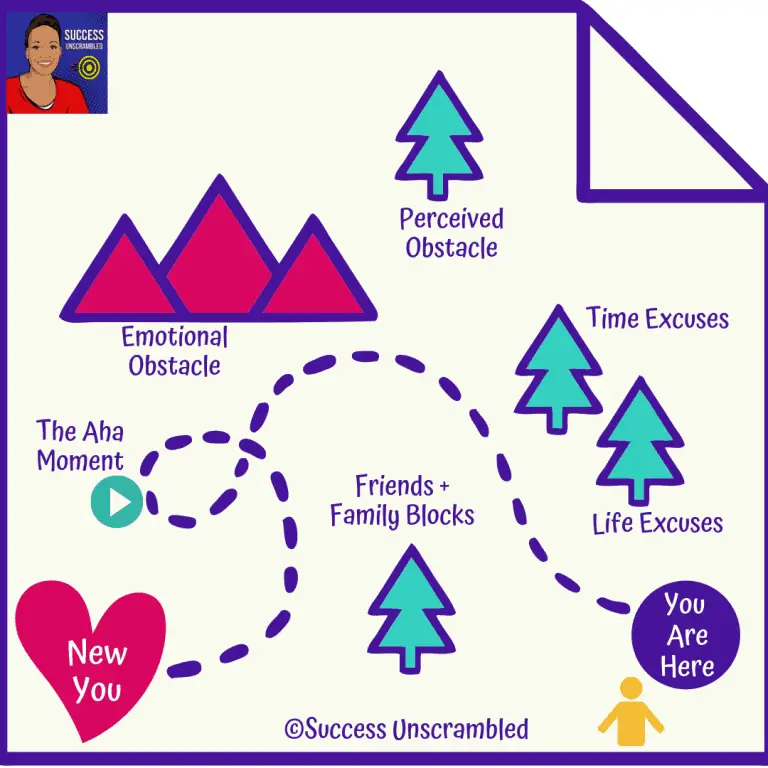 Click on the button below to complete the form if you are interested in changing your life and enjoying more time and freedom for you and your family.
Become a Mentee, Achieve Your Dreams
"Yes, it is okay to fail after you have tried but if you don't try that is worse than failure itself"
Become a Mentee, Achieve Your Dreams