Are your blog topics making the most money for your business?
Ever wondered what type of blogs make the most money? Curious about those high demand blog topics? 
It feels like a day does not go by without me encountering another blogger who has been blogging for 1, 2, 5 or even 10 years. 
We are so lucky to be living during a time when it is so easy to start a blog.  All you need is a passion for writing on a topic or several topics.
There are blogs in English and blogs in several other languages as well.  Blogs that are focused on a local area as well as blogs supporting a charitable cause.
Some blogs are focused on the owner's personal experience and others report on the latest trends in the stock market for example.
Blogs can even be segmented by the market that they serve by this I mean there are blogs that suit the consumer. 
While other blogs are more focused on the business market.
It is often said that "variety is the spice of life" and the world of blogging certainly reflects this variety when it comes to top money making blogs.
As there are so many blogs this post will be narrowing the focus by looking at the 6 most profitable blog niches that generate a minimum of $2,000 per month.
You'll also learn how to get paid to blog so that you can make money from home.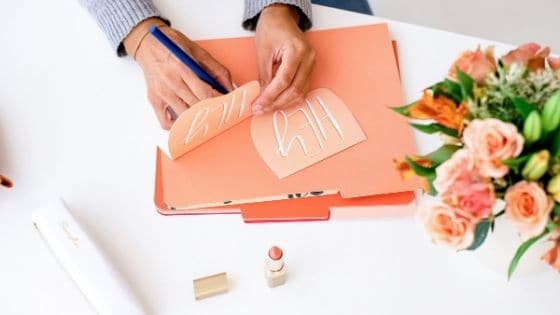 Disclosure: Please note that this post may contain affiliate links which means that if you buy one of my recommended products I get paid a commission for sharing the link.  I only recommend products that I have tried myself and have experienced success.
Why Do People Start Blog Ideas That Make Money?
Have you ever wanted to start a blog and make money online?  Ever wondered why anyone would want to make money from blogging in the first place?
The reason for starting a blog can be so varied that it is difficult to give a one-word answer to this question.  It is not just about making money online part-time.
Did you know that websites with a blog tend to have 434% more indexed pages compared to those that don't have one?
Companies with a blog receive 97% more links to their website compared to those that don't. 
Now that is something to think about when you create your blog or consider the best ways to make money.
Already we can see why a business would benefit from having a blog as part of its marketing strategy.
Why Do People Start a Blog – Personal?
On the other hand, an individual may start a blog to raise awareness of their struggle with something in their life.
For example, one of my friends, Danielle, started a blog about being a single woman.  For those women who are single, you can relate when people question your singlehood.
Another friend, Roland, has a son with Down Syndrome and he decided to start a blog about his life with his son.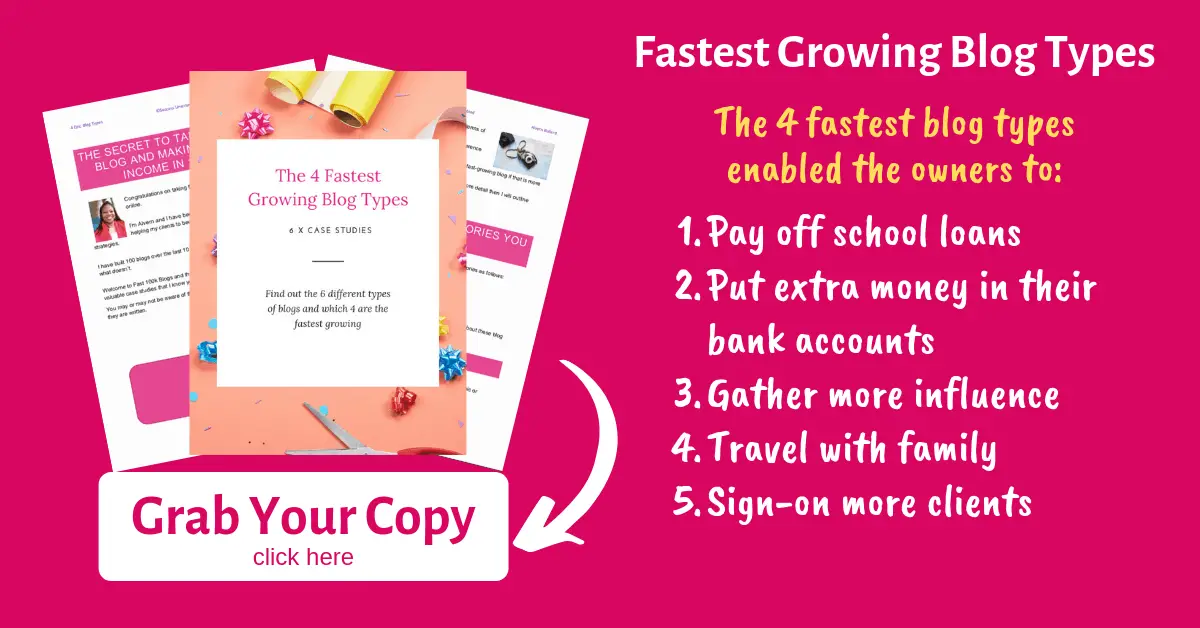 Jill and Josh Stanton left their 9 to 5 job and decided to change their life by starting a lifestyle business.  As you can see they have a different audience.
Elna Cain had twins and she decided when her babies were 18 months old that she wanted to work from home and be with them rather than go back to work.
As you can see the reasons for starting and growing a blog can be so different from the people who started them.
Since this post is about money let's look at the reason why anyone would need money to start and maintain a blog.
Blog Expenses
If you are not a blogger you are probably wondering why would anyone want to make money blogging.
After all, there are so many ways to make money online.
Well, the truth is that depending on your reason for starting a blog you will need to take into account the cost of maintaining a blog every month.
If you decide to use platforms like WordPress.com or Blogger.com then your costs would be minimal and so would be your flexibility as well as your return on investment.
Should you decide like Jill, Josh and Elna to become a full-time blogger and make a blog profitable then you need to understand that blogging becomes costly.
Any serious blogger knows that they would need to start a blog on a self-hosted platform like WordPress.org to gain search rankings.
So their costs would look like this:
Expense

Cost

Provider

Domain Name

$10/year

Web Hosting

$71.40/year

WordPress Theme

$69

Email Marketing

$348/year

Landing Pages

$396/year

Total

$510/year (cheap option)

$894.40/year (pro option)
It is very possible to use a free WordPress theme, free email marketing and cheaper landing pages to get by as a blogger in the first year.
Do remember it all depends on your goal as a blogger and how fast you want to build a brand.
Blog Marketing Expenses
| Expense | Cost | Provider | Platform |
| --- | --- | --- | --- |
| Social Media Marketing | $15.00/month | | Twitter, LinkedIn, Facebook |
| Visual Media Planning | $7.00/month | Planoly | Instagram |
| Visual Search | $14.99/month | | Pinterest |
| SEO | $17.00/month | | Google, Yahoo, Bing |
| Coaching | $49.00/month | Various | Various |
| Total | $103.00/month | | |
As a blogger, you can use the free version of Buffer and Planoly to get by while you are growing your blog as a business.
As far as coaching goes it is going to be difficult to really grow as a blogger without the necessary coaching.
You will need coaching in marketing, list building, lead generation, finding clients, growing your blog traffic and so much more.
If you want to grow fast then you will want to hire a coach or a mentor that does not need to cost you an arm or a leg.
6 Most Profitable Blog Niches
As you can see for a serious blogger you would need to have an income to cover your expenses.
The best way to ensure that your blog has a chance of generating an income is to do your research on the types of blogs that make money.
Of course, this does not mean that you will only restrict yourself to blogging on topics in these specific niches.
You can perhaps have more than one blog or a lifestyle blog that covers all 6 niches. The choice will be yours to decide what your blog is about.
Brandon Gaille did an extensive study of the top blog income earners by blog niche.
Of the 6 blog topics that make the most money, there are two blog niches that make more money compared to the other 4.
Personally, I was very surprised by the top two niches and I would hazard a guess that you will be pleasantly surprised too.
6 Blog Topics That Make The Most Money – Graphic
I don't want to keep you in suspense any longer so the top 6 most profitable blog niches are:
Marketing
Mommy (Mummy Bloggers)
Travel
Personal Finance
Lifestyle
Food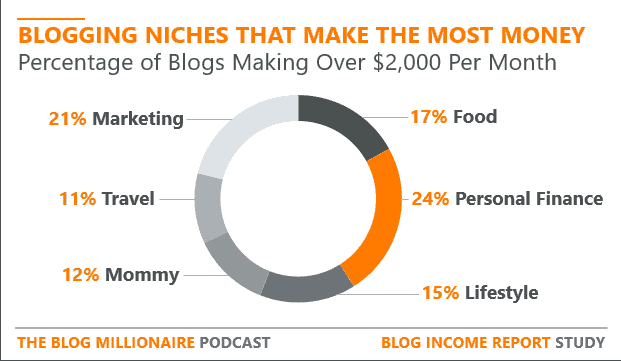 Blog Niche List – Monthly Income
I don't want to leave you in the dark when it comes to knowing roughly how much income on average you can expect from each of these niches.
Here is a graph outlining, on average, how much income one can expect broken down by niche.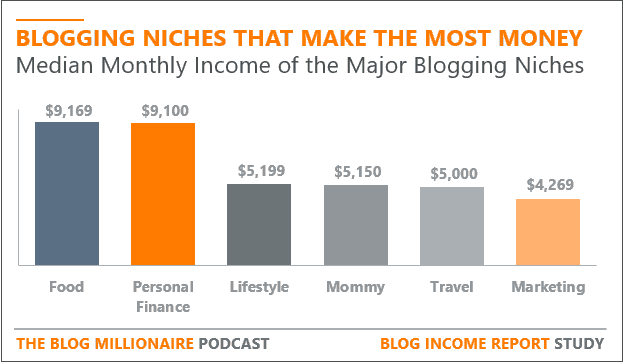 How To Make A Blog Profitable – Easiest Path
The obvious question on your mind at this point is which of these offer the fastest or maybe the easiest path to generate blogging income.
Before I show you the results you need to remember that the easiest path may not be the best for you.
This is because we all have a passion that drives or motivates us every single day to help us produce results.
So a niche might be easy but may not necessarily suit you as an individual as it may make you unhappy due to a lack of interest.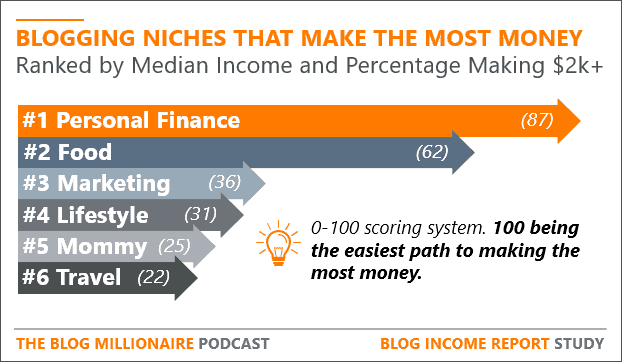 Blogging niches that make the most money – the easiest path by Brandon Gaille
How Food Bloggers Make Money Blogging
It would not be sufficient to show you all these juicy details about the most profitable blogging niches and not tell you the 'how'.
Are you wondering how food bloggers make money?  As you can see in the diagrams food and personal finance bloggers are making the most money fast.
Knowing exactly how they make their money may help you to understand how you too can get into these two niches and generate an income.
Point to ponder: it is a very difficult path for travel bloggers when compared to those in the food and personal finance niches.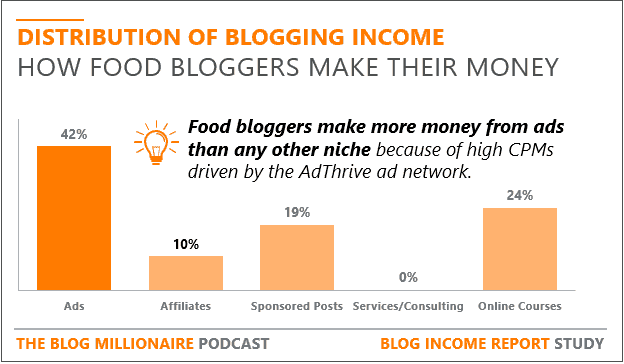 As you can see food bloggers make their money from the following 4 channels:
Ads
Affiliate Marketing
Sponsored Posts
Online Courses
I am sure that there are other ways that food bloggers and other bloggers generate income from blogging.
However, these are the ones that were common across the group surveyed.
Ads can range from Google Adsense to Ezoic or even Mediavine.  You can check out these 33 other Google Adsense alternatives for your blog.  
All you need to do is have great content on your blog.  It is definitely something for you to think about.
Of course, choosing the best Ad network for your blog really depends on the topic that you write about.
Examples/Types of Blogs That Make Money
It may help you if we looked at a few examples of blogs that make money across those 6 niches. You will see why these are some of the most profitable blog niches.
So let's spend some time looking at 6 practical examples across marketing, mommy, travel, personal finance, lifestyle and food.
Marketing
Herpaperoute which is managed by Chelsea reported an income of $10,164 in May of 2018.
Her main sources of income are affiliate marketing, hosting, services and courses.
Sarah Titus experienced huge success in that she reported an income of $233,476 in January 2018.
Affiliate marketing and her products continue to be her main sources of income.
Do you see why this is classed as one of the most profitable blog niches?
Blogging can be an extra source of income even if you have a full-time job.
Mom Blogs
Easy Baby Life had an income of $4,310 in April 2017. The revenue was generated using affiliate marketing and Ads.
Mamas on Money shared an income report of $10,000 back in May 2018. Their revenue came from website flipping, Ads, sponsored posts as well as products and services.
Travel
Practical Wanderlust reported their February 2018 income as $4,305.96. Their sources of income include freelancing, courses, affiliate marketing and Ads.
Travel Blog Breakthrough had a blog income report in October of 2016 where the income was $3,269 and their revenue was from Ads, sponsored posts and affiliate marketing.
Personal Finance
Natalie Bacon made $165,000 in total in 2018 and this revenue came from her online course.
Believe In a Budget had a May 2018 income of $39,117.28 and the main sources of income were affiliate marketing, courses and products.
Lifestyle
Chasing a Better Life had a June 2018 income of $4,273.93 and they credit Ads as their main source of this income.
Love Family Health reported an income of $11,974 in August 2018 and Megan said that the main source of that income is her course Pinterest Ninja.
Food
Jessica Gavin is a food blogger who generated $5,097.90 in March 2017 she said that most of her income came from affiliate marketing and sponsored posts.
Rose Atwater who focuses on baking reported an income of $9,416.98 in December 2016. The bulk of that income came from Ads, affiliate marketing and sponsored posts.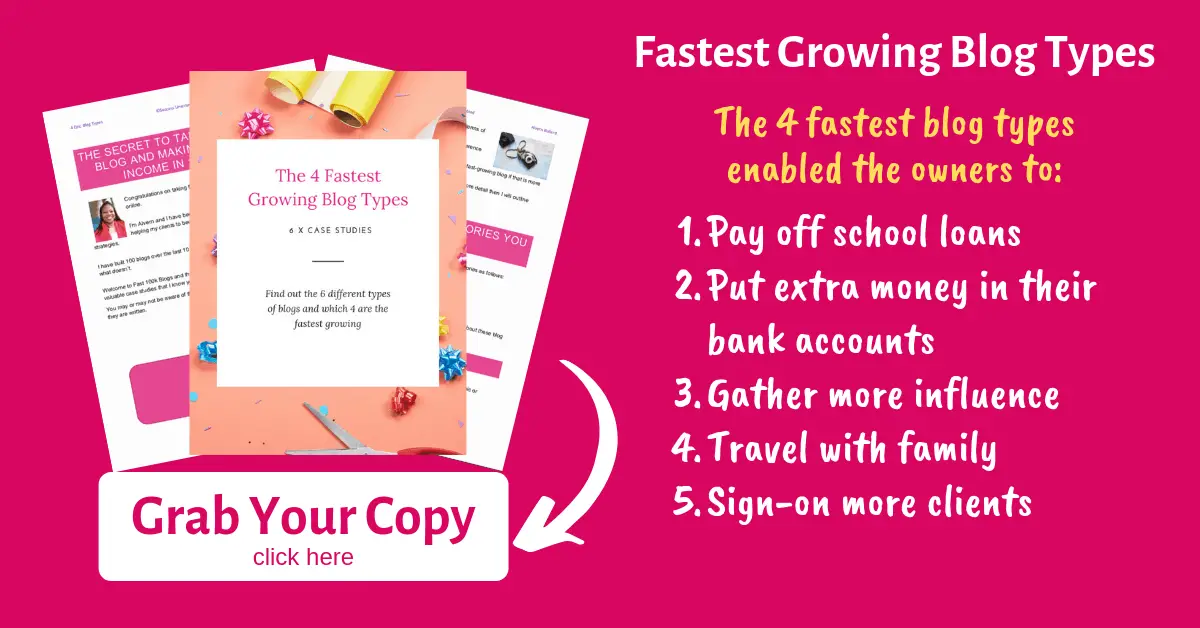 For a more detailed list of examples of blogs that make money and direct links to each report check out my ultimate blog income report here.
Best Money Making Blog Niches
Based on the blog income report as well as the list of profitable blog niches I would say that the best money making blog niches are the ones listed that generated an income.
These include:
1. Mom blogs
2. Marketing
3. Personal finance
4. Food
5. Lifestyle
6. Travel
You can see very detailed examples of how each one is the best niche for blogging as well as the methods they used to generate an income.
It is easy to come to the conclusion that the most profitable blogs are those in personal finance based on the blog income report.  However, it really depends on the profit and loss sheet.
Top Money Making Blog Topics
If you are wondering what are the best money-making blog topics then you need to spend some time understanding user intent.
You see when you look at the buyer journey it consists of 5 key levels and these include the following:
Awareness
Interest
Consideration
Conversion
Retention
The blog topics that are responsible for conversion are not the same ones that help to generate awareness. 
Therefore depending on your choice of topic, you need to ask yourself where is your buyer on that journey.
What are the most profitable blog topics?
Someone on the buyer's journey to purchase a pair of boots will search during the awareness and interest phase using key phrases like "brown boots" or "brown ankle boots".
However, when they get to the consideration and conversion stages their key phrases tend to get more specific like 'soft leather boots with side zip' or 'timberland 14-inch waterproof boots on sale'.
In other words, money-making blog topics are those that specifically focus on searcher intent when the user is at the consideration and/or conversion stages.
If you need to find out what are the most popular blog topics then take a look at this resource here.
Other Sources of Income
You'll agree with me that starting and running a blog is not for everyone.
Here are other things that you can do in your spare time.
Become a seller on Fiverr
Take surveys on popular survey sites
Sell your unwanted items
Become a freelance writer
Create ebooks on popular topics
Do babysitting for friends, neighbours and family
Start and grow a YouTube channel
When it comes to generating passive income the options are practically endless.
You'll first need to find a topic that you're passionate about or use a skill that you are great at to help an online business.
Charge them for the work you do per hour and accept payments via Paypal.
Conclusion
​You now know the 6 most profitable blog niches and you also have an idea as to the average income each of these niches makes every month.
If you decide to start a blog in any of these niches you would need to have a blogging plan set up outlining the steps to take for success.
This is the reason I outlined above the costs to start a blog.  The average monthly costs of marketing a blog as well as the investment needed in coaching.
Are you currently experiencing success in your blogging journey?  If not what do you think is missing?  
Are you marketing your blog?  Have you invested in coaching? Are you blogging about something where your audience has shown interest?
Of course, blogging is a journey that does not necessarily bring instant success because it takes time.  This is why you really need to have a blog where you are passionate about the topic
What if I told you that in some niches listed above bloggers have experienced success in as little as 4 to 9 months, would you believe me?
In another blog post, I will cover a number of success stories of bloggers in these very niches who experienced success in a very short space of time.
I will also reveal what they did to experience that level of success so quickly.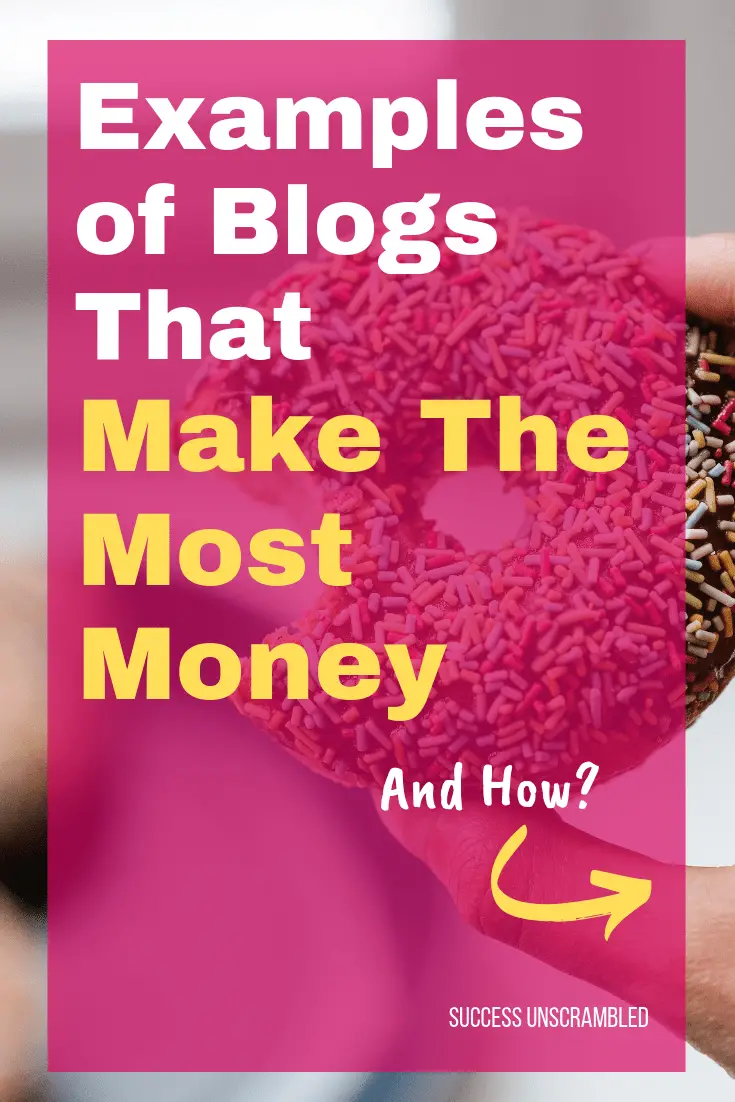 Announcements
Subscribe to the Success Unscrambled Podcast where you will be the first to hear what's happening in the entrepreneurial and digital marketing world.
Your positive review of this podcast is vital to keeping it alive and running for the next 12 – 24 months so please leave a review for us on iTunes, Spotify or any of your favourite podcast players.
In case you missed it check out how to monetise a blog study as well as the review of Siteground vs Bluehost.
Want to take advantage of some free traffic to your blog from Pinterest? Check out my Pinterest SEO tips here.  On the topic of affiliate income check out the best high paying affiliate programs here.
If you are a startup or small business and you need to hire a virtual assistant to complete tasks such as social media marketing, blogging, keyword research or Pinterest account management then take a look at these packages.
Do you want to pick my brain for 15 minutes?  Book some time on my calendar here where I can give you 15 minutes of coaching for free in blogging, digital marketing, podcasting, Pinterest account management.
Topics related to most profitable blog niches:
Blog Topics Making The Most Money