Podcast: Play in new window | Download (Duration: 31:26 — 43.7MB) | Embed
Subscribe: Google Podcasts | Spotify | Amazon Music | Stitcher | Email | TuneIn | Deezer | RSS | More
You've spent an entire year agonising about starting a blog, finding the blog name, choosing the right website host, picking the blogging platform and branding, now you need to learn about monetising a blog!
When does the learning ever end? Isn't there a simpler path to start making money for online success and digital nomading?  Why can't someone design a simpler way to get this done?
The truth is if it was going to be so easy then everyone will be doing it.  In fact, it would be just as easy as getting a job at McDonald's.
However, every blog is different from the other making their content unique.
Each blog serves a different audience and has a writing style to suit its readers.
For this reason, monetising a blog will cater to the needs and appetite of the community it serves.
There isn't a one size fits all when it comes to generating an income from blogging.
You will need to test a few ways and settle down on the approach that is best suited to the niche, audience and objectives of the blog.
Disclaimer: please note that this post may contain affiliate links which means that if you buy one of my recommended products I get paid a commission for sharing the link.  I only recommend products that I have tried myself and have experienced success.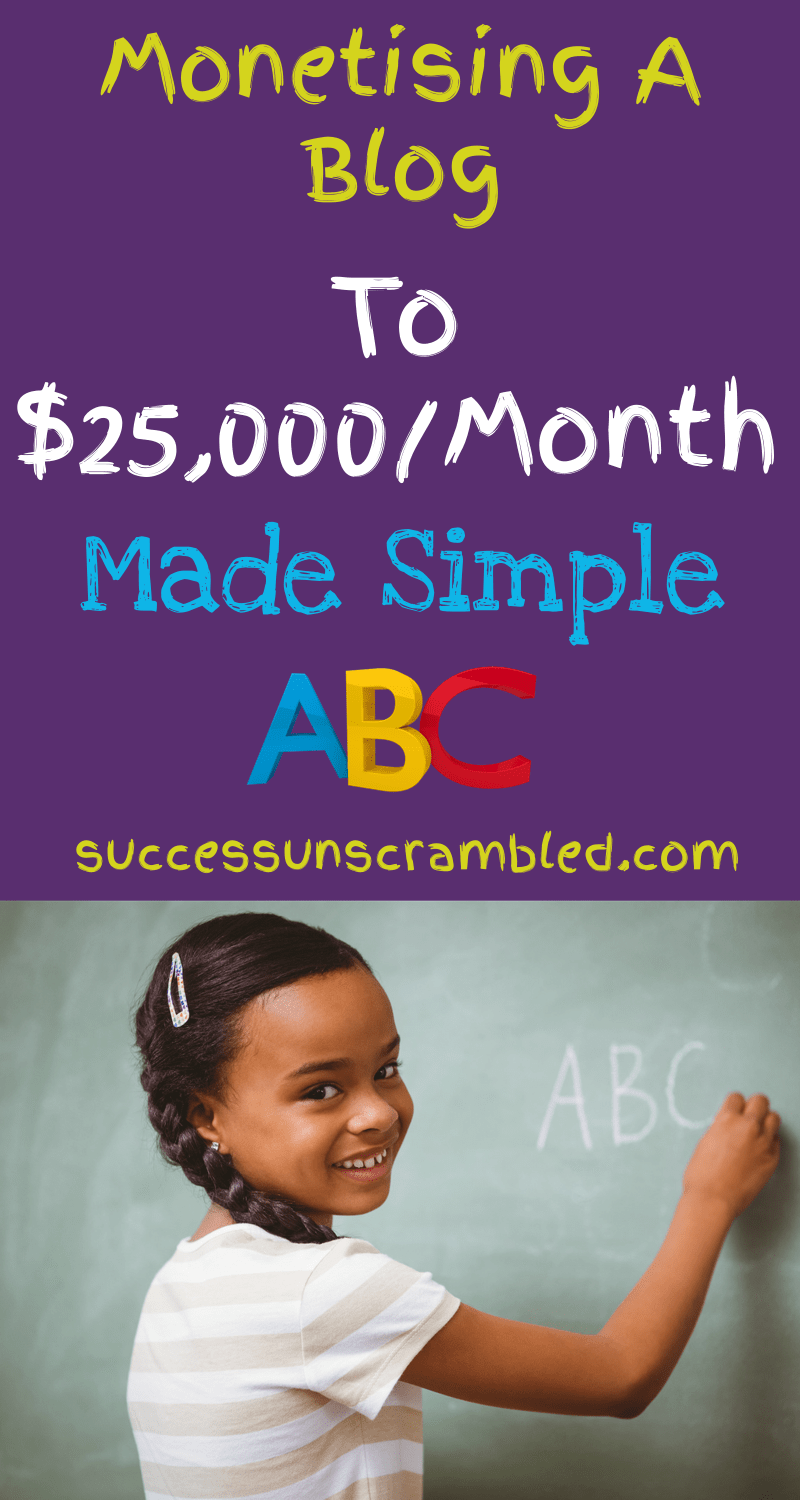 Monetising A Blog
Before we dive into 'the how' let's spend some time exploring what is the definition of monetising a blog.
It will be presumptuous of me to assume that you understand what I mean.
In this wild, wild west that we call the Internet or online world there are several ways that entrepreneurs and businesses alike generate revenue.
An online store like Amazon generates its income from selling products and services to consumers and businesses. While Google and Facebook earn revenues from selling ads.
Other smaller retailers or boutiques sell clothes and gifts. Some even sell subscription boxes or subscriptions on membership sites.
They are fortunate to build up an email list which is a big deal to making money online.
The options appear to be endless for anyone in business.  Bloggers can also earn revenue on their site if they decide to treat their blog like a business.
Monetising a blog will involve using the content or blog posts of the blog to generate an income for the blog owner.  The reasons a blogger will want to do that can be numerous.
Let's spend some time looking at why anyone will want to look at monetising a blog.
Why Monetising Blogs Is Important
If you have read my previous post about starting a new blog you will know that I encourage my readers to think long and hard about blogging because it is a long-term game.
When I say long-term I mean 3-5 years or even 10 years.  When you think about it creating content on a blog for that length of time does require a good bit of motivation.
Depending on the stage of blogging the motivation will be different at each stage of the game.  The first 6 months is often a very exciting time for a blogger.
After a year the honeymoon period will wear off so there will be a need for something else to keep up the momentum.
Of course, there will be a handful of people who can do two years without any return on investment.
The cost of blogging can start off at a really low cost so a very low barrier to entry.
However, the motivation needed to continue blogging every week or month will take a mental toll.
At some point during the course of your blogging journey getting paid to create content will cross your mind.  For some, this will happen at the start while others will be later on.
The Readers
Some bloggers will happily write content every week or month to keep their readers happy or entertained.  One of the key benefits of blogging is to build a community using email marketing.
Having a following of like-minded people who can relate to your topic or cause is awe-inspiring and noble.  However, is it sufficient to motivate a blogger for the long-term?
Bear in mind that the more readers or visitors to your site means an increase in overhead cost.
Week after week of creating content that includes images and video can slow down your blog.
You will eventually move to a faster hosting plan that can handle all these readers.
You will also need to maintain a great user experience to keep the readers coming back for more.
In the initial stages when no one knows about your blog you spend a lot of time getting the word out.
After a while to stay competitive you may need to invest in courses or hire a VA.
All these costs will add up over time and soon your blogging bill can reach in the 100's of dollars every month.  Your blog may be your baby but someone needs to pay the bills.
It is therefore important to have a 'monetising a blog' plan so that your blog can generate some income to meet those blog expenses.
Authority In The Niche
After about two years of blogging it is safe to say that you would have built some authority in your niche.  The journey to building niche authority is not an easy one.
It will be a big disappointment if you need to wrap things up as a blogger due to a lack of funding.  Of course, these things can and do happen due to personal circumstances.
However, avoiding the abrupt end to a blogging career is a good reason why monetising a blog is a wonderful idea.  It is a great form of passive income where the blog becomes self-funded.
When a blog has authority in the niche it is also the go-to place for factual information.  It is also a great place to learn from another person's experience.
The blog post combined with the list of associated comments also brings a deep sense of community in any niche.
Can you imagine what the world would be like with only a bunch of corporate sites?
The world would be fairly boring without bloggers.  We need bloggers to keep things real and to learn from one another.
Digital Nomad Lifestyle
Another reason why you will want to monetise your blog is that it offers a world of financial independence.  Imagine becoming a digital nomad where you are a location independent entrepreneur.
It is such an awesome feeling when you don't have to work a 9 to 5 job.  No need to request time off from anyone because you decide your own hours.
As a digital nomad, you can decide to travel the world while blogging.  You can work from virtually anywhere you want as long as you have access to the Internet.
You may be thinking that it all sounds good but that is not possible for you.  If you believe that you are not good enough to be a digital nomad then hold that thought.
Your dream can become a reality with a bit of planning and strategy.  It is true that monetising a blog does not happen overnight but the fact is that it can be done.
How To Monetise A Blog
When it comes to generating an income from your blog there are several ways to achieve this goal. There are so many options available including:
Ads
Affiliate Marketing
Product Sales
Sponsored Content
Services/Consulting
These 5 options can be considered direct methods of generating an income from your blog.  The area of services and consulting can be further broken down as follows:
Becoming a VA
Coaching
Guest Blogging
General Freelancing
The services/consulting method means that you are still using the blog as a platform to advertise your services to potential clients.
Affiliate Marketing
If you never heard of affiliate marketing before that is okay.  It basically means that you advertise other people's product or service on your website and when someone makes a purchase you get paid a commission.
There are a great number of affiliate programs available from the normal to the obscure.
I mentioned Amazon previously and they have an affiliate program where you can earn a commission.
As you are aware Amazon sells all kinds of products and services and I would be surprised if you cannot find something that you can promote.
The secret to generating a full-time income from affiliate marketing is to focus on high paying affiliate programs as much as possible.
Because it takes the same amount of time and energy to promote a high paying affiliate program as it does to promote one that pays you 10 cent for each sale.
Also, if you can find a handful recurring commission affiliate programs it will make your ability to generate a monthly income easier as part of it becomes passive.
Ads
Running ads is another great way to generate an income from blogging. The easiest way to start is by getting approved for Google Adsense.
Once you have a significant amount of visitors to your site resulting in pageviews then it will be worthwhile.
When I say a significant amount of traffic I am talking about a minimum of 10,000 page views a month.
The popular ad networks to join include Adsense, AdThrive, MediaVine and a few others.
The only downside to this is that you generally do not get to pick and choose which ads are shown and which ones should be excluded.
Another point to note is that there is a traffic ceiling whereby bloggers don't make much more money from ad networks and that ceiling is 100,000 visitors per month.
If for some reason you don't get accepted for Adsense you can take a look at these Adsense alternatives to see which will suit your blog.
Product Sales
As the name suggests bloggers can generate an income by selling their own products to their website visitors.
These products can range from physical products like planners and calendars to online courses and everything in-between.
While these may not seem like they fall into the 'make money blogging' category we need to remember the purpose of a blog.
The blog is there to educate and help solve problems for the visitor so be mindful what you blog about to them.
Technically selling an online course that helps solve a problem can fall into the category of 'make money blogging. The same thinking process applies to physical products.
A blogger builds their authority in that niche as well as build a brand and a community.
That community would like to feel like they belong to something bigger so the blogger can sell T-shirts, pens and mugs.
Sponsored Content
Sponsored content is a valid way to generate an income from your blog.  It essentially means that a blogger is paid to write posts as opposed to blogging for free.
The sponsored posts tend to be a review of a product or service that a brand is willing to pay for in return for getting eyeballs on the review.
There are several terms and conditions around sponsored content so it is important to check the fine details.  Breaking the rules can mean bad news for the ranking of that post.
While you may not be able to make a full-time income from sponsored content over the long term it is a great way to generate an income to pay the blogging bills.
Services/Consulting
A great way for beginners to mid-range bloggers to generate an income online is by offering their services or running a consulting business.
These services can be as follows:
Coaching
Web Design
Blog Audit
Social Media Marketing/Strategy
Virtual Assitant
SEO Expert
This list is not exhaustive but it can give you an idea as to what is possible in terms of generating revenue online.  It is very helpful while on that journey to earn a full-time income from blogging.
As a blogger, you will have experience setting up a blog and generating organic traffic.  This means that you now have experience doing those two things so you can offer the same service to others for a fee.
[thrive_leads id='3691′]
Monetising A Blog Income Ranges
In an extensive study carried out by B. Gaille called the blog income report we learn that when it comes to monetising a blog there are three general categories of bloggers. These are:
Lower Income – $2K to 7.5K
Middle Income – $7.5k to $25k
Upper Income – $25+ and above
Those in the lower income bracket generate their income from ads, affiliate marketing, sponsored posts, services and online courses.
Here is a graph showing the general distribution of that income.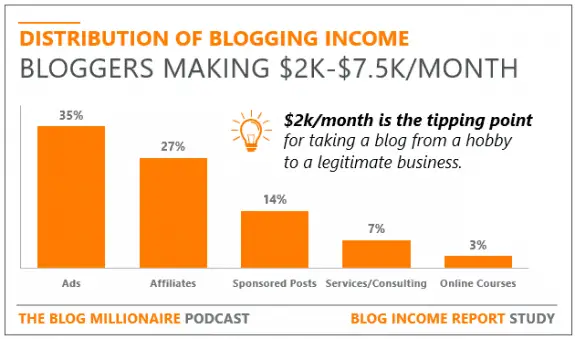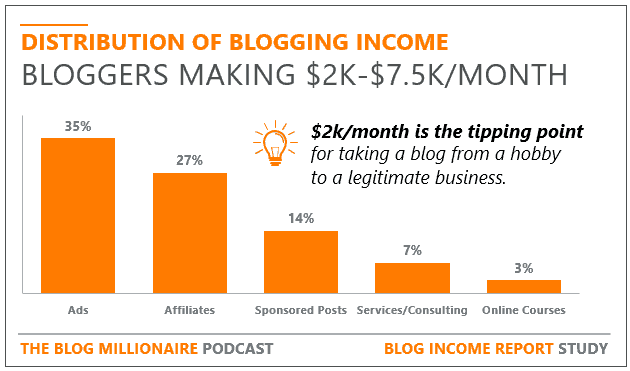 Those in the middle-income bracket have a different distribution when it comes to these 5 categories and you can see more in the screenshot below: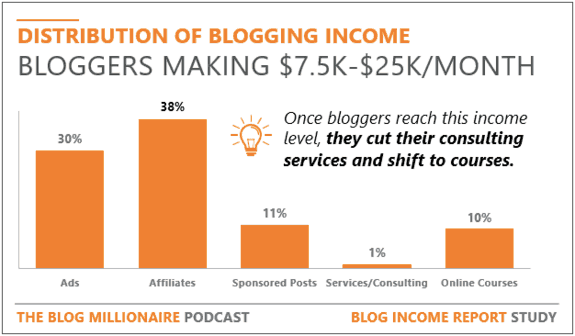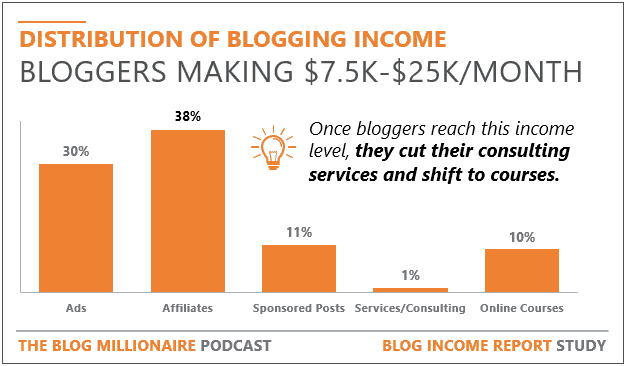 Finally, those in the upper-income category has a very different income distribution across these five categories with consulting and services coming in at 0%.  Check out the graphic below:
As you can see bloggers in the $25,000 plus income bracket make 80% of their income via online courses with only 12% coming from affiliate marketing and 3% from ads.
Conclusion
It is safe to say that it is possible for you to monetise your blog using the 5 popular categories mentioned.  The obvious question is which one can you get started with right away.
If you are still on the fence about starting a blog feel free to take my 10-day start a blog challenge to help you on your journey to becoming a professional blogger.
However, if you have already started blogging but you are stuck when it comes to generating traffic to your blog then check out this brilliant course to start driving visitors to your blog this week.
You may be a stay at home Mom and you want to get started in becoming a freelancer before you become a blogger and that is fine.  You will love this course here for Mothers who want to become freelancers.
Maybe you are already an entrepreneur and you need to outsource this whole blogging thing to someone so you are looking for a virtual assistant retainer package so that person can take it off your plate.  You can hire me here.
Do you still have questions?  Feel free to post your comments below or contact me here.
[mv_create key="1″ type="diy" title="Monetising A Blog To 25,000/Month Checklist" thumbnail="https://www.successunscrambled.com/wp-content/uploads/2018/10/monetising-a-blog-to-25000-a-month-made-simple-blog-1.jpg"]
Announcements
Subscribe to the Success Unscrambled Podcast where you will be the first to hear what's happening in the entrepreneurial and digital marketing world.
Your review of this podcast is vital to keeping it alive and running for the next 12 – 24 months so please leave a review for us on iTunes, Spotify or any of your favourite podcast players.
In case you missed it check out the intrapreneur vs entrepreneur study as well as the #1 secret why an ultrapreneur are more successful than an entrepreneur.
Want to take advantage of some free traffic to your blog from Pinterest? Check out my Pinterest SEO tips here.
If you are a startup or small business and you need to hire a virtual assistant to complete tasks such as social media marketing, blogging, keyword research or Pinterest account management then take a look at these packages.
Do you want to pick my brain for 15 minutes?  Book some time on my calendar here where I can give you 15 minutes of coaching for free in blogging, digital marketing, podcasting, Pinterest account management.