Podcast: Play in new window | Download (Duration: 21:39 — 30.3MB) | Embed
Subscribe: Google Podcasts | Spotify | Amazon Music | Stitcher | Email | TuneIn | Deezer | RSS | More
Do you believe that female midlife crisis stages exist?  Have you lost interest in the routine called life and nothing seems to appeal to you anymore?
Are you feeling disappointed about the success or lack of success that you have managed to attain in your life so far?
Do you feel that you need to make a big change in your life in order to stay sane or enjoy life once again?
Maybe you feel that you need to move to a different country, move to a different state or just change your way of life altogether.
Sometimes it feels like work, extracurricular activities, friends, loved ones, hobbies or even food just does not appeal to you anymore.
You are screaming inside your head and you just want to run away alone and live on a tropical island somewhere far away from people and technology to get some level of peace.
The truth is there are a lot of people who feel this way every day and for some, it could be a midlife crisis, for others it could be a variety of things.
I have even seen adults in their 20s expressing themselves in this way and wondered if it is possible for this midlife crisis to occur at an earlier age.
The good news is that we will spend some time looking at what exactly is a midlife crisis, why it is important and steps that each of us can take to manage it if it is real.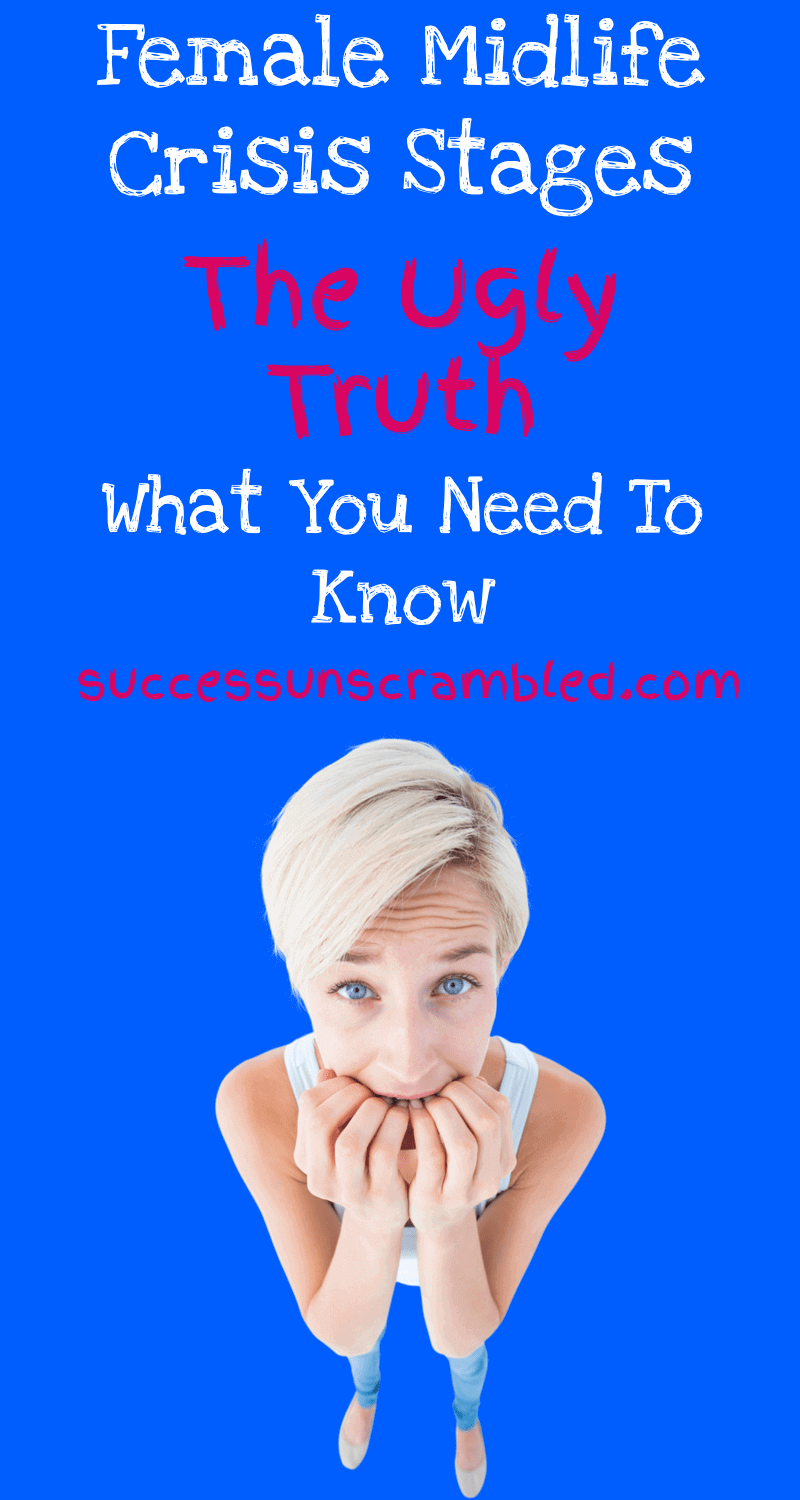 Midlife Crisis Definition
According to Wikipedia midlife crisis is a "transition of identity and self-confidence that occur in middle-aged individuals typically between the ages of 45-64 years old"
When I was a lot younger I assumed middle-aged to be 40.  However, it seems that I was totally misled in my view of life.
Wikipedia goes on to explain that this is brought about by events that highlight a person's age, closeness to mortality as well as shortcomings in accomplishments.
I believe this is one reason that someone could experience a crisis at any age.  A person who is 25 years old is as old as they have ever been.
Once they compare themselves with their peers they could experience a level of depression of they believe that they have not accomplished enough or at least what they thought they would achieve by 25.
Wikipedia even goes on to tell us that the term midlife crisis was coined in 1965 and modern research does show that it is not a phase that most middle-aged people experience.
So is it even real or just a figment of some people's imagination?  Are people using it as an excuse to behave inappropriately?
If you have read any of my articles in the past you know I always look for a 2nd, 3rd or even 4th opinion before coming to a conclusion.
Forbes Coaches Council Can't All Be Wrong
In an article written by the Forbes Coaches Council here are 15 signs that you may be going through a midlife crisis.
Apathy
– you lack interest in everything
Getting out of bed
– this one is obvious if life is not interesting you will not have a reason to get out of bed
Lots of debate but no action
– you are debating your next move but fail to take action
Autopilot
– your life feels like it has been placed on autopilot.  My son at the tender age of 14 could not understand why everyone behaves like hamsters.
Losing your purpose
– you feel like life has no purpose.  I prefer to say that many people are unsure of their purpose no matter what age.
Plans not working out
– the success that you have built up until this point feels stagnant or even stifling.
Making big changes
– apparently making out-of-character changes is a tell-tale sign of a midlife crisis
Jealous
– are you feeling a bit envious of other people's success?  Chances are that you are going through a midlife crisis
Groundhog day again
– you feel a little bit of Deja vu as you know how your story is going to end.  It is as if the movie of life your watching has the replay button switched on.
Abandon success
– walking away from everything that you have done up to this point to pursue a passion project.
Everything feels like a chore
– say for example you are a foodie and loved cooking but suddenly cooking feels like a chore to you even though it is a strength of yours
Lack of satisfaction
– you have experienced a huge level of success only to realise that it does not bring you the satisfaction you expected.
Fear blocking a winning spirit
– you suddenly realise that you are running out of time which brings a level of fear. This then results in uncertainty
Ticking Clock Overwhelm
– you realise that you are running out of time and you have accomplished that fancy car yet so you make an impulse decision to buy the car of your dreams.
Directionless
– you are good at what you do but you feel confused about where this is taking you and if you'll get to that endpoint.
As you can see these are signs given to us by 15 different people who are part of the Forbes Coaches Council.  Could this mean that midlife crisis is now real?
Let's spend some time looking at the different stages of midlife crisis for women.
Female Midlife Crisis Stages
In an article by Hearts Blessing on the 6 stages of mid-life crisis this is what we found out.
Denial
The first stage is denial where the person knows that they are getting old. Their body is not working like it did previously and they are wearing out so they are living in denial of these things.
Anger
The 2nd stage is anger and the person is generally quite annoyed that they have been assigned this older person life.
So, they begin lashing out at everyone not realising that people their age are going through a similar experience.
Replay
Trying to catch up on lost time, searching for their youth and even having affairs. They will do things out of character which is not considered normal.
Depression
Because the person has not addressed the problem adequately in the first 3 stages during this 4th stage they feel like a failure and become depressed with low self-esteem.
Withdrawal
This 5th stage occurs because the person looks at all the damage they have done and they come face to face with reality. They can rebuild broken relationships or become withdrawn.
Acceptance
The 6th stage has been broken into 3 stages.  The realisation of what they have done, the temptation to go back and continue the brokenness and an archway where they need to face their fears.
It will take time for things to settle down but it will happen.  The thing is that these stages of mid-life crisis can have a reduced impact if you embrace a way to ride the wave.
Female Midlife Crisis Solutions
Kate Hilton at the Huffington in 2013 wrote these fantabulous five ways to survive these female midlife crisis stages. You'll love them!
Take up a sport
I personally think this is a great idea although my idea of a sport will be more along the lines of dancing, not golf. There is always hiking or mountaineering.
Embrace your creative side
If you are like me and the last time you took out the sewing machine to sew a dress from scratch was over 20 years ago this may sound scary.
No need to go that far as you can find something more simple like creating social media images.
Hang out with other women
This is a brilliant idea and it is something that I do remotely.  I am part of at least 10 Facebook Groups for women only ranging from the simple to the outrageous.
Beyond the Empty Nest
Boss Mom
Live Free Mama
Women Passionate About Travel
Millionaire Single Mom
Make a Wild Permanent Gesture of Size
At this point, Kate gave the example of doing something that has long-term benefits that range somewhere between a haircut and divorce like straightening your teeth or laser hair removal.
Start a club or as she calls it an "Outrage-of-the-month-club" (OOTMC)
It is like a dinner club where you and a group of ladies frequently go for dinner but only if everyone can attend.  I think it is a brilliant idea.
Youthful health
Katherine Shaw from independent Femme suggests that should focus on being healthy from the inside out.  As opposed to wearing mini skirts or wearing revealing outfits.
Start a blog
I decided to add a 7th item to Kate's list which is to start a blog.  You can do all 5 of the other things that Kate suggests but starting a blog has to be the most rewarding way to survive midlife crisis for a woman.
If you enjoy reading chances are you will be a good writer.
Conclusion
As you can see female midlife crisis stages are real for some people and if we fail to plan then we are planning to fail at coping with a midlife crisis.
For some people, it can be a big deal and Kate's suggestions may not help so depending on the severity my advice is to always seek professional help if that is what you need.
If however, you are bored to tears and would like to do something that can distract you from doing something you will regret then you can always start a side hustle and become an entrepreneur.
I have met many people who always wanted to write a book, become a blogger, become a creative, become a digital nomad and travel the world.
If this is something that you are passionate about and it will help you psychologically then go for it.
You may still need guidance to get going on this passion project so take advantage of these coaches who can help you on your journey.
Announcements
Subscribe to the Success Unscrambled Podcast where you will be the first to hear what's happening in the entrepreneurial and digital marketing world.
Your review of this podcast is vital to keeping it alive and running for the next 12 – 24 months so please leave a review for us on iTunes, Spotify or any of your favourite podcast players.
In case you missed it check out the intrapreneur vs entrepreneur study as well as the #1 secret why an ultrapreneur is more successful than an entrepreneur.
Want to take advantage of some free traffic to your blog from Pinterest? Check out my Pinterest SEO tips here.
If you are a startup or small business and you need to hire a virtual assistant to complete tasks such as social media marketing, blogging, keyword research or Pinterest account management then take a look at these packages.
Do you want to pick my brain for 15 minutes?  Book some time on my calendar here where I can give you 15 minutes of coaching for free in blogging, digital marketing, podcasting, Pinterest account management.