Podcast: Play in new window | Download (Duration: 26:51 — 37.4MB) | Embed
Subscribe: Google Podcasts | Spotify | Amazon Music | Stitcher | Email | TuneIn | Deezer | RSS | More
I think you will agree with me that there is so much hype around digital nomading that it is difficult to decipher what is the best way to get started.
If you are still wondering if digital nomading is suitable for you I think you will appreciate this post.  I am going to help you understand what it is and how you can get started.
The important thing that you need to consider is if it is suitable for you right now or sometime in the future.
If you are a parent of very young children it may be a good fit to adopt a nomadic lifestyle.
However, if your children are already in elementary and/or high school there is much more that needs to be considered other than food, clothing and shelter.
Let's spend some time looking at what it is in the first instance before we run ahead of ourselves.  You may even also consider becoming an ultrapreneur in the process.
Digital Nomading Meaning
The art of travelling around the world while making a living remotely or online via the Internet is the best definition for digital nomading.
There are many people who work remotely from a single location all year round but they are not digital nomads just remote workers.
Some small business owners would travel for 6 months of the year while running their business.  They then remain located in their home country for the other 6 months.
I guess that can be considered digital nomading part-time as they do travel for 50% of the time.  Others do a similar set up for varying portions of the year.
Let's not be too picky about who should be in or out of this category because the purpose of digital nomading is that it gives you that flexibility or location independence.
The reason people embark on this career path is that they want the flexibility of getting the best of both worlds.
Why remain in an unhappy place when you can live your purpose?
1. Digital Nomading Jobs
One of the key elements that differentiate the digital nomad from the location independent entrepreneur is that the digital nomading lifestyle can be either an employee or an entrepreneur.
An entrepreneur would tend to set up a location independent business simply because they want to live a nomad life.
All they would need is access to the Internet from a cafe or coffee shop and an email address so they can adopt the digital nomad lifestyle.
So let's spend some time looking at the kind of jobs that would lend itself to this lifestyle.  Bear in mind that these jobs will need to be timezone agnostic.
Video Editing
Blogging
Copywriting
Graphic Design
Writing
Podcasting
Project Management
Product Management
Programming
I am only supplying a shortlist this time as there can be many more that can be added.
The idea here is to get you thinking of what roles are possible for you.  One day you could be in Thailand and the next day you can be in Japan.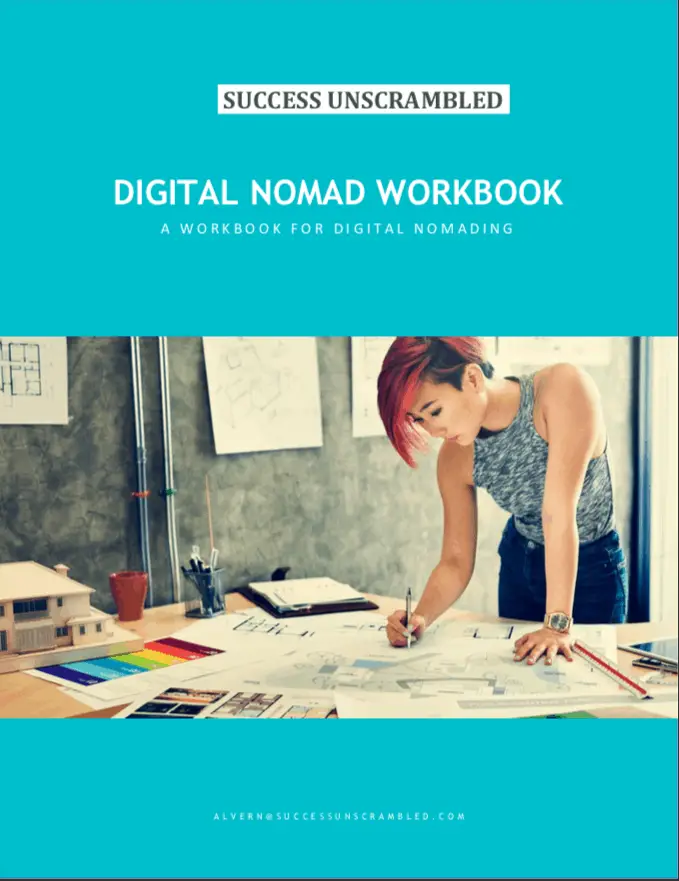 Grab The Digital Nomad Workbook
2. Digital Nomading Salary
When it comes to salary the honest truth is that there are no hard and fast rules as to what is a minimum wage.
Obviously, it depends on the company that is hiring you and where they are based.
If you decide to generate an income of your own the gold standard across the digital nomad world is within the six-figure range.
An income of US$120,000 a year seems to be a comfortable range to allow for accommodation, leisure travel, daily expenses and savings for a rainy day.
Many people who get into digital nomading say that they don't even need that much money.   They choose to live in cities with a low cost of living.
Everyone is different in terms of their goals and objectives so spend some time researching and make a plan that is suitable for you.
3. Popular Digital Nomading Cities
As part of your research you would need to spend time mapping out the countries and corresponding cities you would like to visit.
Of course, you can decide to be spontaneous in your approach after arriving in a country.  You still want to do some prior research for your safety and security.
Here are some popular cities in no special order:
Europe
Berlin – this city continues to make the short list as one of the best cities to do your digital nomading and it is by far not the lowest in cost.  In fact, the cost of living in Berlin is very close to $3,000 a month.  If your annual income is $120,000 then paying 3k a month in Berlin is not a problem.  It ranks high on the list because of weather, safety, air quality, Internet, fun, peace and nightlife.  See more here.
Valencia – with good air quality, safety, Internet and weather Valencia made it to the list.  Although it is part of Europe their healthcare system is not as good as other parts of Europe and the cost of living comes in at $2,400 a month.  You can see for yourself here. While the summer temperatures can be as high as 35 degrees things start cooling off again from September onwards.
South East Asia
South America
Santiago – which city has great nightlife, good air quality and is great for start-ups?  Santiago in Chile of course.
Your trip around the world will not be complete without a visiting South America.
They may not have the best healthcare but if you focus on the great experience that can be had and what you can learn it will be worth the trip.
South Africa
Cape Town – rated number one many times as one of the top places to visit by New York Times, Cape Town continues to lure many who are looking for an entrepreneurial atmosphere.
Apparently, it is a big city that has the feeling of a small town and you can experience a wide variety of outdoor activities in one place.
If adventure is your main objective then take the plunge.  In terms of cost, it is rated cheaper than Europe but not as cheap as South East Asia.
United States
One of the cheapest cities to live in the United States as a digital nomad is Cedar Rapids in Iowa where the average monthly cost is just under $2,300 per month.
The population is a mere 130,000 and the best International carrier is United Airlines.
The best time of year to be here if you don't like the cold weather is April through to October.  They have great Internet speeds of 31MBps.
4. Digital Nomading Community
When one thinks of becoming a digital nomad or a location independent entrepreneur the first thing that comes to mind is being alone.
The truth is since digital nomading started back in 1983 it continues to progress in leaps and bounds to a certain extent.  There are more events happening every year to cater to this market.
Freedom X Fest, Nomad Summit and Nomad Cruise are among the popular events that occur to build and encourage a community spirit.
There are even a number of popular forums, I know I said forums, for digital nomads. They have been created to build camaraderie and support the digital nomading community.
The popular ones include Nomad List forum, Digital Nomads Forums with over 6,700 members and a Google Plus community for digital nomads called Digital Nomads Abroad.
If you are looking for a more structured community where you will receive coaching.  Or even recognition, awards and success in your digital nomading lifestyle then check out this free video.
5. Make Money Digital Nomading
At this point, you are probably wondering if it is even possible to make money as a digital nomad entrepreneur?  Actually, the answer is yes.
This can be achieved by doing the following roles as an entrepreneur:
Consultant
Blogger
Coach
Speaker
Trainer
Programmer
Web Design
Depending on where you are on your journey you may prefer not to embark on digital nomading on your own.
You can instead get assistance from a coach or mastermind group. You can even get started writing blog posts as a blogger.
Feel free to grab the digital nomad workbook and join me on the journey of becoming a location independent entrepreneur or digital nomad.
6. Digital Nomading Ideas
You may want to spend some time understanding the intricacies of the digital nomading journey.  All this before you take the first step.  That is totally fine and understandable.
The truth is that becoming a digital nomad is still considered a very new way of working.  Only because it is not being done by the masses.
If you want to take the entrepreneurial route it is going to be as scary as starting a business.  You will need to decide if your why is big enough for the journey.
You will need to have the right mindset and you will also need to find your purpose and passion.   The last thing you want to be is unhappy.
Unlike starting a business digital nomading can be less risky.  You can choose to use a structured path to achieve your goals.  A path where you can receive coaching every week.
So, if you are still interested in taking the leap then check out the digital nomad workbook.  If you need help outsourcing a few projects check out my VA Packages here.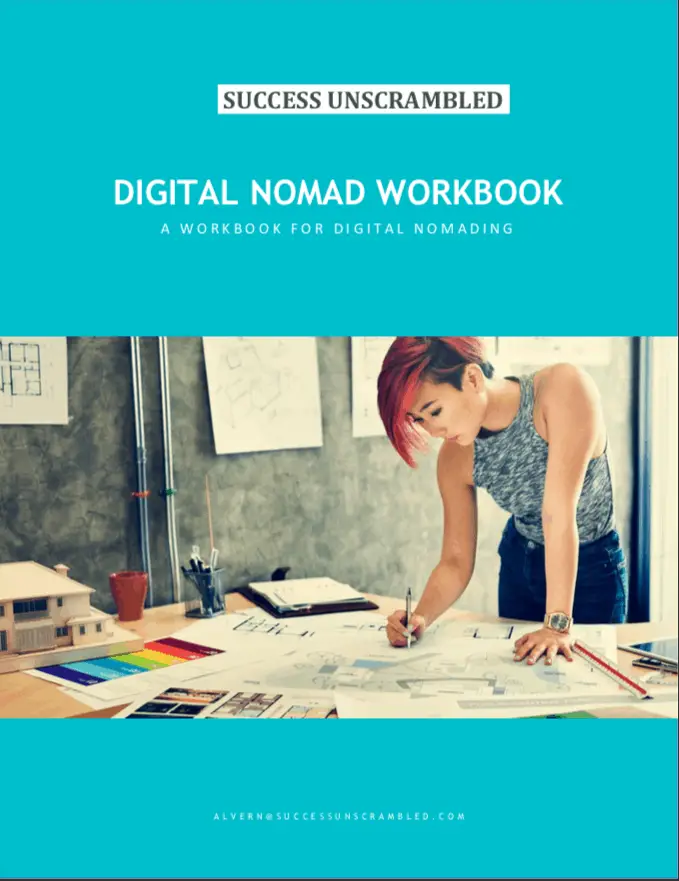 Grab The Digital Nomad Workbook
7. Digital Nomading Tools
As this new way of life does involve working you will want to consider the cost of 'doing business'.  Include it when you are looking at the cost of living.
Whether you decide to be designing, writing, coding or editing you will need software, hardware and/or applications.  These will help you to get your work done efficiently.
Here are a few of my favourites:
Filmora – great for audio and video editing.  Especially if you are an amateur on a MacBook.?
Evernote – don't leave home without it.  I love the way I can start writing a blog post on one device and continue on another.
Grammarly – who has time to remember all the correct spelling and proper grammar when you are a blogger.  Let someone else handle that task.
Buffer – even if you decide to bootstrap as an entrepreneur the free version of Buffer will help you get started
ConvertKit – the money is in the list.  If you are not building an email list then you are leaving money on the table
Canva – a great tool for creating all the images you need for your social media marketing campaigns. You can even create documents
Xmind – all creatives need somewhere to write down their ideas.  So Xmind is the place where my ideas come to life and even fall into place.
If at any point you just want to ask a quick question to someone in your shoes check out the Reddit digital nomad thread with over 31,000 readers.
Chances are someone else already asked a similar question to yours.  So the answer may be staring you in the face.
Announcements
I will cover some traffic attraction hacks across LinkedIn as well as Pinterest, Twitter, SEO and Facebook.  So get ready to join.   Remember to grab the free goal setting planner printable to plan your next 12 months.
You can subscribe to our podcasts to get notified when more success stories become available.  In case you missed it check out the posts on how to become an entrepreneur or location independent entrepreneur, check out these high paying affiliate programs and 9 productivity apps.
Are you a college drop out?  Looking for a way to make a comeback or learn from the successes of others?  Check out these Bill Gates college dropout lessons.
If you need help setting up a marketing plan for your blog feel free to book some time in my calendar and I will be happy to spend an hour with you going over specifics.
If you need help setting up your profile on Pinterest or you need someone to manage your Pinterest account on a monthly basis you can work with me here.