Podcast: Play in new window | Download (Duration: 21:32 — 30.5MB) | Embed
Subscribe: Google Podcasts | Spotify | Amazon Music | Email | TuneIn | Deezer | RSS | More
Melia felt tired and frustrated from working 50-hour weeks, something needed to change fast.
She would do anything to start her own business but didn't know how to attract clients.
Melia knew that if she didn't figure this out in the next 6 weeks, she would need to quit her job of 14 years.
Yes, there's a lot of information available on YouTube and blogs across the Internet.
However, what would be nice is if she could find a resource that would lead her through the client attraction process successfully, step by step.
Let me know if you struggle with any of these.
You know that client acquisition is very important for your small business
No clients means no cashflow, revenue or income
It would be best if you generated a lot of income to become profitable
Getting your business to 5-figure months consistently is the ultimate dream
If only there was a way to get this process automated or at least have multiple streams of consistent high-quality leads.
In this resource, you'll discover how implementing a few simple systems can generate leads that'll help you generate the income and profits needed to go laughing all the way to the bank.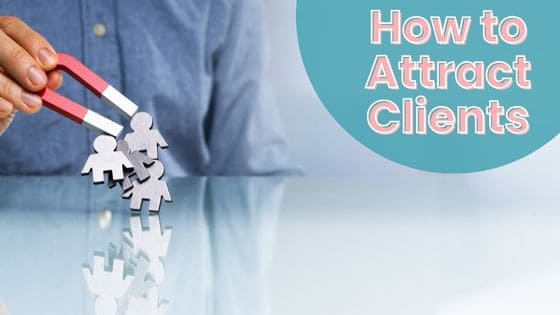 5 Things You're Probably Doing Wrong
Before looking at those 5 incredible ways to attract clients let's spend some time looking at the things that don't work.
At least when you know what not to do you'll understand the reason why you're not generating leads for your business.
You'll also have a better idea of how easy it is to settle for these default or vanilla options in your business.
1. Talking to Everyone
Several years ago when I was brand new to business I didn't understand the concept of target marketing.
When asked by my business advisor who is my target market, I responded with, "Anyone who needs my services".
There's a common phrase in marketing which says, when you talk to everyone, you're talking to no one and this is so true.
2. Not Digging Deep Enough
Another common mistake is when you are addressing a specific target audience you are not digging deep enough.
What I mean by this is that you are solving a core problem for your potential customers and this core problem has symptoms.
For example, when someone is constantly late for all their appointments, what is the real problem? Please don't say that they need a watch. Lol!!
3. Wrong Platform
You might not be someone who has difficulty with talking to everyone or digging deep but what about the platform you are using to promote your business?
Are you using the right platform where your ideal client is hanging out?
Business is so weird, sometimes I find certain types of audiences hanging out in the strangest places.
4. Suffering From Analysis Paralysis
This may not be you but there are some people who spend a lot of time analysing everything before taking action.
They'll choose 2-3 platforms and go on each one to spend time observing conversations and results others get.
However, spending 6-24 months lurking and observing will definitely not bring you leads.
5. Stuck in the Content Creation Phase
This is probably the most popular challenge that many new business owners, entrepreneurs and freelancers face.
If you are stuck trying to make your content perfect before publishing it then I have some news for you.
Nobody is perfect and your client cares more about solving their problem compared to any errors you made.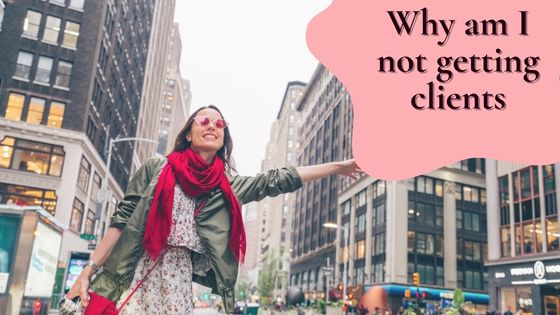 Who Are Your Potential Customers?
I know I mentioned this briefly previously but let's take a look at this in a little bit more detail.
Understanding who your potential new customers are will not only help you to better customise your research process.
It will also help you to coin a message that speaks to them at a deeper level.
You'll have much better results if you spend time listing out the things that irritate them or even keep them awake at night.
In the previous example, I mentioned the fact that someone was late for all their appointments.
Let's look at several reasons why this might be the case.
They are tired all the time
Maybe they have trouble sleeping
Potentially, they may need an eye test
They are unhappy about their current situation in life
It's possible that they may be experiencing a mid-life crisis
Figuring out the real reason why your potential clients are tired, sleepy, sad, worried, stressed, frustrated, bored or apprehensive would help you to speak to their needs better.
Develop a Marketing Strategy
It's important to look at the promotion of your business from a 10,000-foot view because it helps you discover how to attract clients.
There was a time when the phrase marketing strategy made me break into hives.
However, it simply means taking a step back and looking at your business holistically with the end result being that you are meeting that big objective using a marketing plan.
The most effective way to achieve this is by looking at the journey of your ideal clients and reading their thoughts at each step.
Here's an example map of your potential client's journey.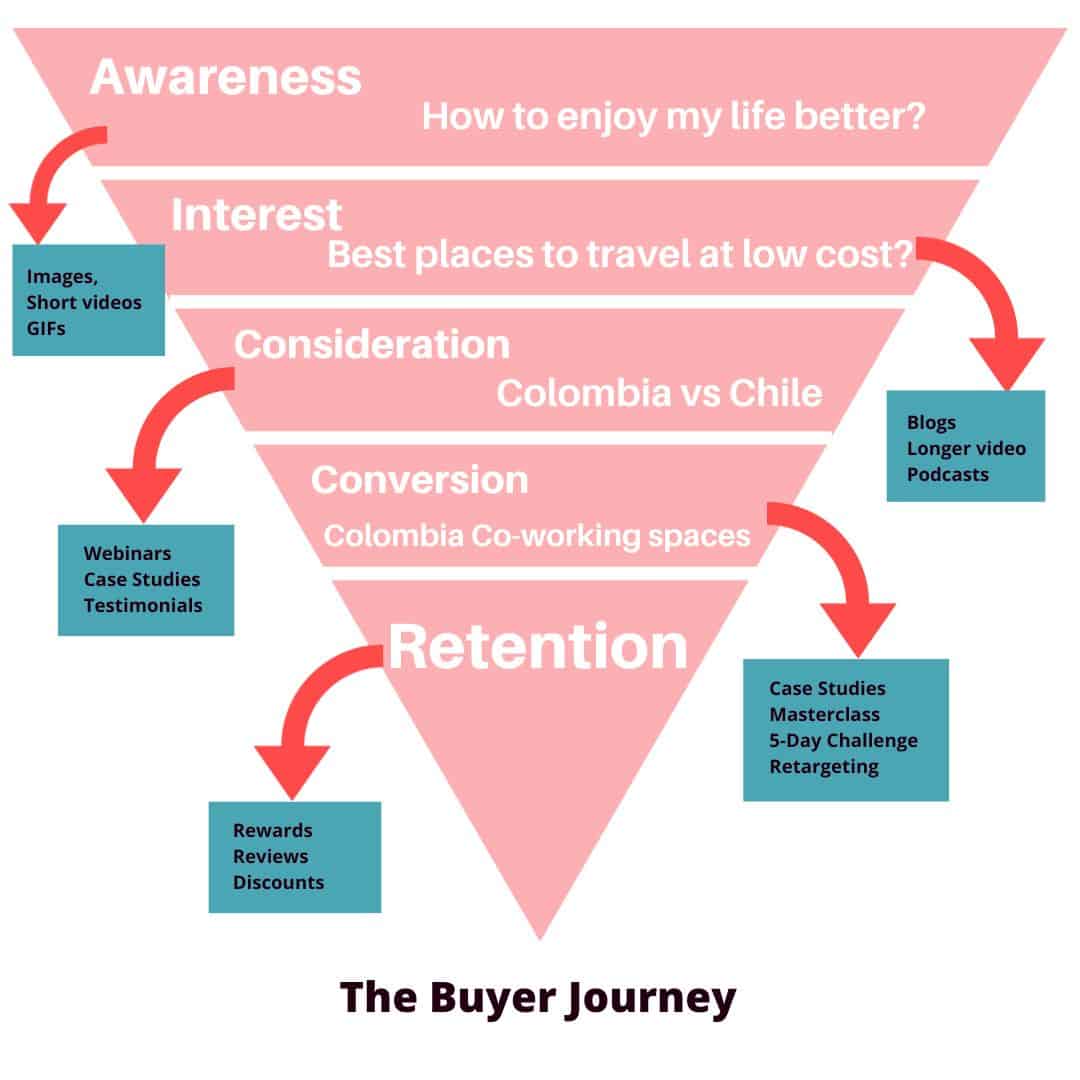 Notice how their search or questions change the closer they get to making a decision to buy a solution.
Your digital marketing strategy will look at each stage of the journey and decide what is needed to get to the end goal.
This could include collateral, budget, audience size and conversion rates. Most people would work backwards through the journey.
If you need 20 sales a month, how many leads would you need to generate at the start of the journey?
How to Attract Clients in 5 Sensible Ways
Now that you have a good idea of what not to do, who your potential clients are and how to develop a digital marketing strategy let's look at how to attract them.
By the end of this section, you will have 1-3 client acquisition techniques that you can implement in your business in a single weekend.
Remember that there's no need to overthink it.
1. Short Videos
You may have noticed that at the top of the client journey diagram, I suggested images, GIFs and short videos for brand awareness.
At the time of creating this resource, Reels on TikTok, Facebook and Instagram are taking the world by storm and it's also a great way to attract clients into your business.
Would you like to know what kind of short videos to create to attract your audience?
Let me introduce you to two different tools.
Social Blade
The first is called Social Blade. Before you can use it you'll need to find 3-5 accounts on Instagram and TikTok that your ideal customers follow.
Grab their usernames and research them using Social Blade. If their account is growing exponentially fast then they are doing something right.
You'll see in the screenshot below the fast growth of Tailor Swift's account without adding much content.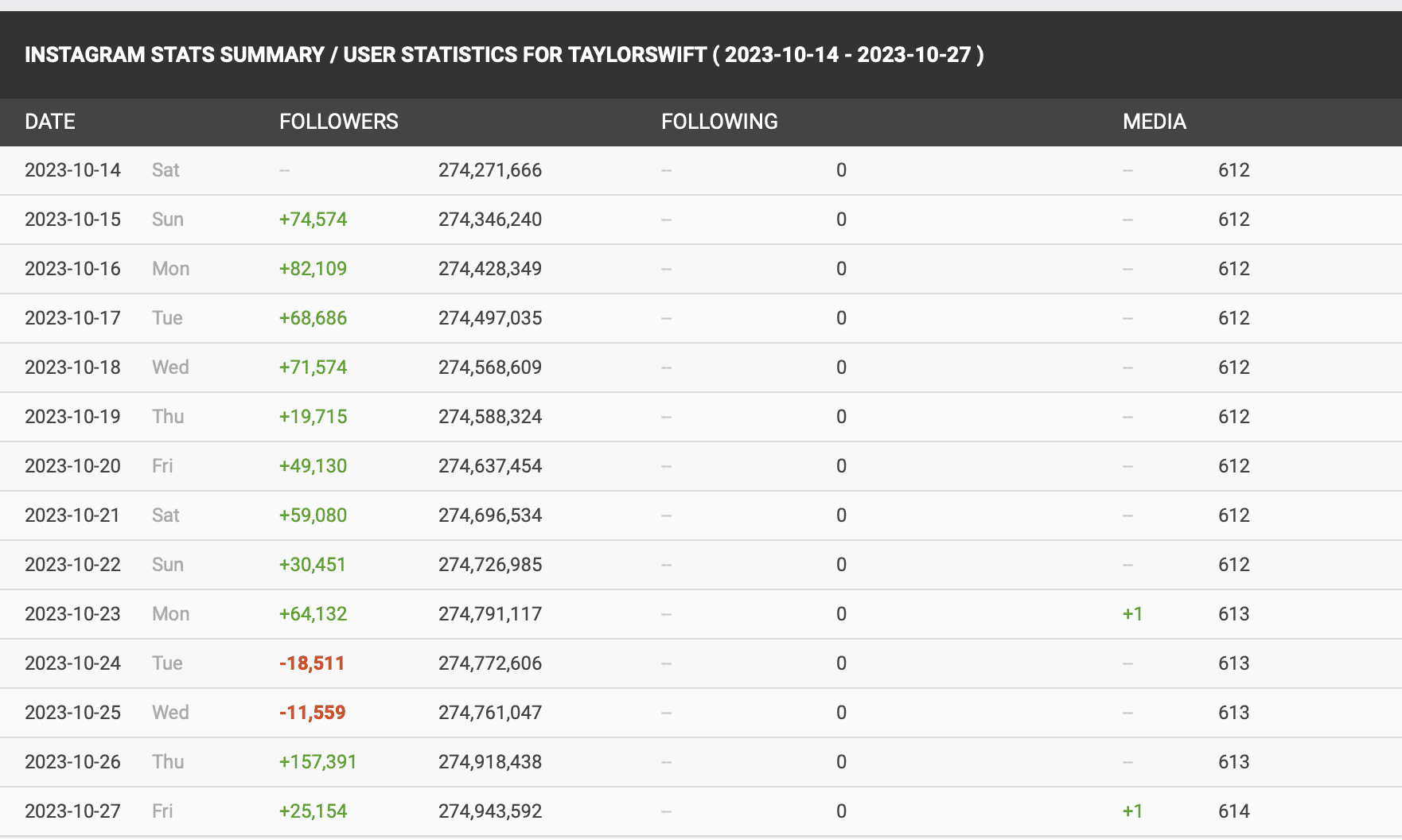 So, look at the videos that have many more views than normal.
PipiAds
The second tool is called PipiAds. It allows you to see which ads are performing the best by country and category.

You can browse their platform for free or upgrade to a paid plan to filter your search results.
It means that you get to see what's working right now for short-form video content.
2. Blogging
A very organic way to attract potential customers to your business is by starting and growing a blog. This method is also known as content marketing.
The reason why this is great for client acquisition is because your ideal clients find you when they are searching for a solution via search engines.
Of course, there is a right way to develop a blog using search engine optimisation.
One of the best tools on the market to accomplish this is called RankIQ.
Personally, I have been using it for over 2 years and it takes the heavy lifting out of keyword research by providing the relevant keywords you need.
The trick is that you need to consistently publish 8 blog posts a month as a new blogger for 12 months.
If you are an existing blogger then you'll need to publish 8 pieces of content and rewrite 8 old ones.
While it is not easy to develop a blog it is so worth it because the results are exponential.
3. Testimonials and Case Studies
To help attract your new clients to your business showcasing a case study and a number of testimonials can rapidly build the know, like and trust stages.
Your ideal client will see people just like them in a before-and-after scenario that's associated with your product or service.
They will think to themselves, if this person can have this level of success chances are that I can have a similar experience.
You can share these assets about your satisfied customers on your social media platforms as well as with your email list.
Testimonials in the form of video content tend to increase conversions faster.
4. A Masterclass or a 5-Day Challenge
Giving clients a taste of your teaching style before they buy or at a relatively low cost is a great way to help them decide if you are the one to solve their problem.
This can be accomplished using a masterclass, workshop or a 5-day challenge and offering them a free gift for attending.
At this stage on their journey, they have a shortlist of solutions that they believe are suitable for them.
However, choosing the right one is difficult simply because they are not clear on the transformation that you offer.
Inviting them to join community events where they get a taste of what it's like working with you really helps with clarity.
Also, giving them special offers if they buy within a certain time period will help you to seal the deal.
Either way, you'll have their contact information which will help you to nurture them using email marketing campaigns.
5. Customer Retention
One of the least practised client attraction activities is customer retention.
It is really important to keep your current customers happy and to encourage them to refer your services to their friends as well as their peers or other people in their network.
Using community areas like Facebook groups is a great way to nurture existing customers and even get innovative ideas for new products and services.
Even by establishing a solid referral program where you offer a commission on each sale that your clients refer to you can drive new hot leads to your business.
Also, reaching out to complementary businesses and building lasting relationships with them will also drive more warm leads.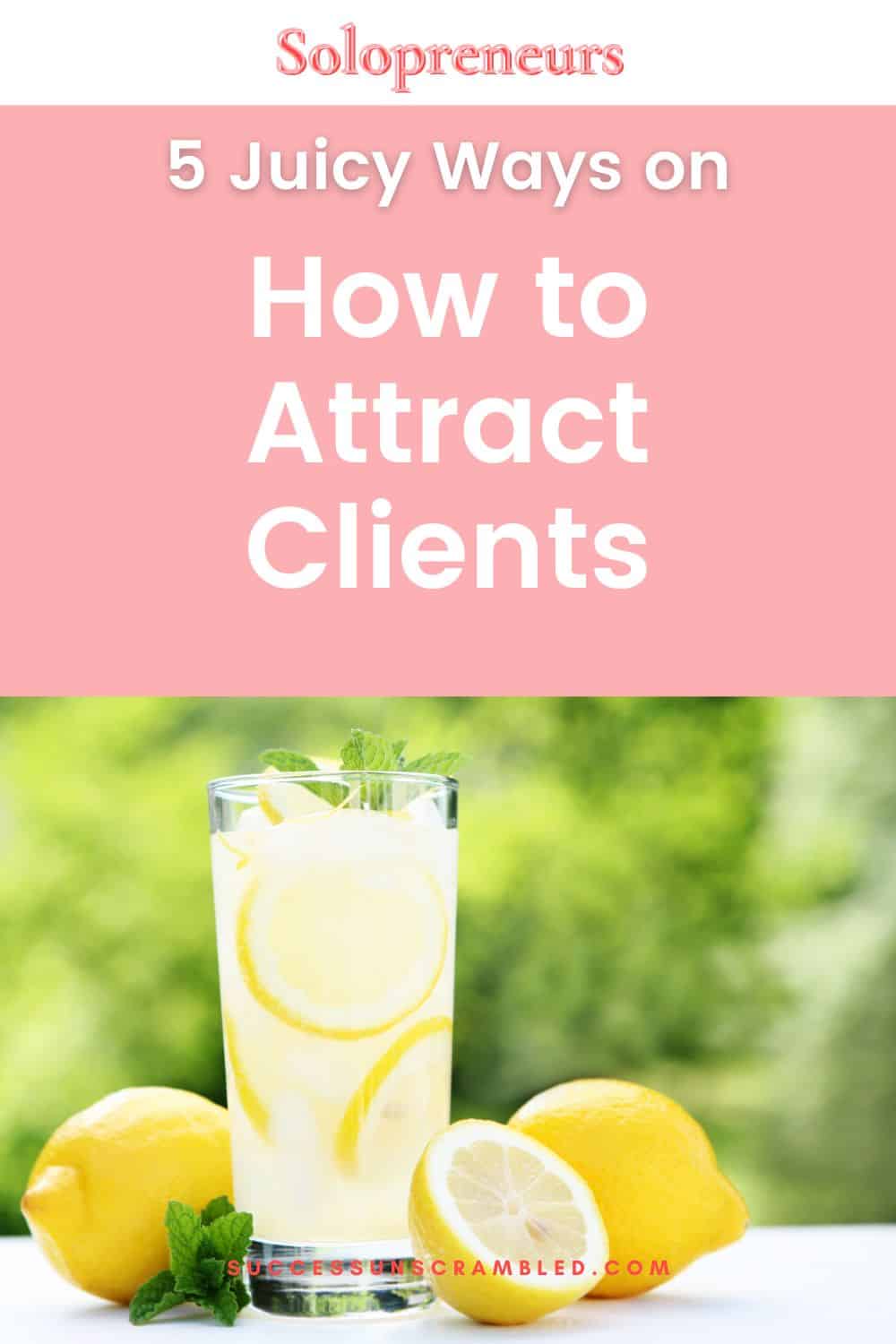 How to Attract Clients FAQ
Let's look at the top frequently asked questions many small businesses have about how to attract clients.
1. How do I attract my first client?
There are two main ways to attract your first client if you are a coach, service provider or consultant.
the first way is to create content that speaks to your ideal target client's need and publish it where they are hanging out like LinkedIn, Facebook or Instagram. Or you can even publish it as a blog post.

another clever option is to deliver free training like a workshop or masterclass that addresses a specific need for your target audience in a Facebook group or on Eventbrite.
2. How do you get clients without experience?
You can offer them a small item from your list of services or an offer for free (aka pro bono work) in exchange for a testimonial.
For example, if you create Reels or other short-form videos for brands you can offer the very first one free of charge in exchange for a testimonial.
3. Why am I not getting clients?
There could be a variety of reasons why you are not getting clients but the top 5 reasons include:
talking to everyone, your message is not targeted
not digging deep enough
wrong platform
suffering from analysis
stuck in the content creation phase
4. How do you make people buy?
While this is not the easiest question to answer without a comprehensive understanding of the specific situation, it is important to understand why people buy in the first place.
Generally speaking, people buy to move away from pain or to move towards pleasure. Therefore, your offer must help them achieve one of these two goals.
Here are 4 things that you can do to make people buy.
Create an offer that addresses their pain points
Develop an offer that helps them move toward pleasure
Make it easy for them to take action (offer a guarantee, payment plan or use scarcity)
Ask for the sale (would you like to go ahead with it?)
Summary
Attracting clients can be a seamless process when you spend some time developing an overall marketing plan to include each stage of your client journey.
Yes, everyone is not going to be at the same stage so this is why it's important to have a community event 3-4 times a year.
Diving deep into their thought process rather than staying at the surface level will set you apart from everyone else.
Taking a creative approach to talking about their deep problems as well as your solution will help to develop the know, like and trust journey faster.
Are you looking for other techniques to get clients? Check out these other 41 ways to get clients online.
Over to you, what will you now include in your marketing plan for the next 12 months?
Need help with your marketing plan? Avail of one of my free consultations here.