Podcast: Play in new window | Download (Duration: 1:04:10 — 89.2MB) | Embed
Subscribe: Google Podcasts | Spotify | Amazon Music | Email | TuneIn | Deezer | RSS | More
Rebekah lost her job last week so, she decided she wanted her own online business but she had one problem. She didn't know how to get clients online.
Her background and experience spanned 20 years working for Fortune 500 companies in her capacity as Human Resources Director.
So, the idea of doing any kind of sales and marketing for a business was foreign to her altogether.
However, she knew that for her business to make money she needed to figure out how to get clients fast.
Let me know if you find these relatable at all.
You've always wanted to start your own business but wondered how to make it work
The whole 9 to 5 job scene is no longer appealing
The fear of failure at a business venture is keeping you stuck in that cubicle
Getting that first client would really boost your confidence by 1,000%
If only you knew how to navigate the digital marketing world effectively to find paying clients.
In this post, you'll learn practical ways to get clients online that would say yes to you even though you don't have experience as an entrepreneur.
How to Build Trust and Authority
Before diving into the process of finding clients for your new business let's talk about building trust.
Believe it or not, the number one reason why potential clients may not say yes to you is because they don't trust you.
You're probably thinking, well Alvern, I don't trust me either so why should my potential clients?
The truth is the only difference between you and the person who has been in business for 3-10 years is that they are more confident than you.
Yes, confidence is the thing that separates those who book clients and those who don't.
So, how do you get clients to trust you?
Did you know that potential clients will "check you out" before deciding to have an initial chat?
Since this is the case it is important for you to give them something to chew on by creating 2-3 social media profiles. This helps you to establish an online presence.
Here's what you can do, choose a business name and then…
Create an Instagram profile for your business
Publish a Facebook business page
Create a simple one-page website (use a Canva template)
Right now it may all seem quiet because you don't have any content published yet but hang tight because we'll look at that next.
What Content to Publish on Social Media?
When you're just starting in business it's really difficult to figure out everything on your own.
One of those things includes knowing what to post on social media also known as content marketing.
The number one tip I'm going to give you next is going to change your life forever (well almost) and here's why.
Most solopreneurs complain that social media feels like a constant content hamster wheel where you have to post fresh content daily.
However, I can tell you that 3 times a week is fine.
The secret to coming up with 365 days of content ideas is this…
Write down the top 12 topics in your niche. If you get stuck remember that you can always use ChatGPT to help you complete the list.
Now that you have the list head over to Answer the Public, type each topic and take note of the top 30 questions for each one.

At the time of creating this resource, you could create a free account and get 3 free searches a day.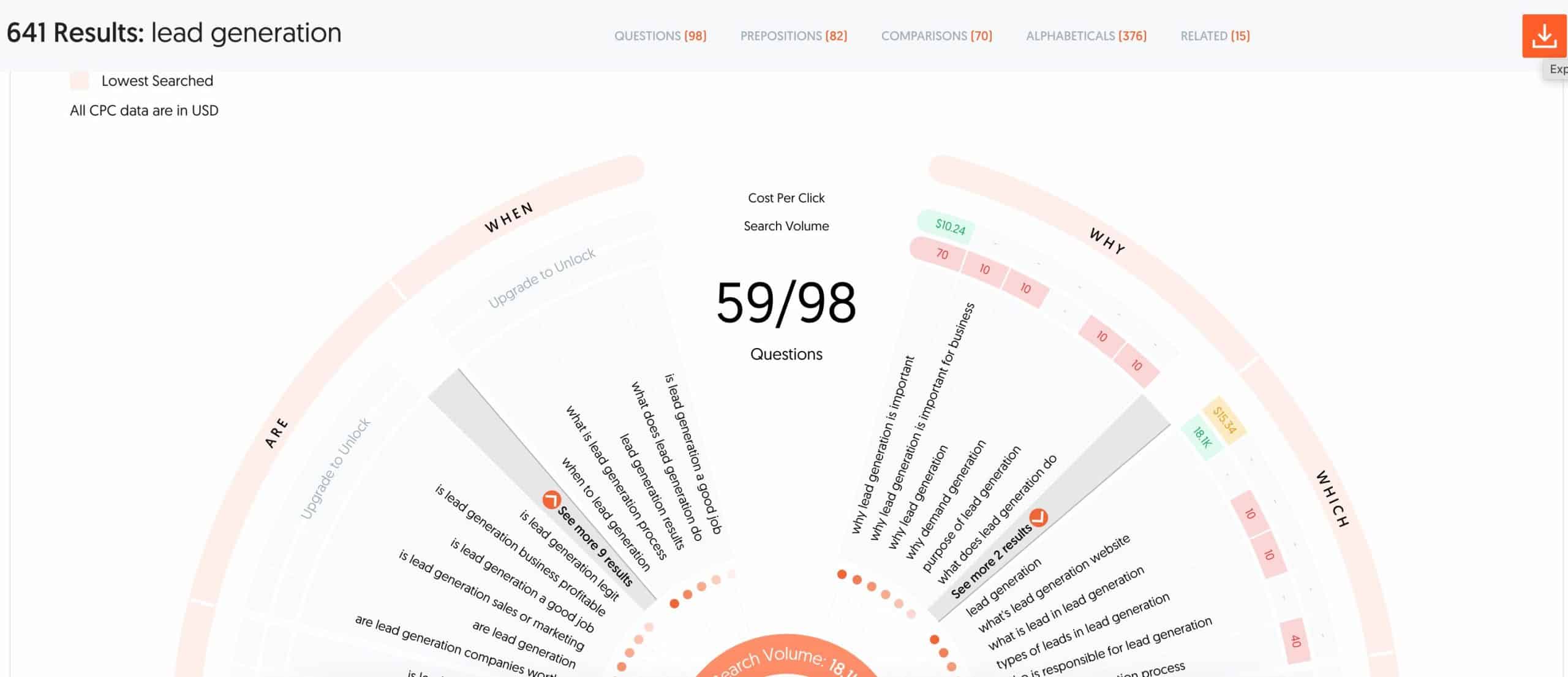 There's also the option to get a lifetime account for only $79.
What to Do With Those Questions from Answer the Public?
Now that you have the questions be sure to grab the one with the highest searches.
You can choose to do all the questions focused on a specific topic in one month or place them in a spreadsheet and shuffle them.
For each question create content suitable for each social media type.
Here's an example of what I mean. One of the questions on the topic of lead generation was, how to generate leads with Facebook Ads.
I can map out the content like this…
A carousel on Instagram
Also, a Reel outlining the same question
Repurpose that Reel on TikTok as well as my personal profile
A simple post on my Facebook business page
Create a blog post and podcast episode
Repurpose the carousel and caption as a post on LinkedIn
As you can see, one question can lead to several pieces of content by type.
Your Ideal Client
If you're one of my existing blog readers or podcast listeners you should know by now the importance of focusing on your ideal client.
Are you unsure as to who your ideal customer or target audience is?
If yes, figure out who is the person you would like to serve, I struggled with this for a few years too.
It was only after working with a few clients that I got to know who my people are in real life.
Recently I discovered that you can reverse engineer the process of finding your ideal clients using artificial intelligence.
Once you have an idea about what you want to offer you can find your ideal client avatar as follows.
Head over to ChatGPT and create an account if you don't already have one.
Tell ChatGPT your profession or area of specialisation and ask it to give you a list of services you can offer (I did this pretending to be Rebekah and I got a list of 17 services)
Next, pick one of the services listed and ask ChatGPT to outline a program for that specific service (I chose HR Strategy + Planning and asked ChatGPT for a program outline)
The next step is to ask ChatGPT who it thinks the ideal client is for the program (I did it again for Rebekah and got a list of company types by business stage)
Finally, ask ChatGPT to create a specific client avatar for the program ( I did this for Rebekah and got back the screenshot below)
As you can see creating a client avatar is now easier to create thanks to artificial intelligence.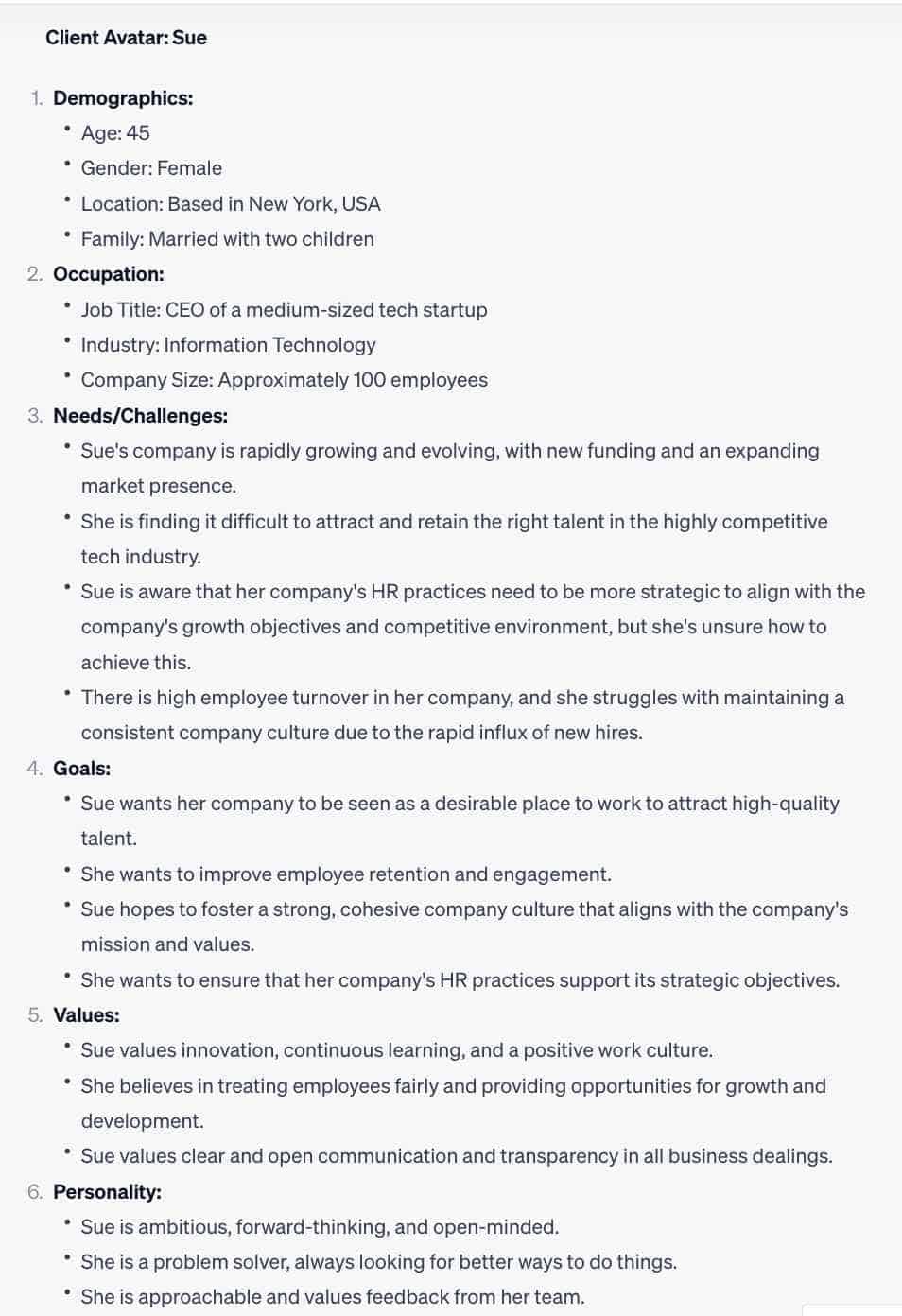 Your Client Sales Funnel
Just before I go into a lot of details about how to find clients it's important that you have a system in place for client acquisition.
The reason for this is that every potential client is at different stages of their decision-making process so you'll need to nurture them along the way.
Here's an example of what the different stages of your client's journey will look like.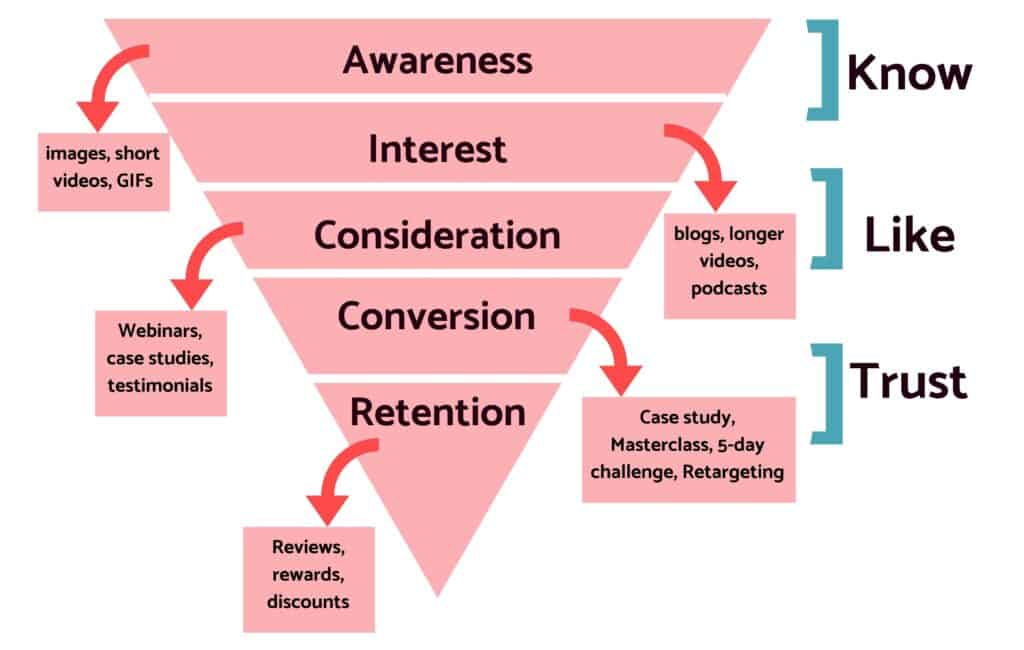 One other important thing to note is that it is a lot easier to convert leads into sales if your prospective clients are problem-aware.
If you need help understanding what I mean then take a look at this diagram below.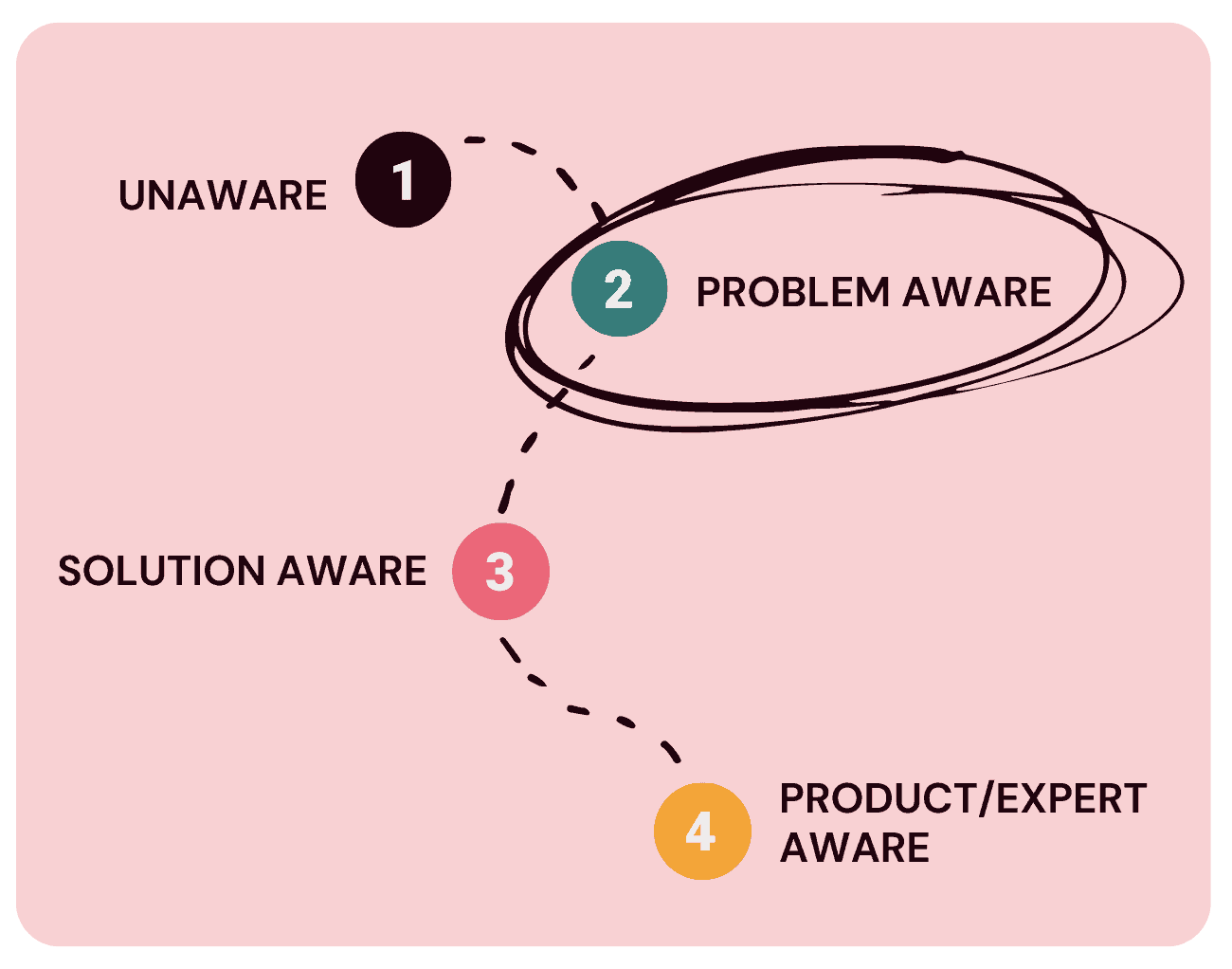 When someone is problem aware you don't need to spend a lot of time educating them about their problem before you can introduce your solution.
Now that you know who your target market is and what content you need to provide at each stage of their journey let's look at how to find them.
How to Find Clients Online
You probably already know this but there are so many ways to find clients online because it all depends on your niche and your potential clients.
The first step, ask yourself, where do your clients hang out?
What resources do they use to find solutions?
Knowing this will help you save a lot of time and money. Write a shortlist of the top 5 places where you believe your client is hanging out.
Let's look at a list of ways to find clients online.
41 Ways to Get Clients Online
Whether you are doing freelance work or a virtual assistant or you just started a side hustle looking for client work or freelance clients. You are going to find these techniques valuable to your situation.
No matter what business model you have or maybe you have an established small business and you considering pivoting into offering something for service providers there'll be something here for you too.
If you enjoy cold pitching by writing cold emails or messages, I'll talk about a powerful tool that you can use.
1. Instagram Content
Suppose your business is focused on offering services related to Instagram like social media management, social media strategy, Reels creation and editing, etc. on a number of social media platforms. The best platform for you to publish content regularly is Instagram.
Even if you don't offer any offers, products and services related to Instagram you can still get clients on this platform by focusing on Reels and carousel posts.
Your content should offer scroll-stopping value so that you can attract engagement and get visits to your profile as well as link clicks.
If all else fails you can also use Gary Vee's $1.80 rule and use the One Dollar Eighty service to implement it.
2. TikTok Videos
Oh my, a few years ago when TitTok was new on the scene everyone thought that it was a platform only for young people.
Now here we are and it is considered mainstream because of the fact that you don't have to dance to get your point across.
So, how do you win on TikTok? Find 3-5 accounts that resonate with your audience and take note of their handles.
Take a look at their last 10-20 videos and what you're looking for are those videos that receive a higher amount of engagement than usual. Look at the type of caption as well as the number of hashtags used and make your own version.
3. Facebook Profile
Until recently I always believed that I couldn't use my Facebook personal profile to build awareness of my business.
One day, I published a Reel that got over 2,000 views which really surprised me. Since then I switched to the professional or creator mode and I've been getting great engagement on my content.
Of course, there are a ton of other things you'll need to do which you'll be able to find in this training here.
By the way, this is very different from a Facebook page or business page.
4. Eventbrite
I'll be honest, I never saw Eventbrite as a place to find clients until I saw a 60-minute training on how effective this can be.
It does require you to host a recurring training at a basic level over a period of 6 weeks. A good example of this would be "Introduction to Social Media Management".
As you do this over time you'll build up a following on Eventbrite. After hosting the training you can have a call to action for viewers to book some time in your calendar to discuss their requirements further.
5. Facebook Ads
Did you just cringe at the thought of running Facebook Ads? Lol!! Yes, there are a lot of people who had terrible experiences with running Facebook Ads but I can assure you that this stuff works.
There are two different ad campaigns that would get you results fast.
The secret to getting results using Facebook advertising is to start with a lead magnet. Using Facebook Lead Ads and a budget of $300 to $500 a month you'll be able to grow an email list of 300 leads every month.
I've created an entire resource on Facebook lead ads here.
An alternative method to get clients fast is by using Messenger Ads but you really need to know your target clients very well.
6. Webinars
Depending on where you are in business webinars also called masterclasses are a great way to get new clients.
This type of resource is only good if your offer is over $500.
It does involve setting up a high-converting funnel around the webinar to include follow-up emails but it certainly does work.
You'll need to have an offer that's already been validated in order for webinars to truly bring revenue into your business.
7. Workshops
Think of workshops as a way that help your clients get a quick win around a specific corner of your business.
For example, if you teach people how to become a 5-figure food blogger then your workshop will focus only on a small part of it like food photography for beginners.
Workshops are a great way to give potential clients a taste of what it's like to work with you and it could be part of your larger value ladder.
8. Pinterest Organic Marketing
So many people continue to underestimate the power of Pinterest. Yes, it's not like how it used to be during the years of 2010 to 2019 but I still get potential clients visiting my blog from Pinterest every single day.
You need to keep in mind that it takes 3-4 months for a pin to really get into its groove and then from there onwards it will keep delivering traffic year after year.
Using Tailwind to help you schedule your pins can save you a lot of stress and anxiety.
Also, remember that you can get potential clients from Tailwind communities too.
9. Pinterest Ads (Promoted Pins)
If your clients hang out on Pinterest and you are running an event like a 5-day challenge using promoted pins can be a great way to get more sign-ups in a short timeframe.
What's great about promoted pins is that you have the ability to target potential clients by keyword.
In terms of campaign objectives, you can target by awareness, consideration or conversion (see screenshot).

Equally, there are also exciting options available when it comes to targeting. Currently, the available options include.
Audience list
Interest and keywords
Demographics
Placement and tracking
It's important that you set up your Pinterest pixel in order to target an existing audience or even a lookalike audience of people who engage with your website or blog.
10. Blogging
If you want to build authority over a long period, let's say 5-10 years then starting a blog is such a great way to create impact that moves the needle.
Depending on your marketing strategy, you can have a blog with about 20 blog posts that are very high quality answering the top 20 questions in your niche.
There are some business models where a blog is one of their main sources of income which means they'll need to blog 3-5 times a week.
Whichever option you decide is best for your business remember that getting clients from blogging only happens when you have a funnel implemented to grow your email list.
11. Podcasting
Oh my, starting a podcast can be quite scary because unlike a blog you'll have to show up regularly and people will hear your voice.
The great thing about having a podcast is that you get to decide what kind of style you would like to implement. These styles include:
Solo
Interview
Co-host
Story-telling
Bite-sized
Panellist
In other words, you can get really creative when it comes to creating episodes. You can also decide to do it in seasons and you can also dictate the frequency.
When I first started my podcast in 2017 I was terrified that I would run out of content and I was doing it once a week.
Here I am 6 years later and I'm doing it once every 2 weeks and I haven't run out of things to say yet. Lol!!
12. Guest podcasting
On the flip side of this coin is the idea of becoming a guest on other people's podcasts.
The one thing disliked about having guests on my show was the post-production. It took so much time.
However, being a guest is easy, you just show up, answer questions and get exposure to other people's audience.
You can do this 2-3 times a week for 50 weeks of the year. Of course, you'll need to have an amazing story, hack or success to share.
It's important to have an easy way for listeners to reach out to you or join your email list.
13. Guest blogging
Being a guest on someone else's blog isn't as easy as being interviewed on a podcast.
Guest blogging will require you to create a unique piece of content that would resonate with another person's audience.
Many blogs that accept guest posts will also have a list of requirements for you to follow so that you can abide by their rules.
Depending on the blog, there's a chance that you will not be able to share links to an offer. Sometimes all you'll get is a link to the home page of your website.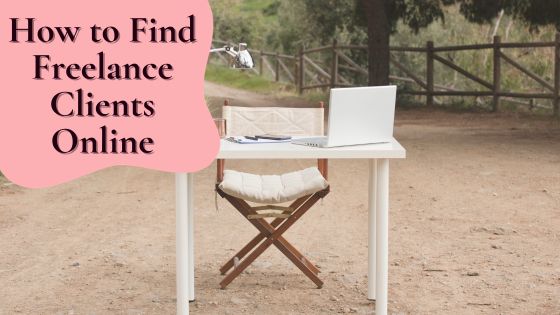 14. YouTube Videos
One of the strategies that continue to grow your list on autopilot year after year is having your own YouTube channel.
Yes, I know that you are cringing at the thought of creating videos every single week.
There's also the fact that you'll need to edit those videos in such a way that will grow your channel.
At the end of the day, video marketing is not for everyone but if you can do it then it will be worth the effort, especially after getting your first 1,000 subscribers.
15. Display Ads
A huge shortcut to getting your content seen on YouTube is display ads.
This type of ad is created inside the Google Ads platform and it allows you to display your video in front of other people's organic videos on YouTube.
When you are setting up the campaign you'll have the option of targeting specific channels where your ad will be displayed.
It's important that your video grabs the attention of your audience within 3 seconds for this to work.
16. 5-Day Challenge
A few years ago, 5-day challenges were all the rage. Nearly everyone and their grandmother were having a 5-day challenge.
Times have changed to a certain extent and having a 5-day challenge isn't as popular unless it really focuses on delivering a promise where people feel truly stuck.
The bottom line is that 5-day challenges do require a specific delivery method which Alina Vincent teaches so brilliantly with her online course.
Yes, you can do it without her help but why put yourself through the unnecessary hassle?
17. A Summit
Have you ever attended a summit? I've attended many of them and I've also been a speaker at one of them. It's a great method for generating leads.
This is going to sound weird but at the time I wasn't even interested in obtaining the email addresses of the attendees (I have them saved somewhere). Lol!!
I guess at the time I didn't have an offer that I thought was relevant.
In short, participating in a summit is a great way to grow your email list and reach new potential customers.
18. Other People's List
At the time of creating this resource, ConvertKit recently launched what they called Creator Network where you can collaborate with other people who have email lists.
The catch is that you'll need to be on the Creator Pro plan which gives you access to the newsletter referral system.
As far as I can remember there are also other criteria to be able to use this referral system but if you're interested it can set you back $79/month to use it.
19. Press Releases
Are press releases still a thing? Well, if you said yes then you are right. Head over to Google, type in any topic or person's name and take a look at the news tab.
You'll see that even today with the trend of 100% digital business, artificial intelligence and space travel you can still do press releases with success.
Why, because people are nosy. Lol!! They always want to know what's happening in the lives of the people they look up to or the solutions that they use.
Simply head over to this list to look at the top 10 press release services available today.
20. LinkedIn Articles
Have ever done a search on Google only to find a LinkedIn article in the top 10 results?
Well, here's why that is the case.
As a platform, LinkedIn has a domain authority of 99 out of 100 which is really powerful so when you publish an article on their platform you get eyeballs from your network.
However, your article will rank on page one of the Google search results page especially if the competing content isn't as strong as your article.
It's important to remember that you'll need to have a LinkedIn profile in order to write articles.
21. LinkedIn Posts/Videos
Another cool way to attract high-paying clients to your services is by publishing content like videos or regular image posts to your feed.
This does require something different in the actual content itself. It does require a bit of market research.
Look at a few profiles that attract your potential clients to their content and make a note of what they are posting in terms of content type, hashtags and length of captions.
As a general rule content will fall into four different categories.
Emotional
Entertainment
Educational
Engagement
So, have a look at what's working for your audience.
Remember to check out my specific resource to find clients on LinkedIn fast.
22. X posts (formerly Twitter)
No one saw this one coming but now that Twitter has become X it is difficult to say what will happen over the next few years.
What we do know is that everything seems to be normal on that platform.
The key differentiating factor of Twitter (I just can't say X) is that it's great for live events or getting live updates on anything.
If your strategy is to publish facts or general information the type of post that does great is statistics or infographics.
Lists posts are valuable as well.
23. X Threads (formerly Twitter threads)
Potentially one of the most unique types of social media posts is a thread post.
It takes some thinking creatively to decide what to post and how to lay it out in a threaded format.
Some people are gifted in this area but for the rest of us, we can depend on a tool like this one to help us. It even comes with a free version.
What I like about it is that it helps you by providing you with viral tweet examples as well as prompts to write threads.
Remember that the most important are of your Twitter account is your profile to use that real estate wisely to pick up clients.
24. Joint Ventures
One of the things I enjoy about joining coaching programs is the ability to develop relationships with peers in your industry.
Ever since I started my online business I've met so many like-minded entrepreneurs online from around the world and all walks of life.
You build a relationship with these people which leads to trust and then that desire to want each other to succeed in life.
So, this is where developing joint ventures is so lucrative. Also, have a look at JV Zoo.
Someone is doing a summit and they are looking for a specialist in TikTok marketing. If this is your area then you can put your name in the hat.
25. Sponsorships
Recently I was given the opportunity to sponsor a magazine which sounded like a great idea at first.
All they wanted was $300 and my business will be featured in 3 issues and they have a large audience.
There are a few things to consider when considering sponsorships.
Who is the audience?
What's the size of the audience?
What offer will appeal to them?
What return on investment can you expect?
Are your goals realistic?
In my opinion, sponsorships are great for growing brand awareness or keeping your brand top of mind for your target audience.
26. Online Directories
Depending on the type of business you have and where you're located using online directories can be a great way to find clients.
I literally had to stop for a second to go and see if the Yellow Pages was still a thing and I couldn't believe my eyes.
While it has been a rocky road for the Yellow Pages we're now seeing a plethora of similar directories like Bark, Thumbtack and Yelp.
The most important thing to remember is that there are people looking for services on these platforms.
27. Facebook Groups
If there is one place I like to find potential clients it is inside Facebook groups. I found at least 3 clients using this technique.
I was surprised to learn that you can join a maximum of 6,000 Facebook groups!!
I'm not sure why on earth anyone would want to join 1,000 groups let alone 6,000.
When you think of all of the successful digital businesses that you follow they all have one thing in common, they have a Facebook group.
If you are interested in becoming a digital nomad you can join my group here.
In large business groups, both clients and service providers hang out together.
Most importantly you can do a search in Facebook groups to find out what your potential clients need and develop services around their pain points.
I have created a separate resource about the goldmine that exists inside these communities.
28. Speaker Opportunities
A great way to get in front of an existing audience is by offering to speak on a topic of your choice.
You can also become a paid international speaker if this is something you would like to do for a living.
If you've ever watched someone do a presentation on TED Talk then you know how valuable it is to be a speaker on stage.
It brings you instant credibility and the opportunity to showcase to the world your brilliance.
Of course, you can acquire clients using this method as well.
29. Quora
While Quora is not as popular as Google, Facebook, TikTok or Instagram it is a great place to answer popular questions and grow your authority.
You can also take a look at what questions are being asked and piggyback on the popular ones to increase your clout.
Finding clients on Quora is a long game because, just like blogging, you'll get a better return on investment if you stick to it.
In this example, you'll see the user gained 3,000 followers over a period of 2-3 years on Quora.
So, if you want over 1.3 million eyeballs on your business give Quora a try.
30. Course Marketplaces
If you ever purchased a course on Udemy or Coursera, you'll know that finding courses on business topics is easy.
However, what you may not have noticed is the profound ability to get instant authority and recognition from them.
In fact, many big names in the industry have used Udemy as a platform to build authority.
If you were introduced on a radio program or podcast as a coach with 5,000 students and 1,500 five-star reviews people would sit up and listen.
They don't care if those 5,000 students only paid $9.99 for the course they just know that you are a leader.
Of course, it means that you get clients as well from Udemy and your interviews.
31. Reddit
One of those platforms that's not your usual place to find clients is Reddit. While I don't have any direct experience finding clients on Reddit I know it's great to gain exposure.
I was browsing Reddit to find golden nuggets recently and I found this gem here.
What I liked about it is that it shows us an example of how to link an external resource like a YouTube video to grow your audience.
However, what I did find is a subreddit call for hire. It is the place where people go to post the jobs that they have available.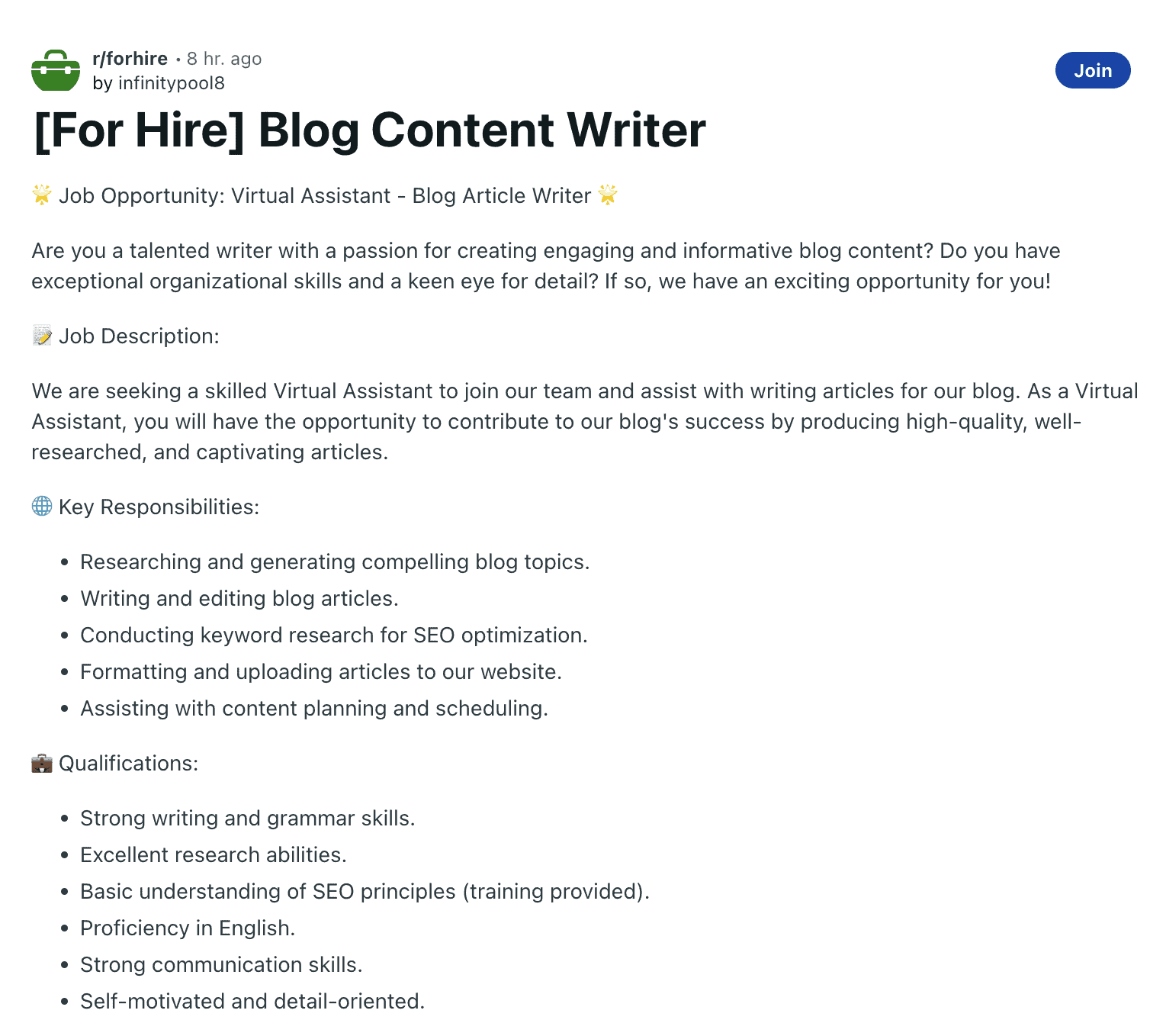 I didn't even know that it existed until recently.
By the way, it's also the place where you can post your availability for doing work.
32. Medium
A very cool way to attract your ideal clients is to write a results-driven post on a platform like Medium.
Like LinkedIn, Medium ranks high in the search engines so the unique, scroll-stopping articles you publish there will grab attention.
The key is to focus on a pain point that your clients struggle with like meal planning, weight loss, meal prep, storage ideas, Pinterest marketing, etc.
At the end of your article, you can have a bio that leads to a lead magnet, your services page or your calendar.
33. Upwork
Many freelancers have a love-hate relationship with Upwork because of the amount of scammers out there.
Also, the rates that clients want to pay can be very low ($5 an hour).
If you are just starting out and you want to build a portfolio of client work then Upwork is a great place to start.
The key to landing great clients is to build out an amazing portfolio and include a video to stand out from the crowd.
I've made $4,000 on Upwork so I'm talking from experience not theory.
34. Instagram Live Series
Do you love a challenge? When I was first starting online I challenged myself to go live every day for 30-60 days on my Facebook page.
While it did not specifically land me a client it showed me how challenging it can be to do a live every day and it increased my visibility online.
Instagram is a great place to go live and it's even better if you can do it with a friend or 3.
The most important thing you need to do is choose a series of topics that address your potential client's pain points.
One main drawback is that you can only go live using a smartphone on Instagram.
35. Local Chamber of Commerce
While you probably think that joining the local Chamber of Commerce is so 1980s what you need to realise is that people prefer to hire locals.
Every Chamber of Commerce have a listing of all their paid members online so it's important not to miss out on this opportunity to be there.
Depending on where you live, whether it be a town or a small city, many small businesses like to support a company that is local to them.
For $300/year you can just get listed and let your potential clients know that you're open for business.
36. Google My Business
Still, on the topic of local business, Google has a service called Google My Business that helps you get ranked on the first page in your local town.
You'll need to have a local address because Google will send out a verification code to that address.
So, whenever someone searches for a photographer, digital marketer or plumber in their local town, your business will be shown in the listings.
It's really simple to complete, you'll need to create a Gmail account for your business and away you go.
37. Masterminds
Another great way to find potential clients is by hosting a free mastermind covering something that your clients struggle with.
For example, there are women over 50 who would like to pick up running, if you're an expert in this area you can host a mastermind for beginners.
A great way to fill the seats for this masterclass is by running Facebook Ads for the event.
You can also have a chat with the owners of Facebook groups where your audience hangs out and do a collaboration with them.
38. Stand Out Online Membership
A very established way to get in front of other people's audience is to pay to do so.
Yes, sometimes it's difficult to find some of these places but Christina Rowe has a Facebook group with over 700,000 members.
One way she helps others to get in front of her audience is through the Stand Out Online Membership program.
It is priced at just $197 a month and you get the opportunity to go live every week, get featured in a blog post, be added to their business directory and be featured in podcast episodes.
The only thing left for you to do is come up with your irresistible offers.
39. AppSumo
If you are a software developer and you are looking for a way to find beta clients a great place to find them is on AppSumo.
Normally the owner of the software and Appsumo will come to an agreement in terms of payment for publicity.
Once that's agreed AppSumo will promote the software for a few days or weeks so that people will buy the software through a lifetime deal.
It's a win-win situation for all involved because small businesses get the software they need for a great price and the software developer gets clients.
40. Fiverr
While Fiverr is similar to Upwork in a number of ways it's actually different because they actually have premium services.
These include Fiverr Pro, Fiverr Certified and Fiverr Enterprise.
It means that potential clients pay top dollar to get access to the freelancers in these three sections.
Let's be fair while Fiverr was built on the premise that you can get almost anything for $5 the platform has grown and become a great place to get stuff for a business.
All you need to do is decide what you would like to offer, set up a seller account, name your price and wait for the enquiries to roll in.
41. Job Boards
One of the most overlooked places to pick up new clients is job boards.
Yes, in many cases the roles on job boards are looking for full-time employees but that doesn't mean that the hiring manager is not willing to consider hiring a contractor or freelancer.
Popular places to pick up new clients include Indeed, LinkedIn, Glassdoor and ZipRecruiter.
There are also a number of freelancing and contractor-specific job boards including the following:
FlexJobs
People Per Hour
Freelancing Females
We Work Remotely
Dynamite Jobs
Twine
Hire a Marketer
42. Cold Outreach (*bonus*)
Let's agree on this one thing. One of the scariest ways to pick up new clients is by doing cold outreach.
Here's the main reason why it's scary. Fear of rejection.
Nobody likes that feeling of getting a no. However, here's something that you probably didn't know.
Cold outreach is one of the best ways to get a new client because there's very little competition.
To use this method you'll need to develop a template for yourself where the first paragraph contains a hook that would stop them in their tracks.
A great tool to help with this is a tool that will help you generate these using AI and LinkedIn, you can find it here.
You can also outsource this to a VA using this service here.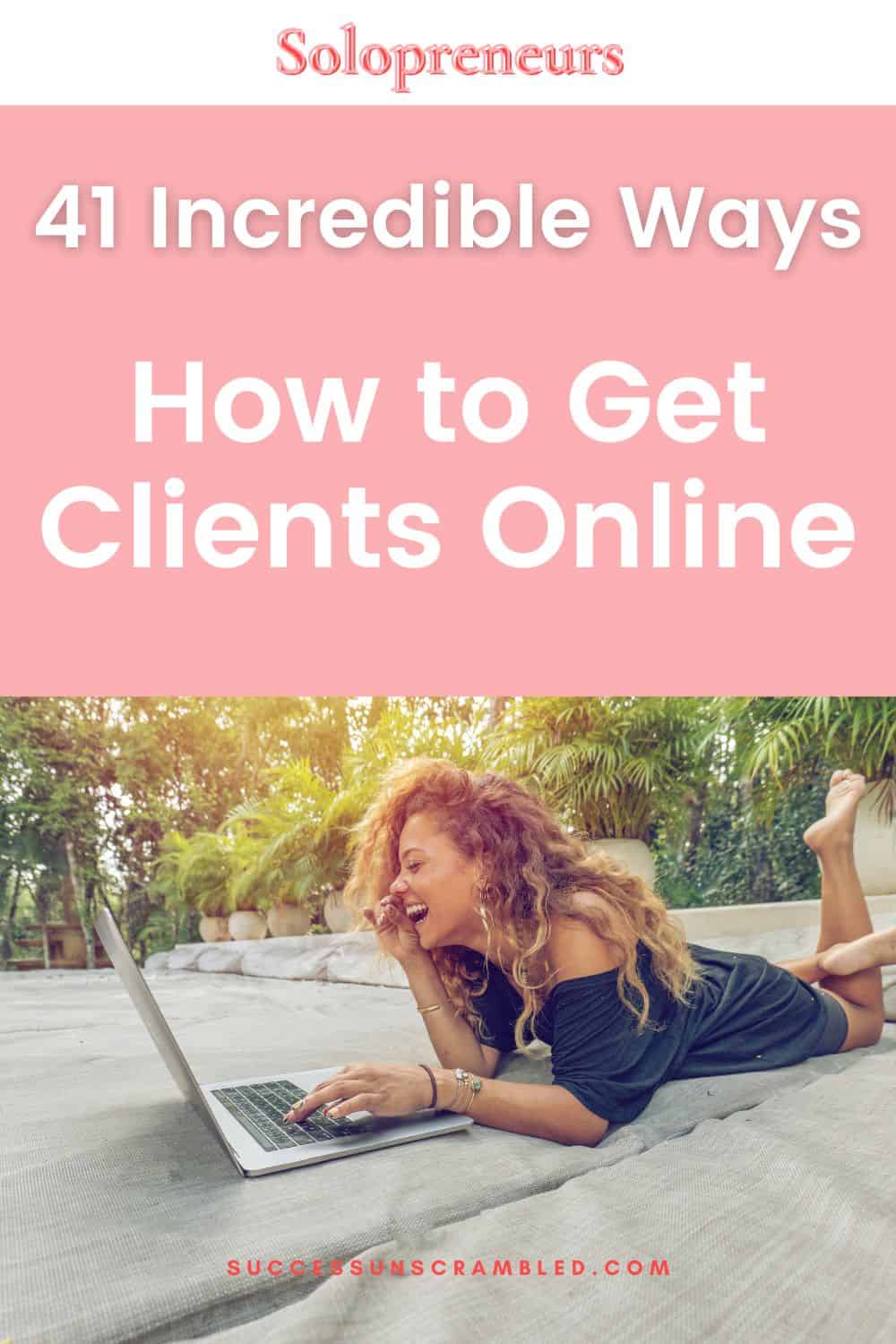 How to Get Clients Online – FAQ
At this point, you may have additional questions about getting clients online. Here are some of the top questions and answers on this topic.
1. What is the best way to get clients online?
It really depends on where you are in your business journey. If you are just starting a freelance business Upwork, Fiverr, Reddit and a number of Facebook groups are the best ways to get clients online.
2. How to get clients fast?
The fastest way to get clients is by using paid promotions like Facebook Ads and Google Ads. These are very useful if you have a local business too.
3. How do I get my first 5 clients?
There are several ways to get your first 5 clients, these include referrals from people you know, responding to job opportunities inside Facebook groups and applying through job boards.
4. How do I get clients with no experience?
You can offer to do a free 30-day trial with a local business at a lower hourly rate and after that 30-day period, you can decide to continue on a full contract at standard rates.
5. Why am I not getting clients?
It really depends on what you've tried already to get clients. If you have done cold outreach or applied to roles on job boards it could be that your application process needs tweaking.

If you've done interviews and you didn't get through to the next round then you can consider tweaking your interview technique.
There are a number of factors that could affect your ability to land clients. However, with a few simple tweaks, you'll be getting clients in no time at all.
6. How to Attract Clients Fast
There are several ways to accomplish this using both organic and paid methods. Here's a very detailed resource that walks you through how to attract clients even as a newbie.
Summary
As you can see there are so many options when it comes to finding or getting clients online as a freelancer.
Depending on the services you offer to clients there are niche-specific and even role-specific channels where you can find clients.
The most important thing is figuring out what you are offering and also determining where your potential clients are already hanging out.
If you are applying for roles but your not landing any clients consider tweaking your application style or process.
However, if you are landing tons of interviews but no one is hiring you then consider offering something unique, lowering your rates or improving your interview technique.
If you need feedback on your client finding techniques consider joining my free Facebook group and ask for help there.