Have you ever considered investing in affordable SEO packages for your blog?  Is it in your blog planner for the next 3 years?
Many bloggers know that it is important for their blog to rank well in the search engines if they want to make money online.
Yet many continue to struggle day after day, week after week with trying to come up with the best blog post ideas.
In fact, many bloggers don't know that the best blog post ideas that they find online are not SEO friendly.
Some bloggers struggle for 1, 2, 3 or even 5 years before they realize that what their blog needs is a solid SEO plan.
In this post, I am going to get into some detail about what is an affordable SEO package, why you need it and how you can get started today.
What is an Affordable SEO Package?
First, let's look at what an SEO package is before we delve into what makes it affordable for you and your blog.
SEO is the acronym for Search Engine Optimisation.  The broad definition of SEO is according to Wikipedia, "the process of affecting the online visibility of a website or webpage in the search engine unpaid results – often referred to as natural, organic or earned results".
In layman terms, it just means that an SEO expert will look at a webpage or planned web page and suggests optimisation hacks to get that page to rank better and often in the search engine results.
Now that you have a better idea of SEO then we can look at what can be included in an SEO package.
Cheap SEO Service
A typical SEO package will normally include items that will assist a website or webpage increase its current rankings.
In order to help you understand this, a little better let's look at the example of your neighbour's 12-year-old daughter and her lemonade stand.
We decided to call her Rachel and she wants to sell edible cookie dough online nationally.  So let's assume she already has a blog with 10 pages with 5 blog posts.
Rachel is not happy with the organic results she is getting from the Google search engines so she needs to see her current situation.
The SEO package will include an SEO audit as we would need to see what needs improving in order to suggest changes.
Any SEO package will also include on-page SEO strategy as well as off-page elements because this is part of the optimisation process.
Cheapest SEO Packages – On Page Strategy
When it comes to an on-page strategy here are some items that can be included as standard.
Keyword research
Clickable Title
H1 tags
H2 tags
Meta description
Internal Linking
Head keywords
Long tail keywords
Cornerstone content
Keyword Research
The backbone of any on-page strategy is the keyword or keyword phrase.  If the keywords are not correct everything else crumbles.
Clickable Title
Every page and/or blog post of a website needs to have a title that explains what that page or post is all about.  There isn't another way to know this unless it is spelt out.
It offers the website visitor a way to navigate throughout the website when a title is included.  It should be clickable or conversion focused to increase the click-through rate compared to the competition.
H1 Tags
Every title should be surrounded by H1 tags which indicate to the search engines that this is a very important word.
Google uses spiders and an algorithm to index pages and websites.  As these are normally not human it uses tags to identify what items on the page are important.
H2 Tags
These are the subheadings that signal the start of a new paragraph. They normally use secondary or long tail keywords to assist with ranking.
Subheadings also signal to the spiders and Google algorithm that this is what the paragraph is about so they are important.
Meta Description
This is the main description that would appear in the SERP letting the user know, in summary, what the site is about.
To get the click, the description would need to be conversion focused and compelling.  In other words, it should not be boring.
Internal Linking
One key factor that helps a webpage to increase in rankings is the votes or links from internal pages.
It is important to have a well planned and strategic internal linking structure to get the most out of on-page SEO.
Head Keywords
Depending on your overall SEO strategy it is important to include what is known as head keywords in your content.
In Rachel's example, her head keyword would be 'cookie dough' and even 'edible cookie dough'.  This brings me nicely to the long tail keywords.
Longtail Keywords
Looking at cookie dough in the keyword research it is a tough keyword to rank for as it is quite competitive.
It would benefit Rachel to look at long tail keywords like 'edible cookie dough shop' and 'edible cookie dough delivery'.  These are really focused on user intent.
Cornerstone Content
When building out a website or blog the cornerstone content represents the main keywords or money generating content.
In other words, blogs build a community or authority based on a topic.  That topic is considered cornerstone content.
SEO Packages for Small Business – Off page strategy
While a large percentage of a website ranking rating heavily depends on on-page SEO there will be a need for off-page SEO.
In simple terms, off-page SEO is just votes from other websites indicating to the search engines that this blog is good.
These votes are normally in the form of backlinks.  These backlinks can be 'follow' or 'no-follow'.
Every backlink to your site will have a weighting because all backlinks are not created equal.
Each webpage has two main ratings which are the domain authority (DA) and the page authority (PA).
The higher these ratings the better it will be for bringing your site into favour with the search engines.
Fresh Content
Another key element that assists with search engine rankings is the freshness rating.  This rating is somewhat invisible at times to the human eye.
Essentially, Google expects businesses to have at least 20% fresh content on its website at any time during the year.
This freshness rating can be easily achieved by publishing a new blog post every week to your blog.
When you have a blog that is over 1,000 posts then you would have a new challenge.
You will need to 'freshen up' those old blog posts by either re-writing them or repurposing them.
The good news is if these old blog posts are already optimised they will still continue to receive organic traffic for a lifetime.
It is a great opportunity to rewrite old content that was not already optimised with a view to increasing your blog's freshness factor.
Why Use Affordable SEO Plans
If you never thought about using affordable SEO packages for your blog before here are 9 reasons why you will need to do so.
Save time as a blogger
Reduce the number of SEO blunders
Increase your blog traffic exponentially
No need for you to learn the technicalities of SEO
Free you up to achieve blogging goals
Always have blog post ideas ready to go
Cost savings on SEO training
Build authority in your niche quickly
Make you look like a pro blogger in no time
As you can see the advantages of investing in affordable SEO packages has several benefits to you as a blogger.
For one low monthly price, you can get access to the advice from an SEO expert plus you also steal their knowledge and work for fresh SEO content.
No need to invest in expensive SEO software and training just get the keyword package delivered to you by email.
Digital Marketing Pricing Packages
Looking at all these items it is safe to say that affordable SEO packages come in all shapes and sizes.
An enterprise-class organisation needs to rank for 1,000s of keywords. So they will not be able to benefit from a package that has 5 keywords.
A stay at home mom looking to start a blog from home would require a small SEO package that will suit her budget.
In fact, seeing that keyword research is the backbone of SEO it will make sense for a mom blogger to start with a keyword research service.
Once she is ranking for those initial keywords she can then focus on more competitive keywords as she grows and scales her blog.
It is also important to include some element of Social Media Marketing in affordable SEO packages to help with ranking.
Affordable SEO Packages – Monthly Plan
To get the best results from your SEO strategy it is important to subscribe to a monthly plan because SEO is never complete.
The monthly subscription will start from as low as $27/month and go up from there depending on your blog's requirements.
At $27/month you can expect to receive some keyword research and other media suggestions.
The good news about affordable SEO packages is that they help you to rank your blog one keyword at a time then once you are ranking that traffic is for life.
The Ultimate Keyword Research Service
Basic affordable SEO packages come with a keyword research service.  As a subscriber, you will receive a primary keyword which is niche focused.
You will also receive secondary or long tail keywords to included as subheadings or sprinkled throughout your blog post.
A summary of what you need to include in that blog post to get the desired ranking on the first page can also be included.
Other items that can be included are other suggested media like video, infographics and/or comparison charts.
Finally, to put the cherry on the top your package can also include a stock photo that is niche specific for the given keywords.
Would you like to start profiting from blogging now as opposed to 5 or 10 years time?  Would you like to make your blogging life easier?
Click Here To Grab Your $27 Package to Get Started – Limited Spots Available >>
Why Use Affordable SEO Plans?
As a blogger, you are wearing several hats which means you are writing, marketing, guest blogging and even researching future topics.
This means you have so much on your plate and it would make more sense to outsource the stuff that someone else can do better than you in less time.
An affordable SEO plan will save you so much time with the added bonus of getting you a higher return on your investment.
Free up your time so that you can spend it with family and friends or even other bloggers.  It is important to grow your blogging network.
What's Included In This Affordable SEO Package?
Are you unsure that this package is suitable for your requirements?  Maybe you need to understand what's included for that low price of $27 a month.
You'll receive 1 x keyword pack every 2 weeks and here is what is included in each pack.
A primary keyword (niche specific)
5-7 secondary keywords
A summary of what your blog post should be written about
Top 30 Instagram hashtags for your content
Video suggestions
Further suggestions for other media like screenshots, charts, graphs
Access to Pin image templates
Done for you keyword analytics
Get started today to stay ahead of other bloggers in your niche.  There are only very few spaces available so they will fill up fast.
Click Here To Grab Your Spot For $27 a Month – Only a Few Spots Left >>
Conclusion
Many bloggers run around frantically every month trying to find the most popular blog topic that they can write for their readers.
For those that have a clear strategy, it may take them hours every day or every week conducting keyword research to find the next golden keyword or keyphrase.
I know many bloggers who either dislike or are uncomfortable with SEO and they would love a shortcut to the SEO game.
A keyword research service helps you to get the precise strategy you need to getting ranked in the Google search engines.
Enter your name and email address to access the free video.   It shows you how you can use these keyword research services to give you the edge that you need to win at the SEO game.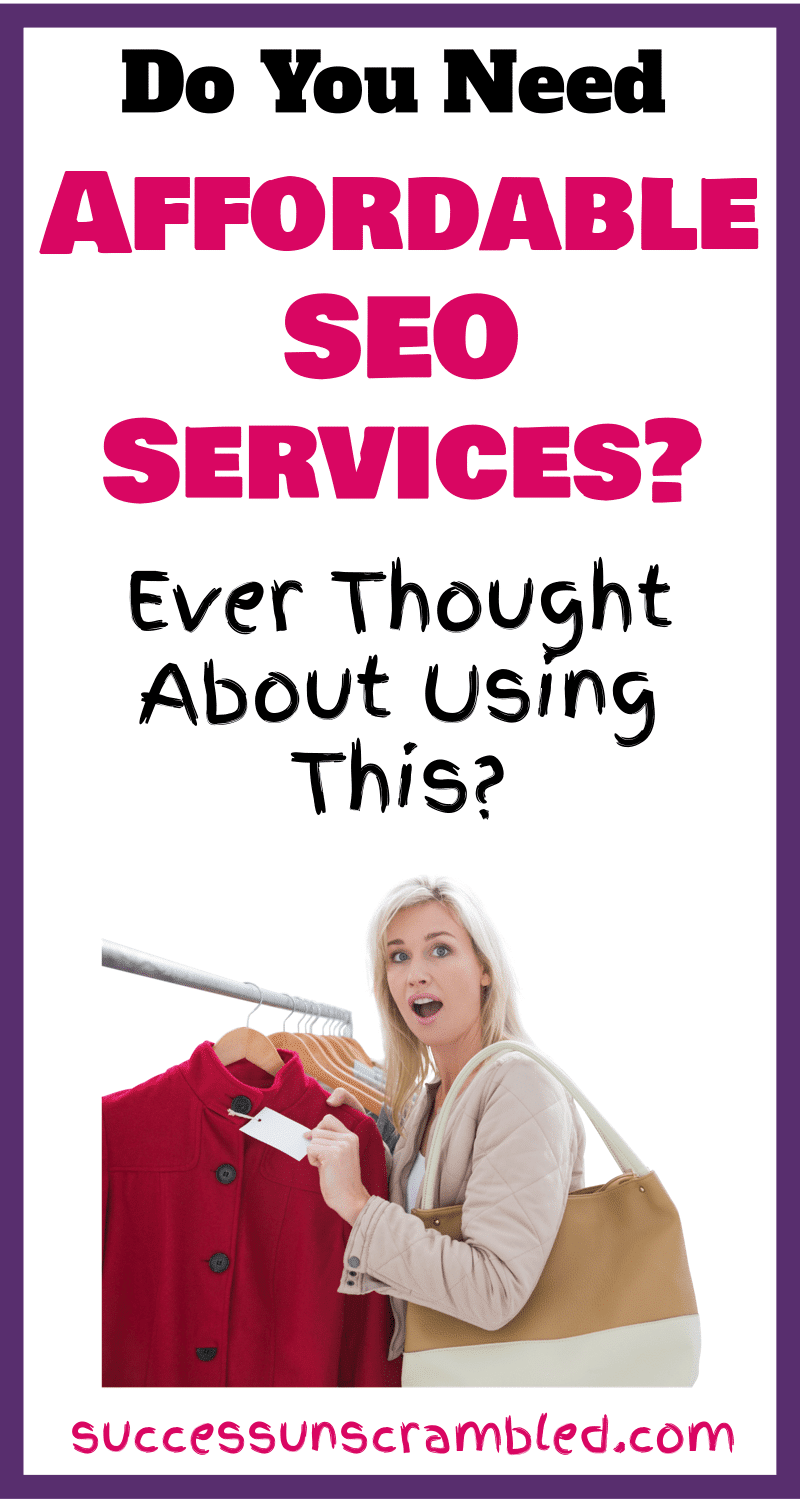 Announcements
Subscribe to the Success Unscrambled Podcast where you will be the first to hear what's happening in the entrepreneurial and digital marketing world.
Your review of this podcast is vital to keeping it alive and running for the next 12 – 24 months so please leave a review for us on iTunes, Spotify or any of your favourite podcast players.
In case you missed it check out how to monetise a blog to $25,000/month as well as how to find profitable untapped niche markets.
Want to take advantage of some free traffic to your blog from Pinterest? Check out my Pinterest SEO tips here.
If you are a startup or small business and you need to hire a virtual assistant to complete tasks such as social media marketing, blogging, keyword research or Pinterest account management then take a look at these packages.