What is the best SERP keyword checker you've ever used and what do you like about it?  Or do you even use one?
When it comes to ranking in the SERP (Search Engine Results Pages) aka Google search engines it is important to know a few things.
You need to know where your website or blog is right now and where you want it to be in 6-18 months time.
It is also important to understand what you need to do in order to get there.  Or at least what it will take to get there.
You see many businesses struggle with the whole concept of SEO and ranking in the search engines that they become crippled.
They feel like it is too technical, difficult or complicated to get results so they become paralyzed and do nothing.
The truth is that getting your blog or website to rank in the search engine is achievable. It can also be a lot of fun with the right mindset and education.
In this post, I am just going to touch on what a SERP keyword checker is and how it can help you get the results you need.
Disclaimer: please note that this post may contain affiliate links which means that if you buy one of my recommended products I get paid a commission for sharing the link.  I only recommend products that I have tried myself and have experienced success.
1. What On Earth Is A SERP Keyword Checker?
I am so glad you asked.  As I already mentioned above SERP is the acronym for Search Engine Results Page.
So, a SERP keyword checker allows you the ability to check a keyword or several keywords in Google to see who ranks for it in the Search Engine Results Page or SERP.
More importantly, it gives you even more detailed information that you may need to decide if you want your blog to be there as well.
Every business would benefit from getting organic results from the Google search engines. So it is imperative to include an SEO strategy as part of your marketing plan.
Yes, it is a long-term game and starting early on an SEO strategy means that you will see results in 6-36 months.
Let's spend some time understanding why a SERP keyword checker is important in more detail.
2. Why Use a SERP Keyword Checker?
It is at this part of the post where a blogger or business owner will be tempted to run away.  Do stay with me as this is where it gets exciting.
If you are one of my regular readers you know that I love giving an example through storytelling.  Who doesn't like a good story anyway?
You remember that story about your neighbour's 12-year-old daughter with the lemonade stand?  Seeing that she is becoming a star in my stories let's give her a name.  Let's call her Rachel.  
During the summer, Rachel, your neighbour's 12-year-old daughter sells lemonade on your street.
She decides to take her lemonade business online by selling edible cookie dough and lemonade crystals through her website.
This means she needs to devise an SEO strategy for her site in order to take advantage of organic traffic.
In order to do this, she needs to find the need and pain point of the buyer when deciding on the keywords.
Let's take a quick look at what that process looks like for her.
3. Keyword Research Using a Multiple Keyword Rank Checker
To conduct her research Rachel would need to use a keyword research tool which also doubles as a SERP keyword checker.
The difference between a keyword research tool and a SERP keyword checker are these things.
The keyword research tool lets you know the current search volume and the results for a keyword or group of keywords.
A SERP keyword checker is normally used to plug in a specific domain name to see what keywords that domain ranks for in the SERP.
The SERP keyword checker can also be used to check to see where a domain ranks for a specific set of keywords.
Both these tools are normally found in the same piece of software just under different tabs or sections.
Let's get back to Rachel now.  She knows that her main topic is edible cookie dough. So she first wants to understand the intent of her buyer when they perform this search.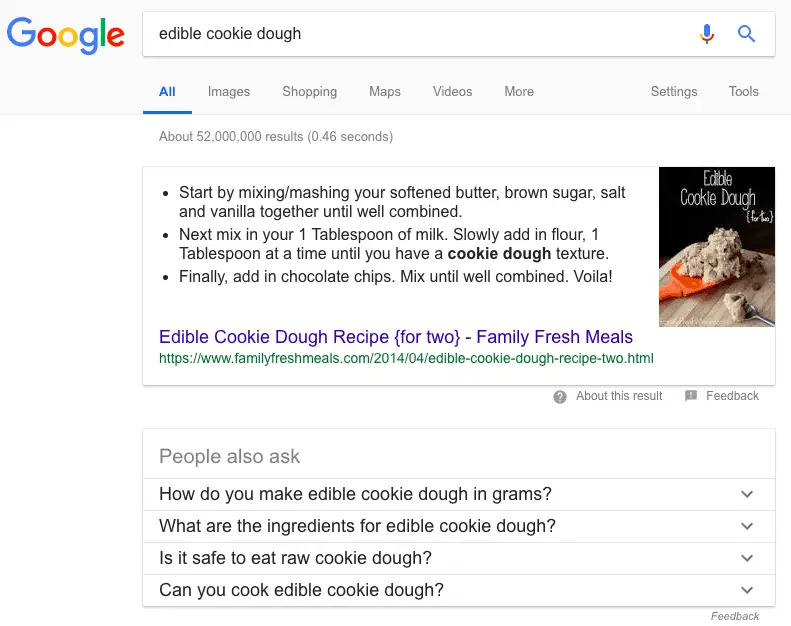 As you can see from these results there isn't really a buyer intent because all the results on the first page of the SERP are recipes.
Maybe the keyword suggestions may give us more clues.  As it shows us the most popular related phrases.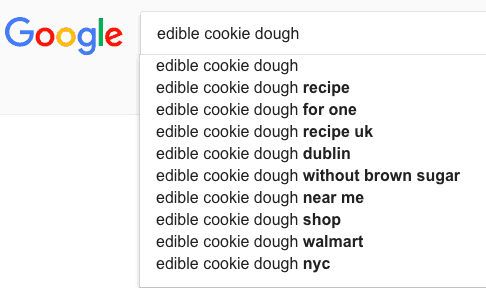 Also, have a look at the LSI (latent semantic indexing) keywords at the very bottom of that search engine results page for more clues.

After some initial research here is what Rachel found.
4. Keyword Research Results – Google Search Ranking
We have established that the main thing that Rachel needs are buyer keywords or keywords with buyer intent.
My two favourite SERP keyword checker tools to use are Keysearch and SEMRush.  Because they are always right on the button in getting me results.
If we look at the primary keyword which is 'edible cookie dough shop' here are the results we get.  A multiple keyword rank checker can help with this.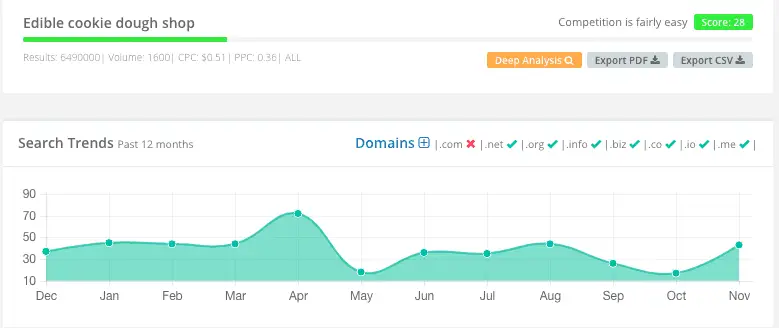 Edible cookie dough purchases seem to reach a peak in April.  It also dips in May and October.
Let's look at a simple SERP analysis to see who is ranking on page one of the SERP.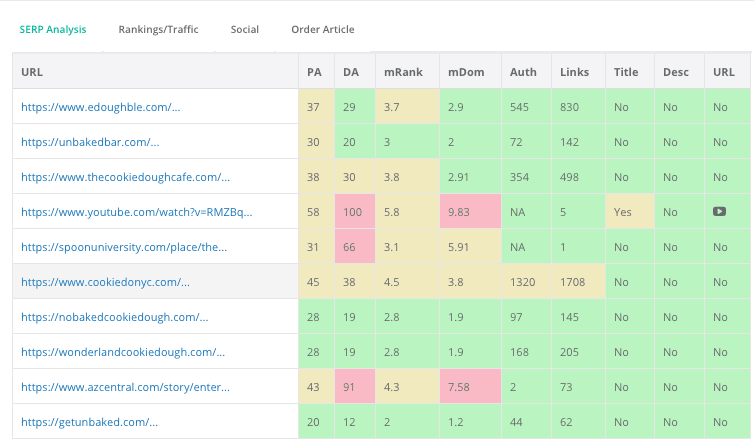 Although there are some heavy hitters in the results there seem to be an opportunity to get into this game.
There are several ways that Rachel can approach this but first, she needs to find as many related keywords as possible.
Let's use a keyword research tool to find a great list of keywords for Rachel to use.
Here you can see from my Excel sheet we found a lot of keywords.  Do you see why these keywords have more buyer intent compared to just searching for "edible cookie dough"?
5. Spying on the Competition – Website Rank Tracker
Rachel can also spend some time looking at the competitor in the number one position to see what she can glean.
The website in the number one spot is edoughble.com with a domain authority (DA) of 29 which is not very strong.  Here I used the SERP keyword checker to find these results.

Here are their top 5 ranking keywords from the SERP keyword checker.
These are their top 20 keywords.  As you can see they all have very strong buyer intent in these keywords.
I never knew that there was such a big market for edible cookie dough.  In fact, I have never tasted it.
Anyway, as you can see this type of tool is useful for pulling out important information for anyone starting a business.
6. Next Steps For Rachel
Now that she knows that there is a market out there that is interested in buying edible cookie dough Rachel needs to develop both a long-term and short-term strategy.
She would need to do a feasibility study to better understand what exactly the buyer's needs are with this.
She needs to know why they prefer to buy the cookie dough as opposed to making it at home.
It is imperative that she spends time studying the competition to see what they offer so that she can develop a unique selling point.
Of course, starting a blog will help her grow her online presence and authority in the niche. 
Building a community of loyal followers in her area would also help her to gain initial feedback on her product offering.
She also needs to decide if she will be selling her edible cookie dough locally or nationally.  This way she can form partnerships with retailers and manufacturers to improve her chances of success.
7. Benefits of Using a SERP Keyword Checker
If Rachel decided not to use a SERP keyword checker she would have no way of knowing what the search volume is for her market.
She may have an idea of the competition for her primary keyword but she would not be able to easily find the related keywords.
So the key benefits of a SERP Keyword Checker are:
Ability to easily find untapped niche markets
Find keywords with buyer intent
Easily find primary and related keywords
Save time and money
Spying on the competition
Develop an SEO strategy
I will not be able to go into a lot of detail on the best practices of using Keysearch and SEMRush in this post.
Do remember that they are in fact the best tools on the marketing for sourcing keywords for your SEO strategy.
Conclusion
A SERP keyword checker may have initially sounded complex and scary for the complete newbie.
As you can see it is just a simple tool used to do SEO research to pull out the right keywords to build organic search traffic for a business.
Of course, developing a firm SEO strategy together with social media is crucial to getting it done right the first time.
It is imperative to do this step in the process before starting a blog or even creating a website.
Keyword research is the lifeblood of an SEO ranking strategy and it also works really well with Pinterest marketing.
If you are brand new to the SEO game I can conduct an SEO audit of your website to advise on where you are right now.
Also, I can help you understand what you need to be implementing to get the success that you need.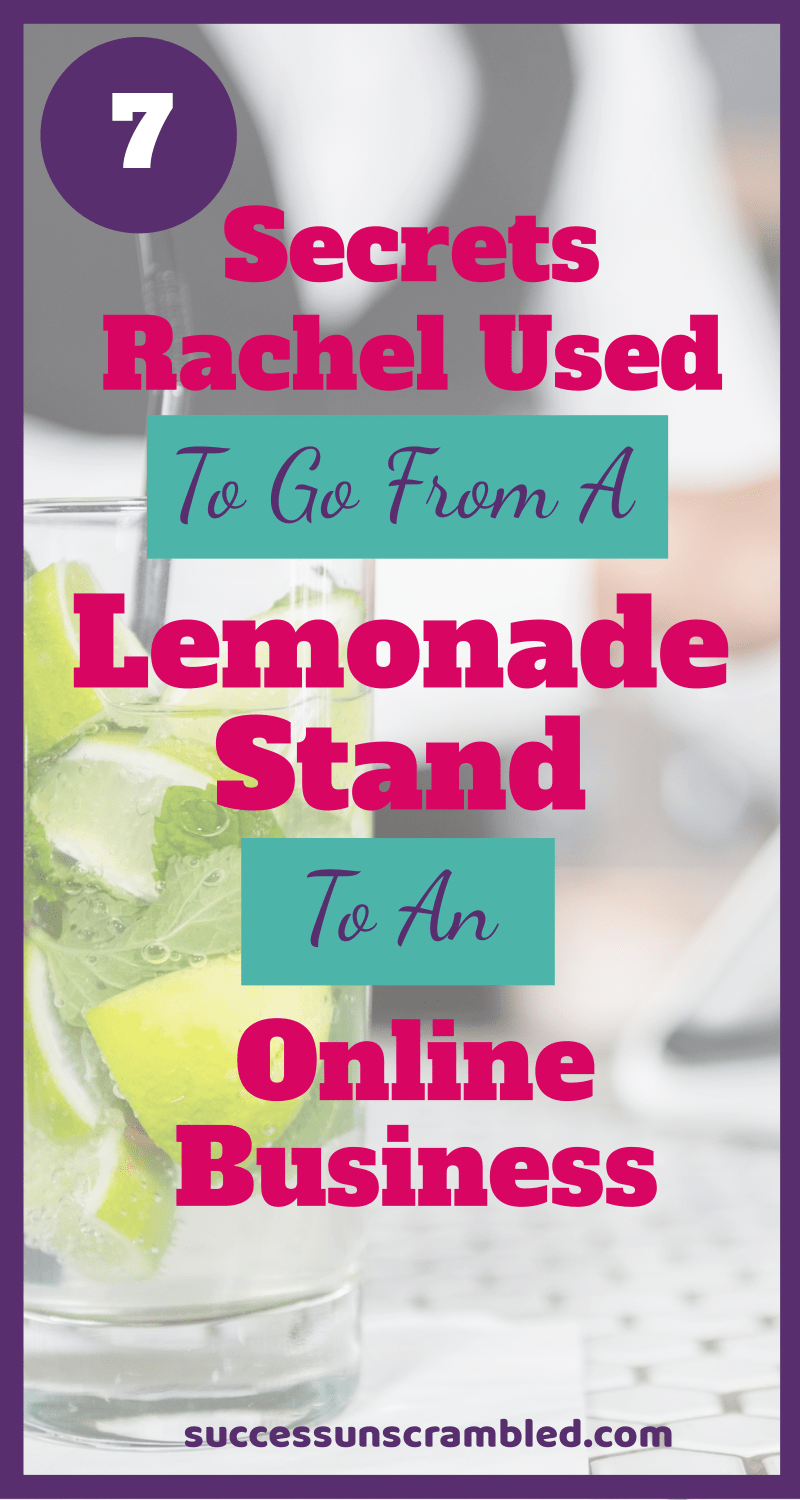 Announcements
Remember to subscribe to the Success Unscrambled Podcast where you will be the first to hear what's happening in the entrepreneurial and digital marketing world.
Your positive review of this podcast is vital to keeping it alive and running for the next 12 – 24 months so please leave a positive review for us on iTunes, Spotify or any of your favourite podcast players.
If you are a Mommy Blogger, check out the SEO for Mummy Bloggers podcast as well as the benefits of investing in affordable SEO packages for your business or blog.
Want to take advantage of some free traffic to your blog from Pinterest? Check out my Pinterest tips here.
If you are a startup or small business and you need to hire a virtual assistant to complete tasks such as social media marketing, blogging, keyword research or Pinterest account management then take a look at these packages.