Podcast: Play in new window | Download (Duration: 32:47 — 45.5MB) | Embed
Subscribe: Google Podcasts | Spotify | Amazon Music | Email | TuneIn | Deezer | RSS | More
Have you ever purchased a Pinterest course and implemented the suggested strategies?  Did you get the results you were hoping for?
After enrolling in over 7 courses that teach how to use Pinterest for business I can tell you a thing or two of what actually works.
You see there are so many Pinterest courses that are available on the market that claim to offer you the ability to go from zero to 10,000 or 30,000 page views a month.
As a blogger, you have probably seen this claim many times before.  You wonder at the back of your mind "will this one work for me?"
The truth is as a blogger you need website traffic to your site and in desperation, you will be willing to do anything for page views.
Before you whip out the credit card, there are some things you need to know.  Pinterest does work without a doubt and I will explain the shocking details momentarily.
Disclaimer: Please note that this post may contain affiliate links which means that if you buy one of my recommended products I get paid a commission for sharing the link.  I only recommend products that I have tried myself and have experienced success.
What is Pinterest Marketing?
Pinterest marketing is using Pinterest pins to display your products and services to potential customers using a dedicated Pinterest Business account.
There has been so much hype in the last four years when it comes to Pinterest marketing.
Many bloggers need a Pinterest course to take them through this process.
The reason why you would market using a Pinterest business account as opposed to a personal account is for analytics.
Other advantages are having the ability to confirm your website and enabling rich pins.  It gives your pins an added benefit when compared to regular pins.
Because you have access to analytics, you can get a better understanding of how your content is performing on the Pinterest platform.
It gives you the ability to optimise and tweak your strategy so that you can get better results from your marketing efforts.
1. What's Included On A Pinterest Course?
All of the Pinterest courses I took so far has the following common elements included as standard.
Creating or converting a Pinterest Business Account
Confirming your website
Setting up Rich Pins
Creating Boards and Pins
Branding your account
Here is a list of items that were included in some courses but not in others.
Using 3rd party schedulers like TailwindApp (get one month free of TailwindApp here)
How to get the most out of Board list
Manual pinning
Using off-brand pins
Creating several pins for a single post
How to get the click-throughs
Creating clickable titles
Pinterest SEO
Content upgrades
Creating funnels
The customer journey
2. My Experience of Each Pinterest Course
It is only when my account started to plateau after reaching a certain amount of views did I realise that something is missing.
I spent some time evaluating each course presenter to see what were the common traits across all their accounts.
After 12 months of troubleshooting and testing, I finally noticed something that was glaringly obvious.
Before I tell you what the one thing is, let's look at the different courses just to give each a proper evaluation.
Pinfinite Growth
Pinfinite Growth by Melyssa Griffin was the first course I took which was great.  I did spend a lot of time setting up the account for success.  Her main audience is bloggers.
Pinterest Ninja
Pinterest Ninja by Megan is another great course.  She does give some additional tips and tricks that aren't found on Melyssa's course.  Her audience is mainly Mom bloggers.
Pin Practical Masterclass
Pin Practical Masterclass by Monica (I have no idea why their names all start with M) is yet another great Pinterest course.
She does teach things that are not found in any of the other two courses.  Her focused audience is mainly Mom's
Pinteresting Strategies
Pinteresting Strategies by Carly is unique for her focus on manual pinning.  It is obvious that she would teach stuff not found in the other 3 courses.  Her audience is again mainly Mothers.
The Secret Sauce To Skyrocketing Your Blog Traffic
The Secret Sauce To Skyrocketing Your Blog Traffic by Angela is not 100% Pinterest focused.
Believe it or not, she does offer more Pinterest traffic strategies not found in the previous 4 courses.  Her target audience is employees and bloggers looking to leave their 9 to 5.
Pin Signals
Pin Signals by Jennifer (Potpie Girl) is not a course for the beginner.  It is great as an add-on course for the advanced Pinner.
Pin Depth Advanced
Pin Depth Advanced by Kayla is a very big course that covers lots of different areas from start to finish including creating funnels and understanding the customer journey.
She really does a great job of covering every angle in great detail for both new and advanced pinners.
One thing I did notice is that certain elements of the course can do with some updating.
Adventures in SEO
Adventures in SEO by Lena Gott is easily the most comprehensive, constantly updated course of all the Pinterest courses I have ever taken.
She covers both Pinterest and SEO hence the reason why the course is so in-depth.
The most interesting thing is that her course is so very different from all the other courses in terms of its content as well as her approach.
If you are an intermediate blogger then check out my review of the best advanced Pinterest course to give you the boost you need.
3. What Was Lacking In Every Course?
I did a careful evaluation and noticed that every course was very focused on an audience of consumers.
While my blog had a very business to business focus on it.  This does not mean that any of the courses were bad.
It just means that I did not choose the correct mentors for my blog.  Melyssa's course has a mixed element of business and consumer but mainly consumer.
All these courses and their associated testimonies were getting results because of their audience type.
If I just lost you totally let me explain.  When marketing to consumers the techniques used are very different when marketing to a business.
If you have taken any of these courses but did not get the results you were looking for then check to see what kind of blog you have.
If you are in the business to business (B2B) space then just be aware that you would need to tweak what you have learned.
4. What Are The Tweaks?
It will take me a lot of time to go through the tweaks in this blog post but I needed to test my tweaks.
I ran a 30-day Beta Pinterest course a few months ago with 60 participants to see what the results were from my tweaks.
Setting up Pinterest Boards should be done differently
Pinterest pins should be refreshed weekly or twice weekly
Using Tailwind Pinterest tribes is a must
Board lists on Tailwind make a huge difference
Content Upgrades are not what they seem
1-2 main goals are sufficient
I have learned so much on my own that is not even available in any of these courses and I want to find a low-cost way to share it with you.
A membership seems like the best option so I plan to launch this shortly for anyone who is interested.
5. Pinterest Course Side By Side Comparison
If you want to experience success and learn how to market on Pinterest you have two choices.
Invest in a Pinterest Course
Read up every possible article on Pinterest tips
One of these will cost you money and the other involves a whole lot of time.  I wanted to give you a side by side comparison to help you to decide.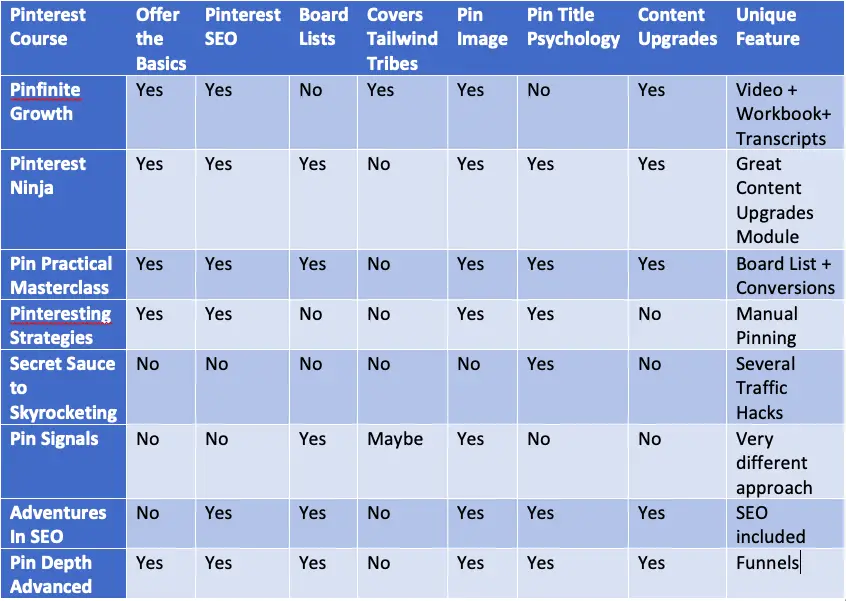 Oh wow! This is going to sound very weird coming from me but I never realised how many of these courses don't teach about Tailwind tribes.
I guess I did a lot of experimenting on my own to get the results that I currently get.  I have a huge science background so I love running tests.
6. Which Pinterest Course?
At this point, you are probably wondering if you should invest in a Pinterest course.  The answer quite simply is yes.
You will need to make that investment because you will need a coach to bring you forward.  Your blog needs to grow.
If you are in any of the 6 most profitable blog niches except for travel then Pinfinite growth, Pinterest Ninja and Pin Practical Masterclass should give you what you need.
The travel niche and the blogging niche can be a bit challenge and difficult to grow so you will need some out of the box thinking.
Although Lena's course will be able to help simply because her approach is so hands-on and she actually helps you when you're stuck.
The Pinterest algorithm keeps changing and there are still so many bloggers struggling to get to the 30,000 a month page view mark.
As a result, I've created a low-cost membership with a view to help you get the results that you want within 12 months.
7. What's Included?
Every Pinterest course available seems to be written or created by people who have not really struggled to get their success.
This course will cover not only Pinterest but other traffic hacks to help you get to your goals.
Pinterest Traffic Hacks
SEO Hacks
Pinterest Pin Image Templates
Content Upgrade Tips
Guest posting shortcuts
Tailwind Tribe Tricks
Content Upgrade Templates
Improve your blog writing
Much, much more
If you are interested in joining the membership then click the big button below to get started.
Click Here To Access The Blog Traffic Membership >>
8. What Are The Benefits?
Maybe you are not quite sure that this is for you.  If you have been a blogger for a year or two and you are disappointed with your traffic performance here's how you'll benefit.
No need to invest in another Pinterest course
Get everything you need to skyrocket your SEO
Achieve your blog traffic goals without the disappointing big investment
Quit your 9 to 5 sooner
Spend more time with your family
Be the envy of family and friends
Get access to a community of like-minded people
Reduce your sleepless nights
Take care of your traffic worries so that your blog can take care of you and your family.
Finally, achieve your blogging goals once and for all.
Click Here To Access The Blog Traffic Membership >>
Conclusion
It can be heart-wrenching when you invest money in a Pinterest course and follow the teaching and the results are not great.
Sometimes it is not even the fault of the course because the course worked for other people.
Getting the right group of people who have the grit that it takes to keep going despite disappointments is what you need to get you to success.
The support and out of the box thinking is available to help you achieve your goals it is up to you to take the step in the right direction.
It will not be a walk in the park but a good amount of trial and error with all the support that you need.
Over to you what has been your experience with a Pinterest course?  To your success.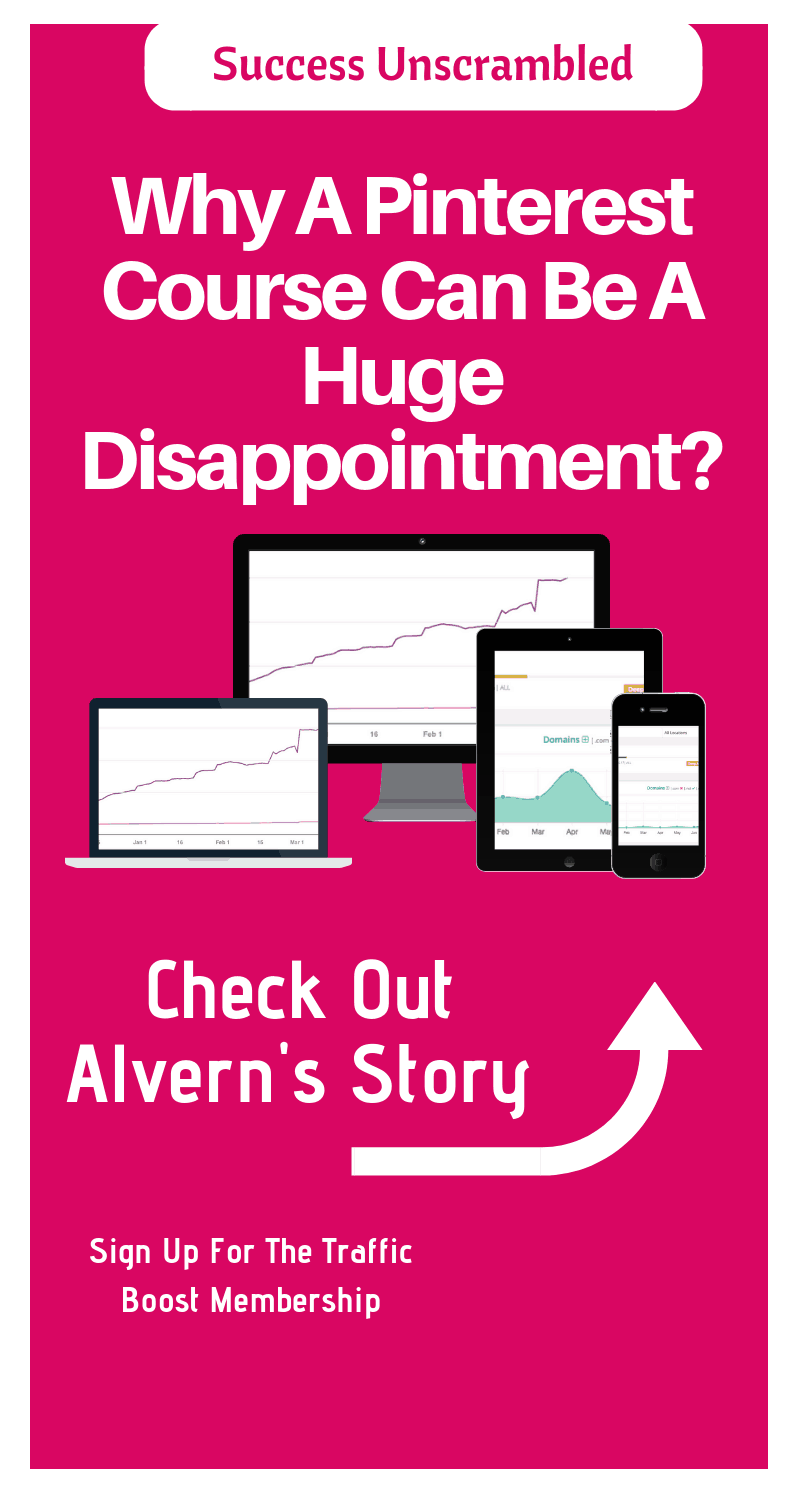 Announcements
Remember to subscribe to the Success Unscrambled Podcast where you will be the first to hear what's happening in the entrepreneurial and digital marketing world.
Your positive review of this podcast is vital to keeping it alive and running for the next 12 – 24 months so please leave a positive review for us on iTunes, Spotify or any of your favourite podcast players.
If you are a Mommy Blogger, check out the SEO for Mummy Bloggers podcast as well as the benefits of investing in affordable SEO packages for your business or blog.
Want to take advantage of some free traffic to your blog from Pinterest? Check out my Pinterest tips here.
If you are a startup or small business and you need to hire a virtual assistant to complete tasks such as social media marketing, blogging, keyword research or Pinterest account management then take a look at these packages.