Podcast: Play in new window | Download (Duration: 23:25 — 19.3MB) | Embed
Subscribe: Google Podcasts | Spotify | Amazon Music | Stitcher | Email | TuneIn | Deezer | RSS | More
Hello you! In this post, we will be looking at your Pinterest business account in a little more detail. 
We will be covering 9 fantastic ways to grow your Pinterest business account.  I am assuming that you have these 5 things already before you can set about doing these daily tasks.  Here are those 5 things:
A verified Pinterest business account – without this you will not have access to analytics
Between 15-20 keyword rich Boards
Each board has a minimum of 60 pins
Each pin has a keyword rich description and up to four hashtags
You are a collaborator with at least 5 group boards each having at least 1,000 followers, 5,000 is better
As I mentioned at the start of this post we will be focusing on the 9 key tasks that you need to do consistently to grow the traffic, impressions and engagement of your Pinterest business account.  
This gives you a sense of what is it you are already doing right as well as what you may need to improve. 
Obviously, the ultimate goal of your Pinterest business account is to drive traffic to your blog or website. 
However, that traffic needs to see your content in the form of pins first then proceed to your site or simply engage with your pins to give you the feedback needed to take the next step.
1. Looping Pins
So you have a board with 60 pins on it and the first thing you need to do to drive impressions and engagement is to keep your boards fresh. 
The best way to achieve this without driving yourself crazy doing it all manually is to use a third-party tool like Tailwind's SmartLoop. 
They are a preferred partner of Pinterest and are widely used to run campaigns, monitor your Pinterest business account and drive traffic sensibly to your content.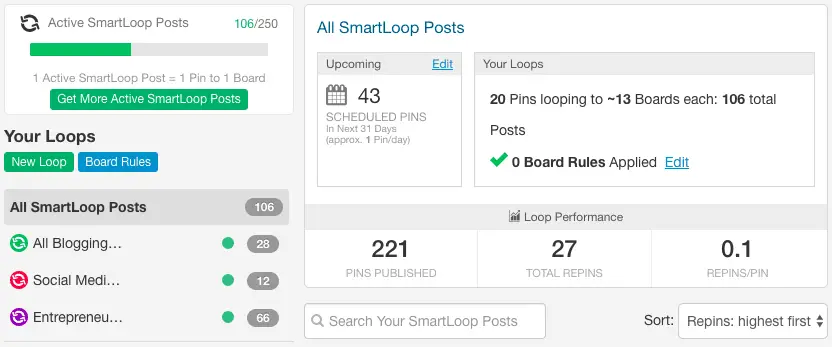 As you can see this is an example of the looping facility in SmartLoop.  I will cover this in more detail in my upcoming Pinterest course.
If you are confused and need help then you can take advantage of the video course where I cover everything step by step.
2. Re-pin Popular Pins
As the name suggests you need to know or at least find a way of tracking down those elusive popular pins then re-pin them so that they can gain more traction. 
One of the ways to find those popular pins is to use the Pin Inspector functionality that you can find in Tailwind. 
If you don't have an account yet or if you have an account and not yet using Tailwind to help drive massive traffic to your blog or website you should do so now.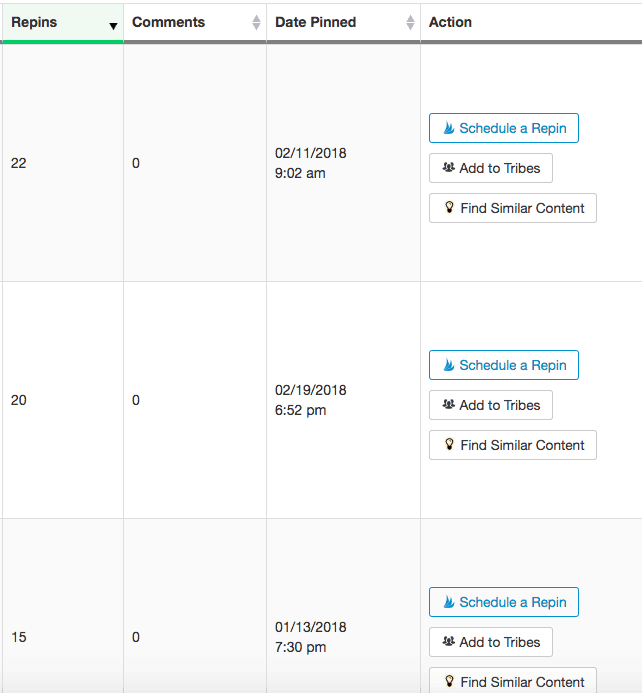 As you can see from the above screenshot Pin Inspector gives you a thorough breakdown of each pin in terms of when it was first pinned to your board and how many times it has been re-pinned.
3. Update Pin Images
One of the known ways to increase views to your blog post is by split testing the engagement of your pins to see which images get the most love from your audience. 
Sometimes you may have a killer title for your blog post but finding the perfect image that resonates with your audience is another story. 
Here is an example of one of my specific blog posts which have been repinned 100 times after I changed the image.
Before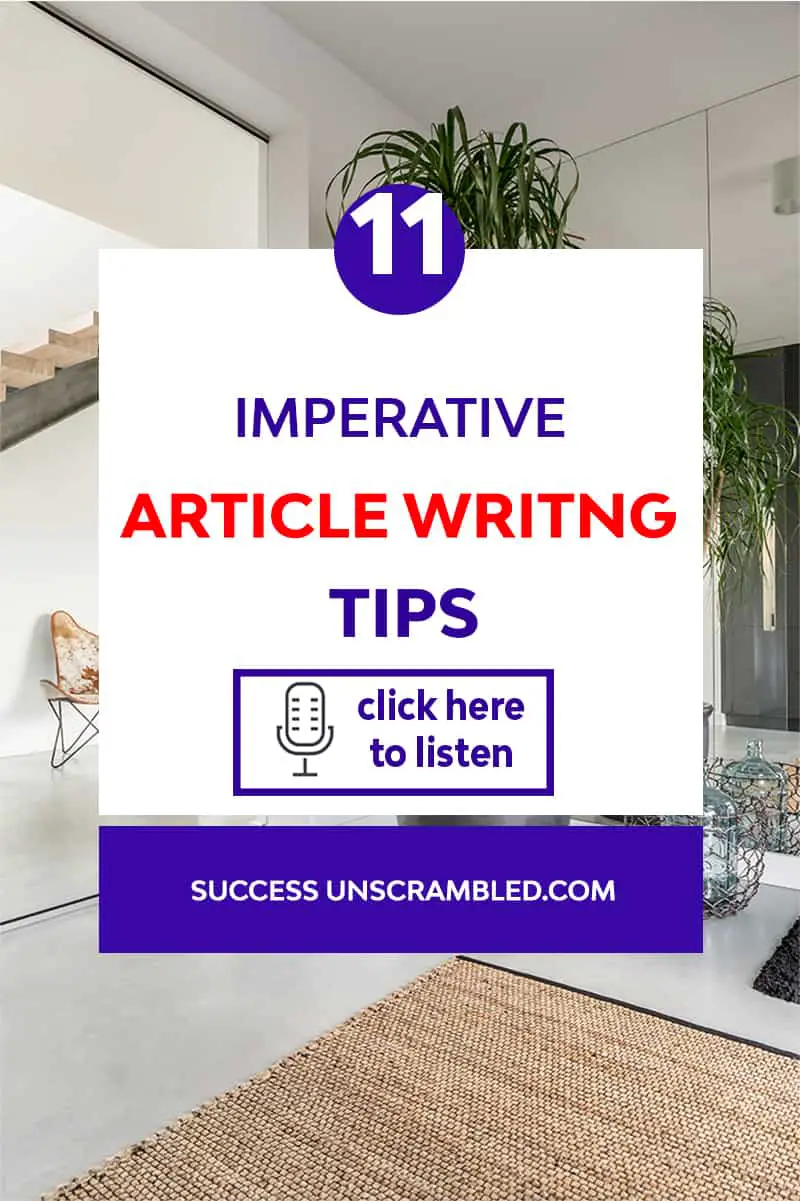 After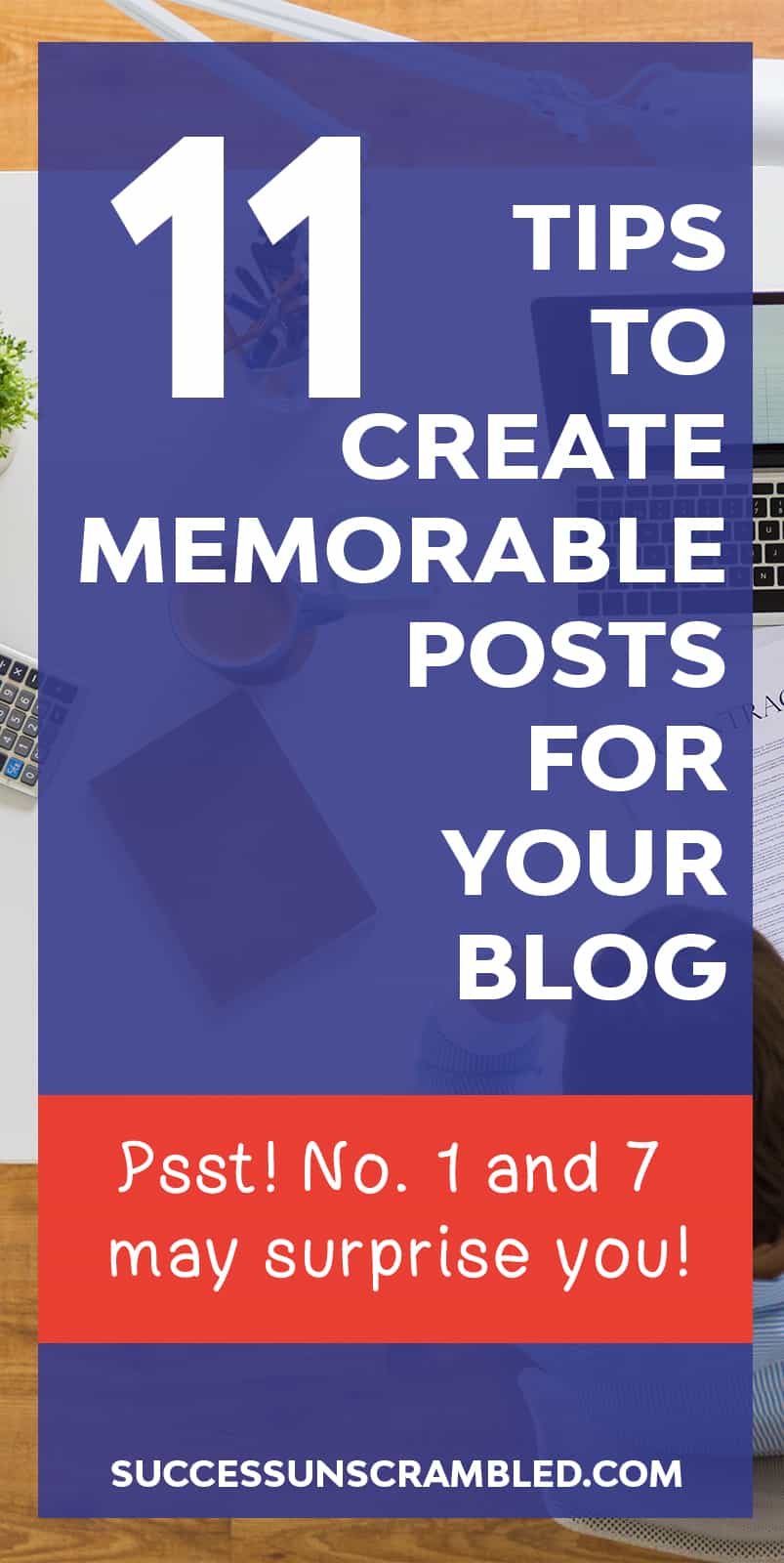 As you can see both images are very different and they seem to be referring to two completely different blog posts. 
You will also realise that I decided to try two very different pin sizes to see if that made a difference.
The fact is that you should always be testing after all you took the time to write a really good blog post that will add value to the lives of your audience.  So do keep trying to get their attention by split testing the pin images.
4. Check Pins With Most Clicks
Once you have a Pinterest business account you will get access to the Pinterest analytics which gives you a breakdown of impressions, views and clicks.
This is essentially the overall engagement of your audience on your Pinterest account as well as the associated website or blog.
The great thing about this analytics report is that it can get very granular as it shows you which pins and boards are getting the most impressions and clicks.
The advantage of knowing which pins are getting the most impressions and clicks is that it gives you an insight into which images, topics and titles are performing the best from your blog as well as other people's blogs.
You can then use this information to revise your pin's images and titles as well as find new related topics for your blog that your audience is interested in reading.
Here is what you need to look for in your Pinterest analytics:

You then need to scroll down and have a look at the most clicked pins over the last 30 days. Check this out: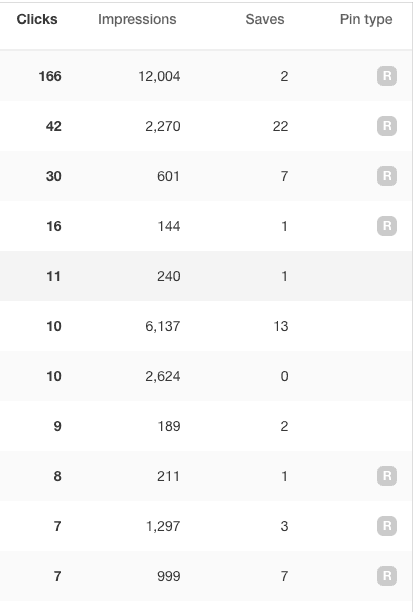 As you can see I have one pin that is delivering over 12,000 impressions and 166 clicks over a 30-day period. 
You can see the top 10-12 pins on my report.  If there are pins in your report that do not belong to you it is a great way to find new topics that you can focus on.
These clicks can go to your website since you will be addressing a topic that is very important for your audience.
5. Pin Manually to Your Pinterest Business Account
You should not have to spend all day on your Pinterest business account to pin fresh content or re-pin existing content. 
Therefore, scheduling your pins helps to automate this manual task for you.  You can use either BoardBooster or TailwindApp or both to schedule your pins for you every day.
However, the Pinterest algorithm also gives credit to those who prefer to pin manually. 
Of course, the best result is to do your daily pinning tasks 100% manually but if you don't have time then it would be a good idea to do some pinning manually and some automated pinning.
Set aside time every day to do some manual pinning then schedule the rest of the daily pinning. 
For example, if you decide that you can manage to pin 10-20 pins manually every single day then you can schedule 25-30 pins. 
This can be a combination of looping, fresh pins and repinning to group boards. The important thing to remember is your goal for pinning. 
The goals should include to add value to the lives of your audience, to drive traffic to your blog, to build authority and to grow awareness.
To help me with manual pinning I have the Pinterest App on my smartphone so that I can pin manually while I am waiting for transport or while travelling.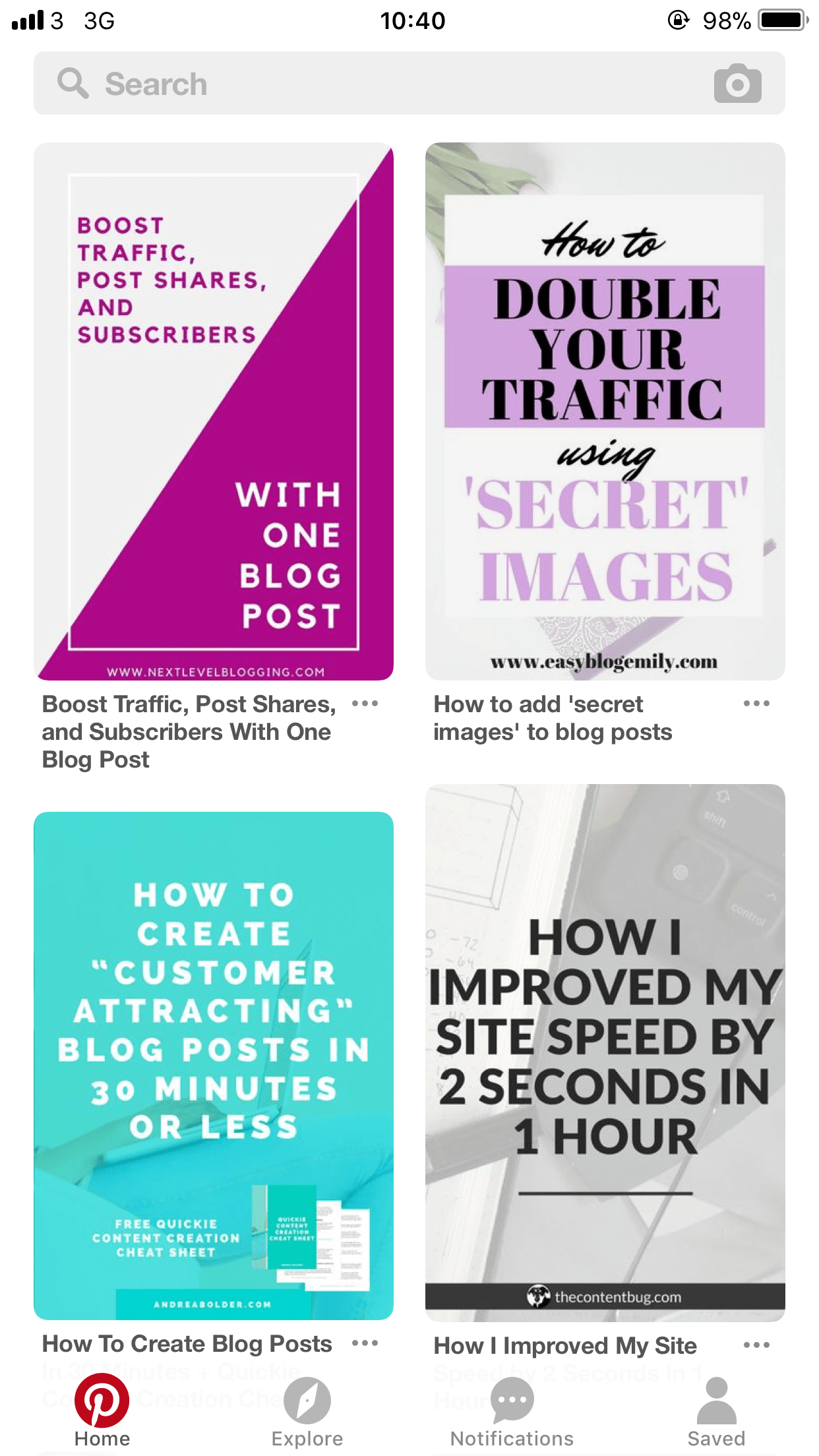 As you can see I have the option to search for specific keywords or just select the ones on screen and repin them to my boards.
6. Check Pins With Most Saves
Every now and again you will come across a pin that is getting a high number of saves and very few click-throughs. 
It is important to take a closer look at these pins because they are not achieving the ultimate goal of driving traffic to your blog or website.
You are probably wondering how you can identify which pins are getting the most saves.  Well, there are two ways you can easily spot them. 
The first is via your Pinterest analytics report where you click on 'Saves'.  Check out the screenshot below:

Once you select that option you will be able to see the most saved pins over the last 30 days. 
As you can see from my Pinterest analytics report there are some pins that get both clicks and saves and some that get lots of saves and very few clicks.
Once you pick these out you need to do some further analysis as to why people aren't clicking through to read more.  Here are a few reasons why:
Need a clear call to action (CTA)
Need some urgency built into the title
Offer a freebie so that they can download it
At the end of the day, you will need to split test the pin images, titles and CTA to see which one will give you more clicks. 
Don't get me wrong saves are good especially when you are getting thousands of impressions but clicks are even better.
7. Add Pins to Group Boards
There is so much to remember in your daily pinning routine that you can easily forget to add your pins to group boards. 
If you are not yet a collaborator on any group board not to worry I wrote another post outlining how to get on 50 group boards in 30 days or less.
If you are already a collaborator on group boards I cannot emphasize how important it is to pin fresh content to group boards. Also, re-pin content that is getting great engagement.
Yes, this is a lot more work than you were expecting so you can schedule pinning to group boards using a tool like Tailwind via their board lists + scheduler.  Here is the screenshot showing board lists.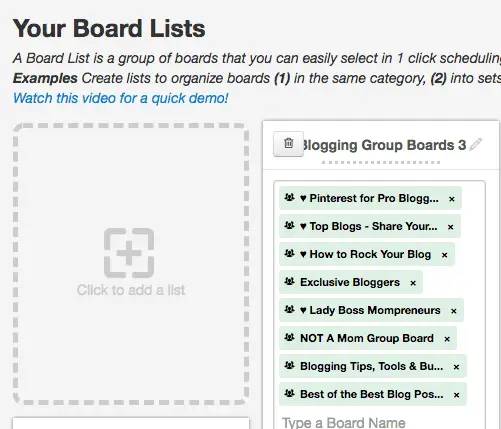 You would first need to create a board list with similar group boards then schedule your most popular pins to go onto those boards every week.
Depending on the repin rate of that board as well as the number of followers you may be able to do it daily.
The idea is to space it out using interval pinning so that you don't appear to be a spammer on the group board.  Here is an example of the interval pin scheduler.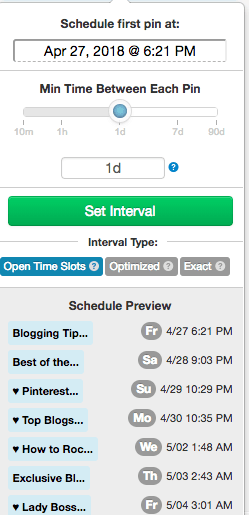 The idea is to as much as possible update you pin images every week or month so that you can get the best return on your investment of time.
8. Re-pin Other People's Content
As well as adding your content to group boards you should help the other contributors in the group by repinning their content to your boards that is the most relevant to that pin.
This is an intentional effort on your part because you are not only helping other bloggers but you are adding value to your boards for the sake of your followers.
You are not the best subject matter expert on your topic so adding a good mix of content is good practice and helps you with an increase of impressions in the Pinterest algorithm.
Unfortunately, it is very difficult to schedule this tasks so it would need to be completed manually. 
The reason why I did not say that it is impossible is that one way to work around it is to create a secret board for each group board.
You can then use the group board as a sourcing board which can then be repinned to the secret board which is a collecting point for your group pins. 
You can then go to these secret board every day and re-pin from them to your non-secret board that has a relevant topic to these sourced pins.
In the screenshot above is one way to semi-automate the process of re-pinning from group boards to your own boards. 
This is not a set it and forget it tactic so I would strongly advise that you consider all options before diving in to use this method.
It is a great option if you are a collaborator of 10+ group boards as it is very time-consuming to manually re-pin every day unless you have the time to do so.
9. Rewrite or Update Descriptions and Hashtags
Finally, let's look at rewriting your descriptions and hashtags.  One of the ways to get more impressions, saves and click-throughs is to optimize your pin descriptions and hashtags.
It ensures that you are using the right keywords, call to actions and popular hashtags to get the results that you need for your blog.
In point 3 above I showed you the improvement of one of my pin images.  Let's take a look at the description and hashtags as to why it got 100+ repins.
The description for my pin is being pulled directly from the blog meta description so if I need to update the description I will need to edit the blog post itself. 
The reason why Pinterest is pulling the description from there is that I have enrolled in the 'Pinterest Rich Pins' program which is only available if you have a Pinterest business account.
As the description was written over 4 months ago it could do with a little updating since I have more experience and I understand more about how the Pinterest algorithm works.
You are probably thinking at this point that it is a lot of work to keep your Pinterest business account up to date and ranking well. 
Yes, this is indeed the case but it is worth the time and effort as the results can be very rewarding.
Put careful thought into your Pinterest keywords and hashtags then include them in the description so that you can reap the benefits. 
Always be open to improving your best effort.
That's all for this blog post until next time, enjoy the rest of your day and the rest of your week bye for now.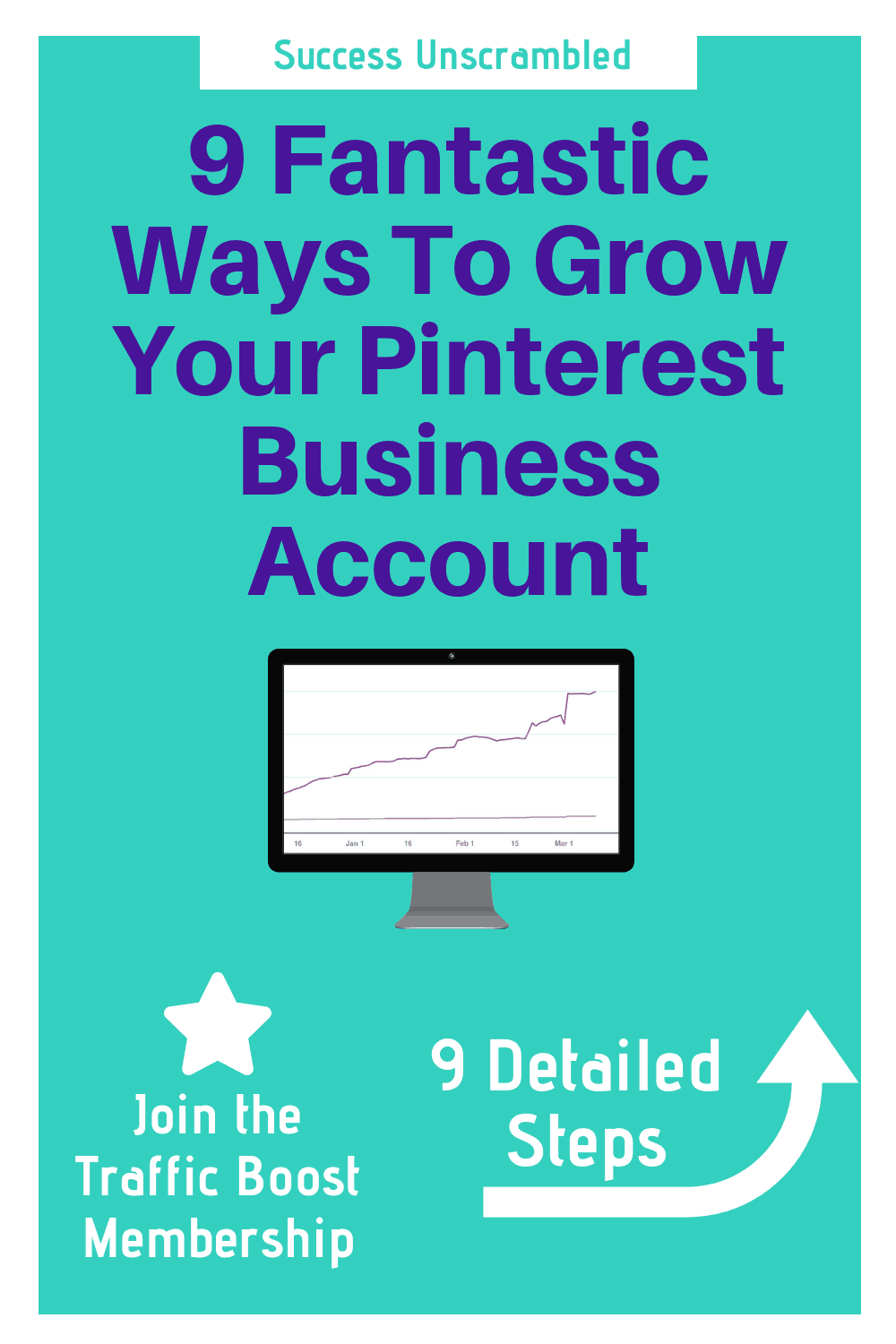 Announcements
You can subscribe to our podcasts to get notified when more success stories become available.  In case you missed it check out my 15-minute video mini training about how I went from zero to over 21,000 views in 30 days on Pinterest.
If you need help setting up your profile on Pinterest or you need someone to manage your Pinterest account on a monthly basis you can work with me here.