Podcast: Play in new window | Download (Duration: 34:24 — 47.8MB) | Embed
Subscribe: Google Podcasts | Spotify | Amazon Music | Stitcher | Email | TuneIn | Deezer | RSS | More
Monthly Pinterest views are vital if you have a Pinterest business account.  Very few people know about the power of Pinterest Marketing so if you are also new to this concept let me take some time to explain.  Although, many people have been using Pinterest as a great place to find gift ideas, favourite recipes and the latest fashions there are some business owners who are aware of the fact that Pinterest is not necessarily a social media platform but a visual search engine.
Because Pinterest is a visual search engine then anyone who would like to use its power to drive traffic to their blog or website would need to ensure that their profile, boards and pins are keyword rich so that people looking to find what they have to offer are able to find these pins.
If you would like some quick tips on getting Pinterest traffic to your blog, you can take a look at this 15-minute video outlining how I went from zero to 21,568 views in 30 days here.  Otherwise, let's take a look at those 7 surprisingly clever tools to increase your monthly Pinterest views.
Here are the 7 reports that are generated by these 7 clever tools:
Follower Growth
Best Time to Pin
Idle Group Boards
Board Performance
Pinning History
Follower Growth on Group Boards
Group Board Performance
1. Follower Growth
There are several tools out there that help Pinterest Marketers track their Pinterest monthly views on a daily, weekly and monthly basis.  Two of the popular tools include BoardBooster and Tailwind.  If you don't have an account for any of these you can sign up for a free trial of BoardBooster here and a free trial of TailwindsApp here.
Once you have an account you can log in to BoardBooster by clicking on the 'sign in' button as shown in the screenshot below: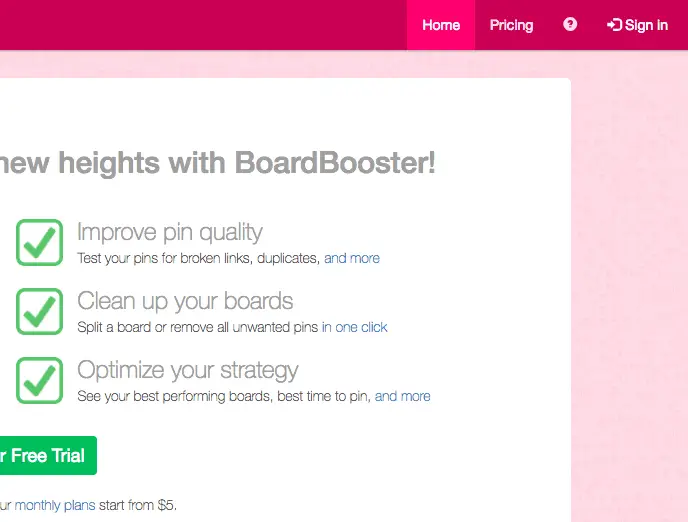 This is not a course on how to set up or use BoardBooster but if you are already using it how to take advantage of some lesser known features.  Once you have logged in click on reports then choose Follower Growth.  Depending on how long you have been using Board Booster your report will look different to mine.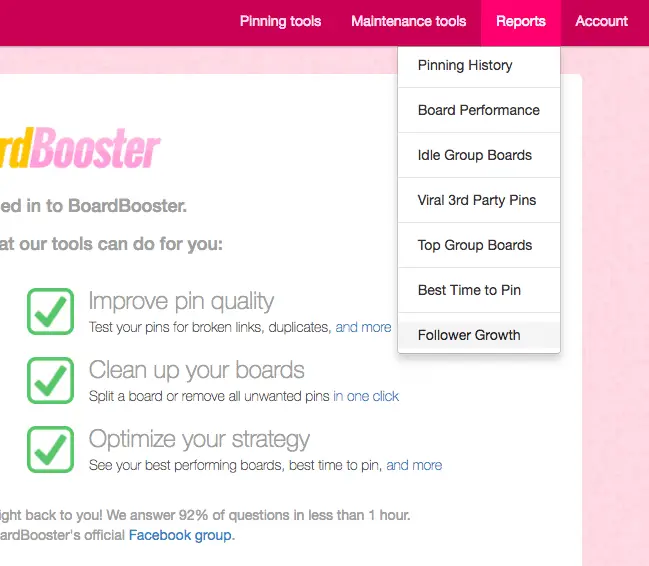 Here is an example of what my report looks like. As you can see my Pinterest account experienced a 326.5% growth rate over the last 71 days.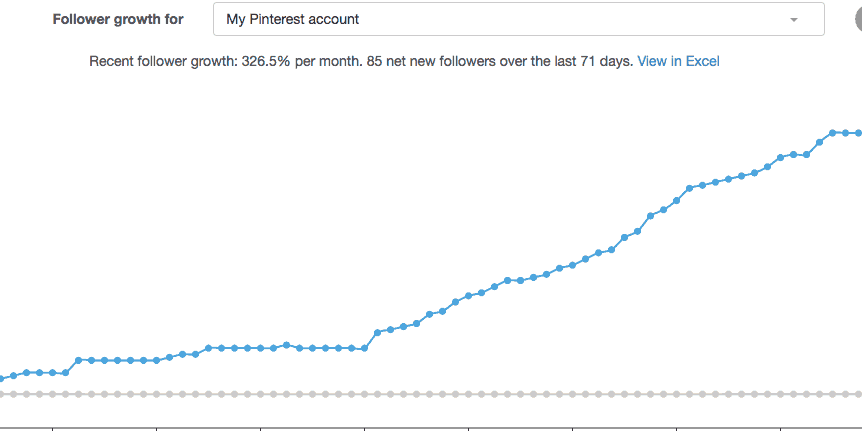 It is so easy for us, as Pinterest Marketers, to look at the last 7 days or the last 14 days but when we do a big picture view we get to see where we were and where we are today in comparison to 71 days ago.  This can help you with your monthly Pinterest views as it outlines as to whether or not your account is growing or shrinking.  It does not, however, suggest what you need to do to remedy the situation.
2. Best Time to Pin
The next useful one is the 'best time to pin' report and just by clicking on reports in BoardBooster you can choose it from the list. As the name suggests this compilation shows you the best time to pin based on your scheduled pinning history.  You may or may not see any results depending on how you used Board Booster in the past.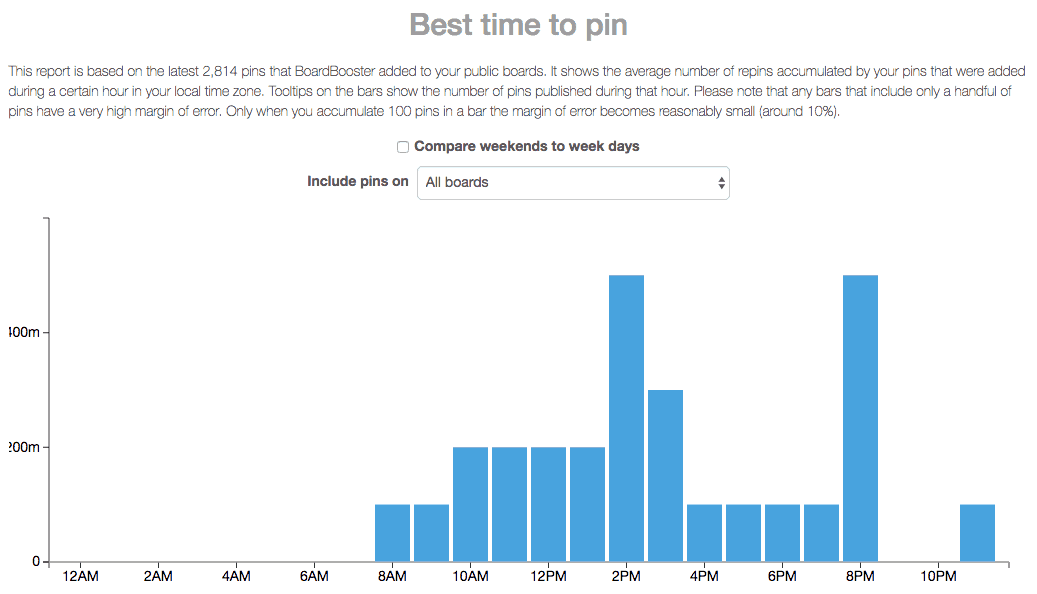 Do reading the information you received at the top of the report as it outlines what you need to do to avoid any margins of error.
As you can also see from this report you can filter by each board to see what insight you can glean and change your pinning schedule to match the advice given by this compilation.  One of the best ways to improve your monthly Pinterest views is to ensure that you are pinning at the optimal time so that you can take advantage of the traffic relevant to your niche.
3. Grow Your Monthly Pinterest Views With Idle Group Boards
The first time I saw this report I thought it meant something different.  Based on my experience let me explain to you what this report is all about.  This report shows you group boards that you have joined where they have received less than 5 of your pins in the last 30 days you can take advantage of the potential traffic that you will get from all these group board followers.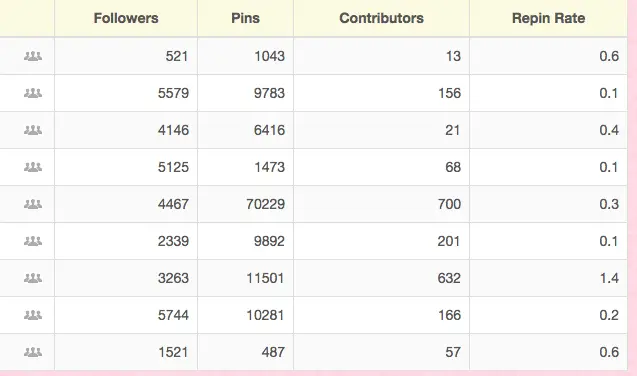 This report can single-handedly help you grow your monthly Pinterest views exponentially as it will show you where you are leaving traffic on the table.
4. Board Performace + Monthly Trends
Just when you think that you saw all the possible reports that will help you increase your monthly Pinterest views thick again because we will now look at board performance.  What I liked about this report is that it gives you a good insight of your Pinterest boards which can be quite difficult when you have more than 15 boards on your Pinterest profile.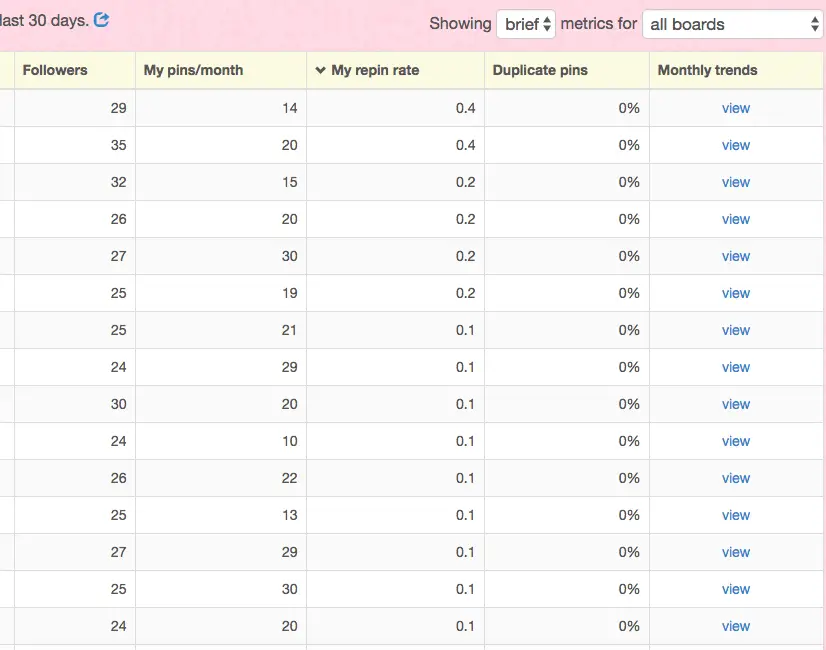 The other cool aspect of this report is that it allows you to drill down and look at a graph of every single board to see more granular detail around growth or shrinkage.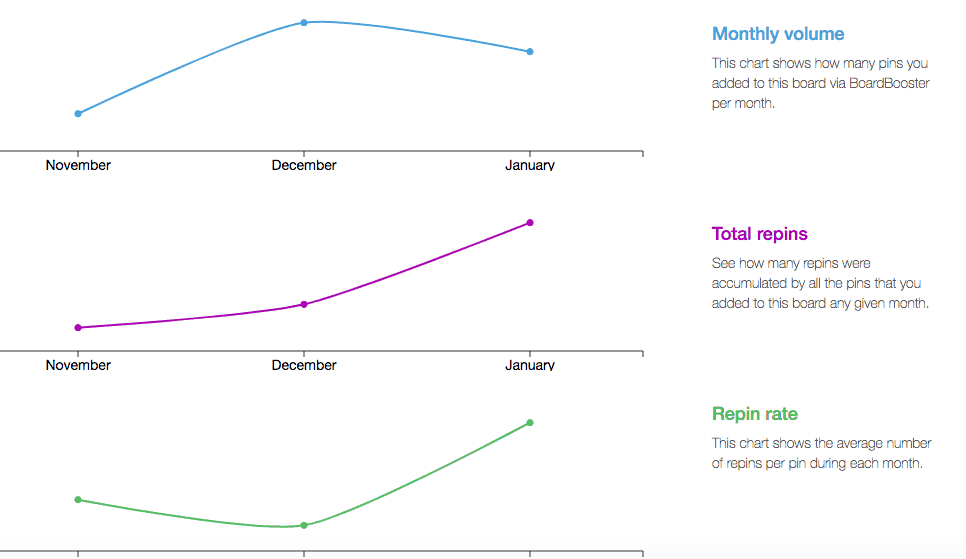 As you can see my total repins and monthly repin rate is all showing positive growth.  Wouldn't you agree that this is a clever way to monitor and growth your monthly Pinterest views?
5. Pinning History
As I already mentioned some people including myself use Board Booster as a way to automatically schedule pins.  In other words, you will not see a pin history if you have not been using Board Booster to automate or semi-automate your pinning to Pinterest.
This report also shows you which of your pins specifically are getting repined.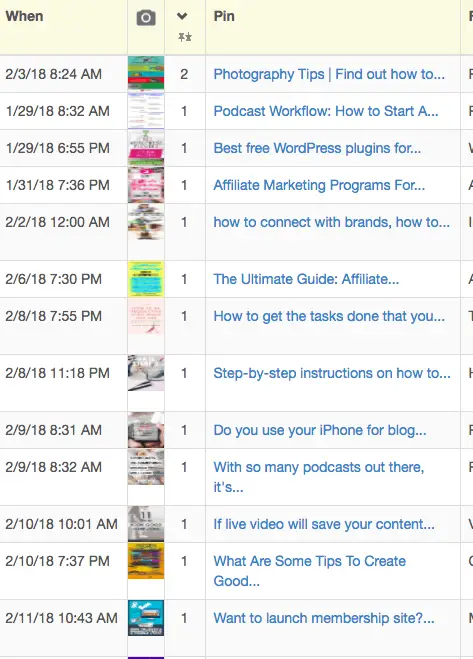 6. Follower Growth – Group Boards
As you probably already aware group boards are really important to increase your monthly Pinterest views.  I like this report because it shows us which boards you belong to but which boards are growing and which ones are stagnant.  Check out this example below:

As you can see from this screenshot this particular group board has grown 24.9% per month which is brilliant so you need to spend time pinning to this board if you want to increase your monthly Pinterest views or blog traffic.
7. Group Board Performance
As you are probably aware it can be quite difficult to get added to group boards on Pinterest.  The big questions are always which group boards to join and how to know which group boards are the best performing.  Of course, there is a feature on BoardBooster that allows you to snoop and see the top performing boards in your niche as seen below.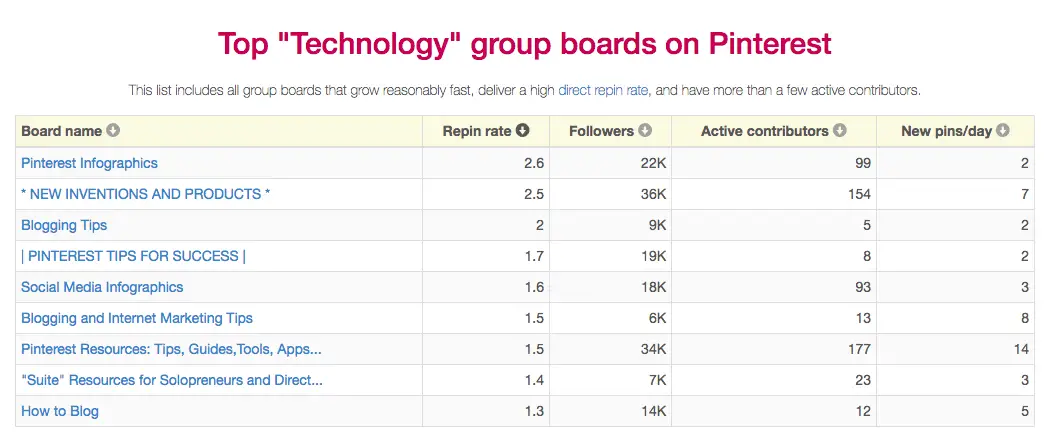 However, it would be harder to get into the top performing group boards as the competition is quite prolific.  No matter which group boards you get added to as a collaborator it would be in important to monitor the performance of all the groups you belong to so that you are adding value to your audience.
One of the best ways to monitor this is by using the Tailwind App that gives you a great breakdown that is very similar to the screenshot below.  You can start a 30-day free trial here.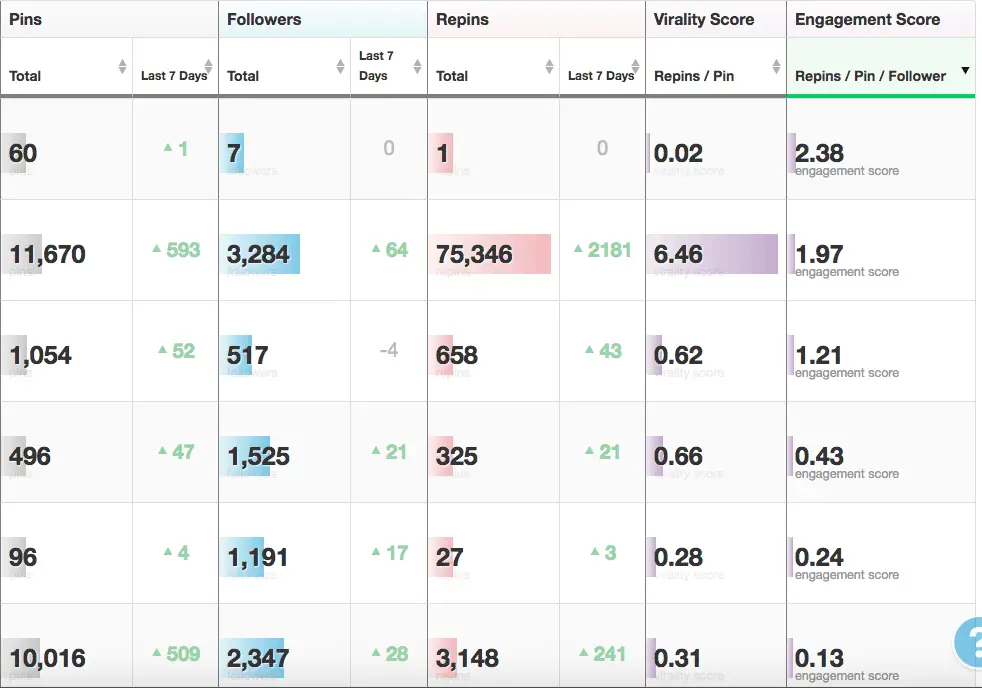 As you can see you will get a breakdown showing the total number of pins, followers, repins, virality score and engagement score.  You notice from the screenshot that one of the group boards is outperforming all the other group boards in repins and virality score.
These 7 reports will do one of 3 things confirm that you are doing well and to keep doing what you are doing, show you where to pivot and tweak your current efforts or show you that you should stop doing what you are currently doing and encourage you to pivot.
Announcements
You can subscribe to our podcasts to get notified when more success stories become available.  In case you missed it check out my 15-minute video mini training about how I went from zero to over 21,000 views in 30 days on Pinterest.
If you need help setting up your profile on Pinterest or you need someone to manage your Pinterest account on a monthly basis you can work with me here.