Podcast: Play in new window | Download (Duration: 58:10 — 80.4MB) | Embed
Subscribe: Google Podcasts | Spotify | Amazon Music | Email | TuneIn | Deezer | RSS | More
A day does not go by without reading an article or seeing a video about a blogger who used Pinterest marketing to achieve blogging success.
There are still many bloggers who feel stuck because they have been using Pinterest for a while without seeing significant results.
While others know that they need to be using Pinterest as part of the marketing plan for their blog but they just don't know how to get started.
I distinctly remember some time ago I was doing a review on a number of Pinterest courses that I invested in and someone was not even aware that there was such a thing as a structured Pinterest marketing course.
You see many continue to struggle with blog traffic simply because they are not really sure of the benefits of Pinterest for their blog.
Another reason is that they feel lost in a sea of so much information that they suffer from analysis paralysis.
In this post, I am going to spend some time giving you the experience from another blogger's perspective.
I had a hilarious podcast interview with Chhavi who would tell you what worked for her and how you too can get blog traffic from Pinterest.
Disclaimer: please note that this post may contain affiliate links which means that if you buy one of my recommended products I get paid a commission for sharing the link at no additional cost to you.  I only recommend products that I have tried myself and have experienced success.
Who is Chhavi?
My name is Chhavi Agarwal, I was working as a licensed attorney but I was drawn to working from home for various reasons.
I think if I had to name those reasons the top two would be lack of time to spend with my family and travel.
A stress free life is what I wanted so I started working as a freelance writer. There were other work from home options like proofreading and editing but I wasn't interested in those.
So, I stuck to freelance writing and I was able to quit my 9 to 5 job because of it.
After a while, my husband, Amit, inspired me to start a blog and help out other women and people who wanted to escape their 9 to 5 jobs and start working from home.
We launched Mrs Daaku Studio as a result. It is a blog where we talk about our experiences and give information about how you can start a work from home career and replace your 9 to 5 income.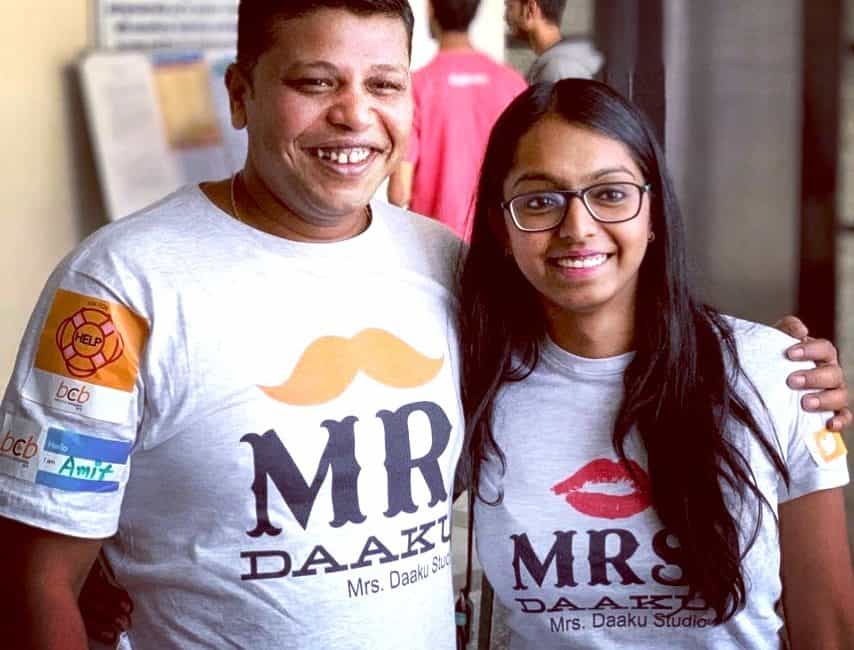 Why do you do what you do?
When I was working as an attorney I had crazy hours. I use to go to work at 9 am and return home at midnight. Sometimes I would come back home at 1 am or 2 am.
This was not a one-off occurrence this happened 3 days a week regularly and sometimes 4 or 5 days a week.
So, I had no time for friends or family. I was dating my husband then so I had no time for him either.
At one point, my brother was getting married and I got home only one day before the actual wedding.
It was very stressful and I had no time to exercise or do any kind of physical things. I use to sleep on the weekends. I love my job but it was a horrible life.
When I decided to look for work from home options I landed on freelance writing.
Law School
While at law school I loved writing and I wrote so many articles in my 5 years at law college.
I knew that this was something I can make work for me. Writing is something I want to learn. I like writing and I love researching.
I think this is something which spoke to me so I decided I'll give it a try. It has been 18 months to 2 years since I have been working as a freelance writer.
Quite easily I was able to replace my 9 to 5 income and now I can sleep when I want as well as to shower when I want.
It gave me time to meet up with who I want and I don't need to ask permission when I need to take leave from work. It made me really happy.
Some time back, I think it was last year in July, Amit said why don't you help others with this as well. There are so many people around asking how to do it.
So, I decided to take it to another level and take it online. Helping other women and other people who are in a situation similar to mine.
They may be in a different situation where, for whatever reason, they cannot do their 9 to 5 jobs. Either they cannot manage it or they don't want to do it.
Maybe they want to do the 9 to 5 job but still have a part time job working from home and earn extra income.
I think that is the driving force behind starting the blog. I love helping out people.
When anybody sends me a message or comments on the blog that it has helped them that makes my day. Actually, that makes my entire month.
What do you enjoy most about what you do?
I like helping out people so when I write a blog post I ensure that there is everything in one post.
I dislike posts which skim through things like when they say how to become a freelance writer or how to become a virtual assistant.
They don't really go deep into what you should be doing, what steps you should be taking so I keep that in my mind.
The content that I like writing is the type that gives actionable steps at the end of it. At the end of it you will have 3-5 actionable items if you read any of my blog posts.
The only reason why I do this is because I really want to help people.
How I learned about Freelance Writing
In the past, I had to read so many blog posts to really understand how to start freelance writing.
I did not have the budget to buy a course right at the beginning of my writing career.
There are many articles in the Google results that relate to how to become a freelance writer or how to start a freelance business and I read all of them.
I would have read hundreds of them and made notes. The truth is not one of them gave me everything I needed.
For people living outside the US $200 to $300 is a lot of money. They cannot really pay that upfront.
I want to help people from those kinds of countries as well. People who cannot really spend money on a course but want to know exactly how this can be done.
This is what I love about what I do.
Who was your role model as a child growing up?
That would be my parents. I have seen them working so hard to achieve what they wanted in their lives or to get what they wanted for their children.
Some of the best qualities that I have in me which help me to get a profitable blog and a profitable home career comes from them.
Things like determination or keep working hard. You may see no results from your efforts but keep working hard.
Without feeling bad for one second or without seeing any results for over 6 months I can keep working hard.
I did the same with my blog, I have worked on it and I saw no results for some time, I still did not think that I had to give this up.
All that comes from my parents, all this comes from my Dad and my Mom.
Making the shift or having the confidence in yourself that you can leave a job of an attorney which is a safe job.
You get paid a lot as an attorney. So, shifting to something which is 100% based on freelancing and you have to find your own clients can be tricky.
There is a cycle where sometimes you have no clients and sometimes you have a lot of clients. I think this confidence comes from my parents.
If I have to name my role models they would be my parents.
What is the best advice you received to date?
The best advice I received is "keep working hard and success will follow". I got these from my teachers and parents.
As a child, I was a very hard working student. My parents were very strict about education.
I was brought up like that so I can study for 12 hours a day. I don't have a problem and I like it.
You work hard, you'll get results. Someday you'll get the results.
When it comes to blogging, keep doing the work, be consistent at what you do and you'll get there.
What is the one thing that has impacted your life so far?
The one thing that has impacted me is meeting my husband. It's a very funny thing but let me tell you the story.
Before I met him I had only this one thing in mind. I'm going through law school and at some time I want to become a partner as a law firm.
This is the normal course of action once you graduate from law school.
When I met him he was working from home. His entire team was in different locations across the globe.
This was the first time I became aware of working from home. Before that I had no idea that people could actually work from home or that people could actually make money online.
He made me aware of working from home with a single employer. I had no idea about the other side of working for several employers.
This is what I write currently on my blog. Making money online or having the capability of earning a lot of money.
I had no idea about it, I think when I met him it sort of open doors for me. It was finally my understanding that there was something like work from home.
So I started researching and reading and I discovered this entire world. So many things you can do in your life, what was I doing?
Why did I study in university for 6 years? I could have done so many things along with my college education.
There are so many things I could do. Meeting my husband changed the course of my life.
All his friends work from the office. He is the one who works from home. It was very enticing. I said that is so cool.
You don't have to get up in the morning, you can sleep in the afternoon, you can eat at your desk. I want this life.
Tell Us About Your Blogging Journey
The first time I started blogging was in 2016. I started with a travel blog and I was so overwhelmed with the learning curve that comes along with blogging that I quit.
I decided that I cannot do this, at the time I started with a free platform which was WordPress.com.
Following this I bought a domain name and hosting to set up a self hosted blog.
However, I was so overwhelmed, there was just so many things to learn. The one mistake which I made at the time was to focus on all social media channels.
I wanted to tweet, share on Facebook, use LinkedIn and I also wanted to do Pinterest marketing.
Back then I just did not understand how to use Pinterest. I wish I knew how to use Pinterest then because everything would have been nice now.
I use to randomly pin, I don't know what I was doing back then to be honest. My account was not good so I just quit and decided to focus on freelance writing.
While working as a freelance writer I learned a lot of things. When you write for other companies and other blogs you get to understand a lot of things.
You learn how to write, how to write for your audience, understanding your audience, understanding the pain points of your audience and understanding the basics of SEO.
After 1-2 years of experience as a freelance writer, I learned all of those great things. So, I had less overwhelm when I re-launched my blog last year.
As a result, writing became very easy. Now, if I sit down and I have to write a blog post it would not take me a lot of time.
It would take me a maximum of 2-3 hours and I would write a blog post of 4,000 – 5,000 words.
I think I learned over time how to blog.
What is the inspiration behind your blog name?
It was a random calling. My husband is known as Daaku. For all the readers who don't know what it means, it translates as a robber or bandit.
He's sought of scary so all his friends call him Daaku and all his social media accounts have that name.
So when we got married everyone kept referring to me as Mrs. Daaku. I was very fascinated by it so I decided to name my blog Mrs. Daaku Studio.
Sometimes I think that I should change the name because it does not tell my readers what my blog is about.
It does not make sense if you don't know the meaning of the word and even if you do know the meaning it still does not make sense.
I write about work from home options. Things like surveys, I don't write about but I write about freelancing and jobs that replace your entire 9 to 5 income.
Any getting rich quick schemes I avoid those, also no making money online fast but real work from home jobs.
What do you enjoy most about blogging?
I cannot stay focused on one thing for long periods of time. Even with my 9 to 5 job I had the same problem.
I had this one sort of thing that I had to do but I was so bored with it. I just could not pay attention to it sometimes because it was so repetitive.
It was the same thing again and again. If I am drafting a contract that's it, that's what I am doing for the entire day.
Blogging is different. It gives you so many different things to work on you can be engaged the entire day.
If you don't want to write today you can do Pinterest marketing, if you don't want to do Pinterest you can learn SEO. If you don't want to do SEO, there's something else to do like design your website.
You would be surprised that I design my own website and I learn website design for myself.
I decided this is how I want it to be. Whenever I'm bored I just design my website.
There are so many things you can do in blogging, it makes me feel happy. One day if I'm bored of this I can do something else.
It keeps me interested in blogging.
Is there anything else that would have inspired you to become a blogger?
Yes, a lot of income reports. A lot of people started blogging to make money. I'm no different. I want to help people but I want to make money as well.
I cannot help people and not make money. I'm ready to help you and I am not going to exploit you.
Blogging has its own perks. When I started out in 2016 I landed on a lot of income reports.
From the top of my head one of them was Michelle from Making Sense of Cents. I think everyone would know her.
Her income reports would drive me crazy. Like wow! She earns so much money, if I can only earn 2% or 3% of her income it will make my year. In India that is enough.
Income reports from Michelle, Becky from Your Modern Family. I think these are the two I landed on accidentally.
So, I guess income reports are what inspired me.
What does your blogging success look like right now? [Pinterest Marketing]
Last month I reached 40,000 page views and it continues to grow. In January, I had 19,000 page views and in February I had a viral pin.
It was one of my best months so far because I made around $900.00 from my blog alone.
It is growing gradually and I would love it to explode one day.
Pinterest has also come up with a lot of changes. So everyone is struggling, Pinterest marketing is already difficult for me.
What is your main source of traffic at the moment?
Most of my traffic comes from Pinterest marketing, after that it is Facebook, I get 50-60 organic visitors from Google each day.
My organic traffic is increasing but I definitely need to focus on my SEO strategy.
I have been doing some random things I understand the basics and I'm sticking to it but I need to dive deeper and understand more.
What is your current blog traffic strategy?
Since I started the blog I've stuck with 2 blog posts a week. I'm trying to increase that number.
I've heard (I don't know if this is true or not) the more pages you have the better as your audience will have more to read and you'll have more pages ranking in Google and you'll get more traffic.
I'm trying to wrap my head around that and attempting to write more posts but writing more posts seems impossible. How much can you write in a week?
Because I get bored, I know of bloggers who write every other day and I don't know how they do it and I really appreciate them.
Pinterest Marketing Strategy
As for Pinterest, recently what really worked for me is creating a lot of new pins so from the time when I started working on Pinterest marketing until now my pin design has drastically improved.
When I look at my older pins I wonder what was I doing. They were so dark, I can't read them, I used script fonts, there was no white space. Reading them was difficult.
My pin design has drastically improved, that really helped me, the more white space you have and the more colourful your pins the better.
When I say colourful I mean the bright colours. Like pink, yellow, orange those sought of eye-catching colours.
For the past 30 days, I have created new pins every single day. That seem to work. Some pins work, other pins don't work. Some of my pins suddenly go viral.
Pinterest Marketing Secrets
I've marked down all the pin designs that go viral and created more pins like those viral pins.
The other pins that I made with that same pin design they have also gone viral. I thought that it is probably not the design but it turns out that it is the design.
I believe it worked. Three pins same design have gone viral in February. It rarely works like that but I think that it is a coincidence.
Making new pins definitely works, more keyword optimised boards, I also started using hashtags in my pins.
I believed that really helped but I need to stop using it and see what happens. Pinterest marketing has been very difficult lately.
In December, I had over 600,000 impressions and by the end of January I was at 300,000 so it dropped by over 50%.
In February alone it jumped to 700,000 impressions. I have no idea what Pinterest is doing but I'm happy each time it goes up.
Making new pins definitely works. Creating more niche boards and leaving group boards that are very generic.
They are not getting a lot of traffic and Pinterest seem to be very confused about what your pin is about.
When you pin to generic boards like best blog posts where there are recipe pins, diet pins, finance pins so I really need to leave those board as well.
Are you on Instagram?
I really cannot keep up with that platform. I use it for personal things so I don't use it for business.
What can you attribute to your blogging success to date?
Investing in yourself. I did not do that at first. I use to spend time reading the free information available online.
In hindsight, the best way to do this is to buy a course that is recommended. Try and implement the strategies.
When I launched in July I bought Carly's course on Pinterest. It is called Pinteresting Strategies.
It is on manual pinning, I bought it because at that point in time I did not want to spend any money on Tailwind, I wasn't very sure if I wanted to invest in Tailwind.
I decided that I would buy her book and try manual pinning to see how far it goes. It is with her book, I understood Pinterest marketing.
It helped me to understand the mistakes I made in the past. There is still this on thing I regret not doing I should have started a new account.
I just cleaned up my old account. A lot of things still stick so I still get a lot of travel related suggestions.
If I started a new account it would have been much easier and probably the growth would have been faster.
Because Pinterest would know that my account is about make money online now Pinterest is confused because I deleted everything and created new boards.
If anyone reading is in my situation just create a new account. It would be so much easier for you to brand it, to make new pins and make new boards.
Tell Pinterest you are about this niche as it is much easier with a new account.
I invested in a lot of ebooks and a lot of courses. They have helped me for the last 8 months.
Pinterest Marketing 3rd Party Scheduler
I also invested in the Tailwind subscription for the entire year. Because paying $15.00 each month did not make sense.
I want to blog so I said whatever, I'm going to pay for the entire year this saves me time.
I was not able to keep up with manual pinning every day. Some time or the other I'm traveling or somebody is at my place.
Something is happening and I am missing the time frame when my users are online. If I don't pin at that moment I don't get the traffic.
As soon as I switched to Tailwind my traffic spiked. I think it is because most of my visitors are from the US so most of my traffic come from Canada and the United States.
I live in India so there is a 12 hour time difference. When I pin they are sleeping and when they pin I am sleeping. Tailwind just takes care of that for me.
Based on my suggested schedule, all my pins are published at night from 12 midnight to 4 am. When I am asleep Tailwind is pinning.
I think that helped me a lot, it's not possible to stay up late and pin for 4 hours. It is not possible for a lot of people who are outside the US and Canada.
I did not want to focus on local traffic because there are a lot of media companies like Mediavine who look for Tier 1 traffic from the US and Canada.
If you focus on local traffic you will not be able to make money with ads plus I think you will not be able to get a lot of sponsored posts if your traffic is not global.
When they say global they really mean the US and Canada. They don't really mean global. The other thing is to be consistent with whatever you are doing.
Consistency
If you decide you will write one blog post a week keep at it. Also, write on the same day because you you will have regular users that will know when you are publishing a post.
Be consistent with your pinning. If you are pinning one new pin a day continue with that for some time, for at least 4-8 weeks. Consistency will really get you far.
I was following this blogger as I was really impressed with her work. So, I remember getting in touch with her and complimenting her on her work.
In a message, I told her that my Pinterest is not taking off, it is really slow and I don't know what to do. I'm stuck at 10,000 page views and she told me just be consistent. Just keep pinning and you'll get there and she's right.
It does work. It's slow, you really need to be patient with blogging. Actually, you need to be patient with everything but blogging takes its toll.
Just gather all the advice that you get and try out everything and one year you'll understand what works for you.
Is there is specific course focused on blogging that gave you success to date?
I bought Elna's Ready Steady Blog for Traffic. That was the only blogging focused course which I purchased.
It was a very affordable course for the kind of value she gives. I think it is around $80.00
She covers SEO for beginners, Pinterest and she also gives you a masterclass on how to write content to encourage your readers to stay on your blog for a longer time.
She talks about link building strategies, it is a lot of value for the amount she sells it for.
After taking her course there were 10 of my posts that rank on page one of Google right now.
The traffic isn't very high and the competition isn't high either but still it makes you very happy that your post is number one.
What was it like getting your first 1,000 page views?
When I relaunched my blog in July I remember that month I had around 2,000 page views, in August it doubled and suddenly in September, it went to 10,000.
I don't think it was anything else because most of my traffic came from Pinterest. Just learn Pinterest marketing, invest in it as it can do wonders.
What do you think bloggers struggle with the most?
People have different things they struggle with for me personally I struggle with learning SEO.
I want to learn, I know a lot of things but going beyond that every time I look at a video or land on a Moz article for advanced or intermediate level of SEO I just run.
I just cannot focus on it. For example, before this podcast I landed on this Moz article on how you should be doing your keyword research and that's it I just stopped in between.
At the time, I was thinking of something else, I was thinking of what new pin I need to make or something like that.
Learning SEO is really a struggle for me I don't know why this is happening but I think I need to buy a course which tells me exactly what I need to do.
Finding one which suits my needs is what I will do. The reviews of Mike's course called Stupid Simple SEO are quite good. So the next time it opens up I'm going to grab it.
Who would you trade places with for a day and why?
For one day, I would trade places with Michelle from Making Sense of Cents. I would love to know what she does and how she does it, I would love to know.
Give me just one day, just one day to understand what she does. I'm pretty sure I'll understand at least something which will help me earn at least 2% of what she does right now.
I'm very sure, so give me a day to be her. I hope she does not hear this as I would be so embarrassed.
Something that you can't do that you wish you could do?
Sing. I wish I could sing I was saying that to my husband today as well. When I sing people would run away it is so bad. I don't even sing in the bathroom.
Even crows sing better than me. That is the only thing I wish I knew how to do. I actually went to classes and my music teacher was like, your voice is so unique please don't come to the class, you don't need music lessons.
It was only after so many years that I understood what he meant by that.
Guilty Pleasure
Sleeping. I can sleep anywhere. It is sort of a bad thing and a good thing. I can also sleep for 24 hours if I have no deadlines or tension. I have done that in the past.
Eating is next on the list as I have a sweet tooth.
What are the 5 key takeaways would you like to give to bloggers?
Have a niche, it will help you do everything properly.
Focus on quality content. Google likes long content
Learn SEO from the start, you will need keywords
Definitely focus on Pinterest marketing. Get a course from recommended bloggers. Let someone else take the headache. They will update the course and ebook and you'll learn from them.
Network, as a blogger it is very easy to work in isolation. Spend time in Facebook groups and have conversations. You really don't want to die alone blogging. It kills your social life.
Where can readers find you?
mrsdaakustudio.com and on Pinterest as pinterest.com/mrs_daaku
Conclusion
It was a real pleasure having Chhavi on to share her experiences, insights and successes with us.
We have learned so much about the kind, hilarious and humble person behind the blog Mrs Daaku Studio. I hope you enjoyed it as much as I did.
One thing is certain, I encourage you to learn from her struggles and challenges and to take her advice on board.
If you are like many of us who face challenges around SEO don't worry it actually gets a lot easier.
You can outsource it if you prefer not to go down that road as it can be quite technical but I enjoy it tremendously.
Over to you what did you like the most about the interview?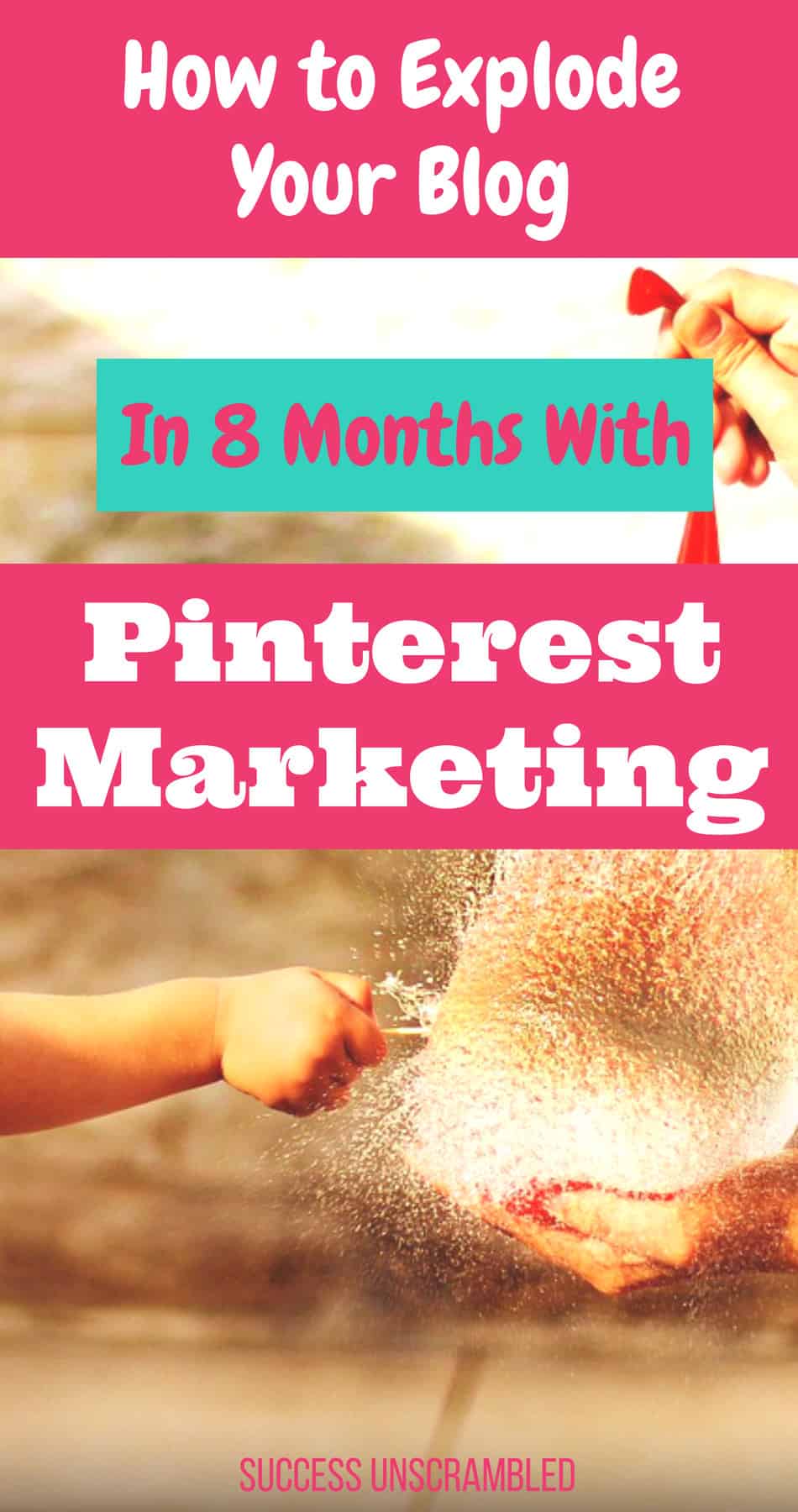 Announcements
Remember to subscribe to the Success Unscrambled Podcast where you will be the first to hear what's happening in the entrepreneurial and digital marketing world.
Your positive review of this podcast is vital to keeping it alive and running for the next 12 – 24 months so please leave a positive review for us on iTunes, Spotify or any of your favourite podcast players.
If you are just at the start of your Pinterest journey where you are setting up your account? Grab these tips on getting the best out of your Pinterest business account.
Are you trying to collaborate more on Pinterest? Learn the easy way to join Pinterest group boards here.
Want to take advantage of some free traffic to your blog from Pinterest? Check out my Pinterest tips here.  Grab these 20 tools used by successful blogs.
If you are a startup or small business and you need to hire a virtual assistant to complete tasks such as social media marketing, blogging, keyword research or Pinterest account management then take a look at these packages.