Podcast: Play in new window | Download (Duration: 53:27 — 73.9MB) | Embed
Subscribe: Google Podcasts | Spotify | Amazon Music | Stitcher | Email | TuneIn | Deezer | RSS | More
Have you ever wanted to do a blogger collaboration project? Do you even know what it is and how it can benefit your blog?
It is amazing to see the sheer number of blogs in existence every day. A good way to tell is the size of a typical blogger Facebook group.
I am a member of many of these groups and they tend to range in size from 5,000 to 100,000 in membership.
You would certainly think that the ability to collaborate on there is pretty easy right or so it seems.
The truth is many groups are started with a purpose like to answer questions or concerns for beginners who are struggling.
While other groups are great for experienced bloggers who are in the growth phase and those are the groups best focused on collaboration.
In this post, I spent some time interviewing Maria about her blogging success to date.
You will learn about who she is and her unique niche as well as how she did her exciting collaboration.
Who is Maria?
My name is Maria Halcumb and I run a blog called literallysimple.com. I mostly focus on minimalism which is the idea of creating a life that is prioritized to meet your intentions.
The tag line that I frequently use for the website is;
be more, want less, gain quality.
It is an idea that has taken me through life itself.
In the last year, I decided to consume less and create more and out of that I created a business and a blog.
I prioritised my life in a more efficient way and I am now on a debt free journey.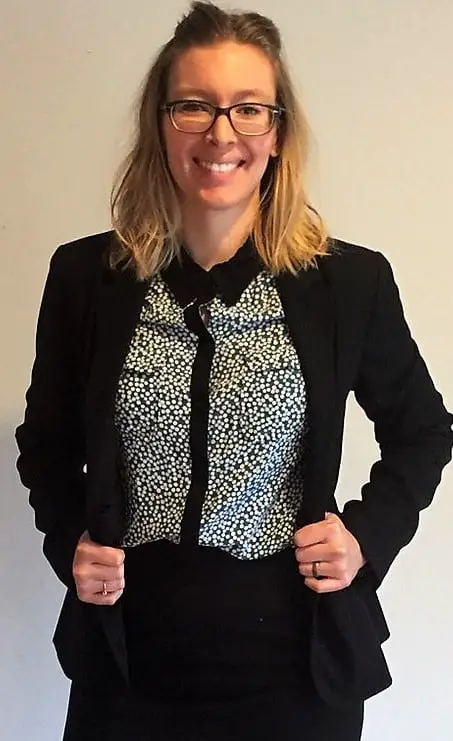 So, I write about all things minimalism and how finance, health and career can be related to prioritising and minimising your life.
Whether that is stuff inside your home or ideas. I write about all of those things on the blog so you can check it out.
Why do you do what you do?
I think initially it had to do with the fact that I became a Mother and I realised that I could not do everything at the same time. I'm not superwoman.
My career changed a little bit, I am a middle school teacher but to stay at home with my daughter I changed career.
So I write curriculum and I work from home now but that had its own set of challenges.
Working at home is challenging in itself. I'm not physically in the office.
I am a creative person so I was feeling that my creativity was not being utilised to its fullest after I left the classroom.
The blog has been a creative outlet and my tutoring business has also been a way for me to remain creative.
What do you enjoy most about what you do?
The thing I enjoy about blogging or working from home is freedom. I have a lot of creative freedom and a lot of time freedom.
Which comes with a lot of responsibility. If you don't ever schedule time to do anything then nothing gets done.
It really comes down to freedom. I have so much more freedom if I need to change plans or go in a different direction.
Nobody is telling me, no you have to do it this way. I could just drop it and try something else. I could really be experimental I guess.
Who was your role model growing up?
Ah man, I've had so many people that, some people I don't know, I just read their books.
Initially, my parents have always inspired me to do things that interest me, my Mother was a teacher and I am to the core a teacher. Sometimes I can't turn it off.
I've always wanted to be a writer too and so I am a ravenous reader of anything.
I think my minimalist journey related to the blog started after I read Eckhart Tolle's book, 'The Power of Now'.
It was all about cutting out extraneous thoughts in your mind and that was an aha moment for me.
I thought wow! I could live a simpler, more connected, more prioritised life if I get intentional about what I do every day in my thoughts, actions and that type of thing.
There are lots of other people, I am inspired by a lot of people all at the same time.
What is the best advice you have received to date?
I can't tell you where this came from, I have read too many books.
I think in the last couple of years I've had this creative eruption of a lot of things that I have been thinking about for many years but I just didn't do.
Two bits of advice, I just can't remember where I got it from. One is to fail often.
I got so comfortable, in my first year of teaching I was failing often because it was so hard.
Six (6) years passed at the same school and I got into the routine of things.
It was great as I was an expert and I was good at my job and then Motherhood hit and I was failing often at that too. Well, parenting is a big transition.
Then I thought, wow! This makes me feel uncomfortable but I think I'm growing a lot from it.
I think this is time for me to write I better make a schedule and if I fail often fine at least I am writing.
The other bit of advice is to just do instead of trying. I'm a planner and I like to plan everything the perfect way.
However, that is actually a procrastination device for me instead of just doing. I just decided I'm going to start a blog and I'm going to write weekly.
That is what I have been doing and slowly but surely I've been improving and I've been learning.
I'm failing often but at the same time making much more progress than I would be just sitting and thinking about it.
What is the one thing that has impacted your life to date?
I think where I saw the most growth in my life was my first year of teaching. My job involved working in a high poverty school district with my challenging classes.
During that time, I made it through and from that year on I just thought I'm unstoppable. If that can happen if I can wrangle those kids together and get them to learn. I'm good, like that was pretty good.
Of course, you're still learning the next couple of years and stuff but that was failure every single day for much of that first year.
Then I started to figure out what works and what doesn't. The other life moment when I saw a lot of personal growth was parenting or Motherhood.
I'm a very independent person and Motherhood made me dependent and fight for my own independence. I needed to prioritise my own freedom and creative outlets.
I really have to think about putting myself first as well not just being a Mother because that can be all encompassing too.
Yes, I saw a lot of personal growth in that event.
Other than that, my life has been pretty cushy that's why my first year of teaching was so eye opening to me.
My students were dealing with a lot of trauma and things that I hadn't experienced. It was a really good lesson in empathy, patience and self growth.
Tell us about your blogging experience so far?
I have been blogging for 9 months and I have learned a lot of information about blogging.
Literally, I just jumped in and at the time I did not know anyone who blogged. It just was like well If I want to be a writer then this will set me up for a routine.
I'll have to write because I'm posting every week. I felt like it kept me accountable and it was enjoyable.
However, it is a slow process. I've only 2,000 page views a month but I only write once a week.
I know that other people will say that you need to write more blog posts but it is just simply not realistic. I'm kind of in the long game.
I think more of consistency, authenticity and trust for people who are reading my bog.
I know that I can stick to once a week and I can make that happen and it can be quality.
So, that is what I have been doing. The promoting of it and the social media has been really challenging for me.
I really get sucked into social media as I have to put a lot of boundaries around it just because it can be a bit all-encompassing and how much I want to share about my own life and that type of thing.
Those have been some challenges I would say.
What type of minimalist are you? How far would you go?
I would say that I am a minimalist lite. I just fit it into my lifestyle but I still made so many changes.
Another thing that the blog has done is that it has explained to people why I'm doing this.
They would be like why are you getting rid of everything? Well, why don't you read my blog? I explain it, I have more clarity, I can get more things done, I am more creative.
But yeah, I would say that I am a minimalist lite. I still have objects around my home it is not clutter free.
It is more the journey and that type of thing.
What do you enjoy most about blogging?
I just really like writing at the core. I said that I am a teacher and so that's what I do through writing. In that, I teach people to think differently.
Just think differently about how everybody spends their money and how much stuff they have. Is it really benefitting them?
I enjoy improving people's lives and giving them something that they can relate to so that they don't feel alone in their quest to be debt free.
This journey can seem lonely in a society or culture that is mostly in debt. You seem like an outcast.
I like the idea of that and interacting with people who read my content and benefit somehow from it.
Would it be easier to write about becoming debt free as opposed to minimalism?
It could be and that is another one of my struggles, I think my niche is too large. I am waiting for the answer to come upon me.
Like I said it is in the long haul and I'm just waiting for a few things to arrive and I'll just say yup that's what it is about.
It has been a creative outlet. I could write everything about finance but that's not necessarily, in fact, I don't get super excited about sharing spreadsheets and budgets.
Where does most of your traffic come from?
Most of my quality traffic comes from Instagram. That's where people are reading my content for longer. So, it's not just a click and whatever.
I've not had much luck with Facebook, I'm on there but nothing significant. With Pinterest I do a lot of pinning on that and I get a lot of views.
The quality views when they are there for 5 minutes reading the entire article is from Instagram.
I only have 800 followers. I was thinking of Instagram earlier. My feed needs to have some kind of theme.
These are all the things where I tell myself it is part of the journey and these ideas will come when I have time to do it.
I think between now and May which is my Sophomore year in blogging I will make another specific goal but this past year was consistency in content.
What are your longterm goals for the blog? Do you have concerns around the Pinterest IPO?
I haven't even had time to have concerns. My objective is to just shoot from the hip. Unfortunately, I wish I had more knowledge to share with readers.
I'm just doing before I have a plan but honestly if I knew now how much work was involved in blogging and how much of a novice I was I would not have started.
It is sometimes good to be naive because I am just not worried about it.
Luckily I'm in a spot where I don't have the pressure to make money right away and I think the authenticity comes through.
I'm patiently waiting for something to come or I'll make a course or write an ebook then I'll make some sales from that project.
I'm not super worried about it.
Any plans to create products like courses or ebooks?
I am currently writing a book with a friend about Motherhood and remaining healthy in that transition which would be ready by fall.
Another book idea I have is how to start a tutoring business because it is super easy.
If I wrote it may be a lot of teachers would try it out for a side hustle to get out of debt or anything they need to do financially. So two of those ideas.
I actually dabbled with instructional design in my 9 to 5 job, so I have some knowledge on best practices of instructional design.
I have not managed to get my feet wet in a course and I'm also trying to narrow down my niche so that when I make a course it would fit my blog exactly.
What would you attribute to your blogging success over the last 9 months?
I think consistency is probably best if you just make a routine to create content weekly on whatever day and do that for a year.
Even right now I am sitting on quite a bit of content that I can republish or rewrite in a different way or reuse in a different context.
It does get easier, you are at the bottom of the hill and all this information is coming at you so if you need to simplify it in a minimalist way.
Simplify it to focus on creating content first and make it authentic and relate it to your life so readers can trust you.
I think you can't go wrong by focusing on that, of course, you'll pick up on other things because you want somebody to read it.
You can't just sit there and throw it out into cyberspace and think people will just Google your blog name, that's just not happening.
Your second step is trying different ways of promoting it on social media platforms.
Have you tried any form of blogger collaboration?
Yes, so the top viewed post on my blog was actually a blogger collaboration with a personal stylist.
She lives about 30 miles away and we met up which was so cool. We both have our own website so that post is still my top post two months later. I was also interviewed on another podcast too which was really fun.
That blogger collaboration with the stylist focused on minimalism. Initially, I started with minimalism because I went through my closet and got rid of all the clothes that I never wore and I simplified it.
It was called 'Project 333'. It's by Courtney Caver who is a minimalist.
She talks about basically cleaning out your closet. That literally was the closet and it affected the rest of my life. Then I found all these different books on it.
I was like wow! These are habits to prioritise your life. So the personal stylist just picked, I would rather have quality pieces picked out to wear. I'll wear it for 10 years.
It is not high fashion and it will not go out of style next summer, it's like quality staple pieces.
So I wrote about minimalism an a personal stylist and how it can be an investment.
Because I don't want to go shopping.
What is the biggest struggle for you as a blogger?
So, I mentioned social media and creating graphics and so on is not my talent. I realise that I don't have a strong theme for my graphics on Pinterest and Instagram.
Now, I am trying to simplify that and every year I'm going to try to simplify it more. So it is more of the core of what I'm trying to teach people.
Also, social media is kind of a time suck but I don't know how to engage with social media without activating my ego.
No matter what it is just so hard. Even if I feel insecure about something or if I feel overly confident about something else.
It's like either or. I just feel like it's so hard to interact even if it is my blog. Because I want people to read it and I want people to enjoy it.
At the same time I want to enjoy the journey and I don't want to only have the end in mind. For example, I'll only be happy if I get so many people to click on it.
In fact, right now I have a couple of scheduled things on social media coming up, like trickling here with some collaboration.
However, for the most part, I've been trying to be off social media for a whole month until I find some clarity.
Help us understand more about that term you used, 'activating your ego'?
For the most part, I'm on social media promoting my blog. I need to interact to help people which is what I get through the writing.
I just struggle to interact without thinking; "Oh I should not have done that it does not look very good".
Or on the other hand; "Check it out this is really cool this is my stuff". So it is very difficult.
Also, as a teacher, I never had to promote myself. When the kids came in I just said, 'Hi, I'm your teacher.' So, it's just a little bit uncomfortable.
I've just been following my fear but I kind of realised that I got sucked into it as an excuse that it is for my blog. Ah but your ego is tied in there too.
Fun Questions
Guilty Pleasure
Trashy TV shows like the Housewives of New York City. It is just a bunch of housewives acting very poorly, arguing with each other and drinking too much alcohol.
The funny thing is we don't have cable so I rarely get to see it except when hanging out with my girlfriends.
If you had to trade places with someone for a day who will that be and why?
Oprah or Marie Forleo. I just feel that they know themselves so well and they've built their own success for themselves.
I think, wow! What would it be like to have that self awareness and to be standing on a business they completely created themselves out of their own idea.
It is really incredible and I think that they are wise.
Something that you long believe to be true but you later found out that it wasn't?
You can have it all. Michelle Obama said that you can't have it all at the same time.
It's just not possible. That's why I became a minimalist over the last couple of years because I need to focus on what I really want. She said that you will be pulled in all directions if you're not focused.
You'll be worn out, burnt out and bitter. So you have to channel your energies in the most important things at the moment.
If you are a parent you have to make sacrifices and listen to your own value system to make sure that you are leading your children in a positive direction.
So, you can't have it all at the same time. You can eventually build something from an idea but you only have so much energy to give.
What 5 pieces of advice you would like to leave with bloggers at all levels of experience?
Be realistic – be realistic with yourself about what you can accomplish when you set goals for your blog. If you think you can manage one blog post a week then commit to that goal.
Document on social media – you do not need to have an editorial calendar with a set theme but decide to document your journey on social media. You'll have your progress on social media and you'll gain traction and followers. Don't wait to have it perfect to get started.
Blogger Collaboration – my highest viewed blog post is from blogger collaboration. People can see that it is an authentic post where two real bloggers met up locally.
Make a blogging routine – I think Rachel Hollis said that if you can't find one hour to do something that you enjoy every day then that is really sad. I tend to do the blogging in the morning which is one of the most creative things I do. I try to save social media for later in the day. So try to set a routine that works around you and your family.
Love what you create – If you don't love it then you are not going to keep doing it. Love the journey.
Where can listeners find you?
literallysimple.com or on Instagram www.instagram.com/literallysimple/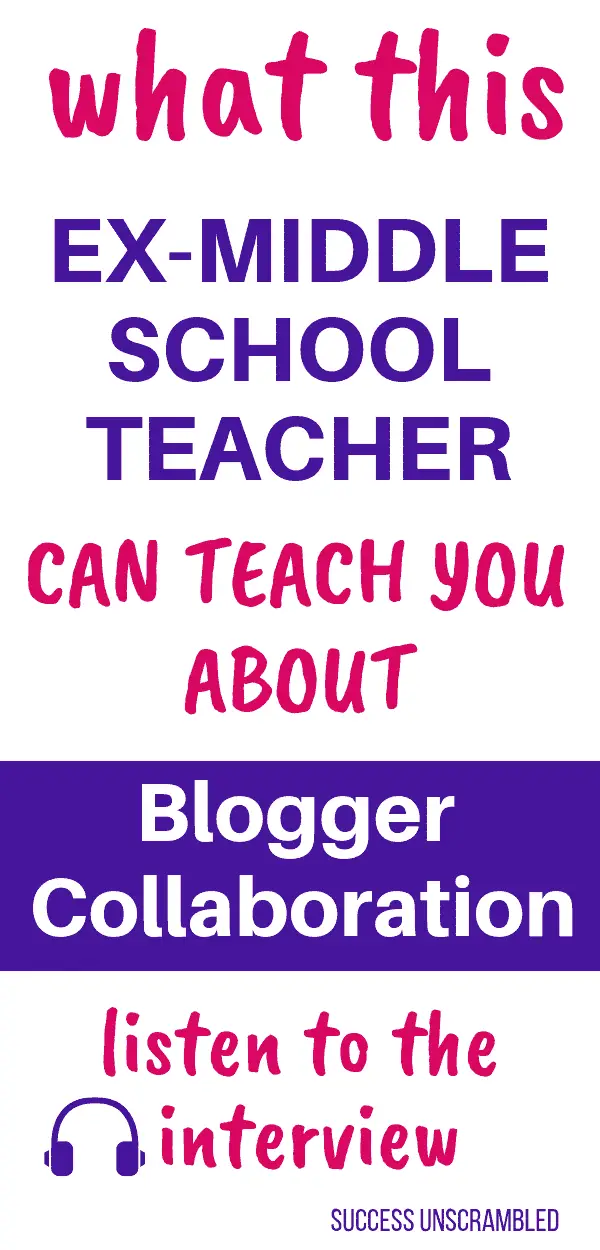 Announcements
Remember to subscribe to the Success Unscrambled Podcast where you will be the first to hear what's happening in the entrepreneurial and digital marketing world.
Your positive review of this podcast is vital to keeping it alive and running for the next 12 – 24 months so please leave a positive review for us on iTunes, Spotify or any of your favourite podcast players.
If you are just at the start of your journey where you are wondering what is possible for you in the future then take a look at these 7 books for bloggers.
Are you a teacher looking for extra cash? Check out these side jobs for teachers which are also great for anyone wanting to become a tutor.
Want to take advantage of some free traffic to your blog from Pinterest? Check out this Pinterest marketing story here.  Grab these 20 tools used by successful blogs.
If you are a startup or small business and you need to hire a virtual assistant to complete tasks such as social media marketing, blogging, keyword research or Pinterest account management then take a look at these packages.