Podcast: Play in new window | Download (Duration: 25:25 — 35.4MB) | Embed
Subscribe: Google Podcasts | Spotify | Amazon Music | Email | TuneIn | Deezer | RSS | More
If you are among one of the many who applied for their AdSense account but got rejected then you will be happy to know that there are Adsense alternatives for blogs like yours.
It feels frustrating and helpless if you get rejected while struggling to get approved successfully by AdSense.
Any person can try out these alternatives to AdSense or programs similar to Adsense™ and end up with positive results.
Most of the bloggers who are new to AdSense try applying to AdSense multiple times and end up in disappointment.
But, they forget that Adsense is not the only option to advertise and there are a number of other advertising networks too.
Disclosure: Please note that this post may contain affiliate links which means that if you buy one of my recommended products I get paid a commission for sharing the link at no additional cost to you.  I only recommend products that I have tried myself and have experienced success.
What is Google Adsense™?
Adsense is a publishing network and it is part of Google.  It allows bloggers also known as publishers to provide advertising space on their website.
In return for supplying this advertising space bloggers get paid for doing this service. On the other side of the coin, advertisers get to use this blog network to display ads via Adwords.
Placing ads on your blog is not mandatory but it is a great way to earn an income while you grow your blog.
Google has terms and conditions set out as to which blogs they accept and which ones are rejected.
If you get rejected just remember that it is a stepping stone that will lead you to many other options available on the market.
Let us have a look at them.
You may also like:
1. Media.net
Mediat.Net is a powerful advertising network that connects you to Bing and Yahoo network too.
It allows different publishers to publish different styles of ads. Remember, it allows you to publish one ad from each category on a page.
The main style of advertisement available on this network is a content ad. The next is the search targeting ad. You may find this network has strict rules when it comes to placing ads.
2. Ad Maven
AdMaven is one of the top alternatives now in trend to Google Adsense. It helps the bloggers to publish lightbox, banners, popunder, and Slider Ads and Interstitial ads.
Upon completing the registration with the portal, you can get immediate access to the interface of AdMaven.
3. Adsterra
Adsterra offers its users the ability to submit ads in various ad formats for both mobile and web devices like standard banners, sliders, pushups, popunders, interstitial etc.
This platform works for different niches and can be considered one of the ideal AdSense alternatives for blogs.
4. Infolinks
Out of all the Adsense alternatives that you can find on the internet, Infolinks has received a lot of attention.
Infolinks is an ideal advertising platform for websites that have a lot of text content. It indexes your web pages to filter out the best ads to be published.
5. Chitika
Chitika is one of the best advertising networks that collaborate with big banners like HomeAdvisor, SuperMedia and Yahoo.
You can display your non-organic ads to the visitors through this platform which makes it one of the great AdSense alternatives for blogs.
6. Clicksor
Clicksor allows publishers to publish ads in different formats that include targeted contextual banner ads and clickable text.
It also runs an affiliate program that gives you 10% commission.  Their sign up process offers a quick turnaround.
They also offer payouts every 15 days.  However, the minimum payout threshold is set at $50.  Their CPM rate is 0.20 per 1,000 views.
7. Conversant
Founded in 1998 as Value Click Media with headquarters in California. Publishers sites must be in English in order to qualify.
They have a minimum traffic requirement of 3,000 page views per month.  They offer cost per click and cost per impression inventory.
Their minimum payment threshold is $25.00 and they use PayPal plus other methods.  They payout every 60 days.
8. Bidvertiser
In existence since 2008 Bidvertiser continues to be one of the longest running ad networks for publishers.
There is no minimum requirement in terms of traffic and the approval process is automatic. The minimum payment threshold is $10 via Paypal.
Bidvertiser helps you get paid for both conversions and clicks. This will help you generate good money from your website.
9. PopAds
This ad network was established in 2010 and specialises in pop-under ads.  It offers a wide range of inventory.
They have a fast approval process and also offer quick payouts.  The registration process takes all of 2 minutes.
PopAds emphasizes on pop-under ad delivery. Their minimum payout for Paypal is $5, they also payout daily.
Their CPV rates can go as high as $6 per 1,000 views.
10. Vibrant Media
It is the well-known ad network that and uses IntelliTXT technology to search your pages for appropriate keywords/phrases.
It is very similar to Infolinks except that a detailed case study of both platforms showed that Vibrant Media paid 4 times more than Infolinks for the same traffic.
11. BuySell Ads
BuySell Ads actually sells the advertising space available on your website to other advertisers on your behalf.
Most of the people who search for an alternative to Adsense follow this method. There isn't a minimum threshold requirement for publishers.
They do offer a WordPress plugin for publishers and their minimum payment threshold is $20.  Payout occurs 2-3 times a month.
Publishers have the ability to set their own CPM rates using the BuySellAds platform which has a difficult enough learning curve.
12. Adversal
It is one of the best advertising platforms for publishing ads. It supports multiple languages.
However, it does require a minimum of 30,000 impressions per month to work with them as a publisher.
Their minimum payment is $20 and they pay every 35 days.  The approval process can be anywhere from 2 to 4 days.
13.
Propeller Ads

It is an advertising platform that is based in the UK and works really great. It allows you to publish slider ads, banner ads, mobile ads etc.

They have a minimum payout of $25 and they pay publishers every 30 days.  Although their first minimum payout is $100.
14. Skimlinks
Unlike most of the networks listed in this post, Skimlinks is focused on affiliate marketing.  You can say it is the lazy person's way of generating revenue from affiliate commissions.
Instead of you having to go and apply to each individual merchant to get an affiliate link to promote their products Skimlinks does this for you for a fee.
It is a destination of affiliate programs and ideal for e-commerce websites or bloggers who write blogs about products.
15. YesAdvertising
Another ad network where the application process is easy, in fact, you can say that it is automatic.
Their minimum payment threshold for Paypal is $20.00.  Their rate per 1,000 is lower compared to Adsense.  Also, their ad relevancy to content is not great.
16. Kontera
Kontera ads basically are displayed on hyperlinked text and also offers video and image ads.
There is no minimum requirement in terms of traffic to join the Kontera network as a publisher.  Website and phone verification is a requirement.
However, when compared to Adsense their payout rate is a lot lower.  Their payment threshold stands at $50.
17. AdBuff
One of the highest paying Adsense alternatives for blogs is AdBuff but this attractiveness comes with some stipulations.
There is a minimum traffic requirement of 2,000 unique impressions per day which equates to 60,000 a month.
Their minimum payout to publishers is $100 via Paypal and $500 via Payoneer.  They payout every 45 days.
It is a high paying advertising network that generally emphasizes on generating sales for their publishers.
18. Amazon Native Ads
Amazon owns the powerful affiliate program in the world and they do have advertising program too which helps publish search ads, recommendation ads and custom ads.
19. Media Venus
Founded in 2014 and a publisher network based in 30 countries Media Venus has its headquarters in Russia.
The minimum traffic requirement is 500 unique visitors a day.  They do offer several payment methods.
Their minimum payout threshold is $15 and they do a payment run every 7 days.
20. RevenueHits
Established in 2008 RevenueHits is an Israeli based publisher ad network that delivers over 2 billion ad impressions a day.
There is no minimum traffic requirement and they offer display plus mobile ad types over 10 different verticals.
It is an advertising network which is a performance-based network and helps you generate money through (cost per action) CPA.  It promotes display and text ads
21. Superlinks
It is a perfect ad network for those who want to boost their low CPM. The program supports different ad formats like footer ads, slider ads etc.
Hence, you will be able to place the advertisements in any corner of your website.
22. Beacon Ads
Here you can sell your inventory for different ad networks and upload your banners to boost earnings.
This network is specifically designed for publishers who run a blog focused on Christianity and religion.
23. VigLinks
It is a superb alternative to Adsense that allows you to benefit through its affiliate marketing.
I personally used this on my site but it did not work for me because the merchants are better suited to Mommy, food and lifestyle publishers.
24. GumGum
It is a unique ad network that provides in-image ads and it can be a great alternative for the bloggers having large images on their sites.
The minimum traffic requirement is 500,000 impressions and minimum payout is $50.
25. BlogHer Publishing program
The ad network gives you ad programs with high conversions like banner ads, sponsored ads etc.
It is a complete CPM (cost per thousand impressions) based ad network. They offer paid product reviews as well as sponsored ads to the publishers.
You may find them a little picky in blog selection and if you are a female having a high traffic website then you are at the right place.
So, for blogs with a majority female audience this is one of the best Adsense alternatives if you have great traffic.
26. Foodie Blogroll Ad Network
As the name suggests, this one is for food blogs. This blog brings in relevant CPM banners as well as sponsored posts that pay you a good price for the articles or recipes.
Foodie Blogroll is a competitor to BlogHer offering a smaller network of sites but their specific focus is food bloggers.
27. AdNow
Established in 2014 and headquartered in the UK AdNow has a network that spans over 107 countries that deliver over 4 billion impressions per month.
There is no minimum traffic requirement for publishers and the minimum payment threshold is $20 and they offer PayPal and other options.
Payouts are made every 7 days which is great news.
28. OIO Publisher
It is a fantastic ad manager that allows you to boost your revenue and save time and also gives you full control over the ad space you possess.
OIO Publisher is a WordPress plugin that allows you to sell the ad inventory on your own website.  It offers several payment options so no need to have a PayPal account.
Giving you the ability to set up your own marketplace to sell ads it also has the added benefit of allowing you to set up an affiliate program.
29. HilltopAds
This is a Pop-Under Ad network that offers a global monthly impression of over 12 billion.  The size of their network is still unsure.
However, there is no minimum traffic requirement to join as a publisher and their minimum payment threshold is $50.
The good news is that they payout every 7 days.
30. PopCash
Founded in 2012 by Alex and Radhu in Bucharest they have become very successful with pop-under ads.
PopCash can help website owners out there in the world to add pop up advertisements and earn cash based on a number of visitors who click on them.
Their claim to fame is that they have a very user-friendly platform for both newbies and advanced users.
They also offer attractive daily payment runs for publishers earning a minimum of $10 a day.
31. Monumetric
Monumetric offers four different levels that can be used to monetize your blog.  These include Propel, Ascend, Stratos and Apollo.
You will need to have a minimum of 10,000 page views a month to join their entry level program.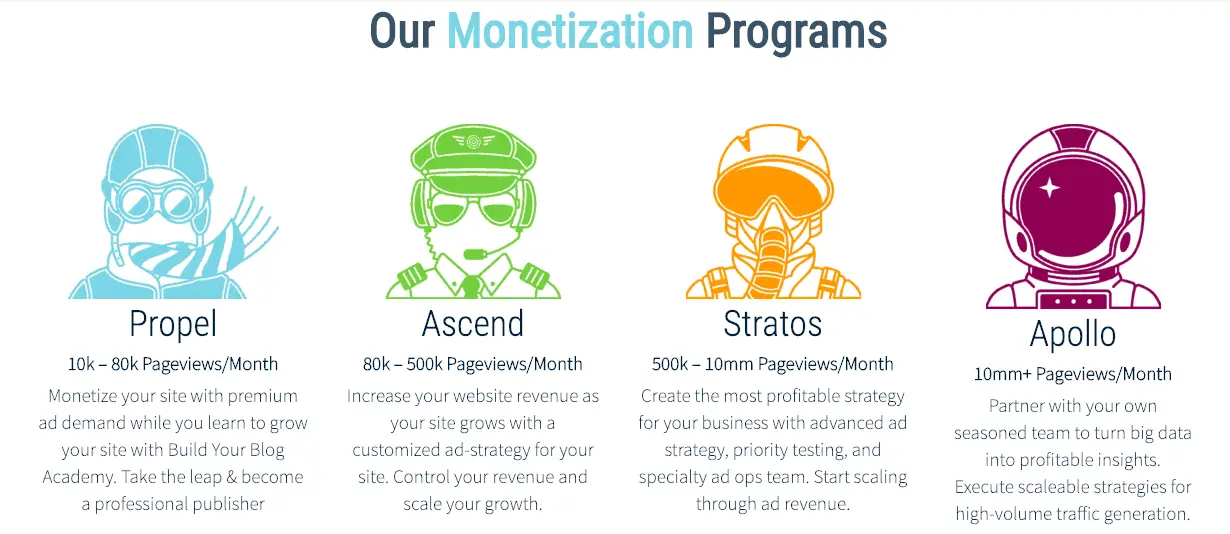 At around 30,000 page views per month, you can expect to earn approximately $400.00 in ad revenue.
32. Ezoic
Ezoic is a Google Network Partner that claims to pay you 4xtimes more than Adsense for the same amount of page views.
You have the ability to control where the ads are placed on your site and you can even get a preview of what it would look like before confirming.
You would need to have a minimum of 10,000 visitors a month before you can work with them.
33. Mediavine
One of the most popular ad networks among bloggers that is very similar to Monumetric in terms of their pay rate.
You ideally need to have a minimum of 30,000 sessions a month in order to qualify and they pay around $500 for that traffic.
I guess this makes it one of the ultimate Adsense alternatives for anyone needing to make serious money as a blogger.
Conclusion
As a blogger, you have so many options when it comes to finding an ad network that will help you make money blogging.
Especially when you have not been approved by Google Adsense this is when Adsense alternatives will come in handy.
The ad networks come in many different sizes, types and offer several requirements to get approved.
It is important as a blogger to take some time out and decide what you want for your blog and what is suitable for your audience.
Ads vary from text links to images to video ads, pop-unders and everything in between.  There is also the affiliate marketing element as well.
Most importantly is the payment method, payout period, minimum payment as well as how much you can make for the traffic you have available.
What has been your experience with ad networks?  What do you struggle with when it comes to using ad networks on your site.  Leave a response in the comments.
Are you looking for other ways to make money blogging? Check out these 30+ ways to monetise your blog and finally become a full-time blogger.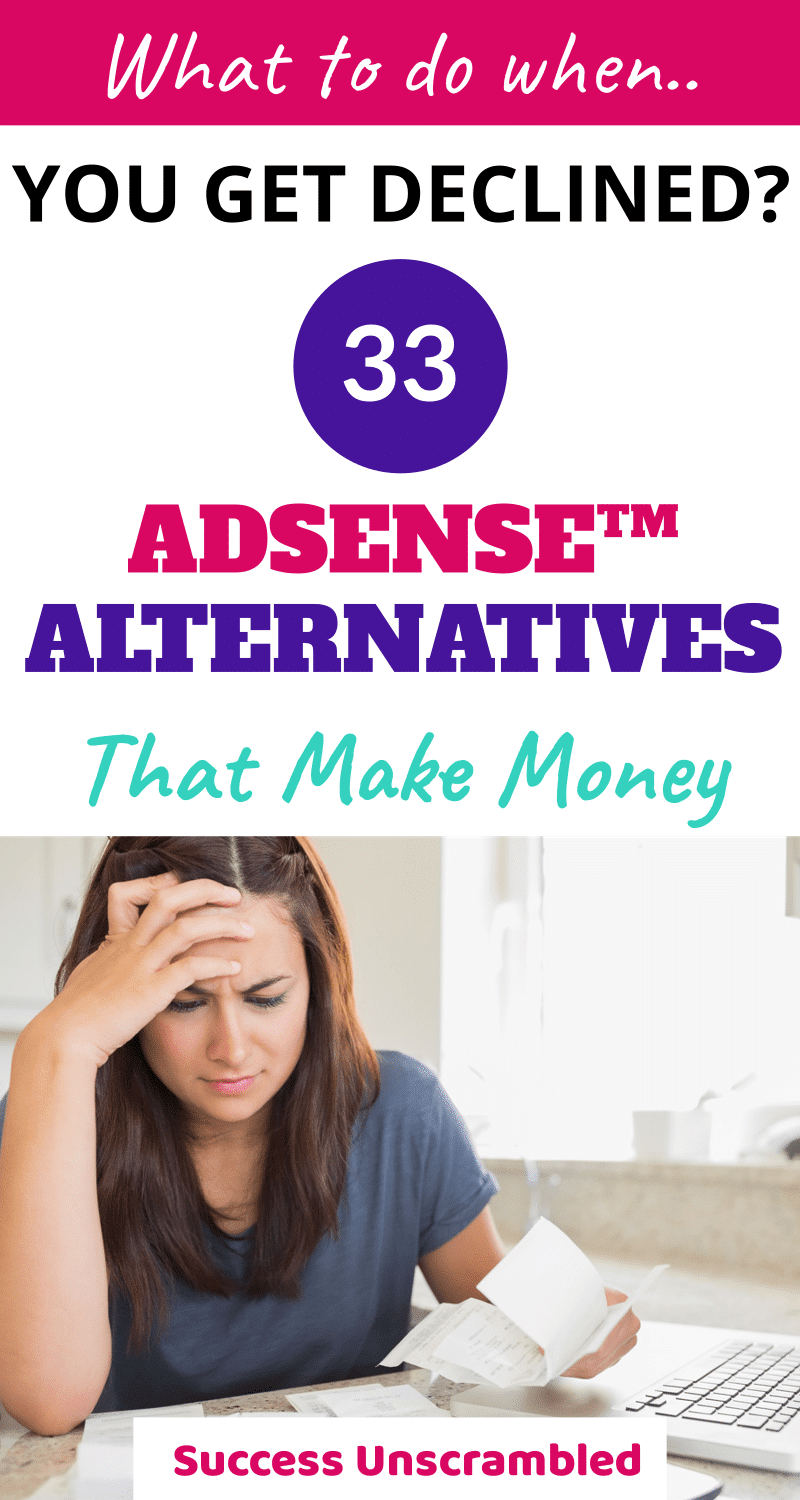 Announcements
Remember to subscribe to the Success Unscrambled Podcast where you will be the first to hear what's happening in the entrepreneurial and digital marketing world.
Your positive review of this podcast is vital to keeping it alive and running for the next 12 – 24 months so please leave a positive review for us on iTunes, Spotify or any of your favourite podcast players.
If you are still in the process of trying to find a blog name find out more here.  If you are at the stage where you want to know how bloggers make money take a look at the blog income report study that I conducted.
Want to take advantage of some free traffic to your blog from Pinterest? Check out my Pinterest tips here.  Grab these 20 tools used by successful blogs.
If you are a startup or small business and you need to hire a virtual assistant to complete tasks such as social media marketing, blogging, keyword research or Pinterest account management then take a look at these packages.