Podcast: Play in new window | Download (Duration: 43:55 — 35.2MB) | Embed
Subscribe: Google Podcasts | Spotify | Amazon Music | Stitcher | Email | TuneIn | Deezer | RSS | More
Have you ever considered a content marketing strategy for your blog? We will be focusing more on the article writing aspect in this post.
You have probably heard this many times before but here it is again.  Content is king.  You need content for any marketing project.
Seeing that content marketing for blogs is a huge area I will take that object that is like the size of an elephant and break it down into pieces.
Many bloggers struggle with the idea of content marketing because they approach it in the wrong way.
The truth is marketing your content to your audience can be a lot of fun if you understand your strategy.
In this post, I will peel back the layers and take you through each one step by step with the hope that you gain success.
Let's first spend some time looking at the term content marketing strategy first before we dive into the steps.
Disclaimer: please note that this post may contain affiliate links which means that if you buy one of my recommended products I get paid a commission for sharing the link at no additional cost to you.  I only recommend products that I have tried myself and have experienced success.
What is a Content Marketing Strategy?
According to the Content Marketing Institute, a content marketing strategy is your "why".
They go further to say that it is also who you are helping with this content, why you are helping them and the expected outcomes.
In other words, you are not just creating content to make your website pretty and informative.
It is important to set goals and measure the results of your actions.  Vanity figures such as likes, clicks and shares are insufficient.
Some results can be increased revenue, lower cost of acquisition, reduced churn and increased retention.
Now that you get an idea about the overall strategy spend some time to outline and understand the strategy for your content.
1. Website Hierarchy
The first topic on the list is website hierarchy.  The moment you decide to start a blog you need to think about the structure of the topics.
This is very relevant because of search engine optimisation or SEO.  In essence, it is about your topic authority.
Blogs are generally creating to build authority in the niche.  So ask yourself what would you like to be known for in your niche?
Building authority takes time so you may not see the results until 12-36 months from now.
For example, if you were in the DIY niche you can cover a range of topics like garden furniture, outdoor gardening, indoor gardening, restoring farmhouses, etc.
Some bloggers choose to be in the lifestyle niche which means they can cover everything.
However, they still want to become a topic authority on something specific even though they cover lifestyle.
The reason for this is that you will have a central theme running throughout the site.
A central theme makes it really easy for internal linking so that your authority topic will get the most internal links.
[clickToTweet tweet="Three things I want you to remember when it comes to website hierarchy, I don't want this podcast to go on forever." quote="Three things I want you to remember when it comes to website hierarchy because I don't want this podcast to go on forever." theme="style1″] Is there one specific focus?
2. Keyword Research
Once you know your specific focus it is time to find those keywords that people will be using to find your blog.
Earlier I mentioned about focusing on the DIY niche.  If your topic authority is storage then you can spend time researching this area.
People living in apartments with families are always looking for storage ideas to improve the quality of apartment living.
Spend some time looking at Google Trends, Buzzsumo and Keysearch for hot topics when it comes to DIY living.
You may not be able to rank for the most popular or difficult keywords in the first 6-12 months.
It is important to grab the low hanging fruit in the form of longtail keywords.
So, three things to remember when doing your keyword research: Look at short-tail versus long-tail.
What is the buyer intent or searcher intent?  If someone is looking for 'smart storage ideas' what are the results in the SERPs.
Make sure the content answers as many questions as possible around that keyword.
3. Length of the Article/Post
The next important topic is the length of your post.  Many years ago when I created my first blog the minimum word count was 300 words.
To keep your content evergreen and relevant for many years to come I suggest going for 750-1000 words.
Spend time focusing on giving your audience lots of value.  If they are happy with your solution they will recommend your blog.
People love stories so try as much as possible to weave a story into your blog post.
For example, when my parents were whatever age, they had a lot of space, and now they have a lot less space, and they have to clear out stuff.
One of the things you might want to add to that mix is decluttering, because people have a small amount of space, and you have a lot of items.
So, length of the document, three things to remember. 500-1000 words per post, or per article.
Make the content valuable and then add a story, so people can do what we call an association of a primer. It's something that they call a cognitive bias.
When you study psychology, people can learn through association. They remember the story, and then they remember the good quality information that you have given them.
4. Call to Action (CTA)
[clickToTweet tweet="Next item you're going to be looking at, then, is the call to action. What do you want them to do?" quote="Next item you're going to be looking at, then, is the call to action. What do you want them to do?" theme="style2″] They've gone, they've clicked and they've seen, they've' done a search in Google.
They've' seen your article, they've clicked on it, and they've read it. So, what do you want them to do next?
If you don't have a call to action, they will just come and read, and then go to some other person's site, so make sure that you have a call to action.
Something that you want them to do, whether it be to join your newsletter, become a subscriber, to visit your Facebook page, to send you a message on Twitter, to contact you, to leave a voicemail.
And then, what is the long-term strategy? It might be short-term, you want them to visit your Facebook page or your Twitter account. But really look at it from a long-term point of view.
What goes on social stays on social for a very, very long time, so get everything right, pristine, and set up so they can actually go and contact you via the methods outlined.
5. Amazing Article Title
Okay, next thing you're going to look at article title. It's all well and good do your research and place our keyword a few times within the article, nicely
However, what is really, really important is the title, because the title tells the person who is searching for that information what your article is about.
One of the most important things to include in the title is your keyword. Naturally, weave your keyword into the title.
Include some emotional words in the title as well to elicit a response and to get the click.
In our example of DIY storage ideas your title could be "5 Smart storage ideas that give you more room to breath".
Your reader could be on a tight budget, and they want to be able to get a quick solution to prevent them from going insane.
Here's another example, "How to solve your tight storage problems in seven days or less."
Three things to remember, when you're thinking of the article title: Make sure you include the keyword in the title.
Ensure that it sounds very natural, as opposed to sounding awkward, and then make sure you're varied effectiveness.
6. Search Engine Optimisation (SEO)
Search engine optimisation (SEO) is essential for your blog if you want to rank for organic traffic.
There are a number of on-page factors such as meta tags and meta descriptions as well as internal linking.
If you're using WordPress.org as your blogging platform there are a number of cool plugins that will help you achieve this easily.
I covered a post about SEO for Mom Bloggers that goes into this in more detail here.
Another thing that I've found very effective in my blog post is things like your subheadings.
For example, if you decide to write a blog post that's 1000 words in total. Divide that up, then, into 200 words per paragraph.
If you're looking at DIY storage, and you're specifically looking at compact storage, you can break it down into five different areas.
material to use (wood, metal, plastic)
Measure the size of the area
Best paints to use
Colour scheme
Budget
So four things to remember: Incorporate all the modern search engine optimization techniques.
Don't forget your headings, that's your h1, h2, and h3 tags, so you have those different things. Your tags and descriptions, and your subheadings.
Do include a call to action in your description. Something like "Want to solve whatever the X problem is in the next three days? Click here to learn more,"
7. Create a 6-24 Month Plan
Okay, next up, the 6-24 month plan. Start with the end in mind. So, you look 2-10 years from now, and in your head, you can see a picture of your blog.
What broad topics would you like to cover over that period of time? Still looking at the DIY niche let's come up with topics.
Across an entire DIY blog you can have topics like storage, decluttering, interior design, renovation, etc.
I am only outlining this because I made a lot of mistakes over the last 10 years so I am trying to reduce the error for you.
A lot of times I had to scrap an entire site because I didn't really think long-term, I only thought short-term all the time. So, please, take my advice and think really long term.
Think long-term and incorporate a lot of keyword research before you start writing.
Map out a plan for your site so that you know which keywords are the parent topics and which are the child topics.
This is the 6-24 month plan. You have three things you need to remember. You start with the end in mind, move backwards.  Map out the topics and choose parent and child topics.
8. Frequency of Writing
Okay, next up is frequency, in terms of how often you want to write blog posts for your site.
My advice is to you is don't start off with too much too soon. Some of the very popular blogs out there post three times a day.
If you want to start posting three times a day, you need to be consistent, so people who come back to your site know that you post three times a day.
You cannot start posting three times a day and then sort of change that to once a week.
If it is, you want to start nice and steady and slow, start once a week, or even once a month, and then build up from there.
Consistency is the key, how often you want to do it, and then come up with a plan, because this is a content marketing strategy.
Map out that content marketing strategy for each month going forward, so you have that map, and you know exactly if I need to have an article written.
And pace yourself. If you know that you wouldn't have time to do articles twice a day or post twice a day, then please don't do that.
Three things to remember in frequency: Consistency is key. Decide how often you're going to be doing it, whether it's once a week, twice a day, once a month.
Pace yourself, so that you know how much time you need to build up this new habit of posting to your website.
9. Images or Photographs
Photographs always help, in terms of blog posts. There are two ways or maybe more than two ways. Let us look at two ways to approach this.
You can take your own photographs, or you can use what we call "stock photos." You have these royalty-free stock photo websites, like stockphoto.com, 123rf.com and Envato.
There are also many free stock photo websites as well.  You just need to ensure that the images are relevant.
Depending on if you're using a Mac or a PC, right-clicking on the photo and going into the description, and putting your keywords into there, as well.
Using images actually brings a lot more traffic to your website. Actually, ten times more traffic.
One of my websites gets 10,000 impressions a month from keywords, but it gets, what is it, 30-50,000 more impressions a month. 30,000-50,000 more impressions per month from images alone on my website.
So, three things to remember when you're putting images or photographs on a website for each post.
Number one, photos have impressions. Number two, make sure you populate the description. And number three, make sure it's high-quality photos.
You can do a mix of your own snapshots that you took, as well as stock photos, but make sure it's really good quality.
10. Recycling Old Articles
For your content marketing strategy to survive for the long term,  for example, three to five years old, you come to the realisation that you have all of these blog posts or articles that you wrote three to five years ago.
They're probably still getting traffic, and they are focused on these longtail keywords, and you don't want to write another post with those very same keywords.
You can go back to that same post and create a video, and post it into that particular blog post.
For that particular keyword, say, for example, yours is storage in small spaces.
It appears in the Google search engine for the keyword, it appears in images for that particular keyword, and it will also then appear on Youtube for that particular keyword.
Another thing you can do is create a podcast episode on that particular topic. Like I'm doing a podcast now, you look at your keyword, say three years from now.
You're getting traffic now coming from podcast directories, or podcatchers, et cetera, or iTunes for that very same keyword.
So, now you have four different things on that particular blog post that are attracting traffic to that particular blog post, based on that one keyword.
Another thing you can do is to create a PDF of that same blog post. The PDF will have additional information that you couldn't have included in it, then post that PDF to sites that accept PDFs.
Another thing you can do is do a presentation, using that same keyword focus, of that same content.  Repurposing it, and creating a presentation, which you can then post up on SlideShare.
All right, so, four things to remember, in terms of taking things to a whole new level: Recycle the content. Think of using things like podcasting, video, PDF, or presentation of that same keyword.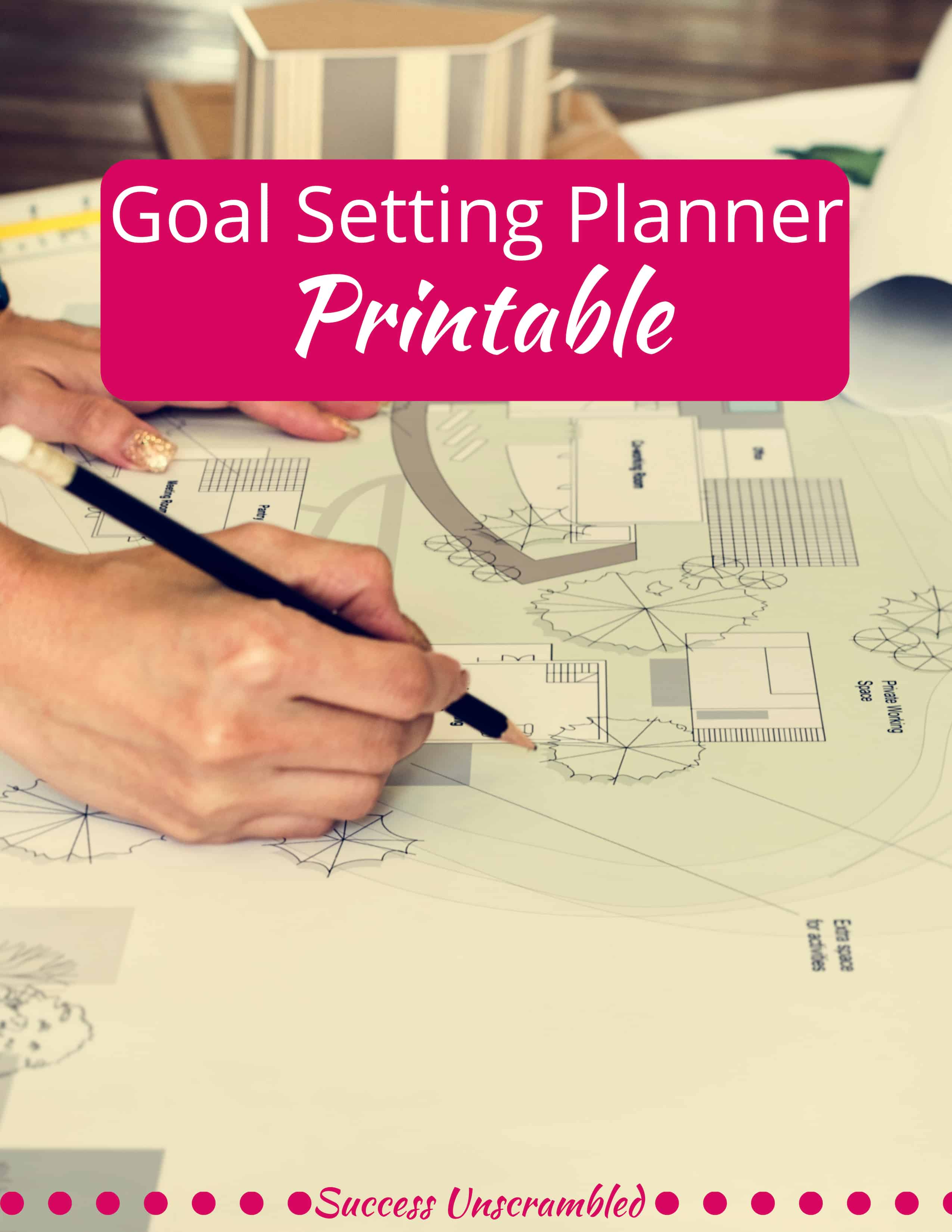 Grab The Goal Setting Planner
This planner is great for you even if…
11. Sharing on Social Media
And finally, sharing it on social media. Once you've done the post, don't forget to share it to different social media profiles that you have out there.
You can share it on Pinterest, Twitter, Facebook, Instagram, LinkedIn. For the podcast, remember to share in the podcast directory.
For a Youtube video, remember to share it on other video syndication websites.
For PDF files, don't forget to share them at the PDF syndication websites. And for presentations, don't forget to share them to presentation syndication websites.
Whew! And that, ladies, is all I have today. That felt like it went on forever, and hopefully, you guys gained something valuable from it today.
Announcements
Remember to subscribe to the Success Unscrambled Podcast where you will be the first to hear what's happening in the entrepreneurial and digital marketing world.
Your positive review of this podcast is vital to keeping it alive and running for the next 12 – 24 months so please leave a positive review for us on iTunes, Spotify or any of your favourite podcast players.
If you are still in the process of trying to get approved for Adsense then check out these Adsense alternatives.  If you are at the stage where you want to know how bloggers make money take a look at the blog income report study that I conducted.
Want to take advantage of some free traffic to your blog from Pinterest? Check out my Pinterest tips here.  Grab these 20 tools used by successful blogs.
If you are a startup or small business and you need to hire a virtual assistant to complete tasks such as social media marketing, blogging, keyword research or Pinterest account management then take a look at these packages.