Podcast: Play in new window | Download (Duration: 31:04 — 43.2MB) | Embed
Subscribe: Google Podcasts | Spotify | Amazon Music | Stitcher | Email | TuneIn | Deezer | RSS | More
You have been thinking of starting a blog for a few years but you have so many blog niche ideas.
Maybe you want to become a food critique because you love food but hate cooking.
Probably you are thinking about going into a niche about sound engineering but you think that it is too boring.
It is possible you just want to become a mom blogger and blog about your journey as a Mother of 5 kids.
Whatever you have been thinking it just may work but it is important to do a bit of research and planning before jumping in.
The truth is we are all afraid of failure so the best approach would be to minimise the risk as much as possible.
In this post, I will give you a number of blog niche ideas and resources that you can use to increase your chances of success.
Disclaimer: Please note that this post may contain affiliate links which means that if you buy one of my recommended products I get paid a commission for sharing the link at no additional cost to you.  I only recommend products that I have tried myself and have experienced success.
What Is A Blog Niche?
Just in case you are brand new to this whole idea of blogging and you are confused about a niche, let me explain.
A blog niche is basically a topic of focus for a blog. These topics can be very broad like food.
Many bloggers would tend to specialise in a specific area like raw food or vegan or personal finance or Keto diet or a lifestyle blog for example.
The reason for narrowing a niche like food into a sub-niche like raw food is because it is a lot easier to create products and write about content in that sub-niche.
Of course, celebrity TV chefs can get away with writing recipe books on broader topics because they already made a name for themselves.
On the other hand, their cookbooks can be about '30 minute meals' or '3 ingredient recipes' or 'quick pasta dishes', etc.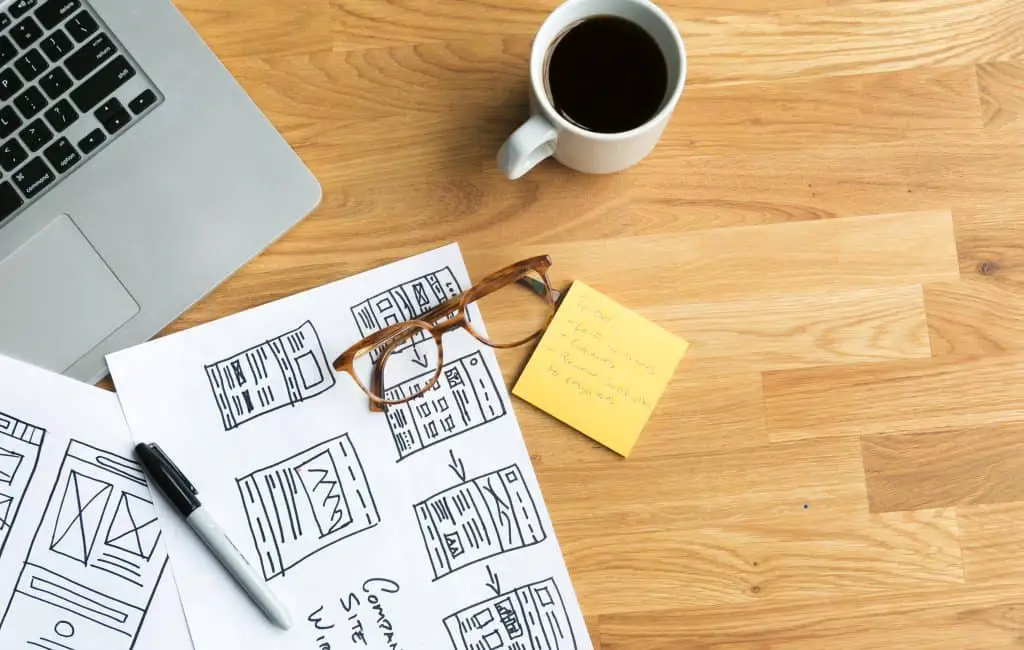 1. Blogging Tutorial: How To Find Profitable A Niche
If at this point you are still unsure about your niche that is perfectly okay and quite normal.
One of the best ways to pick a blog niche is to understand more about who you are and what you are passionate about.
This blog project may be the first blog for you so it will be a huge learning curve that will require a lot of motivation.
It is possible to start a blog where you are not passionate about the topic and still generate an income. I did it in the past.
However, what I discovered as time went on is that I lost interest when my family was undergoing a lot of stress.
Write a list of things that you are an expert in and/or that you have a passion for and move on to the next stage.
Your only motivation should not be about making money but about helping your readers.
2. What Problem Are You Solving?
Any entrepreneur will tell you that one of the best ways to create revenue is to solve problems.
Think of all the jobs in the world and try to find one that does not solve a problem.
If you said entertainment then that is not exactly correct because people love to use entertainment to ease their boredom.
Just in case you did not know the entertainment industry is huge business. You can certainly write a blog to entertain your audience if you want.
You need to find out what problems you can solve with your list of talents, passions and expertise that you wrote down from the last paragraph.
Remember this one thing; people buy for only two reasons – to move away from pain or to move towards pleasure.
This reminds me of the scene in the movie "The Greatest Showman" the look on P.T. Barnum's (Hugh Jackman) face when the light bulb went off. The light bulb went off for me too.
Does your passion help in either of these areas? A good way to explain moving toward pleasure is their need to be a better version of who they are at present.
3. Is Your Niche Popular Enough?
Before finally deciding on a niche you need to establish if there is a market for what you want to offer.
Maybe you want to sell ice to the Eskimos which is fine. Just because they have a lot of snow does not mean they don't need ice.
A big fear for a lot of people is that the market is saturated. In other words, if someone already has a knife it means that they don't need another one.
One huge example of this is women's shoes and handbags. Just because they already own a pair of boots does not mean they will not buy another one.
This same rule applies to everything else that you can buy as a consumer. Think about the stuff you have at home from curtains to lamps to sofas and even frying pans. You can easily buy another one, right?
The best way to validate your idea is by doing some keyword research on your areas of interest.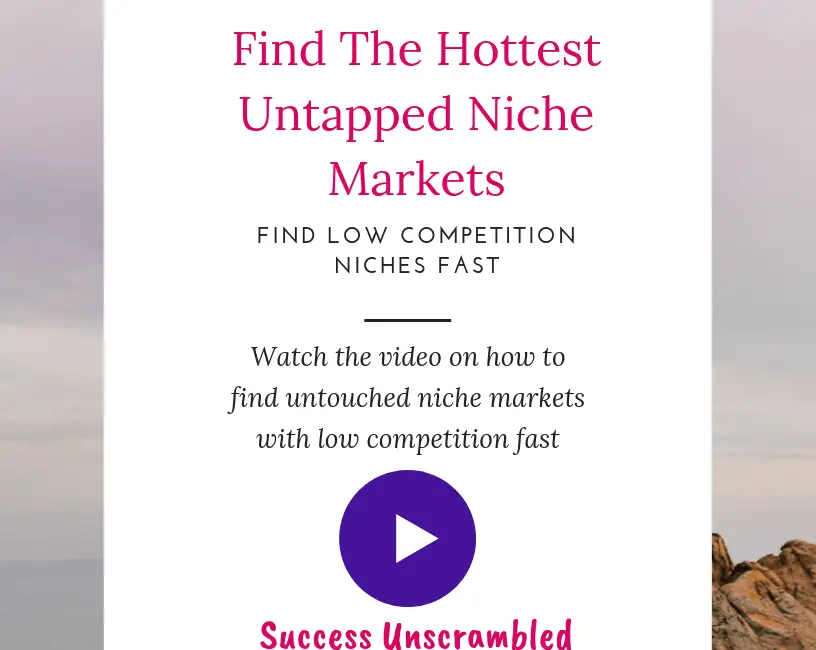 Learn How to Find Untapped Niche Markets Fast
4. Keyword Research For Blog Niche Ideas
If you are a regular reader of my blog posts you already know that I covered keyword research in the past.
This time let us look at keyword research in terms of finding out if there is an audience size big enough who would be interested in your solution.
Our first stop is Google News because we want to see what is popular right now then we will dig a little deeper.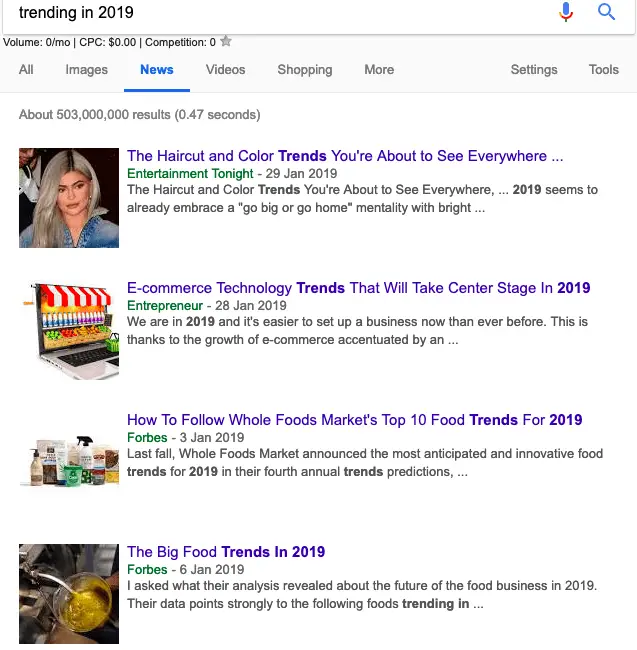 As you can see in the top 4 results we have haircut and colour trends, e-commerce technology, whole foods and big food trends.
I am going to dig deeper into the one around whole foods and sure enough here is a shortlist of what I found in that article.
Shelf Stable Probiotics
Phat Fats
Next Level Hemp (CBD oil)
Faux Meat Snacks (umami-rich mushrooms)
Eco-Conscious Packaging
Trailblazing Frozen Treats (Mochi, Taiwanese Snow Ice, Turkish Ice Cream)
Marine Munchies Beyond Seaweed (Seaweed butter, Kelp noodles, plant-based tuna)
I can actually see this happening all around me. I have seen and heard so many people talking about CBD.
My daughter is into healthy snacks like seaweed chips and seaweed with cucumber, goodbye potato chips and popcorn.
We made Mochi ice cream over Christmas. I am always amazed at how these trends sneak into our lives.
5. Google Trends
Up next is the opportunity to dig deeper using Google trends. By the way, you can write an entire blog about food trends in the news if that is your interest.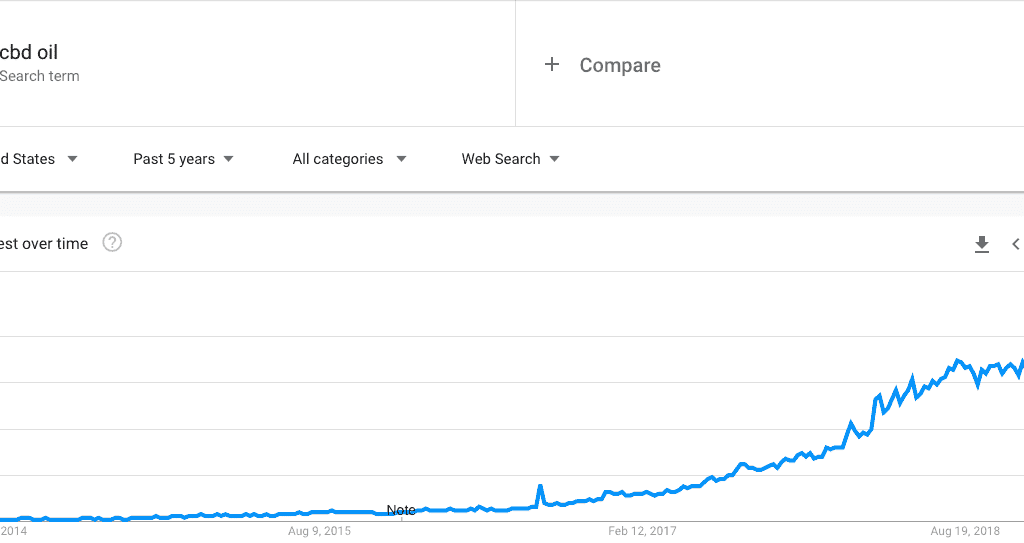 We can run a comparison in Google Trends comparing CBD oil and the Keto diet and this is what we get.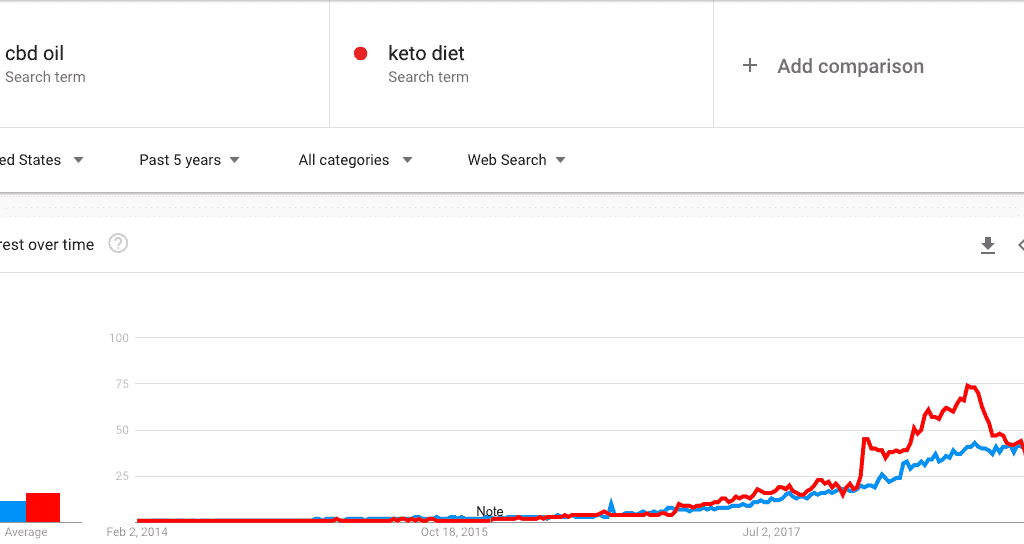 I was actually expecting CBD oil to be more popular but there you go. I guess people eat Keto food every day.
6. Keyword Tool
Spend some time using a keyword tool because you want to ensure that there are thousands of searches around your broad topic.
My tool of choice continues to be Keysearch because I find it reliable, flexible and low cost.
Your market needs to be big enough in order for you to make a living. Let us take a look at keyword research for the Keto diet.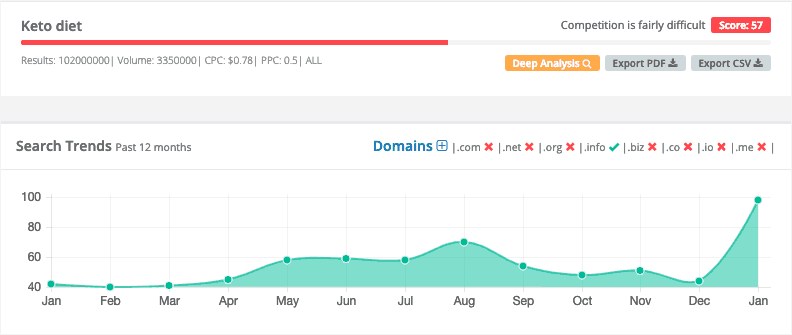 As you can see there are over 3.3 million searches every month. Now let's compare it with CBD oil.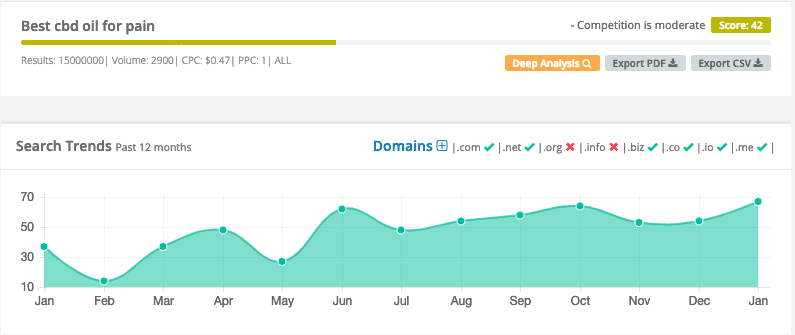 I found it very interesting that no one is searching for the term CBD oil but they are searching for very specific things. For example, 'best CBD oil for pain'.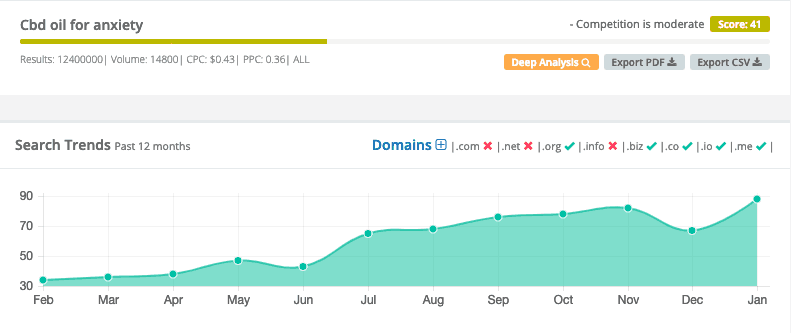 In this next example, they are searching for 'CBD oil for anxiety' which is all-new for me.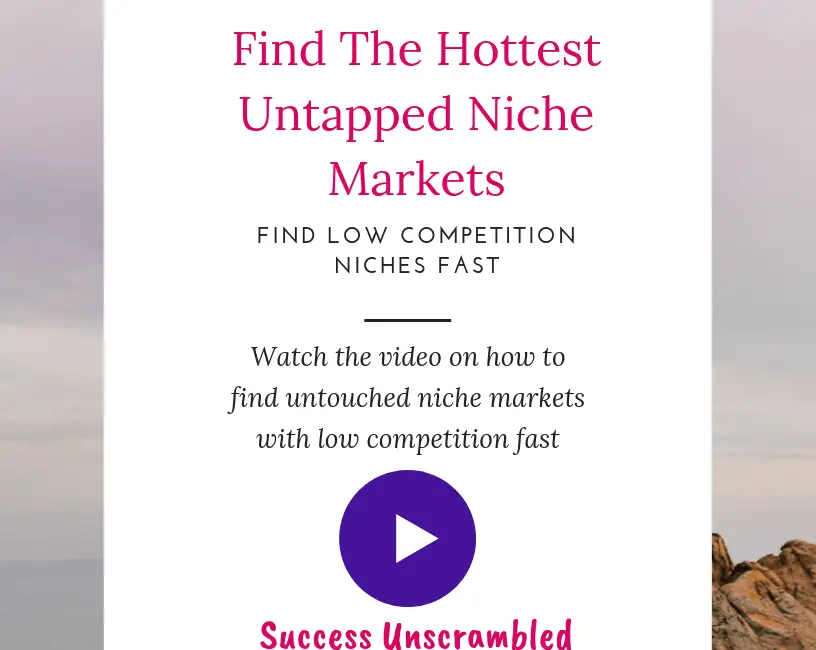 Learn How to Find Untapped Niche Markets Fast
7. Amazon Popularity
The final part of our research is looking at reviews on Amazon. It is always a great indicator of the popularity of a product as well as the potential to make money.
It is also a great way to find out why people are buying it and how you can improve on what is already in the market as a solution for your audience.
First I use the free brainstorm tool by Keysearch to type in my idea. From those results, I type it into Amazon to look at specific products.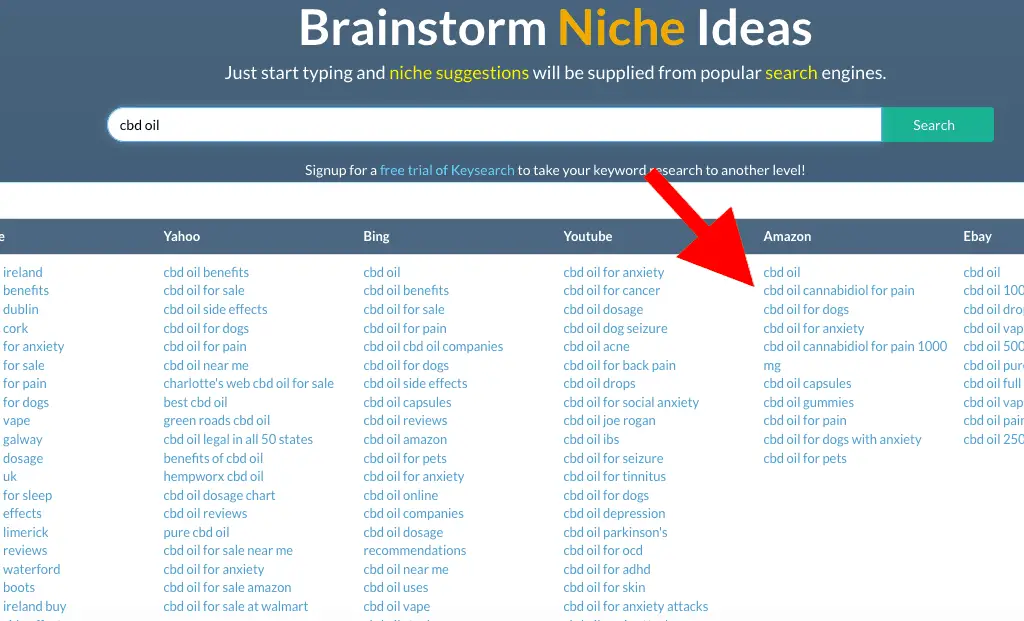 As you can see there is a list of suggestions under the header labelled Amazon. Let us check out 'CBD oil for anxiety' in Amazon.
So the problems here are pain and stress relief and the solution could be CBD oil or Hemp oil or maybe there is a big list of solutions.
The big topic here is health and wellness or well being and the sub-niche is pain and stress relief.
It is a good idea to spend some time looking at reviews to see what other problems pop up.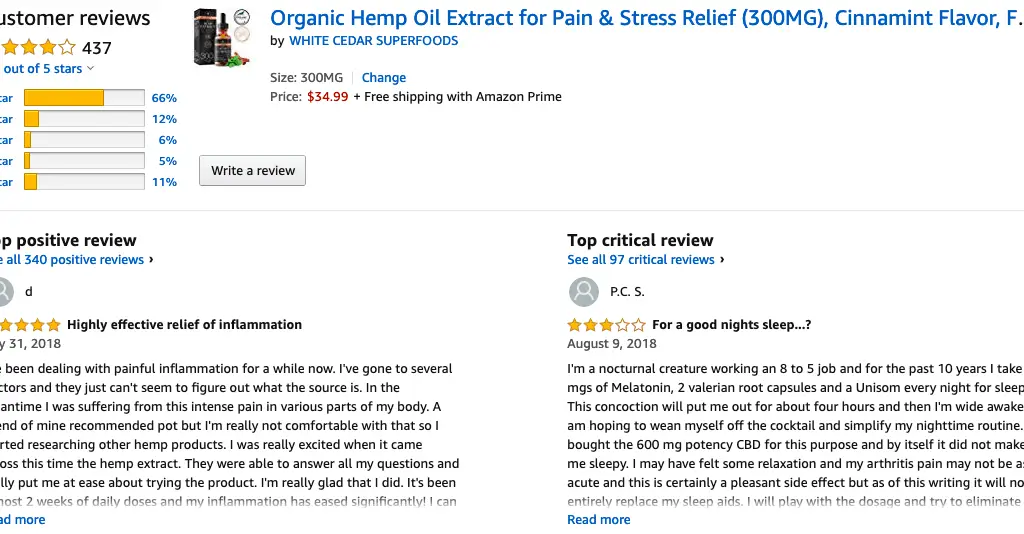 After skimming through the reviews I see stuff like people suffering from insomnia, addiction to tablets, anxiety.
There is also pain relief from arthritis, relief from migraines and many others. Is this the "One Product To Rule Them All?"
I really hope that this little exercise helped you to solidify the process of finding a blog niche and checking to see if it is profitable.
8. Popular Blog Niches
This resource will not be complete if I don't start at a really high level and give you a shortlist of the top niches for bloggers.
It will start you off with 11 blog niche ideas in terms of topics so that you can get an idea of what is out there.
I recently did a blog post about the most profitable blog niches but this list is about all the popular niches.
Marketing + Business
Parenting
Lifestyle
Personal Finance
Health and Wellness
Food
Travel
Beauty + Fashion
DIY
Survival
Technology
As you can see these niches are super broad so it is advisable to spend time finding your sub-niche within the broad niche.
After you find your sub-niche it would make sense to choose your unique angle on the topic so that you can relate to your audience.
The reason why doing these last two exercises are important is because you will need to make money blogging.
This is possible using affiliate marketing, ads, selling courses or other methods. It will help you to create a successful blog.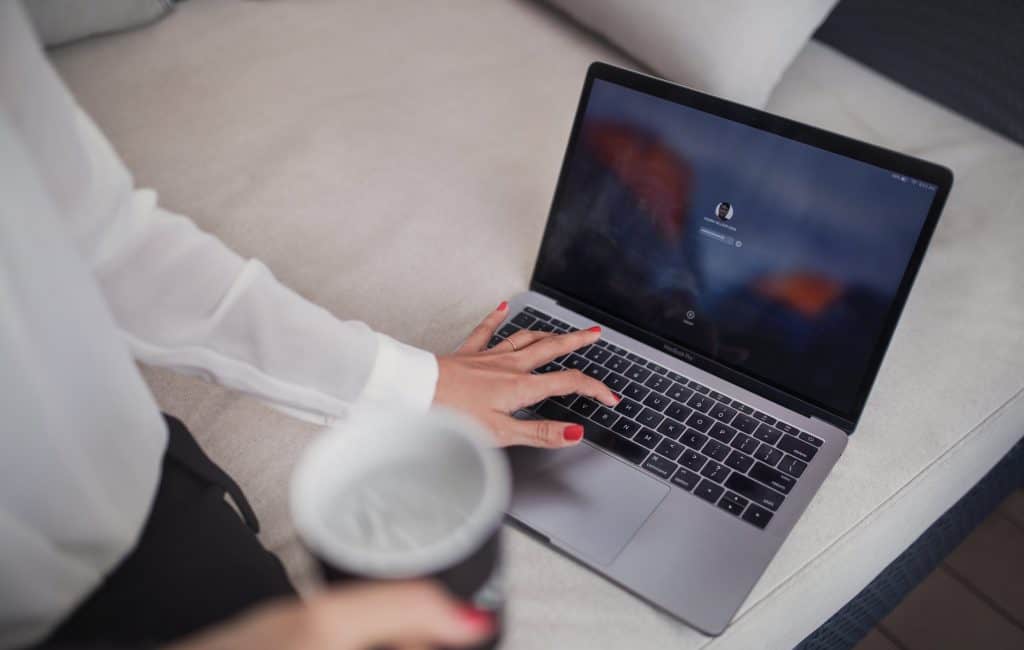 9. Finding Untapped Niches
Another way of doing blog niche research is by spending time finding up and coming niches that are not yet crowded.
This method is better suited to the experienced blogger who is looking for low competition products and services for their blog.
I wrote extensively on finding untapped niche markets and even wrote an ebook on how to go about it step by step.
It is a great way to become a market leader or build authority in your niche where your audience will hear it first from you.
If you are brand new to the world of blogging may I suggest that you check out the 11 key things you need to know as a new blogger?
Blogging is a long-term game so it does require a certain kind of mindset before you get started.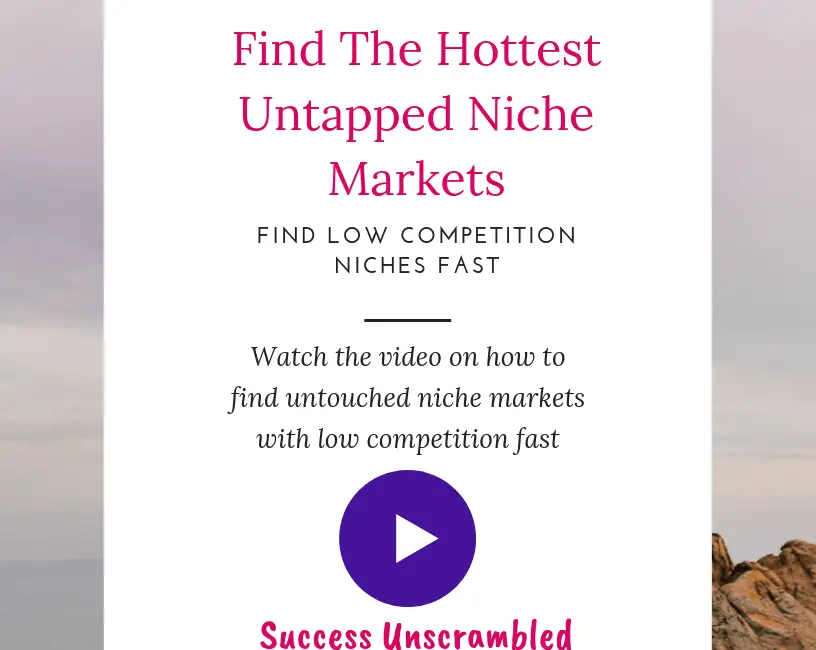 Learn How to Find Untapped Niche Markets Fast
Conclusion
Now that you have been through the process of finding a blog niche using these blog niche ideas you should have a clearer idea of your niche.
Okay, it is going to take a few days or possibly weeks for you to settle on the niche of your choice.
What actually helped me choose a niche is deciding on the medium of delivery which is based on my available time.
You may not be interested in writing at all but your preference could be to use video which is great.
Video creation is an amazing avenue to communicate with your audience. Do remember that you don't have to be a writer.
As a creative, you get to choose which mode of communication is best for your personality.
Over to you, what has been your experience when it comes to finding a blog niche? Have you ever failed at starting a blog? Leave your thoughts in the comments.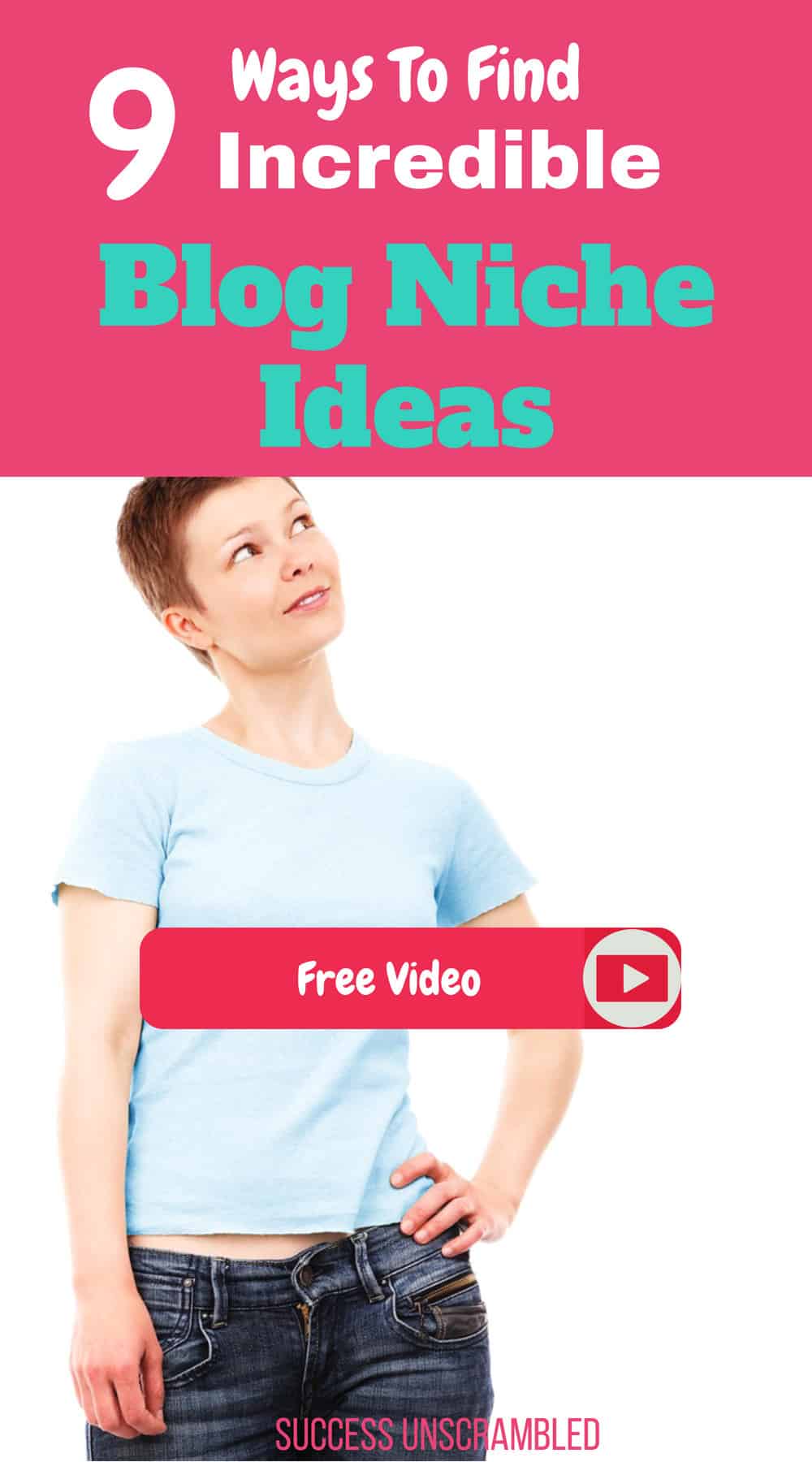 Announcements
Remember to subscribe to the Success Unscrambled Podcast where you will be the first to hear what's happening in the entrepreneurial and digital marketing world.
Your positive review of this podcast is vital to keeping it alive and running for the next 12 – 24 months so please leave a positive review for us on iTunes, Spotify or any of your favourite podcast players.
If you are stuck when it comes to blog growth then take a look at these 11 ways to increase your blog traffic.
Are you thinking of starting a blog? Check out some 'blogging for beginners' tips that will help you reduce blogging errors.
Want to take advantage of some free traffic to your blog from Pinterest? Check out my Pinterest tips here.  Grab these 20 tools used by successful blogs.
If you are a startup or small business and you need to hire a virtual assistant to complete tasks such as social media marketing, blogging, keyword research or Pinterest account management then take a look at these packages.