Podcast: Play in new window | Download (Duration: 53:56 — 74.6MB) | Embed
Subscribe: Google Podcasts | Spotify | Amazon Music | Email | TuneIn | Deezer | RSS | More
Are you finding it difficult to blog consistently every day or every week? Are you lacking the motivation to write blog posts regularly?
Maybe you are working full-time and you recently decided to start a blog on the side and after 3-6 months you are starting to question your efforts.
It is very possible that you are just not seeing the results for all the effort that you have put into the blog so far.
If you are getting less than 100 visitors a day then it can add to that feeling of defeat as it turns out to be not as easy as you expected.
For parents or even moms of young children, this can be even worse as the time you have available is quite short.
You are probably thinking that there must be a shortcut to get the results faster if only you can find it.
The truth is that there genuinely is a more defined path to achieving your goals which can lead to faster results but it really depends on your foundation.
In this post, I am going to outline a number of key secrets that will help you keep up with your blog and develop a great blogging routine.
Also, it will help you to blog regularly and confirm a blogging schedule that is more fluid to propel you to your blogging goals and life dreams.
Why You Should Blog Consistently?
Well, you may have heard this before but one of the keys to blogging success is consistency.
One reason for this is that blogging is a journey of growth for both you and your reader.
The average successful blog publishes between 4 and 16 posts a month so all the content needed for your blog is not created in a day.
Content for your blog is developed over time based on your reader's feedback because blogging involves two-way communication.
People learn in small digestible chunks so it is a bit misleading to get your blog to blow up and become successful after just 10-20 blog posts.
In reality, this only happens if you already have celebrity or authority status. However, if no one knows you then it is all about growing a new relationship.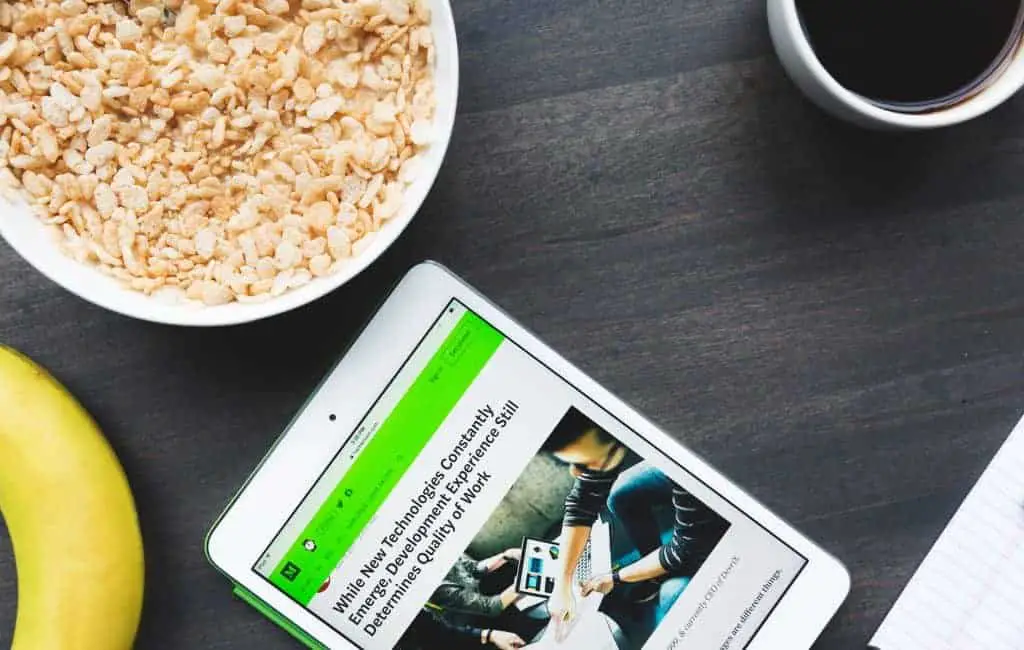 Understanding the Reader
Before we look at routines, schedules and goals to help you blog consistently there is a very simple key to your success.
That key is understanding the reader. If you spend time understanding who is your ideal reader or avatar you will know what they want.
It is possible that you have already developed an avatar or ideal client profile but let's back up a minute.
Do you really know them well enough? Here is a list in no particular order of items you should know about your avatar.
Age
Gender
Where do they live? (country, city)
Do they live in a house or an apartment?
Their neighbourhood, what does it look like?
What are their daily, weekly, monthly or annual challenges?
Outline their biggest needs?
The kind of problems they are trying to solve personally, financially
Their deepest desires and dreams for them and their family, what are they?
In terms of their biggest fears, what are they? (not spiders, emotional ones?)
Do you get their short-term and long-term goals?
Any idea of their good and bad habits?
What gets them excited?
The stuff that annoys them, what are they?
Their passion projects, what are they?
Where do they spend the most time online?
List the kind of items they spend their money on when they get paid?
What type of podcasts do they listen to?
Which software and/or apps do they use?
I could add more to the list but I will stop there for now as I would like to know can you honestly and truthfully answer all these questions about your reader.
Not many bloggers can answer all these questions but you can spend some time writing up a profile of your ideal client based on these questions.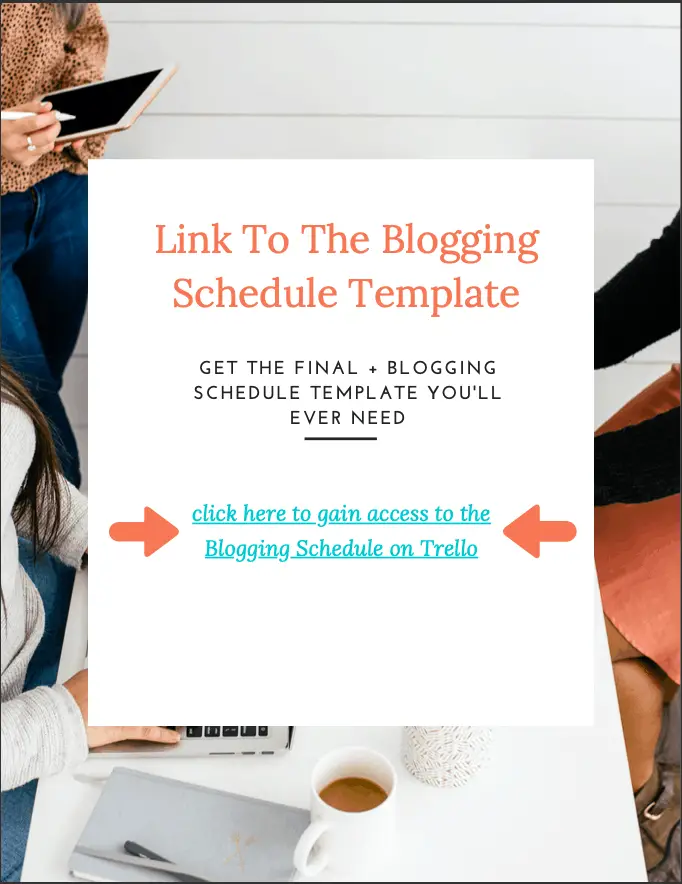 Schedule Your Blog Like a Boss, even if you...
The Reader Journey
Once you have the questions about your reader answered it is time to look at the journey of your reader.
Here are a few more questions to ask about your reader's journey.
Where did they come from?
Why are they reading your blog?
What can your blog posts do to help them?
How do you plan to make them better people?
These questions may or may not come to you as a surprise. If you have never considered these questions before then you can start now.
It goes back to the purpose of your blog. Why did you set it up and what is the long-term goal from your reader's perspective.
Maybe it will help you to create two avatars of your reader. The first one shows the person when they first come to your blog.
The second avatar shows the expected transformation as the reader has gone through the journey that you created for them.
Map Out The Journey
Do you have a map of the journey for your user drawn up somewhere? A map will help you better understand what you need to do next.
It also shows you any gaps that your user may be experiencing along that journey that you never thought about.
Here is a simplified example of the Freedom Transformation Roadmap for my reader.
As you can see I know that they will face obstacles and resistance on their journey and they will experience a profound moment when it all comes together.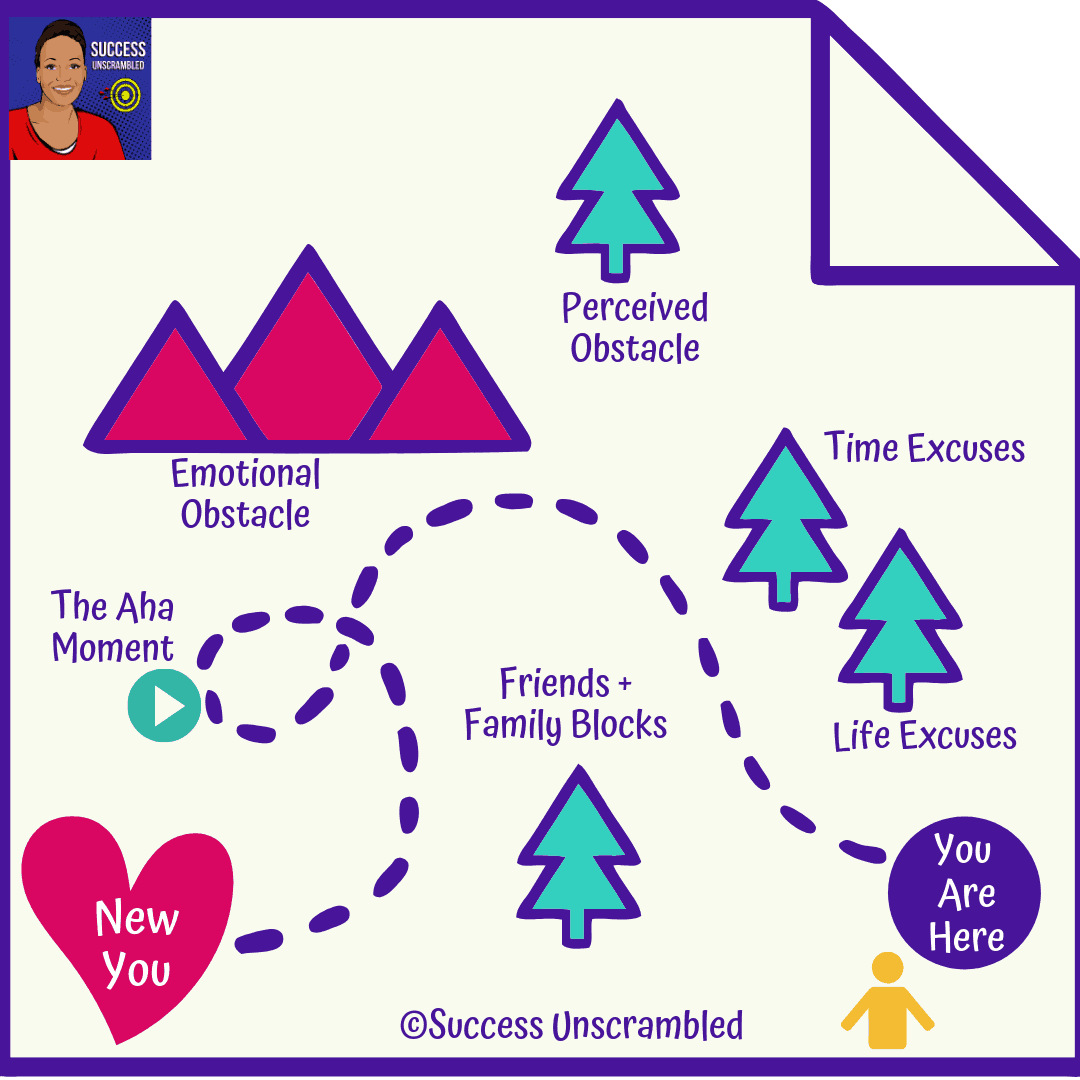 This is all part of truly understanding my reader. When I understand the perceived obstacles and roadblocks that they face I can write content to meet that need.
If you don't have a roadmap or journey for your reader yet why not spend time creating one today or this week.
Products and Services
After you mapped out the reader journey and you have both avatars done it is time to check your products and services.
Do your products and services still meet the needs of your reader? If you have not created any products yet now is the time to create an outline of your first product.
The purpose of this section is to ensure that the content that you will deliver daily, weekly or monthly feeds into that transformation process.
In other words, the transformation that your reader experiences occurs over time from interacting with your blog posts, freebies, email newsletter as well as paid products.
It does not only occur at the level of the paid product. So, if you work backwards from your paid offer you will know what content to include in your core blog posts.
For example, if your paid product is a 6-month mastermind on advanced level SEO tactics then your blog posts are there to educate the reader about their initial SEO problem.
They also help address the problem at a basic level like a blog post on SEO for beginners which gives them a quick win.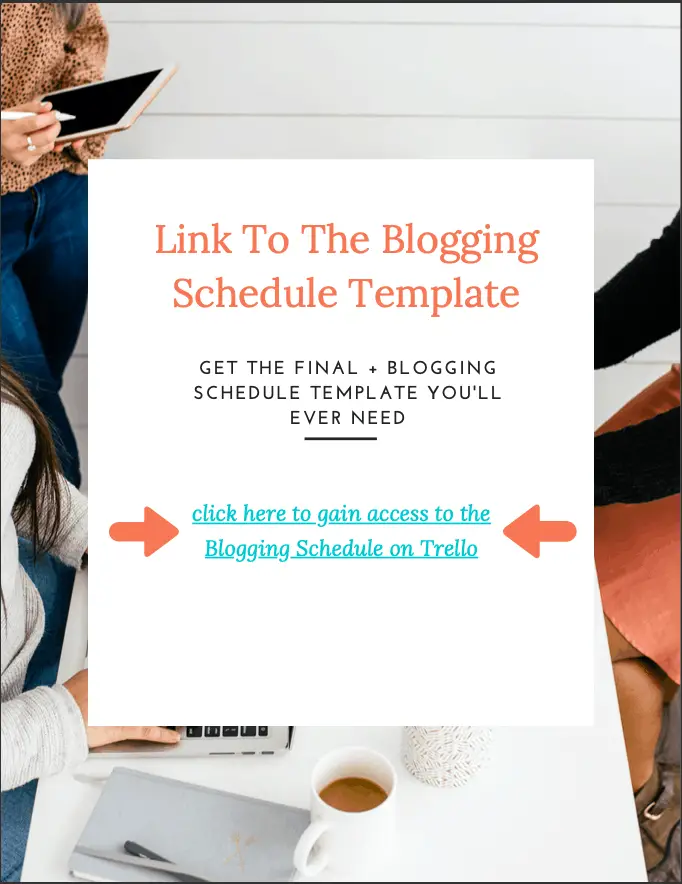 Schedule Your Blog Like a Boss, even if you...
How To Blog Regularly
Now that you have an avatar, a map, an outline of what is included in your product or service and blog posts content it is time to think about a blogging routine.
I believe wholeheartedly that everybody is different when it comes to maintaining a successful blog.
That is because every single one of us has different family circumstances and work schedules.
You need to carve out how many hours you have available each day, week and month so that you can become consistent at blogging.
Yes, there are times when stuff just happens but in order for blogging to become a habit it is important to incorporate it into your life.
Also, check to see what times of day you are most productive. If you are a morning person it would not make sense to schedule heavy tasks at night.
Blogging Schedule Daily Routines
This is where things are going to get really practical because if you have little time available you need to decide what tasks will be accomplished and when.
If you work full-time in a 9-5 job then you will need to set up a part-time blogger schedule similar to the one below.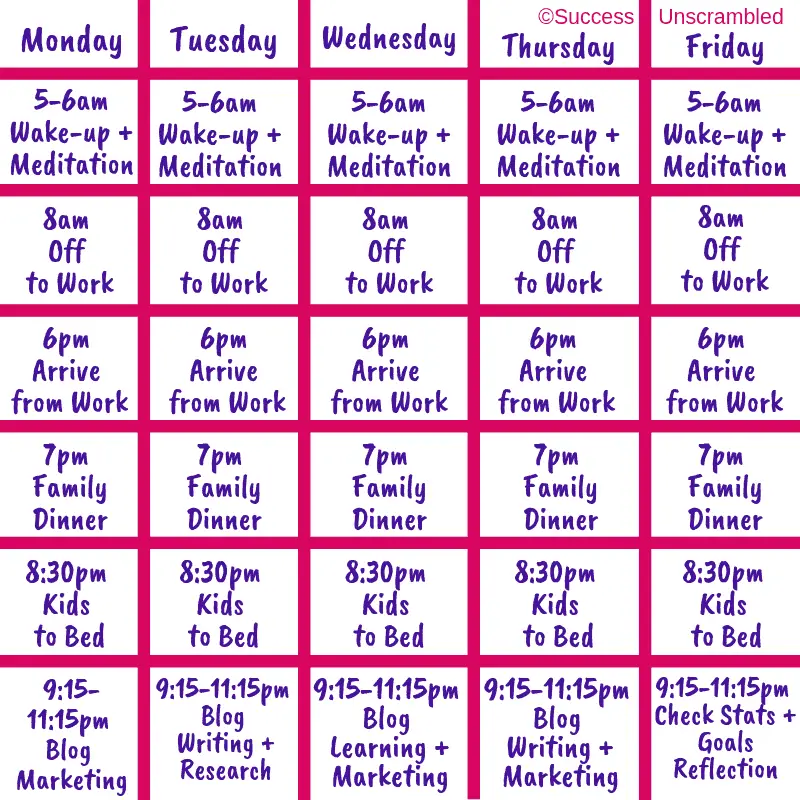 In this schedule, I have given you a very generic example of what your part-time blogging schedule may look like.
Of course, during the weekend is a great time to catch up on some major work on your blog. You can move to a new web host or change your theme or batch tasks like writing.
Also, feel free to work in bulk on marketing on one day so that you give yourself an extra day for content creation.
What is Your Dream?
It is one thing to set a schedule but a completely different thing when it comes to setting and achieving goals.
As I mentioned previously, both you and your reader are on a journey to achieving your dreams.
For you, it is all about taking that big dream and turning it into goals, plans and tasks with a specific time period.
Let's take a practical example if you decide that your offer is a $97 course and you know that you need to sell 100 copies a month.
Having $10,000 in sales lets you achieve your dream of running a full-time business from home, so here are some things you need to do.
Take that big dream and make some smart goals around it.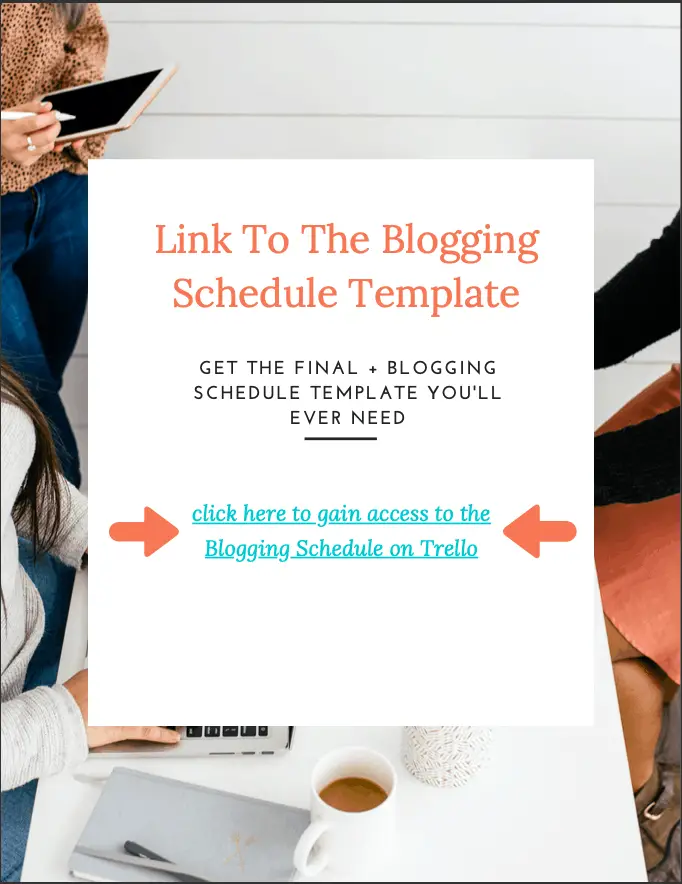 Schedule Your Blog Like a Boss, even if you...
Setting Goals
The typical conversion rate online is 1% for cold traffic (new visitors to a website) if you are targeting your audience correctly.
So, to get 100 sales a month you need to have 10,000 visitors to see your offer every month. Of course, if you have only 2,000 visitors you should get 20 sales.
These visitors may see your offer directly via a landing page or they may click-through from a related blog post.
Now, 10,000 visitors may sound like a lot but let's break that down into a daily goal that's achievable.
If you have 20 blog posts that raise awareness of the problem and/or addresses the pain point of your visitor then that works out to be 17 visitors a day per blog post.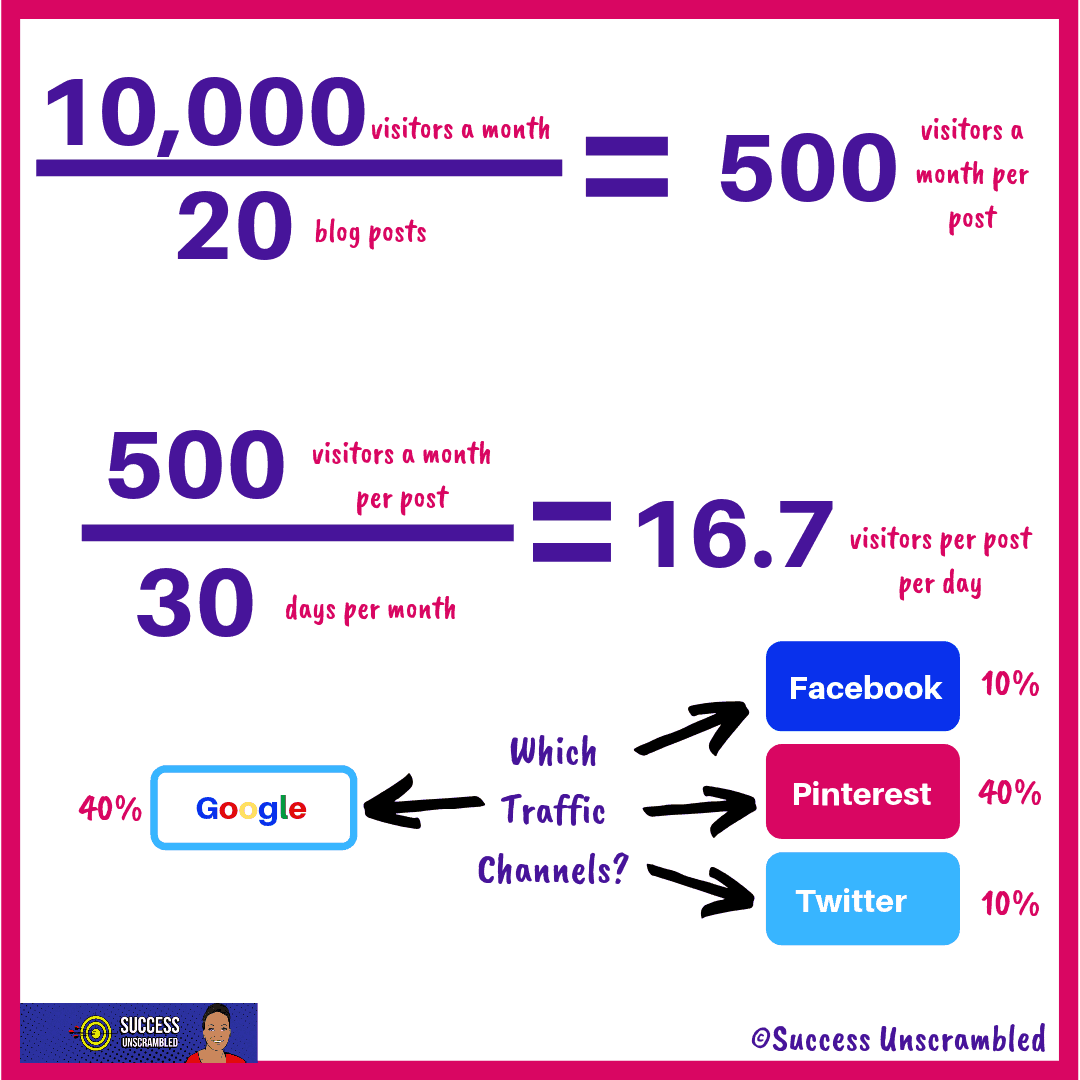 As you can see in the above diagram, I have broken down a potential dream of 10,000 visitors a month goal into a more manageable plan.
The trick here is to have 20 blog posts with the focus of converting them into buyers. Do you know what topics need to be addressed in each blog post?
Content Planning
Just in case you missed the previous paragraphs or still don't get what you need to write about here it is again explained more simply.
The purpose of your blog is to help your reader undergo a transformation journey. An example of that could be to save money on travel or to be a better mom or to pay off debt or even become better at budgeting.
Your blog posts are there to help build awareness of their problem and educate them about possible solutions.
Those free checklists and workbooks that you give away help them accomplish quick wins along their transformation journey.
You spent time creating a perfect paid product that will help them along to the final part of the transformation so that they finally arrive at that better version of themselves.
Therefore your blog post topics should be pretty easy as they all feed into the process of getting the reader to trust you as you show your authority and expertise on the journey.
It can be quite difficult to teach this in a blog post so if you still don't get it, leave some feedback in the comment box below.
Recap
To become a successful blogger even on a part-time schedule here is a summarised list of what was covered.
1. Understand the reader
2. Plan the reader journey
3. Map out the Journey
4. Revisit your products and services
5. Publish content regular
6. Develop a blogging schedule
7. What is your dream
8. Set goals
9. Match content to your reader
These 9 areas should help you improve your consistency around blogging.
Conclusion
The ability to blog consistently ultimately depends on your ability to understand your potential client as well as their transformation journey.
If you truly grasp that concept then a blogging routine will become so much easier because it will no longer be about how often should I blog or what should I write.
It will be more focused on what is missing from the client journey roadmap. You will be asking what can I do to get them closer to their goals.
I am sure that this is not what you were expecting this post to be about as many other bloggers address this topic more along the lines of topics and schedules.
However, maintaining a successful blog should ideally be focused on the success of your reader's journey.
Over to you, what has been your struggle so far when it comes to consistency in blogging?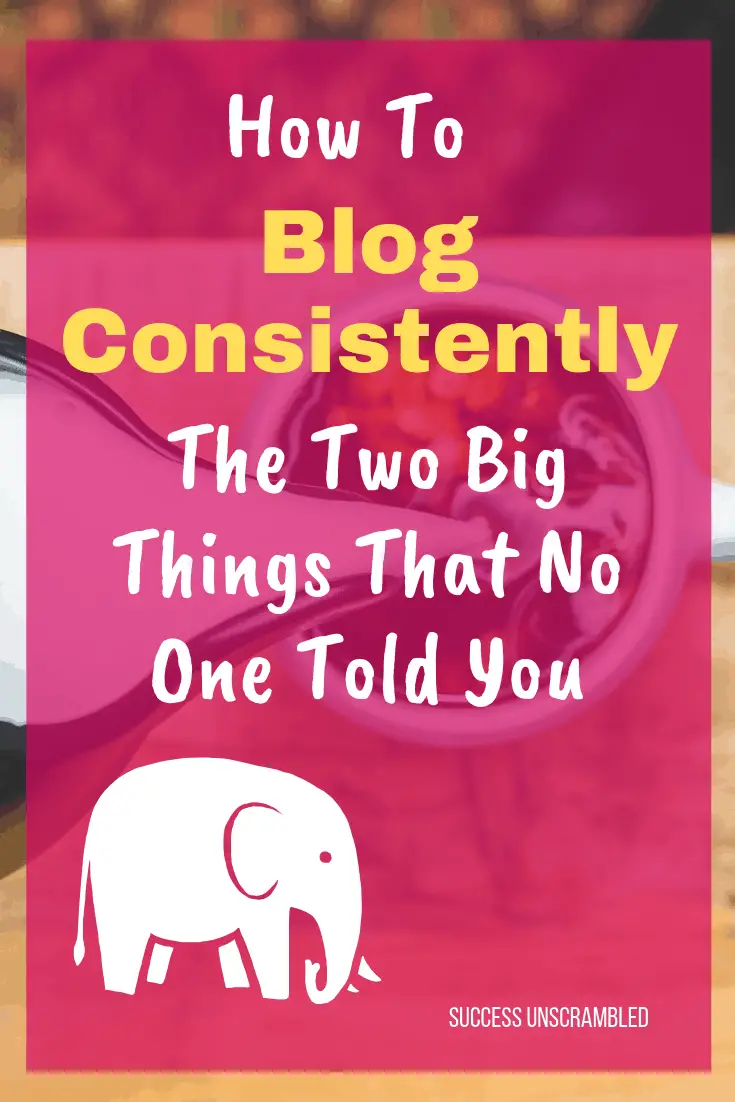 Announcements
Remember to subscribe to the Success Unscrambled Podcast where you will be the first to hear what's happening in the entrepreneurial and digital marketing world.
Your positive review of this podcast is vital to keeping it alive and running for the next 12 – 24 months so please leave a positive review for us on iTunes, Spotify or any of your favourite podcast players.
Are you an employee looking to start a side business? If so, take a look at this resource on how to start a business without a degree.
If you are just at the start of your journey where you are wondering what is possible for you in the future then take a look at these 7 books for bloggers.
Maybe you just published your blog and you are looking for ways to get visitors to your website. Grab this resource that shows how to grow your blog traffic.
If you are a startup or small business and you need to hire a virtual assistant to complete tasks such as social media marketing, blogging, keyword research or Pinterest account management then take a look at these packages.