Have you always wanted to start a bullet journal but you don't consider yourself an artist?
Maybe you are a busy mom who just doesn't have that much time to make a bullet journal that is drop dead gorgeous.
If you are like me you probably saw the whole bullet journal obsession happening all around you and you just could not bring yourself to start.
The last time I did any kind of practice on my almost non-existent art abilities was when I was a teenager.
Do you remember all those artistic pieces of work that you had to do in kindergarten? It seems like ages ago.
The truth is that just because you are not that kind of creative or even considered an artist it does not mean that you cannot start a dot grid journal.
In fact, I was very hesitant about getting into bullet journaling until I found a way to get around my lack of artistic abilities.
In this post, I will show you what I did to get started and how you too can practice bullet journaling without the need to be an artist.
What is a Bullet Journal Anyway?
Just in case you came across this post and you never heard of bullet journaling let me explain.
The Bullet Journal Method is a book written by Ryder Carroll and it is essentially a way to organise your life.
It is a way to keep notes, tasks, dreams, events and thoughts in a single book. It is great because you are able to find everything in a single book.
One downside is that I write a lot every day as I learn new things all the time so only a summary of those things can be kept in a bullet journal.
I have to say that I like the fact that these books are not like diaries that has a calendar layout.
You can fashion them however you like as they just come with small dots that you can use as a grid to come up with a finished product of your choosing.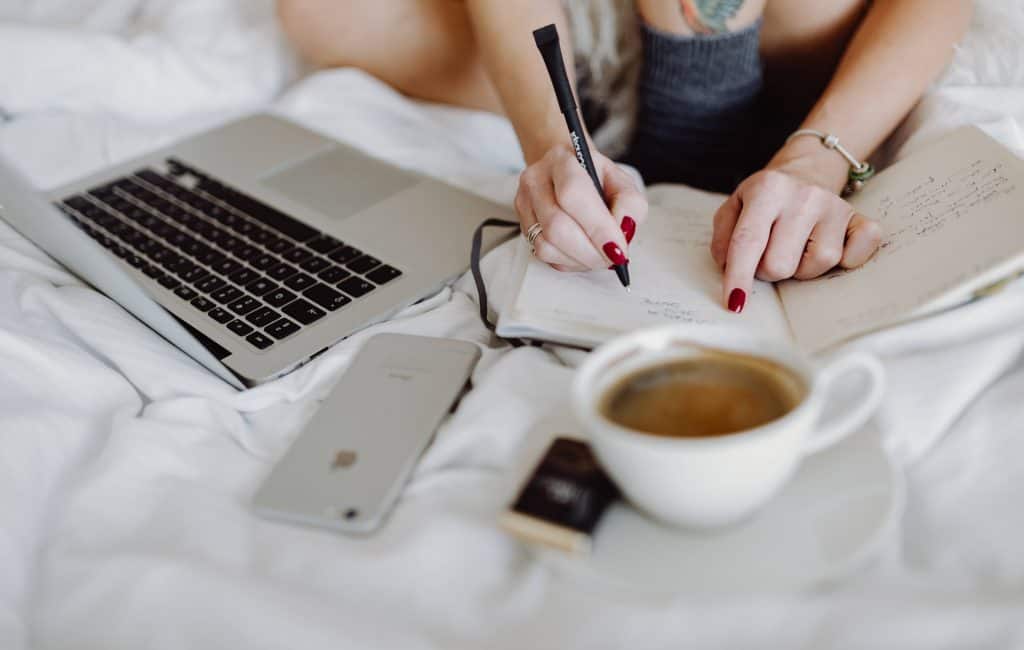 What Not To Do When Starting a Bullet Journal
I did some research before purchasing the materials for my bullet journal then I went out and purchased the leuchtturm1917.
That same day I popped into the art shop picked up some pens and headed over to the stationery store and got a ruler, some glue, ribbons and other items.
It is only 2 weeks later that I realised that I should have done some more research into the best markers for my journal.
Also, I saw some Washi tape online that I should have purchased but my budget was already spent.
I am still so annoyed but at least I learned a few important lessons on my bullet journal journey so far.
My advice to you is to plan as much as you can. Whatever you do avoid Sharpie pens as they are terrible for the leuchtturm1917.
How To Start a Bullet Journal Even If You Can't Draw
The first thing you need to do is roughly plan out your months in advance. In terms of planning think of the themes that you would like for each month of the year.
There is no need to start your bullet journal in January as I am starting mine in July as this is what works for me.
Ensure that you have a good idea of colour schemes and props that you would like to include on the pages.
By props, I mean things like stickers of boats, butterflies, stamps, Washi tape ideas, images, stencils, quotes and anything that will inspire you.
As you are a non-artist who can't really draw you will find that all these extra props will come in handy because instead of drawing you will use stamps, stickers and stencils.
On the standard bullet journal pages you would have the following:
cover page for each month
weekly spreads (horizontal or vertical)
habit trackers
notes
a calendar view
quotes
shopping list
events
index
key
tasks
Dutch door (advanced users)
Spend time mapping out the first 3-6 months so you have a rough idea of what you would need to purchase to get the dot journal set up.
Setting Up Your Bullet Journal
Once you have bought all the necessary items it is time to set up your bullet journal.
At this point, you should have a theme for the year which you can write out on the first or second page of the journal.
Here is a very simple image that I found in Google images that show a very simple cover page that anyone can draw.
My favourite part of this cover design is the tag line "adventure awaits". It is such a simplistic statement with a big impact.
Bullet Journal Key
One essential page in any bullet journal is the key. It outlines symbols that will help you label your items by status.
Here is a list of the various status for each task or event.
Completed
Scheduled
In progress
Cancelled
Transferred
Important
Idea
Attended
Event
Task
This just means that at a glance you can identify each item during the week and understand the current status of that item.
Here is a great example of a bullet journal key.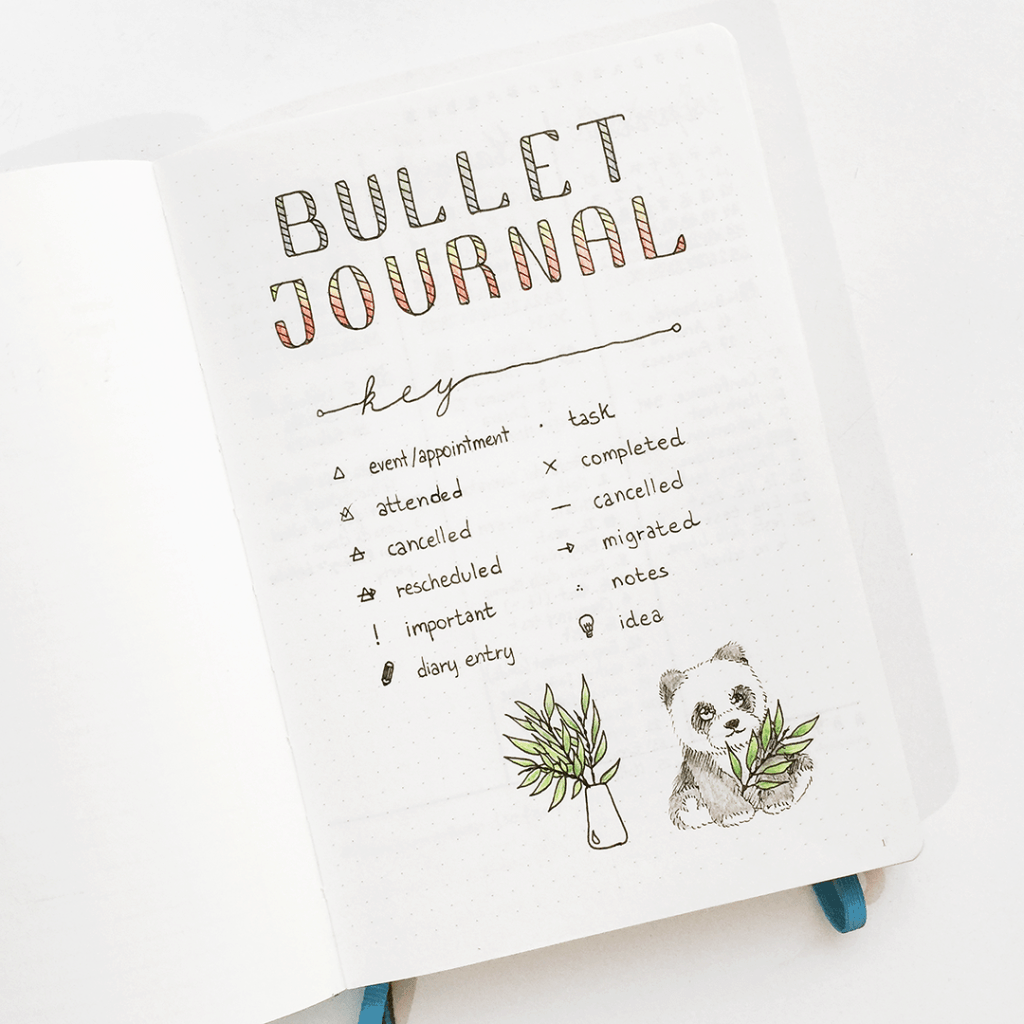 The beauty of this is that you can places stickers on this page instead of drawing any items.
You just need to spend a small amount of time drawing the tiny items for each symbol or you can use colour coding instead.
Bullet Journal Index
Some bullet journals are so neat and tidy that they even come with an index page which is similar to a table of contents.
In my opinion, it is not mandatory but the fact remains that you can design it in a way that suits your taste.
I found this one on Instagram that is just so simple that anyone can use it in their dot journal. Perfect for the non-artist.
As you can see this person included wish lists, movies to watch, books to read, project ideas and lots more.
Now is a good time to decide if you want to include all these ancillary pages in your bullet journal before creating your first month's cover page.
Bullet Journal Monthly Cover Page
Once you have decided on all the other pages it is time to create your monthly cover page.
If you remember at the start of this post I mentioned that it is a good idea to think of each month as a theme.
Depending on where you reside in the world each month could represent the current season.
For example, summer is typically 3 months long but each of those months can represent a mood of the summer.
Children go back to school in August here so it is the really lazy month of all the three.
However, June could be quite busy as children prepare to get into the summer. While July has many camps and events that take place.
Here is a great example of a July cover image by Nicole that I found on Instagram.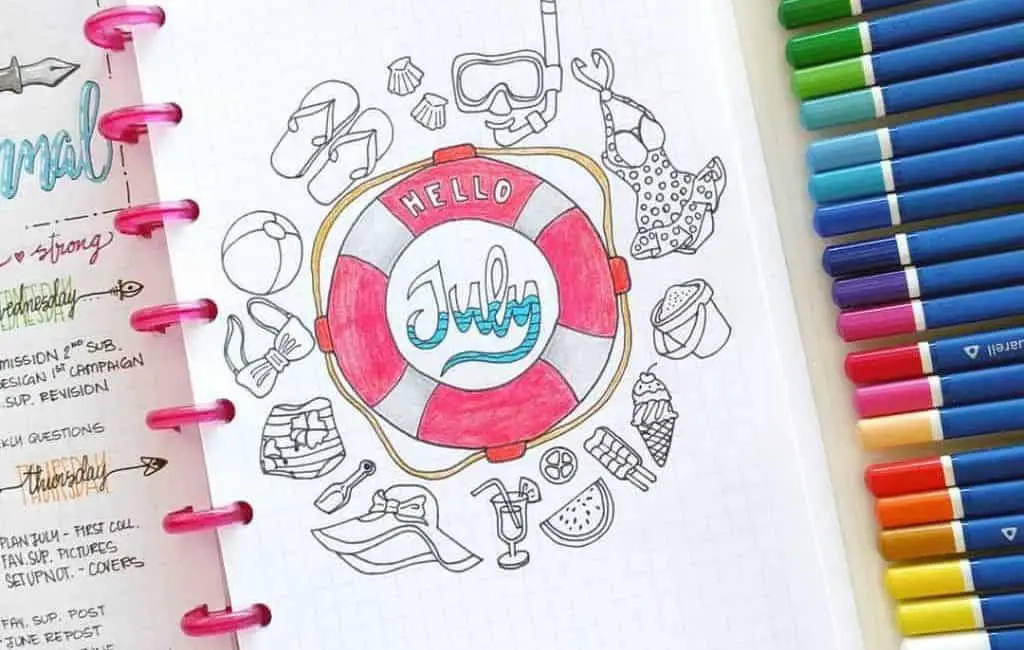 As a non-artist starting a bullet journal you can use stickers, stamps or stencils to get a similar image.
Weekly Spreads
After you have completed the cover page it is time to do your weekly spreads. The great thing about a bullet journal is that every week can be unique or the same as the rest.
I already wrote an entire post on weekly spreads but here are two great ones that I found today.
You can use stickers instead of drawing plants in pots and leaves down the middle of the two pages.
Stencils are also a great hack to use instead of drawing by hand.
As you can see this one is so cute and simple. Aren't those lemons on each day just the sweetest little accent?
Anyway, now you have two additional examples plus the other weekly spreads that you can find on here.
Bullet Journal End of Month
At the end of each month it is a great idea to spend time reviewing your accomplishments and looking at your goals for the next month.
I find this such a great thing to include in any bullet journal as a way to track your progress against your annual targets.
This is a cool January review that I found on sublime reflection.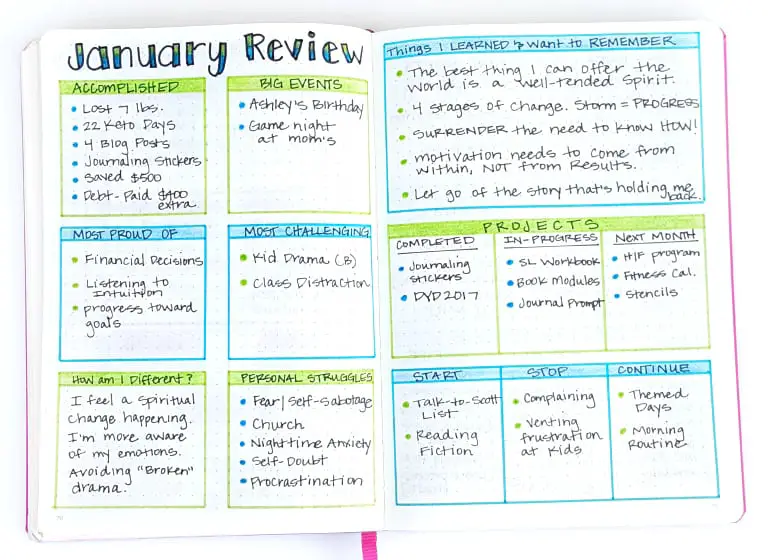 My favourite sections are most proud of, most challenging as well as start, stop and continue.
So, once you are happy with the first month it is time to rinse and repeat for your second month.
Conclusion
Being able to start a bullet journal even though you lack artistic abilities is so doable and exciting.
All you need to do is spend some time planning your themes really well as well as all the accessories that you may need like stickers, Washi tape, stencils and ribbons.
You can also decide on cover pages, end of month pages, weekly spreads, goal trackers, habit trackers, key pages and index pages.
Only after having a good idea of these then go shopping online or offline for all your supplies.
Carve out time in your calendar to set up your bullet journal and create the first month as well as weekly spreads.
Over to you, what has been your struggle with starting your bullet journal as a non-creative.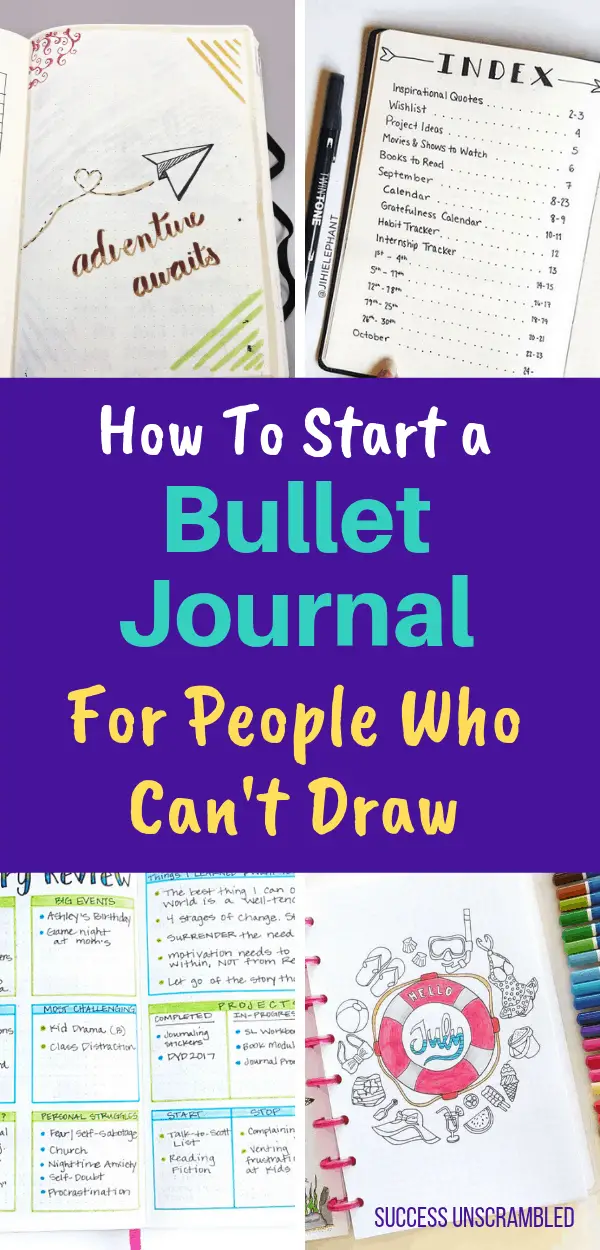 Announcements
Remember to subscribe to the Success Unscrambled Podcast where you will be the first to hear what's happening in the entrepreneurial and digital marketing world.
Your positive review of this podcast is vital to keeping it alive and running for the next 12 – 24 months so please leave a positive review for us on iTunes, Spotify or any of your favourite podcast players.
Do you need help creating a business plan for your blog? Check out this free blog business plan printable with spreadsheets.
Are you hoping to get better at planning the content for your blog? Grab this free blog content planner that gives you oodles of ideas.
Where are you on your blogging journey? Do you need help launching your blog? Download the free blog launch planner here.
If you are a startup or small business and you need to hire a virtual assistant to complete tasks such as social media marketing, blogging, keyword research or Pinterest account management then take a look at these packages.