Podcast: Play in new window | Download (Duration: 58:47 — 81.2MB) | Embed
Subscribe: Google Podcasts | Spotify | Amazon Music | Email | TuneIn | Deezer | RSS | More
Have you created your blog business plan yet? Do you need help creating a blog business plan example?
You may have started a blog just as a hobby so it never occurred to you to write a business plan for a blog or new business.
Maybe you don't have a blog just yet and you want to treat your blog as a business so you want to know how to make a business plan for a blog.
Whatever your situation, the moment you want to start treating your blog like a business you should consider building a business plan for a blog.
You see many bloggers struggle to build a successful blog business because they don't really have a plan for it.
It all reminds me of that famous quote by Greg Reid. "A dream written down with a date becomes a goal.
A goal written down into steps becomes a plan. A plan backed by action makes your dreams come true."
I really believe this to be a reality so, in this post, I want to spend time going through how to write a business plan step by step.
Disclaimer: please note that this post may contain affiliate links which means that if you buy one of my recommended products I get paid a commission for sharing the link at no additional cost to you.  I only recommend products that I have tried myself and have experienced success.
What is a Blog Business Plan?
Well, very similar to a startup business plan, a business plan for bloggers is a document that contains the who, what, when, where and why when it comes to blog planning or blogging goals.
A blog cannot start itself, so there needs to be someone to get it started. That person could be you or you and a best friend or family member which addresses the 'who'.
The 'who' also looks at who is your target audience and clients to a certain extent.
The 'what' goes through what goals the blog is going to accomplish over the period agreed by the people starting it.
Looking at the 'when' you can include a number of dates like start dates as well as dates of each goal achievement.
This may be obvious but 'where' could refer to the location of the audience that you serve as well as your blog's domain name.
Finally, I see the 'why' as the most important element of the contents of the business plan. This is because it is the reason or motivation for wanting to achieve the goals.
I know that this explanation sounds very simplistic but the idea is that you want to tell people about your blog in a succinct way.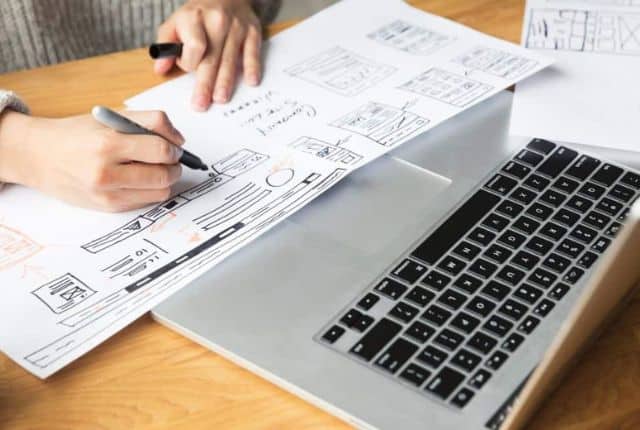 Step 1 – Blog Overview
Right, so how do you start a business plan? Many business plans start off with the executive summary which should be completed last so we will leave it for the end.
The blog overview will cover off 6 different sections. These include the blog summary, mission statement, blog history, market and services, day to day operations and financial goals.
Blog summary
This would be like doing an elevator pitch of what your blog is about and who it will serve. Let's look at two practical examples.
Nadalie Bardo from itsallyouboo.com has her elevator pitch as "I'm here to help you slay your goals, so you can build your dream life with confidence and action."
Natalie Bacon from nataliebacon.com has her elevator pitch as "I help thousands of high achieving women with personal development, money mindset and online business."
Mission Statement
The mission statement is in many cases slightly different because it not only addresses the needs of the client. It also takes into consideration the goals for the owner and other key stakeholders.
Here is an example of a mission statement from LinkedIn; "Connect the world's professionals to make them more productive and successful".
So, you can add a bit on to the end of your blog summary that includes a personal goal or an accomplishment of your 'why'.
Blog History
Your blog history will be expected to give an overview of who you are and why you believe that you are qualified to run this blog.
What are you bringing to the table in terms of personal and professional experience? Any qualifications, awards or certifications if needed.
Also, why now is a good time for you to get started down this road of blogging.
Markets and Services
Who is your target market and what will you be offering them? This section is there to ensure that you have a good understanding of your audience as well as what problems you are going to solve.
Day to Day Operations
Who will be responsible for keeping the lights on and if you will be hiring additional help for specialist areas like legal, accounting and payroll.
Financial Goals
Financial goals address how much money is needed to get this blog off the ground and to keep it running every week, month, quarter and year.
Also, how is it going to generate an income and how much money will it make over the various periods of time.
Step 2 – Blog Description
As the name suggests in this section we will cover more about the blog description.
Looking a little deeper at your potential clients as well as what problem you are trying to solve for them.
The key areas include opportunity, product or service overview, key participants, pricing and company structure.
Opportunity
What are the current market conditions? What geography will be covered by your blog?
For example, you may be a mom blogger and you know that there are several other mom bloggers out there.
This is where you focus on what makes your product or service offering different compared to others. Also, what gaps you are trying to address in your market.
Product or Service Overview
This is the place where you go into a lot of detail about the products and/or services that you plan to offer for your clients.
As bloggers, we have the terrific opportunity of working with an audience as well as brands and ad networks.
We can even offer consulting services so remember to include as much as possible about what you will be offering.
Key participants
In this subsection, you can include details of potential suppliers. For a blog, these can include your domain name provider, web hosting company. Also, your course platform, WordPress theme provider, ad networks, etc.
I know this section will change over time but you will need to start somewhere and it will help you to really see what expenses you can expect when blogging.
Pricing
You really need to spend time understanding what price is best to charge your clients as you are in business to make a profit.
Personally, I find this area a big help especially when it comes to completing your cashflow statement.
If you understand your costs, as well as your financial goals, then coming up with a price should be easy. It stops you from undercharging for your time.
Structure
What is your preferred company structure? Are you going in as a sole trader, partnership or limited company?
Deciding on the structure will have a financial advantage or disadvantage. However, you can start as a sole trader or sole proprietor for now.
You can protect your personal assets in the long run once you are making in excess of 100k a year is by switching to a limited company or LLC.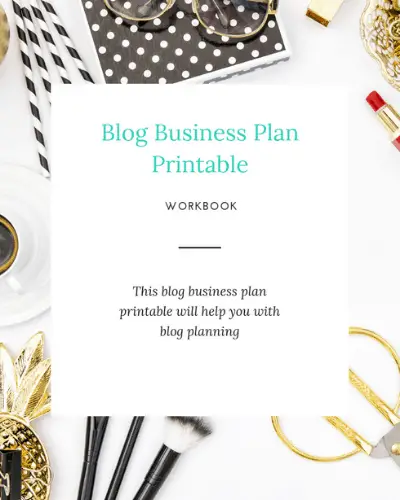 Grab The Blog Business Plan Printable
Step 3 – Analyze Your Market
This is where things get a little bit exciting as you will want to spend time analysing your market.
Be sure to include the size of the market as well as the number of potential customers every month, quarter and year.
The four subsections that you need to include here are the industry type, market segmentation, competition and a SWOT analysis.
Industry type
In terms of industry, blogging is in the service industry unless your blog is related to an e-commerce store, Etsy shop, retail stores, etc.
If you are a mom blog, fashion blog, lifestyle blog, travel or family blog then the key deliverable for your clients is a service.
Check with your government agencies on the current statistics of the service industry in terms of revenues over the last 3 years together with future projections.
Your town or city or country will have a central body with statistics of growth for people in the blogging/consulting/freelancing industry.
Grab those figures, analyse how they affect your business and complete this section of your blog business plan.
Market Segmentation
Market segmentation looks at your clients in greater detail. If you are a mom blogger your clients could be stay-at-home moms or working moms.
You need to look at demographics in your market, geography, quality of products or services, price ranges.
Is the market growing or shrinking? What section of the market are you able to reach easily? What is the potential for growth in the next 3 years?
Competition
As you can imagine, getting a handle on your competition is super important. So, spend some time looking at who else is offering the same products and services and what are you doing differently.
What is your go-to-market strategy to ensure that your potential clients find out about you over the noise of your competition?
Are your competitors solving the problem for your potential clients? What can you do better? Where are the gaps?
SWOT Analysis
I enjoy doing a SWOT analysis probably because I am more of a visual person. It also brings a lot of clarity on your potential business.
Just in case you are totally new to a SWOT analysis it just outlines strengths, weaknesses, opportunities and threats in a matrix format.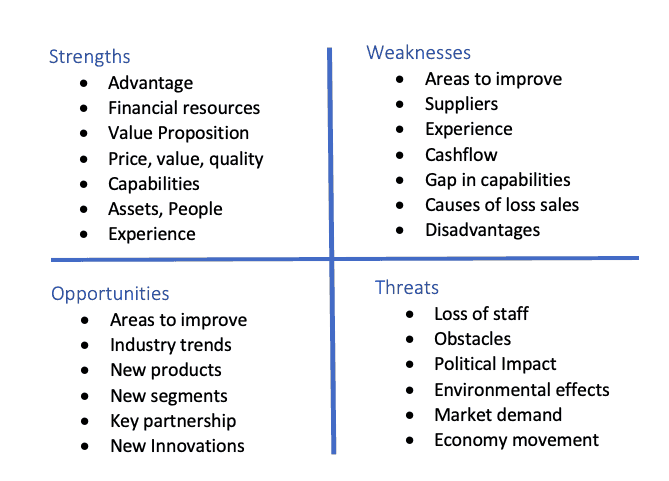 As you can see, here is an example of a SWOT analysis and what you can expect to find in each section of the matrix.
Spend some time creating a SWOT analysis for your blog or business as it really helps you understand your true potential and opportunities for improvement.
Step 4 – Operation Plan
I have seen in so many places bloggers or virtual assistants who are experts in helping any small business establish standard operation procedures (SOPs).
There are people who just enjoy working with their Trello boards or simply creating bases using Airtable.
Whatever your preference in this section you will spend time looking at how you will operate smoothly for success.
You will consider order fulfilment, payment, key customers, facilities, key employees and any technology that will help you work smarter.
Order Fulfilment
If you are running a burger joint you will understand that making and delivering those burgers as fast as possible is essential to your success.
However, as a blogger you will most likely deliver articles, consulting services, blog traffic, audience experience, courses, webinars and freebies.
So, how are you going to deliver all these items to your clients in the best format and in a timely fashion?
What can you implement to give them the most amazing experience of order fulfilment possible?
Payment
If you plan to sell courses as well as one to one services how will you accept payment? Have you considered tax and VAT?
It is vitally important that you adhere to your local and international laws to stay out of trouble.
Also, consider service charges from the platform as well as your bank. You want to take all of this into consideration when pricing your products and services.
Will you issue customer's who paid with a thank you note?
Facilities
Where will you operate? Even if you plan to operate from home initially you want to make provisions for longterm as well as short term plans.
For example, if you plan to do a weekly podcast where will you record it? Do you have a quiet room as well as the necessary equipment?
What about when you plan to outsource some of the work what means will you use to communicate with the rest of the team?
To run your blog weekly what do you need in terms of resources to deliver all the content?
Key Customers
This will only apply if you need to have big logos listed as your key customers on your blog.
If this does not matter for your blog then skip it and move to the next subsection.
Although remember, your key customers could just be people interested in travel if you are a travel blogger.
Key Employees
Having some important employees managing certain aspects of the work is essential for blog growth.
You will notice that in order to grow you will need to outsource marketing, project management, graphic design or article writing.
Ask yourself what it is you dislike doing in the blogging process that you can get someone else to do better than you.
Technology
In this subsection, you will spend time outlining the key technologies needed to run your blog as well as to delivering your products and services.
The goal here is to outline any disaster recovery or backup plans. I know what you are thinking, what if your blog goes down.
Truth be told, this happened to me last weekend but the issue was that my web hosting company experienced an outage.
I notified the company when I realised what was happening and they were already working on it.
What can I do? I simply went to bed and woke up the next day and my blog was back online and I realised that it was down for 8 hours!
Yes, I had a backup of my blog but there was nothing that I could do to bring it back up. So, I just left it in their hands.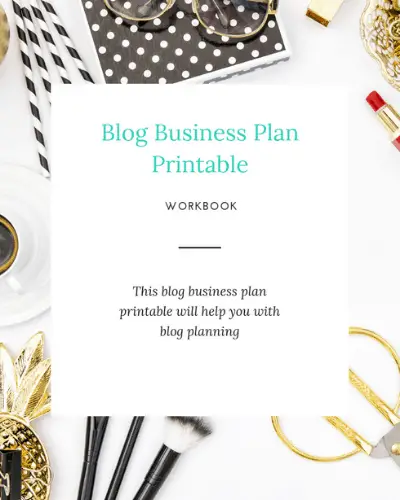 Grab The Blog Business Plan Printable
Step 5 – Marketing and Sales
After all those boring bits and pieces this is probably the most exciting piece of creating a blog business plan.
In this section you will need to look at key messages, marketing activities and a sales strategy.
Key messages
This will be a big reflection of your mission and elevator pitch. How will you attract your customers to you?
What will you say in your brochures, social media images, workbooks, cheatsheets, quotes, etc. that will attract customers to you?
Marketing Activities
Once you know what you are going to say now you need to decide where you are going to say it.
If your customers can be found on Facebook what format are you going to use to get their attention? Will you use Facebook Live, posts, stories, videos?
However, if your customers hang out on Twitter then what methods are you going to use to communicate with them?
I have created a resource with over 50+ ways to market your blog or business using easy and unconventional methods even on a low budget.
Sales Strategy
It may seem like a lot but without including a sales strategy when writing the startup business plan for your blog how will you know your go-to-market strategy?
For example, your sales strategy could be as simple as getting visitors to your website. When there you can get them to sign up to your email list then using email marketing to gain clients.
Another way to achieve this is by hosting a webinar or a summit where you build an email list very quickly and develop a relationship from there.
It is best that you map out a funnel or two showing the customer journey so that you understand what needs to happen to get sales.
Step 6 – Financial Blog Plan
An essential part of your blog business plan is being fully aware of your finances.
I know I mentioned this before but if you plan to run your blog as a business stay away from those people who tell you that you can start your blog for free.
If you don't have any money to start a blog then check out these 25 ways to start a business with no money.
These methods actually help you to start acquiring a budget that you can use to start a blog.
Once you have a budget available then it is time to look at the projected costs of starting your blog. Here is a brief example of blog expenses.
Blog Expenses
Expense

Cost

Provider

Domain Name

$10/year

Web Hosting

$5.95/month

WordPress Theme

$49

Email Marketing

$29/month

Landing Pages

$33/month

Total

$510 in year one

(basics only)
Start-Up Costs
Getting a handle on your startup costs is vitally important to the success of your blog or any startup business.
To help you get a much better overview of what you should really include in your blog business plan I created one using Airtable.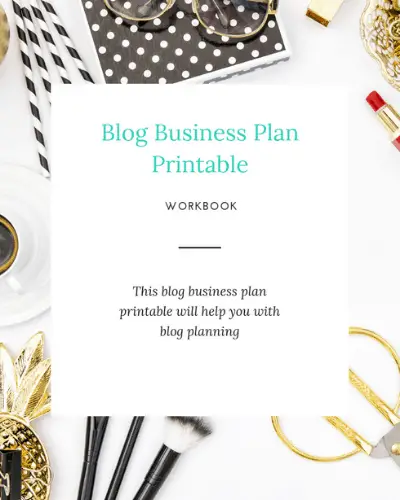 Grab The Blog Business Plan Printable
As you can see there is a list of the items by names as well as columns for one-time fess as well as monthly commitments.
Profit and Loss – Sales
Here is a Profit and Loss statement to include a potential list of items that you would offer as your products and/or services.
I only included a view for 6 months of the year so you can just duplicate it or improve on it for the other 6 months of the year.
Profit and Loss – Blog Expenses Spreadsheet
It is super important to account for your blog expenses. Ensure that you include your them in a profit and loss spreadsheet as you want to be able to see what you need to do to control your costs.
Cashflow Budgeting – Blog Finance Spreadsheet
One of the most important blog business plan documents, on a spreadsheet, is looking at your cash flow analysis. Also, called your blog finance spreadsheet.
Luckily for you I have done one up so that you can see an example of what you should be doing. Take a look below:
This is what it looks like when it comes to Income Projections.
And another view when it comes to your small business expenses. In each case I only did it for 6 months of the year.
Step 7 – Audience Research
It is so important to conduct primary and secondary research of your potential audience.
Primary research involves getting potential customers to complete a survey using Google Forms or Typeform.
If you can find your audience on Facebook then it would be best to conduct market research there inside of Facebook groups.
You will most likely need to get permission from group admins in the first instance to do this kind of research.
However, if your audience is on a different platform like Pinterest, Twitter or Instagram then you need to promote the survey using those avenues.
Secondary research involves using existing market research by notable companies and government bodies to draw your conclusions.
I like using Statista.com as they are really good for having some free research findings available to the public.
You can also just go to Google and type in "food blog statistics" or "mobile phone statistics" or "whatever topic + statistics" to find published research studies.
Step 8 – Build a Tribe
One of the keys to blogging success is to build a tribe of loyal followers. You can do this using Facebook Groups or any platform that allows you to grow a following.
Mighty Networks is one platform that I heard of that is pretty good at helping you to build a following.
Also, you can grow a community of followers using Slack. I personally do not have a preference just yet as I am still looking for the perfect platform.
Growing an email list is essential for keeping in contact with potential customers.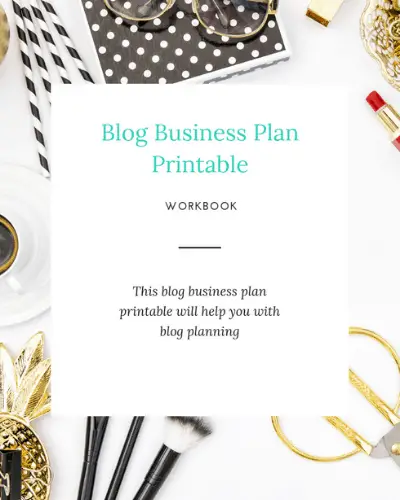 Grab The Blog Business Plan Printable
Step 9 – Blog Executive Summary
Now that you have completed all the essential steps in detail it is time to write a draft version of your blog executive summary.
Here are the key items that you need to include in this section of your successful blog business pdf.
Opportunity: what problem is your blog trying to solve for your client?
Mission: what problem is your blog solving and how will it benefit the industry and key stakeholder?
Solution: how is your blog going to solve the problem in a unique way?
Market: which market and ideal customer (avatar) is your blog going to target?
Competing advantage: how will your blog succeed against competing blogs?
Ownership: who will own the blog?
Expected return on investment: what are the key goals, timelines and accomplishments for customers, revenue, growth and profits?
Congratulations on making it this far through that journey that sometimes seems so difficult for beginners.
Just when you thought that it is hard to create a business plan for a blog or it was going to be an enormous task you now have an easy way to get it done and dusted.
Now where are going to place all this hard work? Do you have a blog business plan template or printable available to use?
Step 10 – Blog Business Plan Template
It is imperative that you take all this information and place it in a blog business plan format that is suitable for your requirements.
I don't know if you need to write a simple business plan so that you can approach possible financiers who will be able to fund this project.
Maybe your other half or business partner has given you the responsibility of creating a blog business model.
The task of creating a blog business plan template pdf has left you absolutely lost and even stressed.
It is possible that you inquired at the bank about a business loan and they requested that you submitted a business plan with the loan application.
Today is your lucky day as I have done all the hard work for you. Firstly, by walking you through each step and even providing you with a well laid out blog planning pdf.
All you need to do is simply enter your name and email address in the form below as shown.
After you confirm your email address you will get access to the blogging plan template or blog business plan pdf.
You will also get links inside the pdf to the profit and loss statement and the cash flow budgeting statement. Enter your name and email address to get started.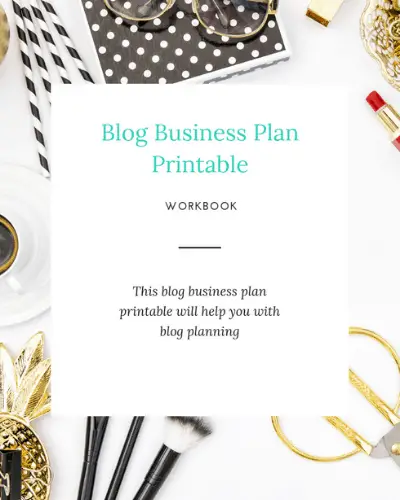 Grab The Blog Business Plan Printable
Conclusion
Creating a blog business plan may seem like over kill if you are blogging as a hobby.
However, at some point during your journey, you will want to generate a steady income from your blog.
The best way to do it right is to create a well structured blogging plan in pdf format that will give you a good sense of direction.
Remember that quote from Greg Reid? "A dream written down with a date becomes a goal.
A goal written down into steps becomes a plan. A plan backed by action makes your dreams come true."
"A dream written down with a date becomes a goal. A goal written down into steps becomes a plan. A plan backed by action makes your dreams come true."

Greg Reid
Would you like to make your dreams come true?
Frequently Asked Questions
1. How do you start a business plan?
One of the key elements of starting a business plan is to gather all the information about your business.

For example, who will run the business, why is the business is being started, who is the target client, what will you sell, how you will run the business and how much income needs to be generated to become profitable. What are your costs?

You can learn in greater detail about the business plan contents and layout by clicking here.
2. How do I set goals for my blog?
This is a great question and the best way to answer it is to first understand what goals you would like to achieve. These goals can be financial, clients, social media engagement, blog traffic or many other things.

Once you know what these goals are it would be best to look at where you are or what you have achieved so far. In other words, look at the available data. What are you currently doing that is giving you success?

Spend more time doing the things that make you successful and break down those things into achievable milestones either daily, weekly or monthly.
3. How to write a business plan layout?
There are several business plan layouts available for free online and the best way to write a great layout is to see what is available and adapt it to suit your needs.

Many startup business plans come with the following headings as standard:
1. Executive summary
2. Business overview
3. Business description
4. Market Analysis
5. Operations
6. Marketing and sales
7. Financial plan

However, more modern versions include sections on building a tribe or community as well as methods of primary research using social media.

To get access to a modern version of a business plan layout, look at one here.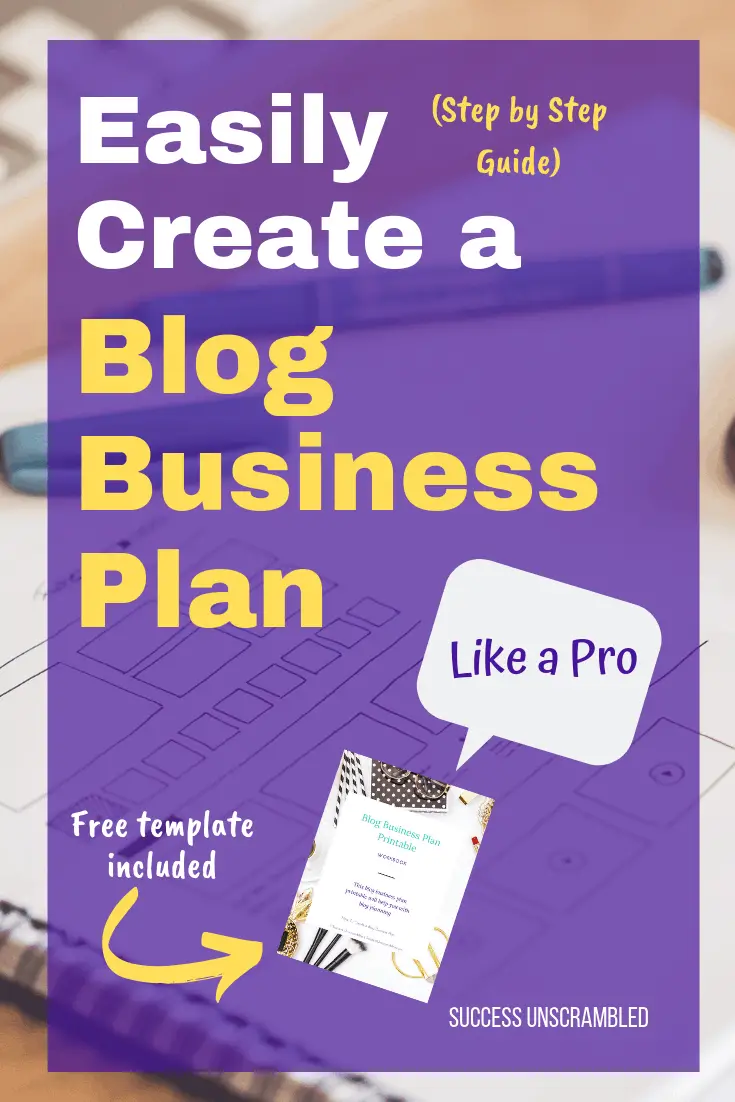 Announcements
Remember to subscribe to the Success Unscrambled Podcast where you will be the first to hear what's happening in the entrepreneurial and digital marketing world.
Your positive review of this podcast is vital to keeping it alive and running for the next 12 – 24 months so please leave a positive review for us on iTunes, Spotify or any of your favourite podcast players.
If you are just at the start of your journey where you are wondering what is possible for you in the future then take a look at these 7 books for bloggers.
Are you hoping to start a blog soon? Grab this step by step guide that outlines 75 points to launch your blog.
Have you already started a blog but struggling to get blog traffic? Grab these ideas to grow your blog traffic.
If you are a startup or small business and you need to hire a virtual assistant to complete tasks such as social media marketing, blogging, keyword research or Pinterest account management then take a look at these packages.