Podcast: Play in new window | Download (Duration: 24:05 — 33.6MB) | Embed
Subscribe: Google Podcasts | Spotify | Amazon Music | Stitcher | Email | TuneIn | Deezer | RSS | More
Are you feeling overwhelmed and in need of a blogging schedule that just does the job?
If you are finding it difficult to blog on a consistent basis then keep reading.
A key secret to experiencing success as a blogger is being consistent at showing up online.
In case you have no idea what I mean it all boils down to visibility.
Depending on your niche it is not sufficient to put content out there only once.
It actually requires consistent prolonged effort to get results that generate an income.
For some, it would mean publishing content every single day while others, like me, can do it once a week.
In this post, you will learn about different ways to organise a blog schedule planner and develop one that fits your needs.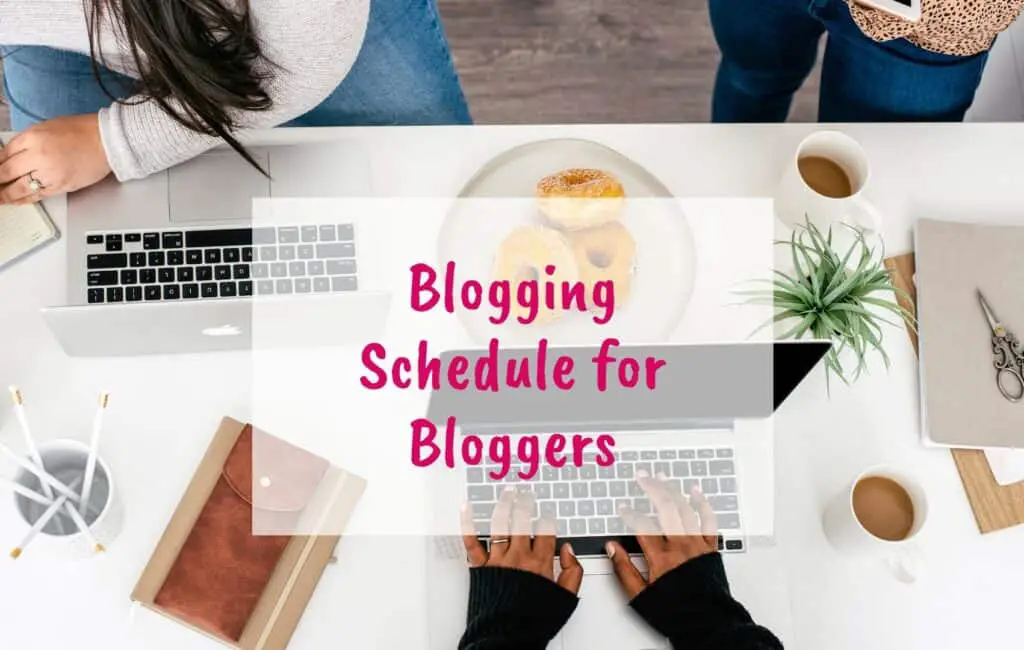 What Makes a Good Blogging Schedule?
In order to develop a good schedule for your blog, it is important to know what should be included.
I like to see it mapped out in three different phases which are:
planning
creating
marketing
The content that you are going to create should be part of an overall plan to achieve a goal or two.
Therefore, it is important to include a planning phase where the content is mapped directly to a revenue goal.
After creating the content it is even more important to promote it to potential customers so that they know you exist.
It is often said bloggers should spend 20% of their time creating the content and 80% promoting it.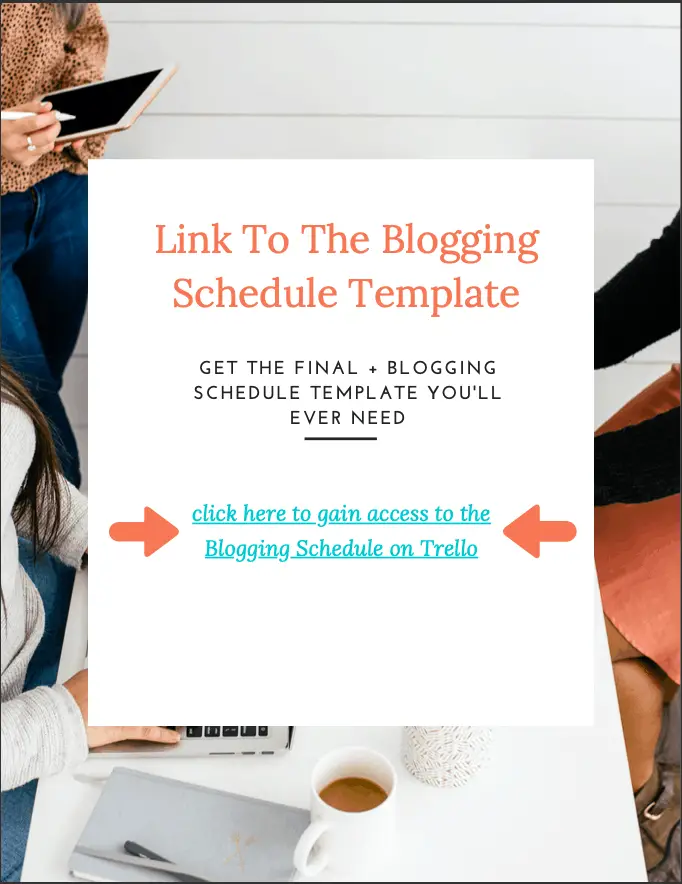 Schedule Your Blog Like a Boss, even if you...
How to Plan a Blogging Schedule
Every blog is different and so is every blogger and small business owner.
Two key differentiators are the niche that is the focus of the blog and the time available for blogging.
The easiest way to plan a blogging schedule is to write down a list of things that needs to happen.
Then write down the time available to accomplish those important tasks.
You may realise after writing your list that you do not have enough time to complete the tasks every week.
If this is your reality you may want to consider outsourcing tasks or finding tools that can help you do those tasks faster.
Another thing to consider is the length of time it takes you to get something done at different times of the day.
When are you the most productive during the day? Can you use that time to complete heavy tasks?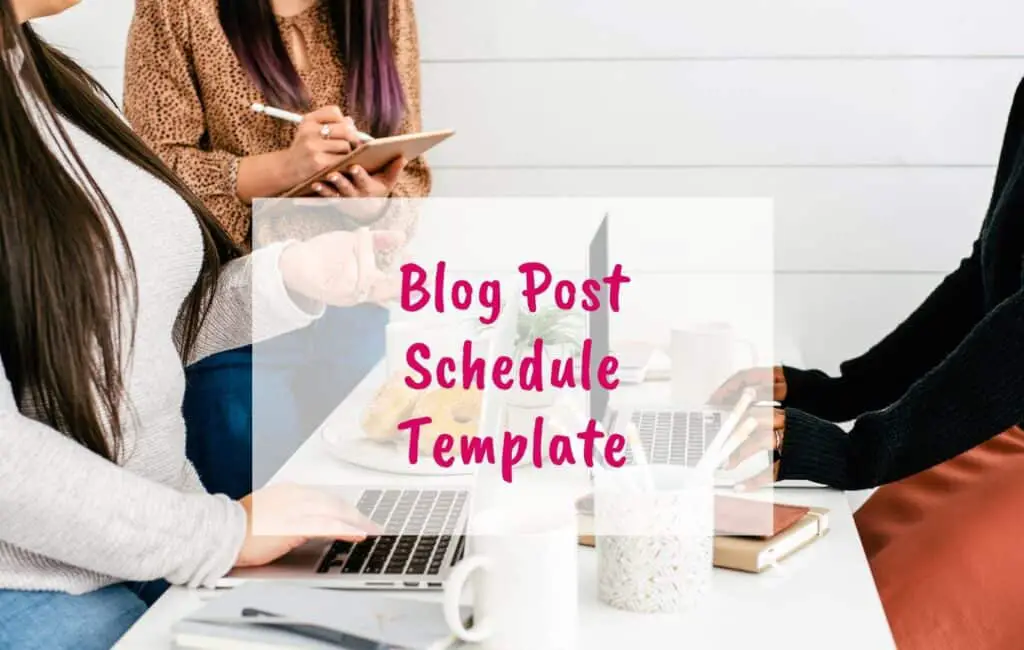 How Do You Manage Time to Run Your Blog
Time management continues to be a big challenge for many people.
If this is a big challenge for you then keep reading as I may have a solution for you.
Each of us has 24 hours in a given day and it is possible to use that time efficiently to accomplish goals.
Have you ever thought of decluttering your schedule and only doing the things that bring results?
Over the years I discovered that I had a lot of fluff on my schedule.
I wanted a lean machine so I removed all the excess things that did not add value to my life like spending hours watching TV.
After reading, The One Thing, I focus on having only three things on my list every single day.
Knowing what is the One Thing that will take my blog forward by leaps and bounds really helped me to prioritise.
I then take those three big tasks and bring them down into smaller steps or bite-sized chunks so that I can get them done.
My Blogging Schedule
This post would not be complete if we did not spend time together looking at an actual blogging schedule in great detail.
Here is an example schedule that you can use to help you plan, create and promote your content.
I have a really good downloadable one that you can use as well so keep reading until the end.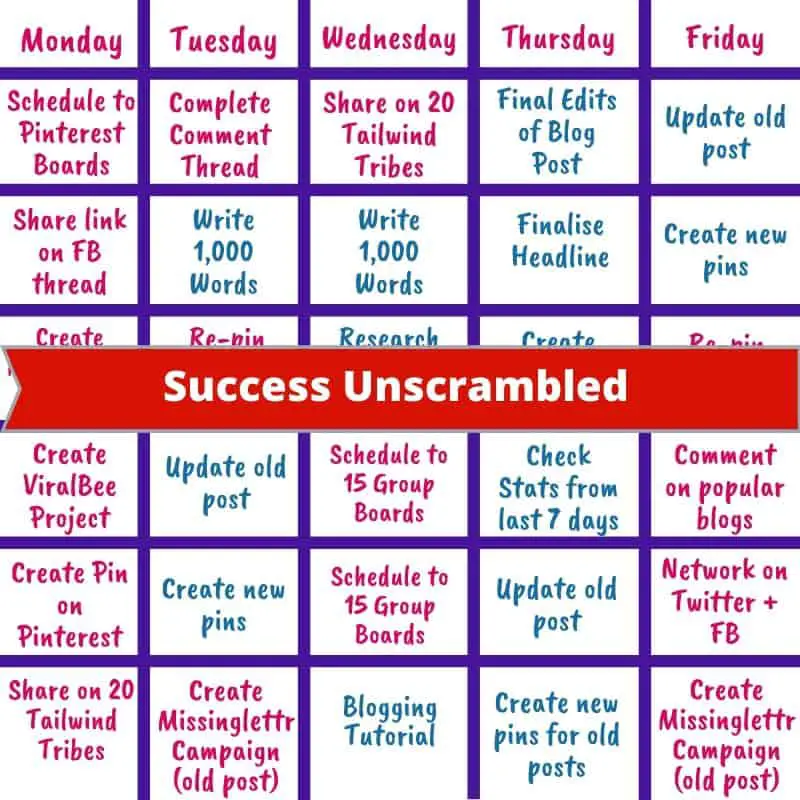 As you can see it is just tasks assigned to different spots in a calendar. I have not attached a timeframe to any of them.
However, I did assign each task to a specific day in the week.
You will notice that there are a total of 30 tasks. The tasks in green are non-marketing tasks.
The pinkish colour represents marketing or promotional related items.
It may take me 1-3 hours to write 2,000 words but for you, it may take 30 minutes.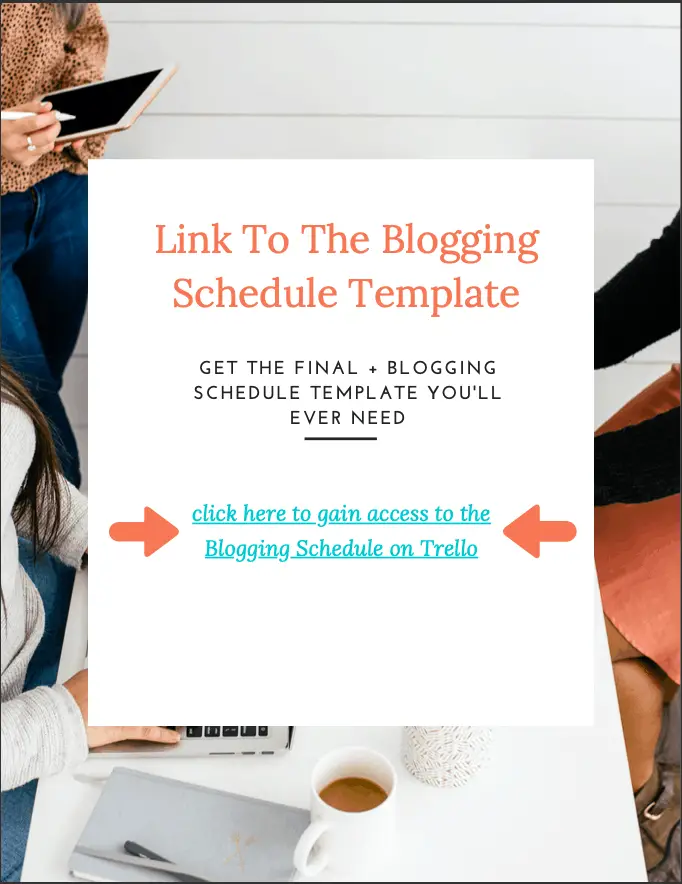 Schedule Your Blog Like a Boss, even if you...
Begin With the End In Mind
Every big and long term goal can seem insurmountable when approached as a huge chunk.
Over the years I have learned that the best way to achieve big, scary goals is by breaking it down into smaller tasks.
Many new bloggers find that producing content every single week or day to be quite daunting.
However, here is a great way to achieve any goal that requires a frequent and consistent effort.
For example, I need to produce a blog post and podcast episode every single week for the rest of my life.🤣
I remember when I first started this blog I was worried about how on earth I was going to show up every week.
Here's the secret way to get it done.
Choose a day when your content will go live
Factor in the time it takes to produce it
Remember to cater for images and marketing
Give yourself an additional day for emergencies
Have the draft ready to schedule 3-4 days in advance
Start writing the draft 6-7 days before the go-live date
Conduct your research 1-2 weeks before the go-live date
So, my post and podcast go live every Monday. I gave myself the deadline to have it scheduled by the Friday.
I have set aside a few hours every Thursday to edit the draft, create the images and record the podcast episode.
My draft must be written (all 2,000 words) by Wednesday or Thursday in order to meet that Friday deadline.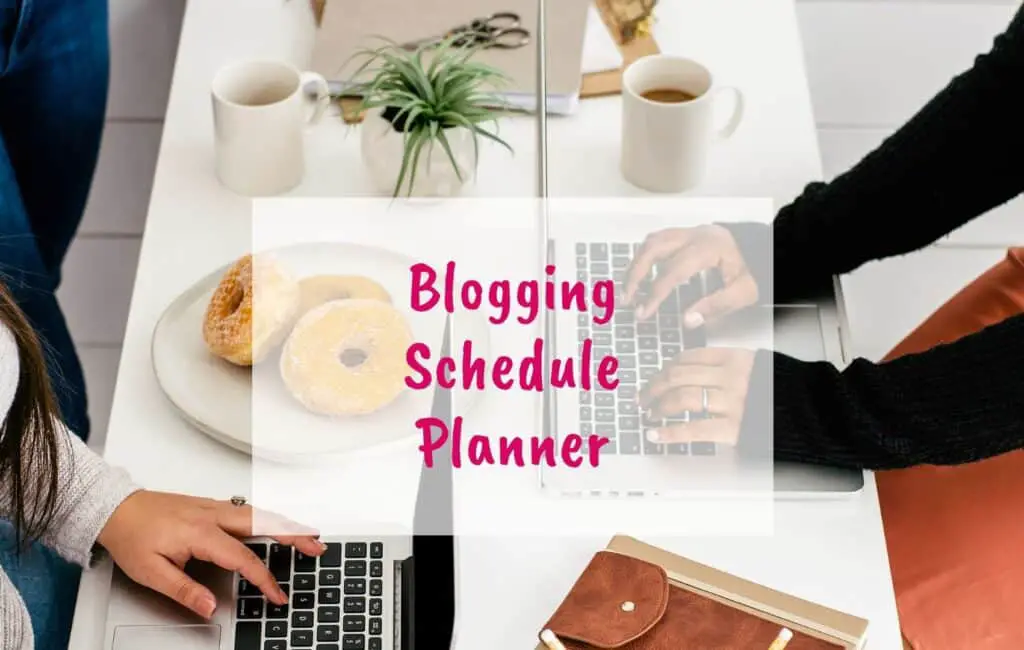 Blogging Goals
The secret to getting ideas for your blog topics for a month or a quarter actually come from the goals for your blog.
Just in case you are not aware of it blogging is a form of content marketing which is used to attract potential buyers to your business.
For example, if you want to sell a product or service then you use the blog as a way to address your potential client's standard questions and queries.
Let's look at a practical example so you can relate.
If you sell chocolates then your blog will address questions like gift wrapping, the perfect gift for mothers, girlfriends, delivery options and even cater to special dietary clients.
Each topic is taken and articles are written to exhaust that topic as much as possible before moving on to the next one.
So, for one quarter you can write about all the different kinds of diets where your chocolates can be consumed safely.
Chocolates for Keto
Gluten-free chocolates
Lactose-free chocolates
Sugar-free chocolates
Low-fat chocolates
High protein chocolates
Celiac chocolates
Vegan chocolates
Wheat-free chocolates
You get the picture from the above list of how your content can potentially address a focused audience every week.
Batching Your Work
A clever way to get more done in less time is to complete your tasks in batches.
For example, I needed to write a minimum of 10,000 words for the month of January because of the theme I chose.
Instead of writing 2,000 words every week I made a shortlist of five topics then I spent three days writing 10,000+ words.
It now meant that I had free time to complete another big task the following week like creating all the images for those 5 posts.
During the 3rd week, I can spend time updating 5 old blog posts and creating campaigns inside of Missinglettr to have them queued and ready to go.
Week 4 can be spent creating new pins for 4-8 old blog posts and scheduling them out using Tailwind.
Blogging then becomes a whole lot easier because I have the whole operation running like a well-oiled machine.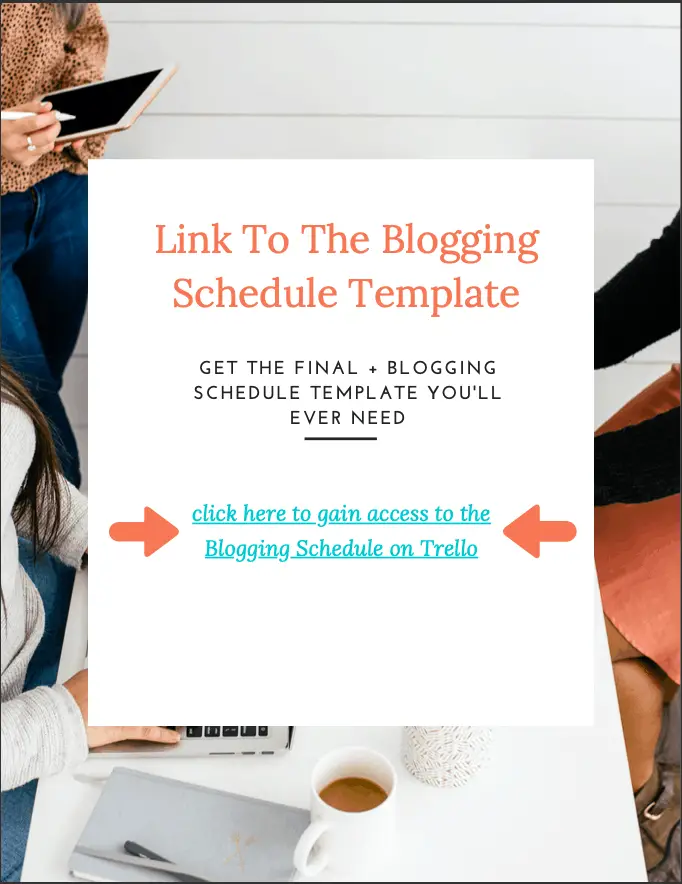 Schedule Your Blog Like a Boss, even if you...
Best Time, Location and Device
If you are like me you will notice that there are certain blog tasks that can only be done when all the conditions are right.
By conditions, I mean that you have found the perfect atmosphere to be creative.
For example, I can never write a blog post if I am not sitting in my favourite spot, the room is cold or I am hungry.😂
It may sound strange but that is just the way I work when writing content.
However, for many marketing activities, I can be using a different device at another location and it is fine.
I guess what I am trying to say is that it would make sense for you to schedule a task if the conditions are right for you to complete the task.
Recently, I was listening to one of my mentors who does Youtube videos and she said that she cannot produce video content until she knows that she can finish the task.
For me, when creating a blog post, I don't need to complete it straight away. I just need to write as much as I can once I am within the deadline.
Done for You Blogging Schedule
To help you get the most out of your blogging efforts I have decided to create and share my blogging schedule via Trello.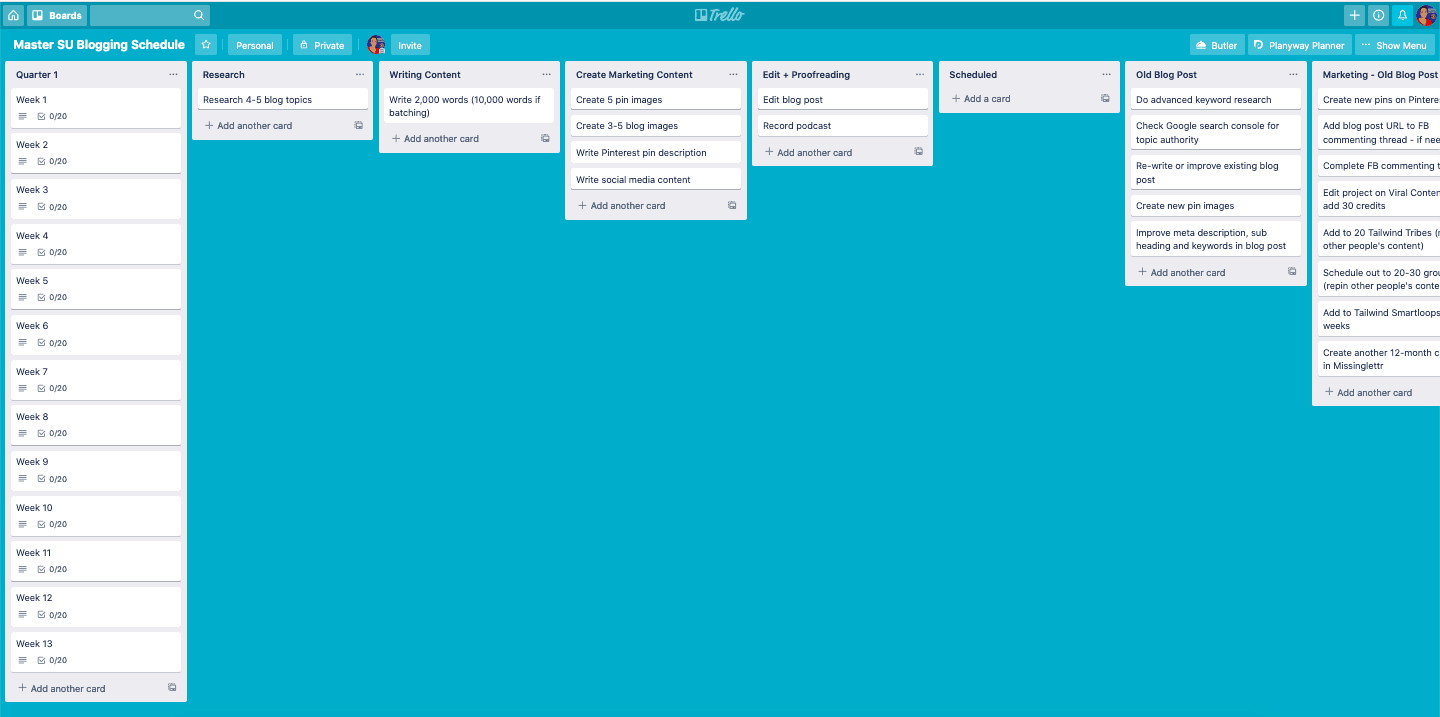 It covers an entire quarter and includes 13 different cards. Each card has tasks associated with creating a new blog post.
You will also get tasks that can be used to edit existing blog posts to include keyword research and creating new pins.
There is also a checklist that will help you to complete marketing tasks once your blog post goes live.
The lists that come as standard include:
Quarter 1 (13 weeks)
Research
Writing content
Create marketing content
Edit + proofreading
Scheduled
Old blog post
Marketing – old blog post
Marketing – new blog post
Done
All you need to do at the start of each quarter is to copy a new board from the template.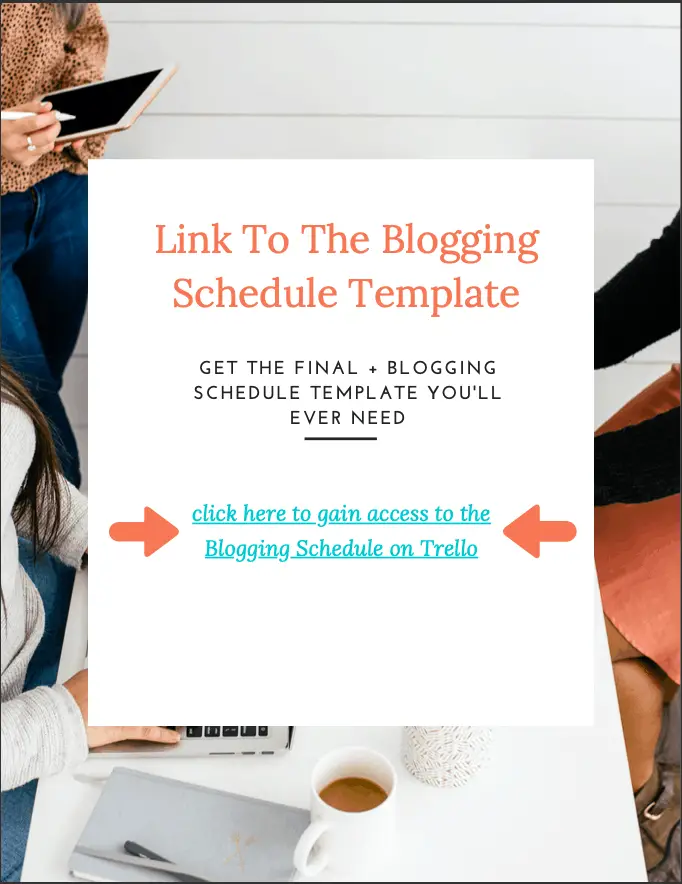 Schedule Your Blog Like a Boss, even if you...
Blogging Schedule Tasks
To help you get a head start on all the activities for any given week each list contains the tasks associated with it.
For example, the list labelled 'create marketing content' contains a list of 4 tasks as follows:
Create 5 pin images
Make 3-5 blog images
Write Pinterest description
Formulate social media content
Here is a screenshot of what it looks like on the Trello board.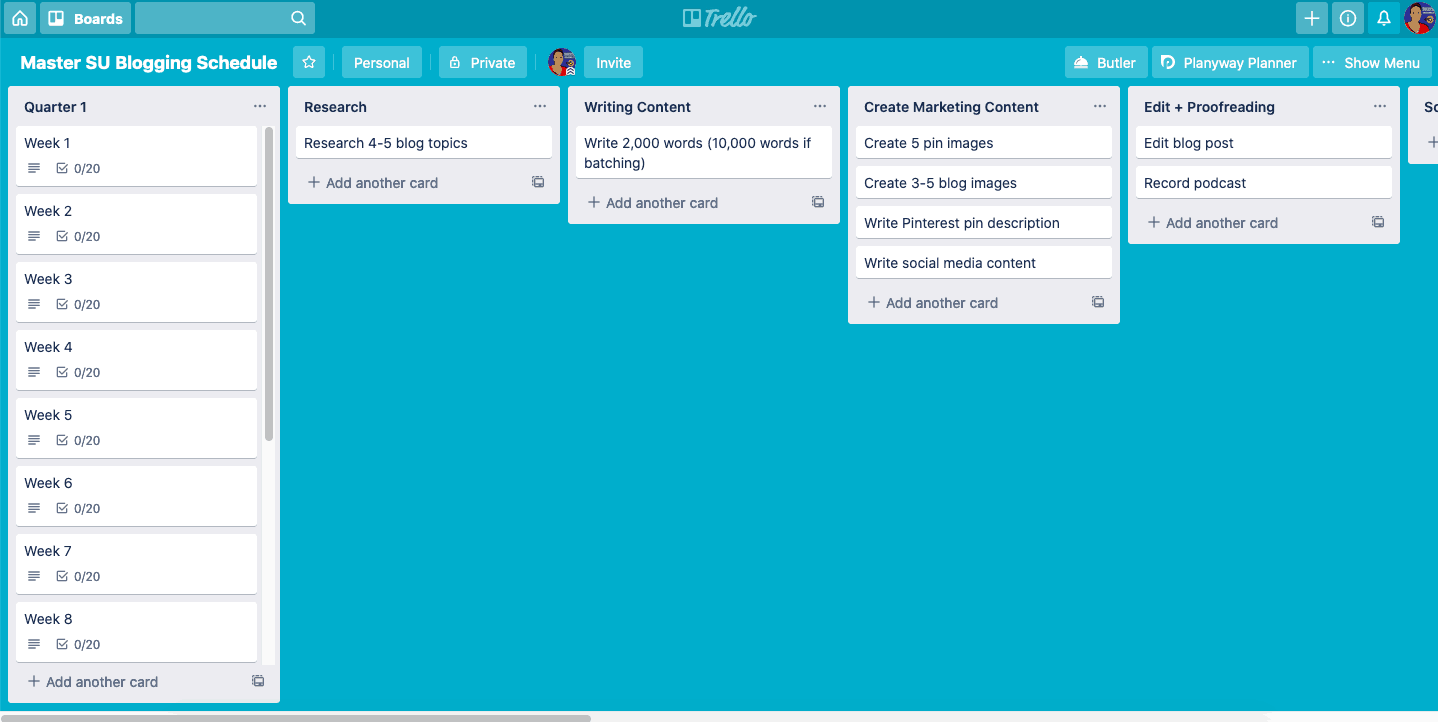 Feel free to add more tasks to your list as well as detailed steps or a procedure to get it right every time.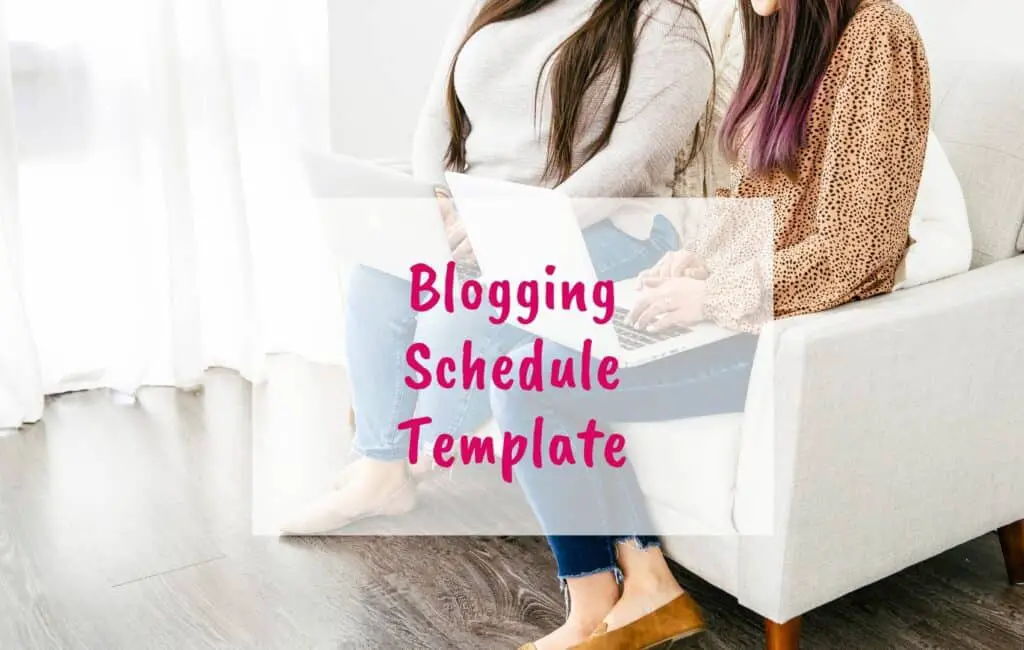 Blogging Schedule Calendar
The final step of your blogging schedule will include adding these tasks to your weekly calendar.
As you can imagine we are all very different so what would work for me will not necessarily be the same for you.
For this process, I opted for the Planyway Planner as the power-up for this Trello board.
You can decide to just use the standard calendar if that is your preferred option.
The challenge that you will face is that the regular calendar power-up does not give you the option to drag and drop tasks into your week.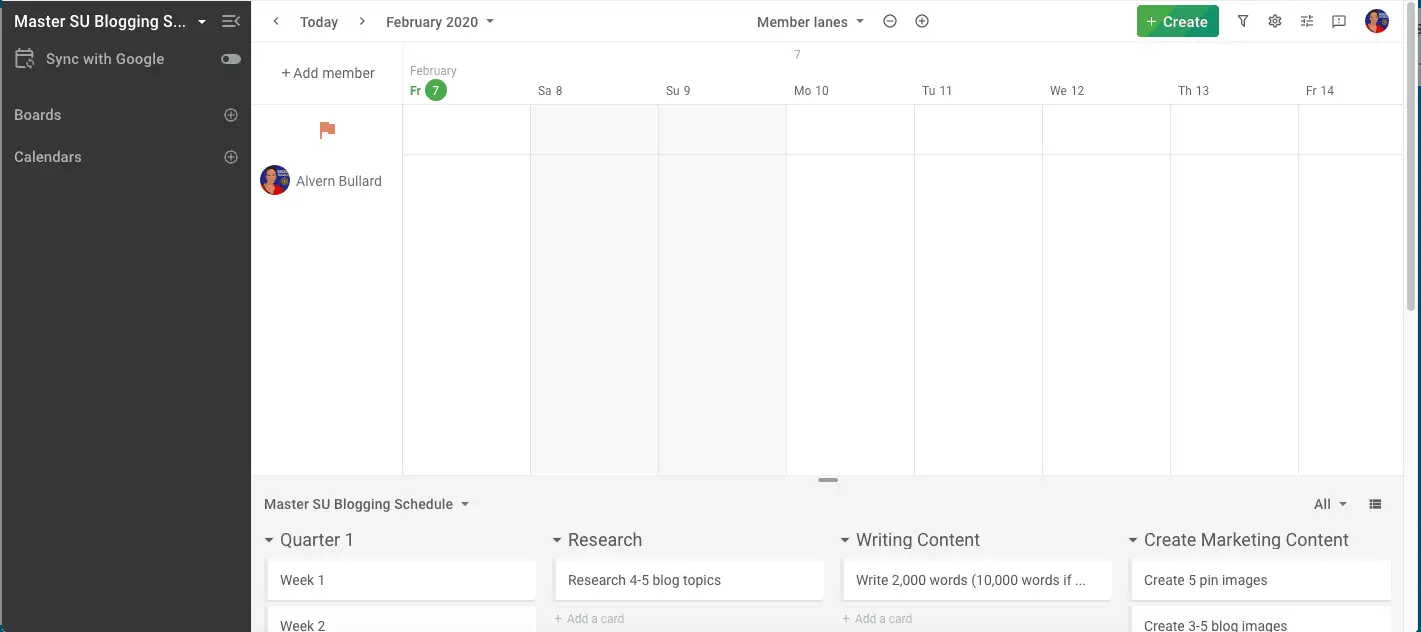 A video and 5-day email tutorial or course are included once you sign up to access the blogging schedule.
This is a great way to help you to blog consistently for 12-36 months. The great news is that you can tweak it to suit your blogging needs.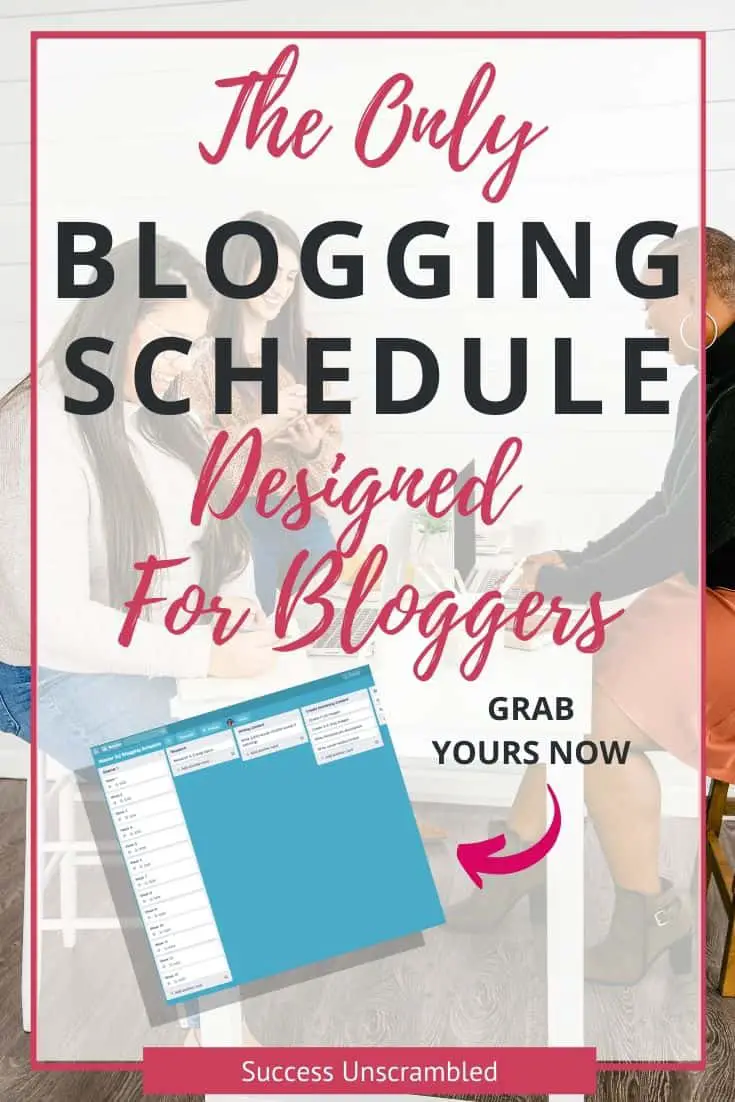 Summary
Creating content on a consistent basis and still finding time to promote that content every day can lead to overwhelm.
The secret to attaining such massive goals is to break it down into smaller manageable tasks.
If you have a VA then using a tool like Trello will help you to assign tasks to team members.
Even if you don't have a team a blog post schedule template gives you a great opportunity to develop standard operating procedures to scale your business.
To access the blogging schedule template and make it your own enter your name and email address below and you will receive the link.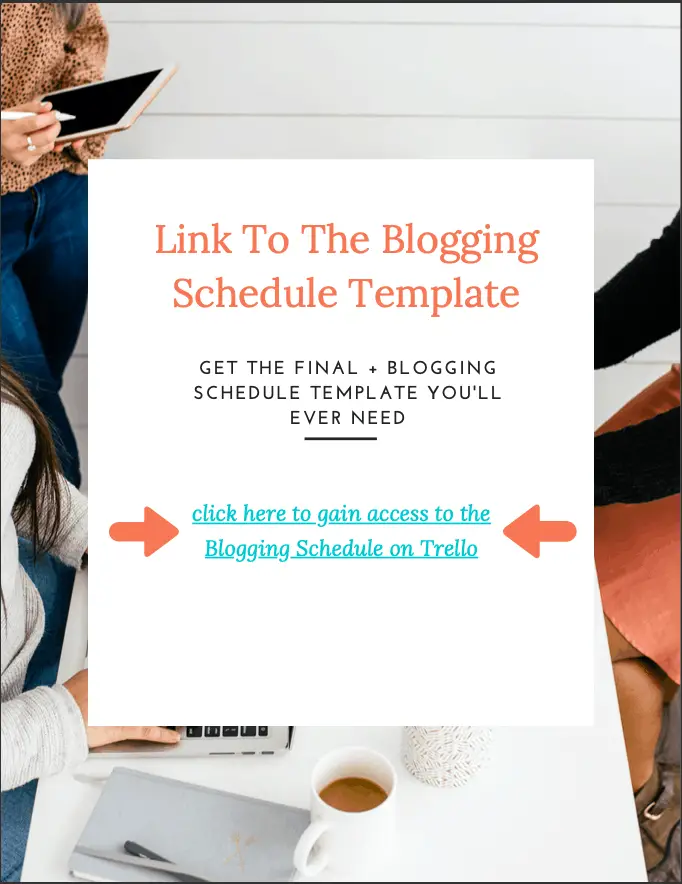 Schedule Your Blog Like a Boss, even if you...
You will also get access to a free 5-day course on how to get the most out of your blogging schedule.
Announcements
Remember to subscribe to the Success Unscrambled Podcast where you will be the first to hear what's happening in the entrepreneurial and digital marketing world.
Your positive review of this podcast is vital to keeping it alive and running for the next 12 – 24 months so please leave a positive review for us on iTunes, Spotify or any of your favourite podcast players.
If you need a tool to help you plan the themes for each quarter or month for your blog then grab this blog planner.
Are you in need of free resources to help you to get the most out of your blogging efforts? Check out this huge list of 100+ blogging resources that you can use.
Want to take advantage of some free website traffic hacks? Grab these clever ways to get your blog noticed.
The goal of Success Unscrambled is to help female entrepreneurs become more visible using organic marketing strategies.
So that they can scale their business quickly and gain the time-freedom they need with their loved ones.