Every year thousands of bloggers invest in a blog planner of some description to help them plan their goals for the following 12 months.
Many spend an agonising amount of time trying to find the perfect blog planner template that would incorporate all the elements to suit their lifestyle.
Others believe that they know just what they want because the plan is to fit their lives around the blogging planner as opposed to the other way around.
According to a recent survey, the average blogger (23%) spends 2-3 hours writing a single blog post.
In fact, over 60% of bloggers spend between 1 and 6 hours crafting the perfect blog post to get the best results from their readers.
Another interesting fact is that over 62.5% of bloggers who publish blog posts daily reported strong results.
You are probably wondering how on earth are you going to find the time to publish a blog post every day.
The truth is that it all comes down to planning.  Of course, having the right blog planner template will also help you to achieve that goal of daily publishing more efficiently.
Disclosure: Please note that this post may contain affiliate links which means that if you buy one of my recommended products I get paid a commission for sharing the link.  I only recommend products that I have tried myself and have experienced success.
What Is A Blog Planner
Well, as the name suggests a blog planner is a resource that will help you plan and execute your blogging tasks as efficiently as possible.
As you can imagine we all work differently based on how fast we write articles as well as the resources that we have available.
Is it possible to have a blog post planner template that appeals to the masses?  Or at least one that can be customised to suit the needs of a wide variety of people?
At first, we need to ask if there is a standard operating procedure (SOP) for everyone in blog land?
In other words, is there an established efficient route where bloggers can go from idea to keyword research to writing, editing and publishing?
The truth is that there really isn't a standard tool or resource that is available in the industry that can be classed as certified.
The nature of blogging tends to be quite ad-hoc in its approach, especially for newbie bloggers.
What are the SOPs that are an absolute requirement for blogging success?
Blog Posting Schedule Planner
While it is impossible to generalise across all the niches in blog land.  It is safe to assume at the very basic level this is what the typical blogging process looks like.

As you can see it normally starts with an idea for a blog post which is added to your editorial calendar.
That idea then is researched and keyworded.  It is important to then map out the flow of the topic with a view to adding value to the lives of your readers.
Let's back up a bit before we continue.  What is the purpose of any blog post?  If you are a seasoned blogger you may already know that there are several objectives.
Here are the blogging objectives that I believe exist listed in no particular order:
To convey a message
Building authority for the blog
Generating interest or a following
Adding value to the life of your reader
Growing blog traffic
Creating long term income
Giving a career to the blogger
I might have missed a few but it would be interesting to know what you believe are the objectives of a blog post.
Blog Schedule Template
At the end of the day, a blog planner is, in fact, a schedule of all the blog posts.  This schedule does not only include dates but includes the following:
blog titles
primary keywords
secondary keywords
a summary of research information
links to external references
internal links to content
images for the blog post
marketing images
From my experience, it is impossible to include all of this detail in a physical blog schedule planner.  This is because you cannot attach images or include links on a physical page.
This means that the ultimate blog planner template would ideally need to have an online version.  This makes it easier to include images and links.
It would be great if this planner for bloggers can be accessed anytime, anywhere from any device.  As an added bonus it can be customised to suit a wide variety of bloggers.
If you are a lifestyle blogger and need a list of over 200+ lifestyle blog post ideas, grab yours here to add to your blog planner.
Editorial Calendar
Any ultimate blog planner template should at least give you the ability to have an editorial calendar allowing you to plan weeks of content quickly.
This editorial calendar should also include the ability to have the items listed above at a minimum.
If I were to break done the key elements that make up an editorial calendar then this list will include:
posting dates
draft deadlines
a list of topics
a facility to attach images
space to include internal links
the ability to include external links
Having your blog planning organised in such a way will enable you to write at least 1,000 words a day without breaking a sweat.  Here's why.
You will be able to see all the blog topics at a glance and by reading or researching a related topic you will get ideas or content for other topics which you link to easily.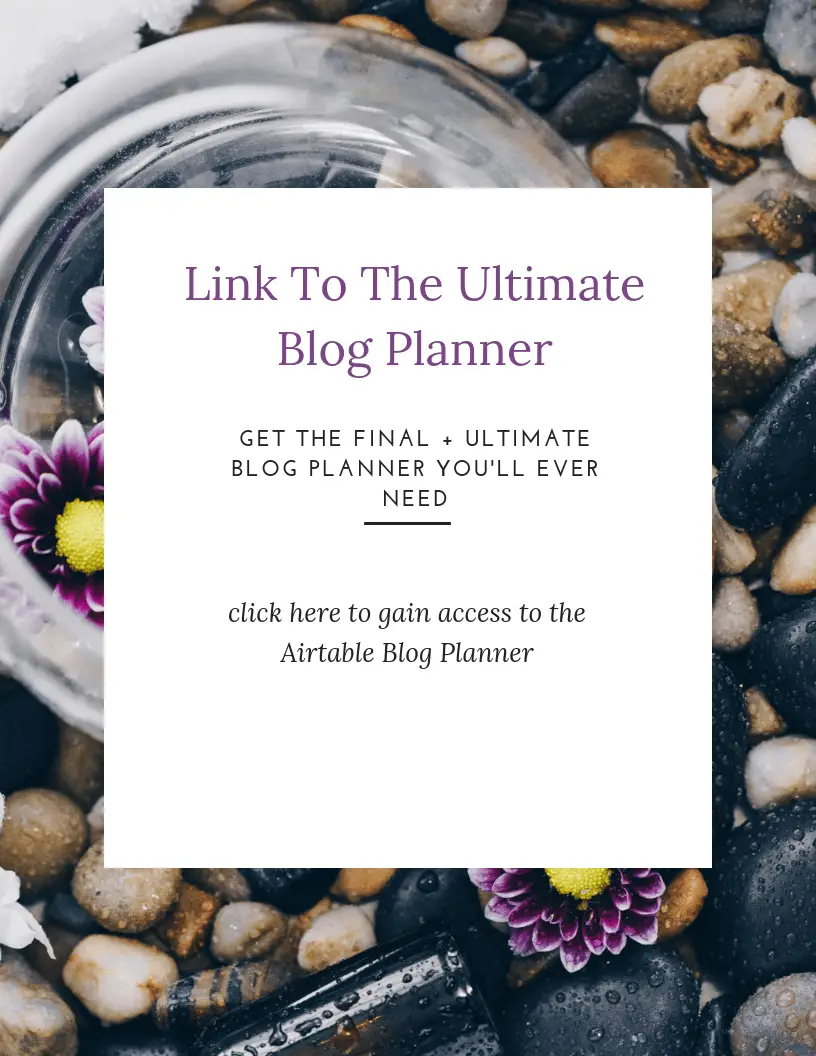 Plan Your Blog Like a Boss, even if you...
Marketing Content Planner
Every blogger knows that it is not enough to just create content with the hope that someone will find it.
As a blogger, you also need to market your content on the platforms where your audience can be found.
So it would be great if your content calendar can somehow be linked to your marketing planner without too much cost.
Here is a brief view of what you can use to connect your editorial content calendar with your marketing content calendar.
Scalable Blog Planner
As a blogger, you plan to grow and scale your business into a full-time gig.  It would, therefore, make sense to have a resource that will scale with you.
By scaling I mean that you should have the ability to bring on team member without breaking the bank.
The only difference between a small-time blogger and one that makes over $100,000 a year is access to resources or a wider team.
These team members can be in the following categories:
Writer
Editor
SEO Specialist
Marketer
Researcher
Accountant
Project Manager
It is so essential for you as a blogger to maintain a long-term view of how you want to scale your blog into a full-time business earning six-figures a year.
Here is an example of having a team that connects to your editorial calendar and marketing content calendar.
Blog Post Planner Calendar View
You are probably wondering by now if it is at all possible to have a resource like this offer different views for different people.
In fact, you can have different views for one person depending on the objective.  For example, if you want to see your content calendar for a whole month that is possible.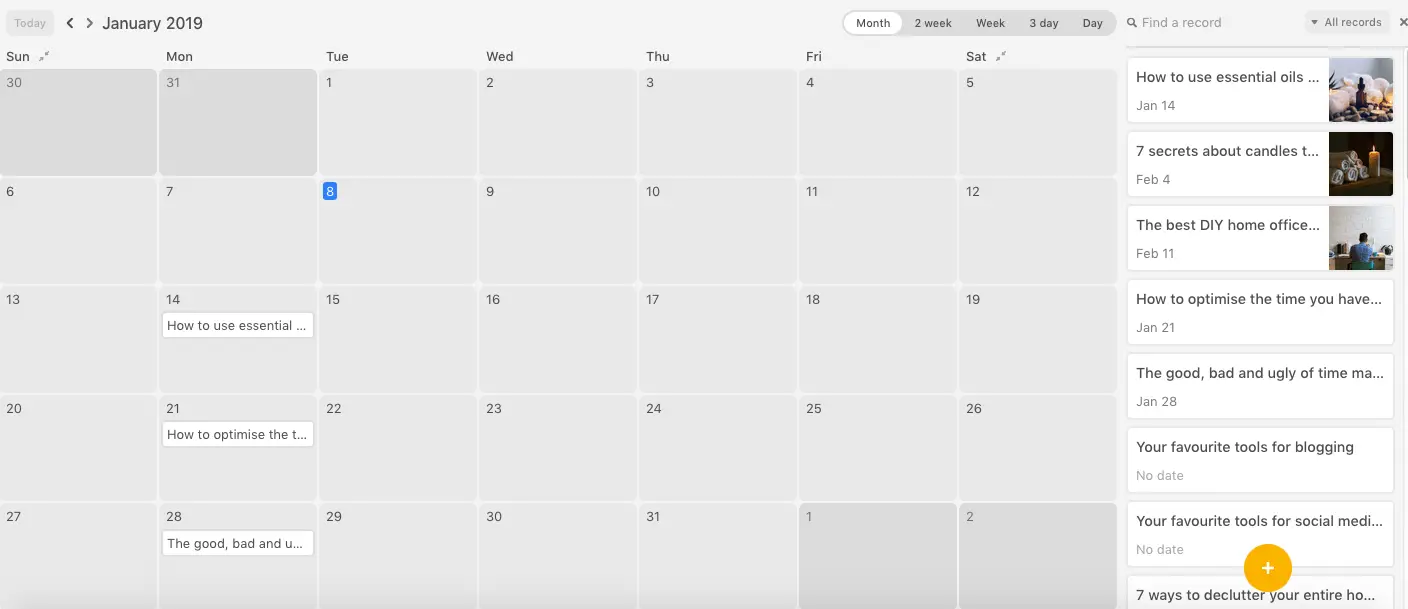 If however, you would like to see the progress of all the blog articles in a project management view, like Kanban, this is also possible.
The beauty of this blog schedule planner is that you can manipulate it to behave in a way that gives you the most efficiency for blog planning.
Here is an example of the editorial calendar from a different perspective just by creating a specific view.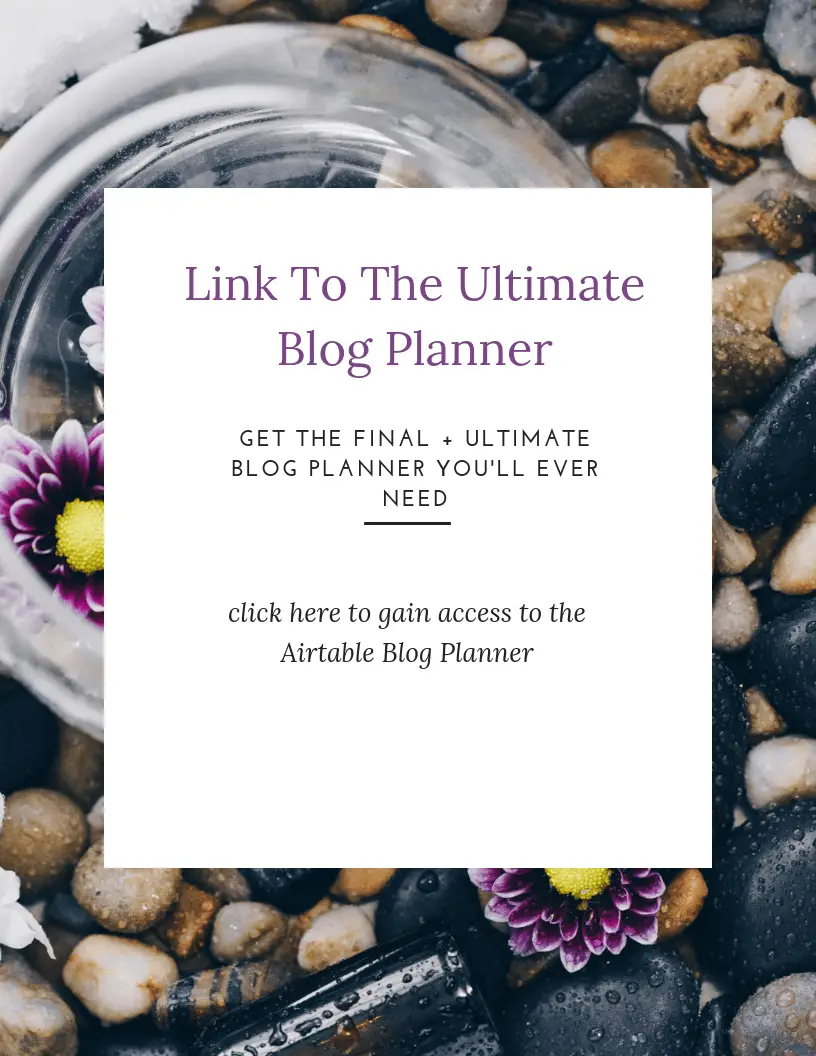 Plan Your Blog Like a Boss, even if you...
Team Collaboration Blogging Calendar
Airtable allows you to easily collaborate with other members on the team by simply at mentioning them with a note.
It has the ability to integrate with over 1,000 applications so that you can continue to use your favourite tools which is convenient.
It is even available on mobile devices which is great.  This means that you can access it while at home or in the office.  You can also access it on the go from your smartphone.
What is cool about the mobile version is that Airtable has its very own mobile app so that it is 100% native on your smartphone. Which is great for any blog planner spreadsheet.
Ultimate Blog Planner
The best way to understand the flexibility and comprehensiveness of this free blog planner is to see it in action.
I recorded a video to show you all the features and extensive benefits of never having to worry about purchasing another blogging calendar again.
In this video, I will start by showing you the editorial calendar and giving you live examples of how this can work for you as a blog planner.
Conclusion
A blog planner is essential to help you to grow and scale your blog from a one-person set up to a team of 10 people and beyond.
Finding the right blog planner that allows you to flexibly adjust it to suit your needs is the difference between being small and becoming a big player in your niche.
Airtable gives you everything that you need so that you can have an editorial calendar, a content marketing calendar, project management and even integrating with essential tools.
It is never too late to set up a comprehensive plan that will allow you to achieve your goals by the end of the year.
To help you save time I can give you access to the blog planner template shown in the views and videos.
All you need to do is click on the link below to get instant access to the Airtable template.  Then make a copy of it and adjust it to suit your needs.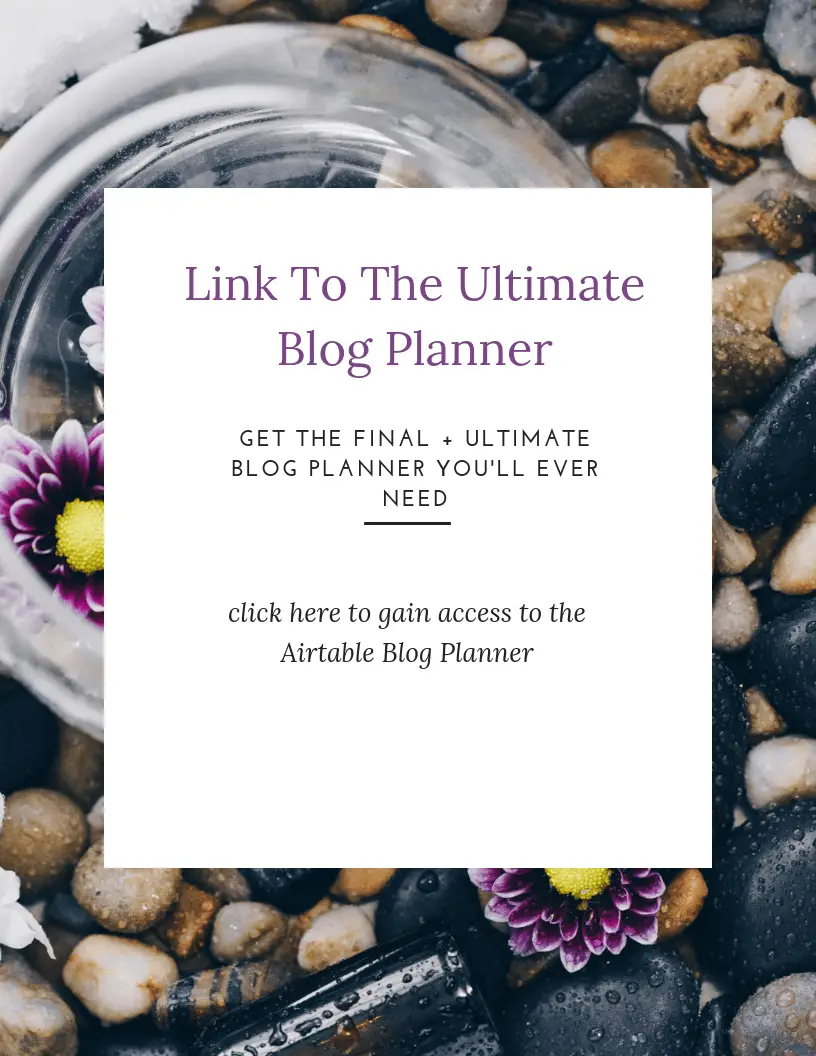 Plan Your Blog Like a Boss, even if you...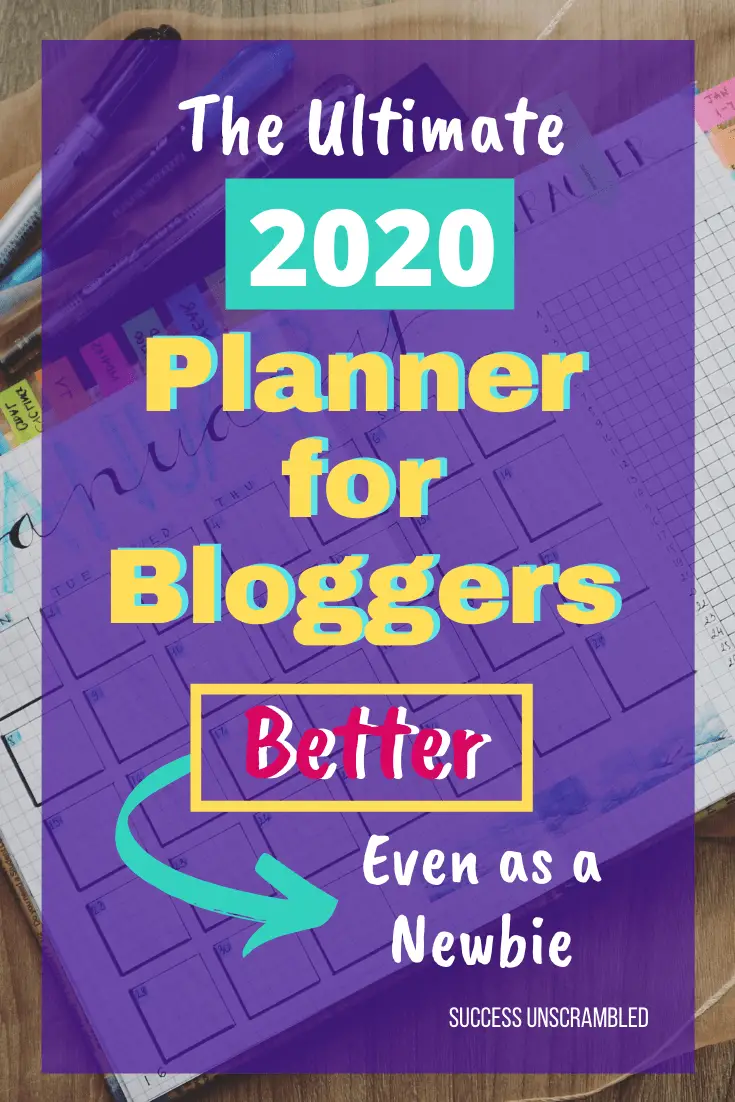 Announcements
Remember to subscribe to the Success Unscrambled Podcast where you will be the first to hear what's happening in the entrepreneurial and digital marketing world.
Your positive review of this podcast is vital to keeping it alive and running for the next 12 – 24 months so please leave a positive review for us on iTunes, Spotify or any of your favourite podcast players.
If you are a Lifestyle Blogger, check out the list of 200+ lifestyle blog post ideas as well as the over 1,700 food blog topics for Food Bloggers
Want to take advantage of some free traffic to your blog from Pinterest? Check out my Pinterest tips here.  Grab these 20 tools used by successful blogs.
If you are a startup or small business and you need to hire a virtual assistant to complete tasks such as social media marketing, blogging, keyword research or Pinterest account management then take a look at these packages.