Podcast: Play in new window | Download (Duration: 29:41 — 41.3MB) | Embed
Subscribe: Google Podcasts | Spotify | Amazon Music | Email | TuneIn | Deezer | RSS | More
Anyone for a Wordpress Yoast SEO tutorial?  Do you want to write SEO friendly blog posts?
If you have been baffled about SEO or Yoast for a while then this post is just for you.  We will look at the only WordPress Yoast SEO tutorial you'll ever need.
Learning how to add SEO to WordPress sounds a lot more complicated than it really should be.
Obviously, the search engines continue to update their algorithms regularly, as a result, Yoast will need to update their plugin but for the next few years, this post should cover all your needs to get you started.
I will go over some WordPress SEO tips so that you can leave here feeling relieved that you are doing everything right.
Before I jump into the tutorial I will break down two main things for you.  The first is SEO, what on earth is it?  The next is what or who is Yoast (if that is even a real name).
Search Engine Optimisation (SEO)
SEO is the three letter acronym for search engine optimisation.  It is a term used by professionals in the industry to describe the process of tweaking content to rank well in the search engine results pages.
The optimisation process involves a whole list of technical factors but it is broken down into two main compartments. Namely; on-page and off-page factors.
Some on-page factors include things like:
Keywords
Title
H1 and H2 headings
internal links throughout the site
Keyword density
Site structure
Many, many more
Some off-page factors include:
Links back to your site
Social media promotion
Social bookmarking
Public relations
For the purposes of this WordPress SEO tutorial, we will only look at the on-page SEO factors.
Focusing especially on those that are included as standard in the free Yoast plugin otherwise known as the Yoast SEO plugin.
Who is Yoast?
WordPress is an open-source platform used as a content management system and there are thousands of creators all over the world who create clever add-ons for this CMS.
Yoast was founded back in 2010 by Joost de Valk and it has grown since then to this awesome plugin. 
The company is located in the Netherlands and they support their users from there.
I started blogging about 10 years ago (I'm not old) and I do remember having to choose between two SEO plugins and one of them was Yoast.
Sometimes, I would use Yoast and other times use the All-in-one SEO plugin. Both are WordPress SEO plugins.
Basically, the folks at Yoast created a cool plugin that allows you to optimise blog posts for SEO very easily.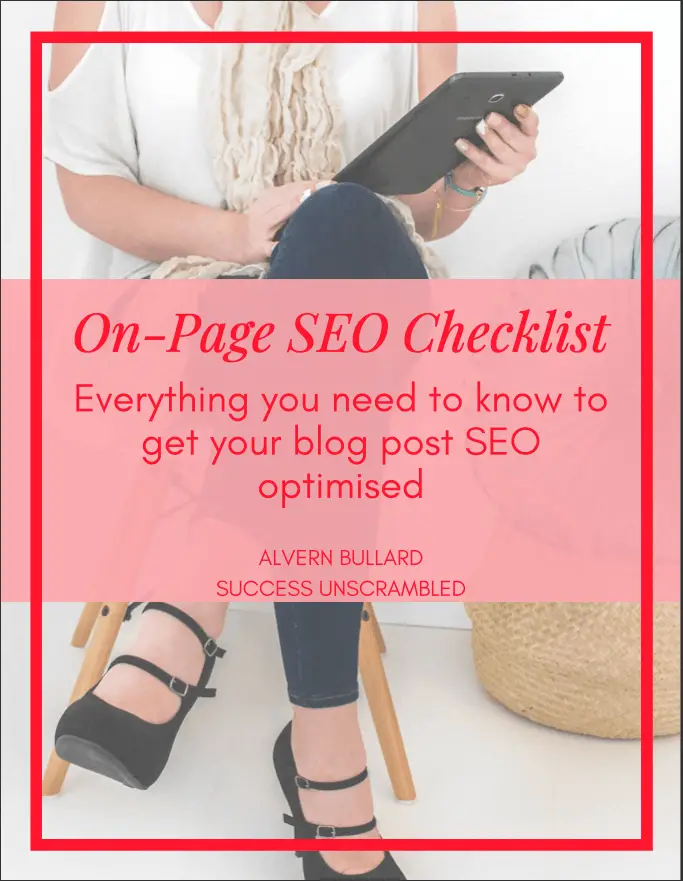 Optimise Your Blog Like a Boss...
WordPress Yoast SEO Tutorial – Install + Activate
I am making a few assumptions with this tutorial.  These are:
a domain name is already purchased
hosting purchased
Already installed WordPress
If you have not completed the above three points then grab my 10-Day Start a Blog Challenge. 
Complete all the steps then you will be ready to come back here and get started with this tutorial.
One of the best ways to get into this tutorial is to install and activate the plugin.  So head on over to plugins, add new plugin and search for Yoast. 
You should see something similar to the screenshot below.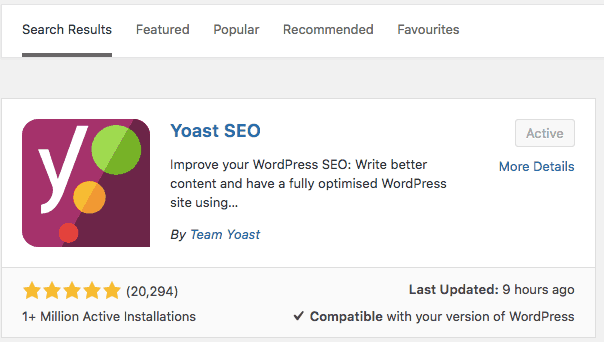 I already have it installed so mine is showing as activated.  Install yours and activate it.  We can then move on to the configuration.
Configuration
The ability to actually configure the plugin this much has blossomed over the years which is a good thing.
This is because it will have a better analytical relationship with your site compared to everything being generic.
Once activated head over to plugins, find Yoast from the list and click on settings. 
You will see a screen that looks similar to this (mine is already configured) so you just click Configuration wizard.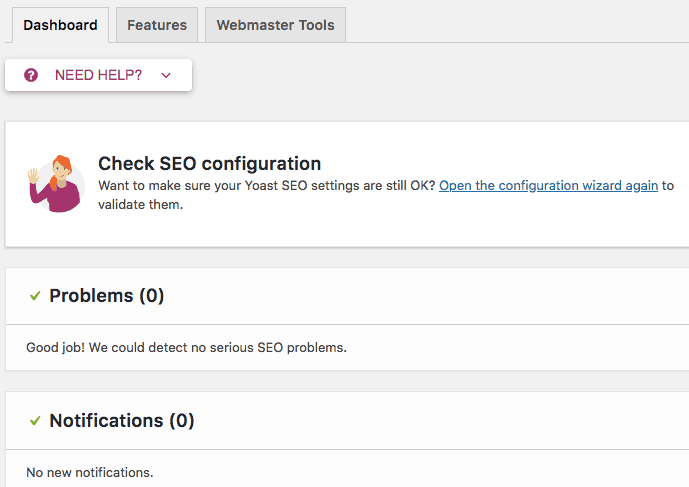 1 – configuration wizard
2 – your site should ideally be live and ready to go at this point.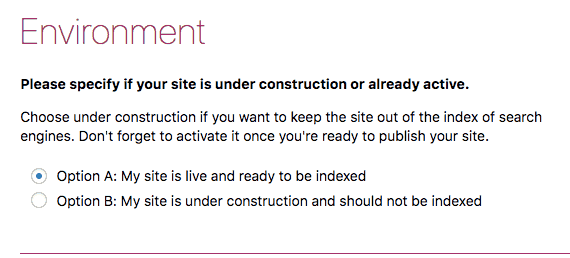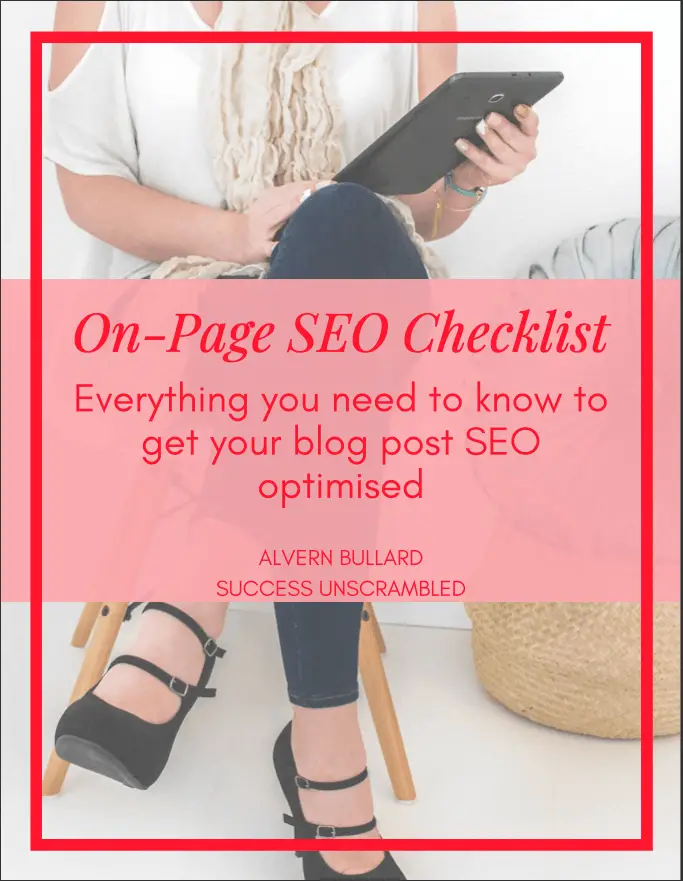 Optimise Your Blog Like a Boss...
3 – site type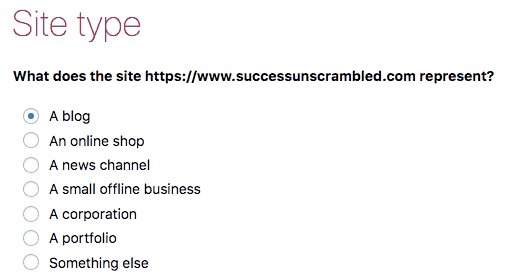 4 – Company or Person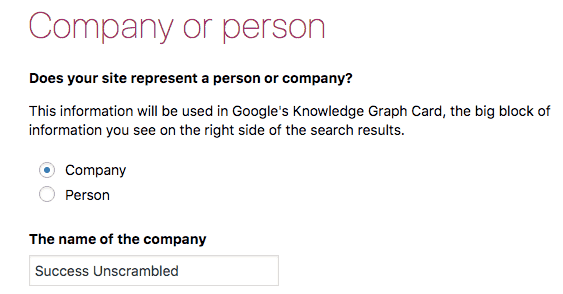 Social profiles, Search engine visibility and multiple authors (Y/N) are up next.  You can complete these steps ensuring that you make posts and pages visible in the search engine visibility step.
The next step is vitally important but you need to authenticate with Google Search Console.  If you have not signed up for this yet then do so now.
I will cover how to Set up your Google Search Console in a separate tutorial if needed but I will not cover it here as it will make this post too long.
Confirm your website name and title settings on the next page (I tend to use the separator). No need to sign up for the newsletter it is not mandatory but you can if you want to do so.
You are more or less done.  Let's move on to the next part of this WordPress Yoast SEO tutorial which is getting all green lights on your posts.
WordPress Yoast SEO Tutorial – Post Optimisation
If you haven't used this tool before the best way to approach it is to write your blog post from start to finish following my daily blog checklist I wrote last week.
Complete the post then you can then take a look at the SEO analysis in the plugin view just below the post you completed.
The goal here is to try and get green lights for all the various components like:
Unique focus keyword
Word count
Keyword Density
Keyword in title
H2 sub-heading with keyword
Keyword in URL
Outbound links
Internal links
Images with the keyword in the alt text box
SEO title width
Meta description length with keyword
It actually sounds a lot more complicated than it is in reality.  Let's take a look at each one individually.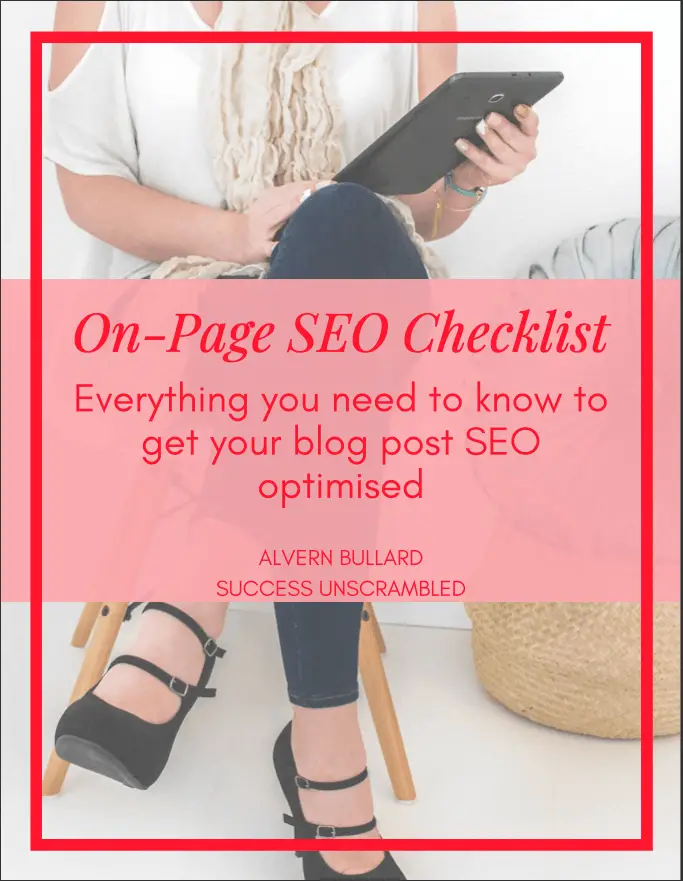 Optimise Your Blog Like a Boss...
Post Optimisation Breakdown for the Newbie
Here is a little breakdown about why you should add meta tags in WordPress focusing in on-page SEO.
Unique focus keyword
Every post and page on your site should focus on a topic that has a keyword that is unique to that page or post.
A keyword or keyphrase
This is the term that you would like that page or post to rank for in the search engine results page. For example 'Yoast SEO' is a keyword and 'Wordpress tutorial' is another keyword.
Word count
As the name suggests is the number of words on that page or post.
Keyword density
Is the total number of times your keyword appears per 100 words.  The industry standard is a minimum of 0.5%. 
For example, if this blog post is 1,000 words then the total number of times my focus keyword should appear is 5 times.
Keyword in the title
Keyword in title means to include your keyword in the title of the blog post.
H2 subheading with keyword
Your keyword will get more juice if it is included in at least one of the subheadings.
Keyword in URL
It is also very important to include the keyword in the URL of the page or post, the shorter the better.
Outbound link
It is common courtesy to link to an external source other than your own site.  Linking to a page of authority makes your site appear important. Check this outbound link philosophy.
Internal link
This helps users navigate throughout your site but most importantly it helps search engine spiders understand the hierarchy of your site.  Internal linking is a big topic and you can geek out about it here.
Images with the keyword in Alt text
This keyword fella seems to be popping up everywhere.  Every image you upload to your site will need a description of the image in the alt tag.  See screenshot below:
SEO title width
This is important because depending on the device used to access your site, the title will break to fit the screen width.  So it is best practice to keep it short.
Meta description length with keyword
This section gives you a preview of what your WordPress meta description looks like.  This is what people see in the search engine results page before they click through to your site.
WordPress Yoast SEO Tutorial – Analysis
As you complete your blog post you will notice that the analysis section of the Yoast SEO plugin will populate with suggestions guiding you to your perfect post.
Let's take a look at one that is incomplete.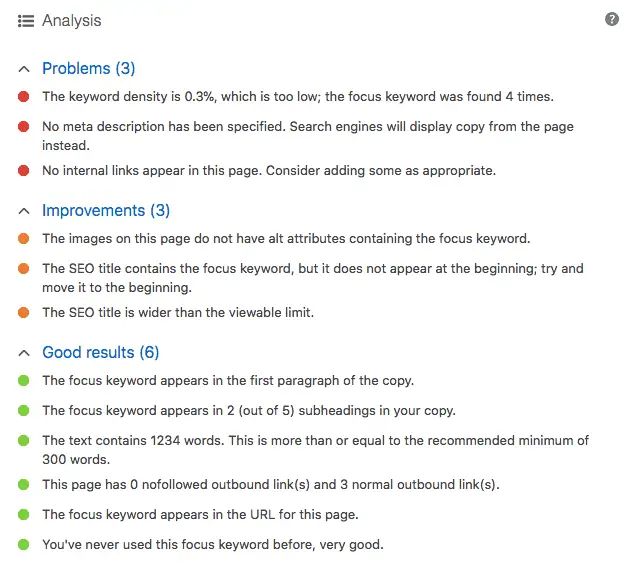 I have to laugh because it looks like a traffic light with red, amber and green elements. 
This is a great example of what not to do when you are completing your blog post as well as a blog SEO checklist.
Remember the idea here is to have a great post that has a great chance of ranking well in the search engines.  It is not about creating the perfect post.
It is more about having all the technical SEO elements right so that your post ranks well out of the gate. 
We all want to get page one rankings and this is key to achieving that ranking by adding Google meta tags in WordPress.
WordPress Yoast SEO Tutorial – Readability
Very few people in the blogging sphere talk about readability.  A WordPress Yoast SEO tutorial will not be complete until we look at readability.
What is it? Essentially, it helps you the writer to deliver your content in such a way that it is easy for your reader to consume that content.
It helps you simplify complex statements and encourages you to create shorter paragraphs as well as shorter sentences.  I believe that it is an awesome tool.
Here is one I prepared earlier after one million revisions, well almost.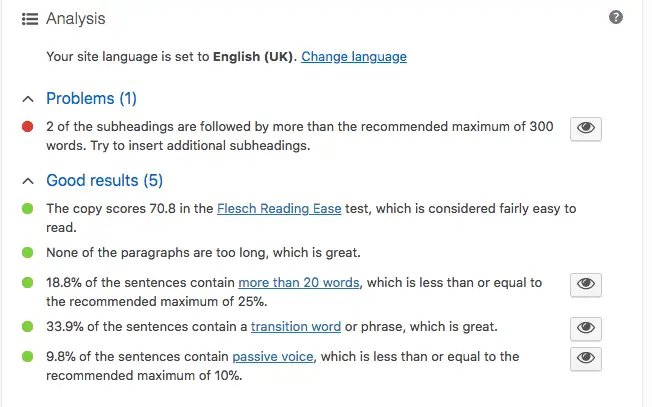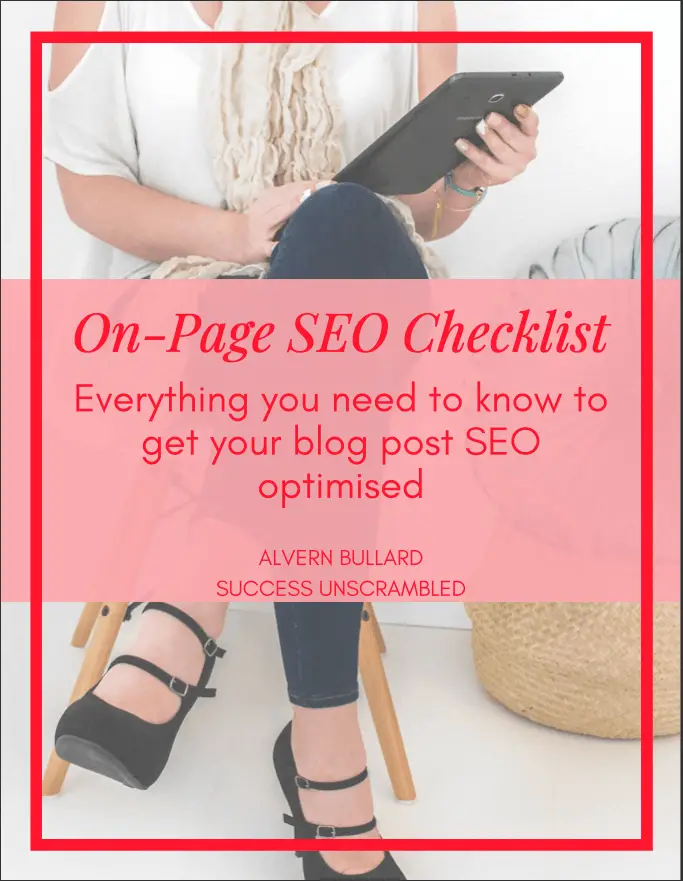 Optimise Your Blog Like a Boss...
It means that when your reader arrives at your blog post they will find it easy to read so they will stay there longer making your post relevant.  It also reduces your bounce rate.
Before vs After of WordPress Yoast SEO Tutorial
Here is a before and after view of how your Yoast SEO analysis is supposed to look like so that you know you are on the right track.
As you can see my SEO title, slug, meta description and keyword are all empty.  All I need to do is to complete it.  The title is taken automatically from the title of your blog post.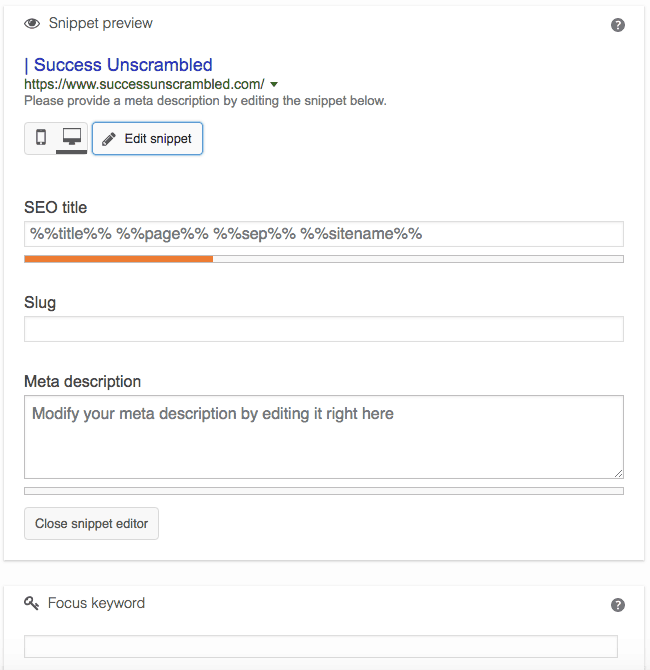 Here is my version showing with all the green lights.  Except Yoast does not like the length of my title but it is okay.
Recap
Yoast SEO plugin is easy to install and activate.  It is a great tool to help you understand and win at 11 on-page SEO factors.
Woohoo! So you don't need to learn the jargon or keep up-to-date. I really hope you enjoyed these WordPress SEO tips.
Configuring the plugin is also a breeze just follow each step on screen.  There is a requirement to set up your Google Search console for this to be effective.
All the required factors are available for you to tweak until you get all green lights.  Use each keyword once to get the best results.
The Wordpress Yoast SEO tutorial includes readability to give your visitors the best reading experience.
Announcements
You can subscribe to our podcasts to get notified when more success stories become available.  
In case you missed it check out the 10-Day Start your Blog on a Budget Challenge. 
It covers blogging for beginners, showing you how to become a blogger, offering blog niche ideas with 20+ HD videos and over the shoulder tutorials.
Are you already a blogger? Then check out this free printable daily blog checklist.
If you need help setting up your profile on Pinterest or you need someone to manage your Pinterest account on a monthly basis you can hire a Pinterest VA here.