Podcast: Play in new window | Download (Duration: 33:43 — 46.8MB) | Embed
Subscribe: Google Podcasts | Spotify | Amazon Music | Stitcher | Email | TuneIn | Deezer | RSS | More
Hello you! Do you need a daily blog checklist?  If you are like me and you write on a regular basis it will seem that you make the same or similar errors regularly.
Ouch! I forgot to… Oh no! I left out the… Shoot! I can't believe that I messed up! Life can be so busy and these simple errors have become the norm. 
If only you can find a way to remember everything you need to do before you hit the publish button.
I made quite a few errors in my post last week and even after I created my pin images and pinned them!  I was annoyed with myself so I had to let go and do what I could to salvage the errors.
This week I decided that in order to reduce the risks and blunders I will create a daily blog checklist that I can use to quadruple check (say that 5 times fast) before I click schedule.
I then decided to make it into a blog post as well.  I thought that you can also benefit from this little gift so that we can help each other.
1. Objective
The first point on my daily blog checklist is the objective.  What is the aim of the post and what is your reader hoping to get out of it? 
For me, the hardest part of all my blog posts is the first paragraph which contains the objective.
I always have a very good outline of what I am going to write about.  I'll start very slowly like a very tired and old car engine.
If your post is useless or does not offer any benefit to your audience then it really does not make sense to write it does it? I know this does not apply to you.
I know you are super brilliant at writing so all of your posts are beneficial and contain loads of value for your audience so you will always have a great benefit for your readers so don't you worry.
Just remember that outlining the benefit to the reader in the first paragraph gives them the appetite to read more even if they are eating their fave dessert. Yum!
2. Grammar
As part of your daily blog checklist, it is so important to ensure that your post has been proofread by someone else.   You can also use a handy third-party tool like Grammarly to assist you with readability.
Nothing turns me off more when I am reading than a grammatically poor article.  My preference is not to criticise anyone so I read the article correcting as I go.
I always trip up, get confused and get lost so much that I give up reading it.
A friend of mine who is an award-winning writer suggested some great tools to assist writers with creating great content. One such tool is called Hemmingway Editor and it does not come free but he said that it is very good.
Check out the screenshot below of my first paragraph placed in Hemingway Editor. The results are a little scary but at least I got a grade 4 (lol!).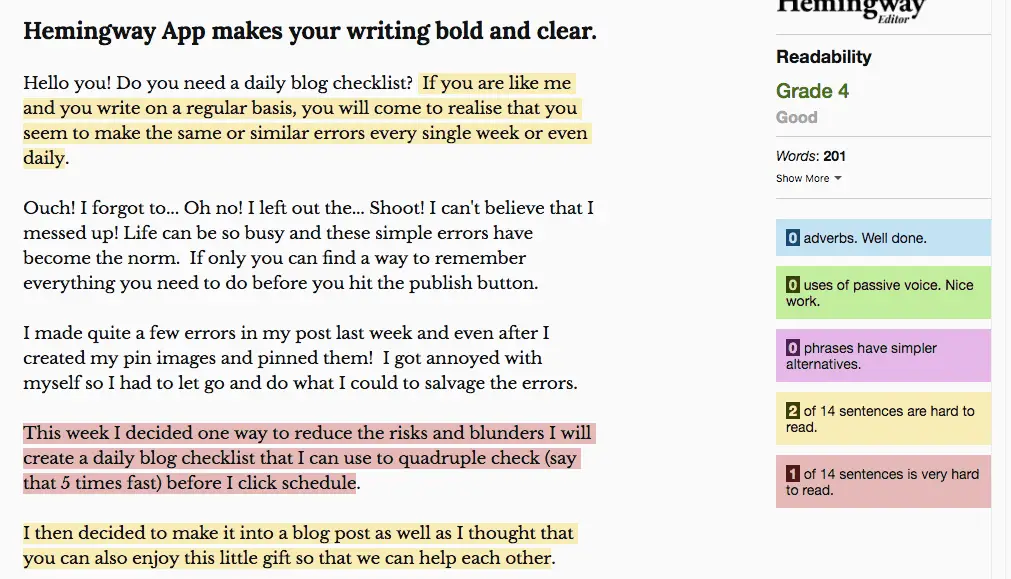 the most important feature in Grammarly is the spell-check.  I can depend on it to suggest the correct spelling of all my words especially when I type maximum speeds.
Use all the help that you can get to allow your audience the joy of reading your post.  After all, you spent so much time tweaking it.
One day I will be able to outsource the editing to someone who loves perfecting English.  For now, I'll stick with Grammarly, Yoast readability tool and Hemmingway Editor.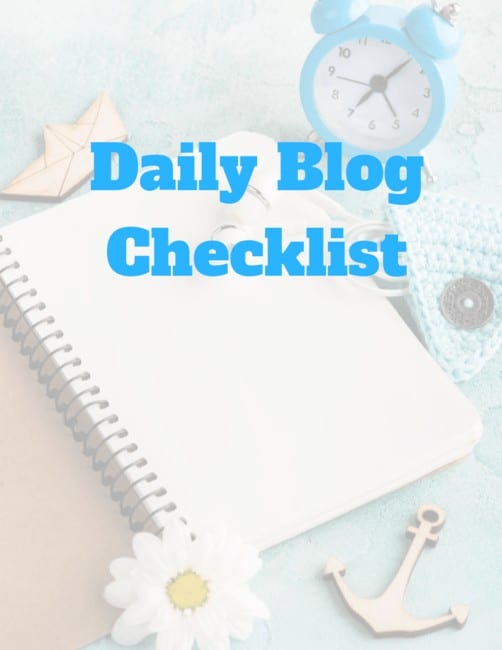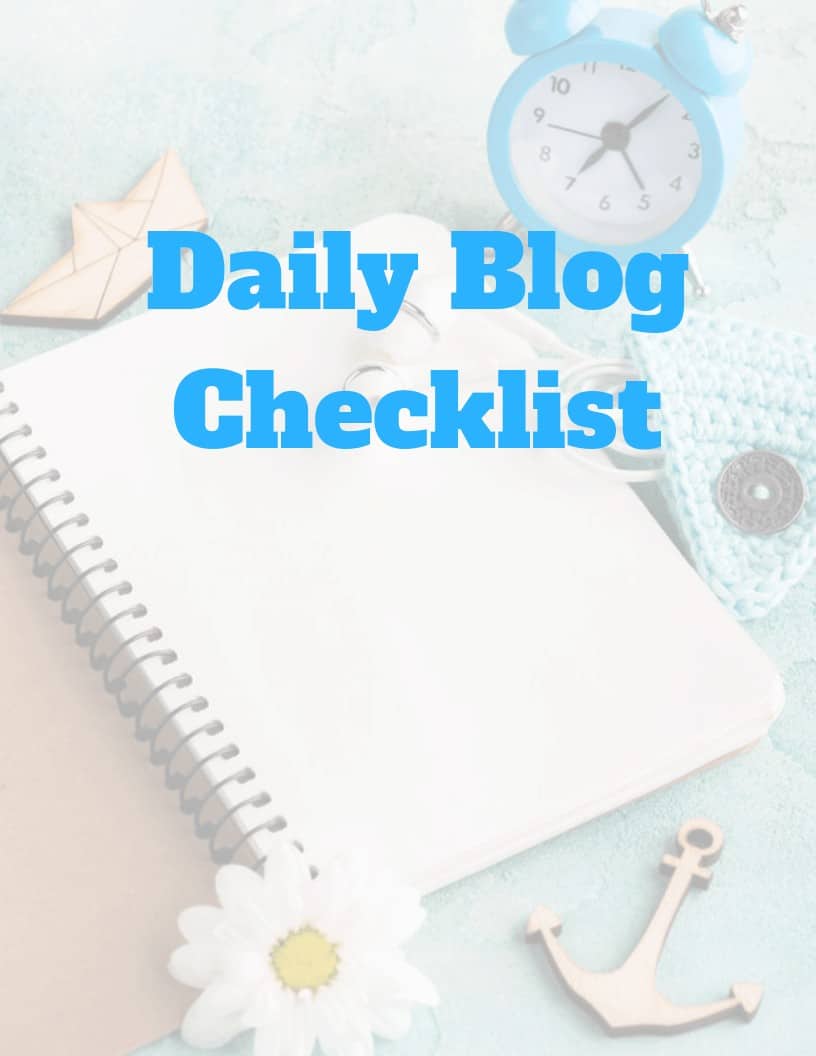 Grab The Daily Blog Checklist
3. SEO Friendly
In case you didn't know SEO means search engine optimisation.  Which is a really big, long, technical phrase.  SEO simply means that your article is good enough to rank well in the search engines.
If you are new to this term you are probably wondering what on earth makes your article good enough? 
The likes of Google, their spiders and their algorithm uses SEO to determine relevancy.  Also, to see where to rank you against your competition in the search engines.
Let's start at the top and work our way down the page.
An H1 title which is the title of your blog post.  Ensure your title contains your keyword.  The nearer your keyword is to the beginning the better it will rank.
The content of the post needs to be between 700 – 2400 words in total.  You can use a third-party tool like SEM Rush content title section to determine the length of the post.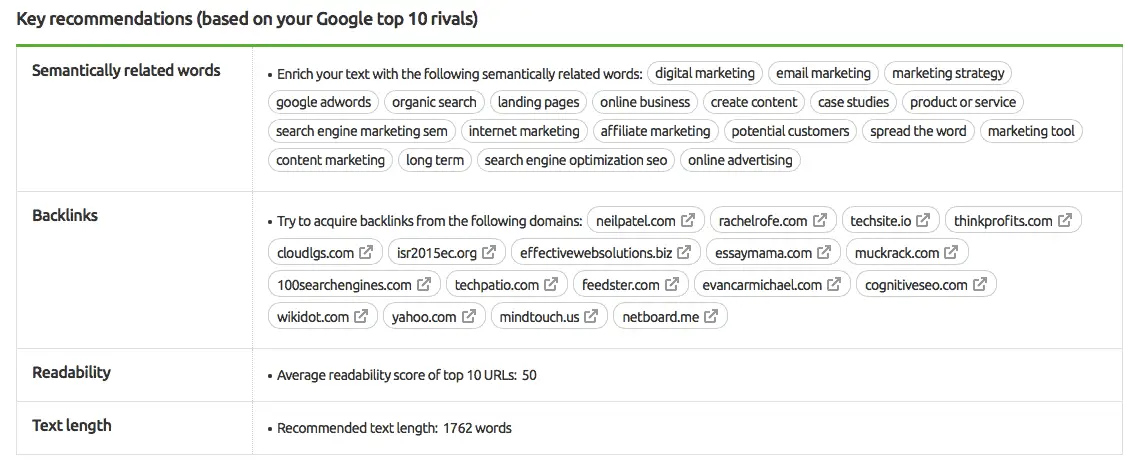 You simply place your keyword in the SEO Content Template and it gives you an estimate as seen in the screenshot above. 
I did a search for online marketing and it tells me that my post needs to be at least 1762 words with a readability score of 50 plus.
In the body of the content, it is important to sprinkle your keyword throughout. The goal is to get a minimum of 0.5% keyword density. This means that a 700-word article will have the keyword in 3.5 times (4 makes sense).
Another great daily blog checklist tip is to include internal and external links sporadically in the content.
Remember to add the meta description which helps with your click-through rate.  When someone finds your article and you give them a reason to come and take a look, they will.  To make it easy just use the Yoast SEO plugin.
To help you remain humble it is important to add at least one external link to another website. I did the same in this blog post.
4. Reader-Friendly
Give your reader the ability to truly enjoy your content.  Ensure your blog post is reader-friendly.  Remember to add this to your daily blog checklist.  Four key ways to achieve this is by doing the following:
Break the text up into smaller paragraphs
Place a subheading on each paragraph
Make shorter sentences
Include links to related content
Use this format and you will be able to increase reader satisfaction. You will be able to reduce your bounce rate and increase the total session per user for Google Analytics.
Subheadings make it easier for the reader to find the specific part of the post that relates to their interest.  It also brings a level of attractiveness to the post.
Remember that over 50% of your readers will be accessing your post from a mobile device as well.
Shorter sentences make for easier reading for those who struggle with reading difficulties.  Also, if English is not their first language then shorter sentences are a gift.
5. Mobile Device Friendly
I briefly mentioned mobile users in my last paragraph already so here are three things to consider:
Responsive theme
Length
Skimmable
Mobile friendly images
Always choose a responsive theme for your WordPress blog.  Your mobile device readers will get your blog post in a format that is perfect for mobiles.
Consider the length of your post when writing.  Yes, it is important to write for SEO rankings but it is equally imperative to consider the mobile device user experience and ensure it is skimmable.
Images that are included in the first 50% of the post should be optimized for mobile devices.  They can potentially slow down the load time if they are not optimized.
6. Video + Images
Images and video should be on your daily blog checklist.  When including videos in your blog post consider the following key points to get it right:
The video is on topic
Video length is 90-180 seconds
The video is embedded properly
Images are a great addition to a blog post.  Be mindful of these 4 factors when placing images on your post.
Include at least one image
Consider images with social proof
Images should be SEO optimized
Use infographics sparingly
SEO optimized images are those that include the keyword in the file name.  Include a keyword-optimized description in your alt tags as well.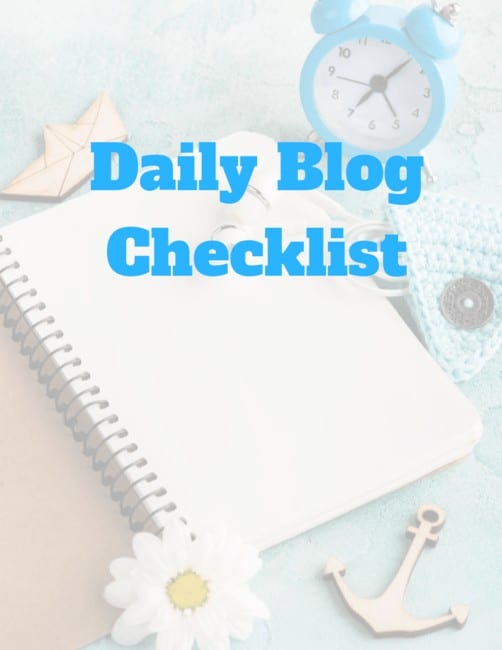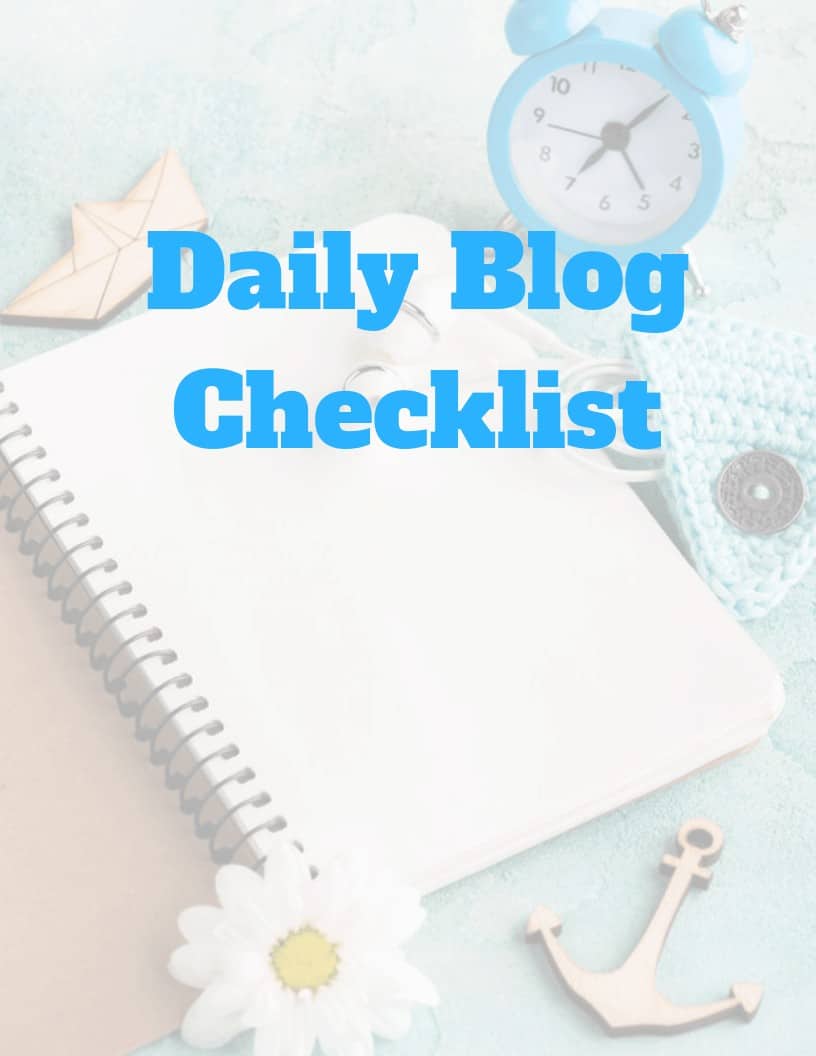 Grab The Daily Blog Checklist
7. Socially Shareable
You've taken the time to write a superb blog post why not give the reader the ability to share your post easily.  One way to achieve this is by including social add-ons or plugins on your blog.
One of my favourite social media plugins is Social Warfare.  It gives the reader the ability to easily share your content to their favourite social media platform in 3 clicks.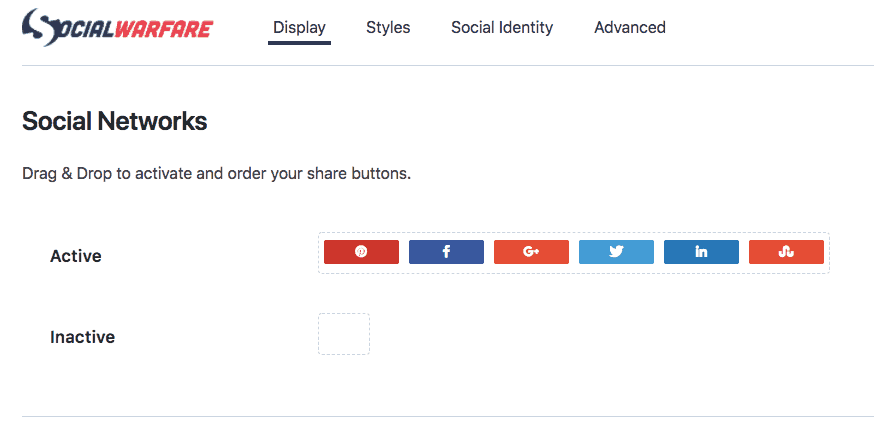 Click to Tweet has to be the lazy person's best feature.  The reader does not even need to create a caption before sharing it on Twitter.
Making your post socially shareable should be included in your daily blog checklist.
8. Tags + Categories
Categories are useful for organising your posts into broads groups or interests.  For example, if your site is about wedding outfits for women and girls you can group them as follows:
Bridal gowns
Bridesmaids dresses
Mother of the bride dresses
Flower girl dresses
Maid of honour dresses
Categories are mandatory for all blog posts so, create and choose them wisely.  You can also amend the names if you change your mind later.
Tags, on the other hand, allows you to break those categories even further.  Using the same wedding outfits for women concept your tags for bridal gowns will look like this:
Trumpet
Ballgown
A-line
Mini
Tea-length
Mermaid
Sheath
As you can see this is a list of sub-categories outlining the different types of bridal gowns.  As you can imagine there are several types of bridal ball gowns available hence you can use this tag for all the variations of ball gowns.
9. How To Conclude?
The four most important things to do at the end of your blog post are:
Recap
Conclude
Call to Action
Announcements
Depending on the length of your post you will want to do a recap of what was covered reminding your reader of all the key points.
The conclusion then summarises what was in the recap but the conclusion also highlights the features, advantages and benefits of adopting the key points in your life.
The call to action (CTA) is there to encourage the reader to take the next step.  That next step can be anything like:
Download a checklist
Join the email list
Purchase an item
Read a related article
Join a webinar
As you see the CTA can be whatever you want to reader to do that will give them more value.  It is like if you are saying to them, "if you enjoyed this post then you will love the checklist".
10. Marketing Plan
It is important to have a marketing strategy on your daily blog checklist.  Once in place, it will increase the size of your audience.  You should have a mix of items to include:
SEO
Social Media
Content Syndication
Blog Commenting
Video marketing
Social Bookmarking
Collaboration
Search Marketing
Public Relations
It should ideally consist of long term and short term as this helps you to have a consistent flow of traffic.  You will not be dependent on a single source of traffic but a healthy mix.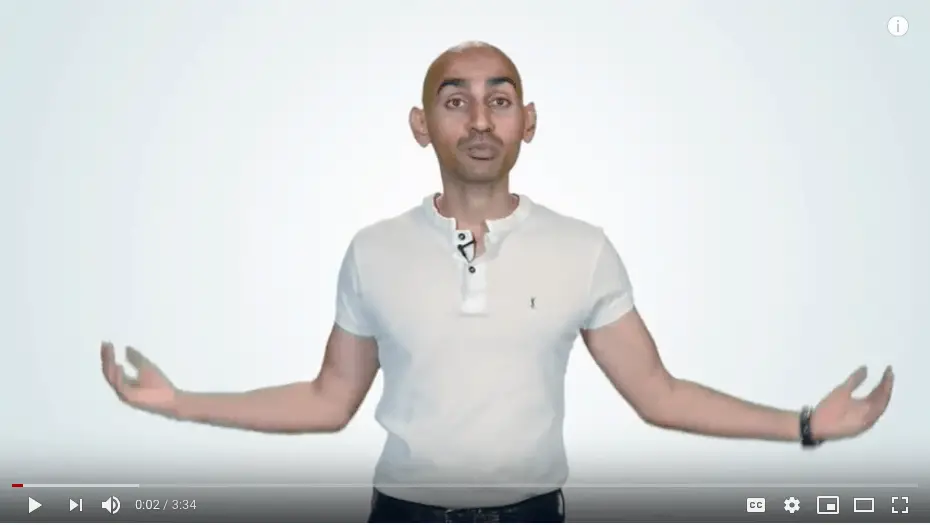 Take a note from the list above that I included both free and paid forms of marketing.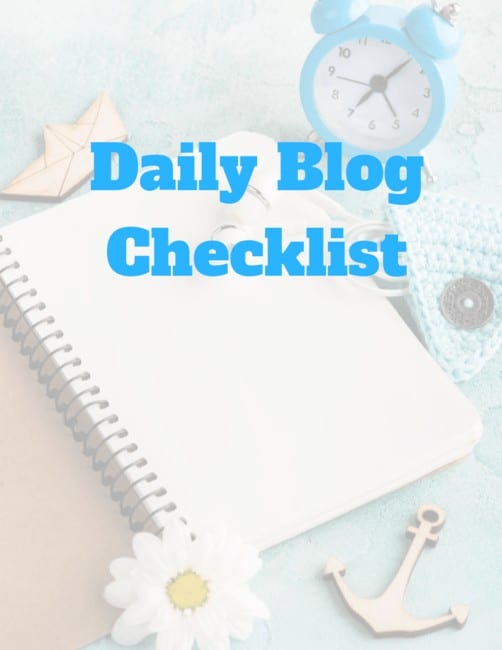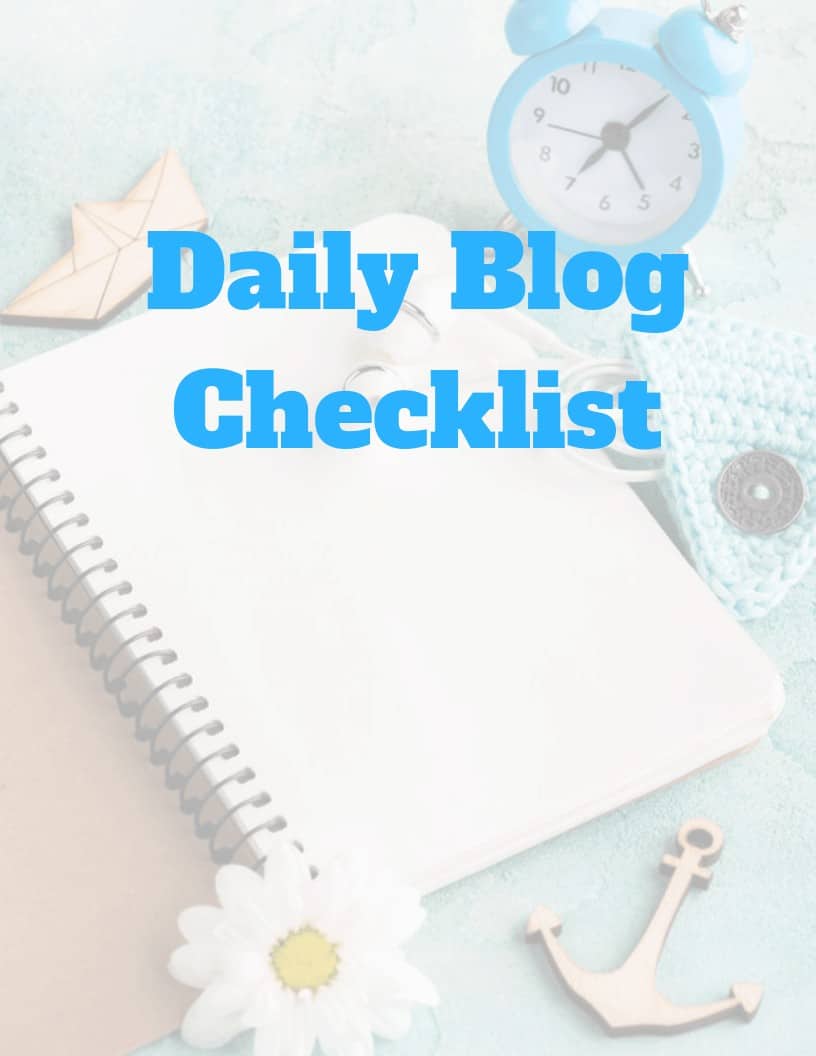 Grab The Daily Blog Checklist
11. Re-purpose Plan
The name of the game when it comes to blogging is producing evergreen content. 
The reason for this is that it will require very little updates and you can repurpose your blog content to create many things like:
Webinars
Online courses
Videos
Workbooks
Checklists
Cheat Sheets
E-books
E-course
If you never gave it much thought then now is the time to consider what you are writing for your audience.  A good example is this blog post.
I realised halfway through that I needed to cut back a lot because if I wrote everything it can turn into a 10,000-word post which is not very pleasant to read in one sitting.
So if this ever happens to you take comfort in the fact that you are great at generating content. Also, you can revisit the post and turn that content into a full-blown course.
12. Start Planning Your Next Post
Say what?  You only just finished your last post?  I know how it feels the last thing you want to do is write the next blog post and you need a rest.
The thing I find refreshing is thinking of what will I publish next?  I use the word publish because I have 4-5 outlines plus another 5-6 blog posts in draft-mode waiting to realise their full potential.
The moment I have nothing in outline or draft then I will be writing out of sheer panic rather than enjoyment. I strongly suggest the same habit for you.
Why? Because if you are writing in a mindset of panic your reader will not enjoy what you have written and your blog will suffer as a result.
At the end of the day, it is all about adding value to people's lives.  Also, blogging is being creative with your writing.  Using your fingers to take your thoughts and convert them to words.
Remember to add this to your daily blog checklist if you want this passion to develop fully.
13. Marketing Images
Adding images and video to your blog post is helpful for the user experience but getting images ready for your marketing efforts is as equally important as the first.
For example, if you are planning to use social media marketing as your playing field then remembering the image sizes for each platform can be challenging.
Let's take a look at social media post sizes:
Pinterest – 735×1290
Blog – 630×430
Facebook – 1200×630
Instagram – 1080×1080
Instagram Stories – 1080×1920
LinkedIn – 1200×628
Twitter – 440×220
Youtube Channel – 2560×1440
Do bear in mind that these change regularly so do check these every 6 months or so.  Research shows that the social media posts containing images are the ones that receive the most engagement so take note of this reality.
Daily Blog Checklist Recap
Whew!  It will be impossible to remember all these items especially if you create a blog post daily.  So I have taken the time to create a checklist for your convenience so that you and I can double-check before hitting post or schedule.
So let's do a quick recap.
Objective
Grammar
SEO Friendly
Reader-friendly
Mobile device response
Video + Images
Socially Shareable
Tags + Categories
What to include in the conclusion
Marketing Plan
Repurpose plan
Prepare your next post
Remember marketing images
No need to write it all down just grab the free daily blog checklist pdf which is specially designed for your needs.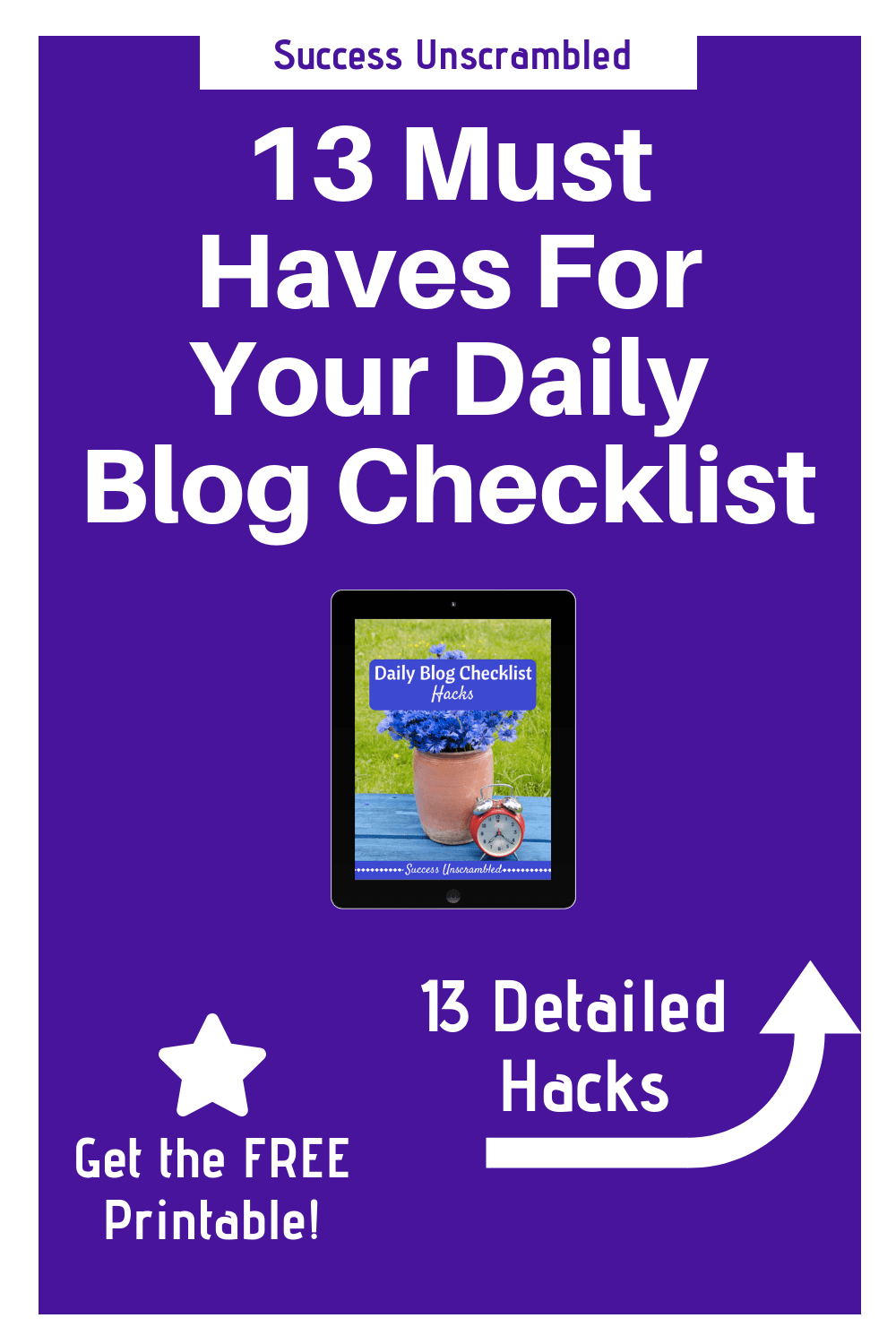 Announcements
You can subscribe to our podcasts to get notified when more success stories become available.  In case you missed it check out the 10-Day Start your Blog on a Budget Challenge. 
It covers blogging for beginners, showing you how to become a blogger, offering blog niche ideas with 20+ HD videos and over the shoulder tutorials.
If you need help setting up your profile on Pinterest or you need someone to manage your Pinterest account on a monthly basis you can work with me here.