Podcast: Play in new window | Download (Duration: 33:32 — 46.6MB) | Embed
Subscribe: Google Podcasts | Spotify | Amazon Music | Stitcher | Email | TuneIn | Deezer | RSS | More
Have you ever wished that you can get your hands on the blogging secrets of successful bloggers?
In a recent podcast interview with Chhavi, I asked her if she can switch places with someone for a day who will she choose and she said, Michelle.
Just in case you never heard of Michelle before she is the blogger behind Making Sense of Cents where her blogging income has crossed $1,500,000 in 2018 alone.
Many bloggers get into blogging with the hope of just quitting their job and earning a full-time income working from home.
The ultimate dream of making 1.5 million dollars a year would just place the icing on the cake for them even it they aren't food bloggers.
You see many bloggers struggle because there is so much they don't know about what it takes to become a professional blogger.
I will spend some time in this post and reveal to you 15 things you probably did not know that successful bloggers will not tell you.
Disclaimer: please note that this post may contain affiliate links which means that if you buy one of my recommended products I get paid a commission for sharing the link at no additional cost to you.  I only recommend products that I have tried myself and have experienced success.
Is Wanting To Make Money Blogging Wrong?
Before I dive into the 15 blogging secrets I need to spend time clearing up a very common misconception when it comes to blogging.
Yes, many people start a blog with a view that they want to make money using that blog which is okay.
The issue develops when the only focus of the blogger is making money. You see to become a blogger is to essentially start a business.
This means that professional bloggers are entrepreneurs. Every successful entrepreneur made money because they solved a problem for people. It does not really matter what they blog about.
So, what does this mean? Well, as a blogger your goal is to solve a problem or solve problems for your audience.
If you are not solving a problem then you will not make any money. In other words, you really need to add value to the lives of others.
This brings me nicely to the first blogging secret which is great content.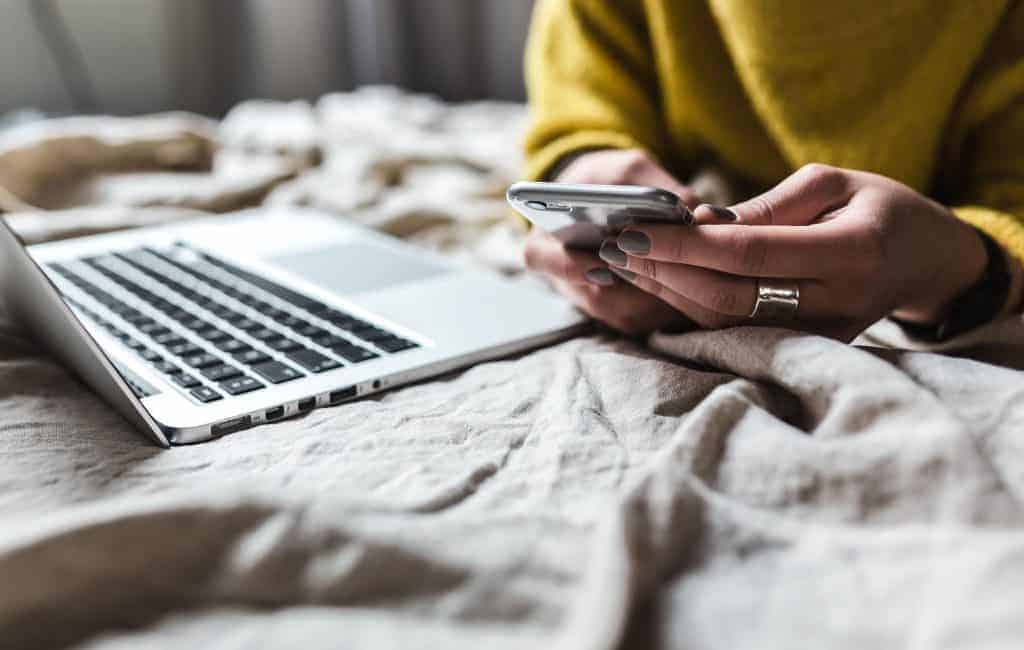 1. Great Content
Spend some time looking at all the income reports from bloggers and then look at the kind of content that they provide to their audience.
You will notice that most if not all of them provide really high-quality content for free, no strings attached. Creating content is hard work and it does require commitment.
Okay that may not be completely accurate as many of them do provide freebies in exchange for your email address.
However, you don't have to pay for this high quality content that gives the audience tips and tricks on how they can improve their life.
These bloggers do provide courses and ebooks as well for anyone in their audience who wants a more comprehensive experience at a cost.
The bottom line is that you need to look at your content and ask yourself if you can improve the quality?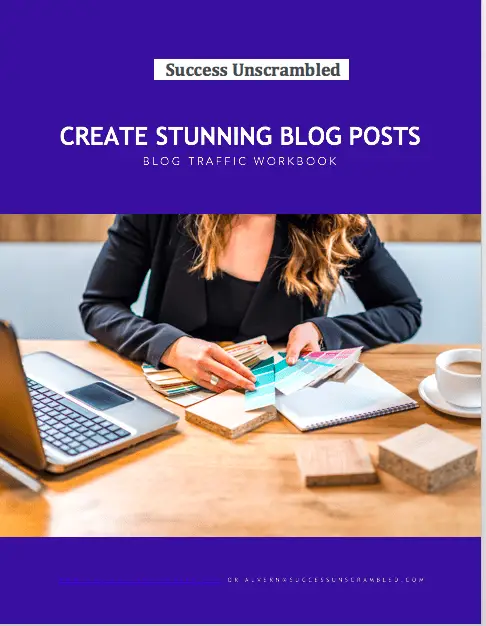 Create Stunning Blog Posts Workbook
2. Buckets of Content
On the topic of content, another closely guarded blogging secret is that successful bloggers provide a lot of content for free.
I probably mentioned this already in the past but one of my mentors who receives over 1,000,000 page views a month publishes 25 blog posts a day.
Yes, you read that right. He publishes 25 blog posts a day to his blog. This may seem like a lot but if your blog was getting a million visitors a month I am sure you'll be doing the same to continue to drive traffic.
In my interview with Megan, she mentioned that she publishes 1 blog post a month which is fine for her niche.
She says that her one blog post is of very high quality and includes a lot of in-depth research as well as graphs and statistics.
It is possible that you may be more like Megan where you do fewer posts but very comprehensive and lengthy ones.
Perhaps you are more like my mentor and you need to be publishing 2 or more blog posts every day.
At the end of the day, you really need to spend some time looking at what works for your niche.
3. Research
If you realise that you need to take a closer look at your niche to find out what works it means that you need to spend more time in research.
You see many successful bloggers spend a lot of time researching their niche and the market as a whole looking for ways they can improve their game.
In fact, every blogger who wants to become professional at what they do needs to dedicate time every week doing research on some level.
If there is one thing I learned in this game called blogging is that in order to take things up a level I need to see what is working for others.
It is not enough to keep doing the same thing over and over and expecting different results.
Sometimes you need to reach out to someone else who were in your shoes for help via mentorship.
4. Investing in Yourself
This leads me nicely unto the next blogging secret which is investing in yourself for growth.
The stuff that you know right now is not the skills needed to take your blog to the next level.
There are many bloggers that I meet on a regular basis who refuse to invest in themselves but they want to become 6-figure earners.
Of course, there is a lot of information that you can learn for free via Youtube, blogs and freebies.
However, if you want to be like Michelle making 1.5 million dollars a year then you will need a mentor to help get you there.
In my blog income report study, you will find many other bloggers who make money blogging as well as the mentors they used to become successful.
I am not saying that the free blogging resources will not get you there eventually after a lot of trial, error and disappointments.
What I am saying is that having a mentor or investing in a course makes that journey a whole lot easier.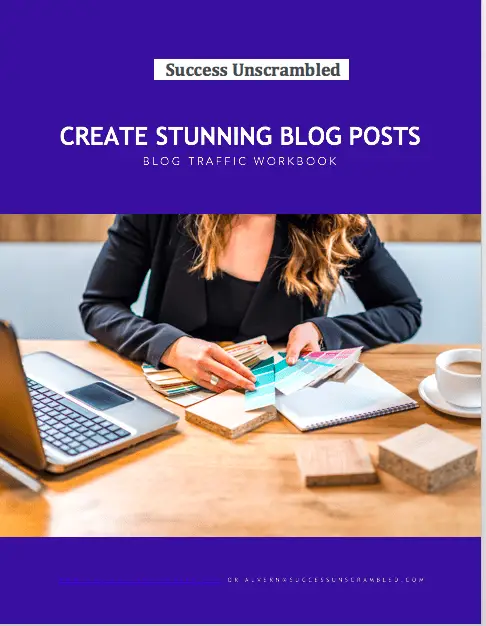 Create Stunning Blog Posts Workbook
5. Blogging is a Journey
Speaking of journeys, another one of those blogging secrets that successful bloggers fail to let you know is that blogging is a journey.
It is not a get rich quick scheme where you start a blog and become a millionaire overnight.
The reality is that it takes time and a lot of patience to get from point A to point B. This means that you need a certain kind of mindset at the start of this journey.
If you start a blog knowing that it will take a minimum of 2 years following some training and advice then you will be prepared for this journey.
On this journey you will need to grow an audience.
6. Grow a Tribe
I think one of the scariest, as well as the most fulfilling parts of blogging, is growing an audience. This can be done by growing a mailing list.
Your content will be made public and you will need to grow a following of raving fans. Yikes! What if you mess up?
Sometimes it feels like you are getting an added responsibility of having more children to look after like parenting.
The good news is that growing a tribe is a little bit like parenting without pregnancy, terrible twos, teenage years, etc. Even if you have a new blog it is best to get started as soon as possible.
In fact, after giving a lot of value to your audience you will eventually be paid for your efforts and you will not need to wait 20 years, lol!!
7. Long Hours
Unfortunately, like parenting, blogging does involve a lot of long hours for any blogger.
It is probably the one thing about blogging that reminds me of parenting in every sense of the word.
You will find yourself doing many things every day to keep your blog alive and growing.
I wish I had better news for you but you can easily expect to spend 40-80 hours a week on your blog depending on how fast you want it to grow.
A lot of this time is spent learning new skills every month. One of them is marketing.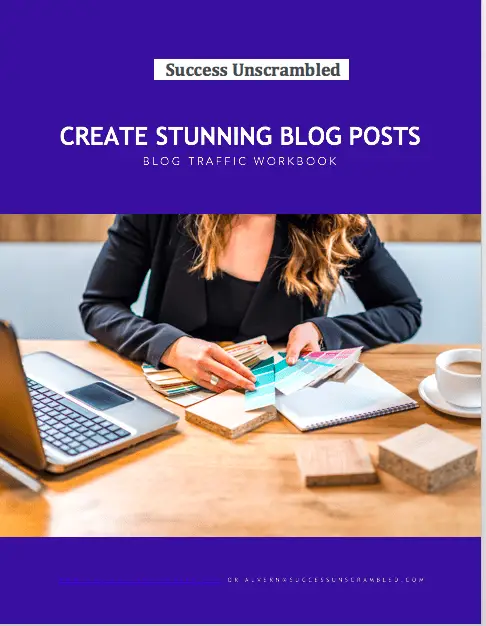 Create Stunning Blog Posts Workbook
8. Marketing
Yet another blogging secret that successful bloggers don't tell you is marketing takes a lot of time.
In fact, you will spend more time marketing your content than you will spend creating it.
Unless you have funds available to outsource this task you will be the one spending 2-4 hours a day marketing your blog.
This is especially true for the first 1-2 years but it gets into automation eventually after it becomes well known.
Need a way to market your business? Grab these 50+ unconventional methods here.
Also, if SEO is implemented correctly then this would be half the marketing battle.
9. Search Engine Optimisation – SEO
SEO is vital to the success of your blog. I am sure that at this point of the blogging game you already heard of search engine optimisation.
Let's take a look at the example of Michelle's blog which is Making Sense of Cents – makingsenseofcents.com.
Her blog gets on average 70,000 organic visitors to her site every month from Google. That's 2,300 visitors a day from a single source.
In layman's language it means that 70,000 people just visit her site every month organically without her having to do much marketing.
This figure does not include visitors from social media or other sources of traffic. Many bloggers are surprised that she is making so much money with so little organic traffic.
However, the real secret to her success is working smarter.
10. Working Smarter
Yes, the 10th blogging secret is working smarter as a blogger. There is no need to work your butt off to get to 1,000,000 page views a month when you could achieve success with less.
At this point, you are probably wondering what you can do to work smarter. Well, the truth is there are many ways to monetize your blog.
The biggest hurdle to make money blogging is to have an audience or a monthly following.
I already wrote a post on the 37 ways to monetize your blog here. However, let me give you a practical example.
Many bloggers have a goal to get to 25,000 sessions a month in traffic in order to get into Mediavine.
However, you can make more money on your blog by combining your sources of income to include multiple streams.
For example, a combination of Ad Networks, affiliate marketing and selling your own courses can get you to a 5 or 6-figure income at 10,000 sessions a month.
It does call for you as a blogger to think creatively or get mentorship.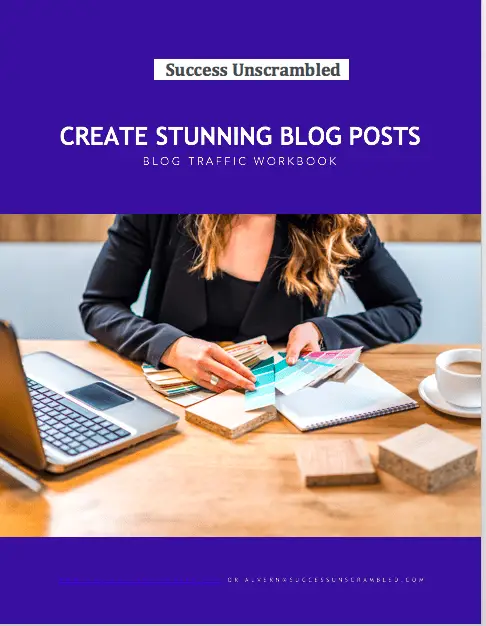 Create Stunning Blog Posts Workbook
11. Creativity
Bloggers are creators which means that they can find ways to solve problems using their creativity.
Are you creative? If you asked me this question 10 years ago my answer would be a definite no.
However, over the years I have come to realise that I absolutely enjoy solving problems.
In fact, where many people see problems I see many possible solutions. There are so many ways that bloggers can get to their financial goals.
It does require a bit of mentoring and creativity but the fact is that it can be done. What is needed is a vision board of what you see yourself doing for your tribe.
Not all of us are cut out to manage large Facebook groups 24 hours a day 7 days a week but you can still support your members by setting the correct boundaries and using other technologies.
Going it alone can be a slow process but collaborating can get you success faster.
12. Collaboration
Another huge blogging secret is collaboration. The blogging journey can be a lonely one if you choose to operate on your own.
However, by collaborating with other bloggers who compliment your niche you will be surprised how much it shortens your blogging journey.
The reason for this is that the both of you are tapping into each other's audience and building trust for the long-term.
Yes, you will find that there are 1-2 people who will not pull their weight but the vast majority will market your blog to their audience.
In turn you can market their blog to your audience. The reach gained for both of you will be tremendous.
If you do this 10 times with other bloggers think of how this can improve your marketing prospects.
There may even be some cost savings to be had.
13. Monthly Costs
Every time I see a blog post advising potential bloggers that they can start a blog for free and make money I feel sick to the stomach.
Here's why, if you plan to make money from you blog full-time then it should be treated as a business.
This means that wanting to start a blog for free is a bit unrealistic and setting yourself up for failure.
Don't get me wrong there are a lot of free tools available to run a business. However, incurring a monthly cost should be expected as normal.
Here is an example of monthly blogging costs:
| Expense | Cost | Provider |
| --- | --- | --- |
| Domain Name | $10/year | Namecheap |
| Web Hosting | $5.95/month | |
| WordPress Theme | $69 | ThemeForest |
| Email Marketing (free option available) | $29/month | |
| Landing Pages (optional) | $33/month | |
| Total | $510 in year one | |
As you can see this is just the cost involved in keeping the blog live and having the option to generate leads via email marketing and landing pages.
If you want to work smarter then starting an email list early really helps.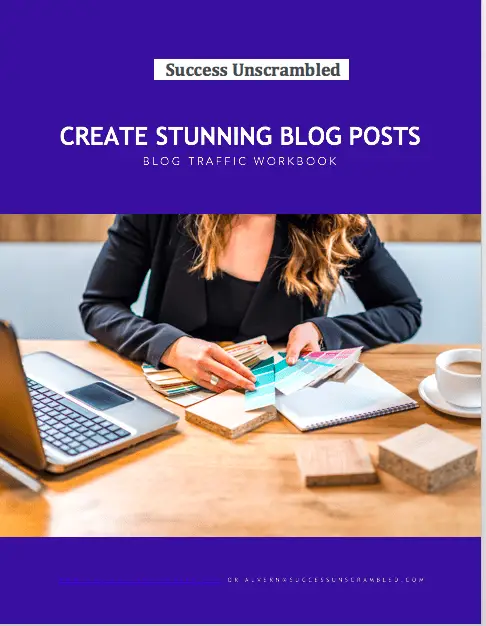 Create Stunning Blog Posts Workbook
14. Love What You Do
There is nothing worse than starting a blog and discovering after 12-18 months that you dislike your niche and the entire blogging process.
In other words, there are many who started a blog in an area where they were not passionate and they gave up after 6 months.
Many successful bloggers will tell you that one of the key blogging secrets is that you love what you do.
I can tell you that it happened to me many times in the past. I started a blog for all the wrong reasons and I totally lost interest after a while.
It was a total waste of time, money and resources so please learn from my experience and start a blog in a niche that you enjoy.
15. Routines Make Blogging Easier
When I first started this blog in 2017 I was terrified because I was afraid of failure. I just wanted this to workout.
In fact, my biggest fear was what if I run out of content. Looking back I just have to laugh out loud.
I now have so much content that I need to write that I need help writing it. Having a routine and a content plan makes blogging so much easier.
One of the imperative blogging secrets when it comes to blogging content is understanding blog silos.
Know your niche, topic, doing the research then mapping out your blog silos is so key to ensuring that you have truckloads of content.
Very few people talk about content silos and because it takes time to explain I will expand on it in a separate blog post.
Conclusion
If you are one of my regular readers you know that I can go on for another few paragraphs but I will leave it there for now.
To recap here are those 15 blogging secrets again:
Great content
Buckets of content
Research
Investing in Yourself
Blogging is a Journey
Grow a tribe
Long hours
Marketing
SEO
Work Smarter
Creativity
Collaboration
Monthly Costs
Love What You Do
Routines + Planning
I am sure there are another 5 things that can be added to this list but for now these are the 15 blogging secrets that successful bloggers have been hiding from you.
The question is now that you know, what do you plan to do about it so that you too can achieve the success that you need?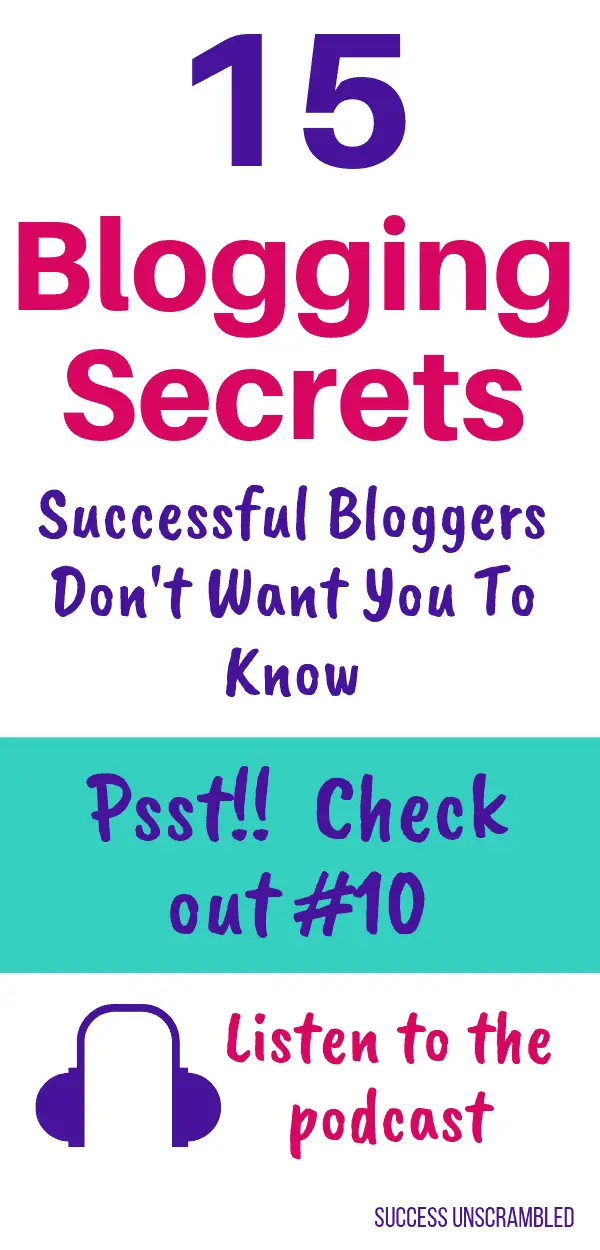 Announcements
Remember to subscribe to the Success Unscrambled Podcast where you will be the first to hear what's happening in the entrepreneurial and digital marketing world.
Your positive review of this podcast is vital to keeping it alive and running for the next 12 – 24 months so please leave a positive review for us on iTunes, Spotify or any of your favourite podcast players.
Do you need a few low-cost and creative ways to promote your blog? Check out these 53 unconventional ways to market your business.
Are you struggling when it comes to writing quality content for your blog? Then check out these 5 crazy blog writing tips from Megan.
Want to take advantage of some free traffic to your blog from Pinterest? Check out my Pinterest tips here.  Grab these 20 tools used by successful blogs.
If you are a startup or small business and you need to hire a virtual assistant to complete tasks such as social media marketing, blogging, keyword research or Pinterest account management then take a look at these packages.