Podcast: Play in new window | Download (Duration: 41:26 — 57.4MB) | Embed
Subscribe: Google Podcasts | Spotify | Amazon Music | Stitcher | Email | TuneIn | Deezer | RSS | More
It's so exciting! Today we are going to go back to elementary school because we will be playing with colours, images and fonts because we are going to learning how to create a brand board during your lunch break.
Branding is important for so many reasons but let's look at 3 reasons why you need to create a brand board for your business.
When you create a brand board it will help you save time as it will remind you of who you are and what you represent as an organisation
It will also remind you of who your audience is and what is important to them.
It will help you build a recognisable experience in your market and vertical
Let's not waste your entire lunch break looking at the why instead let's start working on the how.  Ready?
1. Persona/Avatar
If you have not yet spent time refining your target market then this is a pre-requisite that you need to complete before creating your brand board.
Some key things to consider about your audience if you really want to know who they are and what is important to them.
Age range
Gender (if relevant)
What do they do for work?
What are their struggles?
Why will they join your tribe?
What they do in their spare time?
Which stage of life are they in right now?
What is the most important thing in life for them?
Outline what they need for self-fulfilment?
How can you help them?
Once you understand your audience you will then be able to know the images, brand experience and colours that attract them to you or your business.
2. Brand Experience
When you think about your blog, business or brand what experience do you want your audience to feel?  Every time they come into contact with your business they should get a consistent feeling.
Some examples of this experience include:
Happy
Exciting
Dark
Energetic
Rest
Peace
Motivated
Professional
Intellectual
These are just a few examples to get the gears in your mind turning.  You may think it is difficult to visualise these feeling but it is actually quite straightforward.
The most difficult part for me was deciding the mood that I needed my brand to represent.  Right now I am stuck on motivated.  I believe that my brand is riding in 3 areas which are motivated, peace and exciting.
What about you what emotion do you want your brand to portray to your audience?
3. Pictorial Representation
After picking your core brand experience what you want to do next is to find images to represent these emotions.  Just head on over to a stock image site and enter the emotion as a starting point.
You can also go to Google Images and enter the emotion there to see what comes up for you.  Let me show you a quick example.
I went over to 123rf.com and searched using the word exciting.

Straight away you can see from the above screenshot the two main colours in most of the photos are reds and oranges.  This is great news as these two colours are included in my brand board.
4. Pictorial Representation – 2
Let's try another example using a different emotion. This time I am going to use peace so let's see the result.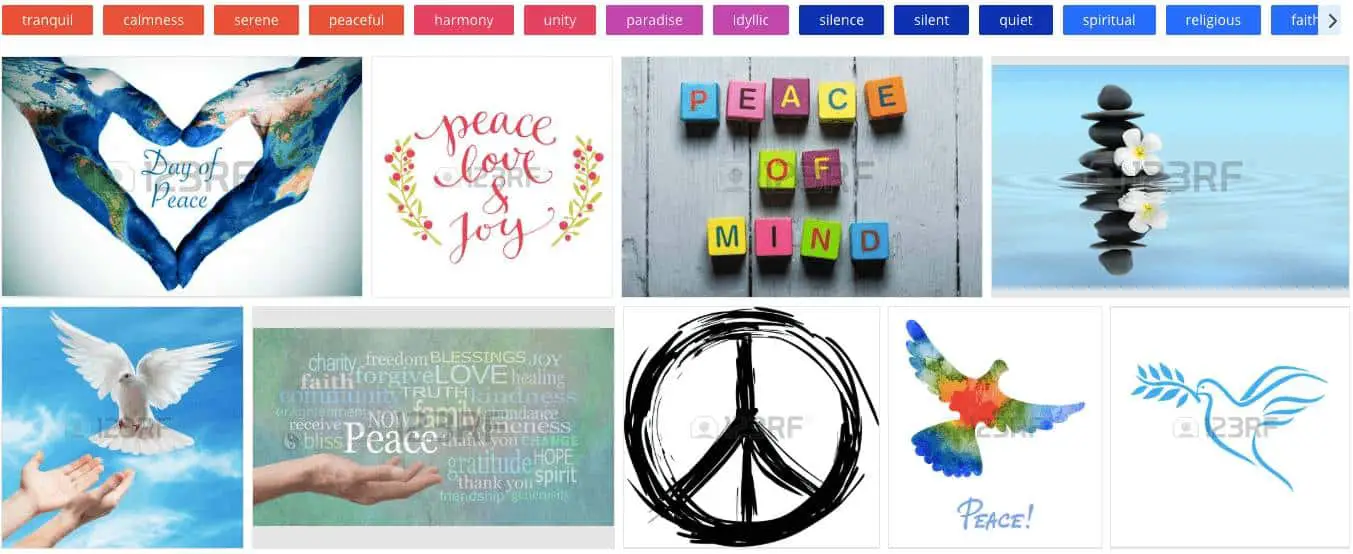 Oh wow! Do you see the range of colours?  I love indigo blue a lot and it seems to represent silence and quiet.  I do love the photo on the top right with the stones and the flower.
If you are stuck you can approach the search based on the end result.  For example, if your client is looking forward to enriching their family relationship then use the phrase 'family relationship'.
If your client is looking for freedom or independence then use those phrases instead of the emotion words.
So now it's your turn to give it a try.  What results did you get for your words filled with emotion?
5. Brand Board Moods
It is now time to narrow down your focus and set the scene or the mood of your brand board.  In the last exercise, you would have between 10-30 images in your results.
You now want to look through all those images and pick a maximum of 5.  You will pick the 5 that tell a complete story or the end results or even a vision of where your client wants to be after working with you.
The images can be specific to a daily experience or to a mood or status.  In 123rf there is this cool feature that allows you to save images in a group called Likebox.
Here is an example of the images that I saved which I consider to be a work in progress.  This may not be immediately apparent but you may want to consider images for all 4 seasons.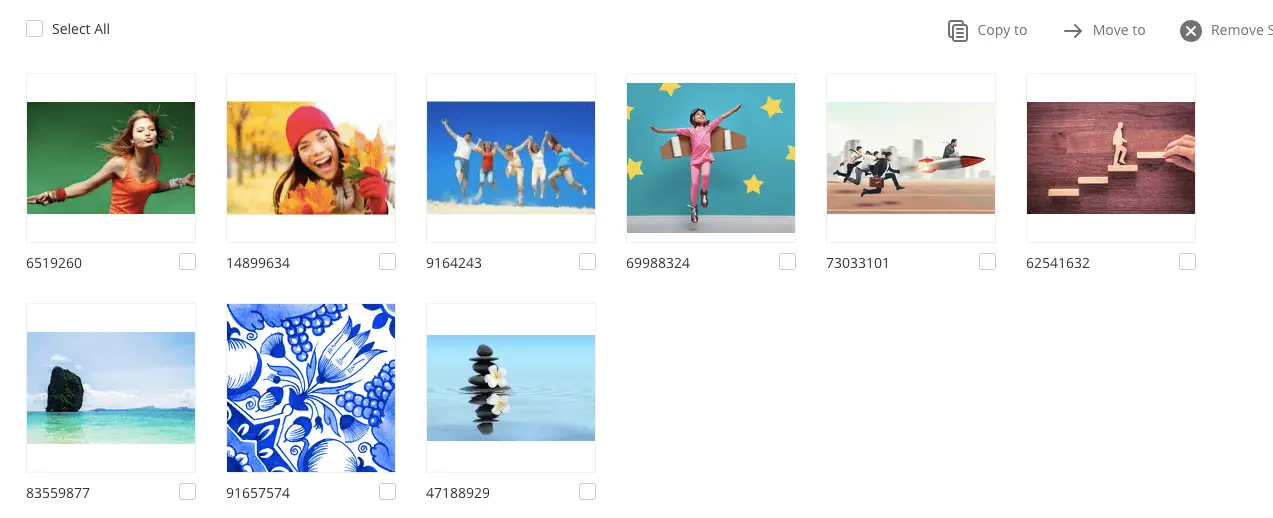 As you can see my images cover patterns as well as actions, energy, motivation, productivity and growth.
Now it is your turn to pick a few images and place them in a group.  You can use Google Images for this exercise and save the images on your computer as it is only for your brand board.
6. Colour Palette
It is time to decide on the 4-6 colours that you want to use to represent your brand.  Thankfully, there are several free tools available to help you to accomplish this task.
If you have no idea what colour you want for this business then start with Paletton, they give you the option to start with 1, 2, 3 or 4 colours.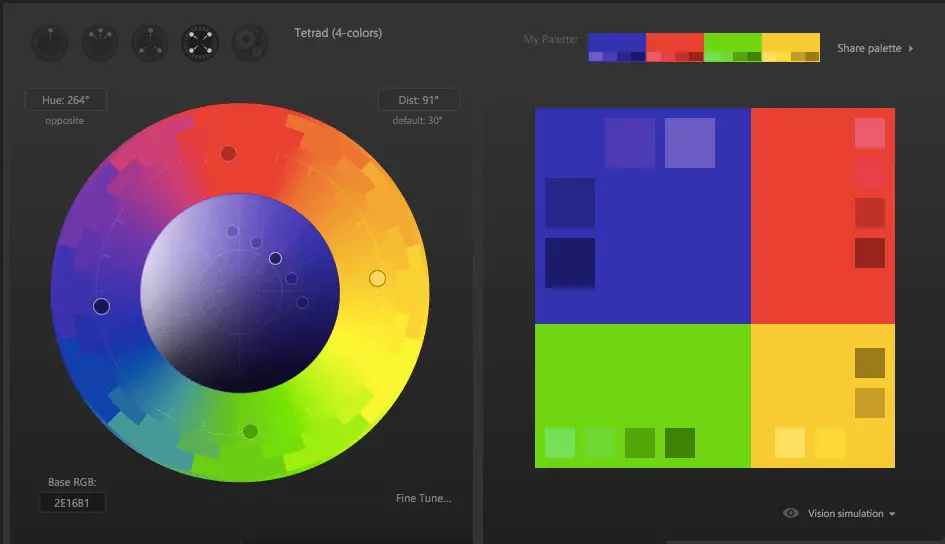 As you can see from my example above I have 4 major colours based on choosing one main colour.  I can move the small circle around to get a variation on the shades.
If you already have one colour chosen and you know the hexadecimal number for it then you can use a colour generator called Coolors.co which is great because you have more control over colour.

You can even export your results in pdf format to save it for later.  It gives you the exact hexadecimal number for each colour which you can use in your favourite design software.
There are many other options available on the market just search for colour palette generator and I'm sure you will find one that you love.
It's now your turn go and find your colour palette.  Which ones did you settle on?
7. Brand Board Fonts – Part 1
One of the cool ways to keep your business on brand is by using consistent fonts.  I made the mistake of purchasing fonts way too early in my business journey so I advise you not to do the same.
You will be ready to purchase custom fonts if you are getting your website designed professionally.  Another good indication is if you have a dedicated marketing team in place.
If you are only just starting in business there is no need to purchase custom fonts just yet.  If you see them on sale for $20 and you have the bandwidth then go for it.
The important thing to remember is that you change and your business evolves over time.  The fonts you like now may not be suitable in 12-24 months time.
The suggested maximum is 3 fonts for your brand.  You will need one for your headlines or titles.  You will need another one for body text and a script font is the final one to compliment the package.
The two best places to start exploring are Creative Market and Envato Market.  Bear in mind the word I use is exploring not buying.
8. Brand Board Fonts – Part 2
If you are not a graphic designer like me you will find it difficult to choose 2-3 fonts just like that as it may take you some time.
It is not my intention to make life difficult for you but getting the font pairing right is super important (apparently).? A great application for font pairing is called FontPair.co.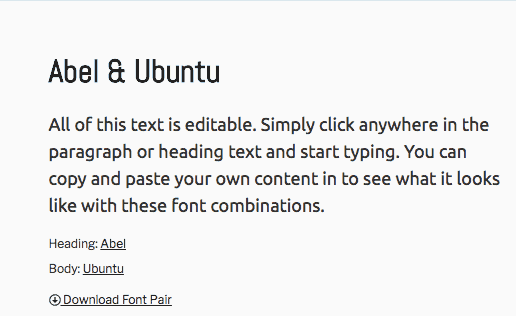 It is generally accepted across the web that Google Fonts are easy to use and straightforward to implement.  If you have no idea what CSS and HTML are then there is no need to subject yourself to these terms just yet.
The important thing for you is that you can choose fonts that you like now and get them implemented later.
It's your turn now to go and find fonts that you like and write them down somewhere.  Take a screenshot and keep it in a safe place for the next step.
9. Brand Board Elements
It is time to gather all the items you need for the next step.  In order to create your brand board you need to ensure you have the following:
5 images that represent your brand
3-5 colours on a colour palette (incl hexadecimal code)
Font pairs + 1 script font
Logo
I did not mention a logo before because if you don't have one already we can spend time in this section outlining the fastest, easiest and slickest way to create a simple, elegant logo for your brand.
You can use Canva to create a logo following these simple steps just log into Canva and choose one of the existing logos and modify it to suit your requirements.
You can also create your own logo from scratch using the name of your brand and below is a quick example I created in the space of 5 minutes.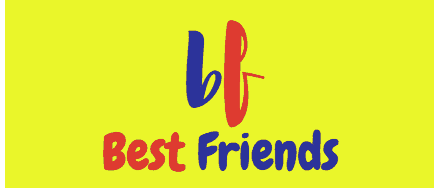 In this example, the name of the business is 'Best Friends' so I just went in and placed a background and added the words and the initials on it.  I then customized the fonts and colours.
Not bad for someone who is not a designer.?  Let me do a quick variation as the brand board will need to have variations for me to use across different platforms.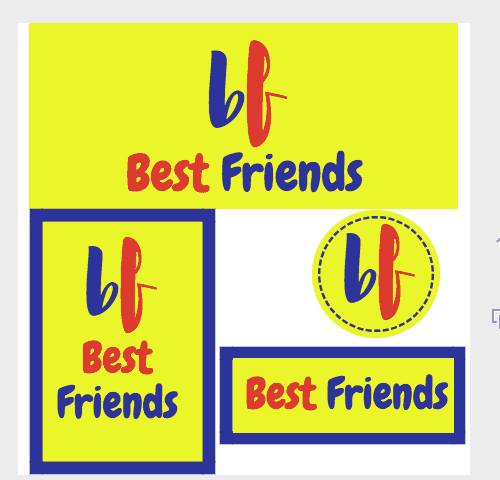 Now it's your turn, go to Canva.com and create your very own logo and logo variations then we will get to the most important exercise of them all, creating your brand board.
10. Create Your Brand Board on Canva
It is now time to create your brand board on Canva. Are you excited? Are you ready?  Let's get started.  When you log ingot Canva choose the option for a Poster and set up your template.  Take a look at the example template below: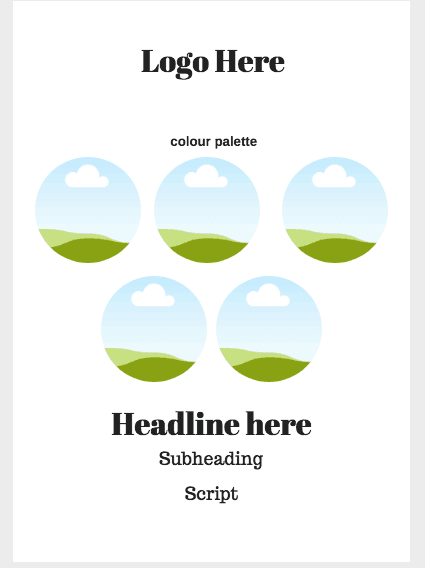 Complete page 1 with your colours from your colour palette as well as your chosen fonts and the logo you created.
Duplicate that page and on page two you will populate it with your image experiences, your logo variations and anything else that you want to add to your brand experience.
Here is an example of the one with the 'Best Friends' brand.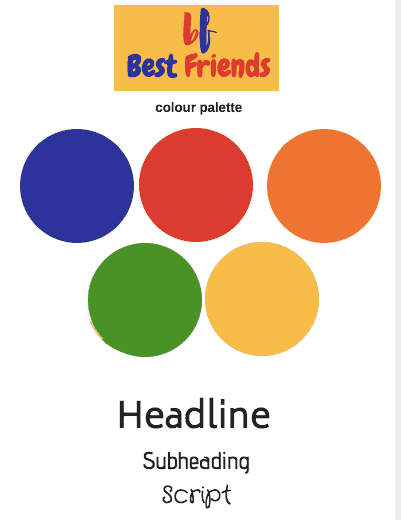 Now it is your turn to share your results.  How did it go for you? Did you manage to create your brand board in record time?
Recap
What a journey! Well done in making it all the way to the end.  The difficulty in completing your brand board is in finding the inspiration that you need to complete the task.
To be fair it can be done in record time with the right amount of inspiration and motivation so here is a major tip, before attempting this task do something that inspires you.
For me going on a hike or just spending some time in nature on a lovely day by the sea refreshes my soul and gives me the drive I need to get stuff done.
As a quick recap here are the things that you need to do:
Find your avatar
Decipher your brand experience
Grab images for a pictorial representation
Create a mood board
Choose your colour palette
Grab your 3 fonts
Design your logo
Create your brand board
It would be great to see what you came up with for your brand board.  Mine is super boring as I am doing it while writing this post but I am sure yours will be beautiful.
I hope you found this information valuable.  I would love to know how I can assist you further so please leave a comment below.  Are you interested in doing a brand board workshop?
Announcements
You can subscribe to our podcasts to get notified when more success stories become available.  In case you missed it check out the 10-Day Start your Blog on a Budget Challenge. 
It covers blogging for beginners, showing you how to become a blogger, offering blog niche ideas with 20+ HD videos and over the shoulder tutorials.
If you need help setting up your profile on Pinterest or you need someone to manage your Pinterest account on a monthly basis you can work with me here.