Podcast: Play in new window | Download (Duration: 32:45 — 45.5MB) | Embed
Subscribe: Google Podcasts | Spotify | Amazon Music | Stitcher | Email | TuneIn | Deezer | RSS | More
Hello you! It's another new week, are you excited? Are you ambitious? Well, as I mentioned last week we'll be looking at productivity tools this week to help you with your time management efforts.
We all have 24 hours in a day so any tool, app or software that will help us save time or increase efficiency is a plus.
Woohoo!  As you know there are many tools out there that assist with productivity.  Sometimes I read a blog post that outlines 5-10 apps that gives the same benefit.
In this post, my preference is to take you through the creative process from start to finish using productivity tools along the way so I hope you find it beneficial.
Warning: this post may contain more than 47 productivity tools so don't be surprised.
Disclaimer: Please note that this post may contain affiliate links which means that if you buy one of my recommended products I get paid a commission for sharing the link.  I only recommend products that I have tried myself and have experienced success.
1. Keyword Research
As bloggers, we can either start our editorial calendar with keyword research or an idea so I will start with the keyword research for this example.
There are so many productivity tools to conduct keyword research as you can imagine.  The three I would recommend are SEMRush, Keysearch and KWFinder.
All are great tools for finding the best keywords.  KWFinder gives you 5 free searches a day. 
SEMRush would be for the more advanced user as it gives a lot of detail including what length your post should be.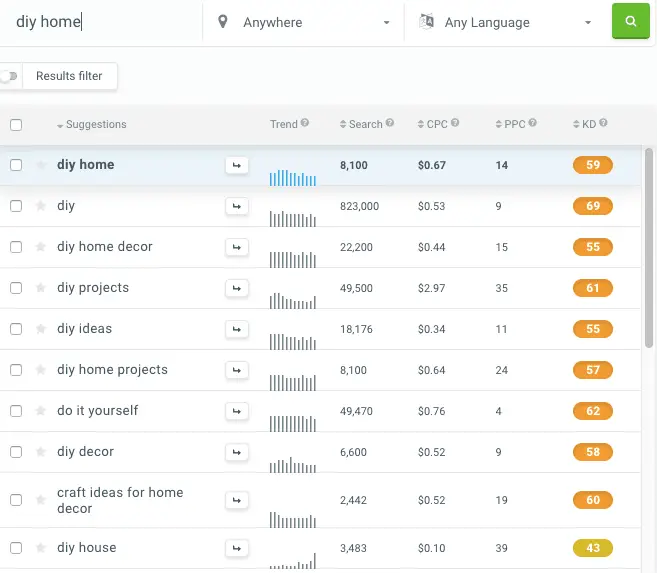 Click on the image below to view the video about finding long-tail keywords.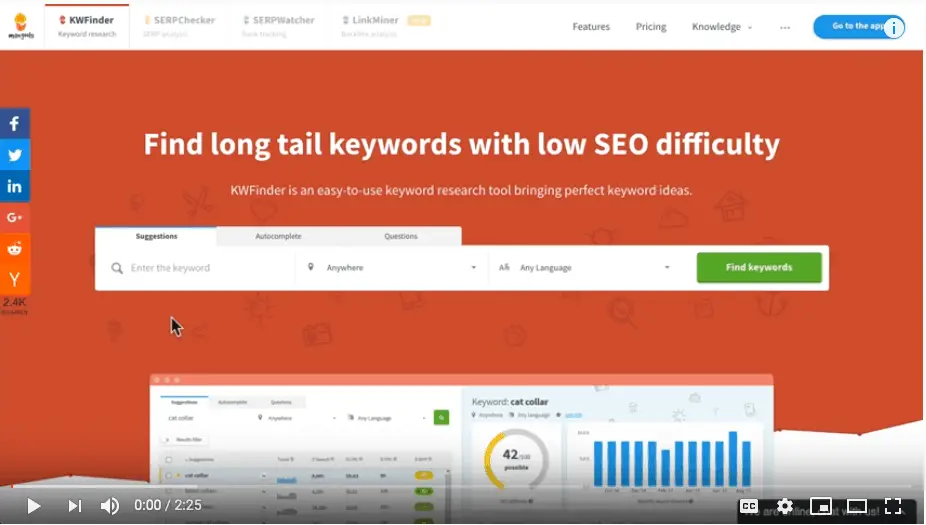 2. Popular Topic Research
There are times when it makes more sense to write about a popular topic in conjunction with doing keyword research.
There are two ways to find out what is popular right now that would qualify as evergreen content.
The first way is using a tool called Buzzsumo which allows you to see popularity based on most shares by social platform.
For example, if I want to see the popularity of the topic "productivity tools" I can head over to Buzzsumo and look up that term.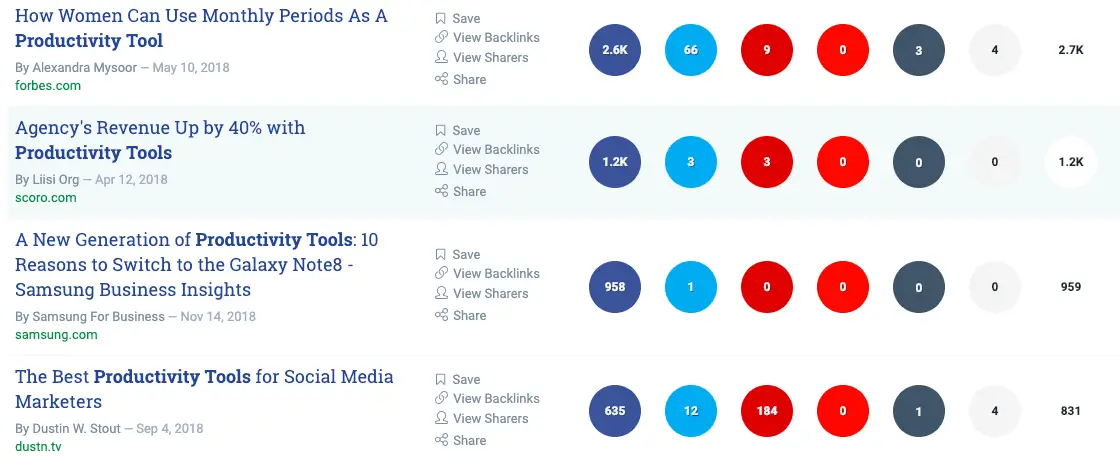 As you can see this search term seem to get a lot of engagement on Facebook.  You can also see the titles used to help the article to gain popularity.
My second tool is the humble Tailwind app on the iPhone (I know it is currently not available on Android).  I head over to the discover section and enter my search term "productivity tools" and this is what I got.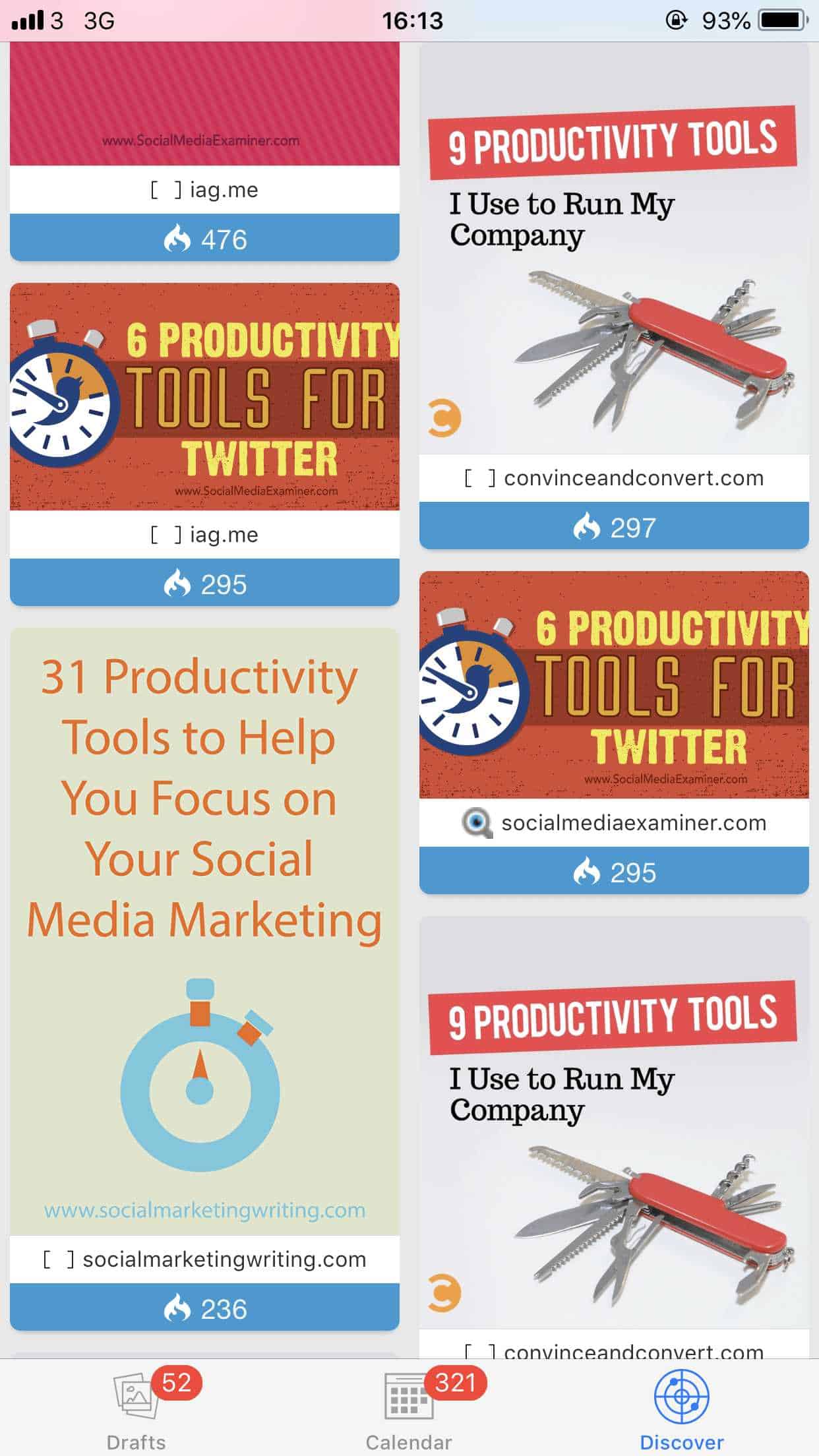 You see from the fire symbol the amount of repins each pin gets on Pinterest.  Here is a second result.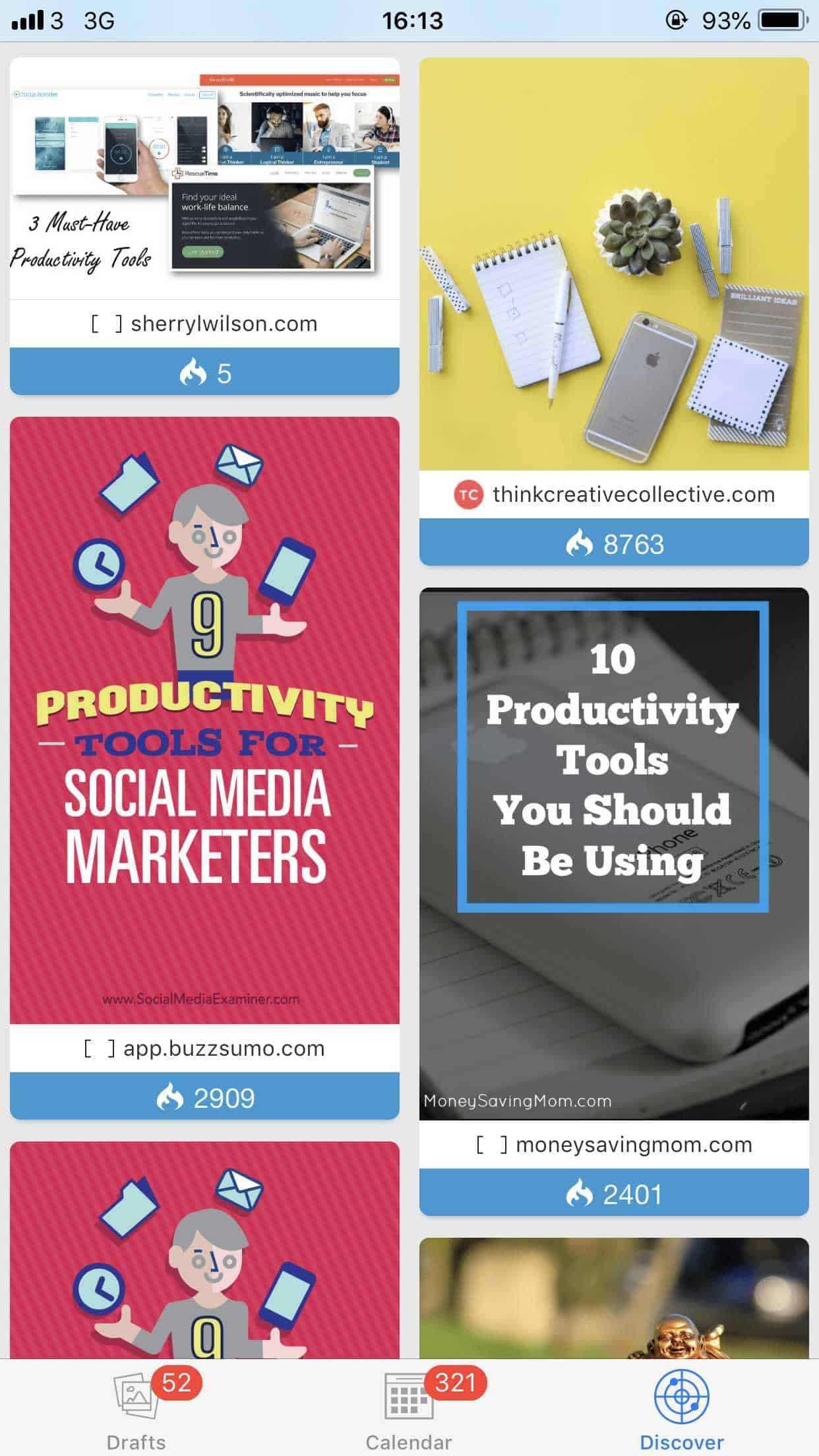 Here you can see three different pins getting well over 2,500 re-pins for the term.
3. Mind-Mapping?
Once you find your list of precious keywords you then need to take each one and develop an outline for it.  The outline is like a mind-map as it helps you figure out what you will write about.
The outline should include a list of subheadings, external links (for research), video links as well as links to related articles from your blog.  My software of choice is Xmind for this job.
It is a great opportunity to include the points for each of those subheadings as it prevents you from going down rabbit holes.  It also helps you get to your goal of 1,000 words very easily.
When all of your keywords have been mapped you can get a good overview of the content that you have waiting to be produced.
This is a good time to add a note in each of the maps as to what checklist, workbook or cheat sheet you will be including for your audience.
4. Editorial Calendar
You may argue that this should have been the first thing on the list.  If you are just starting out your calendar will be empty.
I started with a list of keywords first so that if you are a new blogger you will not feel left out.  Your keyword research will help you with content planning.
In case you have no idea what I am speaking about your editorial calendar helps you plan your content for the next 6-12 months.
For this task, you can use Trello or Google Sheets with Google Calendar.  Trello is great as you can use the Kanban functionality to progress your content through the editorial queue.
Trello boards are brilliant because you can use 'Power-Ups' to add functionality to your board like a calendar.  A brilliant, flexible software to include in your list of productivity tools.
5. Writing the Blog Post
So you have done the research, created the outline and even know when the post is due to be published. You even know which content upgrades will be needed.
Long before the published date, you will want to actually create or write the blog post.  Two of my favourite tools to assist writing are Grammarly and Yoast SEO plugin.
Grammarly assist me with the grammar of my sentences and it is free but quite good.  Yoast SEO plugin for WordPress helps me to have a post that is readable and SEO optimised.
If you never heard about SEO before it stands for search engine optimisation.  A blog post that is well optimised stands a good chance of ranking well in the search engines bringing visitors to your blog.
A few weeks ago I dedicated an entire blog post to the Yoast SEO plugin where I went through a WordPress SEO Yoast tutorial.
These two productivity tools will save you hours of editing and a good few embarrassing feedback comments.  They will give your audience a great reading experience as well.
6. Creating Images + Content Upgrades
Your work is not over yet you still need to create the images for the blog and social media promotions.  I know, after writing 1000+ words all you want to do is click publish or schedule and move on.
It is no wonder that many bloggers prefer to create sponsored posts so that someone is paying for the effort. 
Remember that these blog posts should be evergreen so they will still be relevant in 2, 5 or even 10 years from now.
So my favourite productivity tools for creating images and content upgrades are Keynote, Word, PicMonkey, Design Wizard and Canva.  I was recently introduced to a sixth tool called Snappa which looks amazing.
The only reason why I have not made the switch is that with Snappa you cannot save any of your creative juices unless you have the paid version.
What I love about Snappa is that you can easily resize to fit each social media image size.  It also looks more professional in some respects compared to Canva.
7. Publish the Blog Post
Once the blog post is live you want to initial get it bookmarked on several social bookmarking platforms.  You also want to ensure that all links are working and the images look good.
Remember to check that your content upgrade works as well.  I use ConvertKit to assist with my email list and content upgrades.
I like to get my collaborators to promote my posts so one great resource is Facebook Groups.  These are group promotion threads that you can leverage to let the world know about your post.
Although there isn't an automated way of accomplishing this task the real benefit is that you will leverage a group of like-minded individuals.
Three great FB Groups are Boss Mom, Women Winning Online and Pinterest Ninjas.
8. Promotion – Level 1
Soon after publishing your blog post there are productivity tools out there that can help you extend your initial reach.  FB Groups are great but not sufficient to get the reach you need.
You can of course manually go to each social media and other platforms to promote your post. 
There is nothing wrong with doing this manually except that you can save time automating as much as possible.⚙
The first tool I use is Viral Content Bee to get the word out on Twitter, LinkedIn, Pinterest and Facebook by leveraging a network.
Of course, Facebook, LinkedIn, Twitter, Instagram are all available as platforms to extend your reach.  One great tool to automate this for you is something called SmarterQueue.
It is great because it automatically reposts your older blog posts to social media over a 12 month period which is cool.  Isn't that an amazing form of time management?⏰
Pinterest has four productivity tools that take things to another level.  Tailwind Tribes, Tailwind Board Lists, SmartLoop and ViralTag are amazing in that they help you schedule 50% of your pinning efforts.
Yes, you can schedule all of it but you shouldn't and here's why.  Pinterest rewards pinners for spending time on their platform so spend some time there to get results and schedule the rest.
I recently discovered RecurPost which is an amazing application that allows you to suck in all your blog posts and categorise them in a content library.
You can further add variations to each initial post and schedule it out over 3 months.  Here is a screenshot of what it looks like.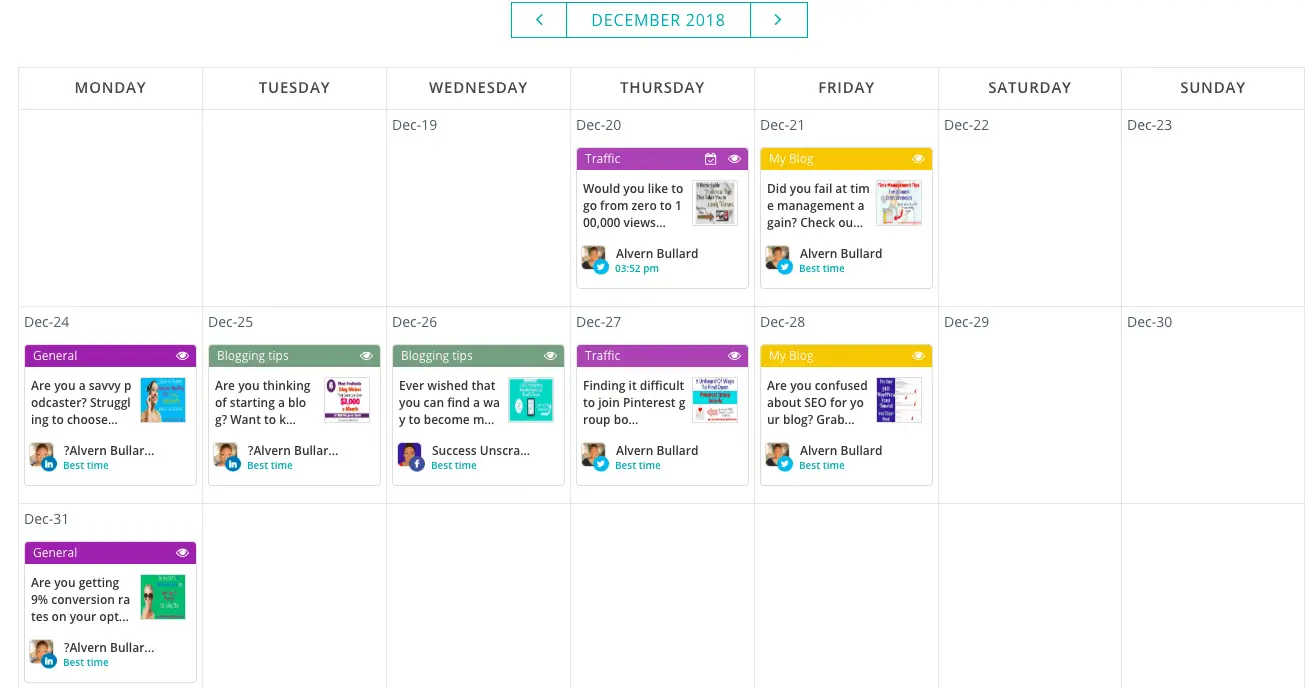 I have them scheduled to go out on three different social media platforms.  In my opinion, the free version is a lot better than Buffer.
9. Convert Your Content
You can now convert that lovely blog post into other pieces of content like video, audio, pdf, ebook, e-course, etc.
Here are two reasons why you will do it.  People consume content differently so not everyone will read your blog post some will prefer to listen to it and others prefer to watch it via video.
The second reason is that you want to reach your audience wherever they are hiding. Well, I cannot prove that they are hiding from you but they do hang out in many other places.
So dangle that carrot as far and as wide as you can to attract readers to your blog.  They don't know what they don't know so it is your job to enlighten them.
As you are probably aware I have a podcast episode released every Monday to cater for those who prefer to listen rather than read.  You can start a podcast yourself or just convert the blog post into an audio file.
You can convert your blog post to pdf using Printer Friendly and upload it to SlideShare or Scribd.com (not free).  The most exciting conversion for me is video, I love creating videos if only I had more time.
One of the best productivity tools I came across recently is Lumen5.  It is a really cool piece of software to convert your blog post into a video.  It comes with images, video clips and music as well.  Woohoo!
Can you feel my excitement??
10. Promotion – Level 2
Now that you have all these additional pieces of content how on earth will you promote them?  If your audio is in the format of a podcast you can synchronise them across podcast directories.
If you follow my instructions on my blog post about how to start a podcast you will learn about it there.
Your pdf formats can be included as a download in the original blog post or uploaded to pdf sites like SlideShare and Scribd.
The video versions can be uploaded to Facebook, Twitter, Instagram, LinkedIn, Pinterest and Youtube.  Bearing in mind that Instagram and Pinterest need shorter versions.
A clever way to get the most out of your Youtube and Facebook video efforts is by using two tools called Vid IQ and TubeBuddy.
they are great because they help you track your competitors, suggests keywords and descriptions.
Vid IQ also helps you to see which keywords people are using to find your video. This means you can optimise your channel and video for more traffic.
11. Project Management – Productivity Tools
By now you would have noticed that 90% of the productivity tools are free.  You will have also noticed that it is a lot of work to really get the most out of a single blog post.
This blog post will not be complete if I forget to mention a tool to help with project management that is free.  Well, my two favourites are Asana and Airtable.
Slack is another really awesome communication tool for when your team gets bigger. It integrates with over 1,000 apps including Google Docs and Asana.  It does so much more than communication✍
In case you are wondering why you will need a project management tool it is because you will need to add a team member very soon to assist with keeping these projects on track.
You can start really small outsourcing only a few hours a month then upgrading from there.  I did say at the start that this is for the ambitious blogger so I hope that you are ambitious.
12. Analytics
One of the rewards that you can experience as a blogger is an awareness that your content is helping the lives of many people around the world.
The next big reward is knowing that your blogging efforts are not going to waste and that your blog is becoming an authority in your niche.
Your blog statistics will give you a good amount of visibility into who is visiting your site and indirectly giving you feedback on if you are doing a good job or not.
My three favourite tools to look at my blog analytics are Google Analytics, Stats Counter and Google Search Console.
While the Google tools are free Stats Counter is a paid tool.  It offers a different level of granularity that is not easily available in Google Analytics.
For example, here is a sample screenshot of visitors to my site from Pinterest over a one week period using Stats Counter.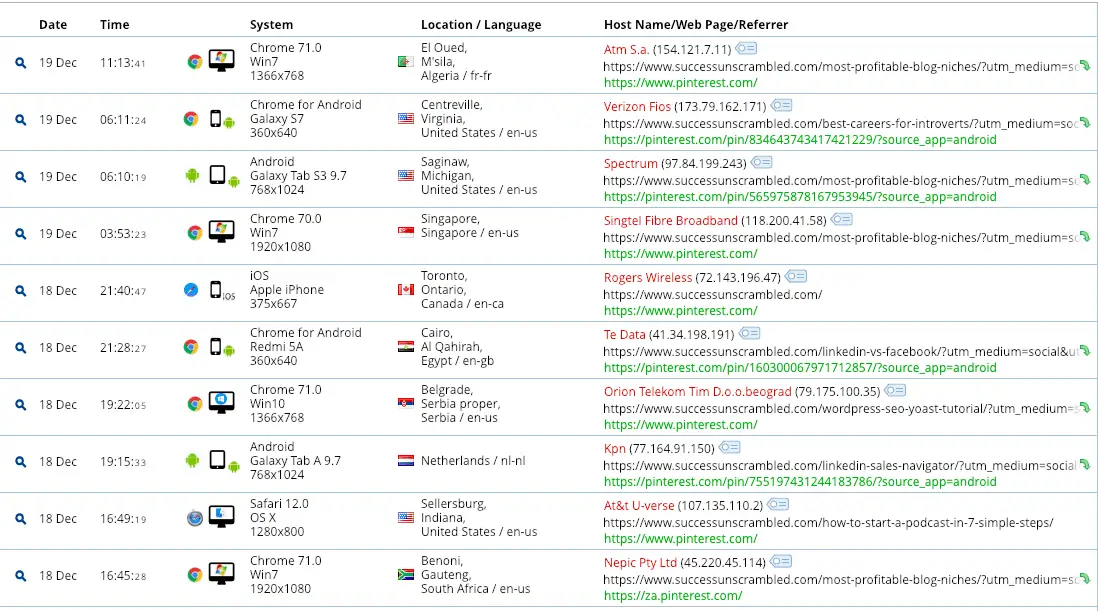 As you can see people visit my blog from almost every part of the world.  This is not easily available in many of the other analytics tools.
There is also a nice mix of browsers and devices used to access my blog's content.
Recap Time
The 49 productivity tools for ambitious bloggers are broken down into 10 categories.  This way you are productive and can experience time management all during the entire creative process.
Keyword Research
Ubersuggest
KWFinder
Keysearch
SEMRush
Pinterest
Popular Topics
Buzzsumo
Tailwind App on iOs
Mind-Mapping
Editorial Calendar
Google Sheets + Google Calendar
Trello
Event Manager Plugin
Writing the Blog Post
Grammarly
Yoast SEO Plugin
Evernote
Simplenote
Creating Images + Printables
Canva
Word
InDesign
Snappa
Design Wizard
PicMonkey
Adobe Photoshop
PromoRepublic
Publish the Post
ConvertKit
FB Groups
Social Bookmarking
Promotion Level 1
ViralContentBee
SmarterQueue
Tailwind Tribes
Tailwind Board Lists
SmartLoop
Buffer
RecurPost
Convert Your Content
Printer Friendly
Lumen5
Animoto
Podcast
Video podcast
Promotion Level 2
Instagram
Pinterest
LinkedIn
Facebook
Twitter
Youtube
VidIQ
TubeBuddy
Project Management
Asana
Airtable
Slack
Trello
Analytics
Google Analytics
Google Search Console
Stats Counter
Pinterest Analytics
TailwindApp
I hope that you found this list helpful and that your time management efforts are improved and bring more efficiencies to your life and business.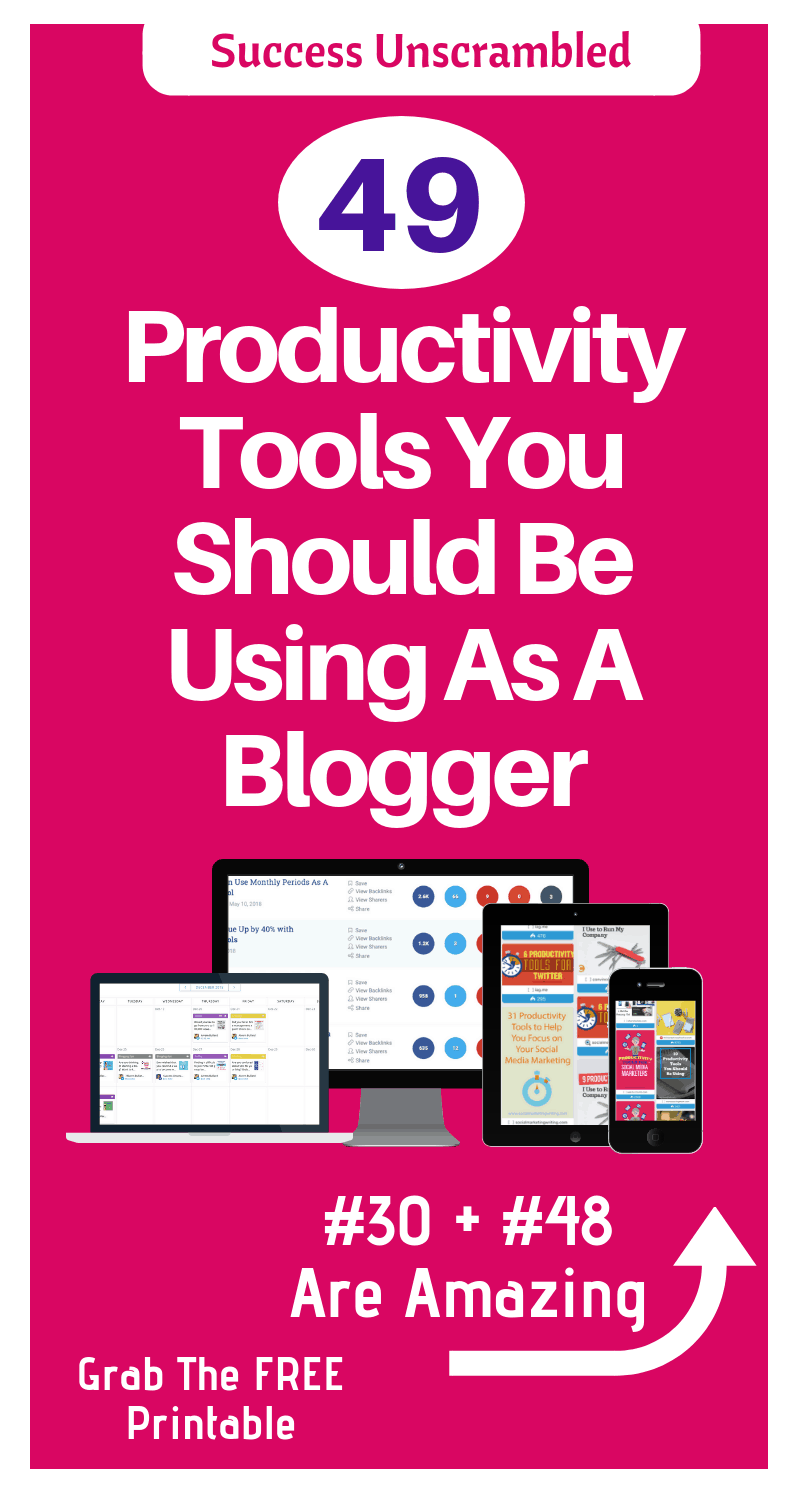 Announcements
You can subscribe to our podcasts to get notified when more success stories become available.  In case you missed it check out the 10-Day Start your Blog on a Budget Challenge. 
It covers blogging for beginners, showing you how to become a blogger, offering blog niche ideas with 20+ HD videos and over the shoulder tutorials.
If you need help setting up your profile on Pinterest or you need someone to manage your Pinterest account on a monthly basis you can work with me here.
Over To You
What is your biggest time management challenge right now?