Podcast: Play in new window | Download (Duration: 31:30 — 43.8MB) | Embed
Subscribe: Google Podcasts | Spotify | Amazon Music | Stitcher | Email | TuneIn | Deezer | RSS | More
Hello you!  I have a passion for managing time so this week I wanted to spend a little time sharing some time management tips that you can use to improve your efficiency.?
The truth is I need to write these tips somewhere public so that I can remember what they are in 12 to 36 months time because as you can imagine there is so much that can change in that time.
There are 9 things that you need to bear in mind if you are to become successful at time management every single day or at least every week.  Yes, some weeks are going to be better than others.
1. 24 Hours A Day
It is not a cliche, the fact is we all have 24 hours in a day and none of us has more time than anyone else so the most we can do is to manage the time that is given to us.?
In my experience, the best way to manage time is to firstly monitor what I do each day of the week. 
At night before I go to bed I would conduct an evaluation of my accomplishments.
This evaluation will involve how I spent my time if I accomplished the things I set out to do.  Also, the ways in which I can improve for the next day.
I find this genuinely helpful because it feels like I am constantly finding ways to improve my best efforts.
I become more efficient and remove things that are not helping me to achieve my goals.
2. Essentials
Of all the time management tips out there this one is super important because it involves the things that we need to do every single day.
Breathing, for example, is super important but it is an involuntary action and although we can manage our breathing by taking deep breaths this happens automatically in the background.
Sleeping, on the other hand, is important for us if we are to function at our peak.  Personally, I am not a coffee drinker so I need to depend on natural sources of energy/rejuvenation like sleep.?
Eating is also essential as it provides our brain and body with the nutrients to perform tasks.  Without food, it is nearly impossible for us to be productive.☕
Taking regular breaks to go to the bathroom or just to overcome fatigue is a must-have since we are not robots.  As humans, this is pretty much non-negotiable.
Loving and being loved is a must-have to get reassurance from the people we love.  No man is an island we all need someone to share and care for us.
3. Time Management Tips for Goals⏱
Having goals are necessary if we are to formulate a good list of time management tips for our individual diaries.
Imagine trying to come up with a better way to manage our time if we don't have any goals.  It would be kind of strange trying to manage just for the sake of it.
Our goals are the things that drive us to manage our time more efficiently.  Our goals can fall into 4-5 broad categories, namely:
Emotional
Physical
Health
Social
Financial
This is pretty much a high-level, generic view of our goals.  It all depends on where we are in life that one takes priority over another.
Apart from life stages we also go through different seasons of life as well.  The most important thing for you to decide is what stage and season you are in to determine what goals should be your focus.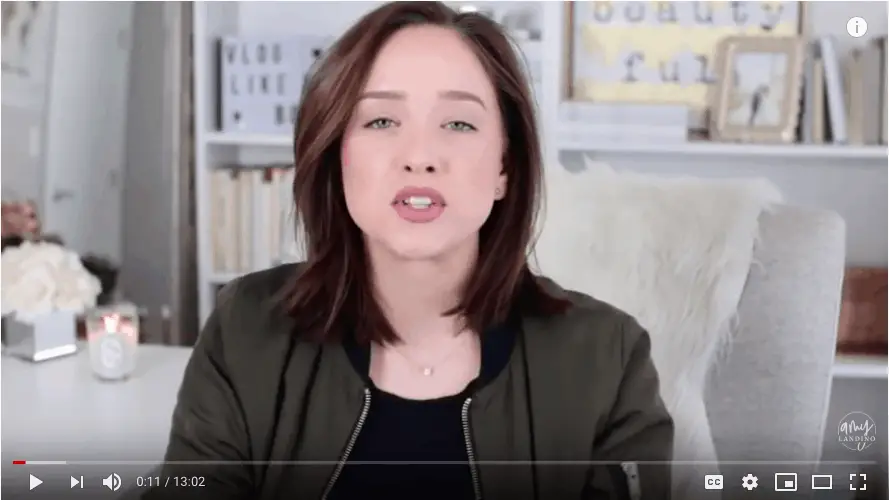 4. Priority List⌛
One of the hardest decisions that you will make every day, week, month or year is the fact that you need to prioritise what you do on a regular basis.
Some items are super important while others are a nice to have.  One of the best ways to help you to make this decision is by taking your goals and completing a mind-map on each one.
A great way to do this is by having an answer for the 5Ws and 1H.  Who, what, when, where, why and how.  It will help you gain clarity about your project.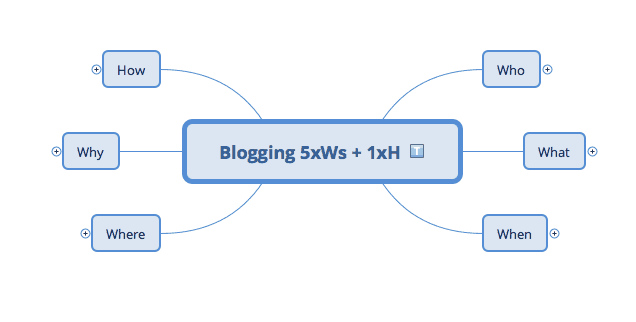 Are you a blogger or a podcaster?  You should answer the 5Ws then you can move to the 1H which is How.  So let's break this down a little.
5. How To Prioritise
Say, I want to generate $5,000 a month I need to know how I am going to achieve that goal.  Once I decide to sell software, a course or coaching then I need to break that down further.
If the solution I am selling has a price of $97.00 then 52 people need to buy it to reach that goal of $5,000. 
The average conversion ratio can be between 1% and 5% which gives me something to work towards.
5,000 people need to see my offer in the worst-case scenario in order for me to get 52 buyers. 
To make this more achievable I can either increase the price of the solution or improve the conversion rate.
My number one focus would be to increase the traffic to my website.  I also need to grow my email list.
6. Time Focus
You now know what the items are on your list of priorities.  Now, you can schedule in time for those priorities.  Generating content (writing blog post) every week is something that needs priority.✍
Other ways to grow your blog traffic can range from social media marketing to PR to adopting unique traffic hacks.  Most importantly converting that traffic to email subscribers.
In order to drive 5,000 page views to your blog every month you need to break that figure down further.  Write down 5-10 traffic channels. For example:
Twitter
Facebook
Tumblr
Pinterest
LinkedIn
Google
Instagram
Include how much traffic is coming from each channel daily and what you need to do every day to increase that number.  Download the free traffic tracking sheet here.
Every week do an overall evaluation of where you spent time and note your return on investment so that you can constantly adopt new time management tips.
7. Blogging Trends
I wanted to pause for a while to take a look at three areas.  How much time do bloggers spend writing a blog post? 
Which channels are being used by bloggers to promote their content?  Which channel is yielding the most results?
As I have mentioned before time is our most precious resource so it important to observe the results of other bloggers so that we can see what is working.
A 3-year blogging trends study by Orbit Media gives us some insight as to what other bloggers are doing and what is working over that time period.
As you can see from the graph below the average blogger spends just over 3 hours creating a single blog post.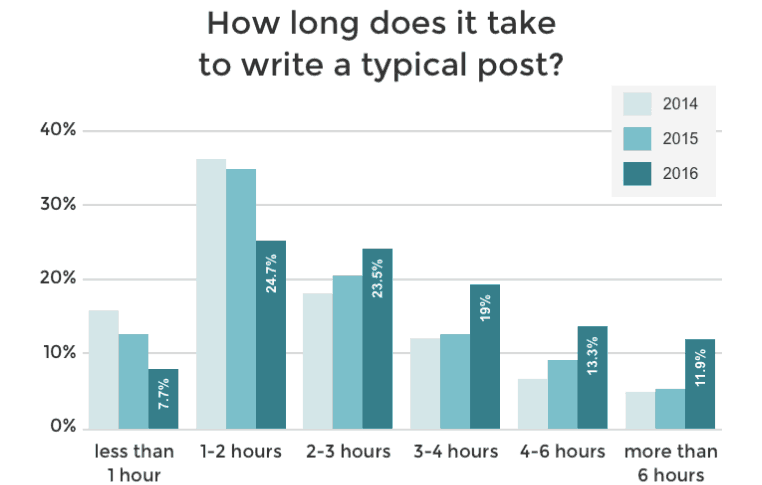 Which channels are bloggers using on a regular basis to promote their blog content?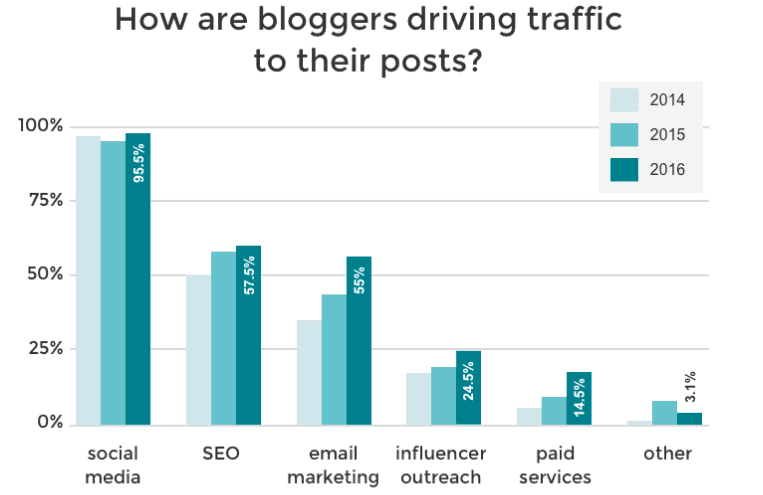 Which channels are yielding the most results.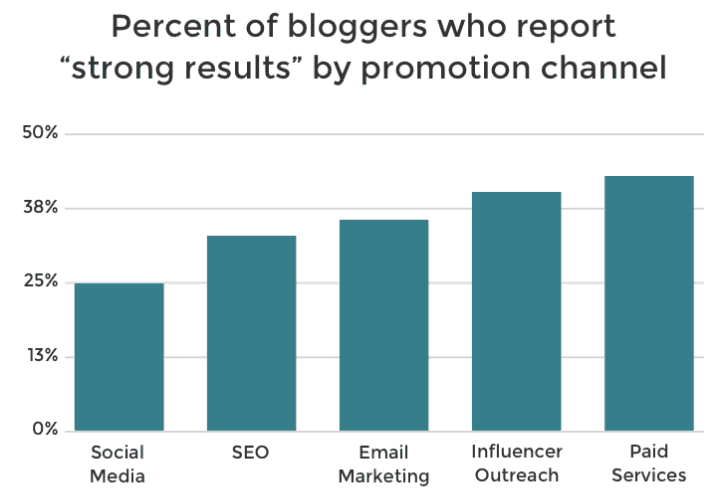 As you can see time management tips are only useful if you know how much time is needed to generate a return and which channels are giving you the best results.
8. Time Savers
You are probably feeling overwhelmed right now which is normal.  Many times a feeling of overwhelm is your brain expanding to allow for growth.?
In this section, we are going to look at ways you can prioritise and achieve your goals efficiently. So far you know you need to constantly generate new content each week
You also know that you need to drive traffic from certain channels to your site to achieve your financial goals.  Are there any software tools out there that can help you become efficient?
The truth is that there are many of them which I will cover in my blog post next week.  In the meantime here are 3 ways you can save time weekly.
Batching
Outsourcing
Templates
By batching your work you will be able to achieve more in less time.  There are tasks that you can outsource at a low cost so that you can focus on prioritising other areas.
Creating templates are crucial to helping you achieve more in less time.  These templates can include blog layout, social media graphics, weekly schedule and content upgrades.
9. Focus Resources
In order to adopt new ways of working you sometimes need to change the way you think.  I have read several books on this topic and I want to share a few with you.?
One of my favourite books of all time that assisted me with limiting beliefs is a book called 'The Traveler's Gift' by Andy Andrews.   It helped me to change my perspective on my situation.
Why I love this book is that it takes me through the life of people in history that achieved amazing things despite the odds. If you can get a chance I recommend that you read it.
Another great book that is practical to a certain extent is the '4-hour Workweek' by Tim Ferris. 
It does help with mindset but it also gives practical examples of how you can reduce your hours worked weekly.
The last book I would like to highlight is called 'The One Thing' by Gary Keller.  It spends a lot of time showing you how to leverage your efforts to get the maximum effects.
Best of all they have huge time management tips to help you get a great return on your investment of time.
Recap
Time flies so fast when you are having fun!?  Here is what we covered in this blog post as a gentle reminder.
24 Hour Day
Essentials
Goals
Priority List
How To Prioritise
Time Focus
Blogging Trends
Time Savers
Focus Resources
Of course, there is so much more time management tips that I can go over but who has time for that?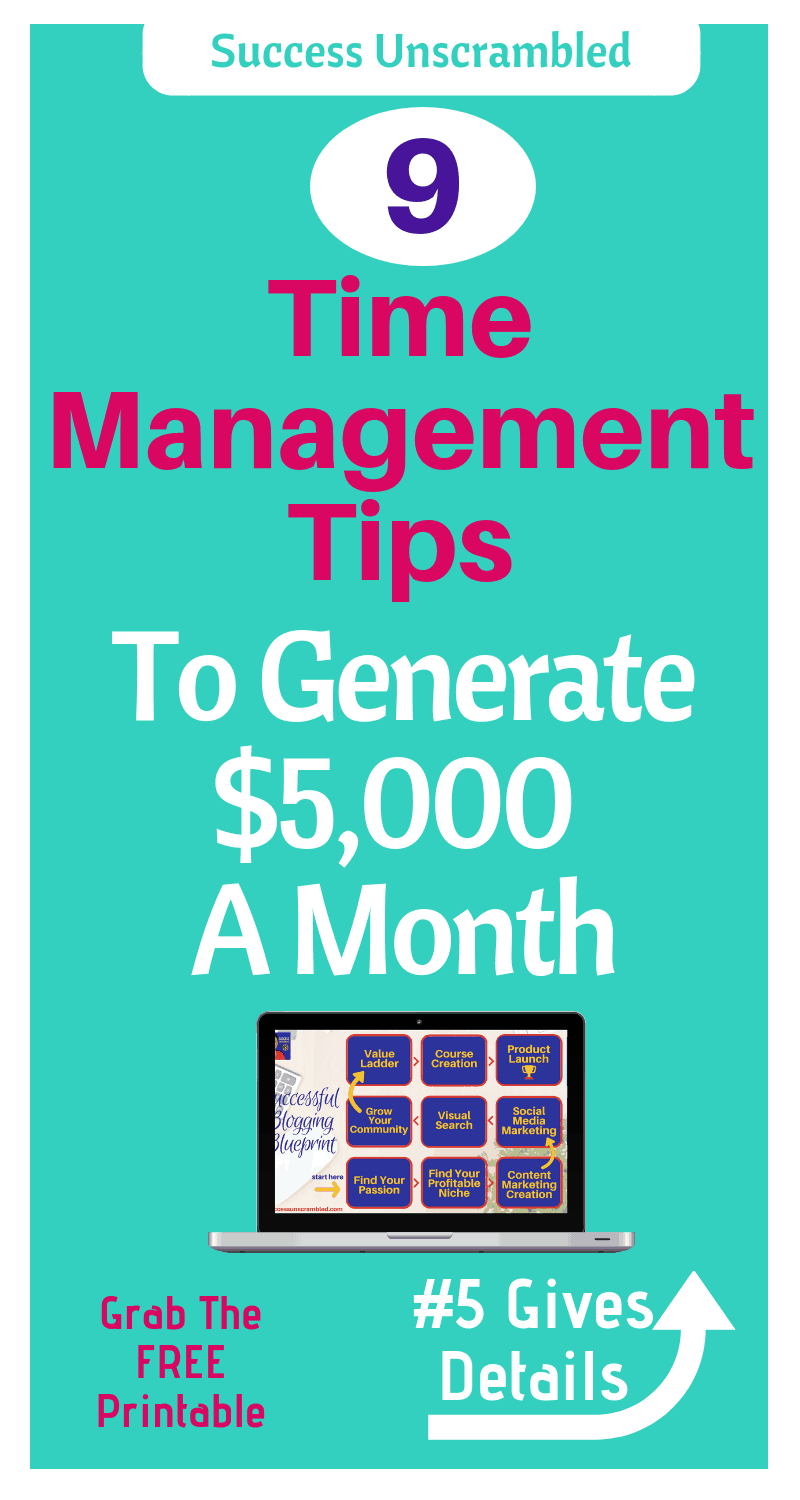 Announcements
You can subscribe to our podcasts to get notified when more success stories become available.  In case you missed it check out the 10-Day Start your Blog on a Budget Challenge. 
It covers blogging for beginners, showing you how to become a blogger, offering blog niche ideas with 20+ HD videos and over the shoulder tutorials.
If you need help setting up your profile on Pinterest or you need someone to manage your Pinterest account on a monthly basis you can work with me here.