Podcast: Play in new window | Download (Duration: 33:35 — 47.1MB) | Embed
Subscribe: Google Podcasts | Spotify | Amazon Music | Stitcher | Email | TuneIn | Deezer | RSS | More
Congratulations on deciding to become a blogger! Do you need to write your first blog post but you don't know what to write?
You've probably never classified yourself as a writer at all.
To put it bluntly, you don't see why anyone would ever be interested in your content.
The English Literature class at school was super boring for you.
Writing English compositions and similar essays were the least pleasurable homework assignments during high school.
If only you had a pet dog that ate your homework it would've been a good idea and the perfect excuse.
Tell me if you can also relate to these.
Despite your checkered past when it comes to writing long form essays, you want to give blog writing your best shot.
There's so much information out there about what to write that it has left you confused.
Technical blogging terminology sounds too scary to understand and you feel a little lost.
You just need a way to start your blog off right to avoid future regrets.
In this post, you'll learn everything you need so that you can write your first blog post confidently and get your first 1,000 blog readers as well.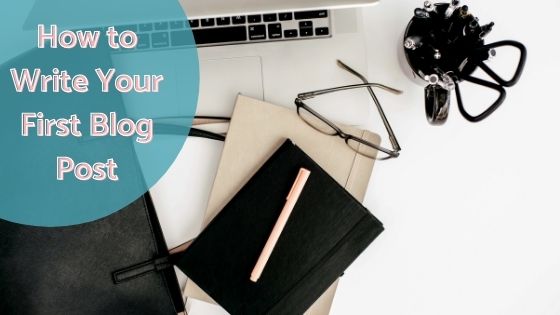 Latest Blogging Statistics
Before diving into this first blog post guide let's spend some time looking at the statistics when it comes to blogging.
It's important to look at blogging statistics because it will give you a frame of reference.
So, you already know that there are close to 8 billion people on planet earth at the moment.
However, you may not know that there are over 1.7 billion websites and about 600 million of them are blogs.
That's about 13 people for each and every blog.
In terms of active bloggers in the US alone there are about 32 million. If you will be blogging for the USA, don't let that number worry you because blogging categories are endless.
The current rate of newly created blog posts stands at 70 million new posts a month.
While that may all sound overwhelming you also need to be aware that there are close to 90,000 searches conducted on Google every second.
Those searches include people looking for content that you have not even written yet.
Bloggers who spend 6 hours or more on a blog post report a 31% increase in results.
If you can't see yourself spending that much time on a blog post yet don't worry right now.
Here's a strange statistic, 73% of people prefer reading articles less than 1,000 words long.
On the flip side of that, blogs earning $50,000 or more a year have blog posts averaging 2,500 in length.
To summarise these statistics in a lump, profitable bloggers are those who spend 6 hours or more crafting blog posts that are 2500 words long as they attract some of those 90,000 searches per second.
This will all make sense in a bit so stick with me until the end.
Types of Blogs
If you have been doing some research you'll notice that there are all different types of blogs that you can create.
In fact, when I first started blogging over 10 years ago these blog types weren't as clear cut.
After creating over 100 blogs I can tell you that getting this right is super important.
The reason for this is that your blog type will determine the type of blog posts that you create for years to come.
Here's a list of the different types of blogs.
Niche
Guest
Teaching
Journey
Lifestyle
Curation
Let's briefly look at each one to help you decide your chosen blog type.
Niche
As the name suggests a niche blog is one that is super focused on one specific topic. When I say super focused, I mean that the topic is very narrow.
A great example of a super-focused topic is gaming mice for left-handed gamers. What is unique about this blog type is that there's no need to write hundreds of blog posts.
The flip side of that is that you may need to create 10 different niche blogs to achieve your income goals.
Guest
If you haven't figured it out as yet a guest blog type is one where many bloggers are invited to write as contributors.
You as the owner will get help from other writers in your industry to write content every month. The good thing about this blog type is that you don't have to do all the work.
The downside of this blog type is that you have less control over the quality of the content unless you hire an editor.
Teaching
You may decide to set up a blog in such a way that teaches your audience about a topic like fly fishing, gardening or even sewing.
Every week you write about a different area that you want to teach about and invite readers to try it out themselves.
It can be a fun way to develop your blog if you enjoy teaching. However, it means that you need to constantly come up with new ideas or things to create.
Journey
The journey blog type is a bit tricky because as the name suggests it is all about you documenting your journey to achieve a goal.
For example, a journey can be how I grew my blog from 0 to 1 million followers in 3 years. Another example could be 0 to six figures a month, my step by step journey.
It is a very exciting blog type because your followers want to see how you did it. They want to be part of the experience with you.
Lifestyle
Believe it or not, the lifestyle blog type is very popular among bloggers because it allows you to write about whatever is happening in your life.
Unlike the journey blog there is no end goal just weekly updates on things that you are working on.
While this may seem pretty aimless and bland it can be very rewarding and exciting if you are a celebrity. If you are already a celebrity or influencer you'll already have a following.
Curation
The final blog type is the curation blog. If you never heard of curation in your life it basically means that you take content from other blogs and blend them together.
At first it may sound like a terrible idea because it sounds like stealing. Lol!!
However, curating other people's content is an acceptable practice if done correctly. You need to ensure that you put your own spin on the piece you create and give credit to the content originators.
Of these 6 different types of blogs, only 4 of them grow really fast compared to the other two. In fact, out of the 6, there's one blog type that is super fast to create.
This blog type is one of the fastest growing in the industry.
If you create this blog type you can expect to go from 0 to 100,000 page views a month in under a year.
Do you know which blog type grows the fastest?
Grab this resource to learn about the 4 fastest growing blog types in the industry today.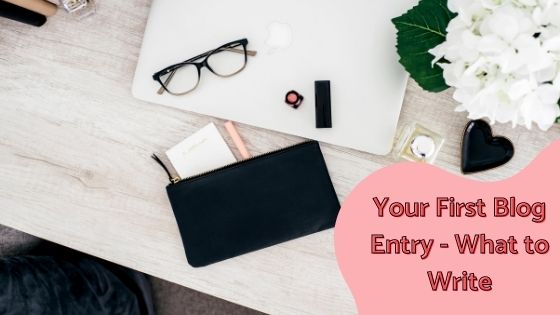 Blog Post Types
As I mentioned previously, the type of blog that you create will help determine the type of blog posts you'll write.
So, what are the different types of blog posts anyway? Well, let's take a quick look at them.
List
Comparison post
Tutorial
Resource
Ultimate guide
While that list may seem straight-forward at first, it can be very easy to get confused on the different types of blog posts.
List
As the name suggests a list post is a blog post with a list of items showing you how to accomplish a goal.
For example, 11 painful reasons why you fail to increase blog traffic. Or 13 simple stupid ways to grow your blog traffic.
One clever thing to remember when writing a list post is that if you promise 7 ways be sure to give your reader all 7 ways and number each point.
Comparison post
The next blog post type on the list is a comparison post. Unless you absolutely enjoy writing these types of posts I wouldn't suggest this as your first blog post.
These posts are very valuable for your followers who are very close to making a decision on two items.
For example, I wrote one recently about Canva pro vs free right here. A great benefit of this blog post type is that it gives you the opportunity to write an honest review.
I must warn you that it can take time to write this blog post type because it can be 2000+ words in length.
Tutorial post
A tutorial post is one where you are walking someone through how to do something like use a product or service.
As you can imagine this type of blog post is very helpful for your reader.
It is helpful because you help them to save time, overwhelm and they get to experience all the benefits of that product or service.
Think of it as you giving them a shortcut to success.
Recently, I wrote a tutorial post about how to use TweetDeck here. You'll notice how I took my readers by the hand and showed them everything about TweetDeck.
Resource
At some point during your blogging career you would have written many posts that can be placed into the format of a resource.
A good example of this is if you are a lifestyle blogger and over the years you create a ton of articles on everything related about the back to school season.
It now means that you can create a post that is a back to school resource.
In my case, I wrote about 100 blogging resources and tools here.
Ultimate Guide
You've probably seen this type of blog post around in the past. A blog post that is an ultimate guide is like a cornerstone post.
This is because it really goes in depth about a topic and covers it from several different angles.
The best way to describe it is a blog post that answers every question about a certain topic. Ultimate guides tend to be very comprehensive and can be 8,000 to 10,000 words in length.
I will never suggest writing this as your first blog post because you'll find it frustrating. You can see my ultimate blog planner here as an example.
Feel free to compare it with my ultimate Instagram scheduler post as well.
Search Engine Optimisation
Now that you know all about the different types of blogs as well as the post types it's time to look at search engine optimisation (SEO).
SEO is important because it helps you to conduct research before you choose a topic. However, it can take a long time for your post to get the first impression from Google search.
While it may seem exciting to write about anything that pops into your head.
It's more important to write about what people are searching for in Google. If you remember I mentioned earlier that there are close to 90,000 searches in the Google search engine every second.
That adds up to over 7.776 billion searches in 24 hours. Wouldn't it be nice if your potential followers can find your blog post?
To ensure that happens you need to do your research to see what your potential clients are searching for in Google.
When you find that out then there are a few things you need to consider before choosing the topic.
Does the topic match your blog?
What's the user intent?
Consider the next best step after they finish reading
Will this topic actually give you a return on your investment?
Can you answer all their questions?
Do you have the ability to optimise the blog post sufficiently to rank?
A few years ago it was okay to write whatever you want in your blog. However, Google has implemented so many rules because they care about the user so much.
It is probably one of the reasons why lifestyle blogs are so popular. You can basically write about everything and anything for it to match your blog content.
One thing that new bloggers find very difficult is understanding SEO which is why I created two resources to help you out.
SEO for beginners is the first step to helping you to grasp the basics. While this SEO checklist is the next step to help you rank in Google.
Blog Income
One of the factors that will help you to choose a blog type is the potential income that your blog will generate.
As a blogger there are several ways to generate income online.
These ways include the following:
Services
Affiliate income
Ad Networks
Courses
Sponsored posts
Just by looking at this list, you'll realise that only two of these sources of blog income are passive while the other 3 involve some extra work.
Yes, you can easily argue that creating a course is a 'set it and forget it' activity but that really depends on your niche.
For example, my niche is digital marketing so if I create a course it means I'll need to update it every 6-12 months.
In my opinion, services and affiliate income are the two easiest ones to help you start earning an income straight away.
As your blog grows in daily and monthly traffic levels your income from Ad networks like Adsense, Ezoic and/or Mediavine will also increase.
You'll also get pitches constantly from brands who don't want to pay you a minimum of $250 per sponsored post. Just ignore them because it would be worth the wait.
Are you wondering which blog niches make the most money? It is definitely something to consider before you write your first blog post.
Only 6 blog niches are the most profitable and you can learn more here.
Blog Post Ideas
You are probably super excited to start writing your first blog post so I am going to help you by giving you access to a ton of first blog post ideas.
There's nothing worse than facing a blank screen as a blogger when it's time to write a blog post.
Even after 10 years experience I sometimes face a blank screen not because I don't have a list of possible topics but because I have to choose a topic that fits a timeframe.
As I mentioned previously, the most successful bloggers spend 6 hours on a single blog post.
Many of my blog posts tend to be 3,000 to 8,000 words in length so I have to consider how much writing time I have in order to choose a topic.
One of the secrets to never experience writer's block is to always be on the lookout for topics.
For example, I have a collection on Facebook that is set up to save blog post ideas.
You can also take a look at these blog topics for lifestyle bloggers. As well as these topics for food bloggers right here.
Did you know that not all blog topics are created equal?
What I mean is that there are some blog topics that are higher in demand compared to other types of topics.
So, if you need blog post ideas that are considered popular blog topics go here.
However, if you prefer to check out topics with even higher searches then grab these most searched blog topics over here.
In total, I have given you access to over 2,500 blog post ideas so that you can pick and choose according to your needs.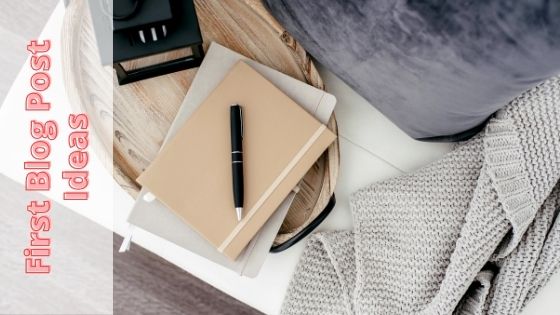 Blog Post Outline
Too often, new bloggers spend a lot of time stressing about their blog post outline when it is not as important as it seems.
Yes, there needs to be a structure to follow when creating blog posts. This can be done in a few simple steps.
In fact, the structure actually helps you more with research compared to the actual writing itself.
When you consider your target audience and how they read or consume your content then you'll understand the best way to structure your posts.
For example, a food blogger will have a completely different outline when compared to a blogger writing about fly fishing.
A great way to develop an outline is to have a beginning, an end as well as an objective.
It is important to have an objective because it helps you ensure that your audience achieves a goal by consuming your content in an easy way.
For example, the objective of a food blogger with a recipe post is that anyone can take his/her recipe and make it at home without the need for too many specialist ingredients.
Think about it, if the recipe is too difficult to replicate then that blog post has failed miserably.
The same applies to your blog post, what's the end goal? If you are writing for the sake of writing you're missing the point.
Let's look at a simple outline now.
Objective
Introduction (mention objective inside the introduction)
First subheading (develop the need for your content, give a definition or statistics or talk about the problem)
Second subheading (what your reader needs in order to experience success)
Third subheading (a few things to consider on your journey)
Fourth subheading (this is how you do it, the solution step by step)
Bonus subheading (optional, sometimes I may include a bonus or unexpected freebie)
Summary (recount what they learned)
Conclusion (closing remarks)
Now that you have an outline to work with it is important to remember that when you write your first blog post it should be user friendly and SEO friendly.
In other words, the search engines should be able to crawl it and index it appropriately. Remember to include keywords, title tags, alt tags for images and a meta description.
Also, your readers should find it easy to consume the content and accomplish their goals.
How to Get Your First 1,000 Blog Readers
After you click publish for the first time you'll notice that you will not get much traffic or a lot of readers instantly.
In fact, you'll need to promote it across different social networks to get a lot of people to your blog. Social shares can also help your blog get social signals that help with ranking.
It will be a great idea to create your social media accounts before publishing your first post.
One clever way to get more readers quickly while you wait for your blog post to show up in the search results is to promote it on Pinterest.
Pinterest is a visual search engine so there are rules and practices that you'll need to implement to get results to your blog.
The first thing you need to do is get a great understanding of Pinterest SEO and how that will work for you.
Also, spend time researching Pinterest keywords as this will help you master the platform faster.
Although Pinterest group boards are not as popular as they used to be they are still useful for getting your content in front of your audience.
If you have a marketing budget available consider using the Tailwind App to automate your daily pinning process.
You can take a look at my review of Tailwind here to get a step by step overview.
To get even more out of Pinterest consider taking a look at these courses here.
My Blog Promotion Ninja course is free for you to access as well.
How to Get Better Results
The biggest mistake that bloggers make when it comes to SEO is not conducting any keyword research. There's a free guide here to help you with DIY SEO tools.
Set up an editing process that will help you check for grammar errors, spelling and developing a great headline.
Believe it or not your writing skills will develop over time.
As part of my blogging process, I write inside WordPress and use a combination of Google Drive and Google docs as the best place to keep a copy of every blog post safe.
I normally start with a working title that I develop as I write and edit the blog post. Using good hooks in your first blog entry can help you gain repeat visitors.
Feel free to check out this list of catchy titles that will help you formulate your very own unique hooks.
If you are stuck on a post type to write then choose list posts to get started on your journey. Choose a blog post topic and use the simple formula above to write your outline.
Ensure that you use keywords wisely, have good blog post introductions and solve your readers' problem.
Doing this will bring you a steady stream of new readers over time.
Cover all the main points and feel free to sprinkle in your own experiences as this is your own blog.
Developing a successful blog after you click the publish button on your next post as well as future posts involves adding internal links to new and existing posts.
Your first blog post could also be an introductory post but it doesn't need to be as you can introduce yourself on the about me page.
The good news about blogging is that you don't need to be an English teacher and you can develop your own writing style along the way.
Did you know that when I started this blog a few years ago I disliked writing? The thought of writing a blog post weekly made me feel ill.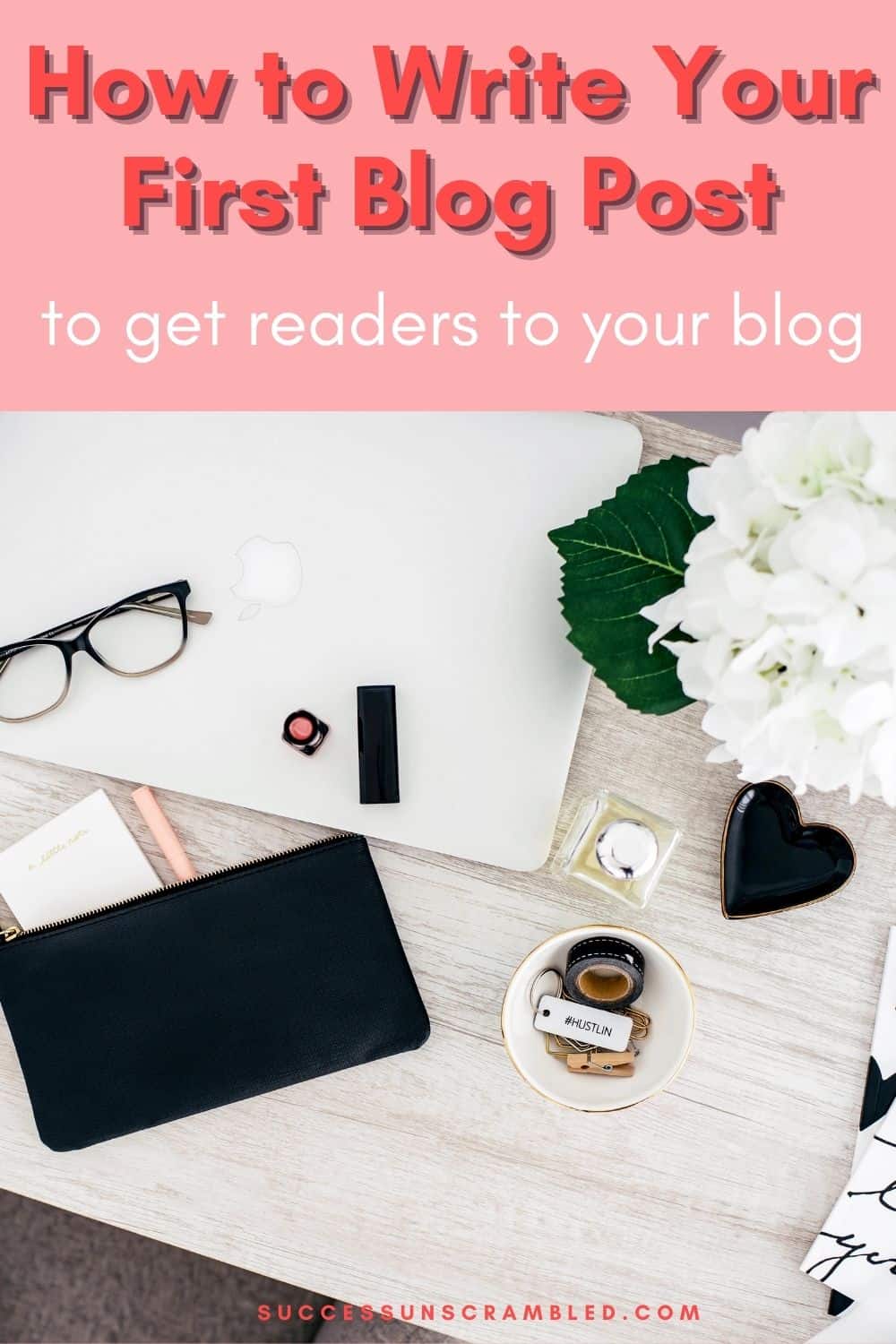 Summary
As a new blogger, you may struggle in several areas but it is important to remember that creating and mastering a blog is a journey.
It will take time to get the hang of things in the first few months.
Depending on the blog niche, type and posts that you create you can experience results quickly or slowly.
You will need to develop a great blogging schedule in order to blog consistently every week.
Here's a summary of what was covered.
Blogging statistics
Types of blogs
Blog post types
SEO
Income from your blog
2,500 blog post ideas
Blog post outline
Getting your first 1,000 readers
How to get better results
Yes, it will seem like a lot of work initially but it is so worth it if you stick to an established process in the next 3-5 years.
Over to you, what do you think you need now to write your first blog post?
Announcements
Remember to subscribe to the Success Unscrambled podcast where you will be the first to hear what's happening in the entrepreneurial and digital marketing world.
Your positive review of this podcast is vital to keeping it alive and running for the next 12 – 24 months so please leave a positive 5-star review for us on iTunes, Spotify or any of your favourite podcast players.
When I first started this blog I didn't believe that it would survive the first 6 months.
After all who am I and why would anyone listen to me?
I started this blog in 2017 because I had a burden on my heart to reduce women illiteracy globally.
Because this is a huge undertaking I have decided to help 1,000 women over the next 10 years to become wildly successful in their online business through simplified marketing strategies.
That way we can build a strong business network of women who can donate 1% of their profit and together we can help reduce women illiteracy worldwide.
Would you like to be part of this movement? Shoot me an email using alvern (at) successunscrambled (dot) com.