Podcast: Play in new window | Download (Duration: 33:01 — 46.5MB) | Embed
Subscribe: Google Podcasts | Spotify | Amazon Music | Stitcher | Email | TuneIn | Deezer | RSS | More
If you are facing a decision on whether to go with Canva pro vs free but need a detailed comparison to help you choose one then this review is for you.
So, like me, you have been using Canva for a number of years and you are constantly prompted to upgrade to the Pro version via a free 30-day trial.
Each time you are tempted to give it a go for that 30-day period just to see what it is like.
However, the timing is never right or you are just not at that place in your business to justify that additional expense.
The truth is that you had a few occasions where you've experienced one of these.
You wrote the perfect Instagram caption and you found the perfect complimentary image on Canva but it's not free.
While creating your Pinterest images you found a cool image that you can use but you aren't excited about the background.
It would be nice to easily organise your product offers or printable items into specific folders.
There must be a better way to get the most out of Canva but how to justify upgrading to the pro version is something you really need.
In this blog post, you will learn the similarities and differences between Canva pro and the free version as well as when the time is right for you to upgrade to Canva pro.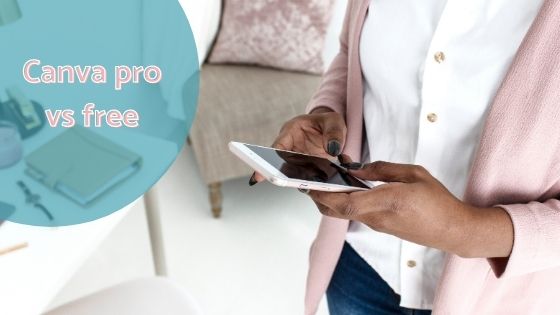 What is Online Graphic Design Software?
If you are new to online marketing or you never thought of creating your own images before let me pause here and explain further.
Whenever you want to promote a business, wedding, party, sale, engagement, an event or send a card you would use software to create the announcement.
Depending on your experience or affinity you might have used Microsoft Publisher to create flyers, business cards, logos, party invitations, thank you cards and banners.
However, since many services are now available online there is a plethora of applications available to create these items on the Internet.
The reason for this is because there is a huge need to collaborate with others in your team or group.
When you are planning a big event there are so many other people involved in creating content and graphics.
Online graphic design software (aka online design tools) gives you the ability to seamlessly create your design from scratch.
If you are like me and graphic design is not in your wheelhouse you will probably customise an existing template instead.
Another obvious reason is that for many small business owners, hiring a graphic designer to create your brand graphics from scratch can set you back at least $1,000.
About Canva
Canva was founded in 2012 in Sydney, Australia by Melanie Perkins, Cliff Obrecht and Cameron Adams.
What many people are not aware of is that Canva acquired Pexels, Pixabay and Zeetings over the years.
They also have partnerships with Office Depot, FedEx and they are valued at $6 billion as of 2020.
Canva Pricing
There is a forever free version of Canva available for small business owners and their pro plan will set you back at $12/month for up to 5 users.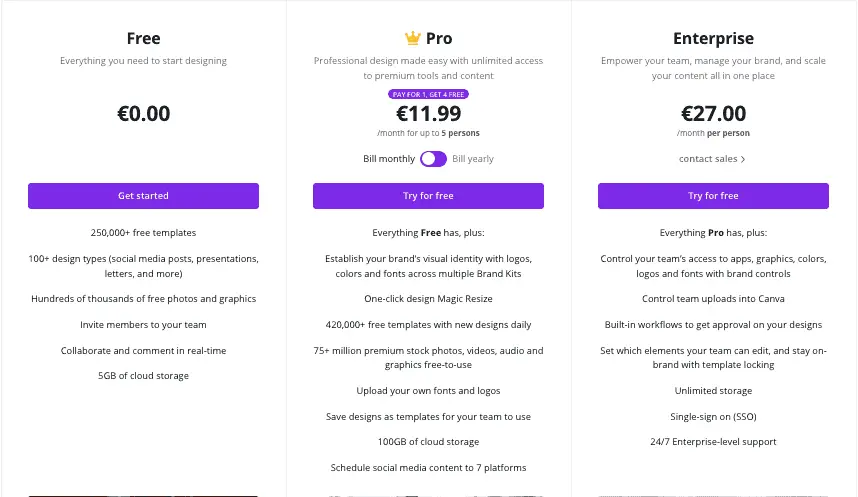 You are probably wondering why would anyone upgrade to the pro plan if they are getting so much value for free.
Taking a closer look at the features at the pro level will help you understand the amazing time saving features.
Free Forever Plan
Before looking at the pro version let's spend some time revisiting the free forever plan of Canva for a few minutes.
I'm still stunned by the sheer number of features that come as standard for free on this platform.
Colour Palette
A number of years ago when I started using Canva I was introduced to their clever colour palette which I thought was the best thing since sliced bread.
Goodbye colour picker hello colour palette. Lol!!
I actually felt that I could spend a whole day just uploading photos and creating Pinterest pins that had text with matching colours.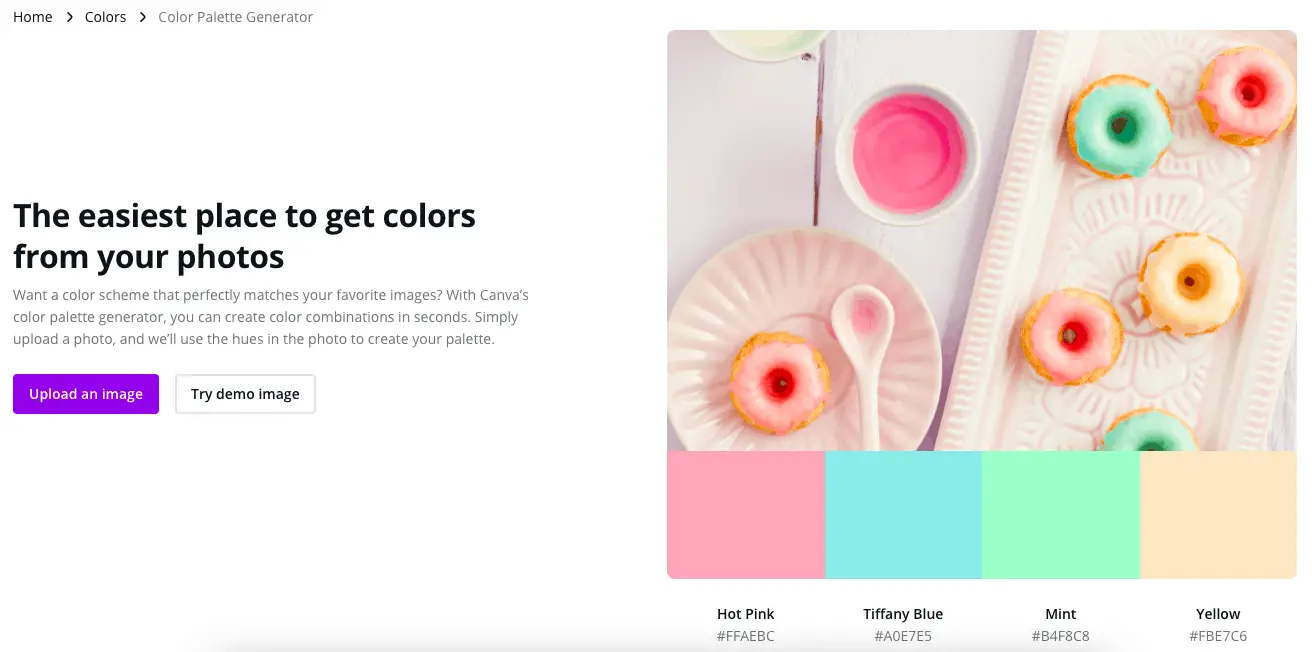 That is until I found out that blending your text to the image does not make a pin scroll stopping so I needed to change that habit.
Anyhoo, at least for any upcoming birthdays, anniversaries and major events I can be assured that I have a tool that I can use to match the text and images professionally.
Design Elements
As I mentioned previously, when I first started promoting content on Pinterest I spent a lot of time creating pins on Canva.
In fact, I calculated that in order to be successful on Pinterest I needed to be creating a minimum of 100 fresh pins every month.
Because I am not a graphic designer by any stretch of the imagination I needed to get creative. One idea that came to mind was adding design elements to pins.
If you have no idea what I am referring to then check out the screenshot below that gives you a quick overview of the design elements available in Canva.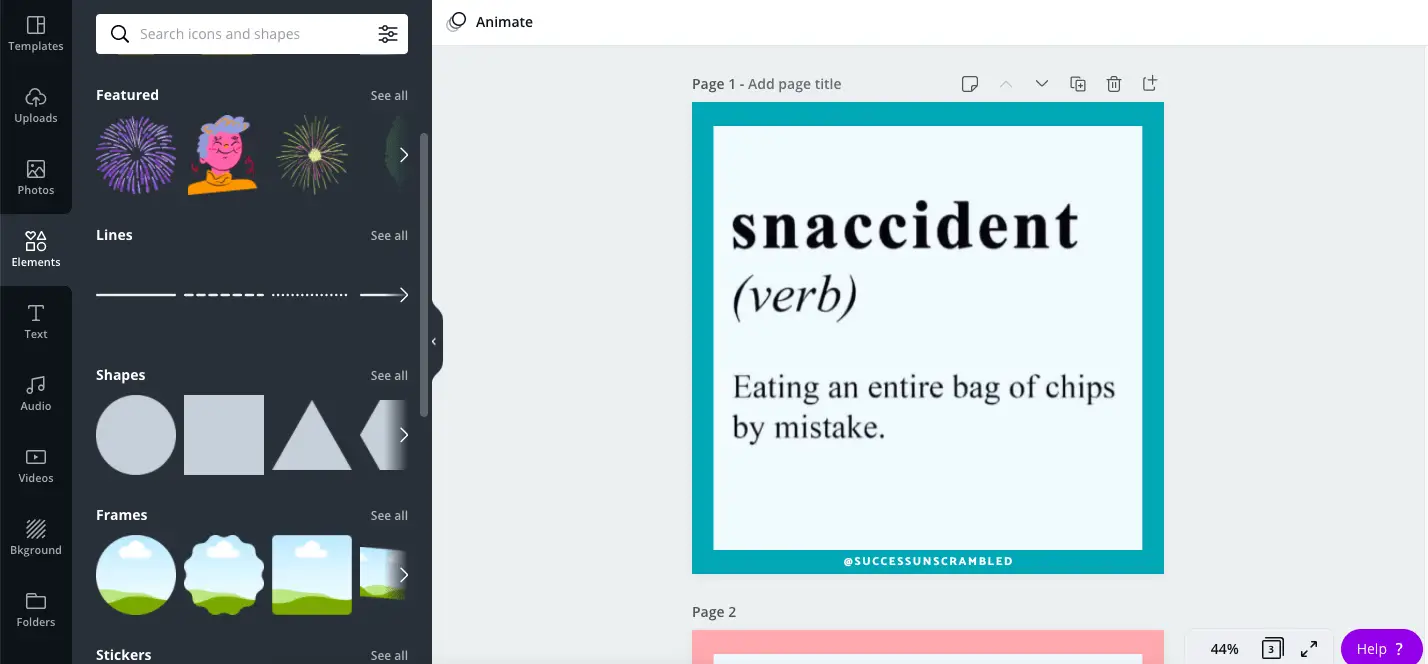 There are a ton of features to choose from including lines, arrows, grids, frames, stickers, charts and gradients.
Using these design elements can help you to easily customise an existing image or template to make it unique from an existing version.
The grid element is especially helpful when you need to create a product mockup or display several images on a single Pinterest pin or social media post.
Social Media Platforms
One cool feature that anyone would like about Canva is that it comes with templates for 9 social media platforms that are ready to customise.
You already know how scary it is to start with a blank screen so that challenge is addressed really well thanks to Canva's social media templates.
If you have not explored them all yet here's a big list of social media templates that are available on Canva. They help you create social media images in a flash.
LinkedIn
Canva has templates for the following LinkedIn requirements.
Banner
Post
Sponsored content
Story
Video Ad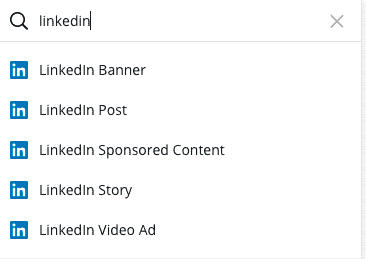 Tumblr
While Tumblr is not as popular as the top 5 social media platforms, Canva still offers templates for the following requirements.
Banner
Graphic
YouTube
If you ever had the opportunity to run a campaign on YouTube or if you post to that platform every week you know that creating scroll stopping thumbnails are super important.
Here's a list of YouTube graphic templates available on Canva.
Channel art
Display Ad
Icon
Thumbnail
Video Ad
Gaming video
Intro
Music thumbnail
Tutorial thumbnail
Food thumbnail
Snapchat
Snapchat seems to be more popular among millennials. However, there are quite a number of brands and businesses that use it regularly.
I was actually quite surprised that there was such a thing as a wedding filter but you learn something new everyday.
Geofilter
Congratulations geofilter
Community geofilter
Birthday geofilter
Wedding geofilter
University geofilter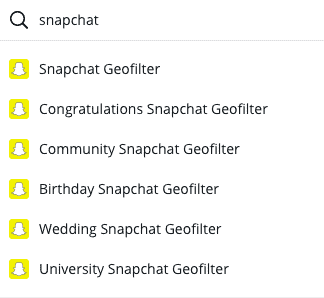 Facebook
Have you ever wondered about how many Facebook graphic templates are available on Canva? While this is not something that keeps me awake at night it is something worth knowing just in case.
The available Facebook graphic templates include the following (at the time of writing this post).
Facebook Ad
App Ad
Cover
Event cover
Post
Shops Ad
Shops cover
Story
Video
Shops story Ad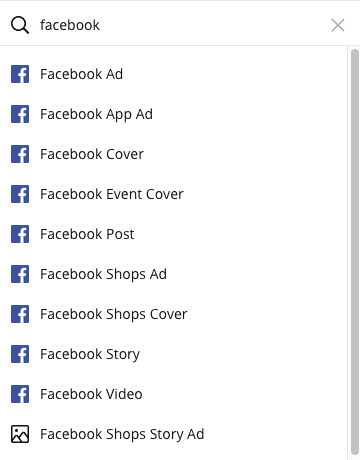 Pinterest
If you have been using Pinterest for some time you would know that the platform is undergoing a tremendous amount of change every 3 months.
Almost every week in Facebook groups I see a post of someone who has experienced a massive decrease in traffic from Pinterest.
While you and I may not have any control over what happens on the Pinterest platform we can do our part by creating pretty pins.
Pinterest pin
Wedding pin
Food pin
Video pin
Birthday pin
I am surprised that the Pinterest Story pin is not yet on the list at the time of writing this post but let's wait and see when they will arrive.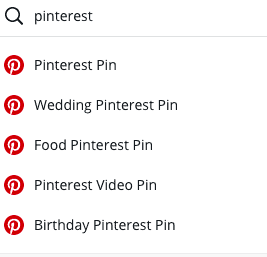 Twitter
While many small business owners are not users of the Twitter platform it can be a great place to create business collaborations.
Here's a list of Twitter graphic templates available on Canva.
Twitter Ad
Header
Post
Earth day post
Event header
Quote post
Love post
Photography header
Birthday post
Illustration header
Just like you, I was quite surprised at the large amount of Twitter templates available to small businesses.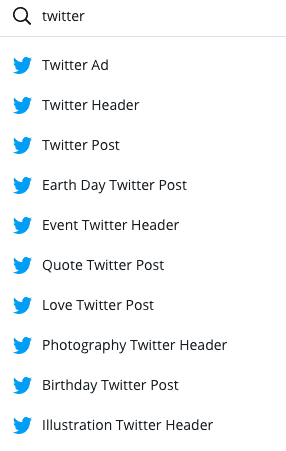 TikTok
"Are you on TikTok yet?" This seems to be the question on everyone's lips whenever a video or statistic from TikTok is mentioned during a discussion.
Even though I am not there yet it is reassuring to know that it will be easy for me to get started thanks to Canva's TikTok templates.
TikTok video
End frame
Magazine cover
Background
In-feed Ad
Do you have any idea what a TikTok magazine cover is? Neither do I? Lol!!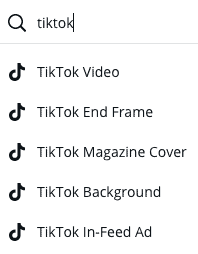 Instagram
If someone asked me what the most popular social media graphic template is on Canva I would have thought that it would be Instagram.
The reason for this is because there are so many different areas of Instagram that require you to create content as well as so many different sizes.
Instagram post
Reel video
Story
Easter post
Newsroom post
Autumn post
Delicate florals story
Reel video end frame
Feed static Ad
Clean minimalist story
Chinese new year post
Reel video background
Snapshots story
Natural scrapbook story
Father's day story
Ask me 3 questions story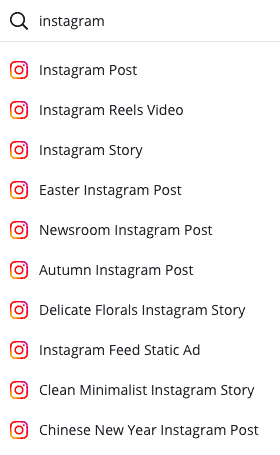 From a glance, you can see that this list is not exhaustive and there are so many more Instagram graphic templates available.
Brand Kit
Now that you have access to all these templates in Canva, is it possible to easily customise them using your brand colours, fonts, logo and elements?
The free version of Canva gives you the ability to partially customise your brand kit. It does this by allowing you to choose 3 colours from your brand's colour palette.
However, uploading more colours, adding your logo as well as your own custom fonts can be accessed after upgrading to the pro version of Canva.
To add 3 colours for branding purposes in the free version just head over to brand kit after logging in and add your colours there.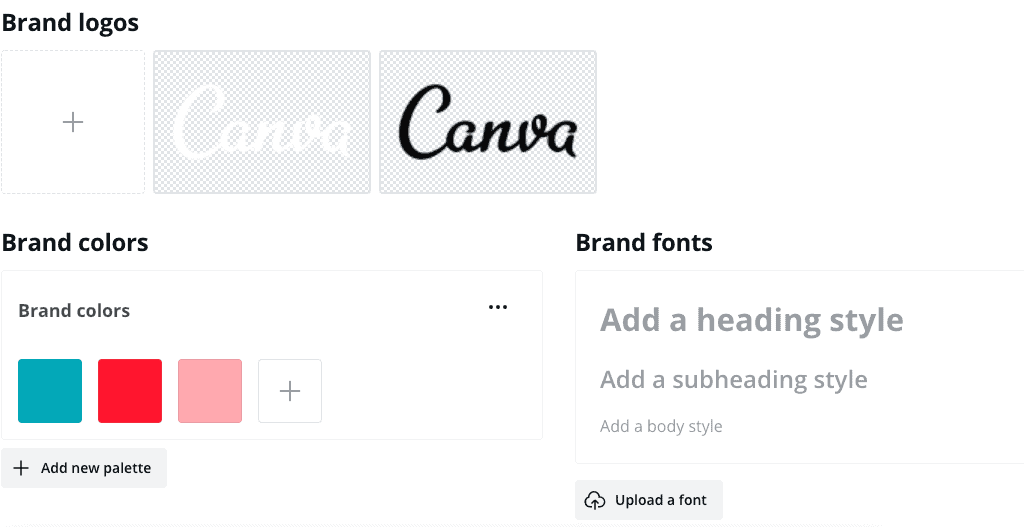 Desktop vs mobile
If you use social media software on a regular basis you'll know that in many cases they will have a desktop version as well as a mobile app available.
One good reason to continue to use Canva is that it is available on desktop and the smartphone. Which means that you can save time by creating designs from any device.
While it is easier to create designs using the desktop version you have the ability to update your designs on the go.
You can even start them on the mobile app and complete them when you get back to your desk.
Cloud storage
If there is one thing you need to monitor consistently in your Canva account is the use of your cloud storage.
As a user of Canva for almost 4 years, I have only managed to experience issues with my cloud storage last year and this year.
Even now as I am creating this resource I have a warning message inside Canva. It's letting me know that I have used 78% of my cloud storage facility.
In the free-forever Canva account, you get the standard 5 GB of cloud storage. This is very generous when you consider that the Adobe Photoshop paid photography plan comes with 20GB of cloud storage.
Stock images
Isn't it great that the free version of Canva comes with a stock photo library as standard. Essentially, you get free images as part of the free account.
Yes, you can argue that because they now own Pexels and Pixabay which are free stock photo resources it is easy for them to offer these free to users as well.
When you think of the hassle of looking for that perfect image to speak to your social media messaging outside of a graphic design application.
You cannot help but appreciate the fact that Canva helps many small businesses globally. They do this by offering a one-stop-shop for their graphic design needs.
Marketing materials
When it comes to the standard brick and mortar company, small business owners will be pleased with the fact that there is a plethora of marketing materials available on Canva.
The traditional forms of marketing include many non-digital items like the following.
Letterheads
Business cards
Flyers
Invoices
Brochures
Posters
Flyers
Postcard
What makes Canva different compared to other platforms is that they also have a printing service which is great for promotional items like the following.
T-shirts
Mugs
Photo books
Rack cards
Gift certificates
Invitations
They even offer free delivery on these items which is surprising. I can't wait to give them a try for my upcoming big event next year.
Save design as template
As I mentioned previously, creating beautiful designs for your Etsy or Shopify store and saving them as templates is possible.
The best way to achieve this is by using the templates feature which is available in the free forever plan of Canva.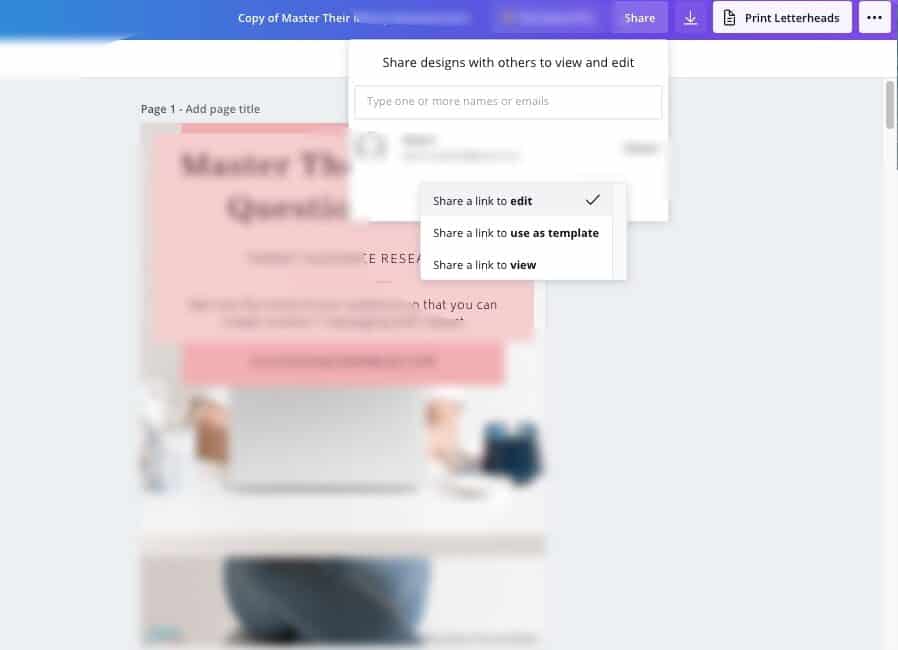 Canva Pro Plan
Now that the features of the free version have been covered let's look at what you get in the Canva pro account that is not available in the free plan.
If you have never used Canva before you'll be happy to learn that the user experience is more or less the same on both plans.
Unlimited folders
As I mentioned previously, I have been using Canva for over three years now and the one thing that frustrates me is the inability to search inside the application.
For example, if I created an ebook 2 years ago and the only way to find it is to scroll through all my existing designs.
This is why unlimited folders are brilliant, because I can store my creations in clearly marked and labelled folders to easily retrieve them later.
I am sure that you'll agree with me that this feature alone can save you hours of searching through hundreds of existing designs.
Background remover
One key headache I mentioned at the start of this post is the ability to change the background of a photo.
The Canva pro version comes as standard with a cool feature called the background remover. Essentially, plucking the subject out of an existing background.
An important benefit of this piece of technology is it gives you more control over images.
At least you get sufficient control to brand the photos from the stock library faster and easier. I've used the background remover in one of my client's accounts and it can be glitchy sometimes.
Premium stock photos
Speaking of the stock photo library, the Canva pro account gives you access to premium stock photos.
Think of all the times that you found the perfect photo to compliment your social media image only to realise that it is not available with the free version.
The pro plan gives you 75 million premium stock photos, videos, audio and graphics to use whenever you need it.
What's even better is that you also get to use the background remover with your premium photos.
Magic resize
Remember I mentioned earlier about creating 100 Pinterest pins every month? One of the key aspects of creating a variety of pins was to create two different sizes.
If you were ever in a situation where you needed to resize or create dozens of different sizes of images in a short time period this will resonate.
After creating the 10th pin and you realise that you need to do another 20 graphics you'll be wishing for a resize feature.
I've used the one click resize design inside a pro canva account and here's my feedback.
While taking an existing 900 x 1600 design and turning it into a 1080 x 1080 sounds like magic it does require a number of tweaks.
Brand kit
As I mentioned previously, the brand kit in the Canva pro account gives you the ability to upload all your important brand elements.
These include your logo, font styles and brand board colours.
If you have several brands across your products and services then it would make more sense to use the Enterprise plan or version of Canva.
Transparent background
When it comes to creating icons, product mockups and assets for your website and landing pages you'll come to realise the value of having this one feature.
There are several occasions where I desperately needed a mock up or icon with a transparent background.
To get around the challenge I needed to match the background colour of the page to that of the mockup or icon so that the design looks flawless.
It took a lot longer than I originally anticipated to get it done. Having the Canva pro version would have saved me so much time.
Team members
As your business continues to grow you will soon need to give other members of your team access to Canva.
Upgrading to a Canva pro account will give you the ability to support additional team members. It will cost about $40 a month for 5 team members.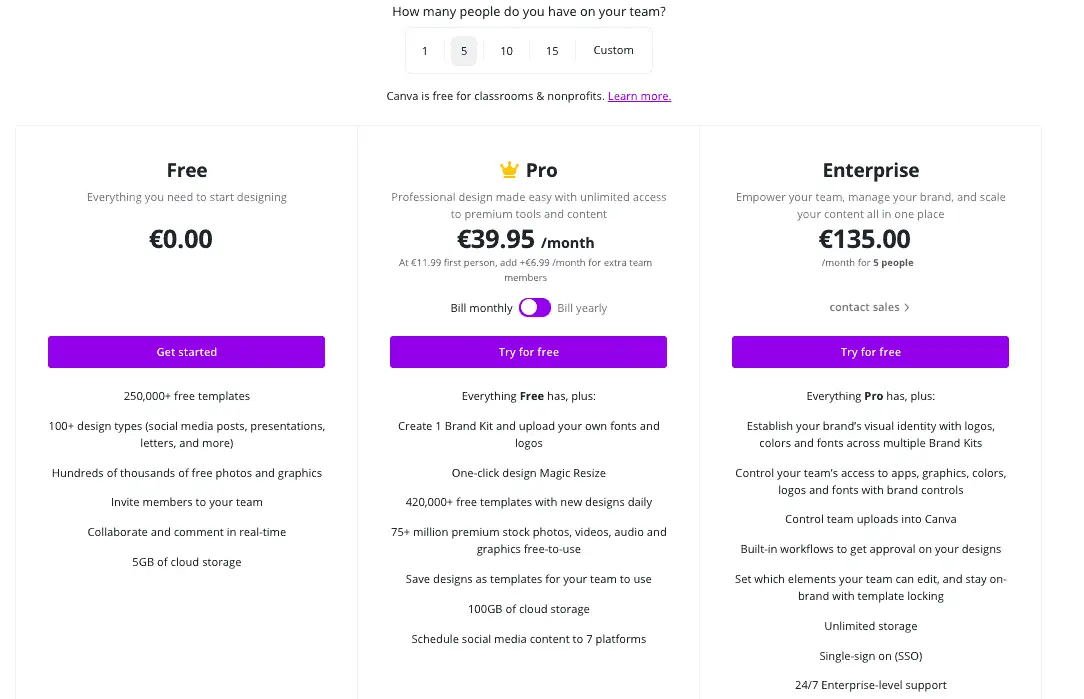 Sometimes Canva offers special discounts where you can get 5 team members for the price of 1. So join their mailing list to learn more about their offers.
Content Planner
When you upgrade to the Canva pro plan you'll get access to the Content Planner that gives you the ability to plan your content months in advance.
You'll also be able to schedule and publish to Facebook, Pinterest, LinkedIn, Tumblr, Twitter and Instagram.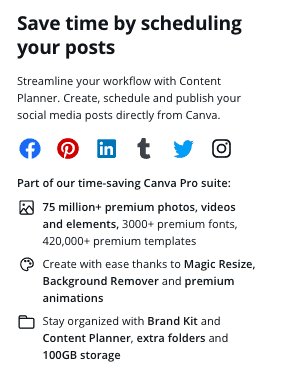 Advanced features
Canva continues to introduce a ton of advanced features every year. Some of these advanced features include the following.
Charts

If you have data from a spreadsheet that you want to make pretty you can use the 'chart' feature to produce eye-catching charts.



Styles

Creating a colour scheme for a new brand can be quite a challenge if you're not a designer. This is why the styles feature in Canva is great for giving you inspiration.



Giphy

If animated GIFs are part of your brand style then you'll love the fact that you can access Giphy for free right inside Canva.
You even have the option to download your creation in GIF format in the free version of Canva.
Frames and Shadows
Canva recently added the ability to add shadows and/or frames to your photos or images.
This means that you can now make your photos look like they were created by professional designers.
Simply click on the edit or effects button and you will see a list of options on your left-hand side. This list includes access to a variety of frame and shadow options.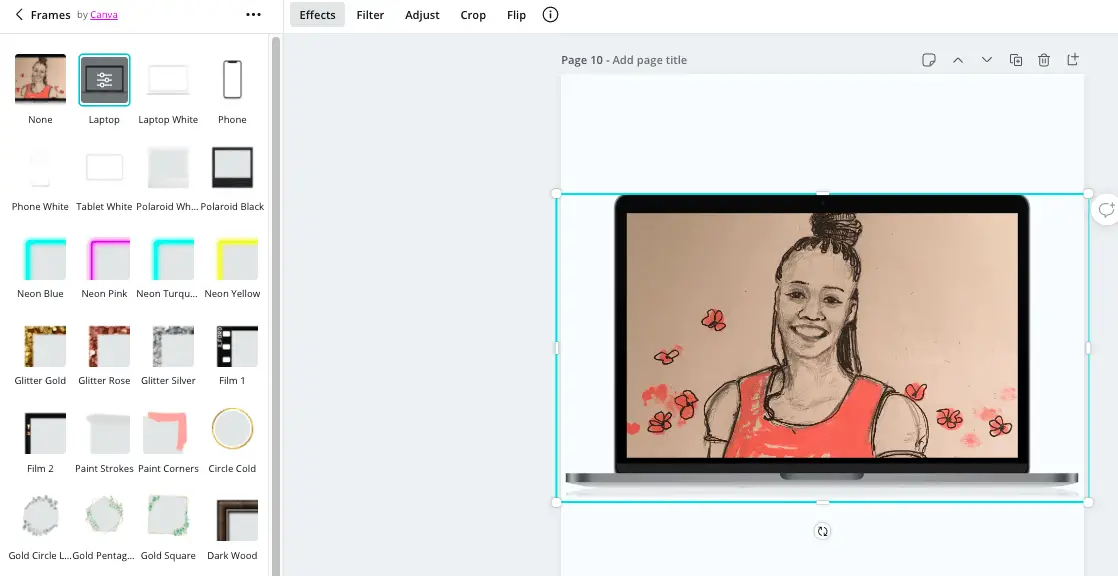 The above example displays the frames feature in Canva.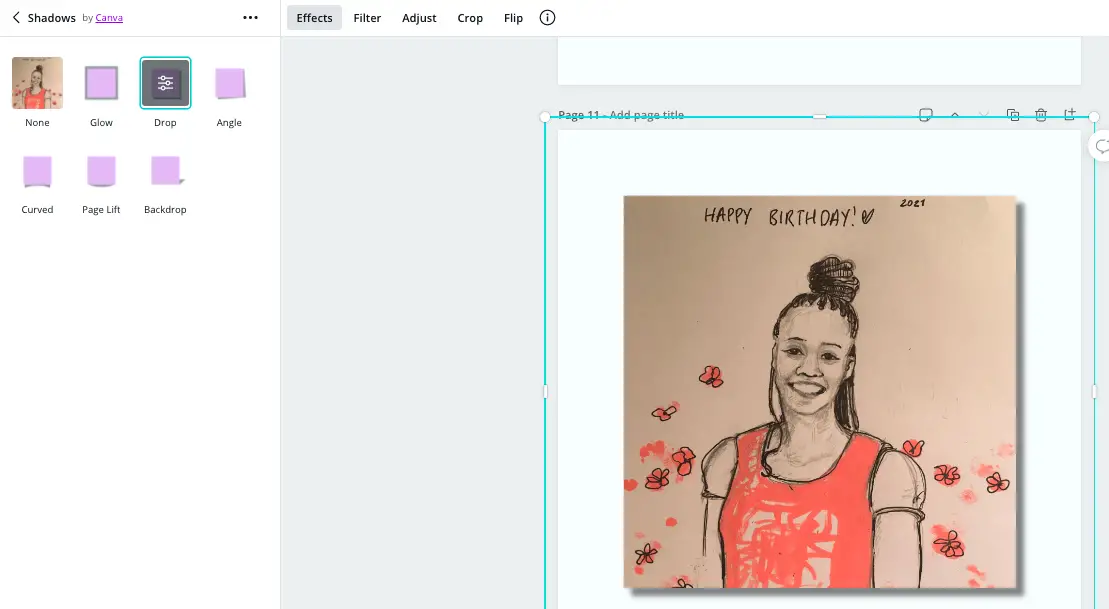 The shadows feature really makes this drawing stand out by giving it the depth effect.
Smartmockups
Just when you thought that Canva offered anything your heart's desires they decided to throw in the kitchen sink as well.
If you ever wanted to create amazing mockups for your products you can now accomplish this right inside Canva.
Simply choose your photo, click the effects or edit button on the top left and scroll down to smartmockups.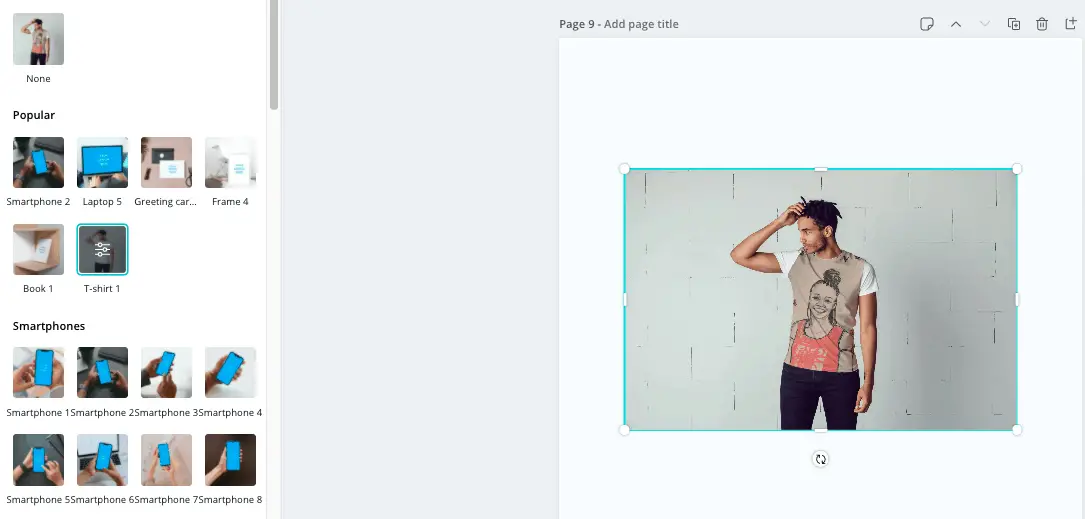 This is a great way to bring your product to life by applying it to real life situations.
Additional features
One thing I like about Canva is the fact that there are a plethora of features. It just seems to have no end to what is possible.
Here are a few more additional features that will take your designs to the next level.
Animate
If you would like to add a touch of excitement to the design experience then using animate in your social media posts can give you a boost.
After designing your social media graphics click on the animate button on the top left and choose one of the 17 options available.
Seven of the options are only available with the paid version of Canva while the other 10 can be accessed from the free Canva account.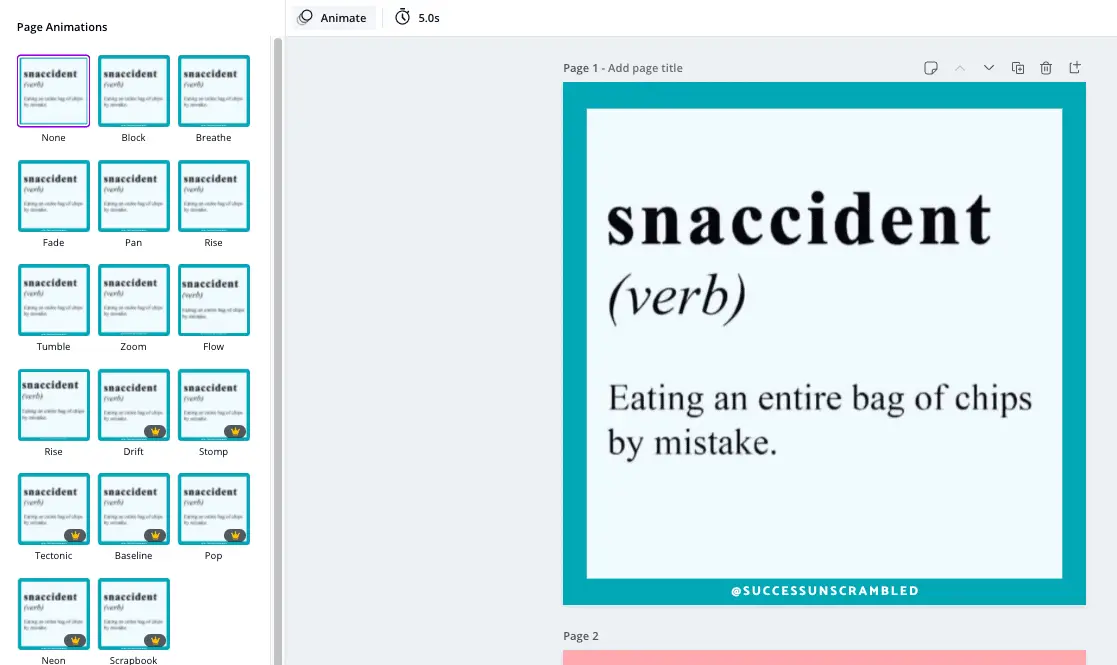 Check out the above screenshot to get a sneak peek of what is possible with Animate in Canva.
Canva Live
Many small businesses have decided to move their in person events online due to recent events affecting the globe.
So one of the ways Canva can assist you with this recent development is the fact that you can present content live directly from Canva.
Simply announce the date and time of your live presentation with your audience.
When the time arrives, share the link with your audience and simply click the 'present' button to start the online presentation.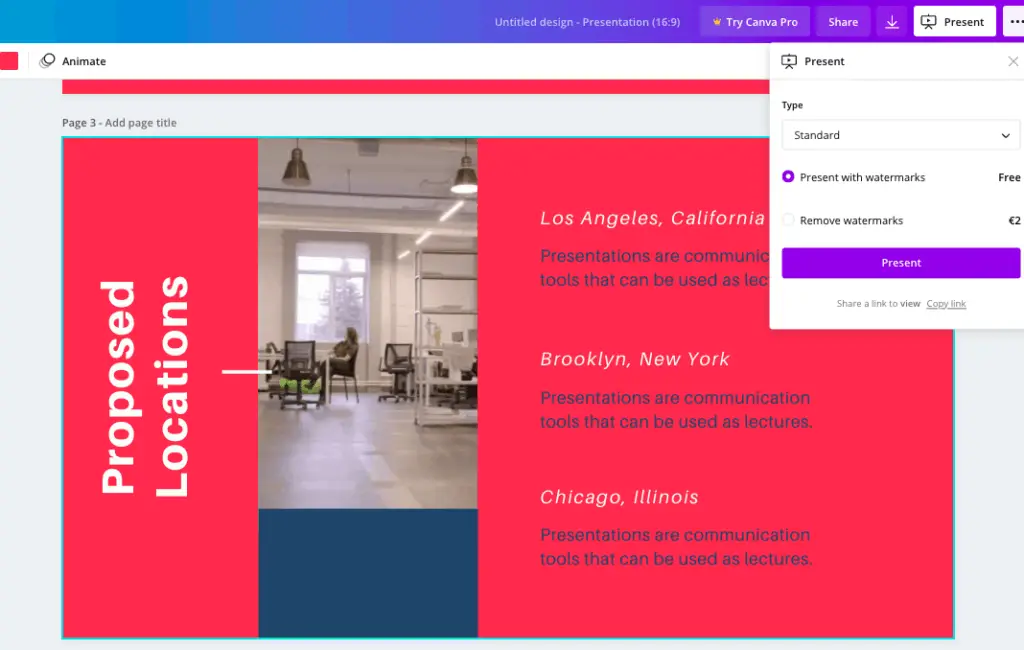 While this doesn't give you a seamless experience where you can automate sending the link. At least it is an economical way to start doing online events.
Canva Pro vs Free a Side by Side Comparison
At this point, you're probably thinking that there is so much information to take in when it comes to knowing whether to go with the paid version of Canva or stick with a free Canva account.
To help you decide here's a comprehensive side by side look at both versions
| Feature | Canva Free | Canva Pro |
| --- | --- | --- |
| Colour palette | Yes | Yes |
| Design elements | Yes | Yes |
| Direct social media publishing | No | Yes |
| Desktop access | Yes | Yes |
| Access to the mobile app | Yes | Yes |
| Brand kit | Limited to 3 brand colours | Yes |
| Free stock photos | Yes | Yes |
| Cloud storage | 20GB | 100GB |
| Unlimited folders | No | Yes |
| Background remover | No | Yes |
| Premium stock photos | No | Yes |
| Magic resize | No | Yes |
| Transparent background | No | Yes |
| Team members | No | Yes |
| Content planner | No | Yes |
| Save design as a template | Yes | Yes |
| Charts | Yes | Yes |
| Styles | Yes | Yes |
| Giphy | Yes | Yes |
| Frames | Yes | Yes |
| Shadows | Yes | Yes |
| Smartmockups | Yes | Yes |
| Animate | Limited to 10 | Yes |
| Canva Live | Yes | Yes |
| Workflows and permissions | No | Yes |
| Take Canva for a Spin | Try Canva | Try Canva |
There are a lot of features available in both versions even when you decide to sign up for the monthly plan of Canva pro.
Social Media Schedulers
If for some reason the content planner together with the direct publishing to social available in Canva does not suit you.
There are many other ways to schedule your content to social media.
One of the best ways to plan your content 30, 60 or 90 days in advance is by using social media schedulers.
Some of them are great while others just get the job done. I am currently using 2 different schedulers because they give me access to a variety of features.
Here is a shortlist of social media schedulers available on the market.
Planoly (visual grid)
Later (visual grid)
Agorapulse
PlannThat (visual grid)
Preview App (visual grid + hashtag finder + filter pack)
Inssist (visual grid + generate hashtags + post from desktop)
Buffer
Hootsuite
Tailwind
I am sure that there are at least 10 more schedulers that are available but like I said this is a shortlist.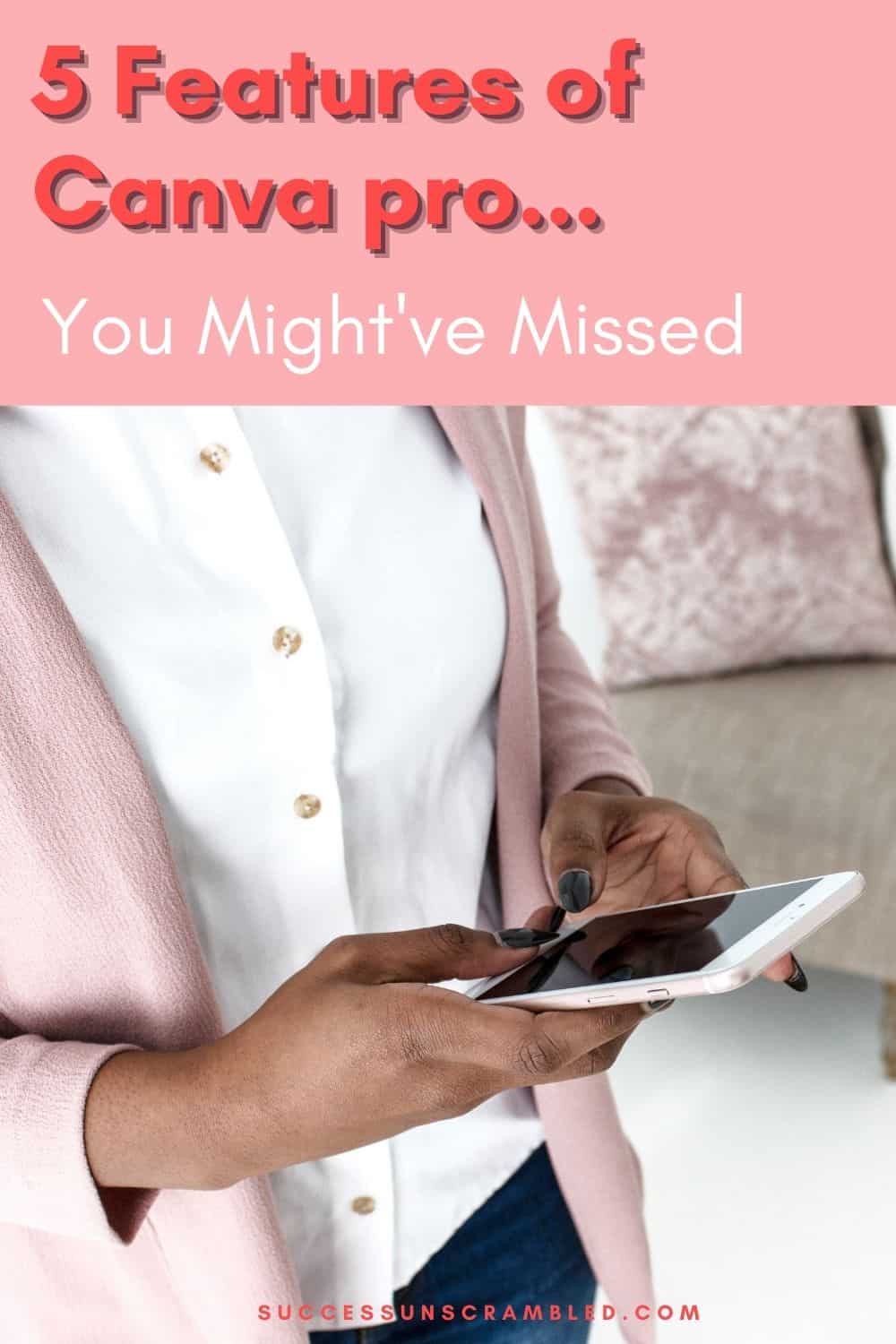 Summary
As I mentioned at the very start of this resource, I have been using Canva for over 3 years. So, this Canva pro vs free review is honest and authentic.
It continues to amaze me how much this platform continues to blossom each year.
Depending on how you use Canva in your small business it will make sense to stay with a free Canva account.
However, if you have a team of people working with you it will become apparent that upgrading to Canva pro would benefit your business.
A good example of this is if you are a social media manager, graphic designer or even it you own an online shop where you create printable items for sale.
Spending hours searching for a document you created 2 years ago or organising your creations into folders would save time using the pro version of Canva.
Also, if you create a lot of content each week to be published on social media the content planner together with direct publishing may work out better for you.
Remember that you can always do a free trial of Canva pro to see if it is worth it to upgrade.
If you are tired of the constant content hamster wheel and you need help with content planning, check out the 90 Days in 90 Minutes content bundle here.
Over to you, what has been your experience using Canva in your business?
Announcements
Remember to subscribe to the Success Unscrambled podcast where you will be the first to hear what's happening in the entrepreneurial and digital marketing world.
Your positive review of this podcast is vital to keeping it alive and running for the next 12 – 24 months so please leave a positive 5-star review for us on iTunes, Spotify or any of your favourite podcast players.
We live in a world where it is a lot easier to promote your business online thanks to platforms like Canva.
You can think of it as an all-in-one solution for content creators where you can turn ideas into amazing and valuable content.
I started this blog in 2017 because I had a burden on my heart to reduce women illiteracy globally.
Because this is a huge undertaking I have decided to help 1,000 women over the next 10 years to become wildly successful in their online business through simplified marketing strategies.
That way we can build a strong business network of women who can donate 1% of their profit and together we can help reduce women illiteracy worldwide.
Would you like to be part of this movement? Shoot me an email using alvern (at) successunscrambled (dot) com.