Podcast: Play in new window | Download (Duration: 35:12 — 28.7MB) | Embed
Subscribe: Google Podcasts | Spotify | Amazon Music | Email | TuneIn | Deezer | RSS | More
You'll never believe how easy it is to generate a list of catchy titles…
Until you understand how important these are in getting readers to your blog every single day of the week.
Tell me if this sounds familiar to you.
You spend a lot of time coming up with the perfect focus keyword or keyphrases for your next blog post.
After completing all the necessary research and spending a few hours writing the first draft of over 2,500 words you make a startling discovery…
There is a big need for a title that will grab the attention of your readers who are using Google to find your content.
Your first, second and third attempt leaves you feeling hopeless because you are not a copywriter by any stretch of the imagination and…
The resulting titles resemble autumn leaves on a damp day after a light rainfall. If only you can grab an extra-large hair dryer to restore their burnt orange glory.
You see many bloggers struggle with the 'lack-lustre blog title' disease, including me. Simply because we aren't naturally great copywriters.
If only there was a shortcut to getting a list of catchy blog titles.
In this post, you will learn what you can do to drastically improve your blog titles. To get your audience excited about your content like a puppy for a doggie biscuit.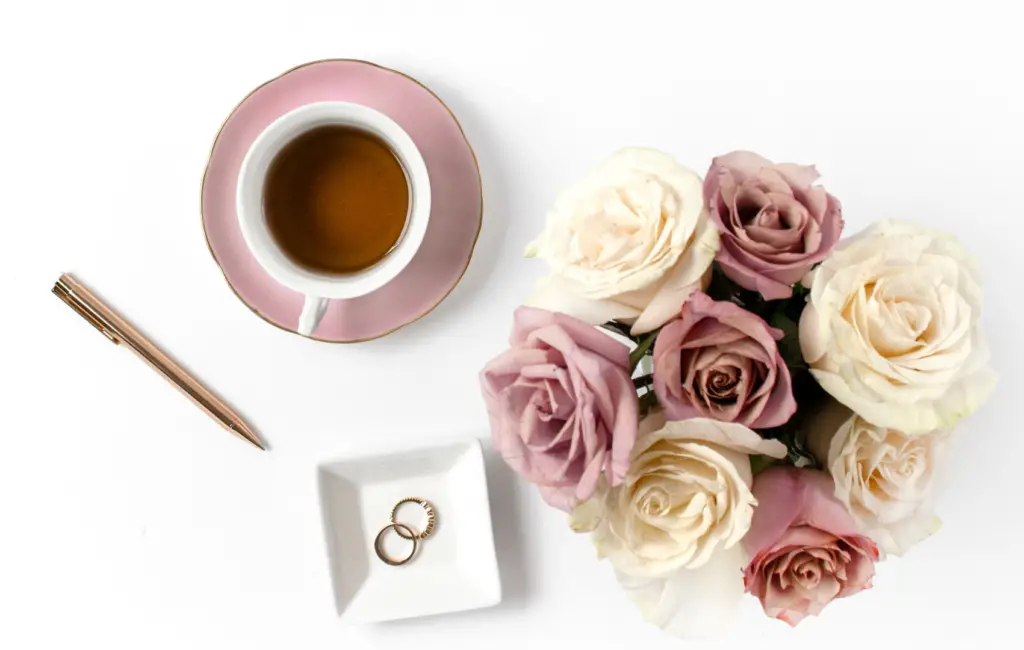 Why Are Catchy Titles Important?
Before looking at a solution to that 'lack-lustre blog title' disease let's spend some time understanding why catchy titles are important.
There are 70 million blog posts published every single month.
It means that there is a good chance that there is a blog post with similar content to yours and you need to compete for your reader's attention.
Here is another shocking statistic. By the year 2020, there will be 31.7 million bloggers in the US alone.
So, you will need to only compete with only 31,699,999 other bloggers on various levels to grab your share of blog readers.
On the topic of blog readers, did you know that 61% of Americans spend 3 times more consuming blog content compared to reading their emails?
Email continues to have strong conversion ratios. It is important to remember that the first thing potential readers see is your content and not your email newsletter.
13 Types of Blog Headlines
Did you know that there are 13 types of blog titles? Without getting too scientific or even psychological on you let's spend some time looking at these headline types.
No need for me to have to reinvent the wheel here's is a list that was done by Hubspot that outlines the 13 blog headline types.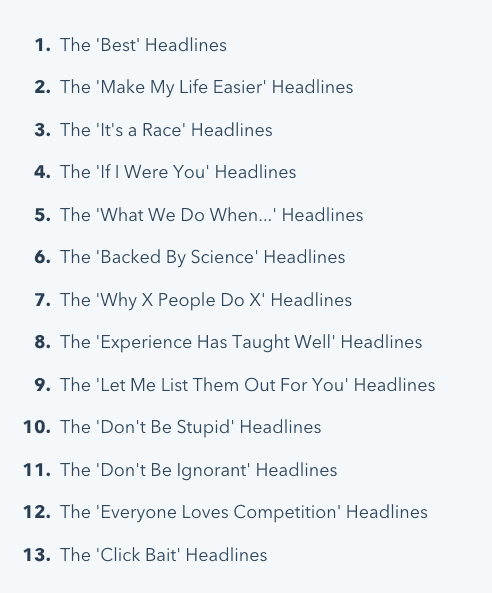 As you can see they can be very straight forward in terms of their short description but let's dissect them a little bit.
Most people know about the clickbait headline type so let's take that one first.
Clickbait
It is a very exciting headline type that is the same as dangling a carrot or even a fake rabbit in front of hyped-up hounds.
The only drawback with this type of blog title is that you need to ensure that the content delivers on what the title has promised.
Competition
This type of headline basically compares 2-3 different products or services against each other. You can see two examples one here and the other here.
It normally contains a comparison of one thing vs another.
Ignorance
This headline type reminds me of the fact that I am always the last to know about something that is happening in my family (hehe). Check out this example.
You can spot it from far as it has the phrase something like, 'You Need to Know'.
Avoiding Stupidity
We all make mistakes and we would give anything to know or learn about something to avoid looking stupid in public. Take a look at this sample.
A great example of this is a title that contains, 'Mistakes You Should Avoid'.
List Posts
You know that list posts are essential to generating tons of traffic to your blog. In case you need some inspiration check out this post.
An example of this is, 21 Awesome Things To Do This Winter'.
Learning from Experience
This has to be one of my favourite types of posts to read because it allows me to learn from other bloggers.
A practical example of this is, 'What I Learned After Creating 100 Blogs In 10 Years'.
Why X People Do X
In some respects, this sounds very similar to the previous post type except it gets very specific. Click here to see an example of this headline type.
'Why The Swiss Love Eating Cheese More Than Chocolate', is a great example of this title type.
Backed by Research
Nothing gets more attention than posts or articles that claims results from solid scientific research. If you have it then you should flaunt it.
'Recent Research Shows Why Vegans Should Avoid Certain Types of Sugars', I know I would click on that title.
What We Do When
This headline type can be done in a positive or negative version. For example, 'Why I Unfollow Bloggers That Are Advocates of Bluehost'.
Why You Should
Thinking of this headline made me laugh out loud because it reminds me of a playground prank at the water fountain.
I don't know if you ever experience this at school but when someone is drinking from the water fountain or bottle or jug someone else will shout out this phrase.
Peter 1: "Don't drink from that", the person drinking will ask.
Susie 1: "Why?" The other person will say…
Peter 2: "Because you'll get what I got".
Susie 2: "What did you get?"
Peter 3: "Water" ?
Here is an example showing how to write this title type.
The Fastest Way
We live in a world of instant. Instapot, microwave popcorn and instant coffee have many of us spoiled for choice.
When your reader sees that you can get them to the end goal faster they will click-through to learn more. 'How to Plan 30 Days of Healthy Meals In 20 Minutes or Less'.
Making Life Easy
Do you know a way to make life easier for your readers? Well, I bet you they would love to know how to plan their meals easier even with twin toddlers.
Here is another example if you still need inspiration.
The Best Way to…
Have you ever been faced with a problem or a combination of problems like your car has a flat tyre and you're low on gas? Wouldn't you like to know the best way to solve it?
Take a look at my example title here.
How to Generate Catchy Titles Fast
If you ever suffered from writer's block you will understand how refreshing it is to get assistance from a third-party tool.
Using technology to help you reach your goals faster is a bit like 3rd-party insurance without the ridiculous fine print and reams of paperwork.
Some tools will require you to have an existing title that can be tweaked while others only need you to have a keyword or key phrase to get results.
It is important to remember that these are only tools and it will take a little bit of common sense and tweaking to get the results that you want.
Here are 6 of my favourite title generators that will help me when I am stuck.
Hubspot Blog Title Generator
AMA Headline Analyzer
Sumo Headline Generator
Portent Headline Generator
Co-Schedule Headline Analyzer
Title Generator
HubSpot Blog Title Generator
HubSpot offers a fun way to generate titles for an entire week on the fly using their blog title generator which accessible online.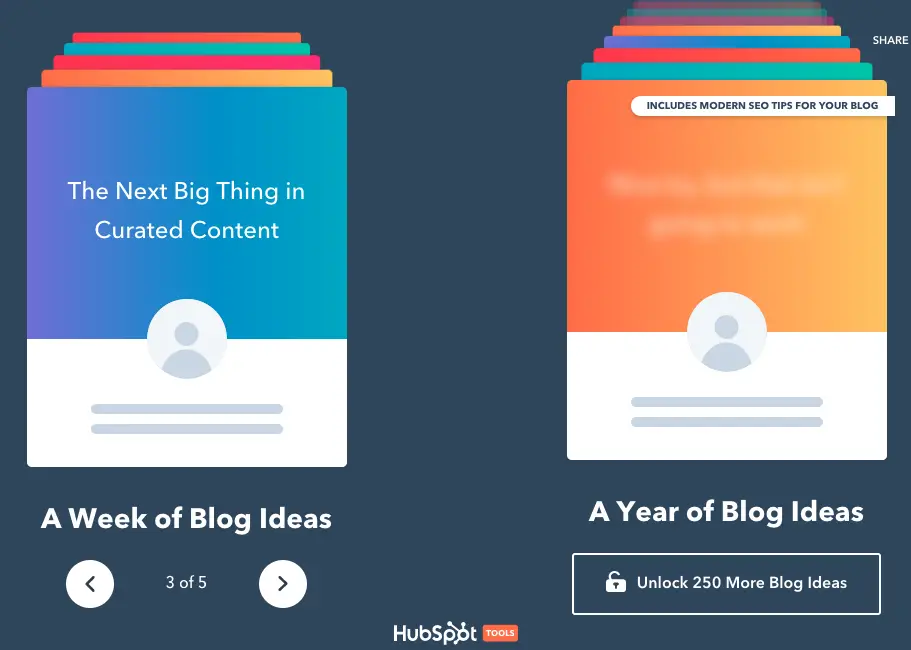 You simply need to enter your main key phrase or topic and hit enter. In fact, you have the ability to do 5 in one go.
In the above example, my key phrase is 'curated content'. Go here to get started.
AMA Headline Analyzer
As the name implies this is a tool that analyzes your existing blog headline to give you a rating as well as the type of audience that resonates with it.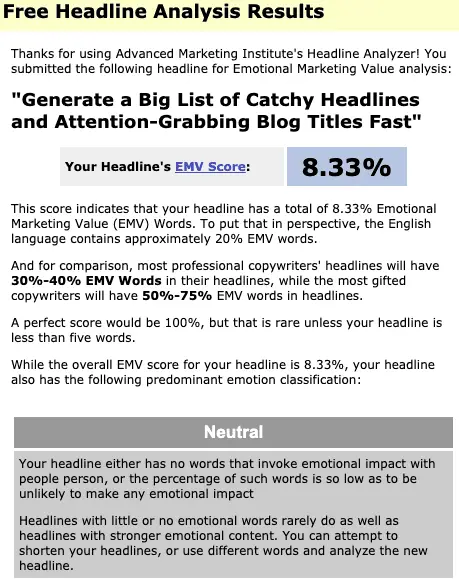 You will notice that the first draft of this blog post contained a very long title with very little appeal. It got a neutral score. You want to aim for 20% and above. Give it a try here.
Sumo Headline Generator
This headline generator is a little bit more complicated compared to the others on this list. It requires you to enter a lot of detail for you to get results.

As you can see there are several different types of headlines to choose from. Let's choose strong/controversial and see what happens.
After choosing strong/controversial you will be presented with something that looks like this screenshot below.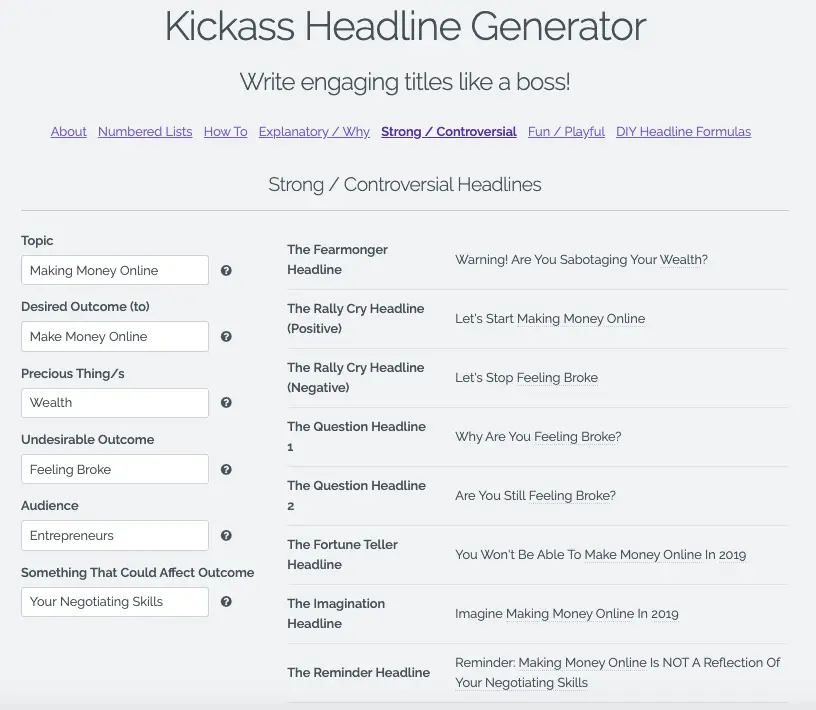 Just complete the blanks and the results will show. You may or may not like it but give it a go here.
Portent Headline Generator
One of the most hilarious and outrageous generators of headlines would have to be the Portent headline generator.
You will notice that you may need to tone down many of the suggested results that show up.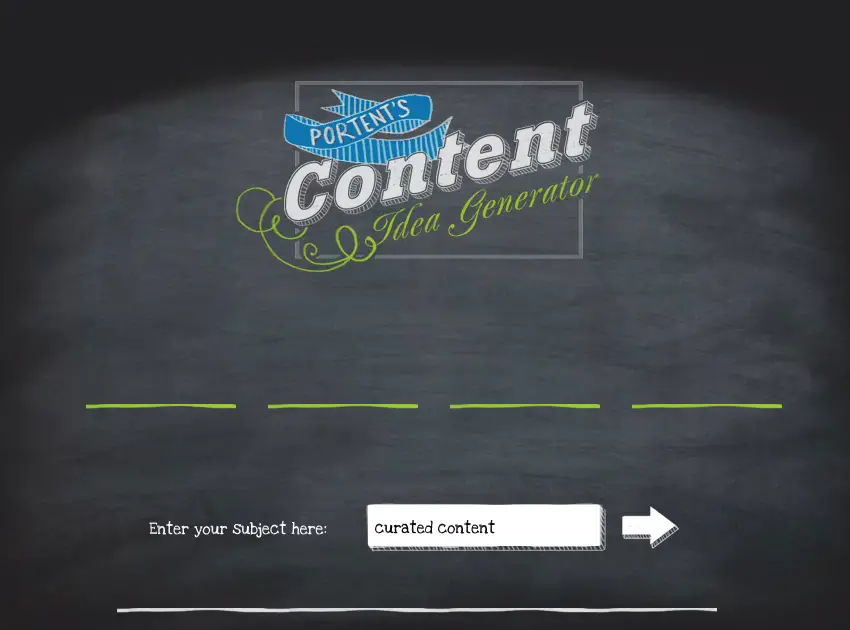 In this example, I have entered 'curated content' as my subject. Check out one of the results in the screenshot below.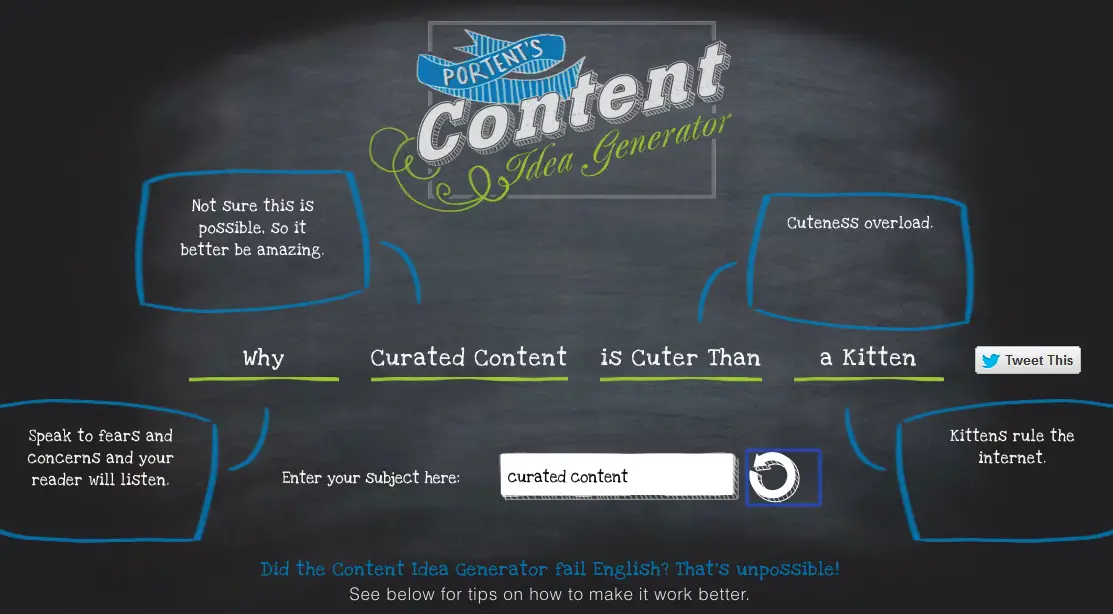 Like I said, sometimes the suggestions are downright hilarious. Have fun trying it out here.
Co-Schedule Headline Analyzer
One of the more popular headline analyzers is the one from the folks at Co-Schedule. It does require you to have an existing title that can be tweaked.
In many cases, I would generate my headlines using the other 4 tools then use the AMA and Co-Schedule analyzers to do the final polishing.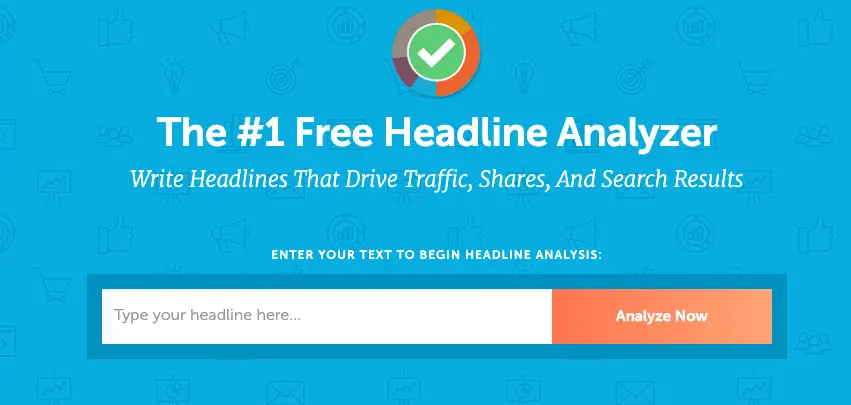 The tool comes looking something like this. All you need to do is enter your headline in the box provided.
Here is a result that I got based on initial analysis.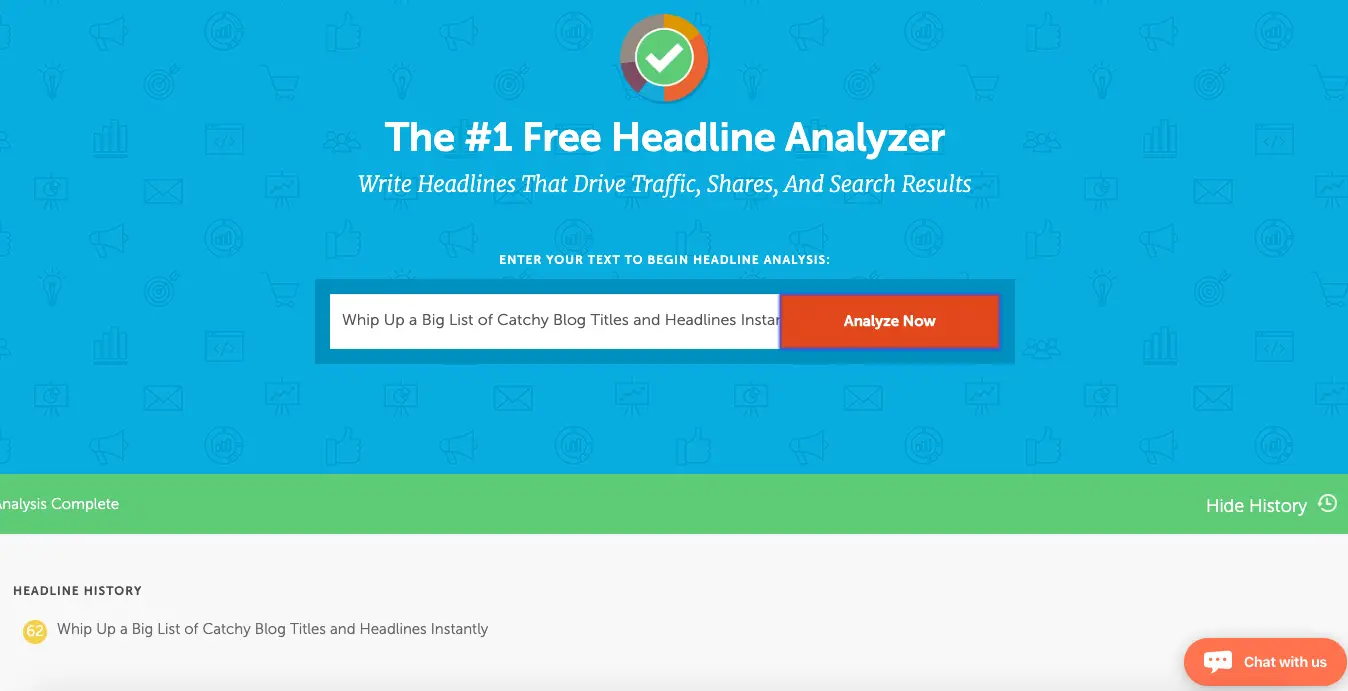 Your aim is to get a score above 70. Why not give it a try here?
Title Generator
This tool is not very well known but it is so good at generating over 700 titles in one go. I like it because I get ideas from looking at the generated titles.
At the time of writing this post, there is no specific brand associated with this title generator which is fine.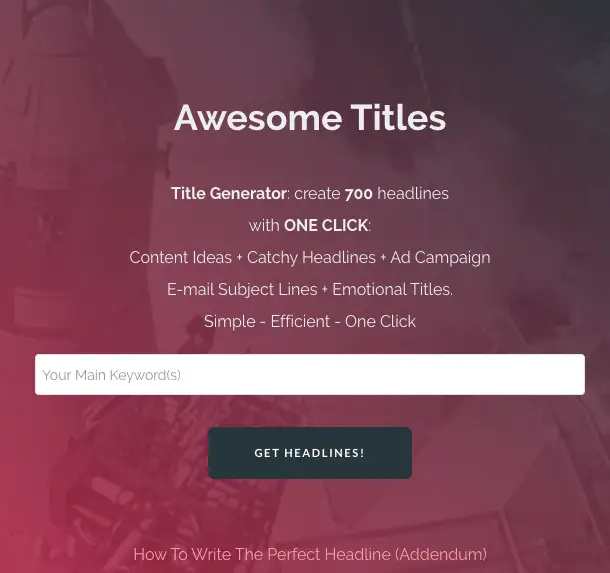 When you navigate to the website this is what it looks like. Just enter your main keyword or keyphrases.
Click 'Get Headlines' then boom. It automatically generates 700 headlines for you instantly.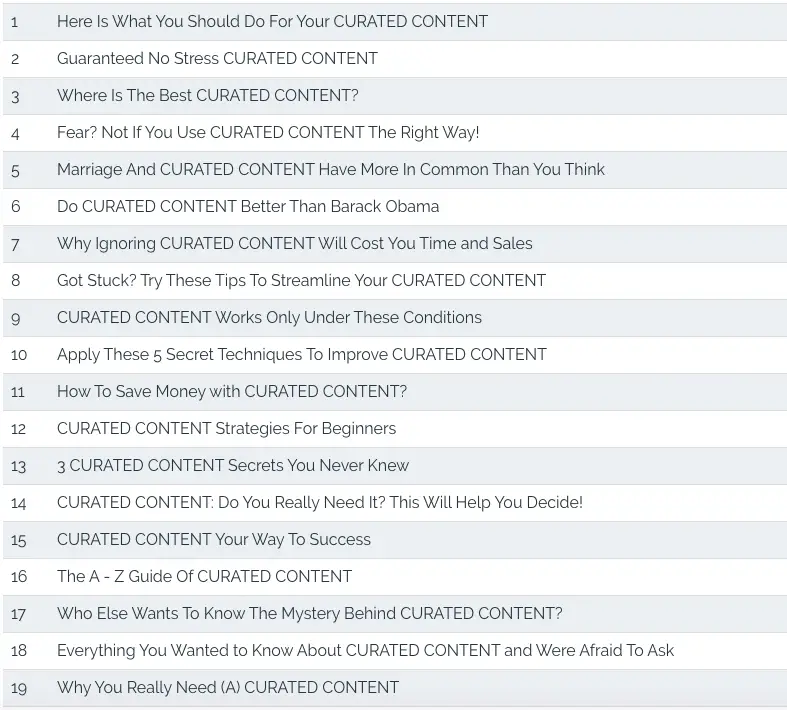 In the above screenshot, you will see the first 19 titles for the keyword 'curated content'.
Simply find three that you like then tweak them to your liking. To polish them off head over to the AMA or Co-Schedule Headline Analyzer and see how you can improve them.
Finally, pick the best one of the three headlines.
The good news is that you can update old blog posts using these tools to improve your click-through rates.
Split Testing Headlines
Have you ever wanted to know in advanced which headline is best or will get the most response?
Well, now you can, using a piece of software called Pickfu. It lets you create a poll so that you can literally ask the audience which headline is better and why.
Using this kind of technology does come at a cost. You will need to pay $1 per respondent.
If you are short on cash you can always ask the same question in your favourite and supportive Facebook group.
They may get tired of you asking for feedback every week or few days for every single blog post so be aware that it is not nice to annoy people.
Split testing your headlines does help you reduce the potential for errors and increase your click-through rates.
There is also the option to install a headline split testing plugin. It would allow you to have three different headlines that you can test against each other.
After each one gets 100 views you will be able to see which one gets the most clicks and pick that one.
Conclusion
It is easy to underestimate the importance of the title of your blog. The fact that it is the first thing a potential reader sees says a lot.
If you want to continue to make a great first impression then do spend time creating great headlines for your blog posts.
Unless you are a great copywriter creating awesome headlines can be difficult.
However, the tools outlined above will help you to bridge that gap and give you the sparkles you need to win at catchy titles.
You can also outsource this task to a virtual assistant or marketing company with the experience so that they can create them on the fly for you.
Over to you, what has been your experience in generating a list of catchy titles for your blog.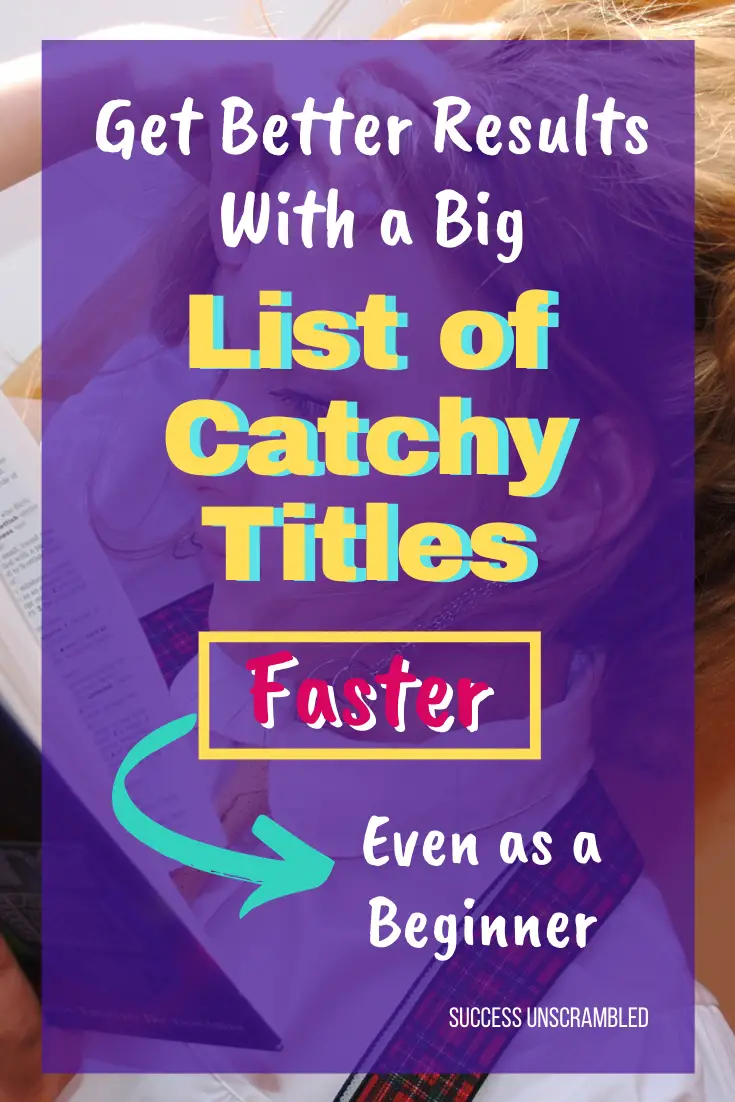 Announcements
Remember to subscribe to the Success Unscrambled Podcast where you will be the first to hear what's happening in the entrepreneurial and digital marketing world.
Your positive review of this podcast is vital to keeping it alive and running for the next 12 – 24 months so please leave a positive review for us on iTunes, Spotify or any of your favourite podcast players.
If you are suffering from writer's block and you need a way to find blog posts that are popular in your niche then check out this resource here.
Are you a small business owner in need of ways to stay motivated on your journey to success? Then grab these motivational quotes designed for work.
Finding it hard to stay focused so that you can achieve your long-term goals? You need to take a look at how to achieve business goals when faced with obstacles.
If you are a startup or small business and you need to hire a virtual assistant to complete tasks such as social media marketing, blogging, keyword research or Pinterest account management then take a look at these packages.