Podcast: Play in new window | Download (Duration: 28:25 — 39.5MB) | Embed
Subscribe: Google Podcasts | Spotify | Amazon Music | Stitcher | Email | TuneIn | Deezer | RSS | More
Very few people know the list of must-have WordPress plugins because…
No two WordPress blogs are created equal. It really depends on the objective of the website owner at the end of the day.
You may argue that there should be at least 5-6 WordPress plugins that every person on the WordPress.org platform needs.
In many cases, the answer is yes. Until something terrible happens like your blog gets hacked or images become corrupted there could be a handful of needed plugins.
Many bloggers continue to struggle with many challenges when it comes to creating their website on WordPress.
The truth is to take a layered approach. Build the basic functionality and security measures into your blog it should be fine.
In this post, you will learn what those basic plugins are and why you need them. As well as another 5-6 plugins that add the cherry on the top.
Disclosure: Please note that this post may contain affiliate links which means that if you buy one of my recommended products I get paid a commission for sharing the link at no additional cost to you.  I only recommend products that I have tried myself and have experienced success.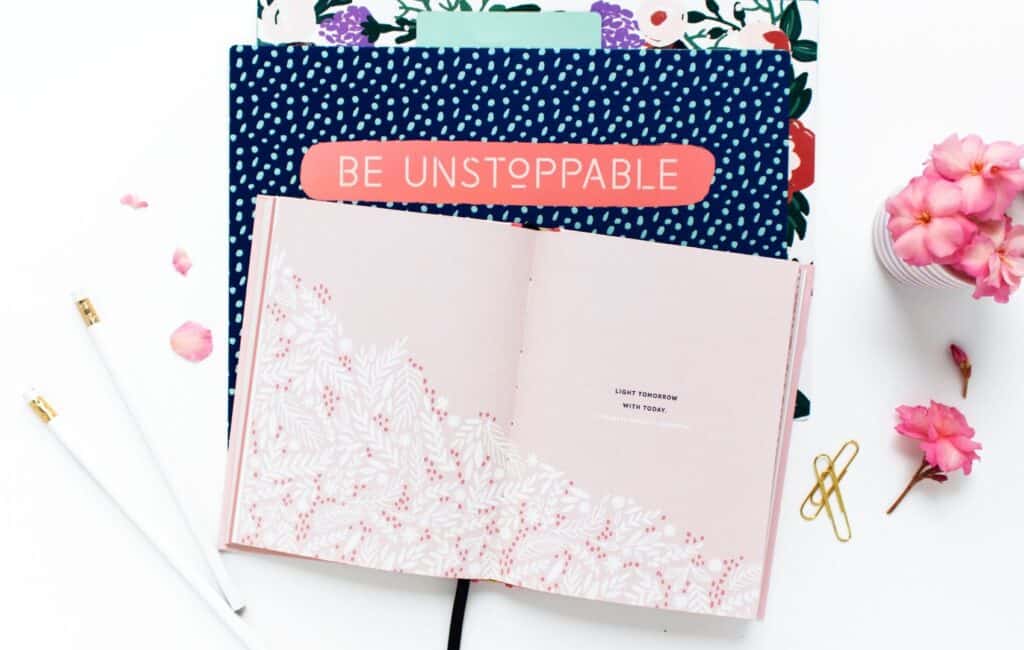 What is a WordPress Plugin?
Let's spend some time looking at what a WordPress plugin is and why you will need to add them in the first place.
The best way to describe a WordPress plugin in layman terms is for you to see it as an add on feature (a piece of code packaged). It gives formatting and/or functionality to your website.
There are a lot of things that come as standard when you install your WordPress site. For example, the block or Gutenberg formatting is there as standard.
These WordPress add-ons help you to save time. In many cases, they also give you the ability to improve the reader experience.
A great example of this is the plugin that allows you to place a Table of Contents on each blog post. This can be really helpful for longer blog posts.
As you can imagine each plugin comes with advantages as well as disadvantages.
It is generally accepted that a website with a maximum of 8 plugins runs more efficiently compared to one that has 30 plugins.
How to Install a WordPress Plugin?
If you never had the opportunity to install a plugin before, the process is pretty straight-forward to get done.
Simply head over to plugins in the left side-bar and click on that link. You will then see the 'add new' button on the top left, click on that button.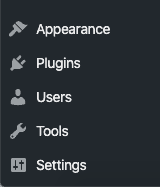 You then have two options which are to search for one from the standard plugins directory. Or upload a new plugin that you might have saved to your hard drive.

When uploading from your hard drive, navigate to the folder where the plugin is stored, select it and click upload. After the upload process is complete then click activate.
However, if you are choosing one from the WordPress directory of plugins simply click install. Then select activate after the plugin has been installed.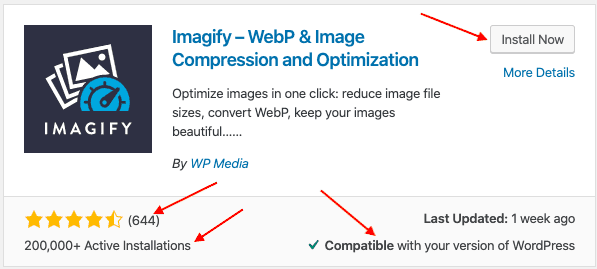 Ensure that the plugin is compatible with your version of WordPress. Also, the total number of active installations plus the review rating gives you a good idea of its success.
Depending on the plugin that you are installing you may also need to configure the plugin settings to suit your specific needs.
Essential WordPress Plugins for Business
There are at least 5 plugins that can be considered essential for any small business owner or blogger.
You will notice that these plugins are classified as essential because they offer basic safety, security and reporting functionality.
The features covered by these 5 plugins include:
Back up
Security
Website content delivery speed
Reporting
Trust
WordPress Backup Plugin
Have you ever written a 10,000-word article and you forgot to keep a back up of it somewhere? Then you will understand the importance of having a back up of your site.
The WordPress backup plugin that I recommend that is free to use is called Updraft Plus. It offers a set it and forget it functionality where it does weekly backups for you on autopilot.
WordPress Security Plugin
Earlier in this article, I mentioned the possibility of your site getting hacked which unfortunately is a reality for many people.
Yes, there are many people constantly trying to log into your site just for fun to see if they can do it. If they succeed they can delete all your content and even lock you out.
The WordPress security plugin that I have used for many years is the plugin called Wordfence Security. It gives you the ability to customise the settings to suit your specific needs.
You can use the free version to monitor your site 24/7.
WordPress Cache Plugin
One of the best ways to get your site to deliver your content as fast as possible is by using a caching plugin.
It essentially stores temporary, fast copies of your most requested pages on the server so that when someone visits your site they get quick access to the page they requested.
The WordPress Cache Plugin that I recommend is W3 Total Cache. It is free, reliable and easy to use.
Google Analytics WordPress Plugin
The industry standard when it comes to website analytics reporting is Google Analytics. You will need this because it will show you how many readers are coming to your site daily.
It also shows you which countries they are coming from as well as which pages are the most popular ones on your website.
There are several Google Analytics plugins available in the WordPress plugin directory but the plugin that I recommend is called GA Google Analytics.
It is one of the fastest available and it does not slow down your website.
Trust
Your readers and Google need to trust you as someone who cares about their needs and will not scam them out of their money.
In February 2018, Google activated a functionality in its Chrome browser that marked websites as secure or not secure.
If your website is not secure then readers will not trust you as much as one that is secure. A campaign was launched by Let's Encrypt to offer free SSL certificates.
Many web hosting companies have facilitated this in their service however everyone on WordPress needs to use a plugin to activate this on their website.
I recommend using the plugin called Really Simple SSL to help you get this done quickly and efficiently.
Other Must-Have WordPress Plugins
After you have these plugins installed and activated it is time to look at another 5 must-have WordPress plugins that will bring you results and peace of mind.
Of course, you will need to create the 5 essential pages that every website needs which are home, about us, contact us, privacy policy and terms and conditions.
Before writing your first article or blog post or before clicking publish, it is a good idea to consider these 5 features.
Social sharing
Blocking spam comments
Image optimization
Landing page builder
Content optimization for SEO
Social Share WordPress Plugin
One of the best ways to get more readers to your website is to encourage your current readers to share your content.
This is word of mouth marketing at a basic level but it is considered as the most powerful form of marketing in the industry.
A great free plugin to allow you to get this done is Shareaholic. Other plugins that offer the same features and functionality include Social Warfare and Social Pug.
Blocking Spam Comments
You may notice that when you installed your WordPress site it came as standard with a plugin called Akismet which can be used to block spam comments.
If you are wondering why you are being advised to use something different it is because Akismet is notorious for slowing down your website.
There are many other options available that you can use that are quicker. The Anti-spam plugin that I recommend is called Anti-spam by Cleantalk.
The paid version is only $8 per annum which is great value.
Image Optimization
Other items that can slow down your website include rich media like images and video. Of course, these are essential content items to improve the user experience.
Before uploading any image to your website consider optimizing it off-site by using an application like Kraken Image Optimizer.
The only drawback is that there is a size limit of 1MB for image files that need to be compressed.
After compressing your images using Kraken then you can also use a 2nd image optimizer like this one here.
It is a WordPress plugin that helps you by compressing every image size that will be needed for your users based on their device.
Landing Page Builder
At some point, you will come to realise that you need a separate page to display your offers. These pages are called landing pages.
They are great for getting your message across to potential buyers and they even help with converting readers to buyers.
The plugin that I recommend for building these landing pages is a plugin called Elementor. It comes with a free and paid version which is good news.
Best SEO Plugin
The last must-have WordPress plugin on the list is, of course, one that helps you with content optimisation which is helpful for SEO.
If you want to get readers to your blog or website on autopilot then SEO or search engine optimisation is crucial for that success.
Over the last 10 years or so I have used a number of WordPress SEO plugins. However, the one I recommend to you is called the Yoast SEO plugin.
It not only makes Google love your posts but it also helps you to tweak your posts for readability.
For an in-depth and detailed Yoast, SEO tutorial check-out this resource.
Nice to Have WordPress Plugins
There are a number of plugins that are not essential but they are nice to have especially if you decide to monetize your blog.
If you decided to start a blog in order to generate an income then depending on your choice of monetization you will soon realise that you need more tools or plugins.
Two key plugins that would be important is one to cloak your affiliate links (not recommended for Amazon links).
The other will be to help you to insert codes for Adsense or your chosen Ad network.
The plugin that I recommend to help you to cloak your affiliate links is a plugin called Pretty Links. While the one to help you insert codes is called Ad Inserter.
Conclusion
As you can see out of the 54,000 free WordPress plugins available on the official plugins directory. Only a handful are considered must-have WordPress plugins.
The good news is that as a blogger or small business owner you don't need to install 100s of plugins to get WordPress to work for you.
It does not mean that you will only install a handful of plugins either but you need to be aware that plugins can slow down your site.
Consider that having a WordPress site is the same as you would look at a lego project with children.
If you want a castle, a bridge or even glass windows in your lego building it is very possible to achieve it with the right pieces in place.
Over to you, what are your top 5 must-have WordPress plugins that you can't live without?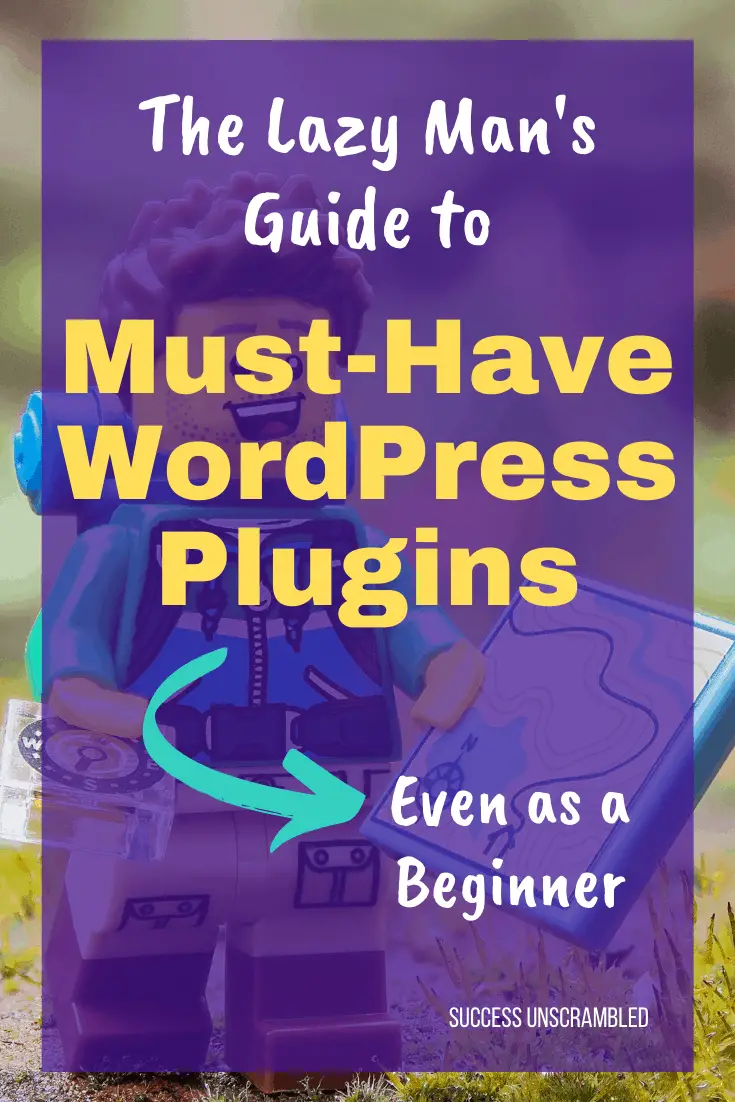 Announcements
Remember to subscribe to the Success Unscrambled Podcast where you will be the first to hear what's happening in the entrepreneurial and digital marketing world.
Your positive review of this podcast is vital to keeping it alive and running for the next 12 – 24 months so please leave a positive review for us on iTunes, Spotify or any of your favourite podcast players.
Have you thought of creating a business plan for your blog? If you need one in a hurry then check out this blog business plan here.
Are you in need of a plan to launch your blog with very few errors? Then this blog launch plan will help you with a great checklist.
If you are just at the start of your blogging journey where you are wondering how to start a blog then head over to this resource.
Are a startup or small business? Need to hire a virtual assistant to complete tasks? If you are looking for social media marketing, blogging, keyword research or Pinterest account management then take a look at these packages.