Podcast: Play in new window | Download (Duration: 34:11 — 47.5MB) | Embed
Subscribe: Google Podcasts | Spotify | Amazon Music | Stitcher | Email | TuneIn | Deezer | RSS | More
The truth about DIY SEO tools is that…
They come with advantages as well as disadvantages. Do the advantages outweigh the disadvantages? Let's find out…
If you have been publishing posts for a while but your blog posts are not ranking in Google fast enough. Or…
Maybe you are just running out of keywords that are easy to show up in Google and you now need a resource to find keywords that are low hanging fruit.
There are several schools of thought when it comes to doing a competitive analysis. These schools can be narrowed into two broad camps.
The first camp believes that there is no need to do any research using free or paid tools because you can rank based on the way people think.
On the other hand, the second camp are mostly those who use free and paid SEO tools as they believe it helps to give them guidance.
Many bloggers continue to struggle with getting readers to their blog from Google on autopilot. This is due to their limited understanding of SEO.
The reality is that both camps are right (I know that sounds crazy). It really depends on the objective or focus of your blog post.
In this post, you will be able to get a better understanding of the various tools available. The goal is that you will choose the best DIY SEO tools when the time is right.
Disclosure: Please note that this post may contain affiliate links which means that if you buy one of my recommended products I get paid a commission for sharing the link at no additional cost to you.  I only recommend products that I have tried myself and have experienced success.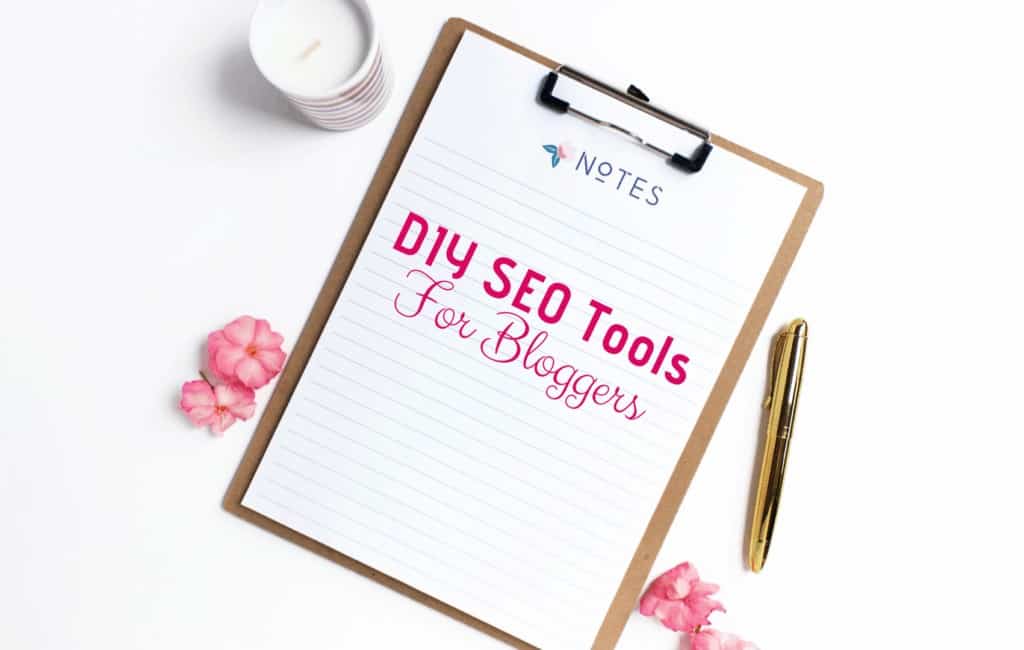 What is the Anatomy of a Good SEO Tool?
A good SEO (search engine optimisation) tool is one that gives you the information needed to increase your chances of gaining readers to your blog.
Here is a list of things that most DIY SEO tools have as standard:
Relevant topic detail
Search volume
Ranking factors
Social activity
Reliable statistics
As you can imagine there are a range of different types of results that SEO tools retrieve and display based on your query.
Therefore the items listed above are quite generic because there are several different types of SEO tools.
The reason for this is because Google has a very complex algorithm that no one knows for sure 100% of the time.
In fact, Google updates their algorithm 3,200 times every year which gives you an idea as to the complexity of Search.
Types of DIY SEO Tools
Now you know broadly what kind of requirements DIY SEO tools have as standard. Let's spend some time looking at the different types available.
Keyword Research
Backlink Checker
Authority Checker
Top Social Engagement
Content Optimisation
Rank Check
Web Analytics
This may or may not surprise you but some SEO tools include all 7 types of searches. While others are limited to 2-3 areas.
Of course, if one tool incorporates all 7 types of tools then it is safe to assume that the monthly pricing is likely to be higher compared to others.
To get a better understanding of all these tool types I will spend time explaining each type as well as what you can expect to see in the results.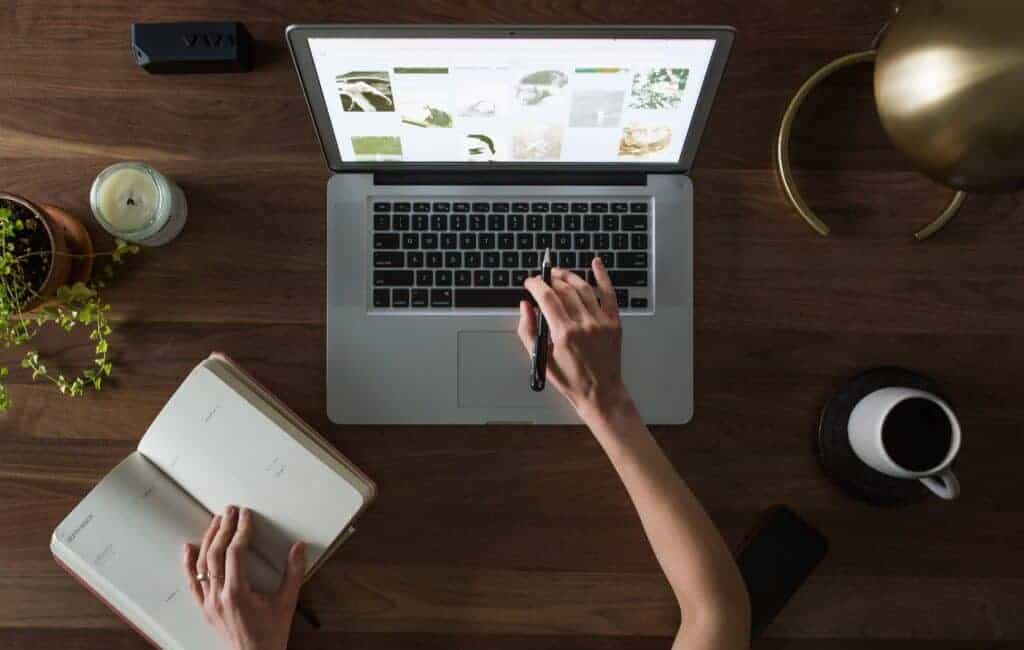 Keyword Research
The most popular type of SEO tool is one that does keyword research because that is where most bloggers begin their journey.
As the name suggests, keyword research involves the process of searching for a list of specific phrases that are related to a certain topic.
The goal of keyword research is to find the least competitive key phrases that can be used to write a piece of content.
A great way to know if a key phrase has low competition is by the rating given by the keyword tool as well as the volume of searches every month.
For example, if a key phrase has a volume of 1,500 every month that shows that there are roughly 1,500 people searching for that word or phrase which is good.
Depending on your blog or website, it would be better if there are less than 1 million results for that same key phrase is the search engine results page.
How to Do Basic Keyword Research?
Let's look at a real-life example, before writing this blog post I decided to look up the key phrase 'DIY SEO tools' using Ubersuggest.
Here are the results of my search.

As you can see the search volume is at 90 and the search difficulty is 31. This means that trying to rank for this key phrase will not be easy.
Looking at the results for 'best SEO tools' I see the following information in the screenshot below.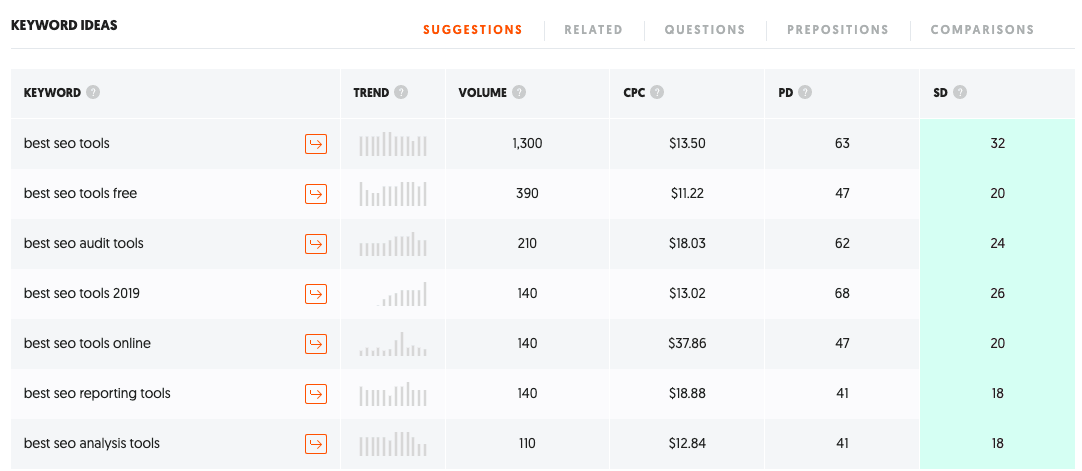 There are 6 other key phrases that I would have an easier chance to get better results. These other phrases can be considered low hanging fruit.
However, you will notice that these phrases do not have as much search volume when compared with the key phrase best SEO tools.
They do have more search volume than DIY SEO tools but many are one dimensional in their meaning.
Backlink Checker
Another tool that is great to use when doing keyword research for very competitive key phrases is a backlink checker.
It is not always a rule of thumb but a piece of content that is ranking on page one for a specific key phrase and it has thousands of good backlinks is difficult to outrank.
A backlink checker can help you to do in-depth research on the strength and quality of those backlinks.
Looking at the example key phrase DIY SEO tools let's look at the results on page one as well as the backlinks for each result.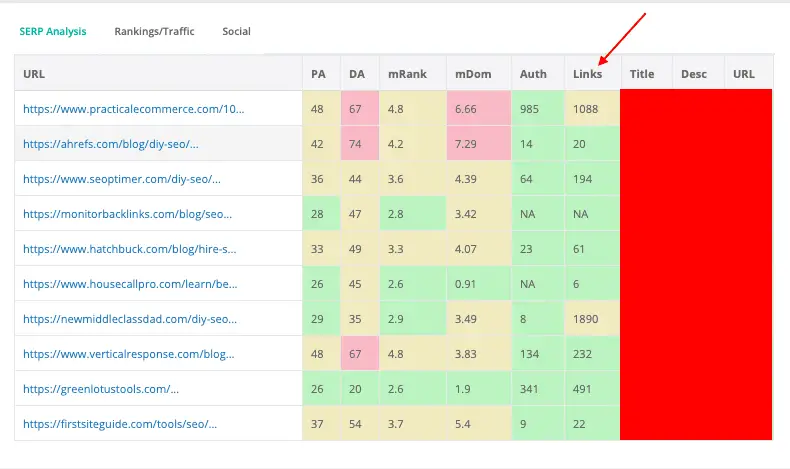 As you can see in the screenshot above, this time I am using a different tool (Keysearch). It shows you more detail in terms of backlinks.
One way to help you to determine if you will write a piece of content on the key phrase is by looking at the strength of backlinks of the competition on page one.
The results range from 22 links up to 1,890 links. I needed to ask myself can I get 65 links to outrank those in positions 10, 6, 5 or 2?
If the answer is yes then I may go for it.
Authority Check
Conducting an authority check on those sites competing for your chosen key phrase can be helpful. It shows you their domain strength.
Without getting too technical, an authority check can be as simple as checking the page authority (PA) and domain authority (DA).
So, going back to my previous example, you can see that the tool that I am using gives you a rough idea of an authority check.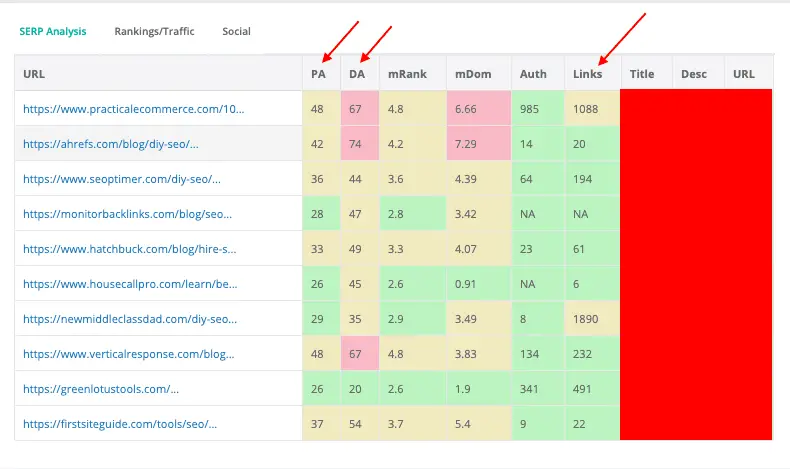 The question I need to ask is if my blog or website has similar or higher page authority (PA) and domain authority (DA).
If the answer is yes then I have a good chance of beating the competition. If the answer is no I may want to rethink my strategy.
Historical Social Engagement
In the last few years, social media has grown in popularity. It is a great asset to be able to check the social engagement on a specific topic across platforms.
The reason why this is important is that it will give you immediate insight as to which platforms get the best engagement for your topic.
Let's look at a real-life example for the topic of best SEO tools. This time I will use Ubersuggest again to check the results.
As you can see these 7 articles get a lot of engagement on the Facebook platform when compared to Pinterest.
To keep the results as unbiased as possible I also decided to use Buzzsumo to check social engagement. It is a bit like getting a 2nd opinion from another doctor.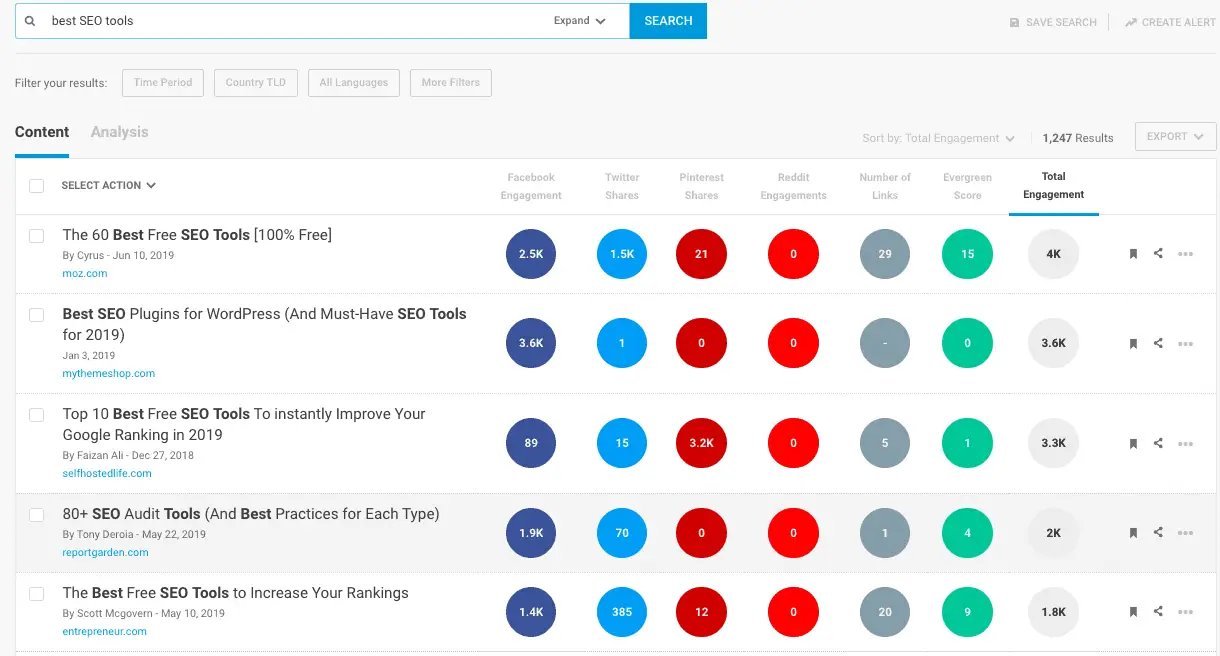 This time my results also include results from Twitter as well as an evergreen ranking. There is one article that managed to get over 3k repins on the Pinterest platform.
Content Optimisation
Now that you have a good enough understanding of what the best key phrases are to use for your project it is time to write your content.
Content written on the WordPress.org platform has the advantage of several on-page optimisation tools.
My personal favourite is the Yoast SEO plugin. It is so simple to use and does not require any certified qualifications to understand the system.
All you need to do is write your entire article from start to finish. Upon completion, you can make a few simple tweaks to 'optimise' your content.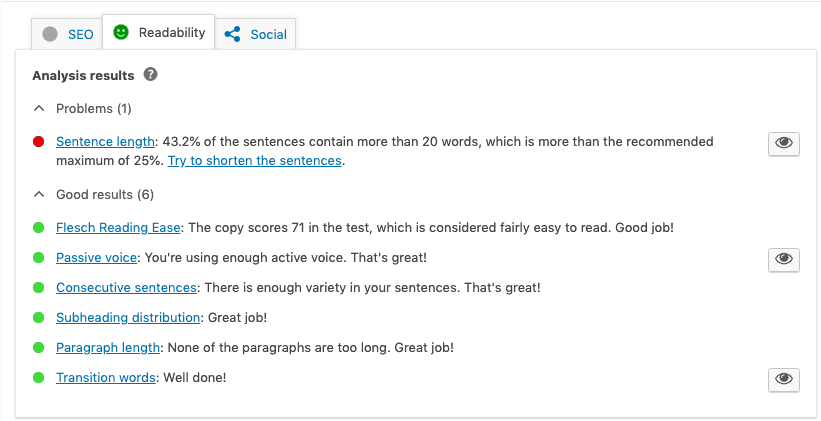 I like the fact that there is a section of the plugin that covers the readability of the article. It includes the Flesch Reading Ease.
As you can see it also highlights the fact that I have a number of sentences that are too long which I can easily adjust.
For a more detailed tutorial on how to use the Yoast WordPress plugin why not grab this Yoast SEO tutorial here.
Also, to help you with your on-page content optimisation make use of this in-depth and priceless SEO checklist here.
Rank Check
The average time it takes for your published article to rank in the Google search results is anywhere from 1 week to 4 months.
During that time you will want to check every 4 weeks or so on the progress of that article. The best way to check the ranking is by using a rank checker.
I wrote extensively about the SERP keyword checker here but let me give you a brief summary now.
A rank checker not only gives you the opportunity to see where you are ranking in the Search Engine Results Page (SERP) for a specific keyphrase.
It also shows you other related key phrases that you might have picked up along the way. Think of it as the 3D view of a keyword research tool.
While the keyword research tool may show who is ranking for a specific keyphrase. The rank checker shows you many other key phrases held by that domain.
For example, let's look at the domain neilpatel.com who is the owner of Ubersuggest.com. You can see below the results of doing a rank check on that domain.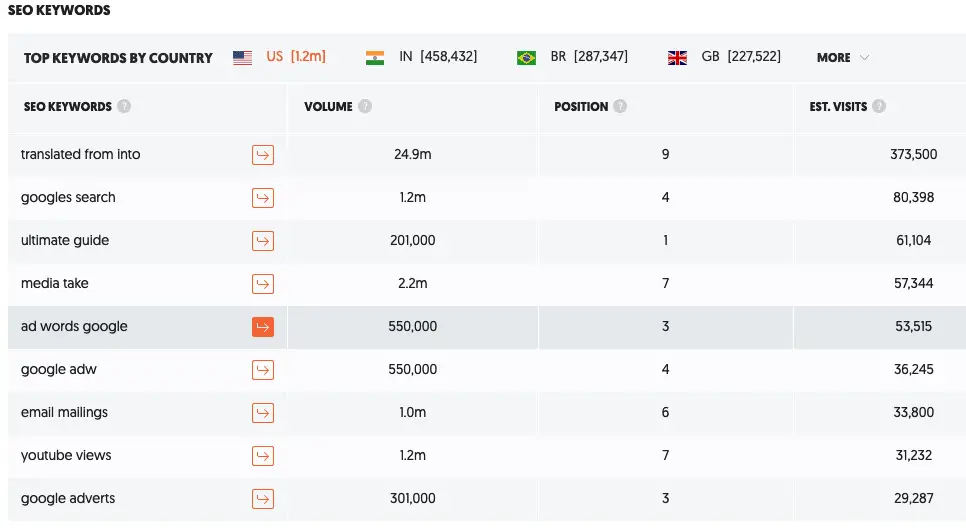 As you can see the phrase that gets the most visits is 'translated from into' which as you can imagine is not a valuable keyphrase.
However, the second most popular is 'Google search' which is great as it tells us that his website shows up on page one for that term.
I wanted to get a 2nd opinion so I decided to use Keysearch to run a rank check on the same domain as well.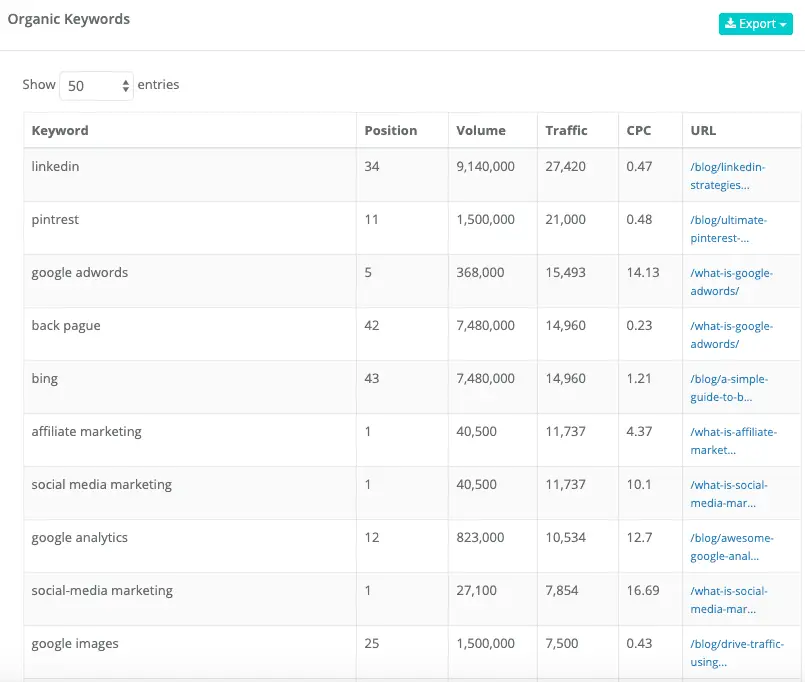 As you can see the domain is ranking for the phrase 'LinkedIn' on page 4 of the SERPs and getting over 27,000 page views a month.
Web Analytics
Probably the most important DIY SEO tool is the one that gives you information about your website analytics.
For example, the number of daily, weekly and monthly visitors. Where your visitors are coming from and where they are going to next?
What phrases or sites they are using to find your content? What countries, devices and browsers they are using to engage with your content?
You will agree that this information is important as it helps you with your growth plans as well as lets you know how well you are doing.
It is also a great way to 'spy' on the competition to see what they are doing to get the number of visitors that they receive to their content.
Of course, the best tool for a website traffic report is Google Analytics but it will only show you information for your own web properties.
For third party sites that you don't have access to you can always use SEMRush and SimilarWeb to do your analysis.
If you need help understanding those reports feel free to use the in-depth reports that I have over here.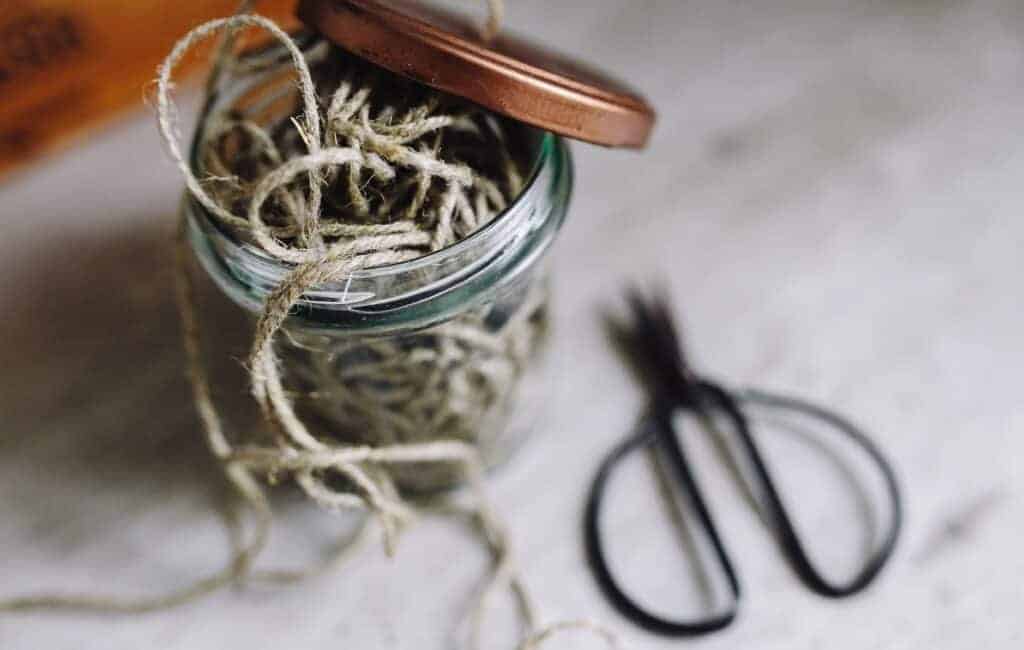 What are the Best DIY SEO Tools for Bloggers?
Now let's look at a list of the best DIY SEO tools for bloggers and small business owners that can be used to get results fast.
While writing this blog post I did not want to confuse you by using a wide variety of tools but you will see that it is possible to use 5-6 tools before you decide to write your content.
Keyword Research
Ubersuggest (free)
Google Trends (free)
Pinterest Search Bar (free)
Answer the Public (free)
Google Search Bar (free)
Keysearch (paid)
SEMRush (paid)
Ahrefs (paid)
KWFinder (paid)
Backlink Checker
Moz Link Explorer (limited free)
Keysearch (paid)
Ahrefs (paid)
SEMRush (paid)
Linkminer (paid)
Majestic SEO (paid)
Authority Checker
Moz Link Explorer (free)
Keysearch (paid)
SEMRush (paid)
Majestic SEO (paid)
Social Engagement
Ubersuggest (free)
Buzzsumo (limited free)
Similarweb (free)
Keysearch (paid)
Ahrefs (paid
Content Optimisation
Yoast SEO plugin (free)
Keysearch (paid)
TextOptimizer (paid)
Rank Check
Google Search Console (your own website/blog only) (free)
Rank2Traffic (free)
Keysearch (paid)
SEMRush (paid)
Ahrefs (paid)
Web Analytics
Similarweb (free)
Google Analytics (free)
Majestic SEO (paid)
Ahrefs (paid)
SEMRush (paid)
Keysearch (paid)
When you get to an advanced level in your SEO game you would want to do a thorough SEO analysis once a year and again every quarter.
This is when you decide on implementing a better SEO strategy to achieve long-term goals for your business.
I have included the tools that you would use for web analytics so that you can do this in-depth analysis and SEO strategy plan.
Conclusion
As you can see there are many advantages to using DIY SEO tools. So, what are the disadvantages? They come with a somewhat steep learning curve.
Although the best DIY SEO tools can seem intimidating to use it is by understanding them and what they do so you find them easier to use.
In fact, after using these tools the right way your serotonin levels will be up and so will be your traffic stats.
Is it possible to get your blog posts to show up in Google for some of your content without using SEO tools?
The short answer is yes but with a hit and miss approach as opposed to employing a strategy with long-term goals.
These tools are there to support you and your business so that you can grow and make a great impact in your niche.
Using the process outlined above can be as simple or as complex as you want it to be. The bottom line is that you want to get results.
What has been your experience with using SEO tools for your blog or business?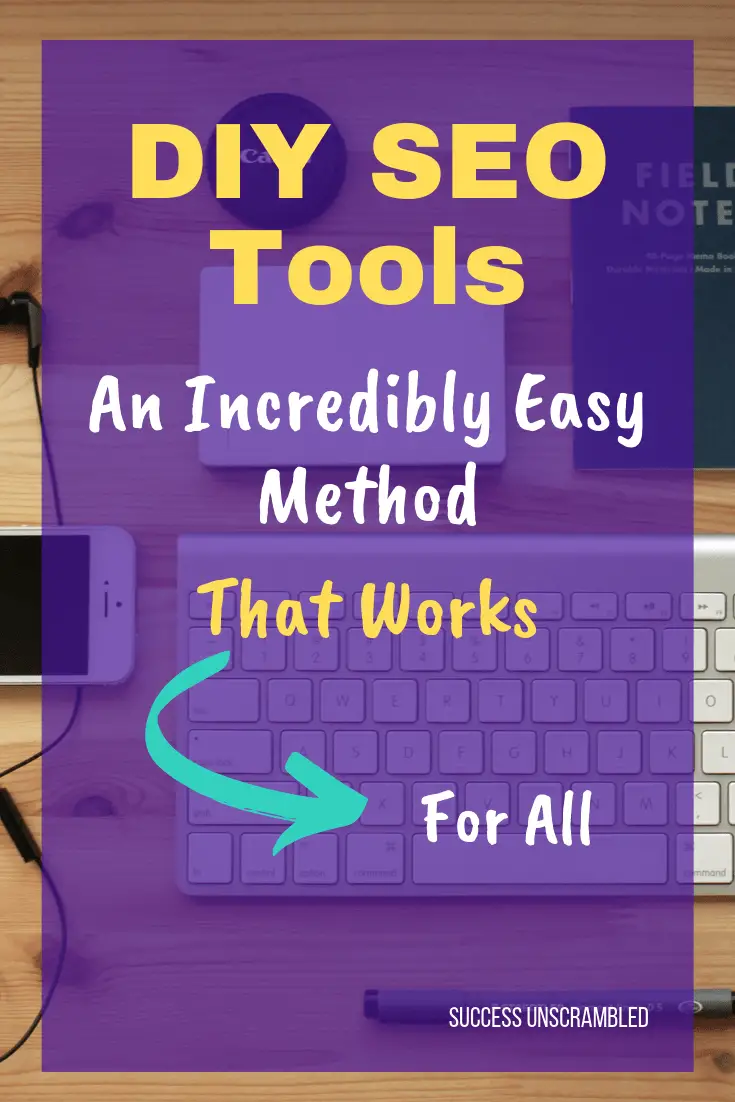 Announcements
Remember to subscribe to the Success Unscrambled Podcast where you will be the first to hear what's happening in the entrepreneurial and digital marketing world.
Your positive review of this podcast is vital to keeping it alive and running for the next 12 – 24 months so please leave a positive review for us on iTunes, Spotify or any of your favourite podcast players.
If you are new to search engine optimisation (SEO) then remember to take a look at the resource that I have for beginners here.
Are you a mom blogger? In need of a better way to understand SEO from the perspective of a Mother? Grab this resource here.
In need of a few unconventional ways to get more readers to your blog? Then, you will enjoy the tips and tricks in this resource.
If you are a startup or small business and you need to hire a virtual assistant to complete tasks such as social media marketing, blogging, keyword research or Pinterest account management then take a look at these packages.