Podcast: Play in new window | Download (Duration: 48:00 — 66.5MB) | Embed
Subscribe: Google Podcasts | Spotify | Amazon Music | Stitcher | Email | TuneIn | Deezer | RSS | More
Do you want to sell handmade items online? Are you looking for a way to make money from home using your talents?
If you are like me you probably had the opportunity to make a lot of handmade items back in school.
However, it never crossed your mind to sell handmade products to start an online business from home.
In today's economy, it continues to surprise me the kind of things that you can make and sell online.
Many people struggle with the idea of having to go into the office 5 days a week from 9 to 5. They hope that they would stumble upon an opportunity.
Some even wonder where to sell handmade items or how to make money selling crafts.
What you need to know is that you don't need to have a degree or special skills to make 50% of things being sold online.
Actually, the number one thing you do need is a lot of patience as well as a good sprinkling of perseverance.
The key to your success will be for you to be creative which simply means that you need to think outside of the box.
In some cases, you can even hire out the talent if there is a requirement for design.
All that is left is for you to find marketplaces where you can sell those items that you made.
In this post, you are going to be blown away by the 20+ places where you can sell your precious creations online.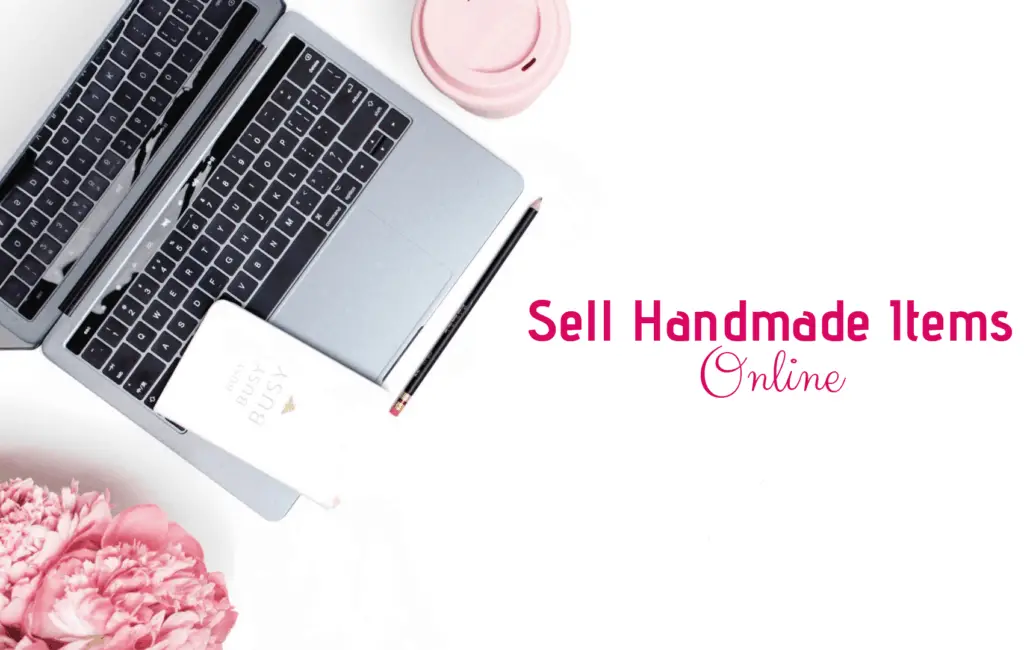 How to Get Started Selling Handmade Items Online?
The one thing you need to do before deciding to sell anything online is to do your research.
Spend some time learning what is currently in demand on these handmade sellers platforms.
In order to help you with your research here is a list of items that are bestsellers on Etsy at the time of writing this post.
Gold plated brass cable chain
10 pcs gold lobster claw clasp
Bridesmaid tote bags
Natural diamond heart ring
Clay varnish
Boho bracelets
T-shirts
Weekender tote bag
Body butter
Etsy online course
Honeycomb connector pendants
Infant beanie (hospital hat for baby)
As you can see there is a wide variety of things from items to help artists with their craft to ready-made products.
Also, head on over to Craft Count to see the top 10 Etsy sellers then click over to their profiles to get an understanding of their best selling products.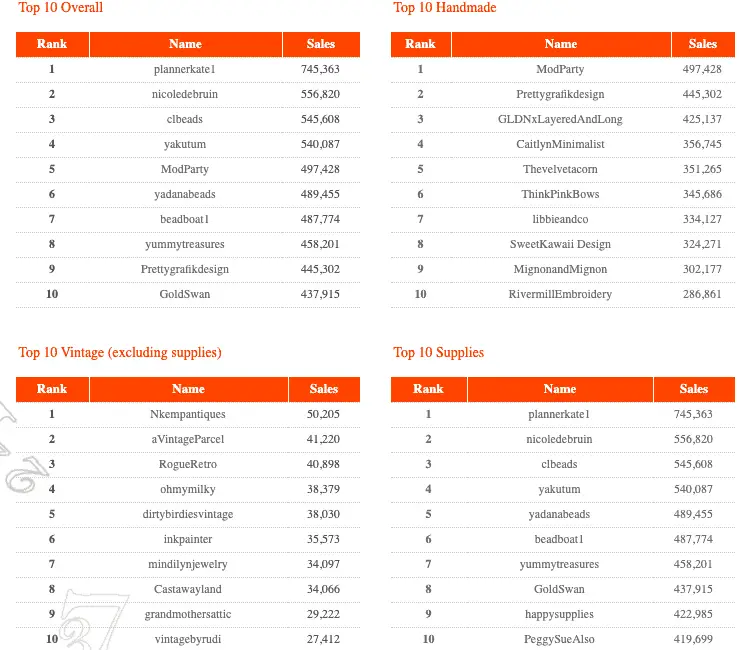 Of course, this list is not exhaustive but only a small representation to give you a flavour of what's possible.
After completing your research you need to make a shortlist of 5-6 items that you believe that you can make or supply on a consistent basis to customers.
The next best thing is finding the best low-cost supplier of the raw material or design services that you need.
If you are like me the one thing that you will find intimidating is coming up with a selling price for your finished product.
You can take a look at this amazing, free handmade pricing calculator from Deb the founder of Tizzit here.
Marketing Your Items
One of the fastest ways to get sales when you list your items is to promote your items on social media.
Before looking at marketing though one thing that you will need to keep in mind is the presentation and images of your products.
If you don't have great photography skills and you have a budget available then you may want to consider hiring a product photography expert.
However, if you don't have sufficient budget available then you will need to spend time improving your existing skills and knowledge.
There are tons of product photography courses available on Udemy for as low as $15.00 so you can easily get started.
Here's a list of items from Amazon that will help you take your product photography to the next level.
If you decide to do print on demand products, like t-shirts, coffee mugs, phone cases, etc., then your best option will be to use mock-up services.
Some of these services include:
Mockup World
Behance
Proto
Moqups
UXPin
Place It
Media Modifier (day ticket available)
Once you are happy with the presentation of your products then you can use a platform like Pinterest to start promoting your creations.
Remember to use a tool like Marmalead to optimise your Etsy listings for great SEO results.
Platforms to Sell Handmade Items Online
You now have a good understanding of what you need to do before choosing an online platform to sell your handmade products.
Let's spend some time looking at all the available marketplaces in detail so that you can make a shortlist of 5-6 where your potential clients can be found.
1. Redbubble
A platform of over 700,000 creatives from all over the world making things like phone cases, shirts, pillows and stickers.
The cool feature of Redbubble is that you choose a piece of artwork that you like then you get it printed on a product that you like.
Your choice of product is then made and shipped responsibly to you as a buyer.
As a seller, this concept may seem quite weird because it is very focused on the artwork rather than the product.
2. Aftcra
This platform is focused on American handmade items. The range of things that can be sold on Aftcra includes clothing, accessories, baby items, home furnishings and paper goods.
There are no listing fees for sellers which is great news.
All the listings appear to be so neat and perfect on this platform. As a buyer, it seems to be a very attractive place to buy goods.
One thing that I noticed is that there does not seem to be any social proof like reviews or likes, etc. It is good news for new sellers.
3. Zibbet
The proposal from Zibbet is that as a seller you can list your products once and sell it across many sales channels.
It essentially helps you to keep all your products in sync so that you will not need to log in multiple times to check or update your listings.
You will need to pay $6 per month per channel and the minimum requirement is that you sign up for 2 channels.
In terms of marketplaces, they connect to Etsy, Stitch websites, the Zibbet marketplace and A.C. Moore.
I am a little bit disappointed as I expected them to have connections to at least 10 channels where you can sell your goods.
4. Uncommon Goods
Oh wow! My first impression of this site is just amazing. I am blown away because of the quality of the site and as a seller, the prices are more up my street.
If you spend time creating a quality product you would not like to charge $20 for that item which is what you can see on other sites.
It is probably one of the best places to purchase gifts that are unique and thoughtful. You can really experience the difference in quality on this site compared to many others.
For example, check out the screenshot of this item.
Do you have any idea what it is? I feel like a kid in a candy shop except I can't have any sugar. (haha!!)
The good news is that if you pay $14.90 a year, you can get free 3-5 day shipping on all orders within the US.
How cool is that?
I am so blown away by the sheer beauty of this site that I almost forgot to mention that they have the following categories.
gifts
fun
home
kitchen + bar
art
jewellery
women (this category includes; mom, grandma, wives, girlfriend, teens)
men
kids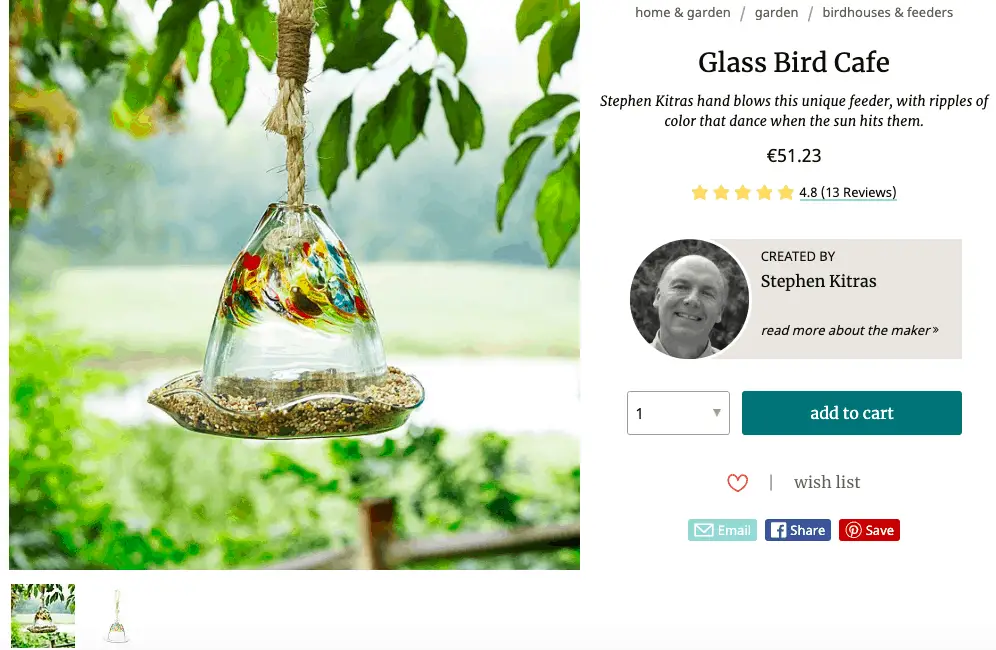 Here's one item from the grandma section that I thought was the coolest gift ever.
My mother would have loved this one but she is no longer with us.
She was the one who always fed the birds.
However, the neighbours were annoyed because there was birds' mess on all the cars. (hehe!!)
Oh wow!! Look what I found in the serveware section. I know one member of my family who will find this absolutely entertaining (okay, maybe 2).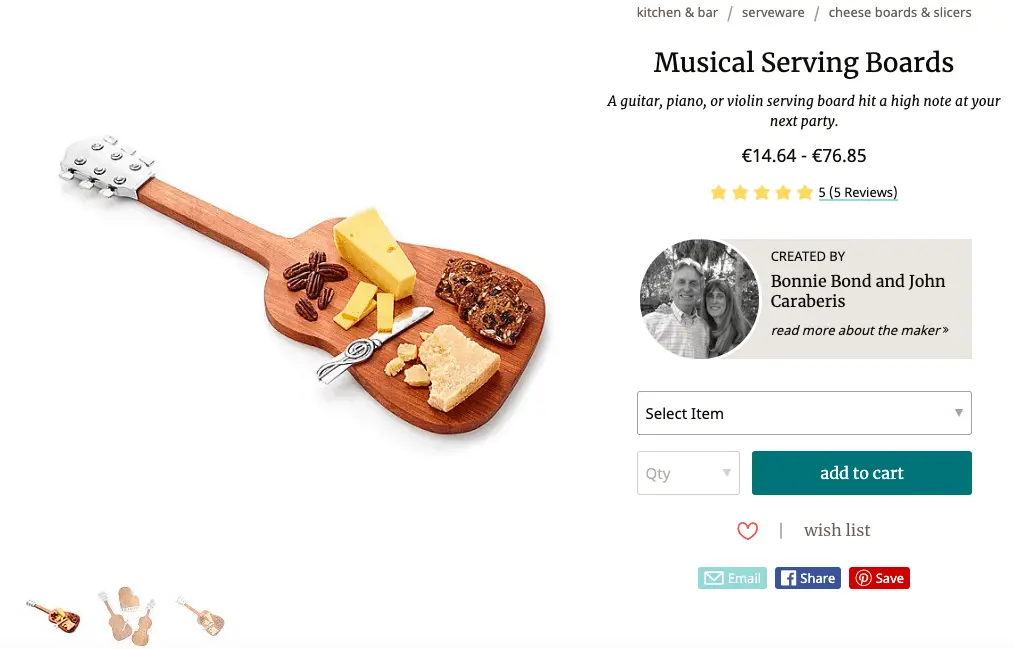 By far one of the best places to sell handmade items online that is quite attractive for buyers.
5. Turning Art
If you are looking for art pieces for corporate or business clients then this platform is just the one to use.
Their tag line is, "we've got you and your walls covered". This is a brilliant idea if you are a business or have a mall and you want to give that artistic feel to the interior.
What is really amazing is that they work with both local and national artists so that you can feature their work in your business place.
Isn't that such a cool idea? You can even get the community engaged by having members of your area vote on pieces of artwork that you can use.
It is like having an experienced artist on your team who would help to keep your environment infused with inspired pieces of work.
They even kit out multi-family apartment complex buildings. Check out their Instagram account for more insight.
6. CafePress
You may have heard this name previously but CafePress has been around for a while.
It is a great platform to sell your everyday and funny items for any occasion. Prices are standard though so don't spend too much time designing one-off pieces.
There is the option to design your own t-shirt, mug, etc. using the services available on the platform.
One aspect that I find deeply intriguing is the ability to design your own curtains and rugs. I never thought of personalised curtains before.
I guess there is a first time for everything because there is also the option to have your very own personalised pyjamas.
You need to be aware that CafePress is not a great platform for low-cost print on demand items. Unlike other platforms the less you buy the higher the price per item.
This item below was so funny that I just had to share it. (hehe!!)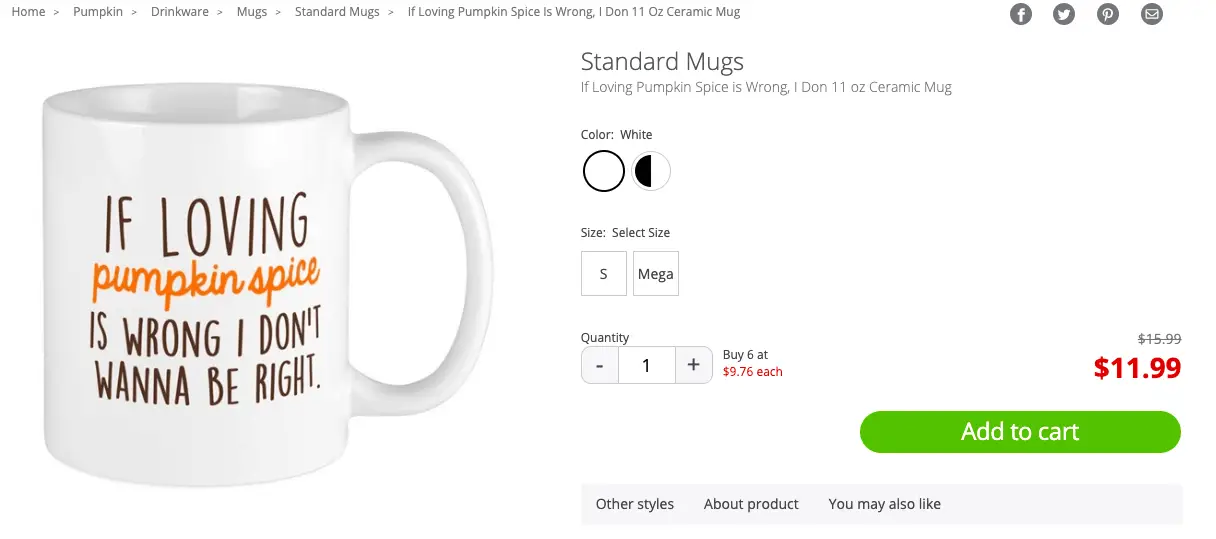 7. Society6
Just when I thought that getting custom curtains was unusual here's another platform that does normal curtains as well as shower curtains.
I am not sure how I feel about getting handmade or specially made shower curtains since they get dirty so quickly.
Would you get custom made shower curtains? Maybe I am just weird.
They offer such a wide range of goods it is crazy to think that these are all in the handmade category.
Their list of categories include:
Home decor
Furniture
Bed and bath
Tabletop
Office
Tech
Apparel + bags
Outdoor + lifestyle
I headed over to tech because I was curious (who isn't) to see what they had on offer. There was a range of laptop, phone and tablet cases and skins.
In the office section, there were acrylic trays, notebooks and stationery cards. I saw this one and I thought it was cute. They even have stickers with the same design.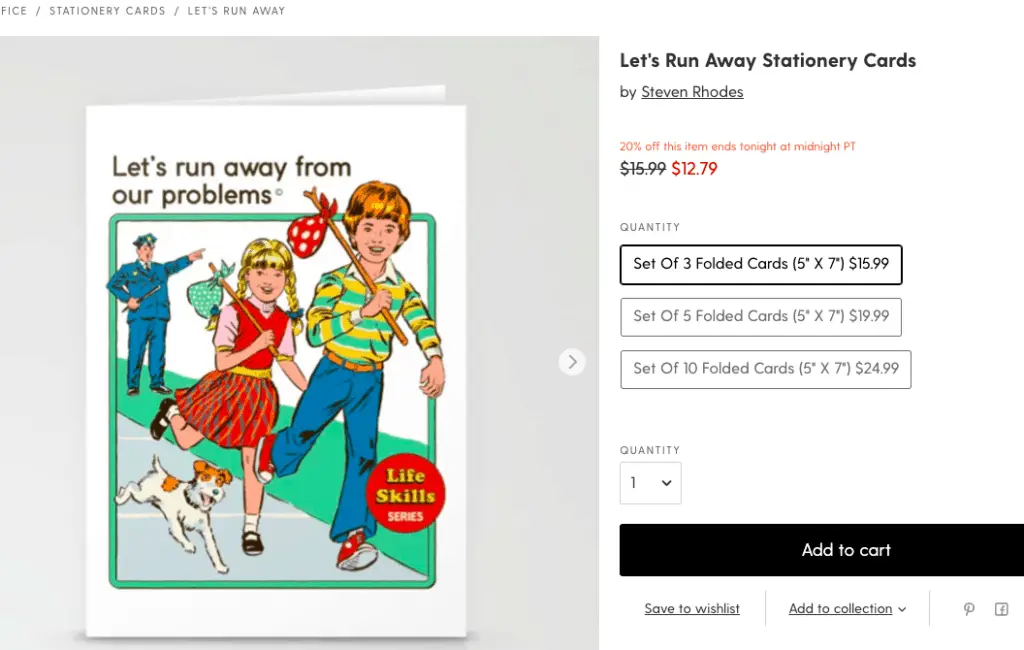 8. Ruby Lane
I saw the name, Ruby Lane, and I had no idea what they could possibly be selling compared to other platforms.
They offer antique dolls, art, vintage and jewellery items. Now, when I say antique think of pearls and old chinaware.
As a child growing up I saw a few of these around people's homes. I never imagined that these things would be so valuable today.
The saying goes that hindsight is 20-20 which can be too late.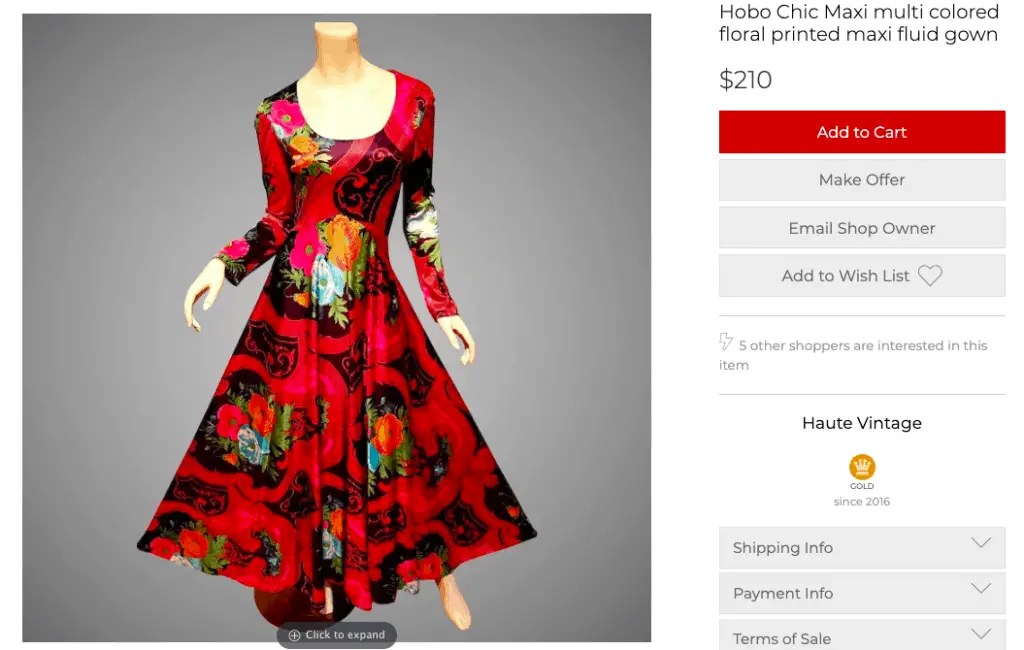 To get a feel for the items available, I went to have a look at many items.
As far as I am aware I don't have anything in the house that can be considered antique.
This dress caught my attention.
It is easily something that I can wear to a tea party with Alice in Wonderland accompanied by the Mad Hatters.
I will label this platform as one of the more curious places to sell handmade items online as you can find a lot of historical items here.
9. Artfire
There is something warming about the Artfire platform that conjures images in my head of artists working out of little cottages making unique pieces.
They cover a wide range of items that will suit every taste. Their categories include:
Jewellery
Wedding
Clothing + Accessories
Children
Home + Living
Entertainment
Craft supplies + tools
Each time I see a site doing weddings I cannot help but take a peek.
One of the hardest things for many couples is coming up with ideas for wedding favours and this site has a few cool ideas.
For example, check out these cute mini cactus white buckets.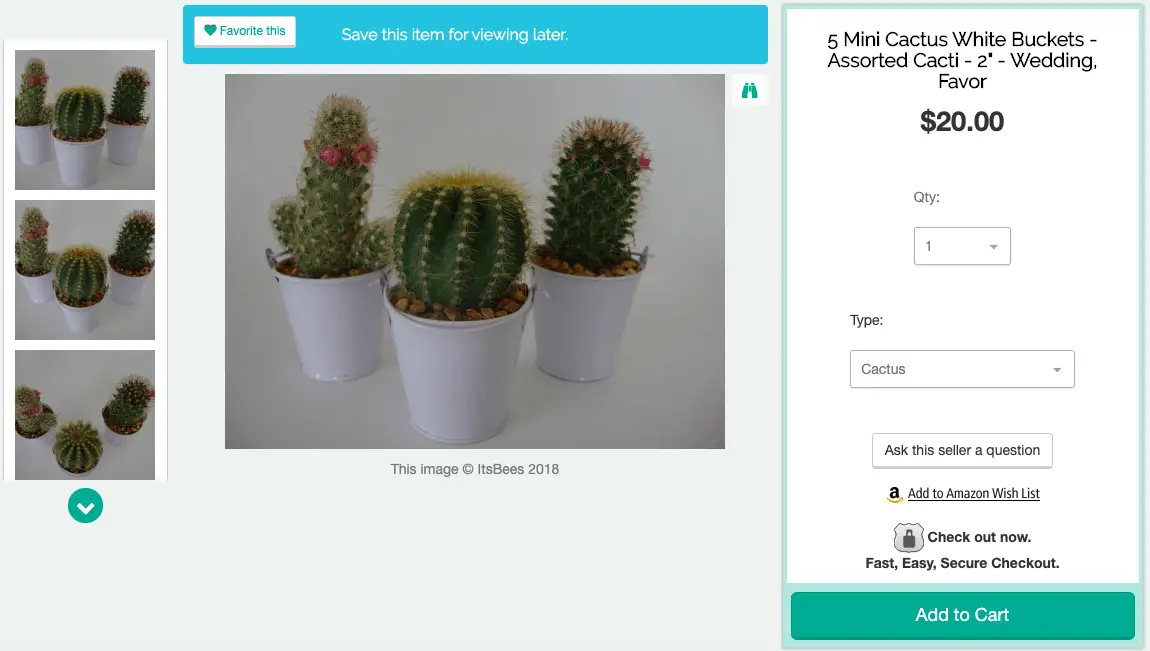 It is a great idea for a small intimate wedding where you don't have guests from out of town or from another country.
To list your items you just click on open your shop and Artfire will charge you a listing fee of 0.23 cent per item.
You can avoid listing fees if you have hundreds of items by paying $20.00 a month plus a final 4.5% valuation fee.
10. Cargoh
Just when you thought there is no way for people to get even more creative along comes an online platform to knock down that assumption.
Cargoh is another platform full of curators bursting at the seams with creativity. I mean check out this beauty below.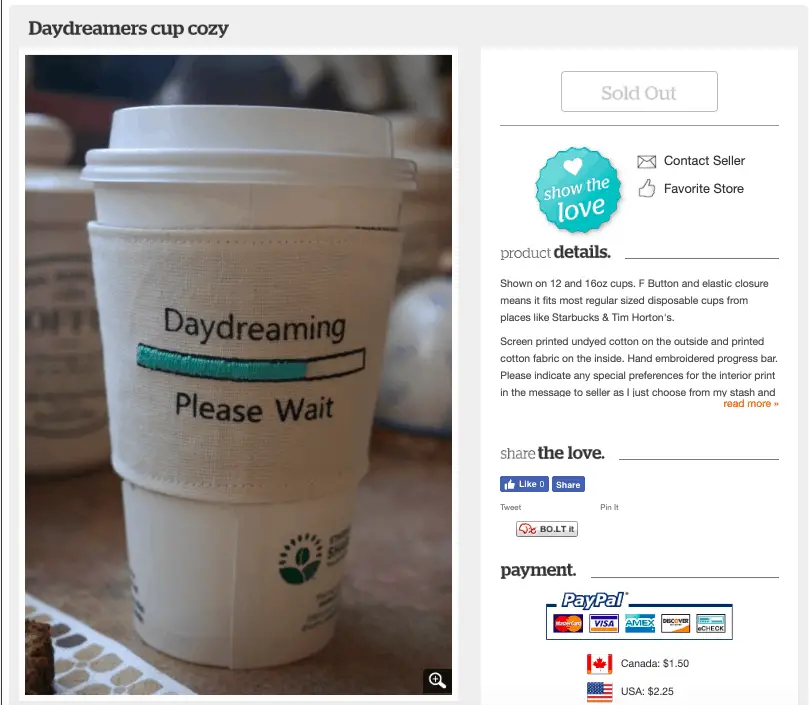 Yes, you read that right. It is currently sold out so you'll need to wait for it to get back in stock.
It is truly amazing what the human brain can come up with if you can take some time to think outside the box. (What box? hehe!!)
Allow me one more indulgence but I came across this dress and fell in love. Indigo is one of my favourite colours as well.
They carefully select their sellers as they want those with a great electic feel and aesthetic design that compliments the platform.
Go here to learn more about becoming a seller on Cargoh.
11. Spoonflower
A platform fully focused on fabric designers. It means that if you are into designing prints for fabric then this is right up your alley.
Upon visiting the site I instantly felt like redecorating my home from top to bottom. They have fresh designs available for all areas of your home.
Their categories include:
Fabric
Wallpaper
Living + decor
Dining
Bedding
They also do curtains, napkins and throw blankets.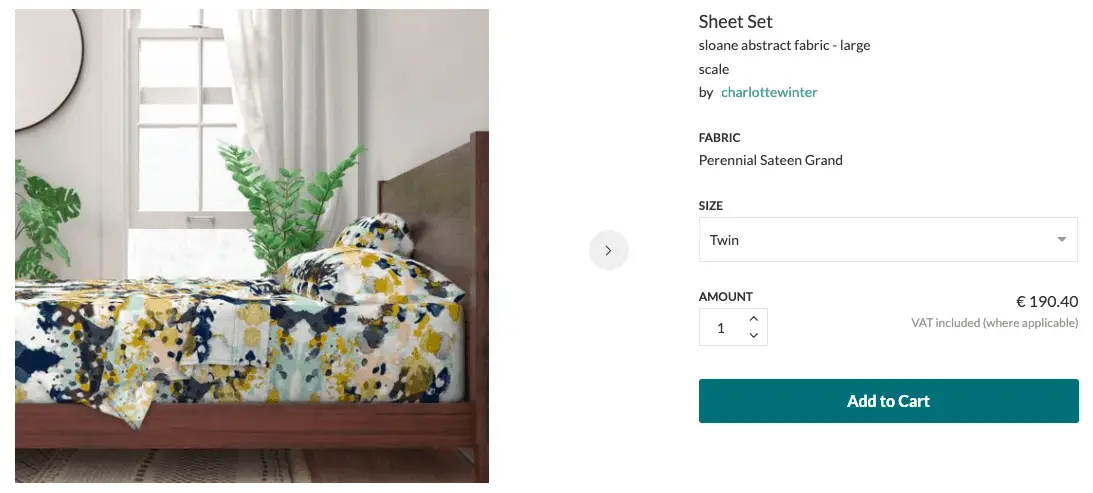 There are over 16,000 designers on the platform and they get over 600,000 shoppers every month.
I have tried to understand how they pay you as a seller. It appears that you get 10% on every sale, every day.
You simply need to upload your design and they provide the fabric or associated products and printing.
You can go here for a detailed explanation of how it works.
12. Saatchi
Stuff just got serious, either you are an artist or you are not. Saatchi provides a platform where artists can get more exposure for their artwork.
My art appreciation skills are not that great so I will need to bring my daughter with me. (hehe!!)
You don't believe me? Check out this piece below… It will grow on me somehow, someday.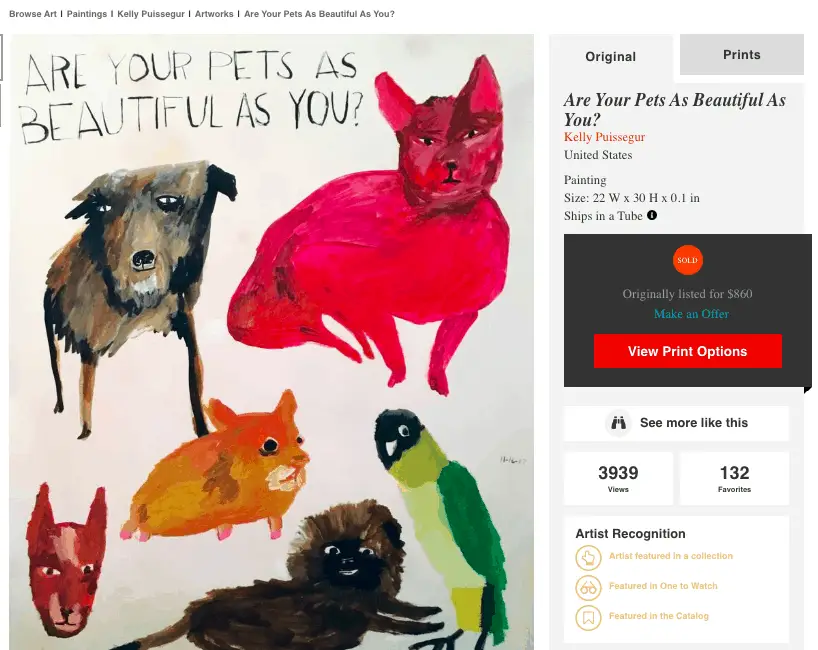 As an artist, your artwork will gain exposure to collectors in over 80 countries. The Saatchi platform gets over 12 million page views a month which is amazing.
If you would like more information on how to get started on Saatchi then grab the artist handbook here.
The only drawback is that you get back only 65% of the price of the artwork sold. It is not so bad for newcomers.
13. Zazzle
A great platform for all the Disney lovers because you can get personalised Disney gear that has been officially licensed.
Zazzle also offers a design platform that is similar to Canva. It allows users to create images for Facebook, Instagram, Youtube, LinkedIn, Etsy and Twitter.
You can also use it to create memes.
Initially, I thought it is more of a print on demand site but it is not at all. The prices for items are quite high.
The service they offer is very similar to Spoonflower and Redbubble. Each designer uploads their work and chooses products then list their items for sale.
Sellers then get a percentage of commission for each item sold with their design on it.
You will be glad to know that they offer this service to designers from all over the world.
14. Folksy
With a name like Folksy, it is difficult not to imagine the likes of Mr Hooper on Sesame Street with his little store.
I think I just dated myself when I mentioned the name Sesame Street. I would reference scenes or sing songs from that program all the time and my daughter would be confused. (Anyhoo!)
Before I go too far off-topic, on the home page you are greeted with scenic array of items that look like they came from a set on Winnie the Pooh in the Hundred Acre Wood.
From beeswax honeycomb candles, tiny ceramic houses, cross back aprons and everything in between.
One cannot help but feel like they just stepped into grandma's house expecting to find freshly baked cookies and of course no sneaky fox in her bed.
I mean take a look at this gorgeous linen bread bag below that would just tempt you to go on a baguette diet for 6 months.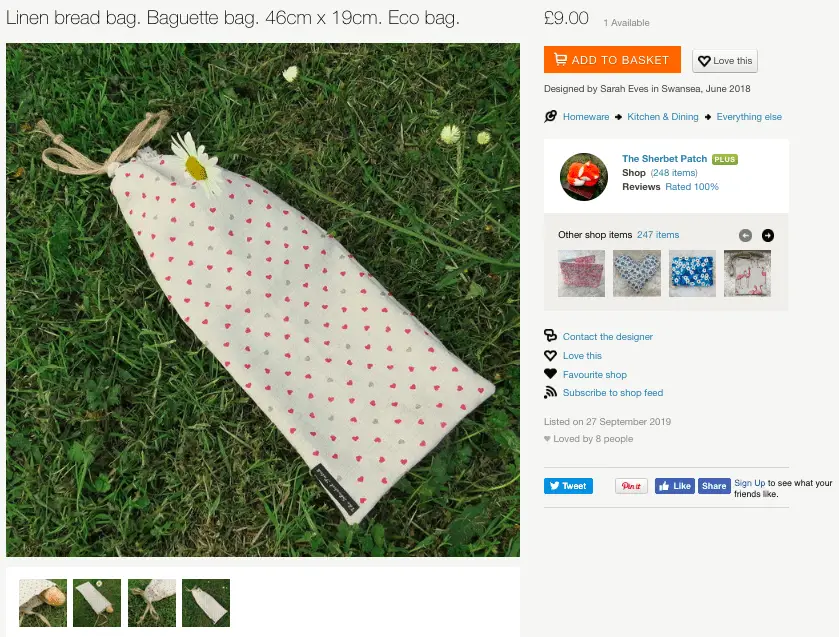 The poor guy behind the counter at the bakery would be wondering if you finally noticed him giving you the eye as to why to visit his bakery more often than usual (haha!!).
For just GBP5 a month you can sign up to become a seller and pay 6% plus VAT commission on all sales.
As you can probably tell it is very focused on British craft (she said in a queenly accent) so unfortunately if you're not based in the UK you may not qualify.
15. Absolute Arts
So, you are probably thinking that you not quite ready to display your art on a site like Saatchi just yet.
In your head, you believe that your art looks like pre-kindergarten when compared to the Leonardo Di Vinci pieces that you saw on Saatchi.
The good news is that there is this site called Absolute Arts that will help you start slowly using baby steps.
I mean look at this adorable beach wedding in the screenshot below. There is hope for all artists.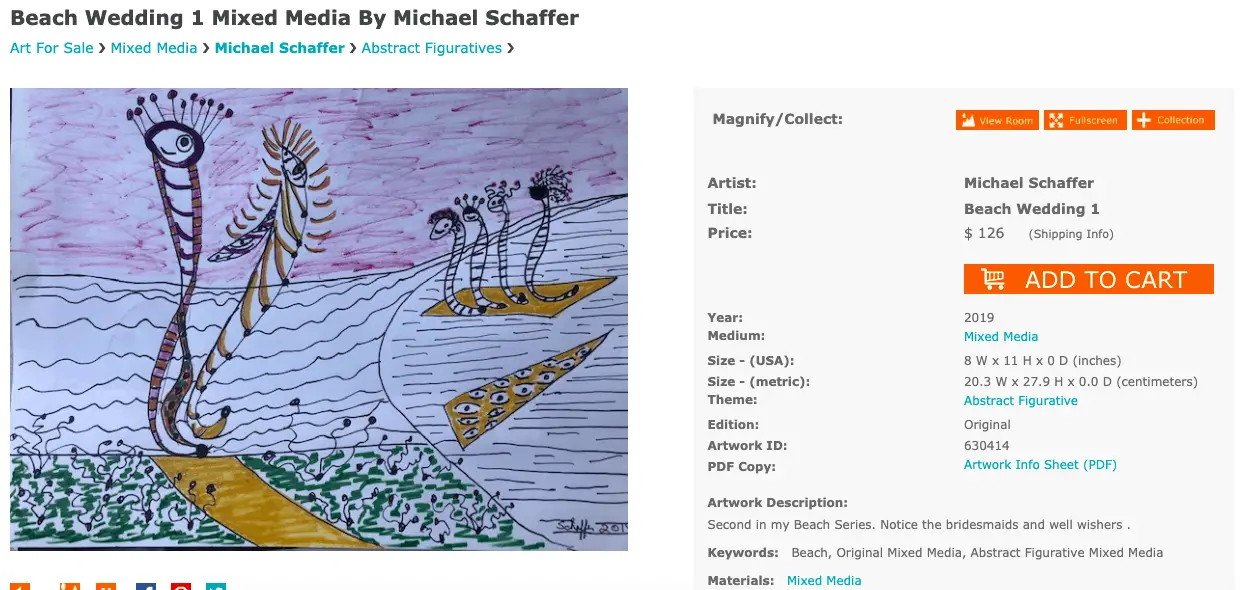 They give you the opportunity to create a free artist portfolio on their website and even give you the tools to develop as an artist. A charge of 35% commission is levied on all sales.
When you get the confidence needed you can upgrade to their midlevel package which is $55 a year. You only pay 25% commission on all sales.
16. Bonanza
Okay after taking a single look at this website my eyebrows are still in the 'surprised' position on my head.?
Their tagline is, 'everything but the ordinary'. Believe me when I tell you that they are true to their word.
They sell face tattoos, body skeleton costumes, vitamins, dietary supplements, fabric adhesive and human hair.
I am not sure why this was even recommended as a place for handmade items but I am not going to be the one to tell them that they are not.
It also appears to be a great place to sell your stuff online especially if they are unique and not necessarily handmade.
Here is an example of what you can find on their site, see screenshot below.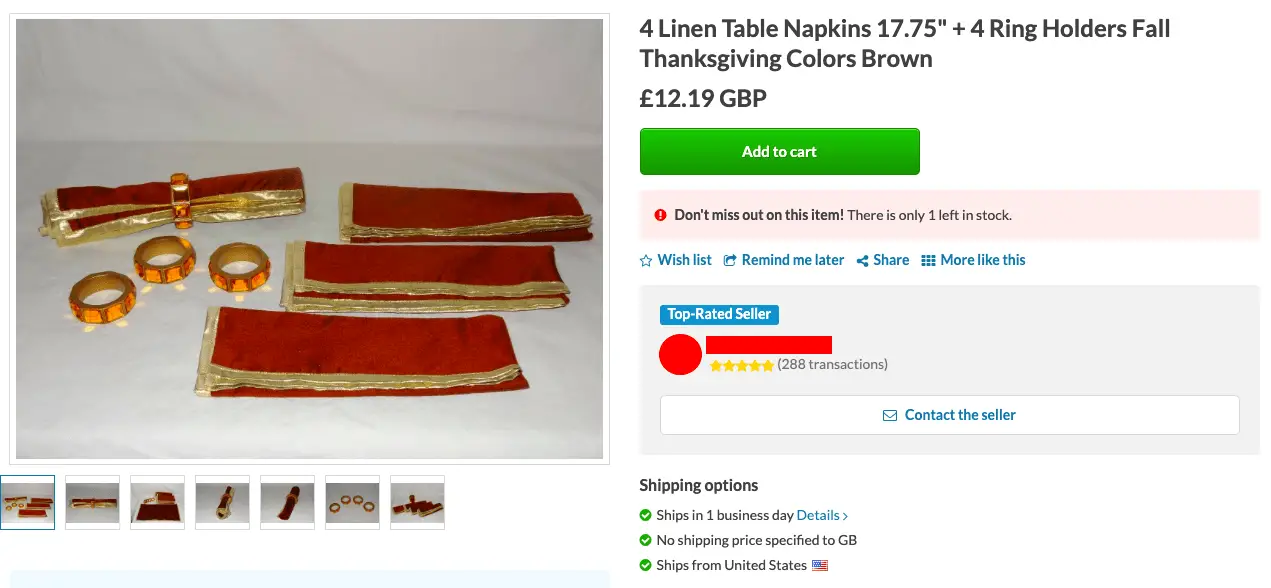 You will be happy to know that Bonanza was rated as the most recommended marketplace from 2013 to 2018 by over 60,000 independent sellers.
As a seller, you can list your stuff for free as there are no listing fees and there is zero setup cost.
They integrate with Google Shopping which is great news and they automatically keep your product listings in sync.
You are even encouraged to bring your listings over from Amazon, eBay Shopify and Etsy using their easy import function called Spark Lister.
I have to say that I am simply blown away by this platform as I never heard of them before and they seem so genuinely interested in seller success.
In terms of other seller fees, you can go here to see details of their complex costs for items that are sold on their platform.
17. Cratejoy
If you are into monthly subscription boxes then you have probably heard of Cratejoy. A service that allows you to create, market and ship goody boxes every month.
This is another one of those sites that you feel like Mary from Little House on the Praire rolling through the hills.
Just when you thought that all the ideas for a niche subscription box were exhausted you will find another one.
I found ones for the following:
Date night
Generations box for the elderly
Paranormal activities
Saltwater and sand
Grandma
Survivors of trafficking
Coffee supporting animal rescue
As a seller, you can simply sign up for free and get access to their over 4 million page views a month and powerful integrations.
You can also create your own custom website on their platform for $39 a month plus transaction fees.
Okay, I never thought it was possible to have a subscription box for house plants but I was obviously very wrong.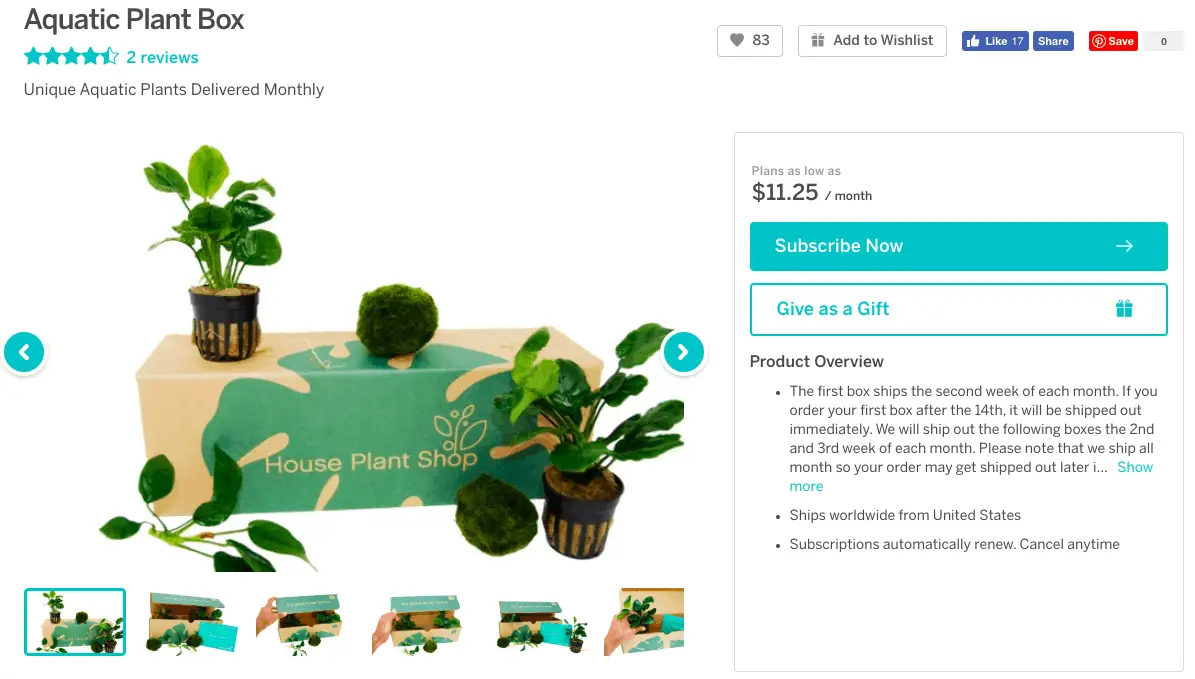 What will they think of next? Arguably one of the most exceptional places to sell handmade items online.
18. Shop Handmade
Part of the Shop Handmade slogan is '100% fee-free.' This is great news for sellers who are just looking to dip their toe in the water for the first time.
Their departments include the following:
Health, beauty + food
Jewellery, beads
Custom
resupplies
Artwork
Apparel
Children + pets
Cards + invitations
Paper gifts
Material art
Home decor
Painting, photography + wall art
Crocheting + knitting + sewing
Being a photographer, I wondered into that department to see what can folks like me sell on this auspicious platform.
The site seems very slow to browse so it takes time to get from one listing to the next. Here is a tie-dye scarf that I found that ships from India.
If you are interested in getting started for free go here. They seem to be strict on crafts and handmade items so read the rules.
19. Hyena Cart
At first, I thought it was a shopping cart platform. However, Hyena Cart offers buyers the ability to buy handmade items that are eco-friendly.
Items include cloth diapers, unscented goats milk soap, hand-dyed yarns, batik fabric bags and handmade jewellery.
The user experience at the time of writing this post is not great as the store can do with a little more TLC.
As a seller, there is a $10 set up fee plus a $5 per month charge to keep your store available. I just wish they can do something about the technology and user experience.
20. iCraft
A Canadian company developed by web professionals who are passionate about the web and handmade items is the backbone of iCraft.
Have you seen the terry bathrobes for dogs? It is the sweetest little thing ever. I don't even have a dog and I have the urge to buy one just because. (Lol!!)
Their categories include jewellery, clothing, accessories, toys & games, artwork, crafts, home decor and bath & body.
You can also decide to list your items by seasons, special occasions, collections or for someone special like Mom.
They even have the store categorised by sellers. There are Canadian sellers, US sellers, European sellers, top sellers and stores with sales.
As a seller, you can access their Sellers Bootcamp where you will be given assignments. It only takes 30 minutes a day to complete the tasks.
To sign up as a seller you can choose a monthly package for $15 a month, a 6-month package for $12 a month or a 12-month package for $10 a month.
The good news is that you would not be charged any listing fees or commission fees on each item listed or on each sale.
21. Etsy
Everyone has heard about Etsy unless you have been hiding under a rock for the last few years. It has always been seen as a big competitor of Amazon except that their speciality is handmade items.
Of course, Amazon has since launched Amazon Handmade to compete with the Etsy marketplace.
The benefits of being a seller on Etsy can be amazing because they have the annual Etsy Design Awards for creatives.
They also have popup shops at Christmas time and they do amazing collaborations and exhibits with design shows, wedding fairs, craft councils and the Natural History Museum to name a few.
So, there are lots of opportunities where your talent and goods can gain exposure at local and national levels.
As a seller, your items get exposure to over 33 million buyers globally. To get started, you just need to list your item and pay a fee of 0.20 per listing.
I have been reading about how to become successful on Etsy as a newbie and I learned that you need to have a minimum of 50 listings to gain momentum and sales.
The best advice I have seen so far is to ensure that you have a collection of entry-level, no-frills options included in those 50 listings like prints.
Essentially, for a $10-dollar initial outlay (50 items x 0.20 cent) you can expect to start seeing sales on your Etsy listings once you have done your homework in terms of finding out what's popular.
Conclusion
The ability to sell handmade items online has been made easy and almost irresistible with the kind assistance of modern technology.
Although the world can be considered flat for the future the biggest hurdle that can be a struggle is the cost of shipping.
On the one hand, you have ethically produced items while on the other there is the possibility of leaving a terrible carbon footprint due to shipping.
Yes, you should encourage all your friends, relatives and loved ones to choose gifts that will reduce one's carbon footprint.
However, does that mean not selling the best gift possible for the occasion to customers 5,000 or even 10,000 miles away?
I guess this is a personal and individual decision that no one can force on someone else. Maybe one day a logistics specialist will find a way to solve that problem.
What has been your experience with selling handmade items online?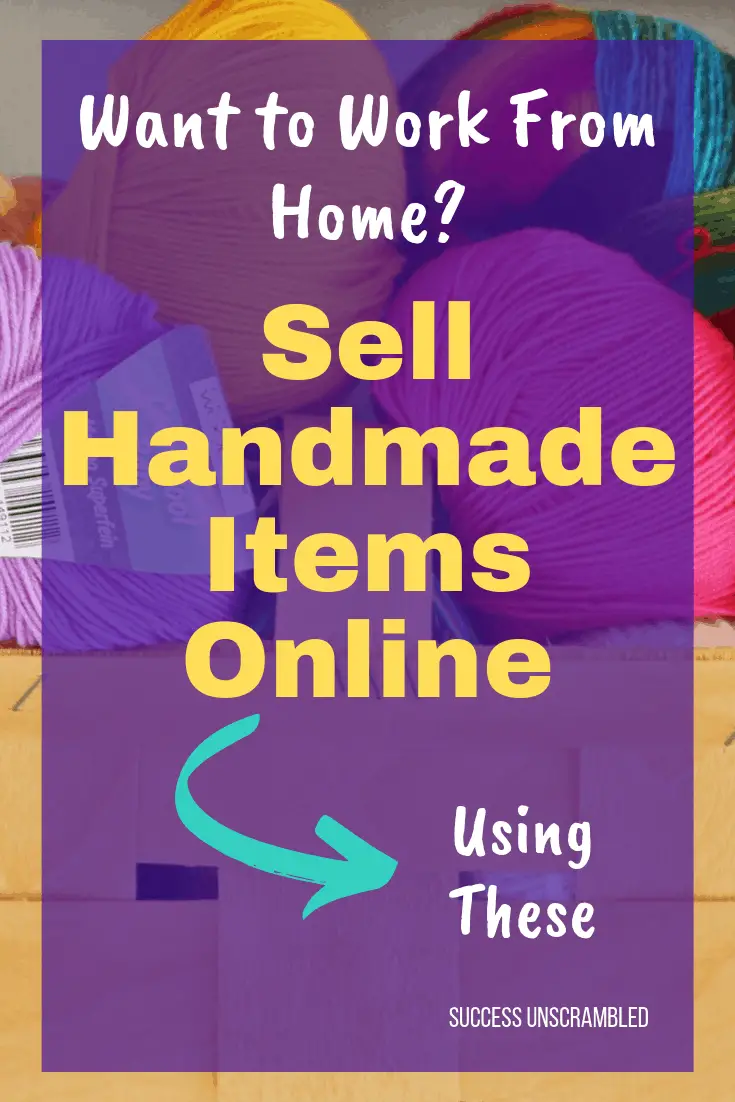 Announcements
Remember to subscribe to the Success Unscrambled Podcast where you will be the first to hear what's happening in the entrepreneurial and digital marketing world.
Your positive review of this podcast is vital to keeping it alive and running for the next 12 – 24 months so please leave a positive review for us on iTunes, Spotify or any of your favourite podcast players.
If you are a self-confessed hoarder and you would like to declutter your home. Consider making a quick buck or two and sell your stuff online.
Are you employed full-time but you prefer to start a service-based side business? Grab this resource that shows you 20+ ways to start a side-hustle this weekend.
Want to take a blog to the next level but not quite sure how? Check out all you need to know about how to get paid by blogging here.
If you are a startup or small business and you need to hire a virtual assistant to complete tasks such as social media marketing, blogging, keyword research or Pinterest account management then take a look at these packages.