Podcast: Play in new window | Download (Duration: 42:32 — 58.9MB) | Embed
Subscribe: Google Podcasts | Spotify | Amazon Music | Email | TuneIn | Deezer | RSS | More
Are you looking to sell your stuff online in a hurry? If you are a self-confessed hoarder and you need to get rid of the clutter then keep reading.
The range of stuff that can be sold online is amazing. I saw puzzles, bicycles, used smartphones, jewellery, t-shirts and even kittens.
If you are like me you are probably wondering where did all the stuff in your house come from in the first place.
Having children is such a blessing on one hand. On the other hand, it does mean having a lot of bits and pieces that attaches itself to your home uncontrollably.
Many years ago the popular thing to participate in was a car boot sale to get rid of the unnecessary items from the house.
Now, there are several local sites that allow anyone to either walk into a warehouse and sell their goods for cash or use an app to sell your stuff online.
So many people struggle with finding ways to generate emergency cash in a hurry to fulfil a need when their homes can be a great cash generator.
In this post, you will be able to learn about 25 awesome places that you can make money online by selling your stuff to people who want them.
Why Sell Your Stuff Online?
If you have ever found yourself in a situation where you need a cash injection of funds to work on a project or make an urgent purchase then you will find this useful.
One of the best ways to raise funding or a small capital for any project is by liquidating your existing assets.
In other words, you can sell your stuff online that has high commercial value or high demand in order to come up with the money.
For example, you may have valuable items that you no longer use like designer bags, accessories or clothes.
Electronics like computers, tablets, cameras, lenses and TVs also have a re-sale price tag that you can use to make money fast.
Depending on your experience this may sound a little uncomfortable to you simply because you think of terrible experiences that other people had.
The truth is that there are several platforms that will allow you to sell your stuff online from the comfort of your own home.
The good news is that it can be done without the experience of swapping goods for money with a perfect stranger.
How To Get Started
The best way to get started selling your stuff online is to make a list of items that you would like to sell.
If you have a lot of stuff you can start by putting them into categories like ceramics, clothes, electronics, soft furnishings, etc.
Decide if you would like to meet the buyer in person or if you prefer to do the complete transaction online.
Check the list of possible places that you want to sell the items and take a close look at the fine print like shipping, listing and associated fees.
For items in the designer label category, you may want to take special care when selling these items as you don't want to be caught selling a fake.
Also, taking a return and offering a refund on these items can pose a risk as the buyer might do a swap and send you a fake version.
Some items may take longer than others to sell so when coming up with a selling price this is something you will want to consider.
Now that you are aware of possible risks let's look at the list of available platforms to sell your stuff online.
Sell Your Stuff Online
I have put together a huge list of platforms that you can sell your stuff online almost hassle-free. In the past, the go-to places were eBay or Amazon FBA which have a lot of strict rules.
However, this list has such a wide variety that you can set up your account and have your listings go live in less than 24 hours.
Let's take a look at the fun platforms.
1. VarageSale
It is an app that is available on iOS and Android that gives you the ability to buy and sell locally. It currently has users across Australia, Germany, Italy, Japan, USA and the UK.
The worldwide phenomenon was started by Tami who calls herself the chief mom at VarageSale.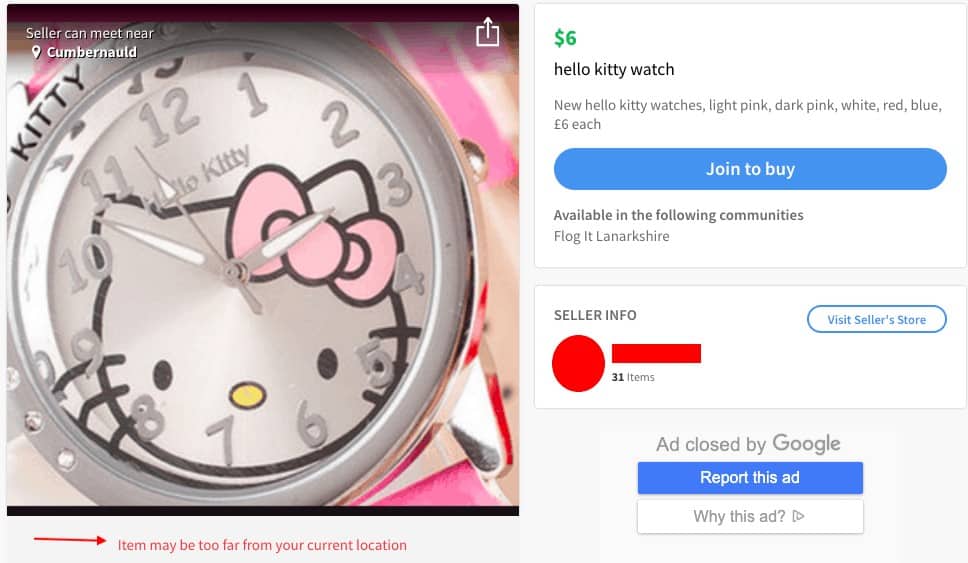 In 2012 while she was pregnant and at home on preventative leave, she discovered several communities across the world buying and selling using social media.
She decided to join the fun and discovered the process was very cumbersome and got her husband to build something better.
So, VarageSale was born as a better way to buy and sell locally online.
2. Decluttr
Their slogan is the smart way to buy and sell tech. They have apps for both iOS and Android smartphones.
When I first saw this site I was a bit apprehensive because most technology items have a limited warranty.
However, on closer investigation, they offer some amazing promises like:
Free shipping on all orders
A 12-month warranty that is free
Over 2 million happy customers
Fast next day payments
You will be blown away by all these promises. If you have any piece of technology at home that you no longer use and need then now is your chance to make a quick buck.
I still cannot believe that they buy DVDs and CDs from you.
3. Vinted
Upon hearing this name the first thing that comes to mind for me is vintage items. However, the site does offer the opportunity to sell all kinds of clothes.
It is currently available in Czechia, France, Germany, Lithuania, Netherlands, Poland, Spain, United Kingdom and the US.
They also have apps for both iOS and Android. What is surprising is that, at the time of writing this post, they don't charge a fee for selling on their platform.
I really like the way their site is laid out in a very organised fashion. The quality of each listing is very crisp.
4. Rebag
If you are into luxury designer handbags then you will love this next option. Upon visiting their store online you will instantly feel at home.
Their store does not feel like a 2nd hand swap shop but more like an upmarket store selling original designer handbags.
You don't even need to find a buyer yourself. You simply need to send your previously owned designer handbag into them using their prepaid shipping label.
Of course, they have apps for both iOS and Android. Each bag goes through a white-gloved inspection and is vetted.
Once you sign up you have the opportunity to get up to $200 off your first purchase.
They even have a 6-month fling option where you can resell their bag to them for a credit of 70% of the purchase price.
I nearly fell off my chair when I noticed that they also offer financing plans (for a handbag!!).
5. ThredUP
They claim to be the largest online consignment and thrift store with a fun tagline of "secondhand clothes, firsthand fun".
Upon first inspection, there are two things that stand out to me. There is a section where they outline a list of wanted items for the upcoming season.
The next eye-catching area is where you have the option to create a 'goody box' of items where they charge a $10 deposit for this service.
You will be impressed by the fact that the store is laid out by several categories.
Brands – Ann Taylor, Banana Republic, Free People, Madewell, Lululemon, J.Crew
Sizes – Extra small, Small, Medium, Large, Extra-large, Plus
Departments – Sale, Clothing, Premium, Designer, Maternity, Plus, Juniors, Shoes, Handbags, Accessories, Jewellery
Price – $10, $20, $50
Style – Boho, Edgy, Designer, Preppy, Casual
Age – women, kids
They also offer free shipping and easy returns.
6. Apartment Therapy Marketplace
By now, you have managed to make some money for you and the family. It is time to spruce up your home with 2nd hand deals from Apartment Therapy.
I have to say that I am already impressed by the quality of the listings as it is not quite what I was expecting from a 2nd hand marketplace.
You will be happy to know that everything is listed in one of the 5 categories.
Lighting
Furniture
Tabletop
Accessories
Rugs
Each photo of the item just seems to be a professional shot taken by an expert or according to specific requirements.
All items fall into two broad areas namely, ships or in-person pickup. Like many other platforms, they offer apps for both iOs and Android.
7. Chairish
If you are looking for something that is more vintage for your home then Chairish may be a great option for you.
Everything seems to be well organised with prices ranging from $10 to $49,500. I just saw a vase by Giampaolo Seguso for only $26,000 (pricey!).
I might actually pay them to keep it in the shop as I am so afraid that it will get damaged during transit.
You have the option to shop by the following categories.
Price
Location + Shipping
Style
Colour
Pieces or Sets
All that's left for you to do is to dig out those vintage pieces from your grandmother or great grandmother and see if you can top that price of $49,500.
8. Wallapop
With headquarters in Spain, Wallapop caught my attention due to the fact that it is a classifieds website selling everything including property.
Many of the listings are in Spanish while some are in English and list places for sale or rent in London.
Like many platforms, they have apps for both iOS and Android.
Although, it is very much a classifieds site the design of the site is neat.
For residents in the US, this may not be an attractive option unless you are looking for an item that is difficult to find.
9. Bookoo
Yet another intriguing option when it comes to finding a place to sell your stuff online. With a name like Bookoo, I was expecting to find lots of books.
However, the option to sell almost anything is available. The list of countries covered include: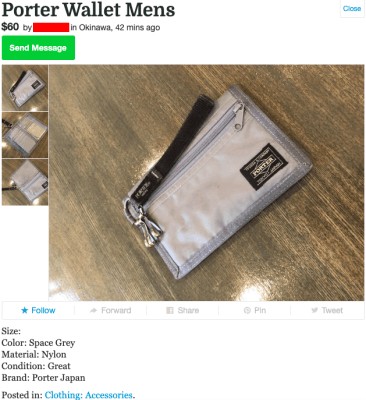 Kuwait
Japan
Portugal
Korea
Belgium
Italy
USA
UK
Germany
Spain
They claim to cover over 2.6 million neighbourhoods in total. It makes me wonder what is the criteria for a place to be considered a neighbourhood.
There is a section on the right-hand side that shows you a list of the hottest searches so you can almost know if people are already searching for the items you want to sell.
When you first arrive at their site you are presented with a list of neighbourhoods rather than a list of items for sale.
You can easily pick up a 4-bed 1700 square foot house in Korea for 320,000 Yen.
10. Sell Your Stuff Online with Mercari
They seem to pride themselves in the fact that there is no need for meetups with strangers in strange places.
Just list the item and when it is sold you get a printable shipping label emailed to the seller.
You will need to pay a flat fee of 10% for each item that is sold. Insurance of $200 is included with items using their prepaid shipping.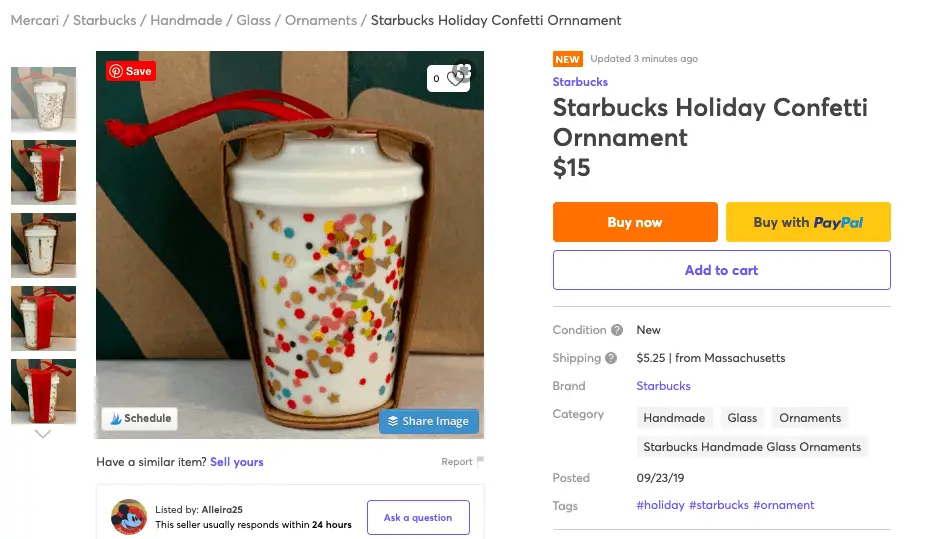 Apps are available for both iOS and Android.
For sellers, they are very focused on your success so they actually give you a list of items that are selling like hotcakes.
They even offer a moneyback guarantee which is very interesting.
Buyers can shop by brand or by category. They even have a dedicated handmade section as well.
11. Tradesy
Another platform that is very focused on women. Tradesy has apps available for both iOS and Android.
Their tagline at the time of writing this post is, "sell what is in your closet today to buy what you crave tomorrow."
All the prices include shipping which is great news for your buyers. They claim to offer the safest and most stylish place to buy, sell and even connect with fashionable women.
One thing I noticed that stands out about this site is that they do have a section for weddings which is awesome.
Of course, I had to head over to see what the prices were like for their dresses.
I never knew something like this existed so I must be very ignorant as I found this one size wedding dress as shown below.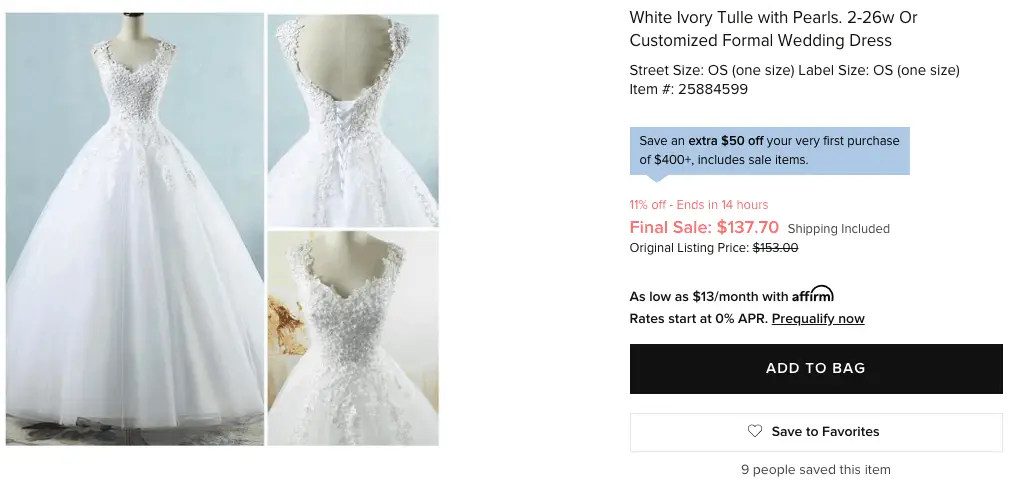 They also have veils, jewellery, shoes, tablecloths and accessories.
If you are feeling too lazy to pick and pack your items for shipping they offer an in-home closet concierge service.
Tradesy charges 19.8% commission fees on transactions over $50.00. There is also a 2.9% safe transfer fee for withdrawals.
12. LetGo
At first, I thought it was a standard buy and sell used stuff classified website but upon closer inspection, Letgo also has a section for services.
It reminds me of Craigslist but a more modern version of the platform. It is very colourful and seems to be easier to use.
The images within the listings are very amateur giving this platform a very local feel.
There is even a section for free stuff with a lot of listings for paid services. Depending on what you are selling you may or may not like this platform.
13. BookScouter
Finally, a platform dedicated to books. I wished I knew about this two years ago because I gave several boxes of books to charity (they were very hesitant to take them).
You will get the best price for your books because they allow you to compare the price across 35 other vendors.
The good news is that BookScouter actually gives textbook scholarships to college students so you'll be supporting a good cause.
They offer a recently searched high-value books list but you will need to be logged in on the pro account to gain access to this precious list.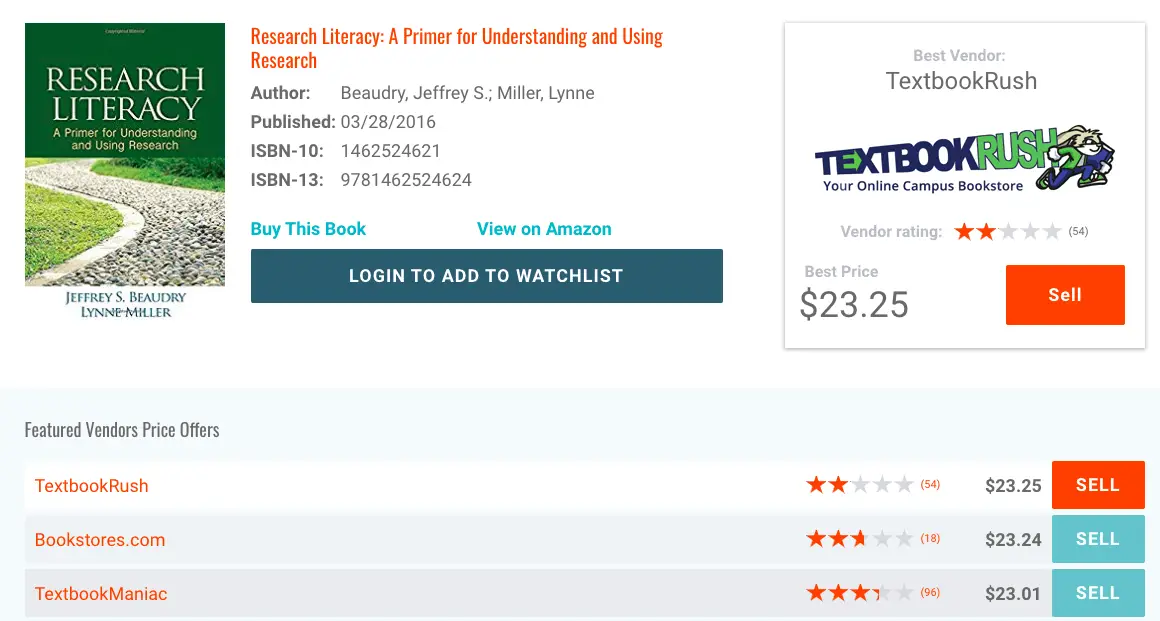 As you can see from the above screenshot you get to see the potential price of the book from a list of vendors as well as their ratings.
14. The Real Real
The name for this consignment platform is a bit strange. I spent time scrolling through the site to figure out why they use that name.
Maybe it has to do with the fact that they work with a lot of branded items as well as fine jewellery. I am not really sure.
I must say that their jewellery section is very attractive because you get these fine items for something like 75% off the retail price.
If you want to sell your stuff online for buyers that are more interested in high-value items then this is a great option for you.
15. Carousell
With headquarters in Singapore, Carousell is a marketplace offering a consumer to consumer connection that's available on both iOS and Android.
They offer a wide range of things including property to buy or rent, cars for sale, fashion, home furnishings, electronics, hobbies + games as well as jobs and services.
Areas served only include areas in Southeast Asia like Taiwan, Hong Kong and Singapore.
16. Re-See
Their motto is to keep the best, iconic pieces of past fashion in circulation. These fashion experts will bring your beloved items back to life.
Take for example this 1991 Fall Butterfly Dress, only 4,200 Euro.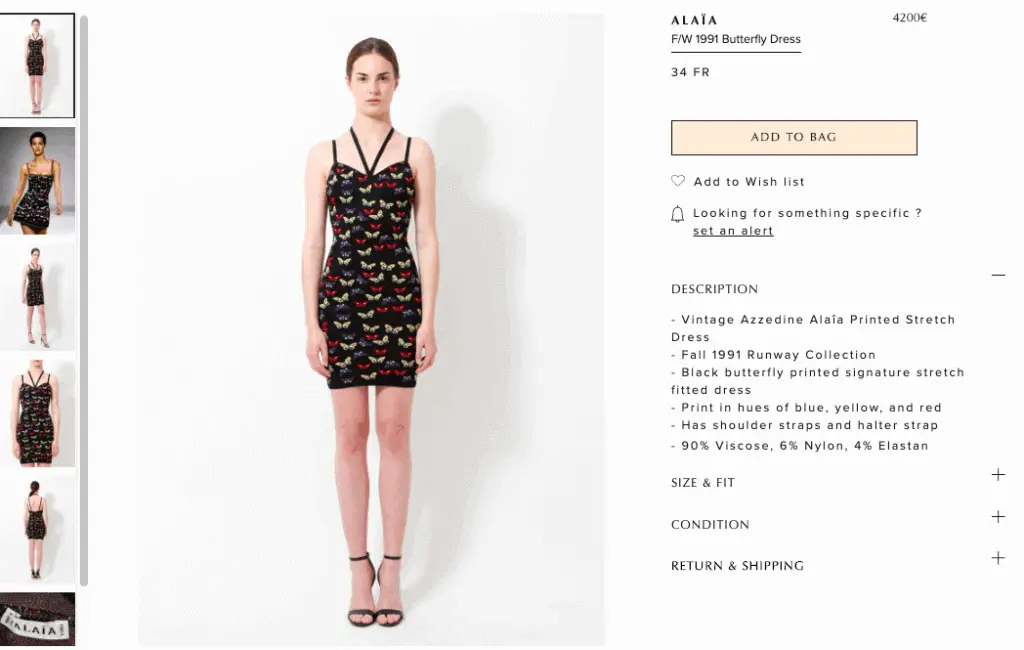 I am starting to wonder if I have any vintage pieces in my closet because I can be sitting on a fortune.
The good news is that they ship worldwide to the US and Europe with zero duties on orders which is quite attractive for buyers.
However, the process for submitting your quality item can only be done via appointment or by proposing your item via an online form.
17. Wish
I have to admit that I never knew that there was an option to sell your stuff on Wish. I always saw it as this annoying place that sold fast fashion items cheap.
So, my question is why are these items so cheap? If I were to sell something on Wish then it will obviously have to be priced quite low.
Anyway, to sell on Wish you will need to go to merchant.wish.com and sign up for free. Bearing in mind the kind of prices buyers expect from this platform.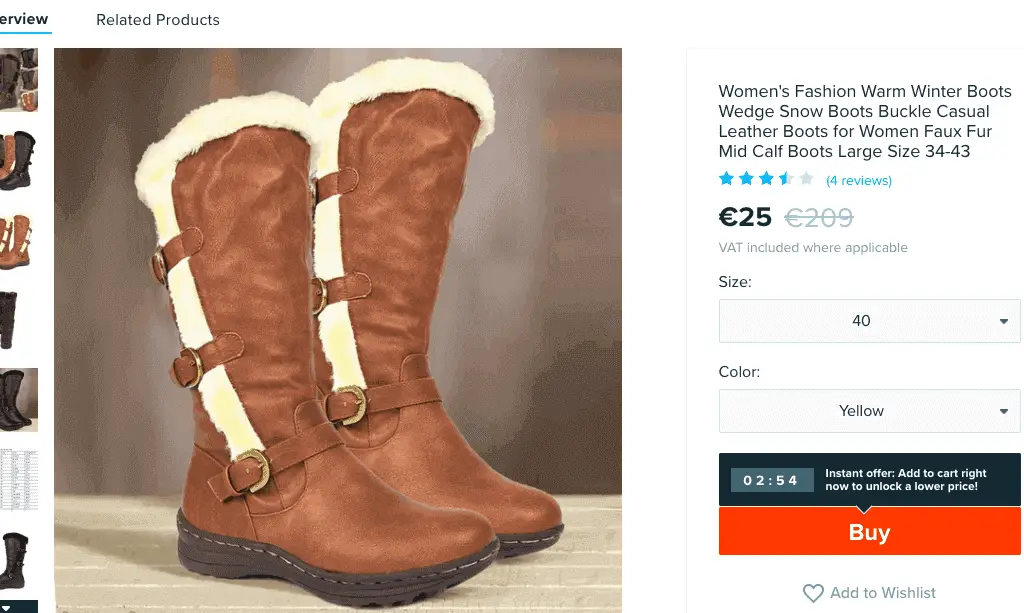 As you can see in the example above a pair of warm winter boots is priced at 25 Euro plus an additional 7 Euro for shipping.
Have you ever purchased anything on Wish? What was your experience like?
18. Depop
Based in London, Depop also has offices in Milan and New York. They have over 13 million users in over 147 countries.
I read an article that suggests that teens are making up to $300,000 selling clothes on Depop which sounds crazy.
After downloading the app I decided to explore it to see what is available that might be of interest to me as well as to experience its features.
As you can see from the screenshot of the app you have the ability to like, bookmark and message the person selling the item.
The prices may not be as low as Wish but it certainly gives you the option to have a very engaging shopping experience.
From the point of view of the seller you actually get immediate feedback should you decide to use this platform to sell your stuff online. Depop will take a 10% cut of your sales.
A great way to do a background check on Depop is to check out their reviews on Trust Pilot here. Also, grab their sellers manual using this link.
19. Poshmark
If you ever wanted to make $1 million dollars selling clothes online then Poshmark seems to be the perfect app to sell your stuff.
Founded in 2011 by four founders, Poshmark now has over 5 million sellers on the app. They offer apps for both iOS and Android.
Sellers and buyers from the US and Canada are the only ones who can use the app.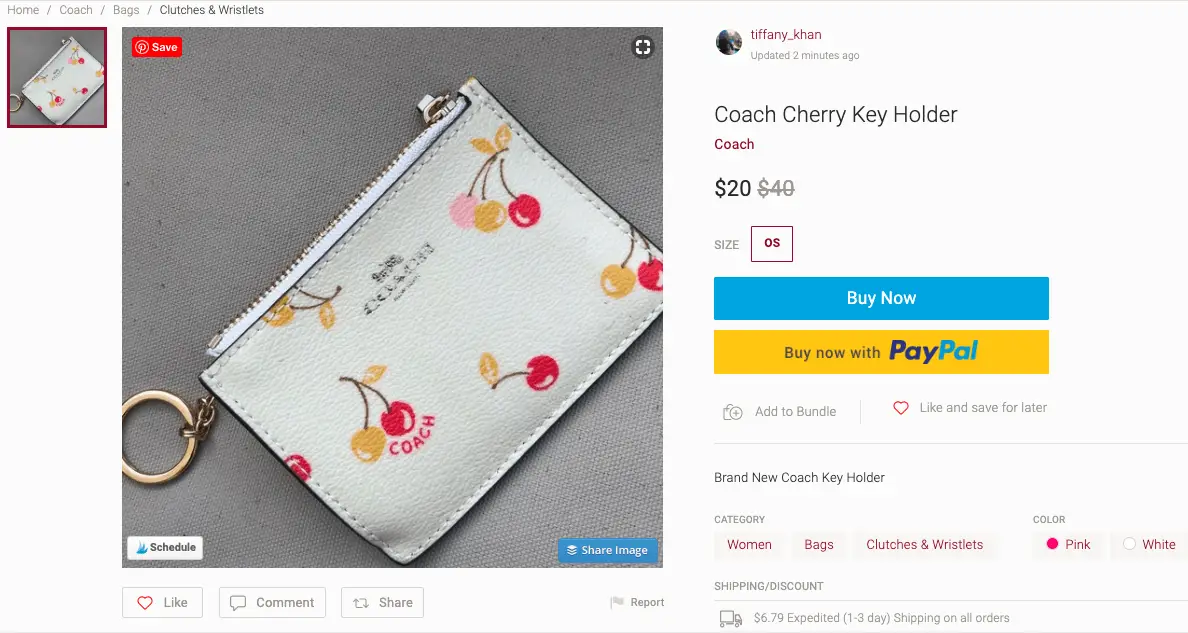 Posh protect is available for buyers which means their payment is kept safe until they receive delivery of the order.
Sellers are given a prepaid shipping label that they can use to ship items to buyers.
20. Shpock
The name Shpock derives from the ability to shop from your pocket. It is really designed for locals buying from each other or selling to each other.
So items will need to be hand-delivered or collected in person. There is the option to ship the item with the express permission of the buyer.
When you download the app you will notice that it relies heavily on the location services of your smartphone to show you a range of products in your area.
It is free to list and sell your stuff on Shpock so they don't charge a commission or fees for listing or selling your items.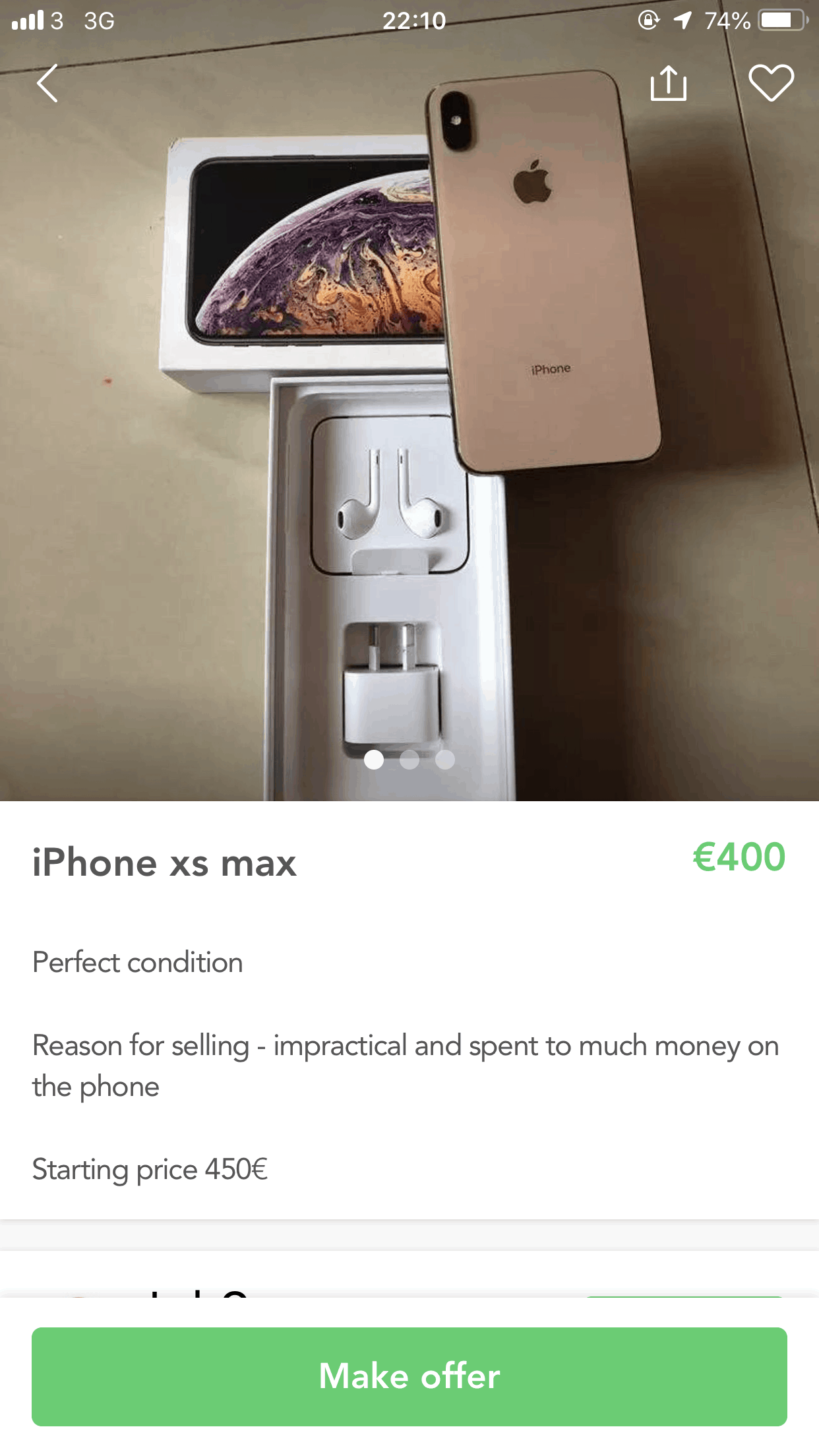 Here is an item for sale on the Shpock app. You have the ability to also see communication between the seller and all the interested buyers.
21. 5Miles
With apps available for download on both iOS and Android, 5Miles is one of those platforms that allow you to sell your stuff locally using a twist.
They have a feature called the 5Mile Dash where participants are encouraged to bid on an item before the time expires.
So, it is quite a fast-moving sale as users would need to remain engaged in order to get their item at the desired price.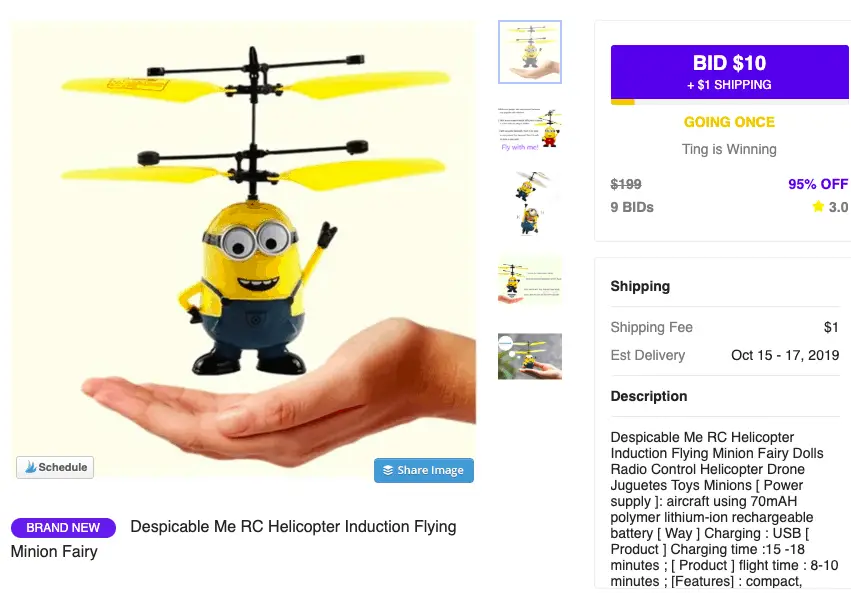 Bids are free, so you only pay if you win. There are 40 items being auctioned at once so a very high adrenaline experience for those involved.
There are over 1.5 million active users on the platform and there is a process involved to sign up as a seller.
Each item that you want to sell needs to go through an approval process before it goes live. All bids start at $1.
5Miles only seem to cater to buyers and sellers based in the US. My only concern is that the purchased items need to be done by in-person delivery in a public place.
22. Trove Market
Another great platform if you are specifically looking to sell used furniture online. Apps are available for both iOS and Android.
It has a very local focus showing you used furniture in your local area for sale. You also have the ability to list electronics and art on the platform.
Buyers can only pay cash for the items that they want to buy on Trove. Of course, items will also need to be collected from the seller.
At one point Trove did accept credit card payments online but this is something that they no longer do.
So, a very basic platform when it comes to selling your stuff online. It is only open to people in the US for now and can be found at usetrove.com
23. Vestiaire Collective
As you probably can already tell from the name, this platform specialises in luxury 2nd hand items for sale.
There are apps available for download on both iOS and Android so that you can sell your stuff on the go.
Similar to the folks at Tradesy, Vestiaire also offers a concierge service which offers free pickup, expert pricing and professional photography.
Hmm… I wonder what I did with that old Fendi bag? I am sure I already gave it to charity 2 years ago. ?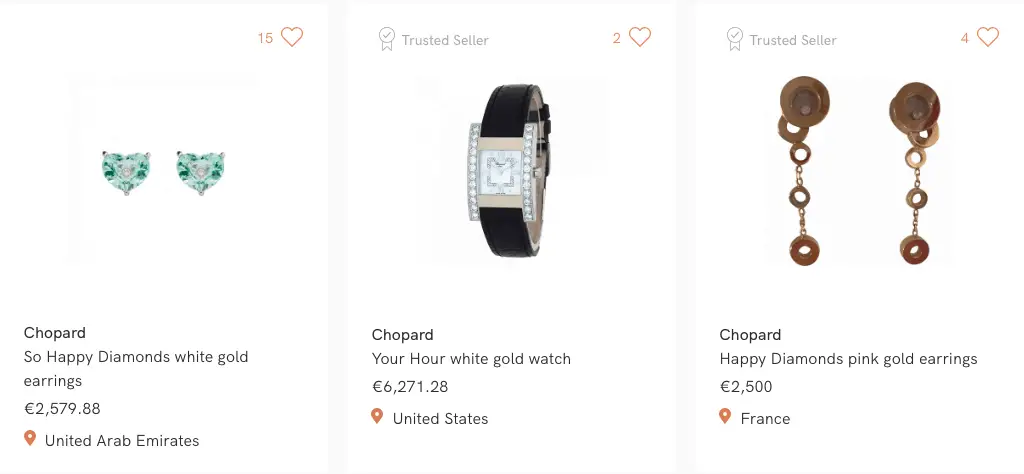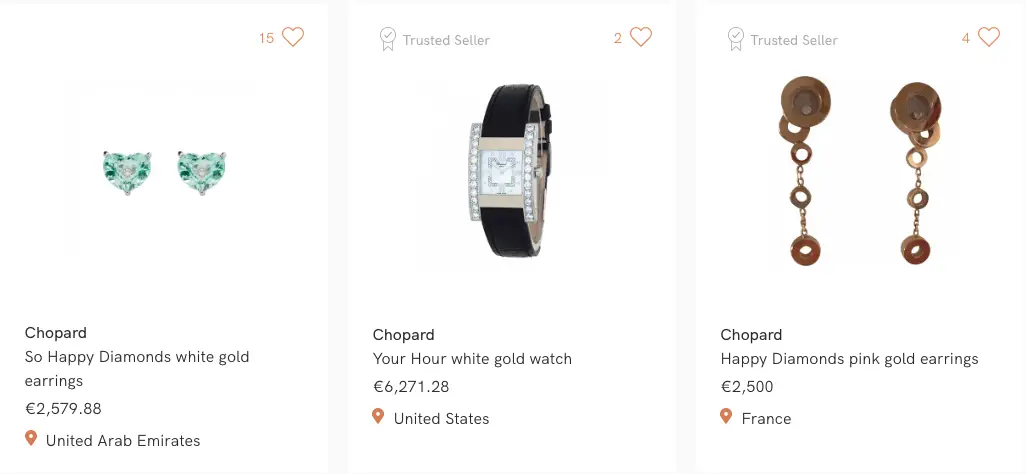 Apparently there is a curation team on hand to help optimise your product listing for you when you list the product yourself.
Prepaid shipping labels are available for over 30 countries including the UK, USA, Canada, Austria, Belgium. You can check their list of countries here.
The one thing that stands out most to me about this platform is that they cater to buyers and sellers worldwide.
Vestiaire charges what is called an authentication fee to buyers which is how they generate an income for the use of their platform. It is normally 2%.
As a seller, they charge a commission as well which is somewhere between 20% and 25%. Check out this link for more information.
On the low end, they charge GBP13 for anything priced up to GBP130 and GBP1,300.00 for anything priced over GBP6,500.00.
Buyers are also given the option to make their payment in 3 instalments using Affirm loans. It is a very sophisticated platform altogether.
24. Swappa
This platform is very similar to Decluttr in that it gives you the opportunity to sell technology items.
Two main differences stand out which are they also allow you to sell cameras and home technology which I find quite surprising.
Imagine being able to sell things like Alexa, Echo dot, Apple TV, Roku, Google Home, Nest thermostat and even your home cameras.
I suppose people move, upgrade and move on to bigger and better things. There are also those who downgrade as well.

When it comes to warranties Swappa offers protection plans via a 3rd party but only for smartphones and Macbooks.
Free shipping (or shipping is included) on all goods in their shop. There is even Paypal protection included for buyers.
Swappa is only available in the US for now which makes sense due to the differences in plugs, electric currents and power outlets globally. Sellers can choose to ship internationally.
25. Reverb
Where are my musicians? You will be happy to hear that you can finally sell that old guitar, keyboard and violin thanks to the services offered at Reverb.
I cannot show this site to my daughter or she will go crazy. She already has close to 10 instruments and they all have names and I cannot remember them all (shh!).
You would not believe it but I just saw a podcast microphone on there at such a low price, it's ridiculous.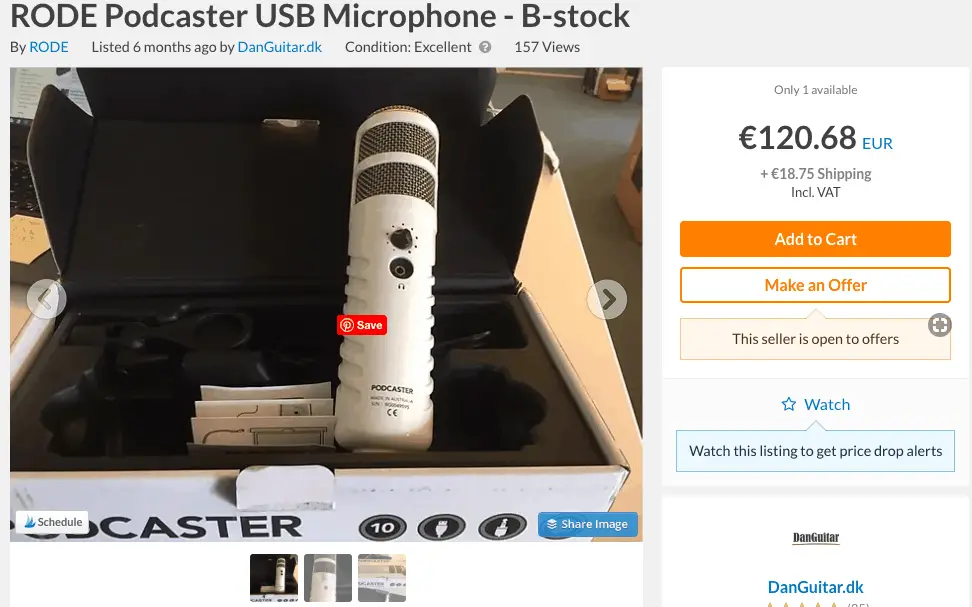 Okay, you are not going to believe me but this platform is global and so far you can find instruments available across 80 countries.
They also have their very own Reverb Payments and sellers can assist buyers by offering finance options using Affirm Financing but only for US residents.
There are mainly four types of fees that you can expect as a seller using the Reverb platform. These include:
Selling Fee – 3.5%
Payment Processing Fee
Bump Fees – boost exposure to listing (nothing to do with pregnancy?)
Reverb Shipping Label Fees
So far, this is one of the best sites I have seen when it comes to encouraging a global economy for sellers.
26. Luxury Closet
I found a bonus site that allows you to sell your second hand designer items and it is aptly named Luxury Closet.
The process to get started is a little bit awkward as you need to create an account on their site take photos of your item.
These photos can then be uploaded to their site in order for them to give you a quotation of how much they can sell the item for as well as your payout.
Here is an example of one of my items that I sent to them and almost a year has past since I sent it.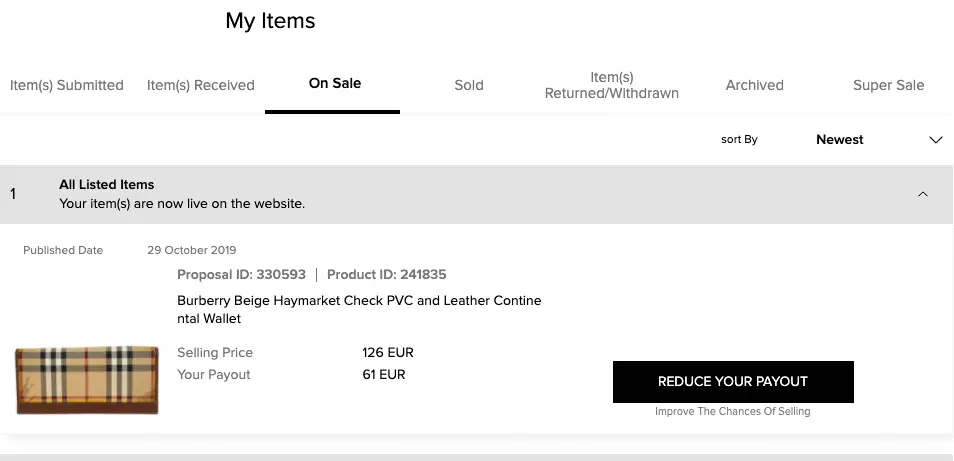 Once you are happy with the price you can approve it. You will then need to send it off to them in the post for sale.
This company is based in the UAE so if you are in the US, you may not want to increase your carbon footprint by posting stuff across the world.
After the item is sold you have to keep checking to see when your payout is ready.
Here is an example of my Burberry shoulder bag that I sent almost 12 months ago.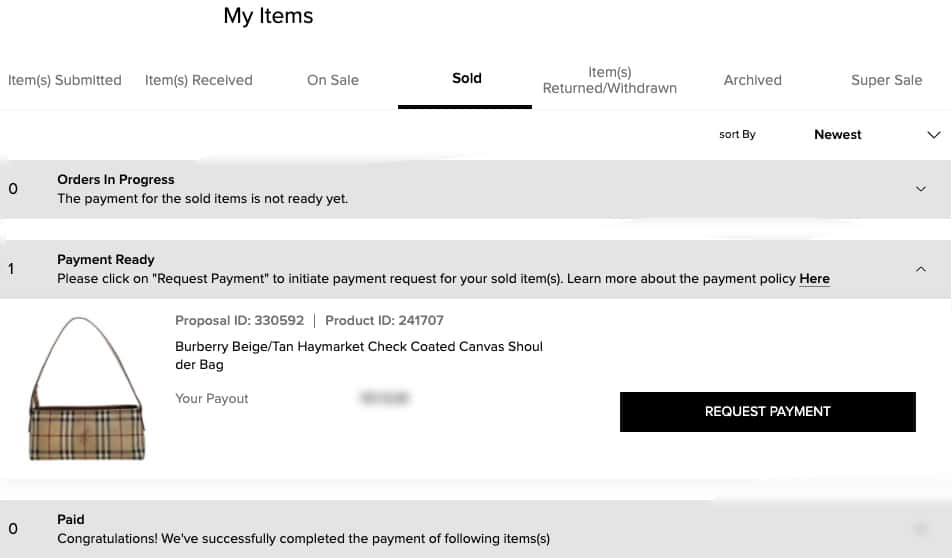 For privacy purposes, I have blurred out the final payout price.
At the end of day, it is possible to sell your designer stuff online through a site as you can see in the screenshot above.
Conclusion
I really enjoyed researching and writing about these 25 platforms to sell your stuff online.
By far the best way to make $10,000 or even $100,000 just from the stuff in your house and thrift shops.
Think of all the fun you will have to find treasures and selling them only a few days later.
I did not include places like Craigslist, Amazon FBA, eBay or Facebook Marketplace because you can easily find that information elsewhere.
If you have any experience like me doing Amazon FBA you know it can be fun but the things needed to get consistent can be stressful.
So, what has been your experience to date with this kind of gig? Did you manage to sell your stuff on any of these platforms?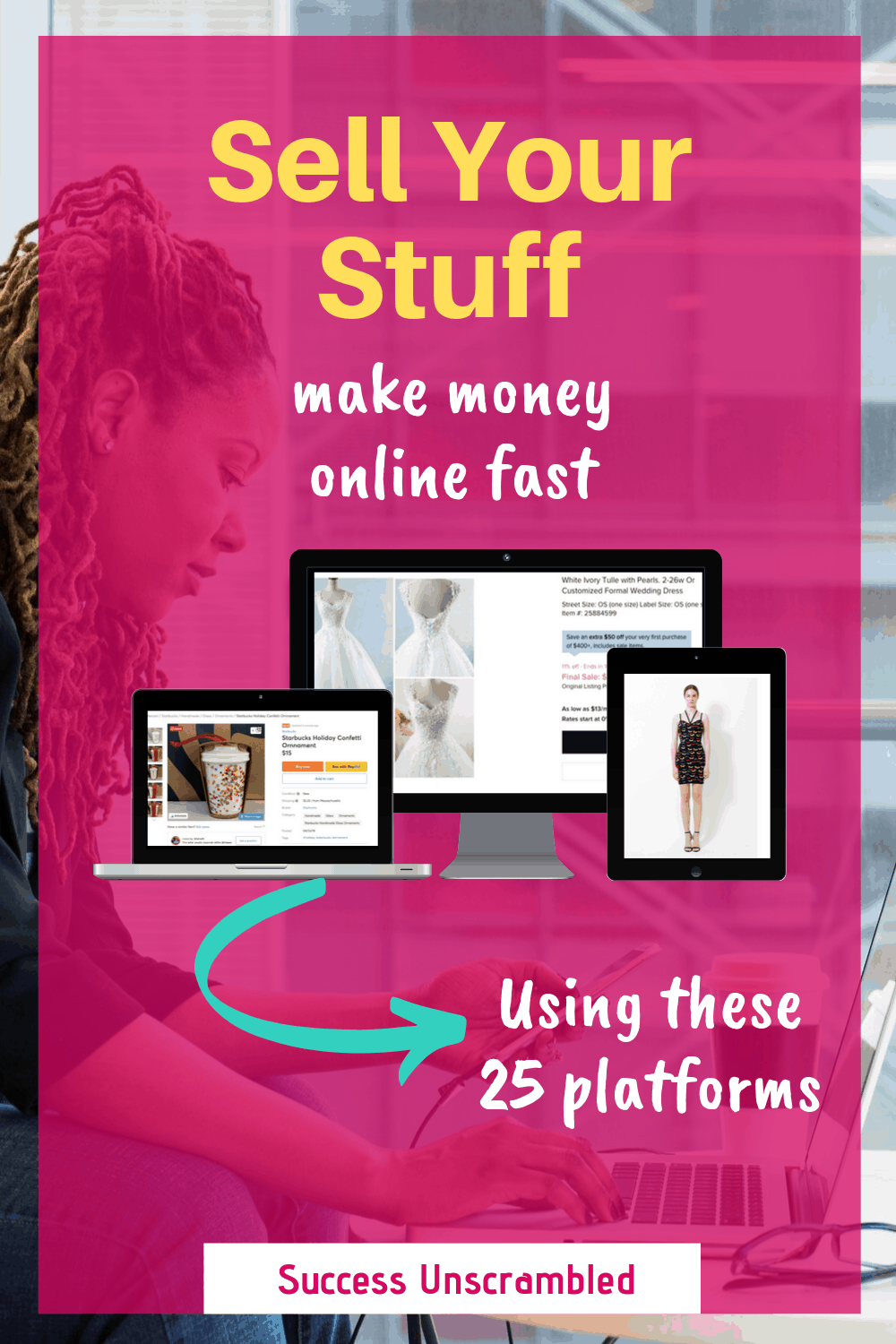 Announcements
Remember to subscribe to the Success Unscrambled Podcast where you will be the first to hear what's happening in the entrepreneurial and digital marketing world.
Your positive review of this podcast is vital to keeping it alive and running for the next 12 – 24 months so please leave a positive review for us on iTunes, Spotify or any of your favourite podcast players.
If you are just at the start of your journey to make money online and you are facing obstacles along the way, then take a look at these motivational quotes for work success.
Are you a teacher looking for extra cash? Check out these side jobs for teachers which are also great for anyone wanting to become a tutor.
Do you prefer to start a business on the side that only takes a weekend? Then grab this list of 25 businesses that you can start on a low budget.
If you are a startup or small business and you need to hire a virtual assistant to complete tasks such as social media marketing, blogging, keyword research or Pinterest account management then take a look at these packages.