Podcast: Play in new window | Download (Duration: 25:29 — 35.5MB) | Embed
Subscribe: Google Podcasts | Spotify | Amazon Music | Stitcher | Email | TuneIn | Deezer | RSS | More
Have you ever wanted to write blog posts faster but…
You thought that it is not possible because you are afraid the quality would not be good?
As a blogger, you only have so many hours in the day to get stuff done. In fact, if your blog is just a side hustle then the struggle will be to find time to write regularly.
Tell me if this process sounds familiar.
You think of a topic then do some research in terms of the competition and gathering the statistics.
Next up, you write the first 500 words but get distracted with other urgent or pressing matters in life or at work.
A few days later, you write another 500 words. It may seem like a chore as you thought that writing this topic would be fun.
Finally, you rush the last 500-1,000 words as the publish date is approaching and you need to get this post completed.
If you wish that there was a better, faster way to get your content created then keep reading as I might just have a solution for you.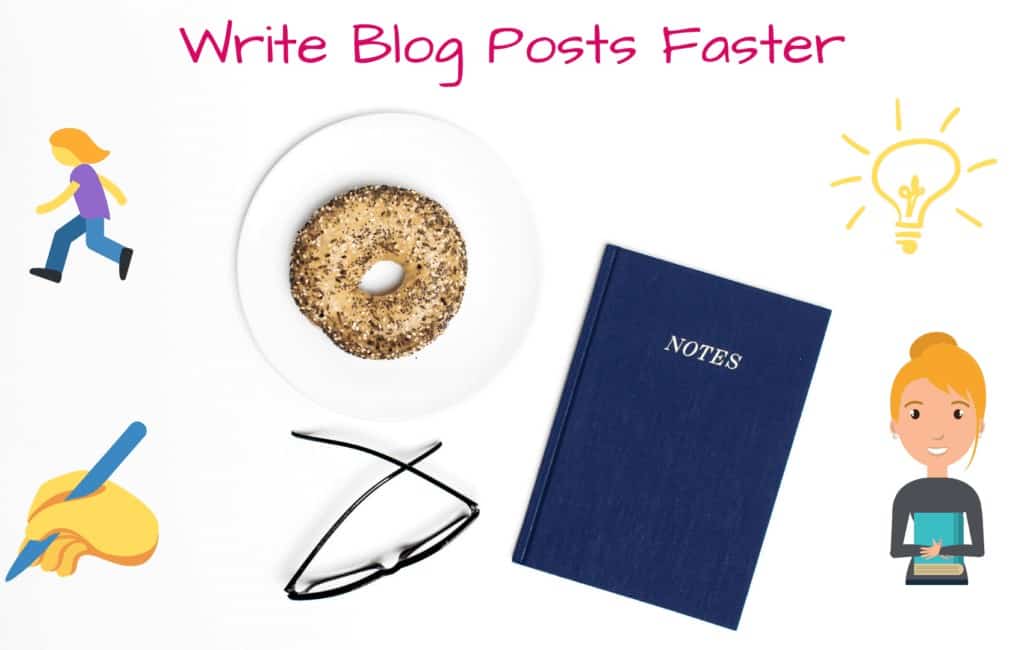 Goals and Objectives
Creating content regularly is hard work for you as a blogger or small business owner. I am not going to pretend that it is easy at all.
In fact, it makes me sad when brands approach me via email asking me to link out to their content from an existing post with no benefit to my business.
What's worse is that they want to pay $20 for a sponsored post. That price is downright crazy considering the amount of work that goes into a single post.
Over the years I have learned that understanding the goal or objective of each piece of content helps me to create it faster.
In other words, decide on what the goal is for that specific piece of content. It will help you to write or create it quickly.
Your goal could be to grow your email list, increase sales to your entry-level offer or raise awareness of your products and/or services.
The good news is that you get to decide on a single goal for each blog post.
Topic Research
It is so easy to run off and start writing when you choose a topic for your blog post. However, doing some level of research will improve the quality of the post.
Depending on your chosen topic it will be a good idea to do a little bit of digging. Check out the topic on several platforms to get a feel of the user intent.
For example, while doing research for this blog post I made an interesting discovery. There are many searches for writing blog posts faster as well as creating content faster.
Some searchers were also very interested in creating good quality blog posts fast.
The moment that you believe that you know everything about a topic and you don't need to do any research is the moment you have deprived your readers of aha moments.
Use your research time to gather statistics, examples and even case studies to help bring home your point.
Write an Outline
It has been my experience that when I write an outline of a blog post that I speed up the chances of writing content quicker.
Writing an outline not only helps you ensure that you did not forget something from the content but it also gives it some structure.
I like the fact that when I write an outline that I can clearly spot any gaps. I can see stuff like missing paragraphs, in the content as well.
After writing an outline you will have a clear idea about which areas you need to do more research on compared to others.
1-2 days after writing an outline you will notice that even more ideas pop into your head about what to include or re-organise.
Remember to include an introduction and a conclusion in your post outline.
Read Content Every Day
Initially, this may sound counter-productive but hear me out for a second.
Have you ever noticed that when you are reading an article, post or piece of content it gives you ideas for similar articles?
There is a reason why Warren Buffet advises that everyone should read 500 pages a day. You may not retain all the information but key points will stand out.
You may not be able to read 500 pages a day right now but start with 5 pages and work your way up.
I got so many ideas from reading over the years. I have 100s of pages, articles and posts stored in my bookmark manager.
While reading the same book for a few weeks can be boring instead try to read several blog posts daily.
Take advantage of audiobooks as well as they will help you consume books faster.
Socialise Offline and Online
There is no need to become a complete book worm and hide out like Harry Potter under the stairs.
You can also get a lot of ideas by socialising with friends and family.
In case you find yourself in a situation where you are short on time remember you can join groups on Facebook.
Getting ideas from Facebook, Instagram and Twitter is not something that is uncommon.
Feel free to also conduct a bit of market research while you are on Facebook and stay away from big rabbit holes.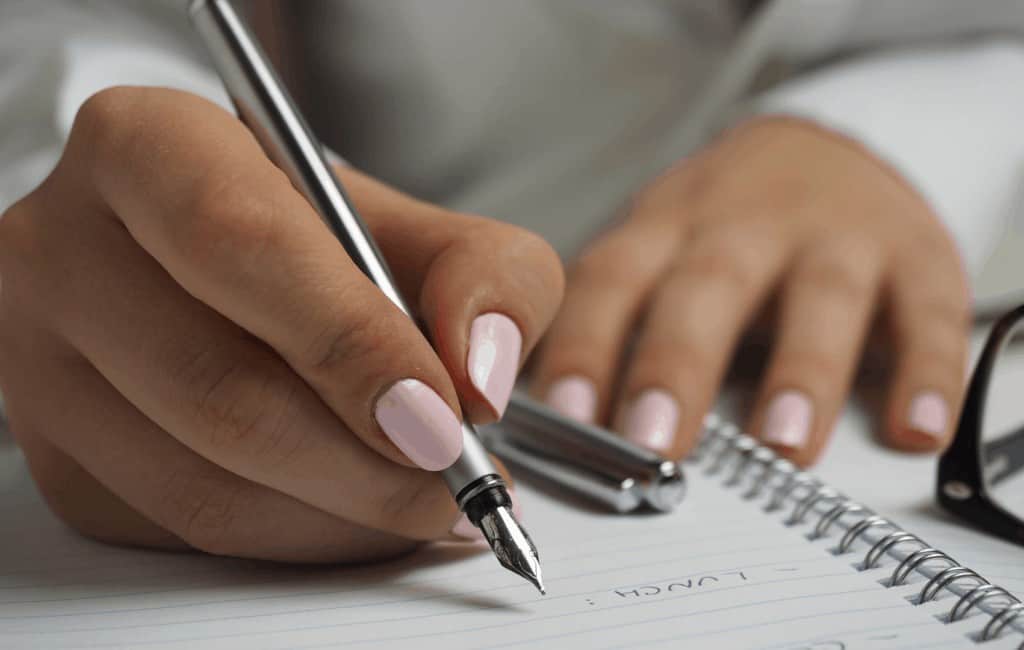 Create the First Draft
After completing all your research it is time to create your first draft. Depending on your circumstances you can either write or dictate the first draft.
Recently, I met an elderly mental health professional who dictated everything for his entire career using a dictaphone.
He now needs to learn to use a computer and he is finding it super difficult.
I discovered some technology in the last few days that would make life easier not only for him but for my fellow bloggers.
Did you know that there are 5-6 apps that you can use to dictate your blog post instead of writing it?
If you ever found yourself in a situation where you don't have access to a computer to write a blog post then consider dictation.
Let's look at a list of dictation apps that you can use from your smartphone to create content on the go.
Dictation Apps
In order for a dictation app to make this shortlist it must be flexible enough to give you the ability to record on the fly and easily export the recording in text format.
Here is a list of 3 apps for you to consider.
Reason8
Otter
Scriby
Reason8
This app is designed to take in-person meeting notes. Nothing beats having a meeting with yourself and taking notes (hehe).
The good news is that it comes with a free forever plan that allows you to record 15 minutes at a time with an unlimited number of meetings.
It is available for both iOS and Android devices. The recordings can also be easily downloaded as audio or a transcript.
Otter.ai
I heard about Otter from one of my coaches so I just had to take a peek. Available for both iOS and Android it comes with 600 minutes free transcription minutes every month.
What I found interesting is that you also have the ability to import audio and video. You can also generate summary keywords and even search by keywords.
You can export in audio or text format.
Scriby
Scriby seems to be only available for Android devices however, it integrates with 15 other applications including Asana, Evernote and Trello.
For personal use, you can get a free forever account. It even comes with meeting templates if this is something useful for you.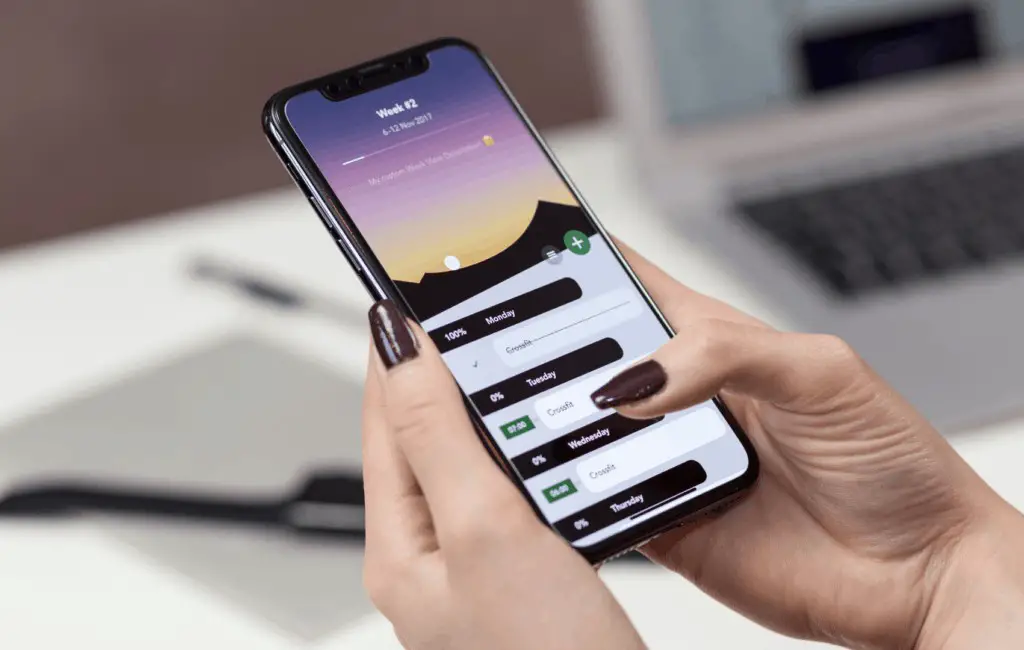 Content Curation
Have you ever come across a piece of content that is so good that you want to incorporate it into your blog post for your audience?
Well, the fact is that taking a small section of someone else's blog post and adding your twist to it is totally legal and above board.
This process is known as content curation and you will see it on several blogs like Chasing Foxes, Mashable, Social Media Today and many others.
The key to doing this correctly and not getting into trouble is by repackaging a small piece of existing content but adding value to it.
Also, ensure that you give credit back to the content originator.
A great example where it saves you time is by using comprehensive statistics and/or infographics created by someone else in your post.
Edit Later
A massive time saver when it comes to creating content faster is by choosing to edit the written version later.
You will lose a lot of time and energy if you try to create and edit at the same time or even on the same day.
Personally, I find it very beneficial to write out everything I want to say on one day then come back in 24-48 hours to do the edit.
Of course, it is humanly possible to write and edit on the same day but there are so many things that you miss while doing the edit.
It is almost as if you give your brain a rest from the first draft with all the errors.
Doing the edit later is like having a fresh pair of eyes going over that piece of content that you wrote.
Create a Mind Map
You are probably wondering if I have gone completely mad but keep reading so that I can explain this concept.
As part of your website optimisation strategy (not SEO), you should have a mind map outlining the topology of your website or blog.
At the risk of losing you altogether let me explain it from a content marketing perspective.
Each blog post you create should be part of your overall sales funnel. Which normally looks something like this.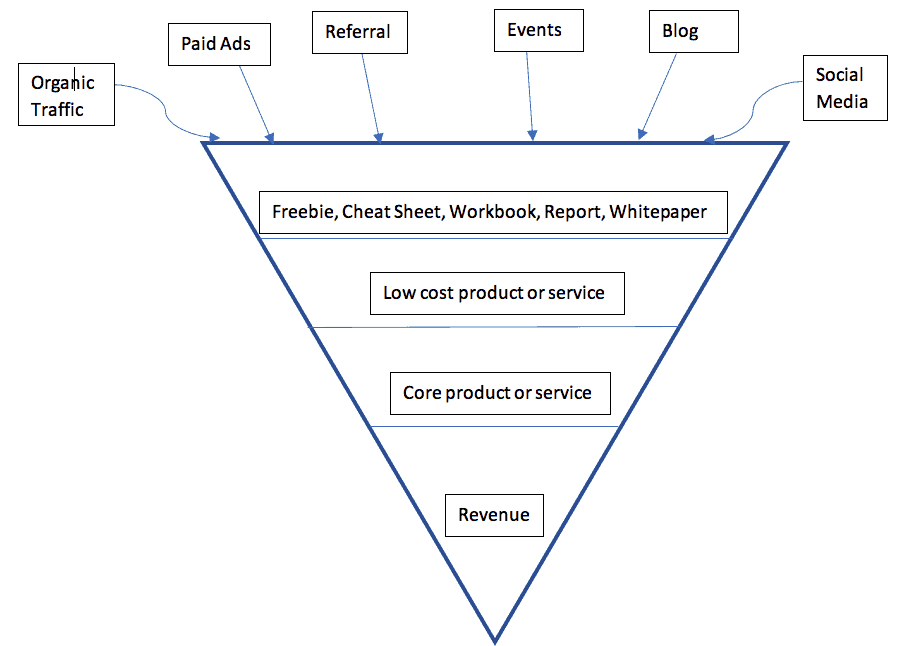 Your customer journey consists of 5 stages generally speaking.
Awareness
Interests
Consideration
Conversion
Retention
It is during the stage called interest where blog posts come in handy to help move them along to the next two stages of the journey.
The Buyer Journey
Take a look at the typical buyer journey in the diagram below.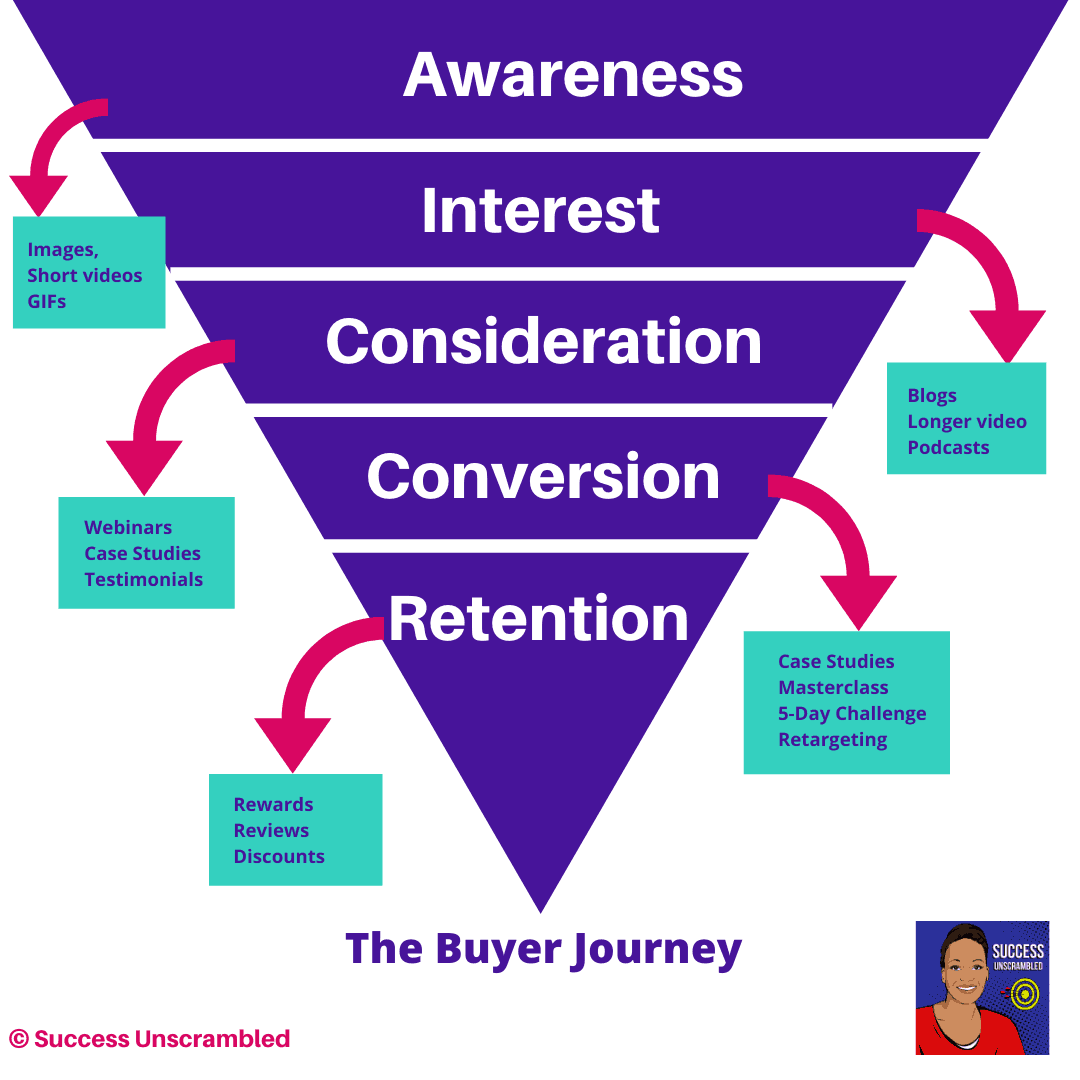 Typically your blog post should lead them to a webinar or ebook or other freebies which then leads them to a Masterclass, case study or 5-day challenge.
The Masterclass or 5-day challenge is designed to convert them to customers.
In other words, by creating a mind map you will know the journey your buyer will take and even where they will be coming from at the awareness stage.
Call to Action (CTA)
It is super important to include a call to action on as many blog posts as you possibly can. Even if it means adding it at a later date.
Remember that it only takes one reader to move through the buyer journey to become a customer.
Think of your blog posts as several fishing rods hanging off a small boat on a very large lake. If there is no bait at the end of the rod you will not catch any fish.
The call to action can range from simply a free checklist all the way up to a webinar.
After creating your mind map and seeing the big picture you will know where each blog post fits into the grand scheme of things.
Using a plugin like Ad Inserter will help you save a lot of time implementing a CTA. This is especially true if you have a signature freebie for the majority of your blog posts.
Write Blog Post Faster Step by Step Guide
Let's take all this information and break them down into steps so that you are not more confused when you first started reading this post (haha).
Decide on your goals and objectives
Create a mind map of the buyer journey
Conduct topic research
Read content in your niche
Socialise with potential customers and partners
Generate the first draft
Dictate the post if this is quicker
Consider content curation
Edit later
Include a call to action and connect to the overall buyer journey
Schedule post
At first glance, it may seem to be a lot to accomplish to write blog posts faster. Do remember that you only need to create your mind map once.
Deciding on your goals and objectives is something which is done annually and quarterly.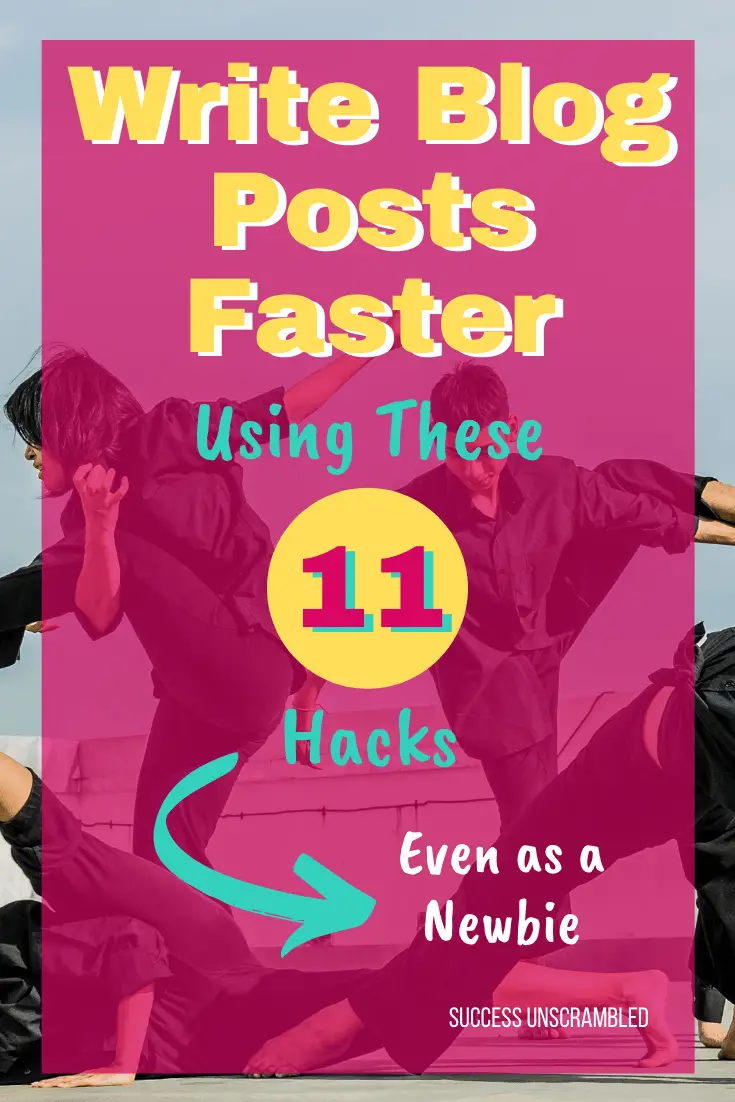 Conclusion
Now that you have a good idea of what you need to do to create content faster it is up to you to tweak it to suit the way you work.
Once it becomes a habit you will notice over time that it takes less time for you to write a blog post.
In fact, you will create shortcuts to getting everything done faster without compromising on quality.
Remember to check out this post that shows you how to come up with ideas for popular blog topics fast.
If you have never considered your buyer journey before, now is a good time to revamp the process so that you can get a higher return on your investment of time.
Over to you, what hacks have you used or are you using to write blog posts faster? Share it in the comments below.
Announcements
Remember to subscribe to the Success Unscrambled Podcast where you will be the first to hear what's happening in the entrepreneurial and digital marketing world.
Your positive review of this podcast is vital to keeping it alive and running for the next 12 – 24 months so please leave a positive review for us on iTunes, Spotify or any of your favourite podcast players.
If you are a food blogger looking for blog post ideas then you need to take a look at this resource right here.
Are you a lifestyle blogger? Need to get out of a rut and come up with ideas for the next 12 months? Grab these ideas here.
Want to take advantage of some hacks to create better blog headlines?  You will need to drink up all the information in this resource here.
If you are a startup or small business and you need to hire a virtual assistant to complete tasks such as social media marketing, blogging, keyword research or Pinterest account management then take a look at these packages.