Podcast: Play in new window | Download (Duration: 26:37 — 37.1MB) | Embed
Subscribe: Google Podcasts | Spotify | Amazon Music | Stitcher | Email | TuneIn | Deezer | RSS | More
The situation was desperate, a hot Instagram tip meant I only had 2 hours to rework a post and I needed a specific Planoly vs Later comparison.
Before I go into why I found myself in that situation let me give you a bit of background.
A few years ago I did some training on Instagram because I wanted to change my attitude towards the platform.
You might find this quite surprising since so many small business owners and brands love Instagram.
At the time you can easily classify my attitude towards Instagram as one that is a love-hate relationship.
Yes, there are many people generating an income for themselves using Instagram.
However, there are some that are doing this using methods that are fake and pretentious.
It does not mean that they all are that way. For this reason, I wanted to give it a fair attempt.
Sadly for me, the person running the course a few years back was using dubious methods which was a big turnoff for me.
The truth is that Instagram can be a great place to get visibility for your business using authentic methods.
In this post, you will learn about Later and Planoly, why I use them and which one you need to remain authentic and deliver value on Instagram.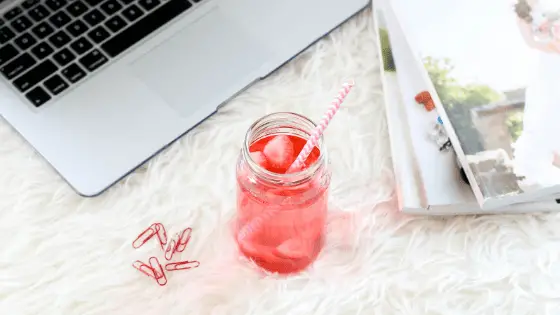 Why Bother with Scheduling Tools for Instagram
This past week I was speaking with a potential client who was posting to Instagram everyday natively without using a scheduler.
Just in case that wasn't clear enough, she was creating Instagram posts from scratch and leaving them in draft mode.
She was doing this manually every day on the platform without getting sufficient visibility on her feed.
You might be thinking that this is not so bad but let me ask you a question.
If you want to get visibility across multiple platforms and/or scale your business exponentially do you think that is sustainable?
Well, it is possible to do it 24/7 but the results will be overwhelming and there will be no time for anything else in your life.
It is time to think about the reason you got into business in the first place.
Gaining time freedom in your life does require some automation and outsourcing of monotonous tasks.
Automation can be easily accomplished using scheduling tools like Planoly and Later.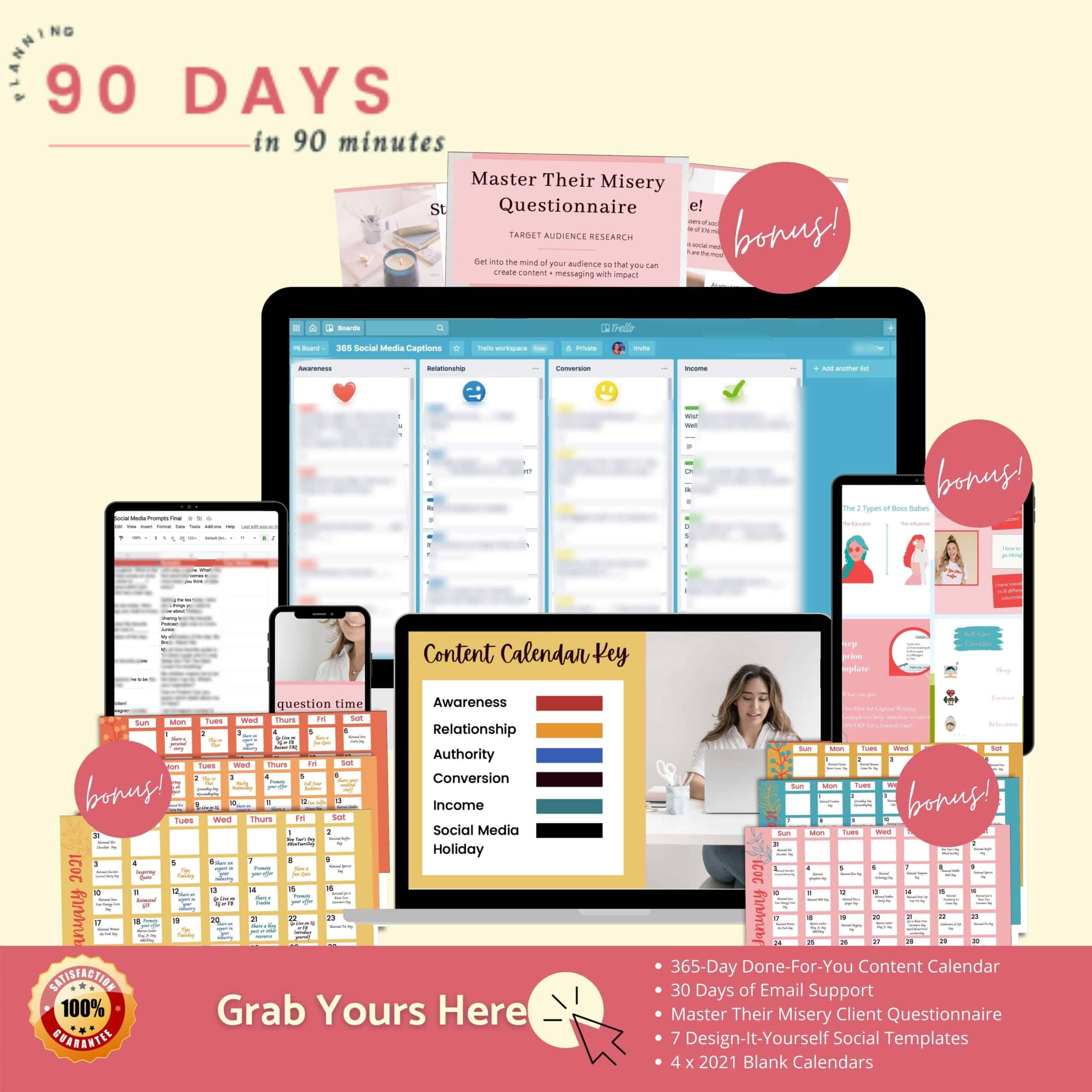 What About the Instagram Algorithm?
I have heard a ton of people complain about the Instagram algorithm changing frequently.
The thing is that the only thing consistent across social media, business and marketing is change.
So, if you expect change then there should be no reason to complain at all.
The key is to embrace the change and adapt your business processes to meet the new way of publishing.
At this point, I would like to give a shout out to all those people who spend countless hours figuring out the change for the rest of us.
One of the reasons I tend not to complain is because I would not like to be the one tasked with figuring out the algorithmic changes.
My zone of genius is problem solving in terms of figuring out how to get marketing campaigns done easier, faster and on a low budget.
This is one of the reasons I am launching a group program to help solopreneurs to get more visibility for their business.
Compared to other courses out there this program is unique in that it offers a key element of a 6-hour, one-one workshop for each participant.
It means that I will sit with you and together we will develop a 90-day plan for your business as well as the tools and systems to get it implemented.
No more worrying about the changes in the algorithm because you will be advised to use 2-3 platforms to avoid a single point of failure.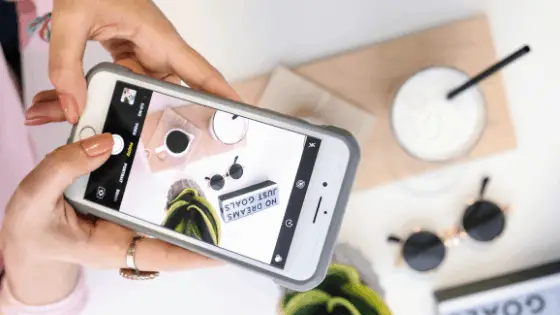 What to Look for in an Instagram Scheduler
Based on my experience of using Instagram scheduling tools there are few things that I believe are super important.
The obvious first feature should be a visual grid especially if your business is in the creative niche.
Yes, there are some big name businesses like Marie Forleo and Marie Smith who don't have an aesthetically pleasing feed.
However, their business is not in the visually creative space so that is totally expected.
Depending on the size of your audience on Instagram you may want to consider starting off with an aesthetically pleasing feed to attract your audience.
Later on, after you build a sizeable audience you can do whatever you want.
Other features that I consider essentials include the following.
Auto-publish
Media library
Hashtag storage
Saved captions
Multimedia publishing
First comment (auto-publish)
Link in bio
Analytics
Rescheduling
I am sure that there are other things that can be added but let's spend some time looking at these in the first instance.
1. Auto Publish
I previously mentioned the constant change when it comes to the Instagram algorithm.
One of the factors that many creators believe affect your posts is auto-publishing.
Personally, I set up my tools to send me a notification on my mobile phone so that I can publish it manually and follow-up with engagement.
There are many other small businesses that prefer to use the auto-publish feature 100% of the time.
It means that the Instagram scheduler publishes content to your feed or stories automatically.
2. Media Library
Give me a media library every single time compared to not having one.
If I have a collection of images that match my feed and theme I find it far easier to come up with captions.
It also helps with creating or sourcing images in batch because it means you get more done in less time.
Right now I have a few weeks of images ready to be captioned in my Instagram media library.
Another plus is that it significantly reduces overwhelm for busy entrepreneurs.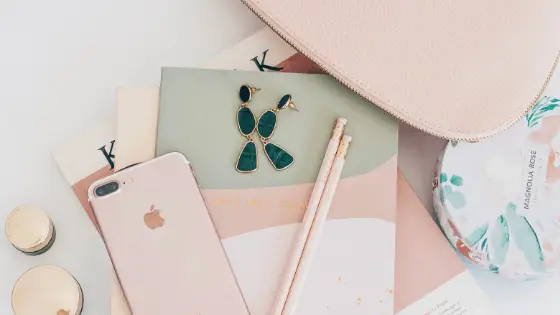 3. Hashtag Storage
In case you never understood Instagram hashtag system, think of it as the way for you to add SEO elements to your post.
To put it simply, hashtags are the SEO keyword language for Instagram.
The major difference of course is that you need to switch up your hashtags every single month.
Because it takes so much time every month to find 5-7 groups of hashtags, it is essential to have them stored in your scheduler.
4. Saved Captions
Having a saved caption feature is important because it will help you with themed days of the week.
For example, you may have motivation Mondays, tips Tuesdays and training Thursdays.
In many cases the captions used on these days will have similar language which you can save as a template.
5. Multimedia Publishing
At first glance this may not seem like a must have item but just this week I was trying to post a carousel on Instagram.
My carousel consisted of a mix between images and video.
Here's the thing, not all schedulers are able to offer this as a feature which is why I had a last minute panic attack.
Many will give you images or video or a link, while others allow for a carousel of mixed media.
This is important because carousels get a lot of engagement on the Instagram platform.
6. First Comment (auto-publish)
Yes, this is a thing which I can never take advantage of fully simply because of the limitations or Instagram API restrictions which I'll explain later.
In other words, you have the ability to automatically post the first comment when you auto-publish an Instagram post.
It helps to boost the visibility of your post when this is done. Do I find it cringy? Yes, definitely. Lol!!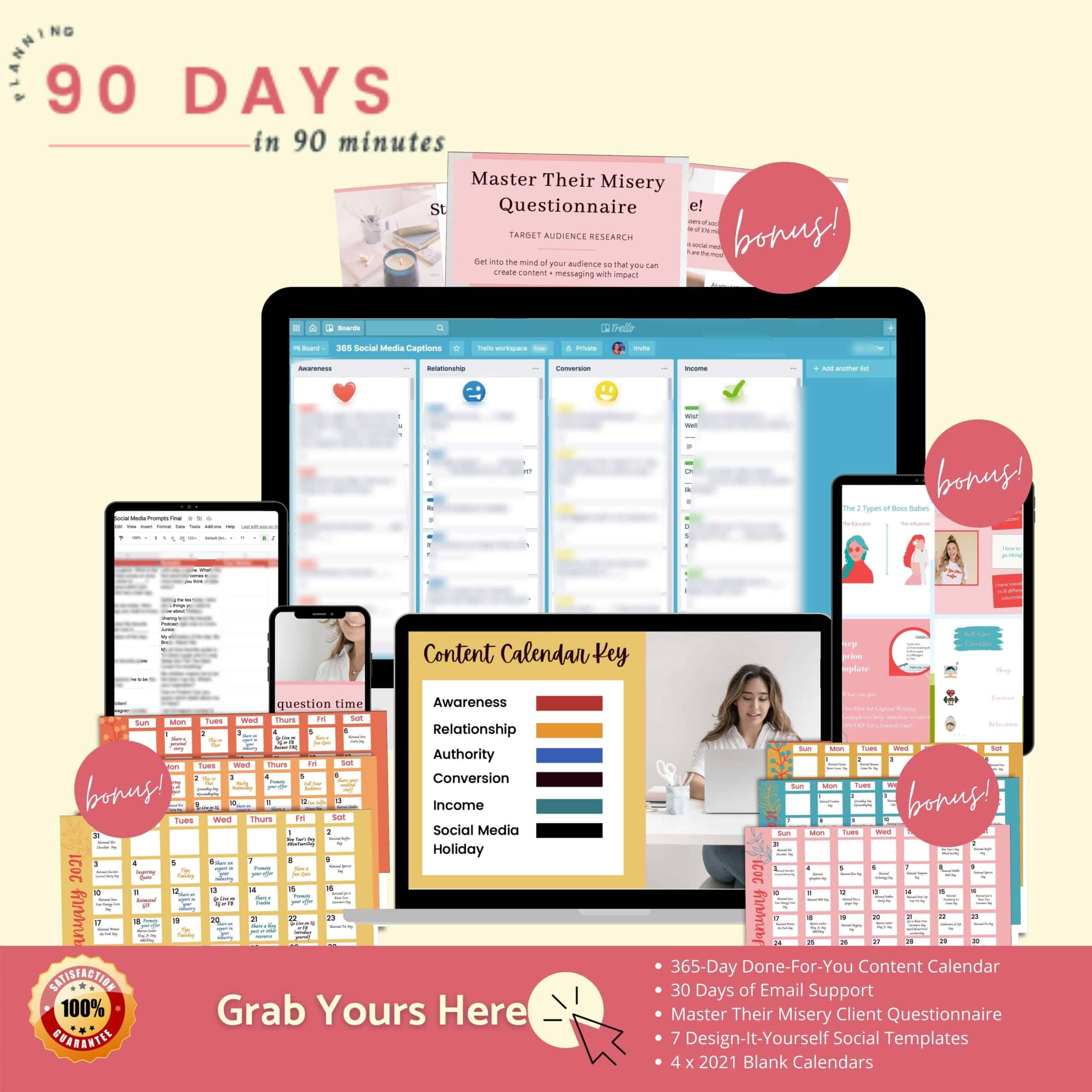 7. Link in Bio
If you are familiar with Instagram you know that you only have the ability to put a single link in your profile or bio.
Of course, there are many tools available to help you circumvent this challenge.
Some of these tools include Linktree, Shorby, Lnk.Bio and Shortstack. You can look at it as having a landing page with all your important links.
8. Analytics
Just in case you think that this may not be important let me put it to you this way.
Although Instagram has powerful, native reporting that allows you to view insights.
Yet insights does not report on many necessary things. For example, how many impressions you get broken down by hashtag.
Another essential item missing from Instagram Insights is the best time to post.
9. Rescheduling / Re-gramming
So, this one is a mixed bag because you may be thinking why would you want to reschedule the same post?
Well, if you are running a campaign for 30 days you may want to use the same post a number of times but with a different image, caption or set of hashtags.
Also, the ability to 're-gram' someone else's post that did well is something you may want to consider doing.
Planoly vs Later
Now that you have a fair idea of what features are important generally speaking for marketers.
Let's spend some time looking at the key features available with each Instagram scheduler.
Later
This Instagram scheduler comes with 5 plans which can be billed monthly or annually.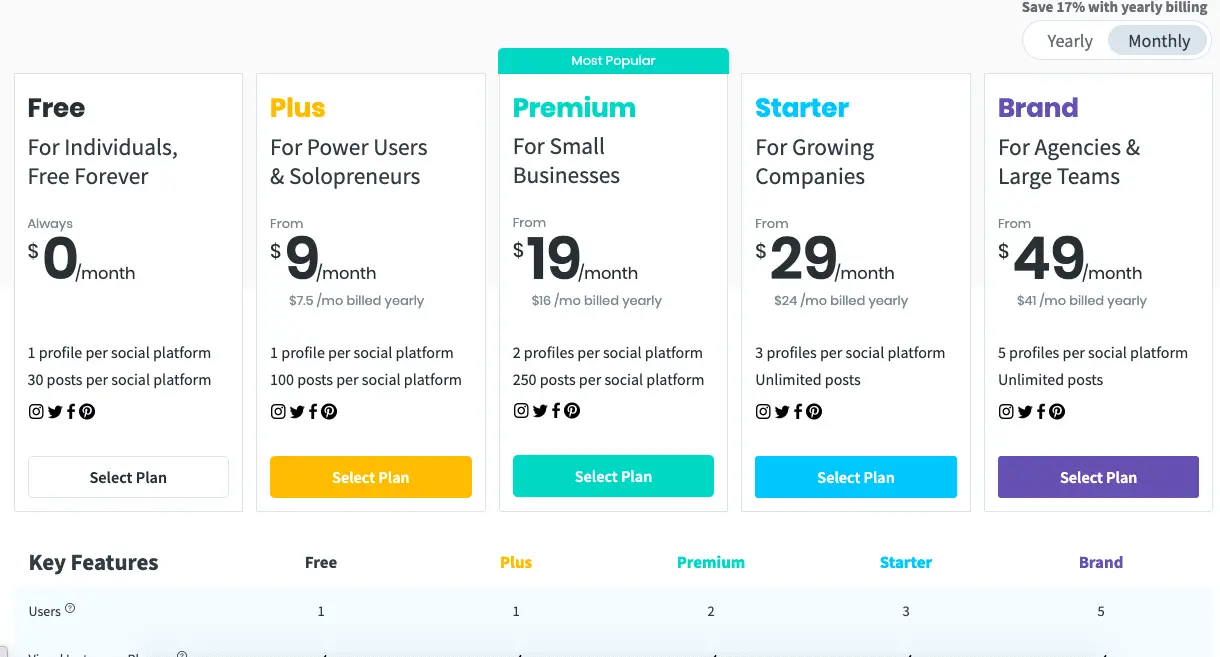 There is a free plan available which is really handy to get to know if it is the right one for you.
For me the key features offered by Later are as follows:
Visual grid
Link in bio
Analytics
Best time to post
Story Scheduling
Hashtag suggestion
Media library
Unfortunately, the hashtag suggestion tool is only available with the premium level package.
However, if this is super important for you and your business then feel free to subscribe to that plan.
Here is a look at their user interface in more detail.
The one thing that makes Later stand out compared to Planoly is that their visual grid is displayed on a mobile device from the browser view.
I find this very realistic and helpful.
Planoly
As the name suggest Planoly allows you to plan your Instagram content in advance and it comes with 4 different pricing plans.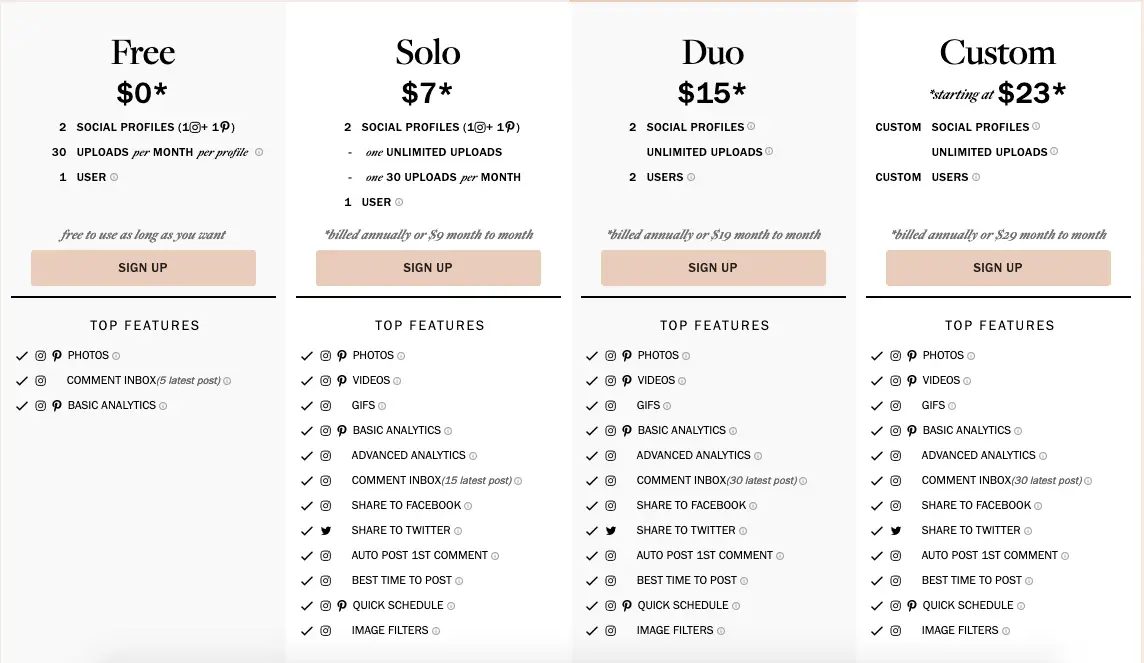 It also has a free plan available which may not be as attractive as the one offered by Later.
In my opinion, the key features offered by Planoly include:
Ability to post photos, videos and GIFs
Auto-post 1st comment
Best time to post
Hashtag research
Search posts by user
Stock photo library
Low budget price plan
If you are into creating a specific aesthetic on your Instagram feed then you will like Planoly as it comes as standard with a feature called filters.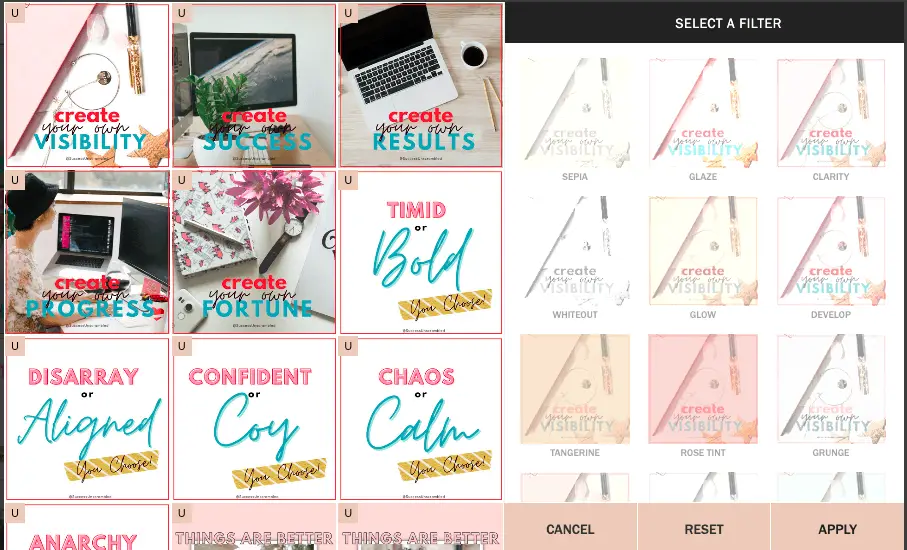 One thing I don't like about Planoly is that it doesn't come as standard with hashtag analytics.
If you want to get a feel for what the user interface looks like on Planoly then checkout the screenshot below.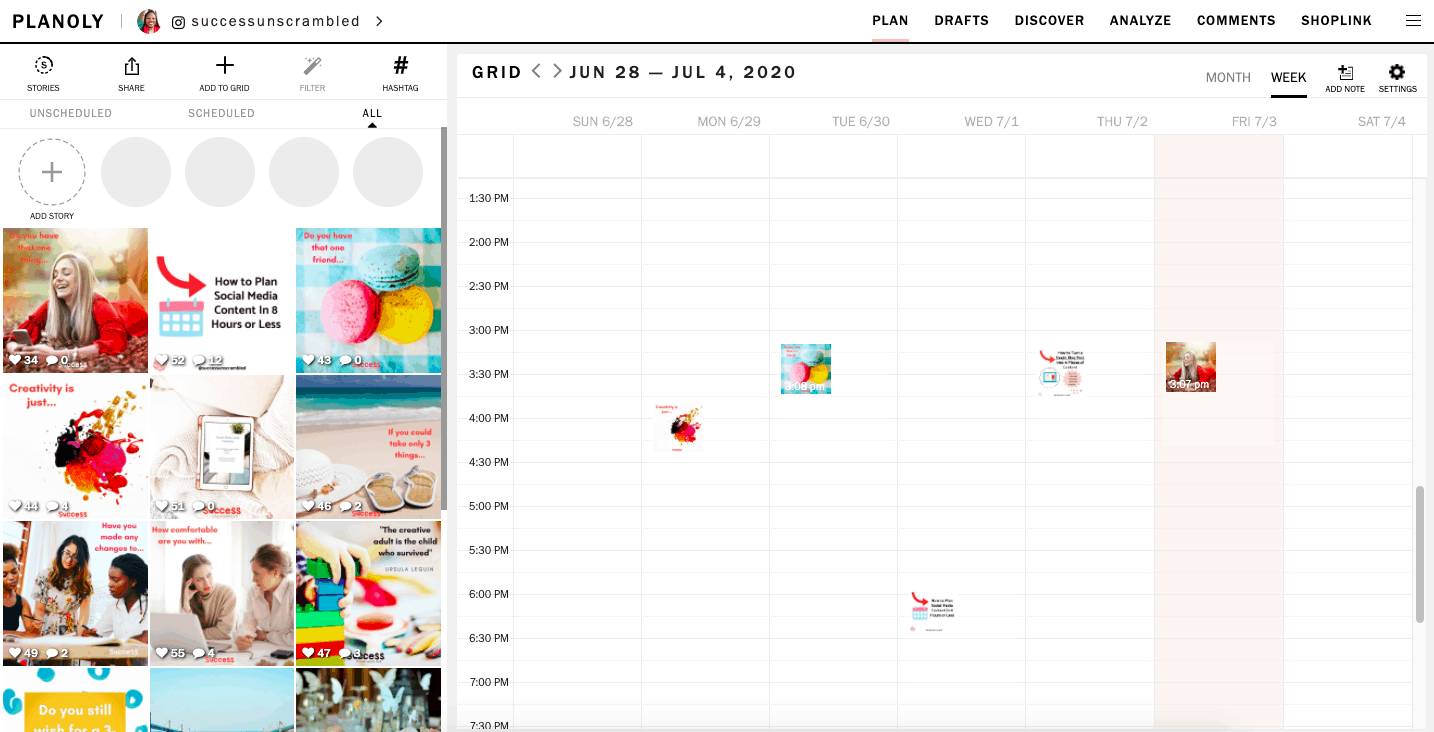 One thing that Planoly has that Later does not offer is a separate drafts section where you can literally plan different looks.
This is available for stories and your regular Instagram feed.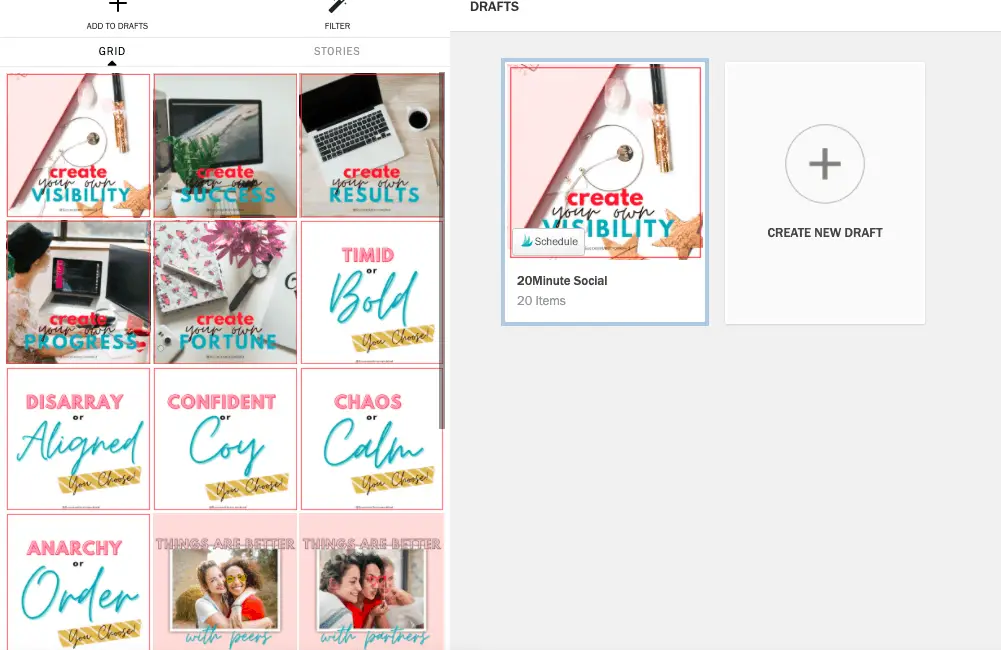 At this stage, you are probably wondering which one I prefer to use on a daily basis.
The honest truth is that it depends on what I am publishing to Instagram.
If I am publishing a single image and there is a requirement to add a link in the bio then I will use Later.
However, if I need to publish a carousel post with a mixture of images and videos then Planoly is my preferred scheduler.
They both send push notifications to my phone so that I can publish the post manually which is great.
Results from Using Planoly
At the start of this post, I mentioned that I got a hot Instagram tip and I needed to find an Instagram scheduler that did the job.
I already had access to Later and Agorapulse but none of them offered the ability to use mixed media in a carousel post.
That is why I decided to sign up for Planoly which I am happy to tell you did the job for me.
It was surprising to see the results after I used Planoly to publish this specific post to Instagram.
Check out the results below.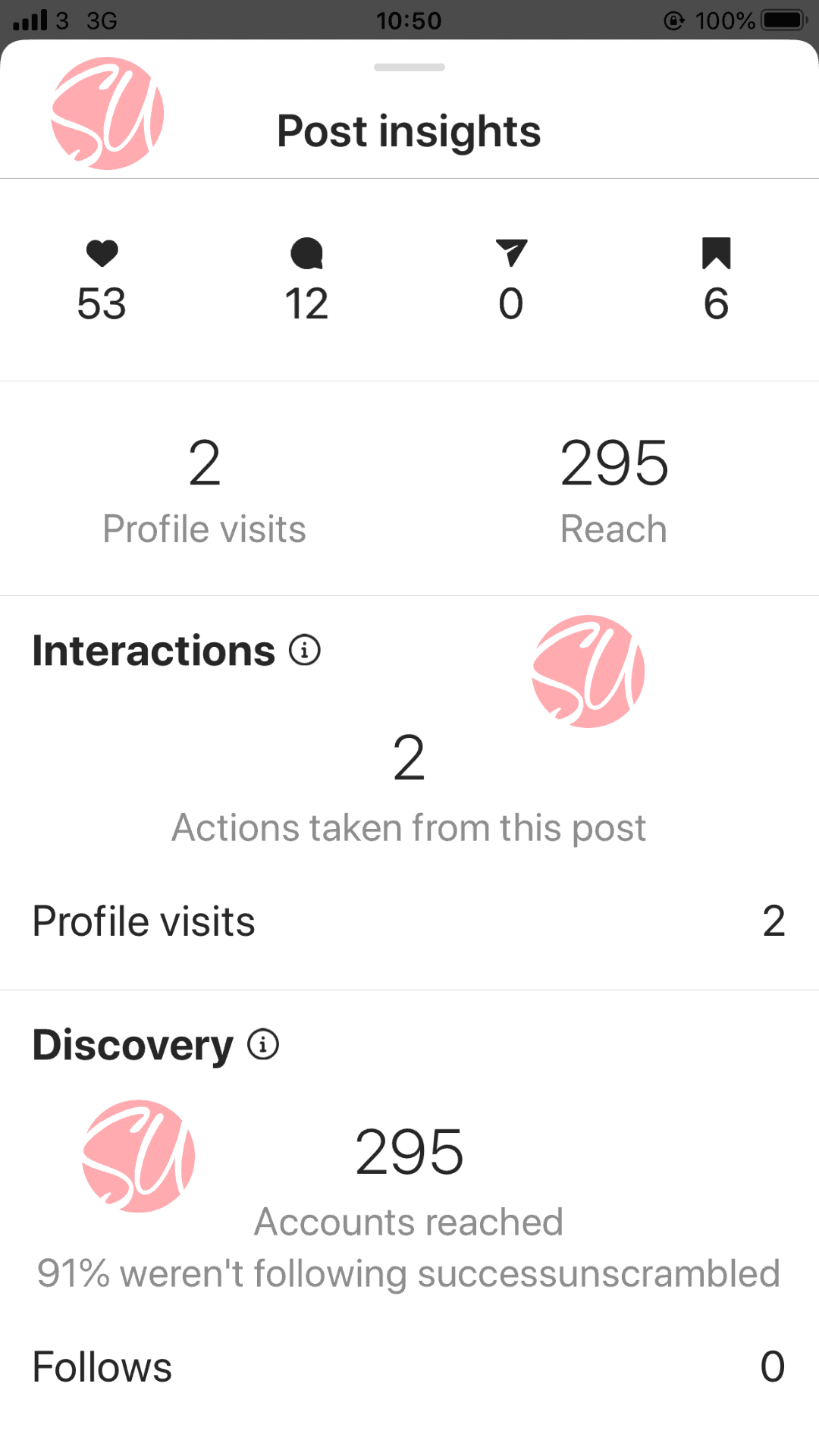 Now, I don't want you to think that Planoly was 100% responsible for giving me this kind of engagement on Instagram.
Actually, it involves a mixture of content, knowledge and skill to get there as well as the scheduler.
The details of which I will be covering in my upcoming group program to help solopreneurs plan and implement their social media strategy.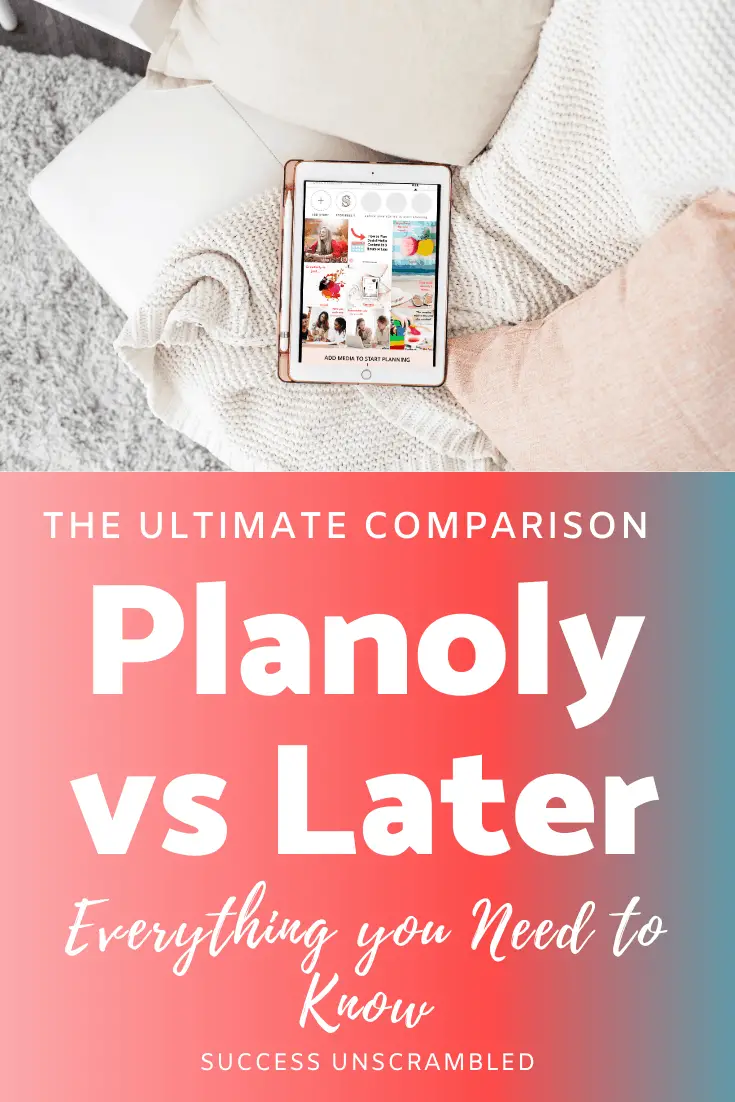 Summary
Publishing on Instagram can be fun if it is not overwhelming and automation is used to a certain extent.
Figuring out the Instagram algorithm can be a bit of a headache if you don't know what you are doing.
I have to confess that hashtag research can be time-consuming if you don't know which hashtags to use for your objectives.
If you are looking for assistance with implementing your Instagram strategy and planning then my group program my interest you.
You will get training, tips, tricks and some cool hacks as well as a custom workshop to help you plan out 90-days of social media content.
If this is of interest to you then join the waitlist here.
Over to you what has been your experience using Instagram schedulers?
Has this post helped you to understand the Planoly vs Later comparison better?
Announcements
Remember to subscribe to the Success Unscrambled Podcast where you will be the first to hear what's happening in the entrepreneurial and digital marketing world.
Your positive review of this podcast is vital to keeping it alive and running for the next 12 – 24 months so please leave a positive review for us on iTunes, Spotify or any of your favourite podcast players.
If you need the best schedulers that work across several social media platforms then take a look at these social media scheduling tools here.
Are you unsure about what metrics on social give you results? This social media metrics resource will be an eye-opener for you.
Want to learn what other entrepreneurs in your niche are doing to get results? Check out this detailed social media listening post for more information.
For the next 10 years, my plan is to help 100 female entrepreneurs every year to get the visibility that they need for their business.
I am doing this by running a hands on group program on social media planning and implementation to reduce their visibility challenge.
So that they can go back to doing what they do best, skyrocket their income and have more time with the people they love.