Podcast: Play in new window | Download (Duration: 23:06 — 32.6MB) | Embed
Subscribe: Google Podcasts | Spotify | Amazon Music | Stitcher | Email | TuneIn | Deezer | RSS | More
I was left feeling clueless after completing the course, what I really needed was an authentic Instagram hashtags cheat sheet.
If you have ever invested in a social media course but realised that the tips and tricks did not work then you probably feel the same way.
You see a few years ago this was my plight, I was promised the earth moon and stars.
However, after I signed up I discovered that the self acclaimed Instagram mentor really had no clue what he was doing.
In fact, the content that he as posting to get results was not only difficult to create but expensive to outsource.
The crazy thing is that he didn't teach anything about developing your personal brand or catering to your ideal avatar.
Truth be told, this course creator did not care about his followers and he was only in it to generate an income and move on.
In this post, you will learn about the key things that you need to consider before mapping out your various groups of hashtags every month.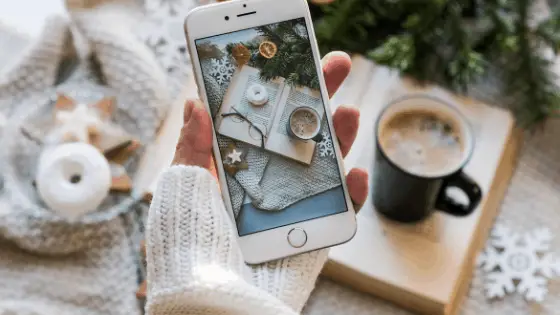 What is the Key Function of Instagram Hashtags
A few years ago when I first encountered Instagram, there was something about the profiles I visited that did not feel right.
It seemed to be focused on lavish lifestyles, luxury vacations and daring stunts.
The images of things and places that seem unattainable was plastered across the feeds.
Nobody seem to care about the real reason why hashtags should be used at all.
Thankfully, after a few unfortunate events, the Instagram algorithm has changed and now caters for real people with real struggles.
Plus people can now stop scrolling mindlessly through the Instagram feed and search for what they need using hashtags.
As you can expect hashtags allow you to search for products, services, experts, communities and even topics that are of interest to you.
You can see hashtags as the keys to filing cabinets fill of content that is related to each other.
Instagram Hashtag Categories
Before creating groups of hashtags that you need to use every month there are a number of things to consider.
The first thing to consider is who does your content resonate with that you want to post daily, weekly or monthly?
Yes, it is that annoying ideal avatar subject again but this time from a more social perspective.
Depending on the content that you want to post here are a few key categories to consider.
Niche
Community
Transformation
Values
Topic
Interest
Location
Did you know that when you choose your hashtags this list of categories are what you need to take into consideration?
Let's look at each one in turn to get a better understanding of how they can affect your reach.
1. Niche
This one is pretty obvious but just in case you didn't know it is a great idea to stick to niche hashtags when posting content.
For example, if you are in the fashion or beauty industry it is important to use hashtags that reflect your niche.
Niche related hashtags are probably the most popular hashtags on Instagram because everyone uses them thinking that is the right way to use them.
2. Community
This one can be a bit tricky for small business owners. While Instagram is not a place that has an area where people hang out together except pods.
The idea of a community is difficult to visualise.
However, birds of a feather still flock together on Instagram and that is how you find the group of people you like to 'hangout' with on the platform.
A great example of this is the hashtag #creativeentrepreneur which at the time of writing has over 230,000 posts associated with it.
when you look at the tags related to it you will learn about what else to include as part of your content creation.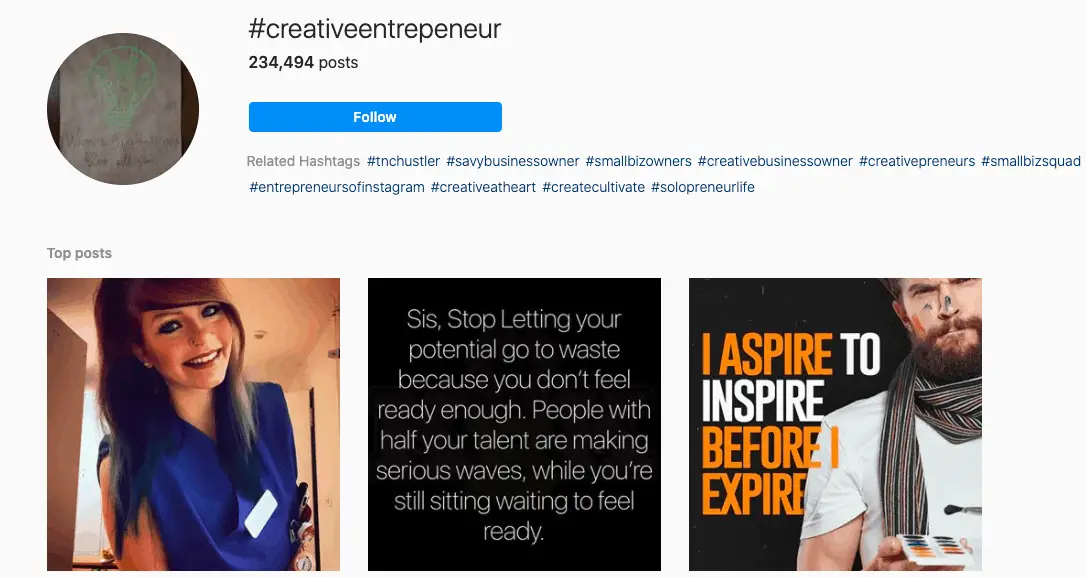 Community hashtags gives the users and followers a sense of belonging.
3. Transformation
Well, you may understand what this means straight away but essentially transformation hashtags are the ones people use when they want to become something.
For example, the hashtag #buildingempires is one that tells you about the person's intention.
Here's a screenshot of all the hashtags related to that dream.
It is almost as if hashtags have a secret or hidden language that you need to read between the lines.
4. Values
Each of us as human beings have certain values or beliefs that we hold dear to our hearts.
As a result, you can also find these on Instagram as well. One of my favourites is #sisterhoodovercompetition, which speaks volumes.
I remember the first time I saw it my heart melted.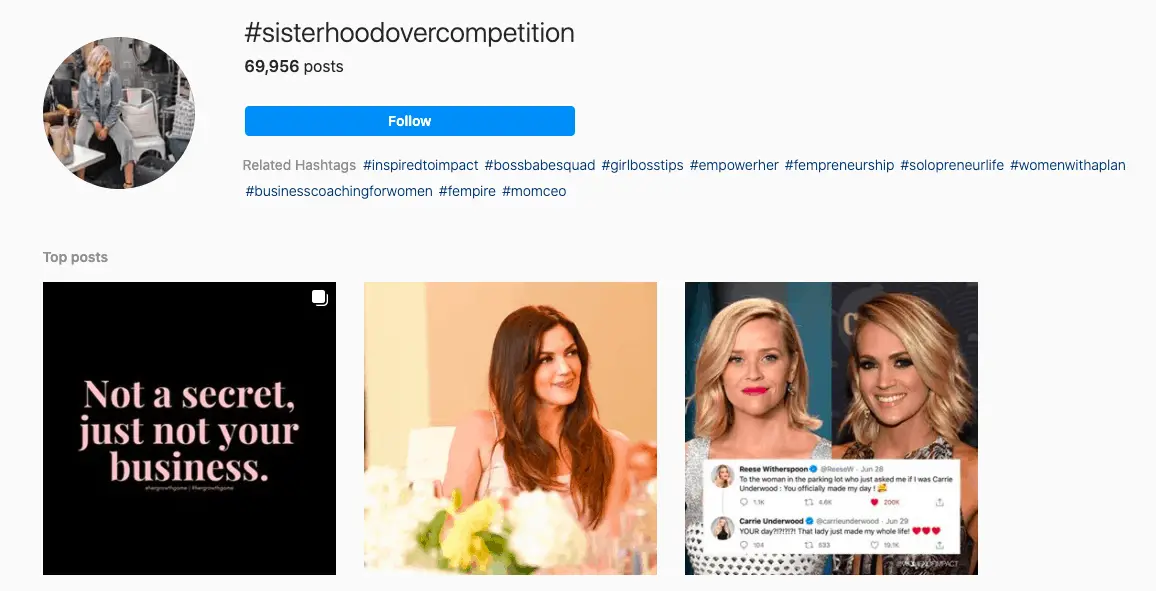 There is a lot of emotion in these hashtags that speak to values.
5. Topic
As the name suggests, topic hashtags are those that are part of a niche but more specific.
A great example of this is #digitalmarketing101 which specifically speaks to people at the beginning stages of their digital marketing experience.
The niche hashtag #digitalmarketing was used over 11,000,000 times on Instagram. However #digitalmarketing101 has only been used 23,000 times.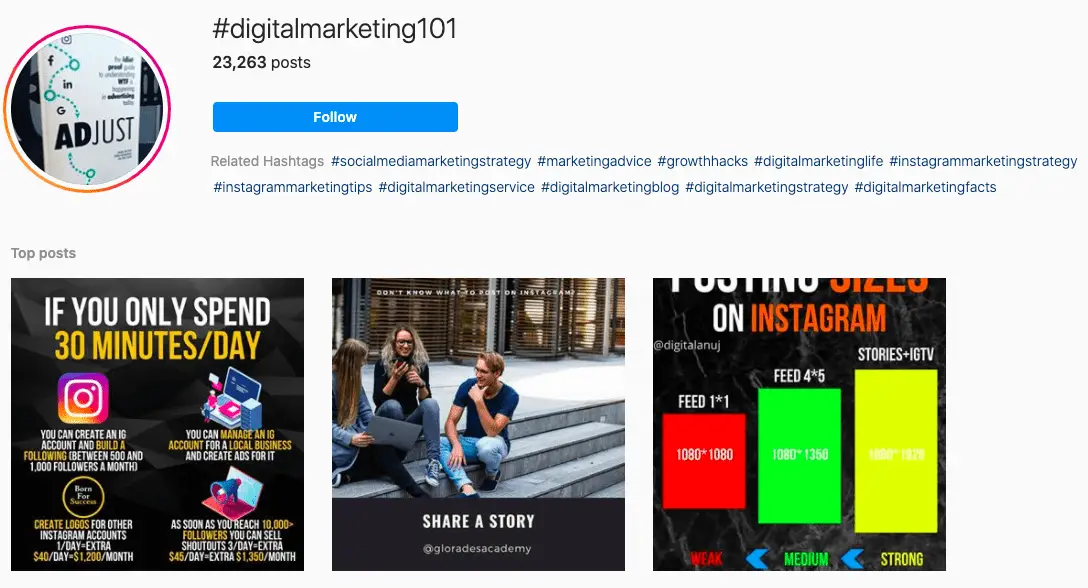 You can also see all the related hashtags in the screenshot above for that hashtag.
6. Interest
This one is a little bit tricky because interest can also be niche but not quite.
You see it all depends on the context where the hashtag is being used. In many cases it is a cross niche hashtag.
For example, the hashtag #icecreamnails is one that is in the beauty niche but it specifically focuses on people who like nail art with ice cream elements.
Here is a screenshot of those ice cream nails. Lol!!🤣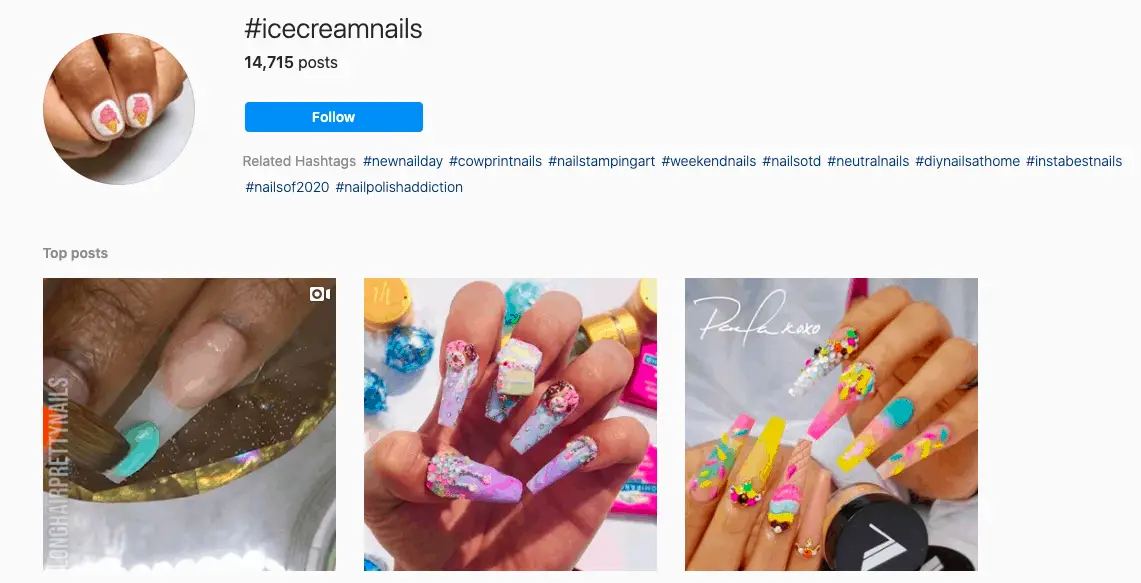 I don't think I will ever go for this look. Will you?
7. Location
Another obvious one is location which is generally used by many local business owners.
An example of one that is location specific is #houstonbusinesscoach which was only used 1,000 times on Instagram.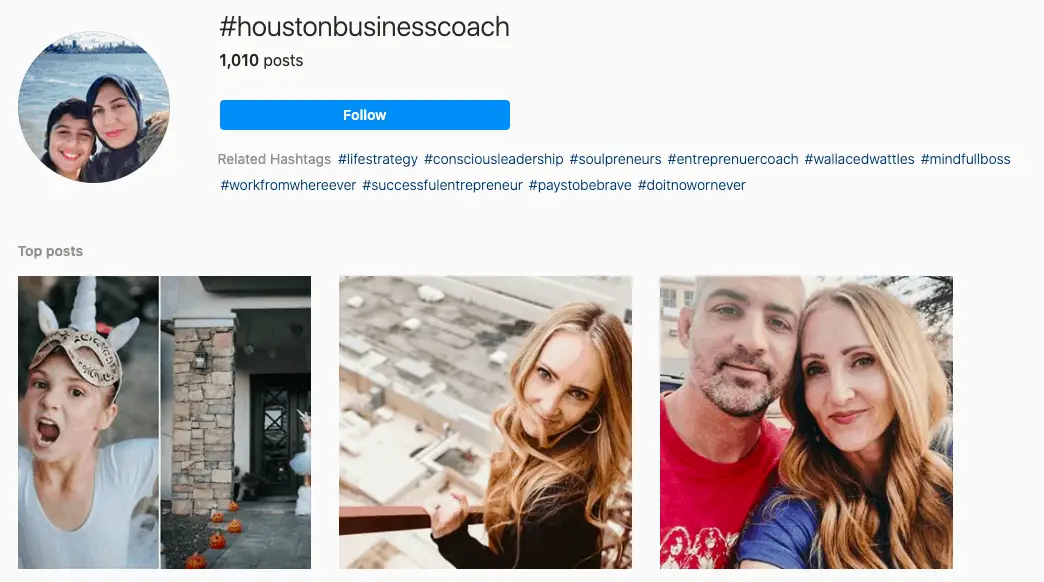 You can also see all the hashtags that Instagram considers related to this one.
Instagram Hashtag Planning
Now that you have a fair understanding of a few different categories that you can use it's time to look at a few other factors.
Here is a list to carefully consider.
Image
Value
Caption
Storytelling
Competition
Let's spend some time looking at each one in turn to see what is important before choosing your final set of hashtags.
1. Image
Years ago when Instagram came on the seen the most important element of your post had to be the image.
However, people are changing the way they use Instagram so they have a keener interest in authenticity.
Yes, images are still a requirement but depending on the topic Instagram users are looking for more.
This is especially true for niches that are not necessarily visual like marketing.
2. Value
Small businesses in the none visual niches have to be more focused on delivering value to their audience.
While you may have a beautiful image of your product it is a good idea to show how this product can improve someone's life.
A great example I saw recently is one where a photographer was showing what she can do for clients in a photoshoot.
In the screenshot above the photographer captures herself painting which is so interesting.
3. Caption
The next important section of a post is the caption where many people draw a blank because they are not sure what to say.
Captions tend to tell you more about what is happening in the image especially in images without text on them.
A great way to increase engagement is by writing great captions. One that makes the reader relate to you and the image.
Here's a screenshot of one from Lotte Lobe which got a lot of engagement although there doesn't seem to be a lot written.
If you are in sales you will be able to relate to what she is saying in the caption.
4. Storytelling
Another way to write captions that get engagement is by telling a story that drives emotion and gets your audience to respond.
When I first heard of story telling in captions I taught that it was too difficult for me to become vulnerable.
However, I started a few weeks ago and now I cannot stop. Lol!!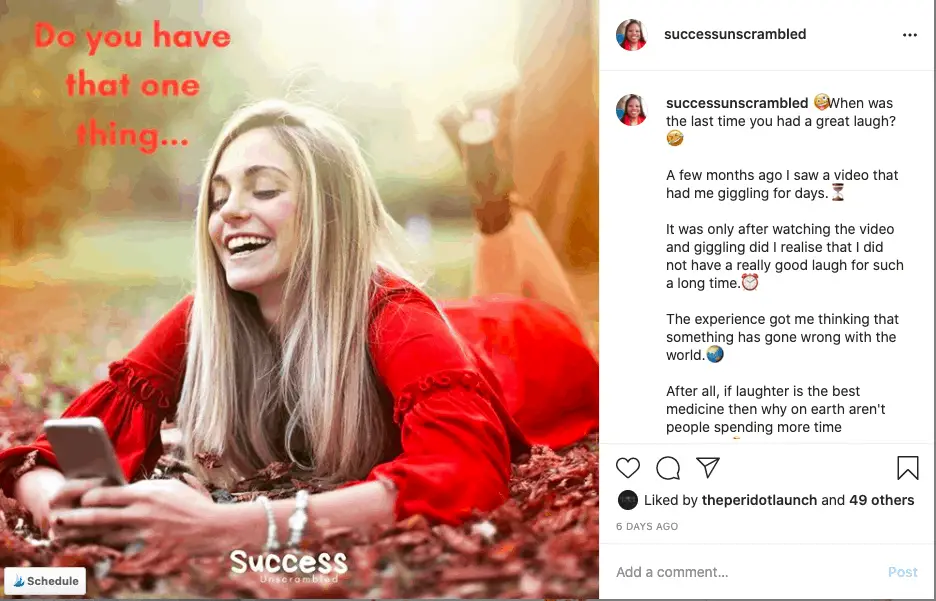 As you can see in the screenshot above I am telling a story about something I experienced recently.
5. Competition
This is probably the one variable that gets a lot of attention when choosing hashtags.
There are countless Instagram experts that have their own beliefs of which hashtags you should be using and when.
As you know, the algorithm changes frequently so it can be difficult to stay on top of what's working this month compared to last month or even last year.
Should you use hashtags by low, medium and high competition? Well, it really depends on a few factors.
How many followers on your account
Your objectives
The niche
A specific topic
I know that is not the answer that you were expecting but I have to tell you that I have tested what the experts advise and it does not necessarily work in every case.
You probably heard it said that you should use hashtags that are as follows:
20k – 100k – low competition
100k – 500k – medium competition
500k – 1M – high competition
If you have less than 5,000 followers on your account this advice is not going to work for you unless you have images that are scroll stoppers.
You are better off starting with low competition hashtags to see what the engagement is like before going for more competitive ones.
In fact, the reason why there are Instagram and Social Media Strategist is because it is their job to sit down with small business owners in order to develop a hashtag strategy.
This is one of the things that I will be offering in my upcoming group program.
Each participant will have the opportunity to spend 4 hours with me planning out their content for 90 days.
My Instagram Results
I have a tiny account with less than 500 followers and I can tell you for a fact that I am getting engagement.
My secret is using the tips and tricks outlined in this Instagram hashtags cheat sheet plus other things I teach in my group program.
Of course, I spent some time understanding my ideal follower and their needs before creating content and picking my hashtags.
When I talk about engagement I am not only referring to likes I am also talking about saves, shares and comments.
You can take a closer look at my results in the screenshoot below.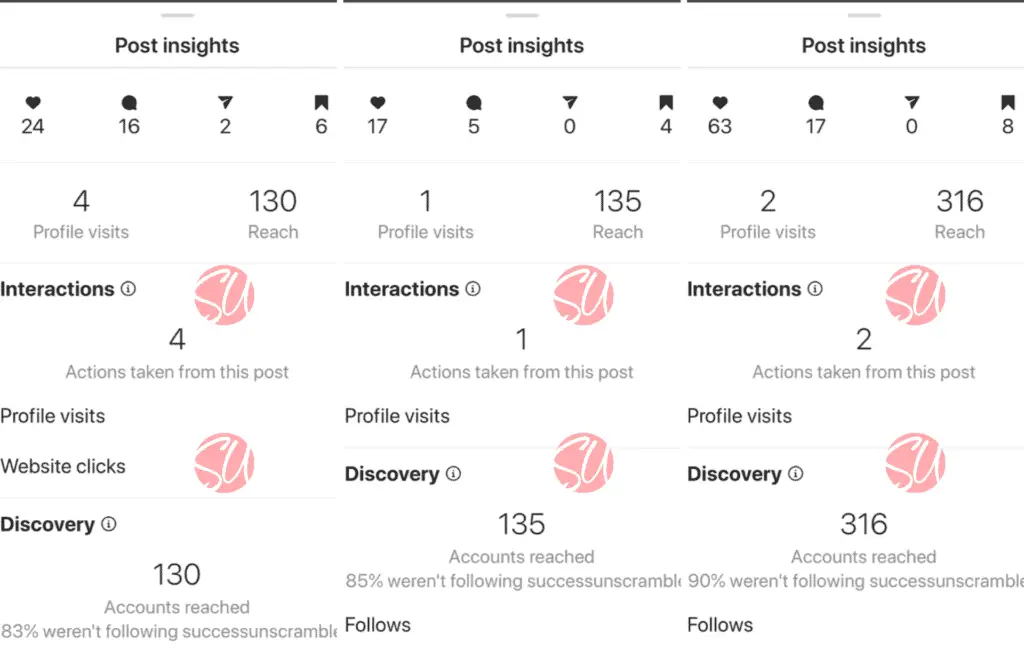 At this point, you are also probably wondering if my account is growing and the answer is a definite yes.
If you would like to experience this kind of engagement on your Instagram account why not consider joining my social media group program.
One of the key benefits of joining as a beta tester is that you will get 50% off the price of the program and you also get one-to-one coaching with me.
Sign up here before the price increases and before the group gets bigger.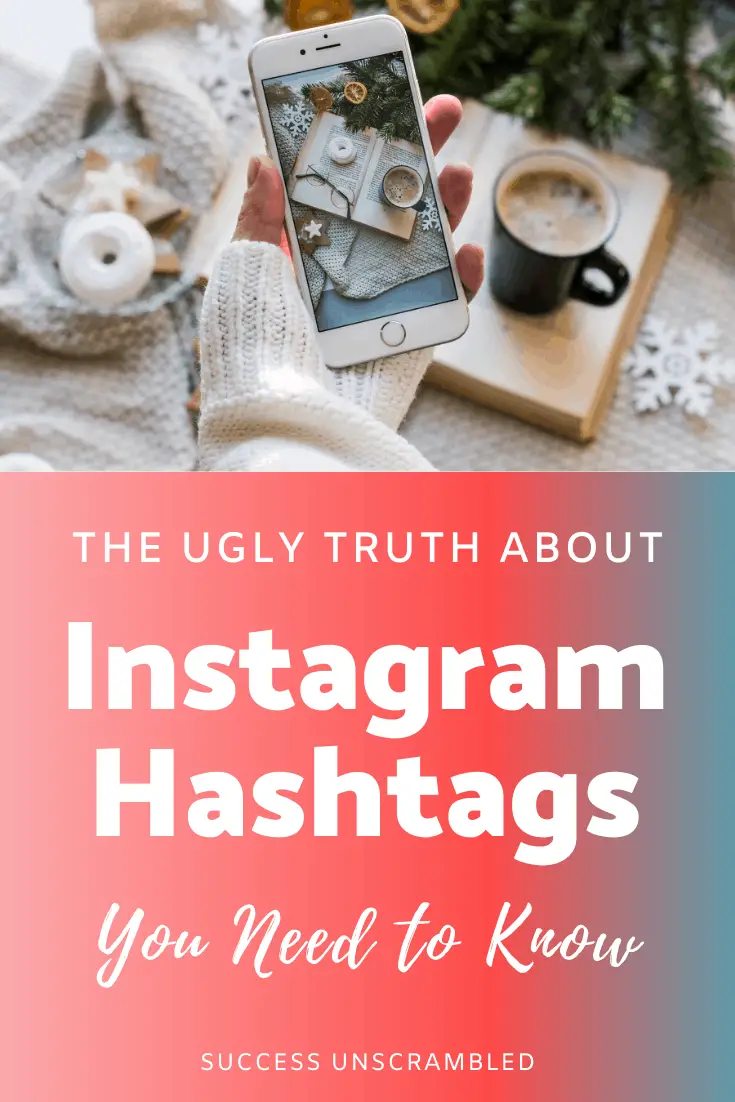 Summary
If you already have 10,000 followers and above with great engagement the topic of getting your hashtags right may not affect you.
Unless you did a follow for follow campaign and your followers are not engaging with your content.
Did you know that a follow for follow campaign can negatively impact your Instagram account?
Your engagement will be very low which is not a good thing for a healthy account.
You will be better off staying away from doing something like that if you want to grow an authentic audience.
Before you publish your next Instagram post remember to take a look at this Instagram hashtag cheat sheet to get a sense of which hashtags to use.
Hashtags will only make you go viral if your content is great.
If you need help with your Instagram strategy join the group program waitlist here.
Over to you what has been your experience with Instagram hashtags?
Announcements
Remember to subscribe to the Success Unscrambled Podcast where you will be the first to hear what's happening in the entrepreneurial and digital marketing world.
Your positive review of this podcast is vital to keeping it alive and running for the next 12 – 24 months so please leave a positive review for us on iTunes, Spotify or any of your favourite podcast players.
Has the engagement on your social media accounts taken a nosedive? Why no learn all about doing a social audit using this resource.
Are you feeling overwhelmed when it comes to planning content calendar? Grab this resource outlining a social media content plan here.
Do you need help navigating scheduling tools for social media? Check out this social media scheduling tools resource here.
I have a deep passion to help female entrepreneurs to get more visibility for their business this is why I develop this social media group program.
It offers simplified marketing tools and tips as well as planning and implementation of your social media strategy to get results.