Podcast: Play in new window | Download (Duration: 30:01 — 41.7MB) | Embed
Subscribe: Google Podcasts | Spotify | Amazon Music | Stitcher | Email | TuneIn | Deezer | RSS | More
You started this year determined to develop an amazing social media content plan.
The colour palettes have already been selected and you also know which social platforms will work for your business.
In your head, you can see the results of all the efforts you will put in to your social calendar.
A 200% increase in engagement is what you pictured on your vision board for the last few months.
However, you are completely stuck. Why? You have no idea how to get this wildly successful social plan in place.
I mean, this should be easy right? All you need to do is slap on a few quotes, social holidays and a few buy now posts.
Truth be told you have no idea what else to say to your audience. How do you make them respond to you.
What if all you hear are crickets? Then what do you do next?
Have no fear, in this post, you will learn how to literally jump-start your entire weekly social schedule using a few secret hacks.
You will also learn how to set up your own social plan in 8 hours or less. Are you ready?
Disclosure: Please note that this post may contain affiliate links which means that if you buy one of my recommended products I get paid a commission for sharing the link at no additional cost to you.  I only recommend products that I have tried myself and have experienced success.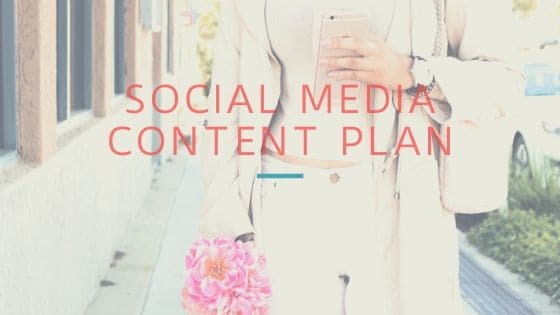 What is a Social Media Content Plan?
If you have never planned content for social media before you are probably wondering what is a social media content plan?
Well, to be honest, it really is developing a structured plan for your social media profiles so that you get the desired results for your blog or business.
In a nutshell, it involves sitting down and planning out all your social content across your social profiles for 90 days or 52 weeks.
It is possible that you have been doing it all wrong for the last few months or years.
One way to know if you are doing it wrong is if you spend hours every week planning social content.
A structured plan for your social media does require getting a return on your investment.
However, the most important aspect should be mapping it out depending on your buyer's journey, planned themes plus the season of your business.
The Buyer's Journey and Social Media
Chances are that you have heard me mention this before in other places on my blog.
However, understanding the buyer's journey is crucial to getting your social media content right every time.
Let's take a brief look at that journey again.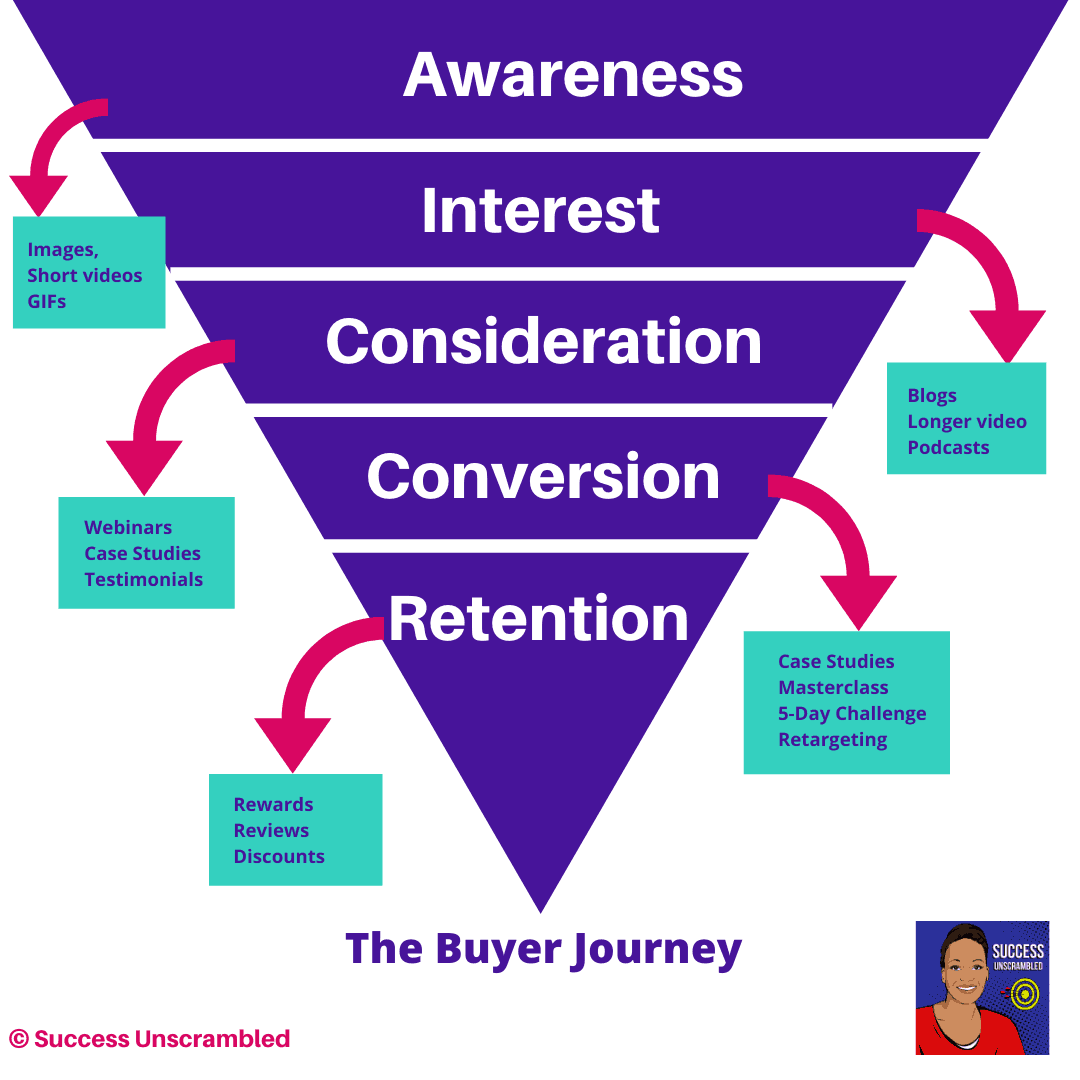 As you can see at the very beginning it is all about building awareness of who you are and what you do for potential clients.
A great way to look at it is the analogy of getting married.
When you meet someone on a date for the first time there isn't an expectation of a marriage proposal.
In the same way, when a potential client finds you online for the first time they are not expected to buy your $497.00 product or course straightaway.
You will need to court them for a while and show them how good you are at what you do.
They also need to experience your delivery of service via freebies, blog content or low cost items first to build that trust.
Once they get to know you then they are happy to buy products that are $97 or even $497 because they believe in you.
Seasons of your Business
Do you know where your business is right now in terms of its season?
Did you know that there was such a thing as different seasons of a business?
Well, in the same way potential clients come to know, like and trust you in the buyer's journey, there's a similar journey for any business.
For example, if you are starting your business for the first time the first thing you need is visibility or to drive awareness.
The awareness season is also good for doing research on your niche or for building authority.
The four seasons of a business are as follows:
Awareness
Relationship
Conversion
Income
In the relationship phase, you are all about building relationships with potential clients via social media.
It is a two-way conversation where you are getting to know your potential clients better and finding out who are your real fans.
When it comes to conversion this is where you invite those potential clients to prove their loyalty.
You invite them to join your email list or spend time on a webinar with you.
Finally, income happens when you know exactly what your potential clients want based on 1:1 feedback or their responses to your questions.
This means that you are launching a product, running a special offer or even doing a beta test of a product or service.
Bearing in mind that these seasons are not equal in length with awareness being the longest, what season is your business in right now?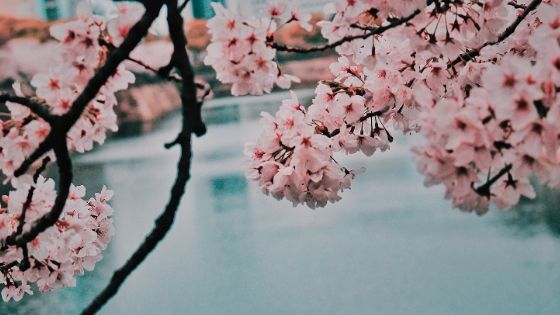 What to Post for Each Season?
At this point, you are probably wondering what you should be posting on social media for each season of your business.
Yes, this is not an easy question to answer but I will give you a few tips and suggestions here.
Let's first look at what is the most appropriate for the awareness season.
Awareness
Imagine for a second that you are a brand new business like a new kid that moved into the neighbourhood and you have no friends.😳
What's the first thing that you do? Well, people have an interesting habit of judging who you are by first impression.
One clever trick is to post about what you eat, drink or use on a daily basis so potential clients can start to associate you with great brands.
For example, you can talk about how you use Grammarly every week in your business to reduce mistakes in your blog posts.
Although, this may initially sound strange your potential clients will start making an association between you and great brands.
Relationship
As the name suggest, this is where you start inviting your audience to take part in your conversations.
This is accomplished by asking them to respond to questions, polls or surveys.
You can even ask them their opinion on certain topics. Notice the important difference between 'awareness' and 'relationship'.
During the awareness phase you are not asking them to respond to anything at all.
However, the relationship starts building when you ask them to participate.
Conversion
Now that you are no longer the new kid on the block and your audience is getting to know and like you, it is time for the next move.
Will he try to hold her hand?😜 Or maybe he should try asking her out on a date first.😉
Yes, conversion is very similar to dating where you want to take your loyal fans from social media onto your own platform.
So, you invite them to a webinar or to sign up for something valuable like a workbook or cheat sheet. A Facebook group can also be a great option.
Income
At last, now that you know what they like and the kind of solutions to their problem it is time to make that proposal.
You outline how you can help them transform their lives by doing x, y and z. Are they willing to experience a better life or business with you?
It means your posts will be all about a product launch, beta testing, coupon codes, discounts, testimonials, etc.
A great idea is to offer a free masterclass via a webinar where you will give them the opportunity to solve their challenge better with your product or service.
Themes for Social Media Content
One thing to keep in mind is that you can have a theme every quarter for your business.
Having a focused theme will help you to stay on topic as well as easily find content that relates back to your theme.
Let's look at a practical example, if you are a beauty blogger you can have four themes every year.
Your themes can look like this:
First quarter, less is more
Second quarter, out with the old in with the new
Third quarter, summer and everything bright
Fourth quarter, cosy and comfortable, party time
As you can see it is a good idea to choose themes that are broad which gives you the opportunity to incorporate many ideas.
It helps you to narrow your focus and makes it easy to find content that will easily reflect the theme.
You will notice that it will be a whole lot easier to be creative when you have themes compared to starting with a blank screen or sheet of paper.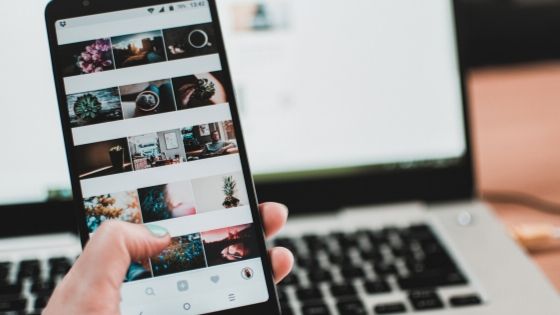 The 80/20 Rule of a Social Media Content for Beginners
Now that you have a fear idea about your potential client's buyer journey, themes, as well as seasons of any business let's look at a realistic situation.
You want to map out your calendar for the next 90 days and you are wondering what to put where.
The first thing you need to remember is the 80/20 rule which is 50% of your content are generally about building awareness and relationship.
To accomplish this you just need to think about filling out most days with interesting facts, quotes and even talking about brands you use to get stuff done.
Once those are filled in focus on the relationships which is another 30% of the rule.
You would like to build and ask questions that will give you insight into your clients.
Be sensible about what you ask. Feel free to make it fun and entertaining.
For example, 'if you were given $1,000 to spend on your business or makeup or self-care or beauty regime, what would you buy and why?'
Remember that your potential clients are people with challenges, emotions and fears.
Finally, as a business, you will have income and conversion goals.
This is where a course or product launch and evergreen items that you sell make up the remaining 20% of the rule.
Sprinkle those income related posts throughout your 90 day social media content plan as needed.
It will take some tweaking to get it right but do keep trying.
90-Day Social Content Plan Example
One of the best ways to help you with executing a great content plan is to show examples of one in action.
Here is an example of one that is colour coded to show you how to get started step by step.
First, head over to Asana and create an account if you don't already have one.
After you are inside Asana create a project, you can call it 'social media plan template' or 'social media content plan'.
You want to be able to copy this over to a new template every three months. Here is mine.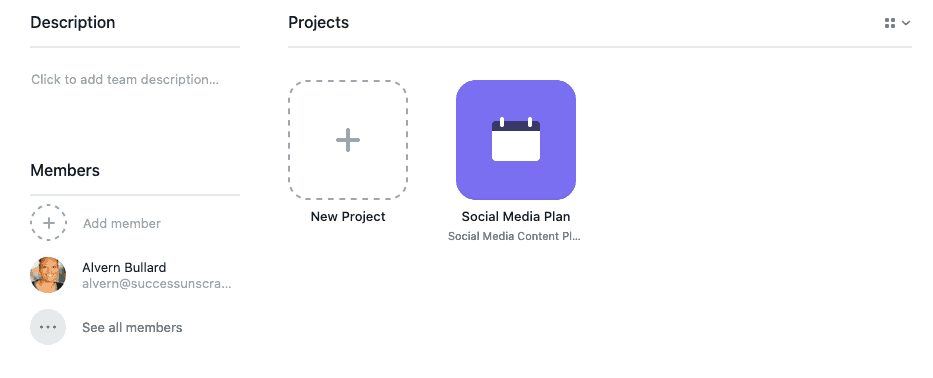 You can decide to go with list view or board view but choose one that is most comfortable for you.
Create 4 columns if you are using board view or 4 sections if list view is your preference.
Here is the board view in the screenshot below.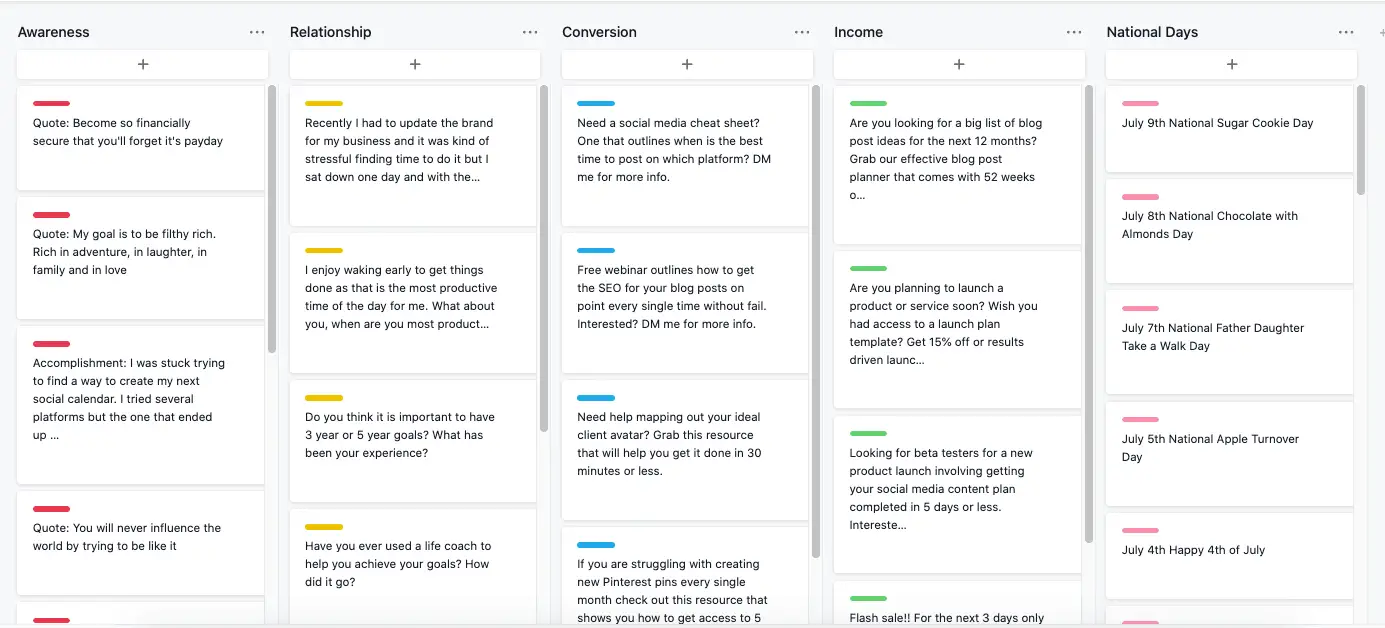 This is what your list view should look like if that is your preference.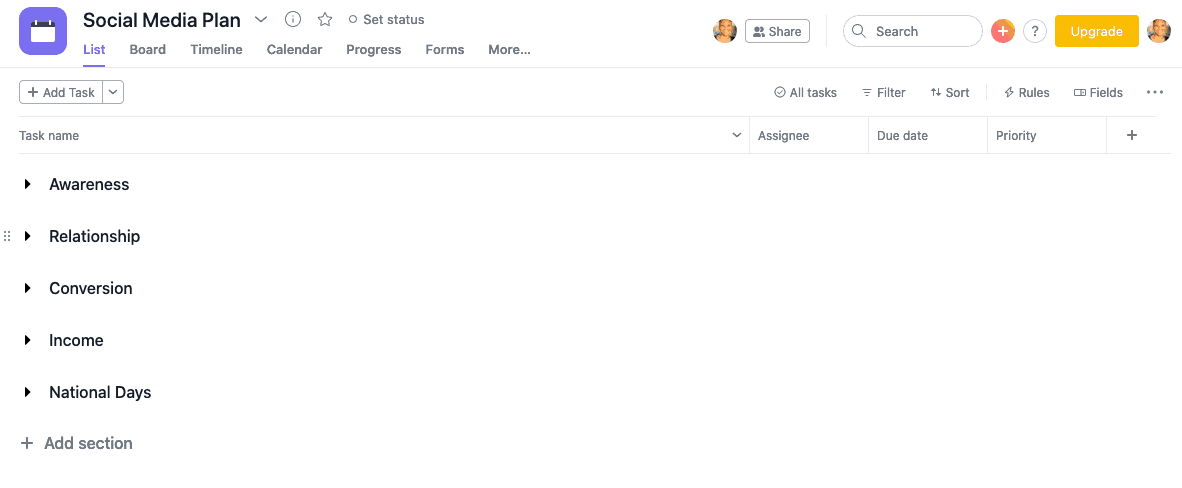 Just click the chevron to open or close your list view. See screenshot below.
How to Populate Your Content Plan Template
You will need to spend time grabbing all the national holidays for your preferred location using this link.
Head over to Pinterest to grab a big list of 15-20 quotes for your motivational Mondays or niche quotes.
Here is a screenshot showing an example of makeup quotes on Pinterest.
In many cases Tuesdays tend to be labelled as tip Tuesday or #tiptuesday so you can write out 15 tips really quickly for the next 15 Tuesdays of the month.
Next, think of 15 questions that you are dying to ask your audience that will encourage them to engage with you.
Now is a good time to think of 15 stories of stuff that happened to you recently that your audience can share a similar experience.
Remember that you are looking for engagement from your followers or from the people on social media.
Finally, think of all the freebies, offers, sale items that you can use to sprinkle throughout these posts for the next 90 days.
Are you stuck for ideas? Well, I have great news as a member of Ivory Mix I get access to 10-15 captions as well as 10-15 inspiring quotes every month.
It cost me less than a slice of cake or a cup of coffee a day for my annual or monthly membership. If you would like to use my hack go here.
90 Days of Social Media Content
It took me less than 8 hours but here is my content plan for the next 3 months from a bird's eye view.
This is the one for May. See screenshot below.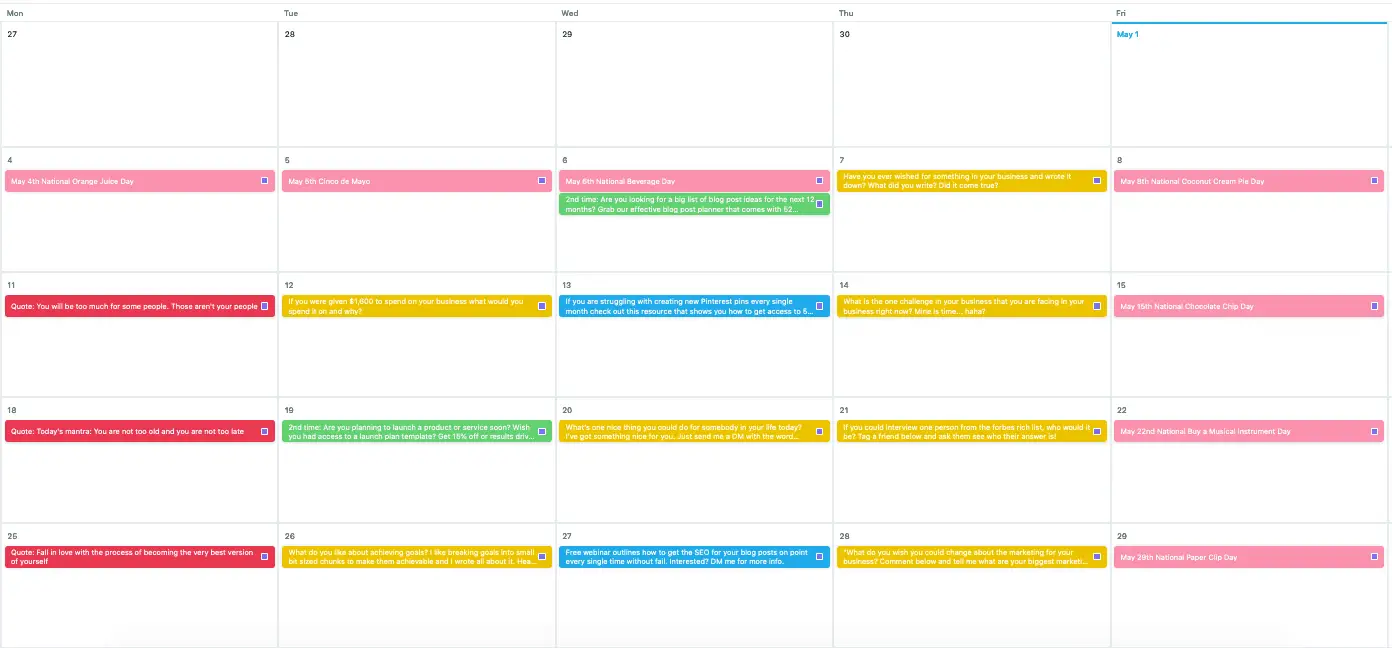 You will noticed that everything is colour coded so that I know what is happening at a glance every single day.
I don't do social posts on weekends only Monday to Friday because that is my preference.
Check out my posts for June in the screenshot below.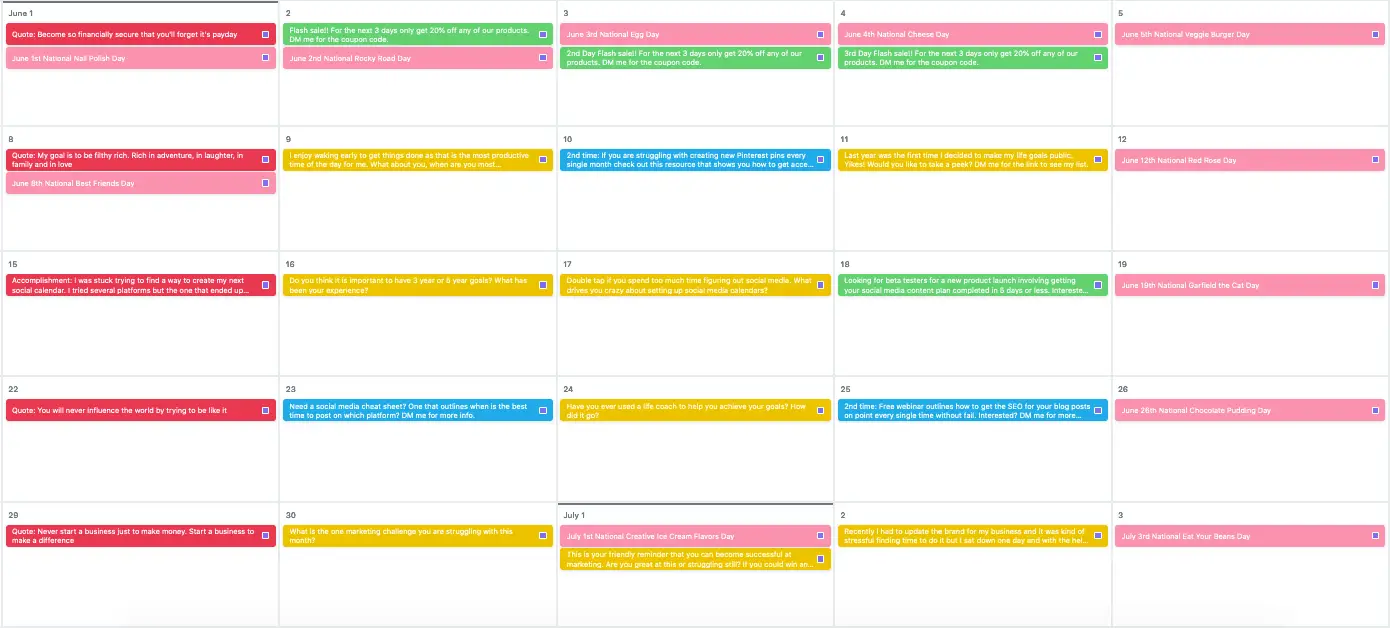 It is super simple to tag your tasks in Asana. You can give it a name and colour code it to suit your needs.
You will notice that all my income generating posts are green and my happy national holiday posts are in pink.
Check out my posts for the month of July in the screenshot below.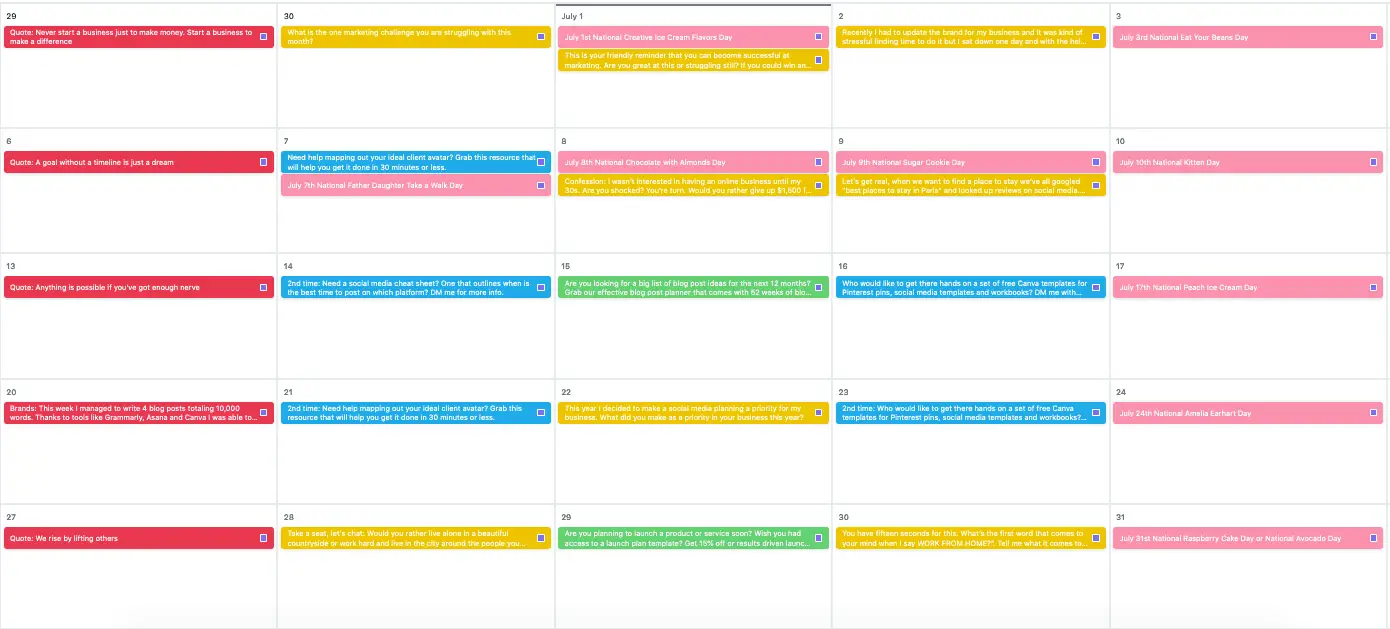 Remember if you are stuck and need some help coming up with ideas to check out the Ivory Mix membership by clicking on this link here.
If you would prefer to outsource it all together then check out my social media services here.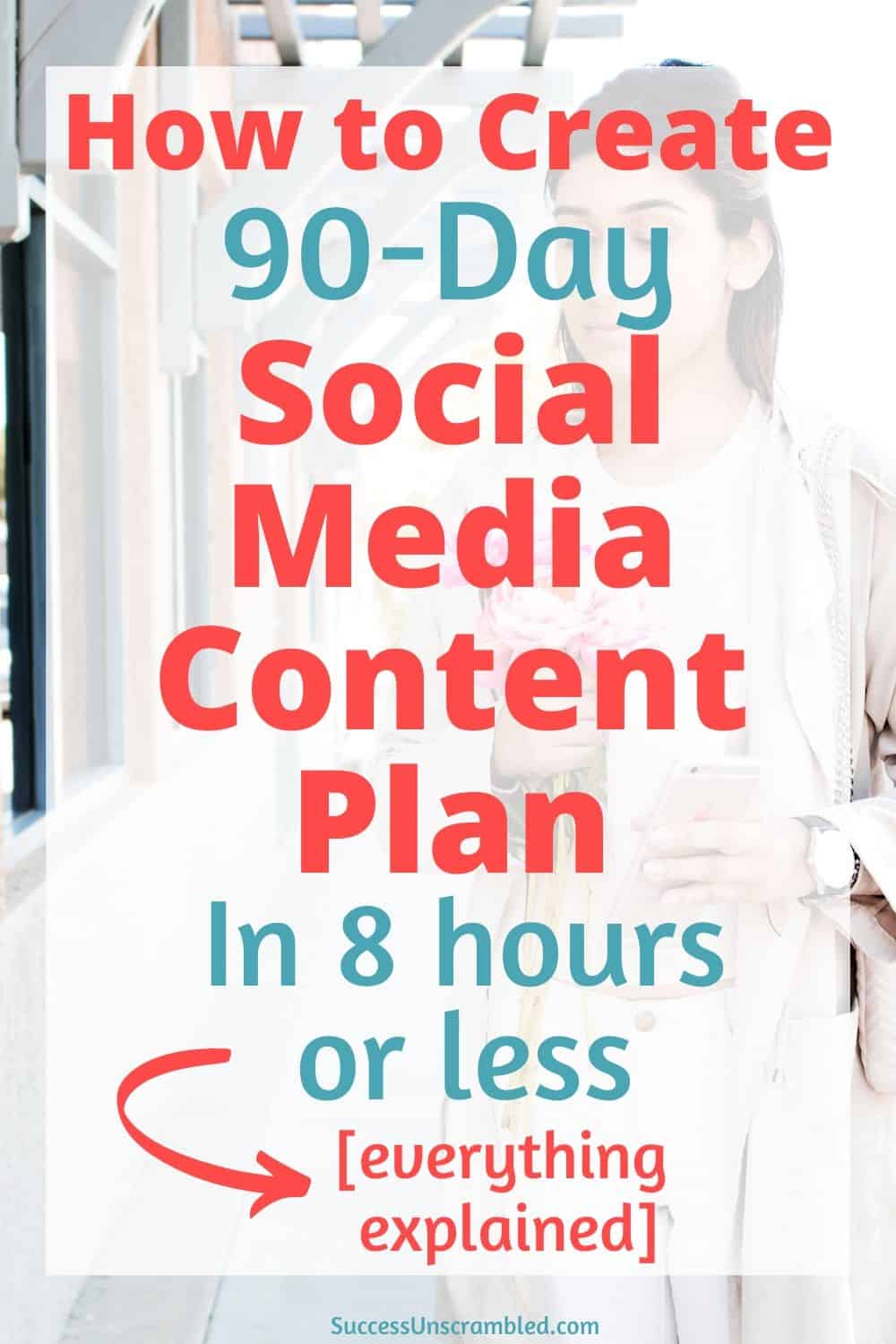 Summary
Many business owners know that social media marketing is an important tool that can be used to build important relationships.
However, there seems to be a general consensus that posting regularly on social media is too hard.
The question is what exactly is difficult with social media is it the posting, creating images, mapping out 90 days of content or coming up with the ideas?
Maybe you have tried many times in the past but the engagement was poor so you got disappointed.
If the issue was engagement be sure to take a look at my previous post about doing a social media audit before embarking on a new campaign.
Also, be sure to spend some time looking at how you can easily do social listening to see what's working for others in your niche.
Over to you, have you ever tried mapping out 90 days of social content? Which camp are you in, need help with social prompts?
Or do you need to outsource your social media planning to someone else?
Announcements
Remember to subscribe to the Success Unscrambled Podcast where you will be the first to hear what's happening in the entrepreneurial and digital marketing world.
Your positive review of this podcast is vital to keeping it alive and running for the next 12 – 24 months so please leave a positive review for us on iTunes, Spotify or any of your favourite podcast players.
Do you need help understanding the difference between social media platforms? Take a look at this Pinterest vs Facebook resource here.
Are your potential clients on LinkedIn but your profile sucks? Have no fear read how to set up an awesome LinkedIn profile over here.
Want to create a professional presence on Facebook? Learn how to create a Facebook business page the right way here.
My focus continues to be simplifying marketing for creatives so that they can get the visibility that they need for their business.
This gives them the time freedom they need to spend more quality time with their loved ones.