Podcast: Play in new window | Download (Duration: 40:53 — 56.7MB) | Embed
Subscribe: Google Podcasts | Spotify | Amazon Music | Stitcher | Email | TuneIn | Deezer | RSS | More
Have you conducted a social media listening exercise in the last 12 months for your blog or business?
Did you find anything fascinating?
I am a problem solver by nature with a background in the natural sciences so I have a thing for experiments.💪
This means that I like conducting research every week to find out if something is fact or fiction (myth-buster eat your heart out).
Sometimes it's just to compare or contrast applications, tools or software that are similar in their functionality.
You may find this pretty boring but for a business or blog doing research on your competition can give you a surprising edge or insight.
The truth is that legally spying on your competition is not frowned upon but it is very welcomed and normal.
In this post, you are going to learn what is social media listening, the tools used to get it done and the benefits of listening to your competition.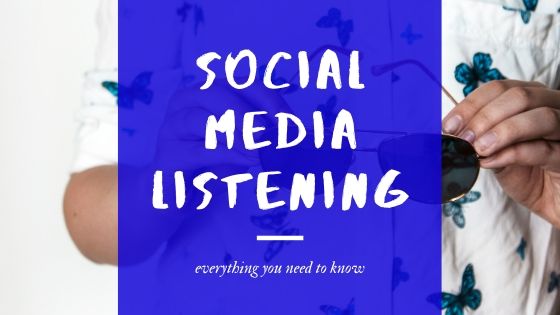 What is Social Media Listening Anyway?
In case you never heard the term before social media listening refers to the practice of listening in to conversations or activity on social media.
You will need to get an understanding of the capabilities and limitations of this process to grasp how you can use it.
It does not involve the use of specialist headphones or spying equipment from the CIA, FBI, MI5 or any such organisation.
Thankfully, there are quite a number of solutions available on the market that can be used to complete this project.
The good news is that the stuff that you will uncover can fall into the categories of serious all the way to hilarious.
Even if you don't like doing research you may find this exercise intriguing since we are all curious by nature.
First outlining the benefits are key to understanding why you should even consider this as part of your social media content plan.
Benefits of Social Listening
The benefits of social media listening can be broad and wide but worth the effort to get it done.
Think of social listening as a way to have one ear to listen to everything that is happening across 1,000 channels.
You can see it as a way of sifting information into two big baskets of valuable or useless.
The reasons that it can be a very valuable exercise is that it allows you to do the following:
Keep an eye on key competitors from a single dashboard
Engage with potential clients just when they need your products or services
Have meaningful conversations with potential influencers
Find pain points that your service can solve with a few tweaks
Manage feedback in a central location as and when comments happen
In other words, without these listening or monitoring tools, it would be difficult for your blog or business to get 360-degree visibility across several social platforms.
Let's spend some time looking at what you need to start spying on your competitors legally.
What Can You Listen to or Monitor?
Before looking at a big list of tools available to conduct social listening let me first dive into what to look out for on social media.
This may be obvious to you but just in case you did not know you will need to go with a few objectives in mind before getting started.
Here is a big list of things to consider.
Keywords or keyphrases
Hashtags
Brand names
Product names
Questions
Tag lines
Trends
Social holidays
Industry jargon
Influencers
Events
Pain points
Accounts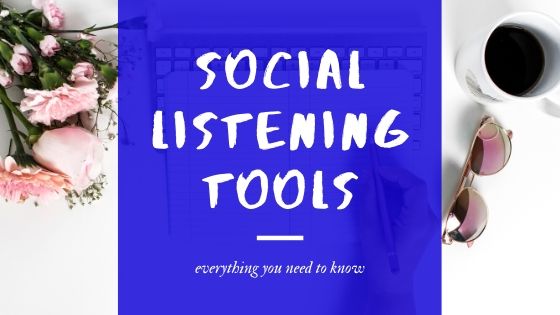 Let's spend some time looking at each of these items to help you understand better how and when to use them.
1. Keywords or Keyphrases
Some of the obvious things to listen to on social media are keywords or keyphrases that relate to your brand, industry or niche.
A simple example of this is the term 'budgeting'.
If you have a blog about personal finance you may be interested in gaining insights about conversations about budgeting.
2. Hashtags
This may be confusing for some people but a keyword is very different from a hashtag.
Think of hashtags as keywords with the number symbol (#).
Keywords tend to have a direct meaning while hashtags could just be a short term or seasonal trend.
A good example of this is during the presidential elections every few years and there will be hashtags that are specific for elections.
After the campaign is over these hashtags are no longer useful for many people.
3. Brand Names
Do you like chocolate? Well, if you do you probably already know that there is this large company called Mars Incorporated who makes several chocolate brands.
They are the 6th largest privately held company in the US.
Some of their brand names include Celebrations, Bounty, Combos, 3Musketeers, Mars, Galaxy, Maltesers and M&Ms.
The best way to track these chocolate brands on social media is by using the brand hashtags or their actual account.
4. Product Names
For smaller businesses who have smaller marketing budgets, it would not make sense to set up a separate social media account for each product.
In this case it would make sense to monitor or listen to conversations around a specific product name.
As an example, Marie Forleo has a podcast that is just called 'The Marie Forleo Podcast'.
She has a specific hashtag set up for the podcast which is #TheMarieForleoPodcast. See the screenshot below.
5. Questions
Did you know that it was possible to listen out for questions on social media?
At first it may sound a little bit shady but it is actually quite legit but it does require a little bit of thinking outside the box to get it done.
I headed back to Marie Forleo's account on Twitter where she is soliciting questions. Here's what I found.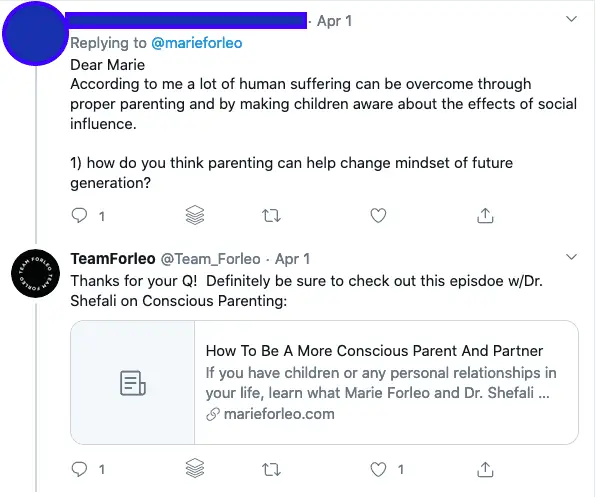 As you can see here, there is a separate account called "TeamForleo" answering questions from Marie's audience.
Looking further at Team Forleo's account I can see in their tweets and replies tab any other questions or interactions with their audience.
6. Tag Lines
There are a number of companies across several industries with tag lines that are so easy to remember and easy to use on social media.
A great example of a brand with an awesome tag line is Nike. Their famous tag line 'Just Do It' can be easily incorporated into conversations.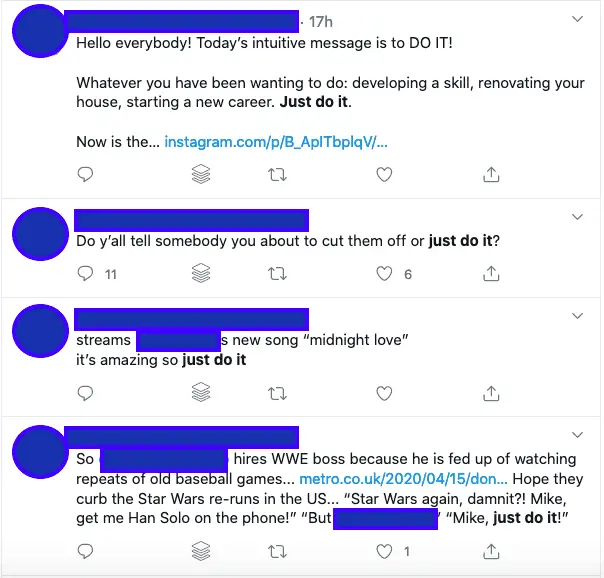 If you ever shopped in IKEA you probably heard of their tag line which is "create a better everyday life".
I honestly think that they don't use it enough as I just read through their IKEA family and About Us pages and I could not find the tag line even once.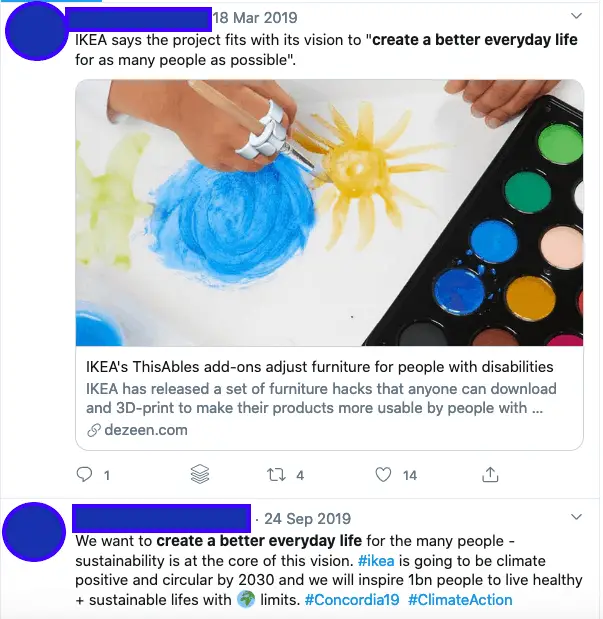 7. Trends
One of the easiest forms of social media listening is searching for what's trending or trending topics.
The good news is that Twitter, Pinterest and Instagram have simple ways to find out what's trending on each of these platforms.
On Twitter, simply click on 'Explore' to bring up what's trending by location, topic and specifically for you.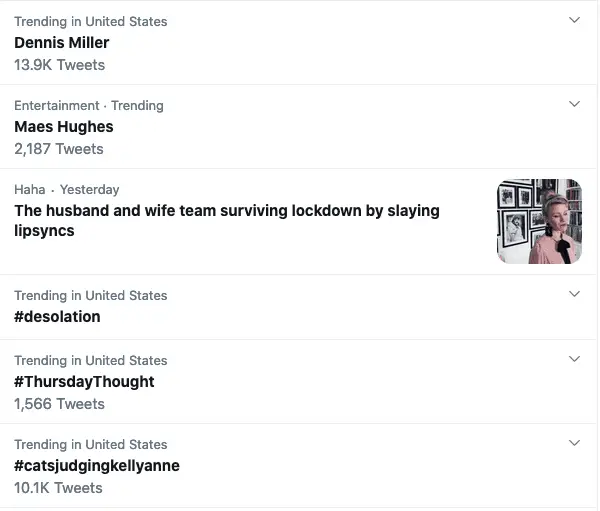 Instagram also has an 'Explore' tab that allows you to see current trends. I personally don't like the way the results are laid out.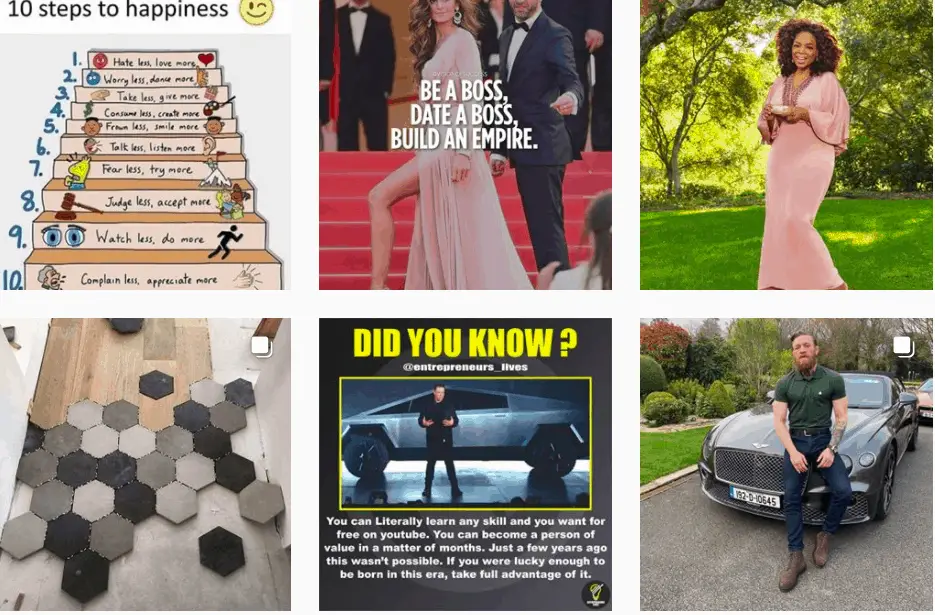 So, you will notice a photo of Oprah in as one of the results from the explore tab. I decided to click on it to see what's happening.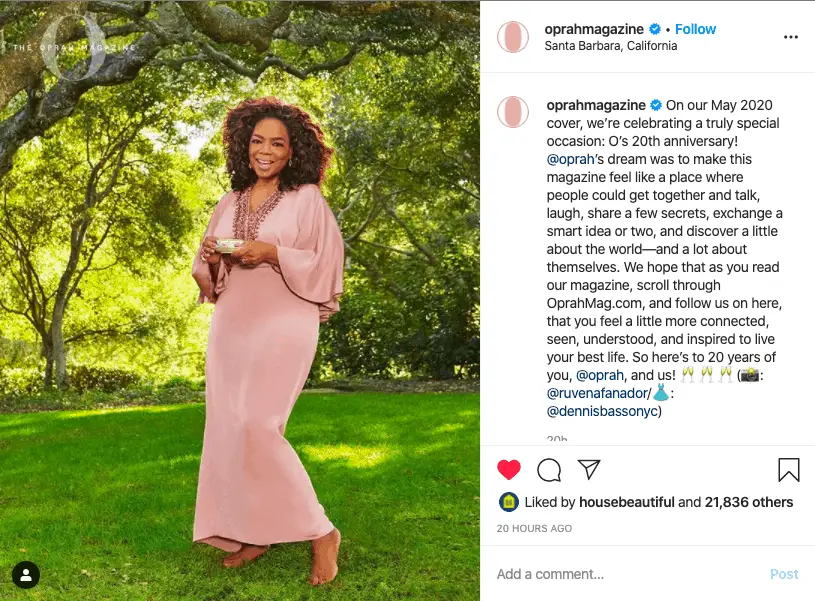 As you can see from the caption, Oprah's magazine has a 20th anniversary is coming up soon.
You can use this as an opportunity to ride this trend by joining the conversation using social listening.
8. Social Holidays
This one should be really easy because there are so many wild and wonderful social holidays happening every single month.
A great example of this is World Chocolate Day which takes place in July and national Chocolate day is in October.
The best way to find it is by using the designated hashtag, #nationalchocolateday, #NTLChocolateDay, #USAChocolateDay.
9. Industry Jargon
A great way to easily find experts in a specific niche is to seek them out using words or phrases that is understood within that industry.
One word that comes to mind is social listening. Unless you are a social media marketer the chances of using that word is slim.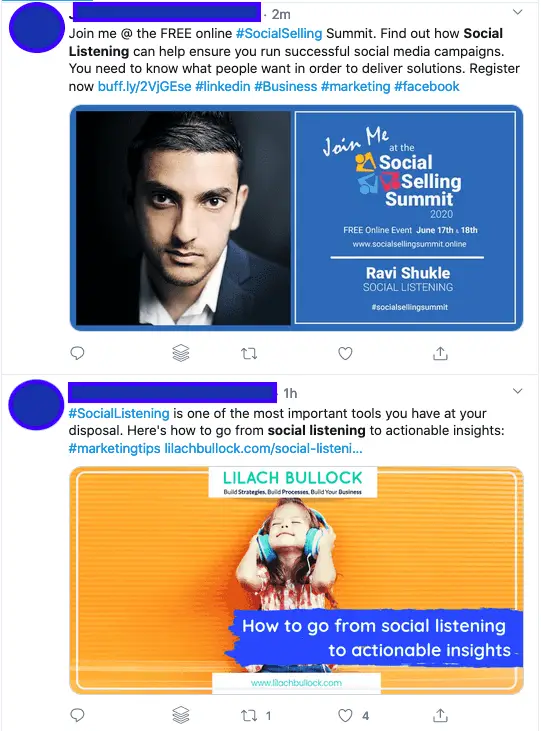 Another term that is very popular is 'social selling'.
It simply means being able to sell products or services via social media by optimising your brand and growing prospects via social.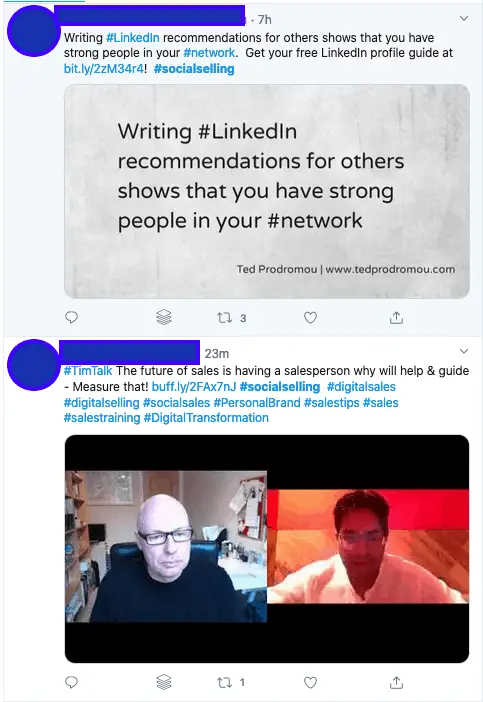 10. Influencers
Using influencers as part of your social media listening project is a great way to gain insight on what's hot in your niche right now.
One of the best ways to find these influencers is by starting with someone you already know in your niche.
I head over to Instagram and look up Marie Forleo, I find her latest post then I look to see those profiles that commented with a blue tick.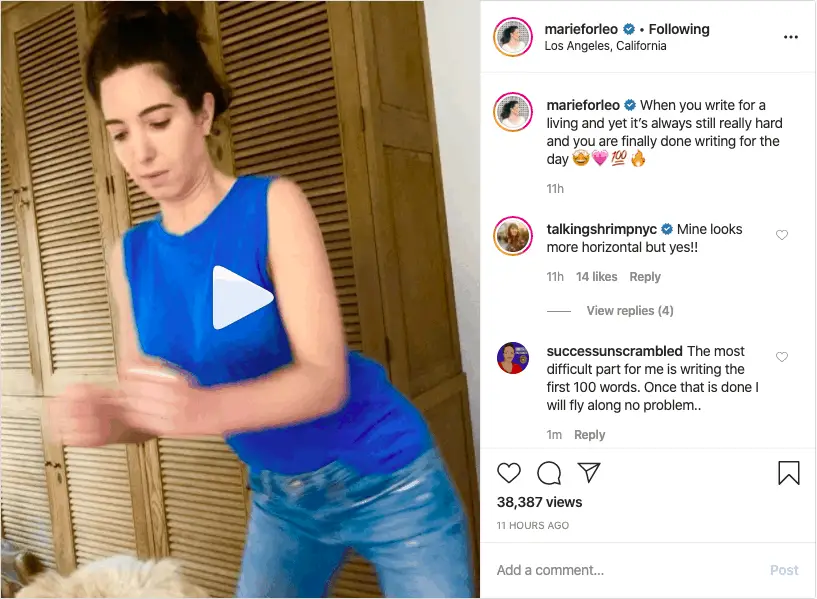 I click over to @talkingshrimpnyc and this is what I found, see the screenshot below.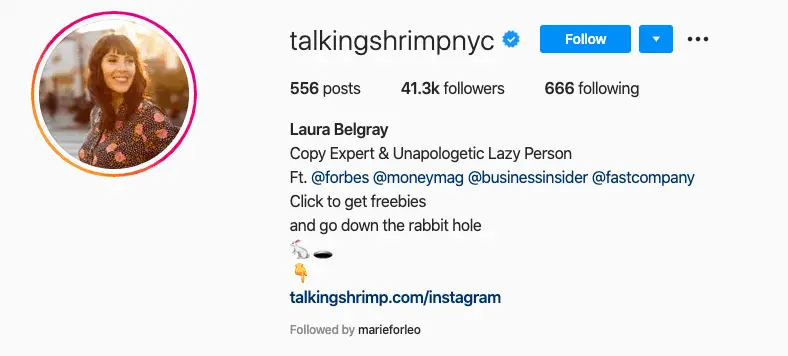 The other person with a blue tick that commented on Marie's post was Jordan Lee Dooley. I head over to that account and this is what I found.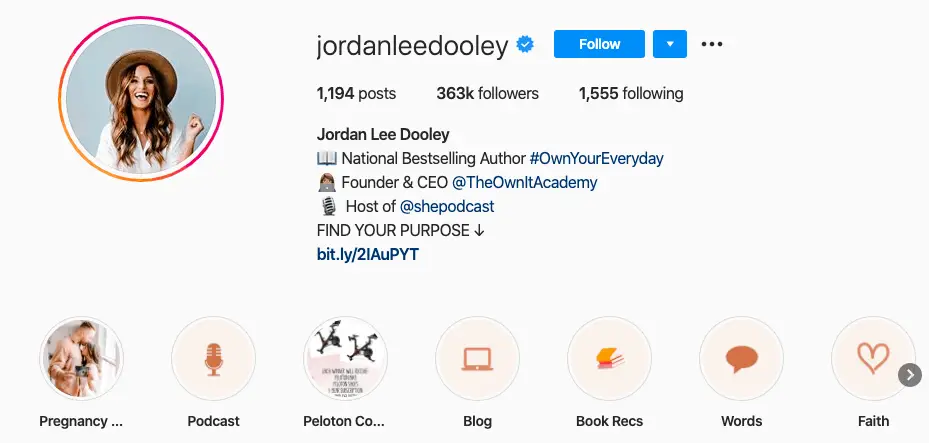 If you ever wonder why social media managers charge handsomely for their services this is the kind of painstaking work they do for their clients.
I have to admit it is similar to detective work but a lot of fun.🤣 If you need someone to take this task off your plate check out my services here.
11. Events
One of the best ways to find attendees for conference or summit on social media is by listening hashtags on the messaging of popular conferences.
A good example of this is if you are hosting a summit or conference and you are promoting the event for 3 months before it goes live.
You can join the conversation of that popular conference and drum up interest in your up coming event.
Using a hashtag really helps potential attendees remember and find the post. Here is a great example.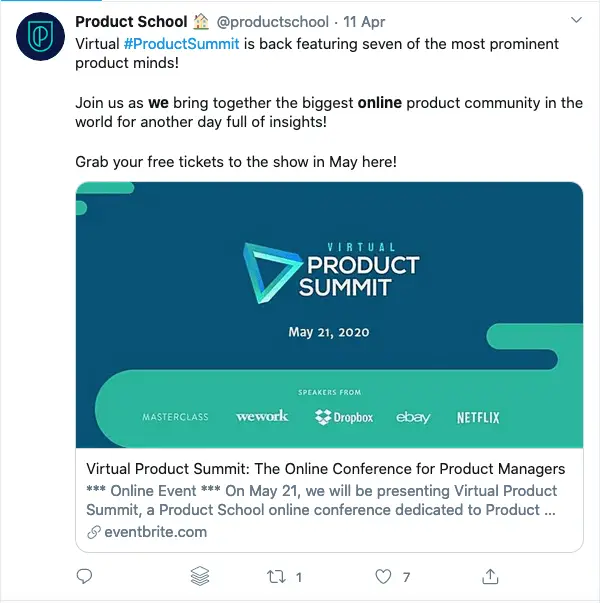 12. Pain Points
Have you ever wondered about the challenges your prospects or customer avatar is facing before they find you or your solution?
Even if you already know about their challenges did you search on social media to find those conversations?
Well, a clever way to get ahead of your competitors is to listen to your potential customers before they find a solution.
Of course, it means that you first need to know what words or phrases they are using while in discussion online.
I decided to look up a very obvious hashtag on Twitter which was #struggle and here is what I found.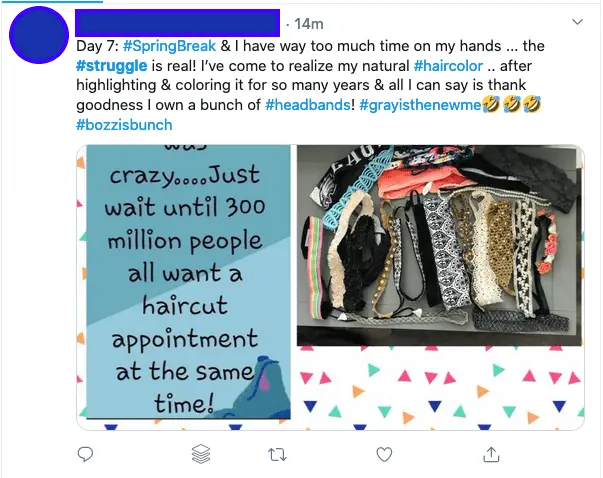 I have no idea why but there seems to be a lot of people with hair colour struggles posting it on Twitter.🤣
13. Accounts
The final one on the list for today is the ability to listen to accounts directly. When you first join social media you may follow random accounts.
Over time there will be some accounts that you will follow for inspiration or unfollow because they don't add value.
The beauty is that you can follow these accounts over a 3-6 month period to get a feel for what they are doing that is bringing them success.
Social media listening gives you the ability to pull analytics on these accounts every month so that you can assess the overall sentiment as well.
What Social Listening Tools are Available?
In order for social media listening to be an effective tool for your blog or business, you will need to 'listen' for a long period of time.
What I mean is that it is difficult to listen for one day to get a full picture of what is happening.
A three month period is a good place to start to gather data about your potential audience.
It also gives you great insight into what is working with your competitors.
As I mentioned previously there are a variety of tools available on the market to start your social listening project.
Here are 5 of them that you can use for free.
Hootsuite
TweetDeck
Mention
Nexalogy (Nexame.com)
Tweepsmap
1. Hootsuite
If you are one of my regular readers or listeners to my podcast you may have heard me mention Hootsuite a few times already.
I have been using Hootsuite for over 5 years and I have to say that they have a really nice application that offers a ton of features.
The good news is that they do offer a free 30-day professional trial and they even have a free version of the application available.
In the example below, I am monitoring hashtags in my industry specifically on Instagram.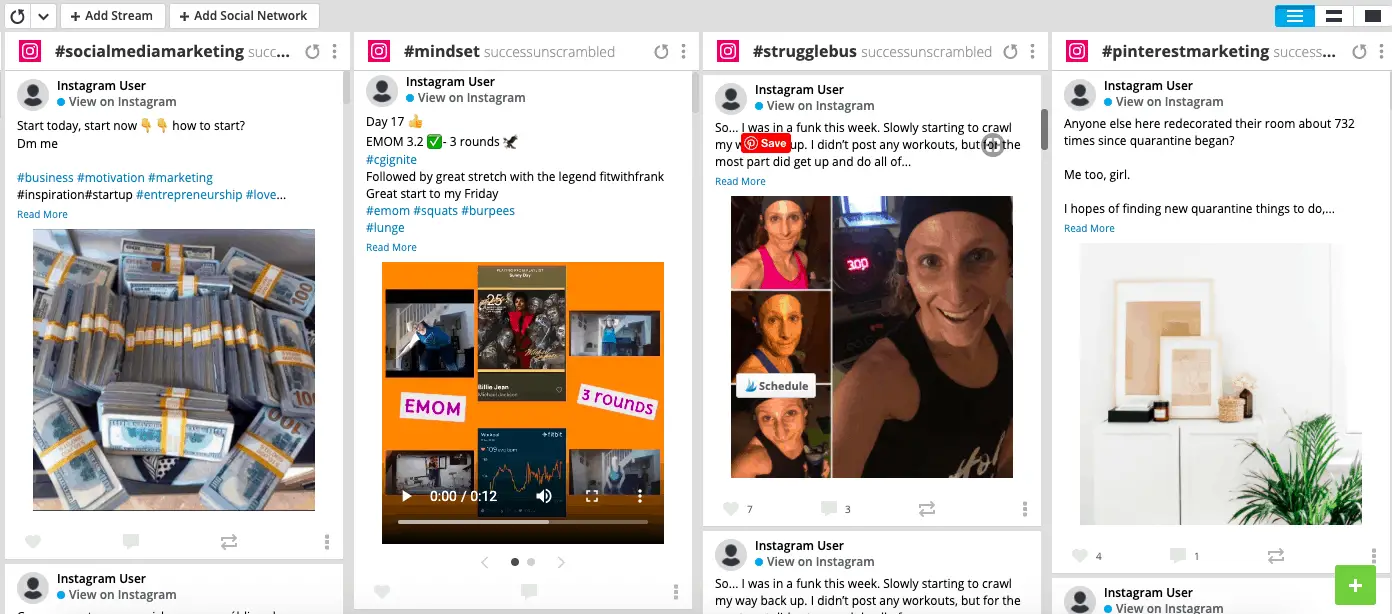 2. TweetDeck
If Hootsuite is too complex for your requirements and you need a simple tool to monitor what's happening on Twitter only.
Then TweetDeck is the tool you need. It has features very similar to Hootsuite with the ability to add a column for each query.
Here is an example of what it will look like once you have it set up.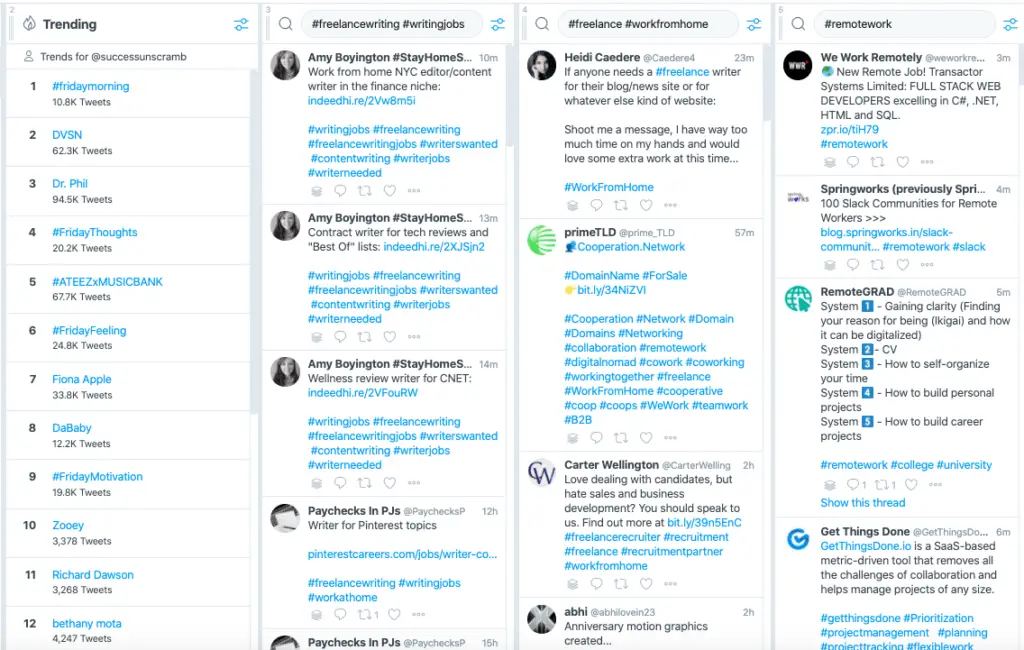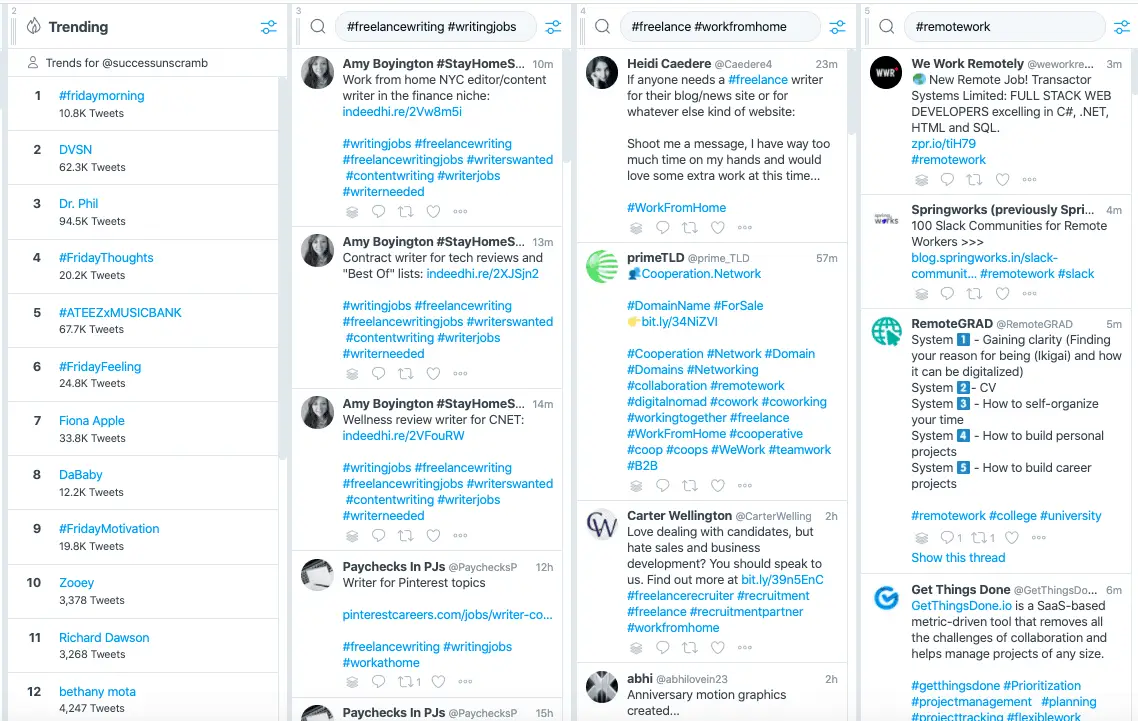 3. Mention
Mention has similar features to Hootsuite and TweetDeck except that their free version is very restricted to 1 alert and 250 mentions.
One feature that it offers that is not found in Hootsuite or TweetDeck is a 'Reach' report.
Take a look at the screenshot below to understand what is happening here.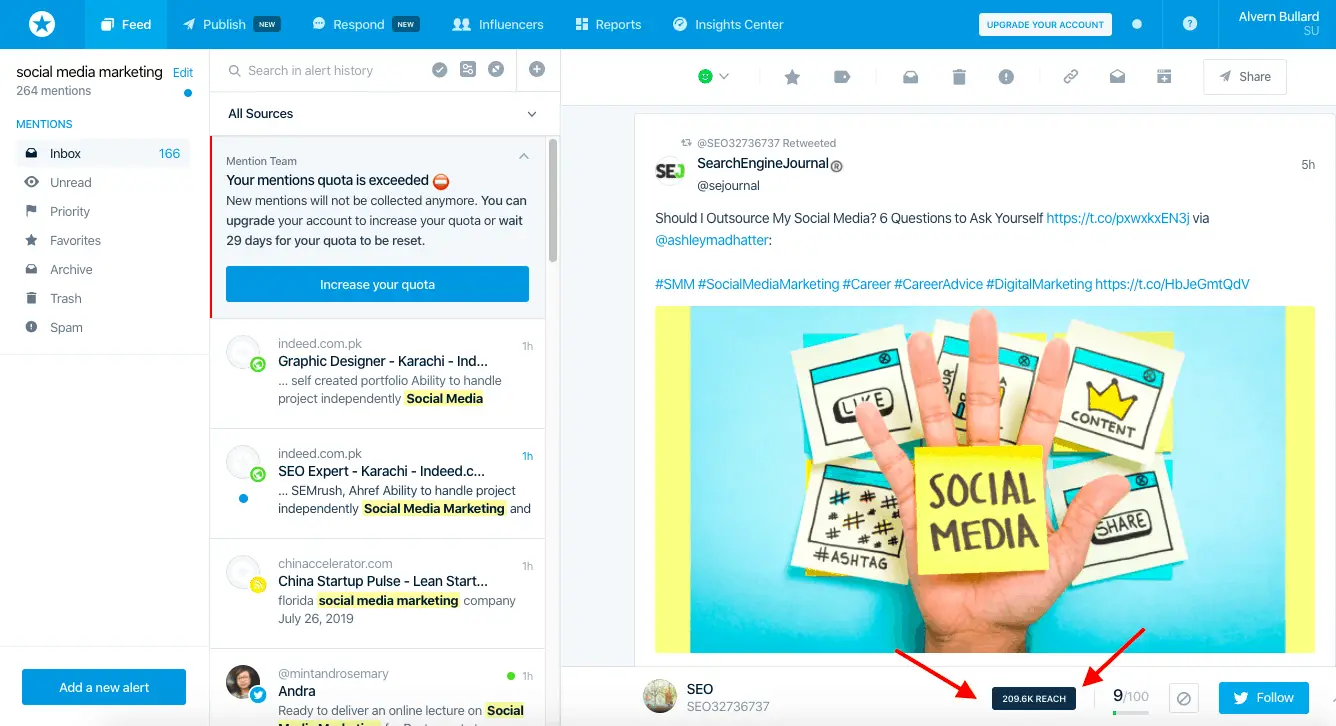 4. Nexalogy (Nexame.com)
This next tool is kind of mind blowing because it is so different from the other three tools mentioned above.
I have to admit Nexalogy is a bit glitchy and takes quite a long time to load the information but your patience will certainly pay off.
It comes with several visual maps and diagrams based on your Twitter profile and activity.
Here is an example of the interest map outlining key terms happening in conversations of the connections linked to my account.
5. TweepsMap
Things are starting to get even more exciting because TweepsMap gives even more visibility into your Twitter account.
You can pull free reports about your Twitter account with limited criteria as seen in the screenshot below.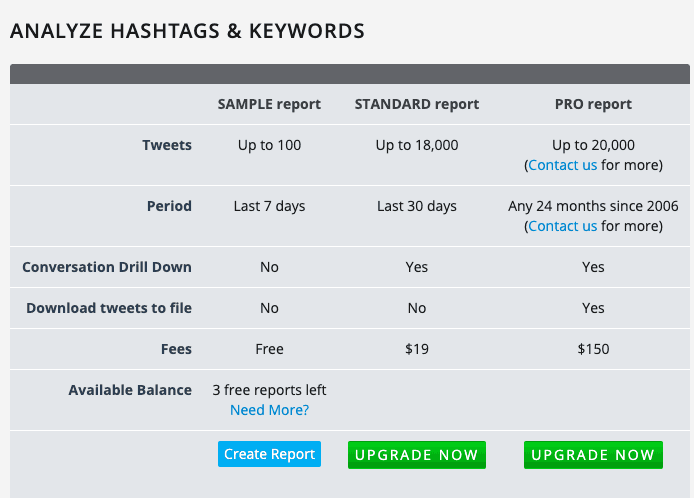 I decided to show you a simple example of how it works. So, I created a report looking at the success hashtag and here are my results.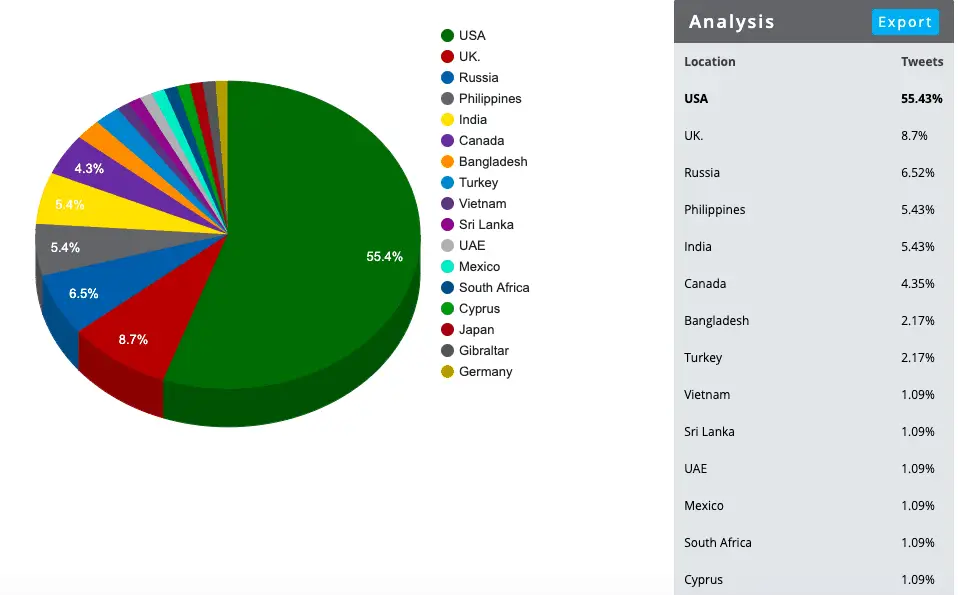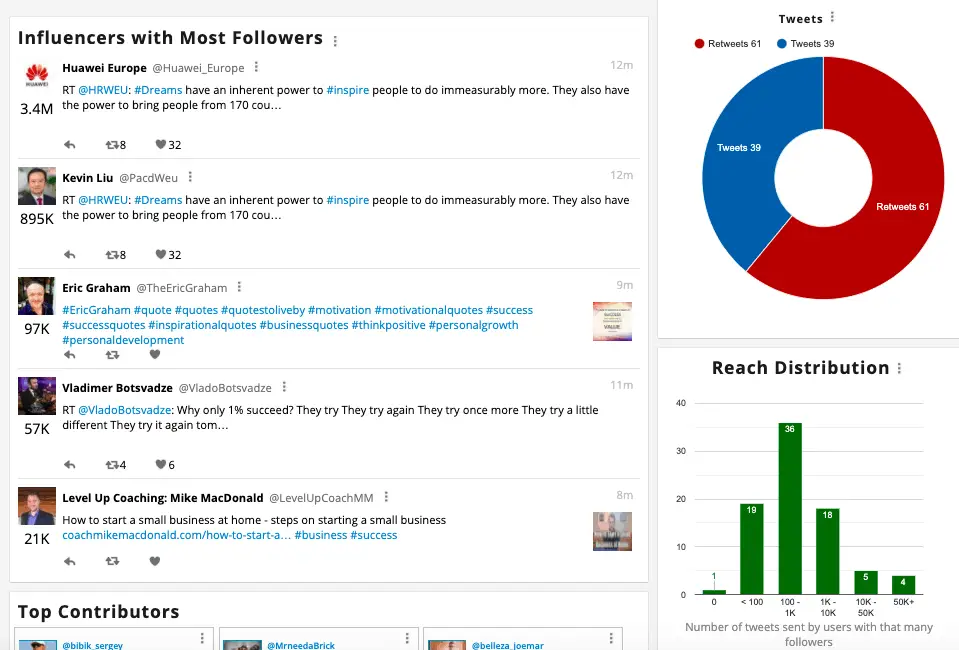 Sentiment
One of the key aspects that marketers look for when conducting a social media listening project is sentiment.
It simply means if the overall brand messaging is positive or negative based on the engagement or comments left on the posts.
Sentiment is super important and relates back to the overall brand message.
When you set up your brand emotion the sentiment is something that you decide long before you start posting on social media.
Do you want people to react positively or negatively to your messaging. It could be that your brand is neither positive or negative but neutral.
When collecting data on the sentiment of a competing brand many of the social listening tools have the ability to capture the sentiment as well.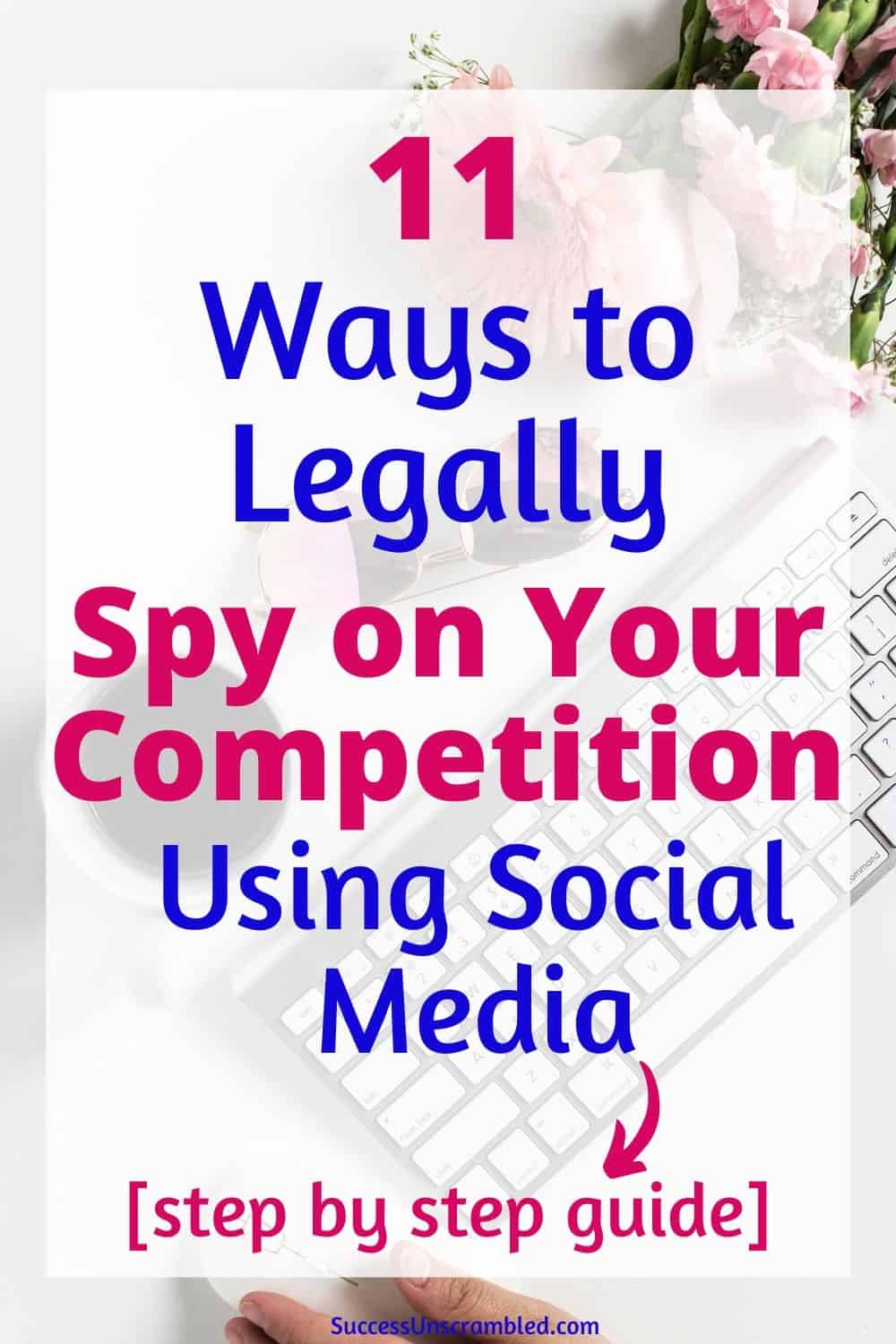 Summary
Woohoo!!! That was certainly a lot of information on social media listening which I hope you found super useful.
Let's do a quick recap of what was covered in this post.
What is social listening
Benefits of social listening
Which items can be listened to or monitored
Tools used to listen
Sentiment
Sometimes it is hard to keep up with everything that is happening around you but with these clever social tools it makes things a lot easier.
Of course, it would make a lot of sense to ensure that you conduct a social media audit of all your social profiles before doing social listening.
If you would like to outsource this task feel free to take a look at the social media services on offer here.
What has been your experience of social media listening to date?
Announcements
Remember to subscribe to the Success Unscrambled Podcast where you will be the first to hear what's happening in the entrepreneurial and digital marketing world.
Your positive review of this podcast is vital to keeping it alive and running for the next 12 – 24 months so please leave a positive review for us on iTunes, Spotify or any of your favourite podcast players.
If you are thinking of setting up social media profiles from scratch then carefully think about your audience before getting started.
Are they spending most of their time on Pinterest? If yes, then take a look at these free Pinterest resources that you can use.
Do you think that Facebook is where your audience spends more time? Grab this resource showing you how to set up a Facebook page.
It is possible that your clients are actually on LinkedIn. If that is the case you will find this LinkedIn profile resource super useful.
My focus continues to be helping creative female entrepreneurs to gain more visibility for their business.
Here at Success Unscrambled, we offer simplified marketing strategies so that they can spend more time with their loved ones.