Podcast: Play in new window | Download (Duration: 26:18 — 37.1MB) | Embed
Subscribe: Google Podcasts | Spotify | Amazon Music | Stitcher | Email | TuneIn | Deezer | RSS | More
It began as a mistake for me initially but for many small business owners comparing TubeBuddy vs VidIQ can be complex.
Using VidIQ started out as an accident for me in the beginning and I'll explain why later.
Publishing videos on YouTube looks like a very attractive opportunity for many people.
However, what several people don't realise is that there is more to the whole process than meets the eye.
Coming up with an idea for your YouTube channel and publishing new videos each week is only a small part of the work involved.
Getting views and retention on your videos are the two most important metrics if you want to be successful.
The truth is that becoming a rockstar YouTuber can be hard.
This is especially true if you have no idea what you are doing or how to increase retention.
In this post, you will learn the differences between TubeBuddy and VidIQ as well as why you will use one as opposed to the other.
Disclosure: Please note that this post may contain affiliate links which means that if you buy one of my recommended products I get paid a commission for sharing the link at no additional cost to you.  I only recommend products that I have tried myself and have experienced success.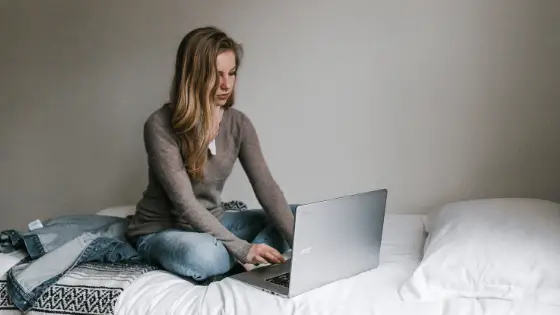 YouTube Video Elements
As a casual viewer of YouTube videos, it is difficult to imagine that there are many elements that contribute to ranking those videos.
You see, YouTube is part of Google so as a result there are many ranking factors that allow your videos to get to page one of the results.
Some of these important factors include:
Channel optimisation
Video description and title
Thumbnail of the video
Tags
Length of video
Audience Retention
Number of views
Playlists and End screens
Hashtags
Just when you thought that growing an audience on YouTube is easy across all niches it is not that simple.
Creators in the music, beauty and cooking niche seem to have it easier compared to other niches.
Sometimes people just get lucky or they already have an audience on another platform.
So, if you are thinking of starting a YouTube channel soon remember that there is more to the setup and weekly publishing than meets the eye.
Important Video Factors
In order to help you to understand how TubeBuddy and VidIQ can save you hours of hard work and frustration.
Let me explain in some detail the key factors that make a YouTube channel and video successful.
1. Channel Optimisation
One of the key elements to get right when starting your YouTube channel or making it successful is by optimising your channel.
This optimisation process involves getting your key message, channel graphics and keywords right.
When creating your channel art follow the instructions listed in this video to ensure that it fits on all devices. He even supplies a template.
Setup your links to other social media channels and finally correctly setup all other elements in the channel settings.
Go to YouTube creator studio and on the bottom left of the channel dashboard you will see settings.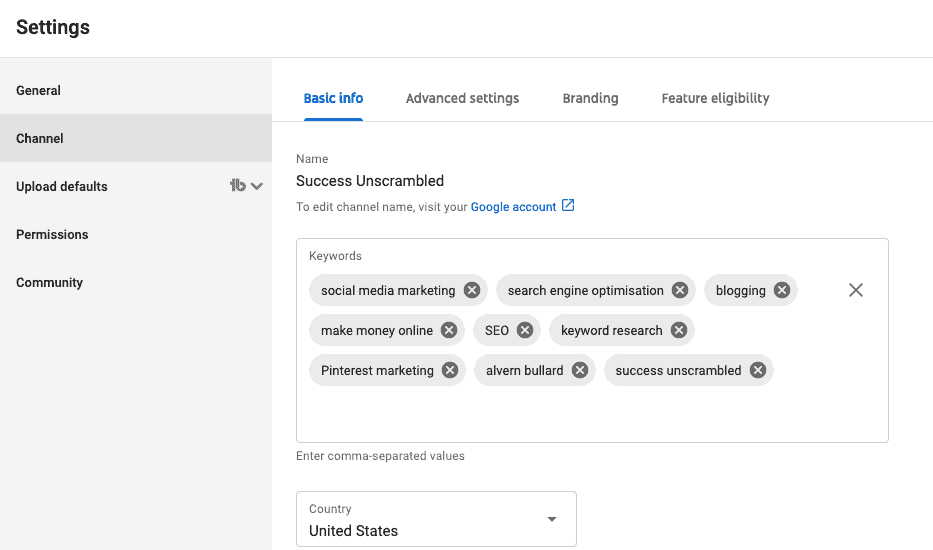 As you can see in the screenshot above it is advisable that you complete some basic information about your channel.
Head over to advanced settings and verify your YouTube channel using your Adwords or Analytics account which you will have already.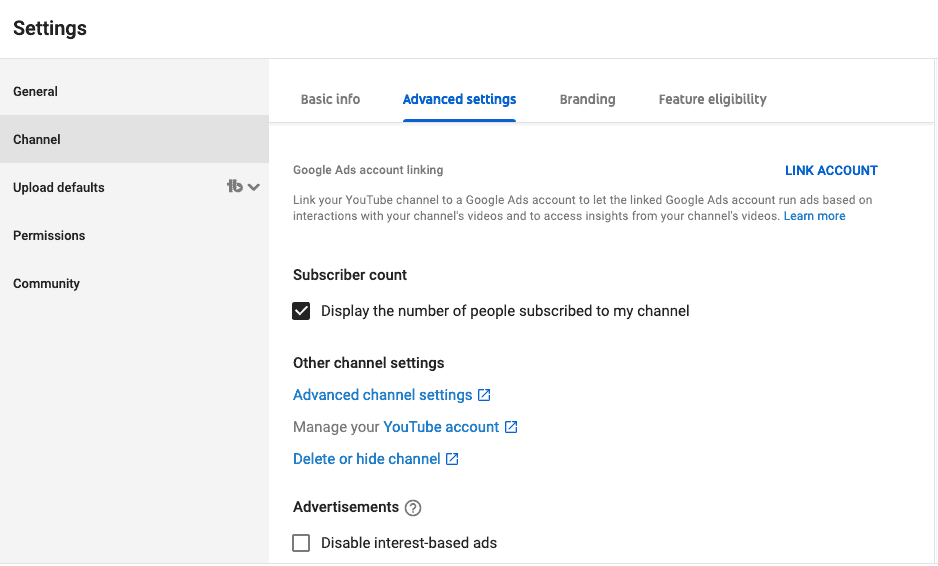 These are just some initial pointers to help you get your channel started in the right way.
2. Video Description and Title
Did you know that you can write up to 5,000 characters in the description sections of a video?
That is equal to between 500 and 1,000 words of text. It means that you really need to do your homework before creating descriptions.
One cool trick is to use your YouTube channel upload defaults to store some of the description text that you want appearing on every video.
Here is an example of mine below.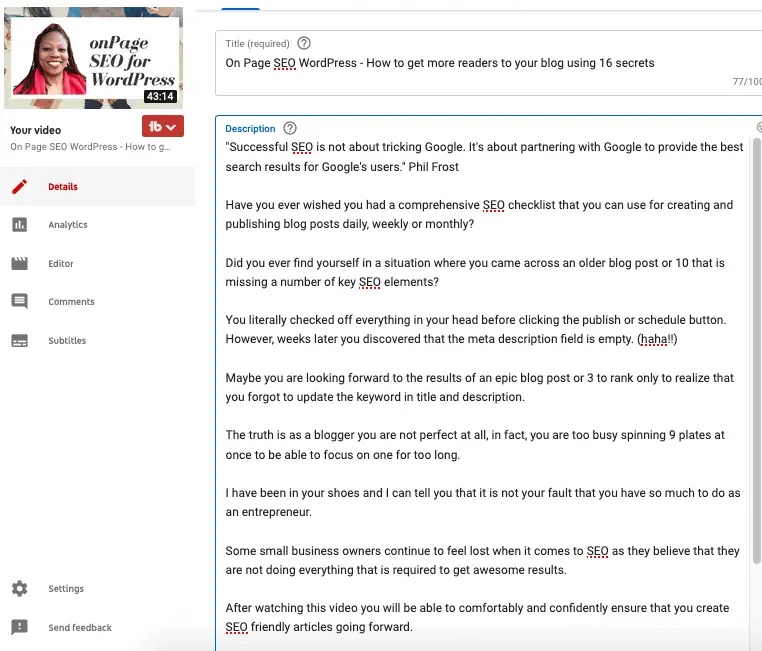 One important thing to consider for the description is if the text is search engine optimised.
Of course, the title is the most important element of the video and I have to tell you that it takes a lot of research to get the best low competition title.
Your ideal title should be 60 characters in length.
3. Thumbnail of the Video
This may sound crazy but the thumbnail image of your YouTube video is probably the single most important element to get the click.
To get an idea of the best thumbnail design for your video take a look at the popular videos when you go to YouTube home page.
Here is a screenshot of what I see in terms of popular videos.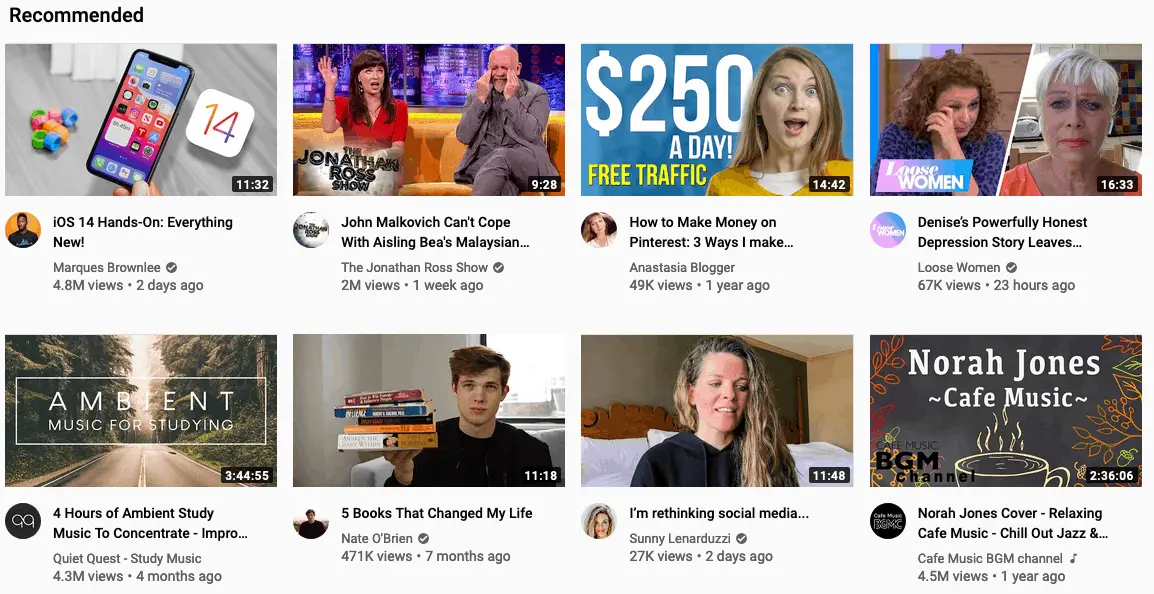 The best advice I have for you in this area is to ask yourself which one of these videos catches your eye on first glance.
Which one would you click on and why?
4. Video Tags
For many years I could not understand how YouTubers figured out which tags are the best for their videos.
In case you did not know it tags is a totally separate section of a YouTube video that tells YouTube what topic your video is about.
Sometimes I wonder why a video requires so much text associated with it.
The best reason I can give you is that the search engine bots are still unable to decipher videos.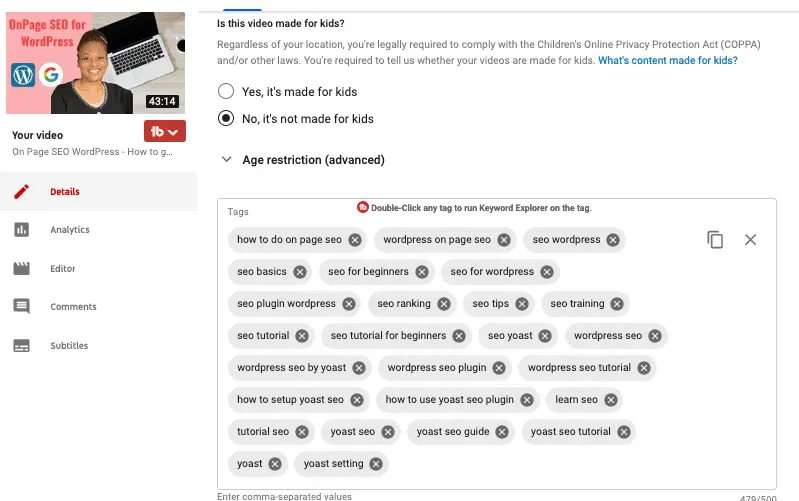 In the screenshot above, you can see an example of tags for one of my YouTube video.
I will explain later on how I came up with that list.
5. Length of Video
Believe it or not the length of your videos on YouTube have a profound effect on where you rank in the search results.
In other words, depending on the topic, your first 5 seconds of footage plus the length of other competing videos determines your ranking.
Your videos cannot be too short or too long, you simply need to take a look at what the competition is doing.
6. Audience Retention
This means your ability to keep your audience watching each video until the end.
I can tell you for a fact that it is pretty difficult to get this right every single time.
However, with a bit of trial and error you will find your groove over time.
The trick is to capture their attention in the first 3-5 seconds of the video so that they will continue until the end.
Dig into that pain so that they will want to stay until the problem is solved.
7. Number of Views
As the name suggests, it is the total number of views on each YouTube video. There is also an element of channel views in your YouTube statistics.
Obviously the more views your videos receive the better it will be for your channel.
A clever trick to improve your views is to create a series of 5 videos so that your viewer will need to watch all 5 in the series.
8. Playlists and End Screens
While this may sound very trivial when it comes to ranking by adding end screens to your videos you improve your channel retention.
It means that viewers can continue their experience by watching a related video from your channel or playlist.
Also, by categorising your videos using topics or subtopics you also improve your retention rates on your channel.
9. Hashtags
While hashtags are not yet that popular on YouTube a number of influencers are starting to include them in their descriptions.
Now, this is not a crazy amount of hashtags like 20+ as you often see on Instagram.
I am only talking about 2-4 hashtags at the most.
TubeBuddy vs VidIQ
Now that you have a better idea of what you need to do to get your videos to rank on YouTube let's look at how the software helps.
Unfortunately both solutions are not free but they do require a small investment for you to use them effectively.
VidIQ
While both applications appear to offer the same features there are some things that make VidIQ better in some areas compared to TubeBuddy.
For example, when it comes to channel optimisation especially as it related to keywords VidIQ is the best one to use.
There is a feature called SEO inside of VidIQ that allows you to do a search for a broad list of keywords that have low competition in your niche.
You can sign up for a free trial or pay $10 for one month to do all your research if you are on a tight budget.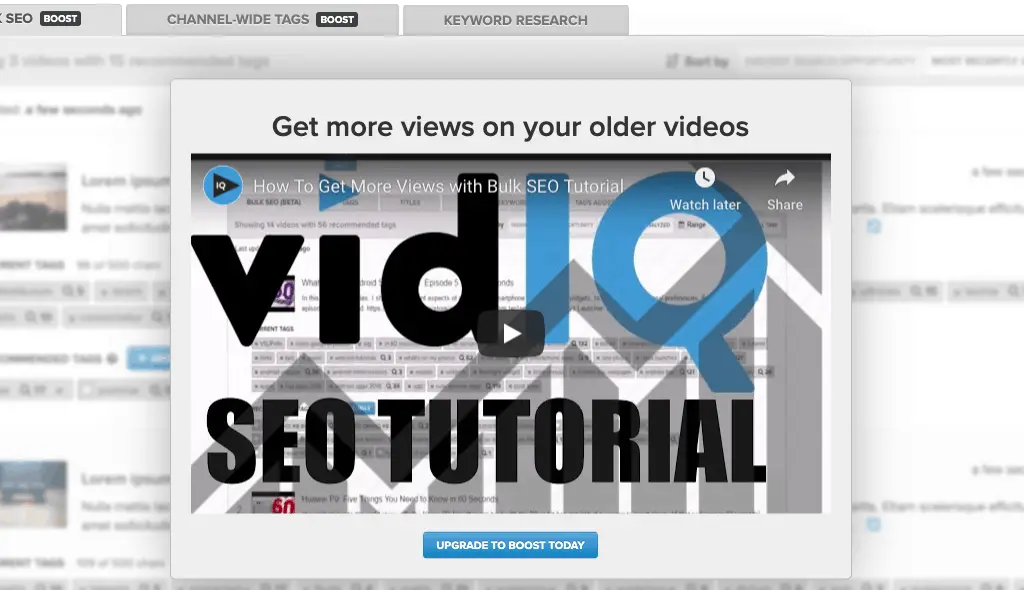 You can also use the free version to check the optimisation on individual videos.
All the other premium features that VidIQ have on offer require you to be on their Boost plan which means paying $49 a month.
These premium features include:
1-Click syndication to Facebook
Running description campaigns for your videos
Seeing what else your subscribers are watching and when they are online
Spying on competing channels
Many of these you will not need as a beginner to YouTube unless your videos go viral at the start.
Other Free Cool VidIQ Features
Some other interesting features that are available with VidIQ fall into two broad categories.
Channel specific
Video focused
1. Channel specific
The features that are available to help you gather data about a specific channel include the following:
Trending
Stats
Top keywords
Competitors
Trend alerts
Most viewed
Channel audits
Achievements
As a member you also get access to the VidIQ academy.
To give you a flavour of what that looks like take a look at the screenshots below for the top 3 channel-specific features.
Here is what the channel statistics look like for a specific channel over a 3-month period.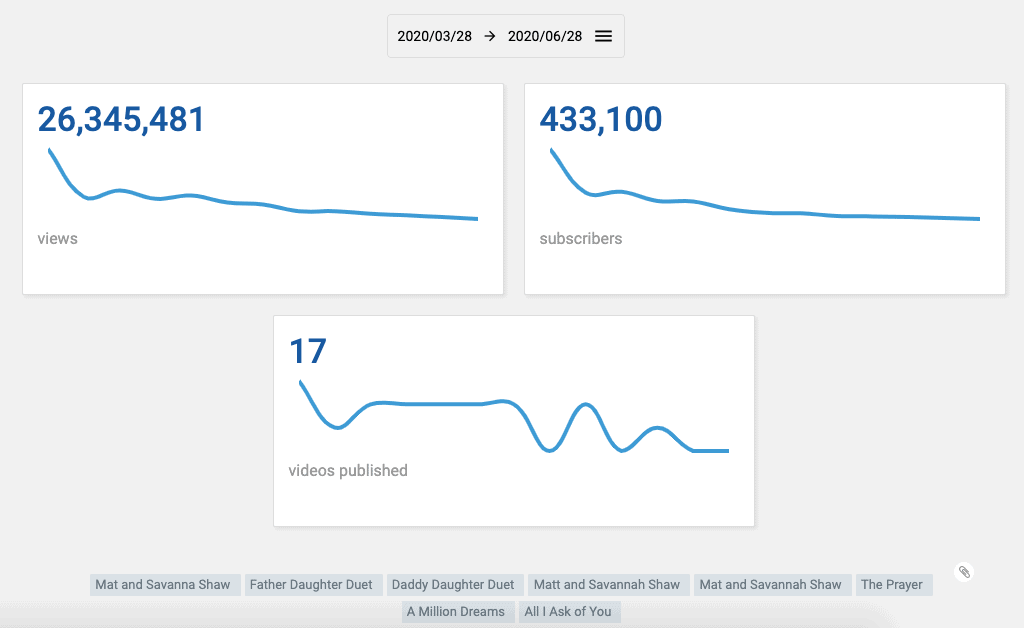 Check out the top videos for that channel where VidIQ reveals a breakdown of the total views per hour.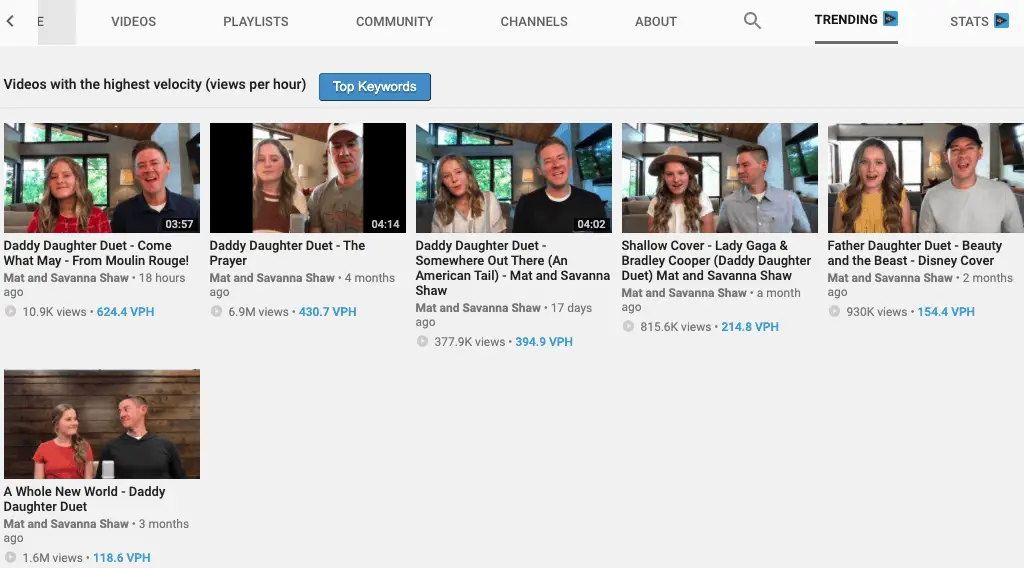 Finally take a look at the top keywords for this specific channel.

As I mentioned previously VidIQ also offers statistics for a specific video to help you optimise it as much as possible.
2. Video Focused Statistics
The data that is collected by VidIQ for a video can be an eye-opener so that you can tweak each video to get it to rank on YouTube.
It is cleverly broken down into various segments as follows:
Overview
Social
SEO
Compare views in the first 30 days
Video optimisation checklist
Channel
Video tags
Let's quickly look at each one in turn to help you understand what is covered in each segment.
Overview + Social
The overview gives you a standard VidIQ score, views per hour as well as the total views on that video.
On the other hand, the social shows a breakdown of engagement rate, YouTube likes, dislikes, Reddit engagement, Facebook + Instagram followers and Facebook likes.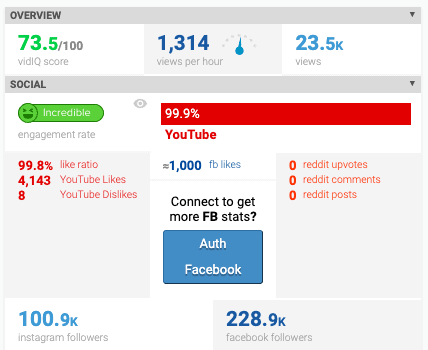 SEO
The SEO then gives you some additional information that you will not find anywhere else.
These include VidIQ SEO score, number of videos in the up next section, description word count, description link count and external links to that specific video.

Video optimisation + Channel
In the video optimisation segment you will find interesting data which is similar to the ones offered by TubeBuddy.
They check to ensure that your video contains a sufficiently long title, tags, description, cards, end screens, shared on Facebook and Twitter.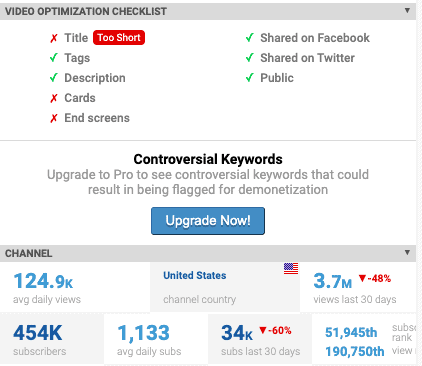 Where as the channel segment include elements that are for the overall channel.
These are channel country, average daily views, daily subscribers, subscribers in the last 30 days, views in the last 30 days, total subscribers, subscriber rank and view rank.
Video + Channel Tags
As the name suggests these show you what tags are on the video (including their rank) as well as on the channel.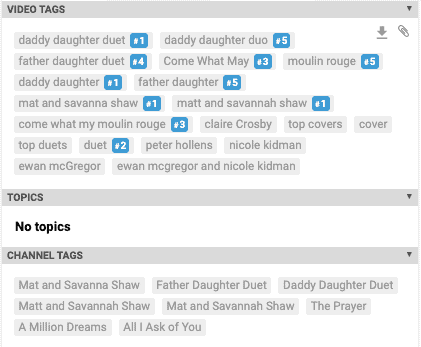 YouTube Search – VidIQ
One unique feature that is also offered by VidIQ is the ability to do a YouTube search and see in great detail what comes up in the results.
For example, I did a search about how to set up Pinterest rich pins and here is the kind of detail that you can expect.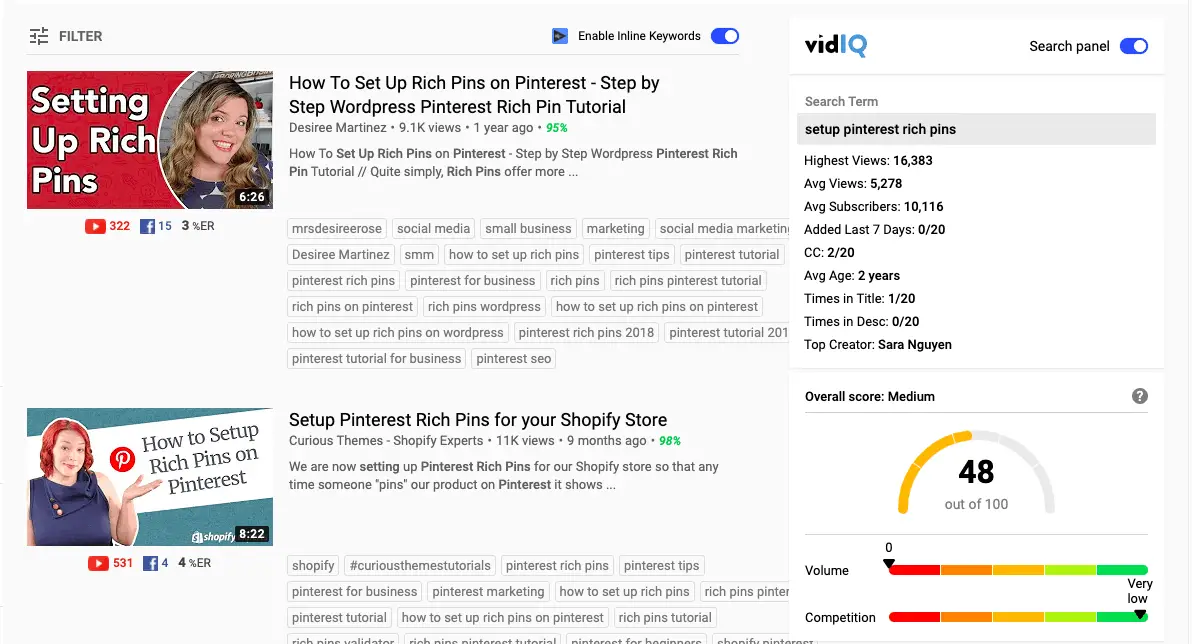 In the results, you can see the titles used by the YouTubers as well as their tags, thumbnails and even their social shares.
I am using the free VidIQ subscription to access this information.
TubeBuddy
I am not particularly biased but I believe that it is important to start on a small budget and working your way through the YouTube maze.
In terms of the features for beginners TubeBuddy actually has a great set of tools.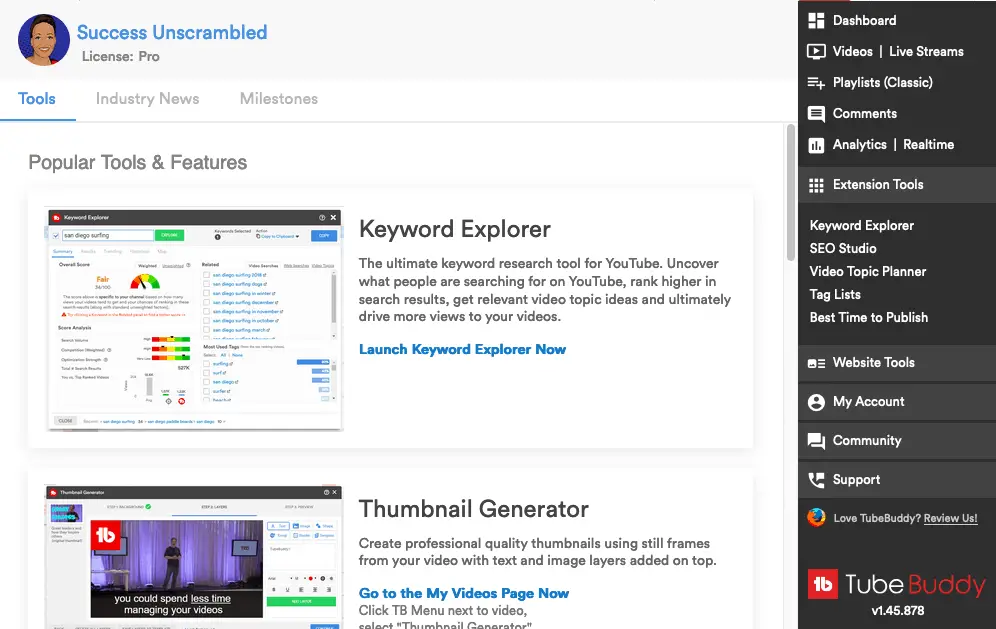 Let's spend time looking at these amazing features and how you can benefit you.
Keyword Explorer
This feature is very similar to a keyword tool but more powerful and specific for YouTube.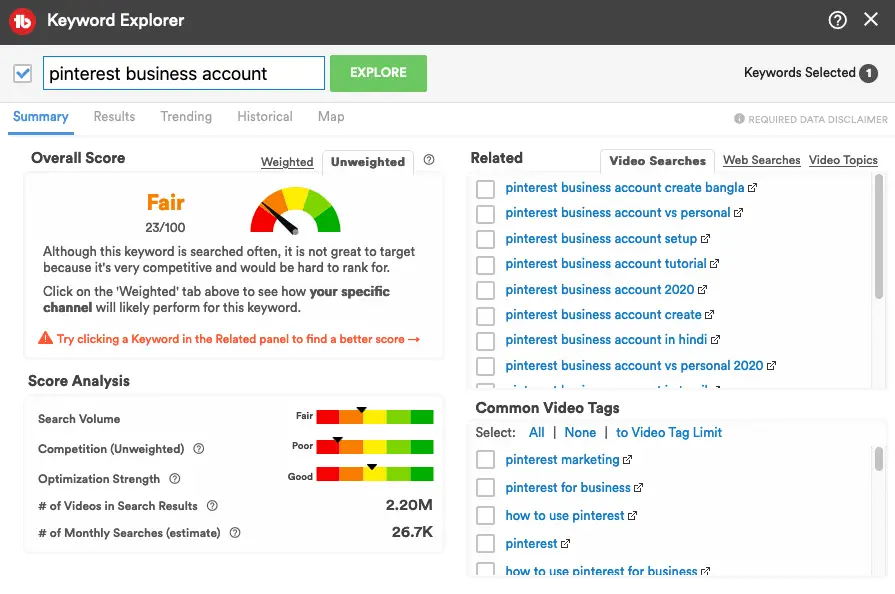 SEO Studio
The SEO Studio is up next that takes you step by step through the process of choosing a title, description, tags and thumbnail.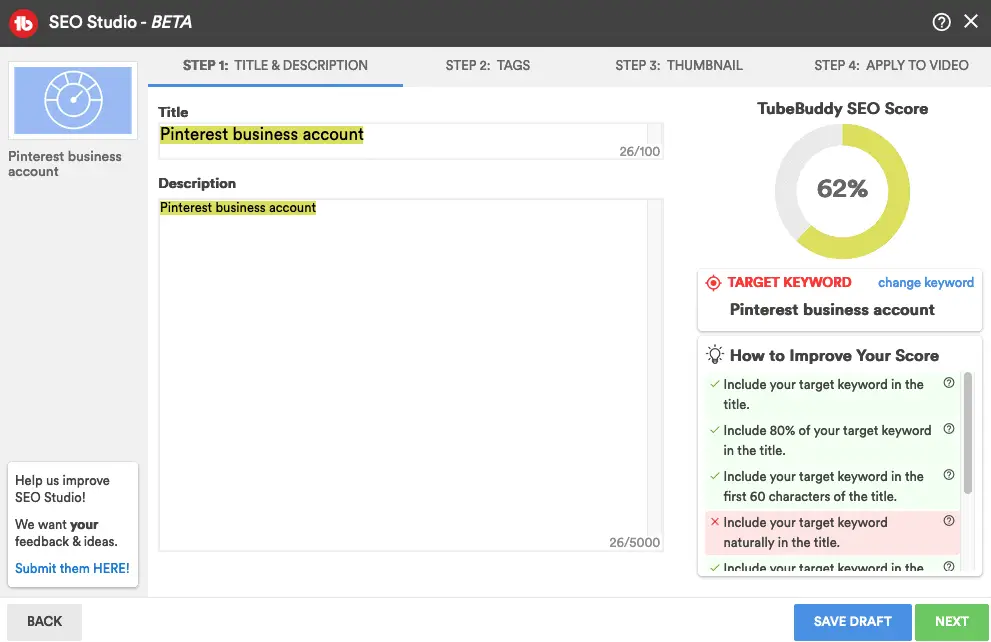 Video Topic Planner
You will like the Video Topic Planner because it allows you to do your keyword research and add them to the topic planner.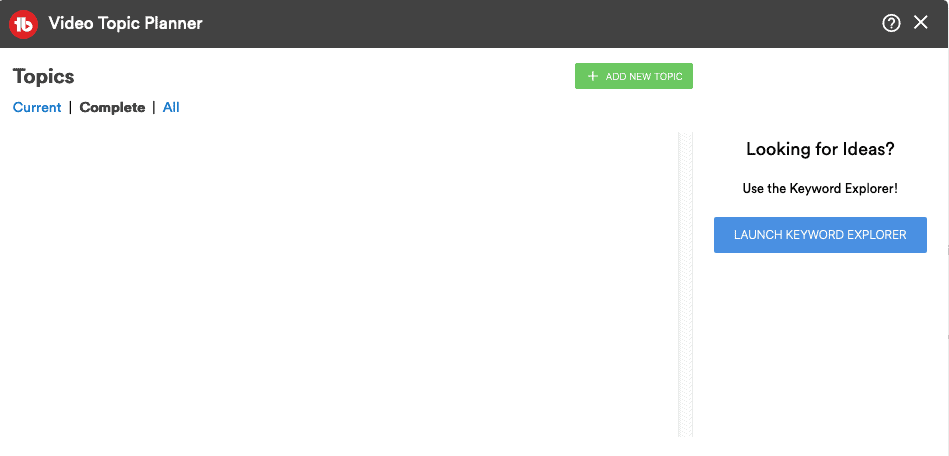 Thumbnail Generator
Another handy feature is the thumbnail generator that allows you to generate great images for your videos on the fly.
It even has the ability to save templates that you can use for all of your videos saving you time.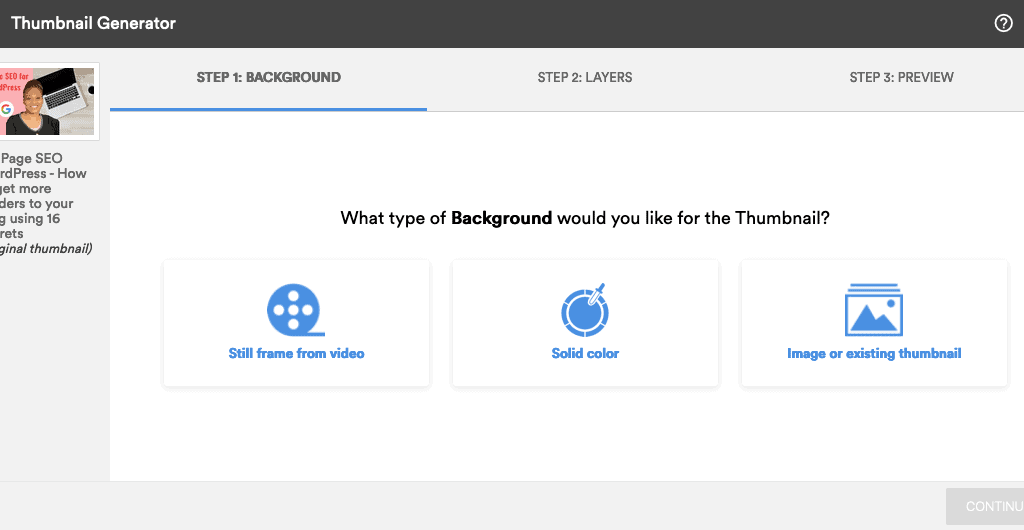 Bulk Processing
One of the best features of TubeBuddy is their bulk processing tool which is ideal for updating all videos or a handful of videos.
Say for example you are doing a rebrand or even need to include a new tag or keyword across multiple videos.
Instead of doing it one by one you can using the bulk processor to save you a lot of time.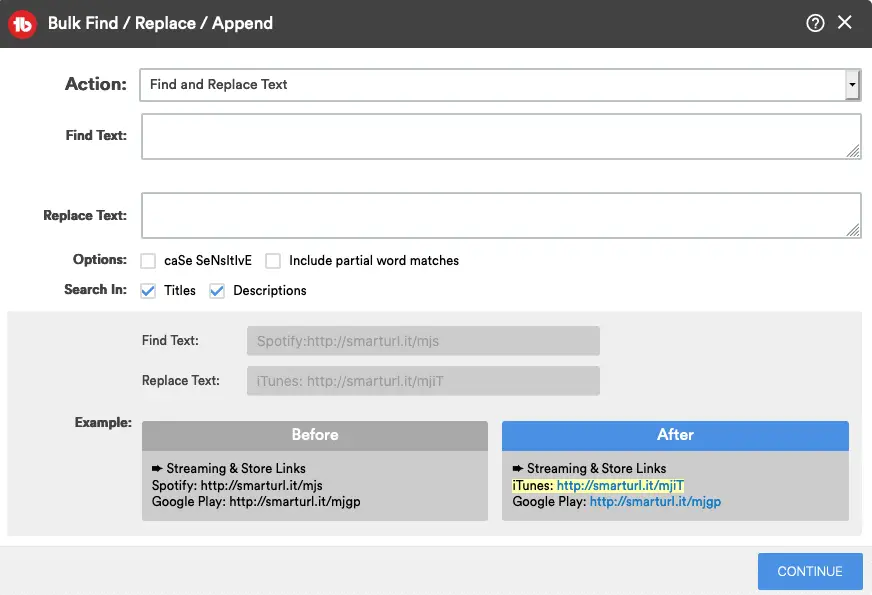 Best Practice Checks
By now you are probably thinking that there are way too many things to check when it comes to uploading a video to YouTube.
The good news is that you don't have to remember it all thanks to the best practice checks offered by TubeBuddy.
Every time you upload a video this feature reminds you what you need to include and checks it off after you include it.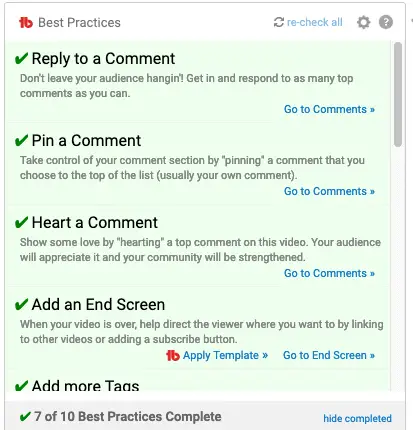 You can essentially ditch the manual checklist and depend on TubeBuddy to do the checks on your behalf.
YouTube Search – TubeBuddy
In a similar fashion to VidIQ, you can do a YouTube search with TubeBuddy switched on and here are the results that you can expect.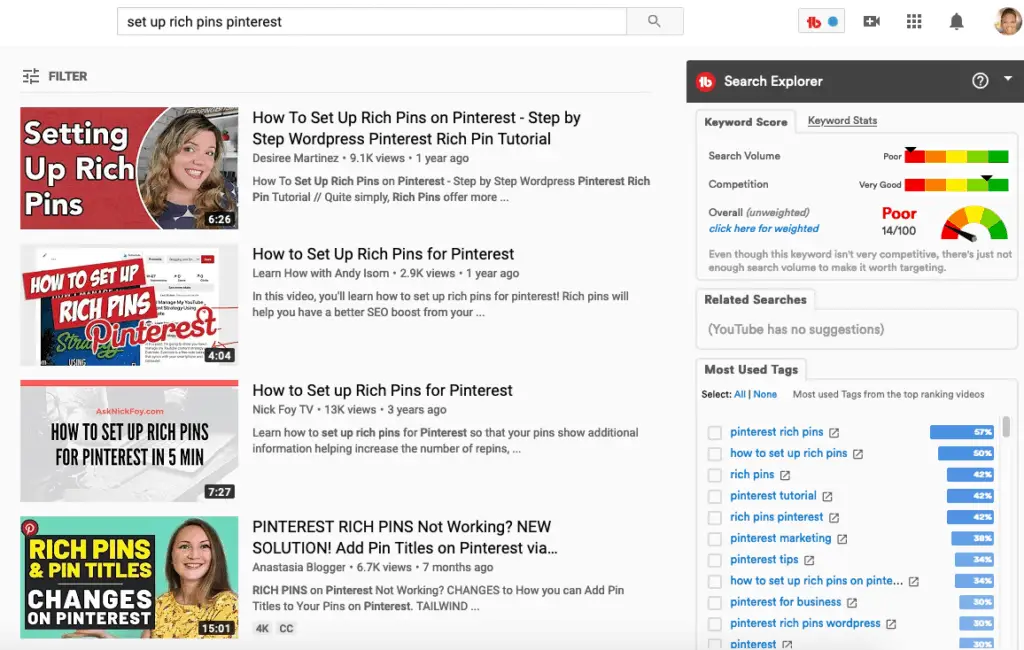 TubeBuddy Bonuses
To sweeten the deal TubeBuddy also offers a large number of perks for their paid members.
These include free membership to Tuber Tools, Audio Hero, YouTube Starter Kit and even 25% off epidemic sound.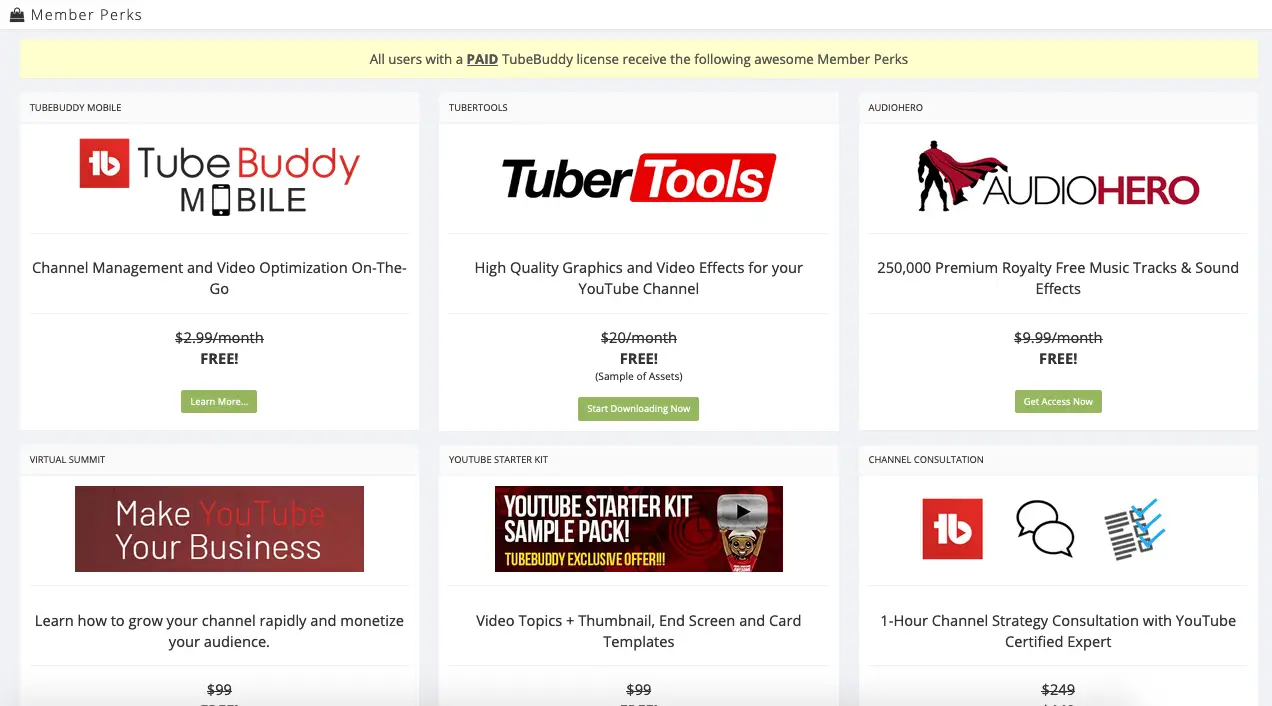 There are actually 12 perks in total for paid members of this tool.
So, the story behind why I accidentally came to know about VidIQ is sometime during the last 10 years I heard about it.
Back then, I started a free trial and I was blown away by what this tool offered to YouTubers but I was not yet ready to create videos at the time.
It was only after using TubeBuddy and Morning Fame that I fully understood how YouTubers came up with tags for their videos.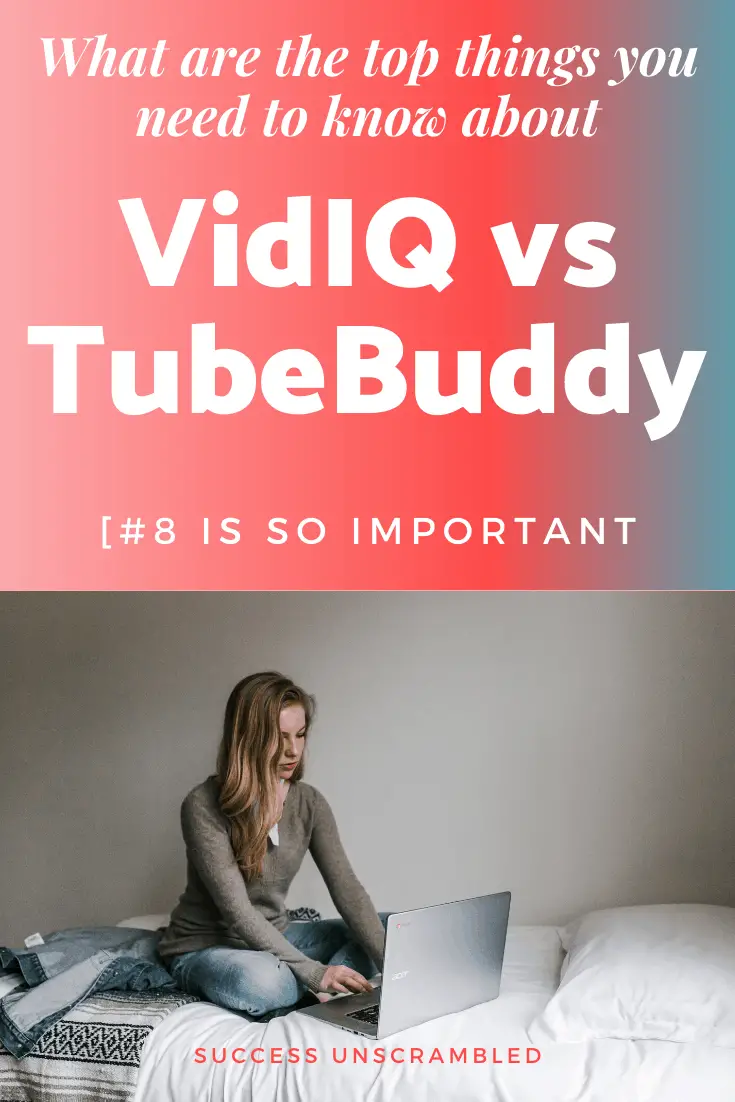 Summary
Just when you thought that starting a YouTube channel would be scary you realise that there are lots of help available to guide you along the way.
Did I mention that you can get started with a paid TubeBuddy plan for as low as $4.50 a month if you only have one channel?
Of course, you now understand why I am so biased towards TubeBuddy when compared with the $49 a month plan from VidIQ.
Since I have started using the tools offered by TubeBuddy my YouTube channel has actually started to grow. Woohoo!!
Yes, it does mean that I now need to post consistently every week in order to get to 1,000 subscribers.
So, if you ever wanted to start a YouTube channel but you were not sure where to start this post plus a subscription to TubeBuddy can get you started.
Over to you, have you started a YouTube channel and used any of these tools? What has been your results?
Announcements
Remember to subscribe to the Success Unscrambled Podcast where you will be the first to hear what's happening in the entrepreneurial and digital marketing world.
Your positive review of this podcast is vital to keeping it alive and running for the next 12 – 24 months so please leave a positive review for us on iTunes, Spotify or any of your favourite podcast players.
If you already have a YouTube channel but you are trying to find a way to add captions. Check out this resource showing you how to easily add subtitles to videos
Are you trying to save time on your weekly marketing tasks? Then you will enjoy these enviable chrome extensions for marketers.
Do you need help implementing your 90-day marketing plan? Enrol in my 20-minute social promos program to get better at marketing daily.
My focus continues to be helping solopreneurs, giving them simplified marketing strategies so that they can gain more visibility.
As well as get back to their zone of genius and spend more time with their loved ones.