Podcast: Play in new window | Download (Duration: 21:01 — 29.2MB) | Embed
Subscribe: Google Podcasts | Spotify | Amazon Music | Stitcher | Email | TuneIn | Deezer | RSS | More
One of the best ways to increase the value of Twitter for your business is by using clever Twitter engagement tips.
If you have been using social media for a while you may have noticed that very few business owners get excited about Twitter.
The reason for this is because either they have created a profile because they were told that they needed to be on there but never touched it.
Another reason is because they do not understand the value that Twitter presents for their business.
If you fall into any of these categories then you are like me many years ago when I had no clue about social media.
In fact, many years ago I saw social media as this thing that will hopefully go away because it seemed so fake.
Fast forward to today and I finally got to understand the different personalities of each platform as well as how to use it.
The truth is that while having thousands of followers on social media has its place the real value for any business is a whole lot bigger.
In this post, you will learn a number of clever tips to help you understand how and why you should be using Twitter for your business.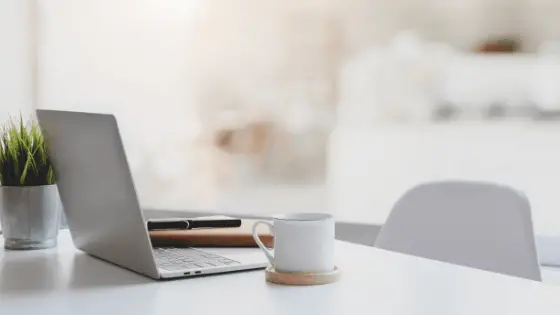 Setting up your Twitter Profile for Success
I have to admit that Twitter is probably one of the easiest social media platforms to set up from scratch.
The biggest hurdle will be choosing your Twitter username or handle.
You will have the ability to customise your profile based on the objective or end goal.
In other words, why did you join Twitter? Is it to grow your followers, increase your visibility, build your authority or generate leads?
It is going to be very difficult to decide from the onset but for me, I wanted to increase the visibility of my podcast in the first instance.
Last year, I wanted to grow my visibility and authority. See screenshot below.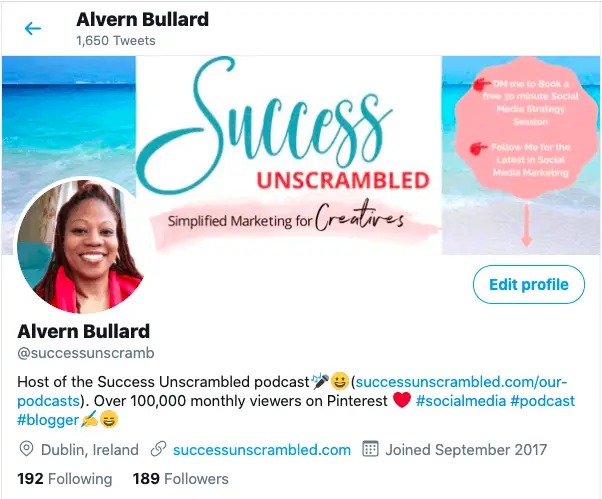 In my latest campaign, I will be driving awareness of my group coaching program for social media. It is called 20 Minute Social and you can sign up here.
My profile will change to reflect this new campaign shortly.
What is the Real Deal with Twitter
There are so many reasons why people use Twitter at the moment.
One good reason is to get the latest news on what's happening locally, nationally and internationally in real time.
Think of it like a place to tune your very own news channel which brings me to a personal story.
Over 10 years ago I made a decision to go on a media fast simply because I felt impressed to take a break.
At the time I also believed that my mind was being bombarded with so many forms of media.
So, I got rid of TV, movies, newspapers and everything media-related for one month.
It then continued for over 10 years which fascinates me as I didn't believe that I could do it.
The funny bit is that when I did that there were people in my life who would let me know what's happening in the outside world.
People like my mother would call me to fill me in on what she considered the 'important' bits.
I want you to think of Twitter like my mother. You can follow the people who fill your feed with the important news and that's it.
The Value of Twitter to a Small Business
You are probably thinking, apart from the latest news is there any other value to a small business?
Well, yes there is and that value lies in the following areas:
Build a List of Who's Who
Generate leads
Create meaningful relationships
Grow awareness
Campaign promotion
Let's take a look at each of these one by one so that you will be able to implement the ones you want in your business today.
1. Build a List of Who's Who
One of the things I did in my career in the past is business development for many years.
It started with using an Excel sheet with company names and I had to go and find the key contacts in each of these companies and reach out to them.
However, with the invention of social media this process became very advanced because of this thing called Twitter lists.
On your profile, you have the ability to create these lists of people who you would like to keep an eye on or build a relationship with in the future.
Think of it like a wish list that you are not sure why you want these people in your life just yet.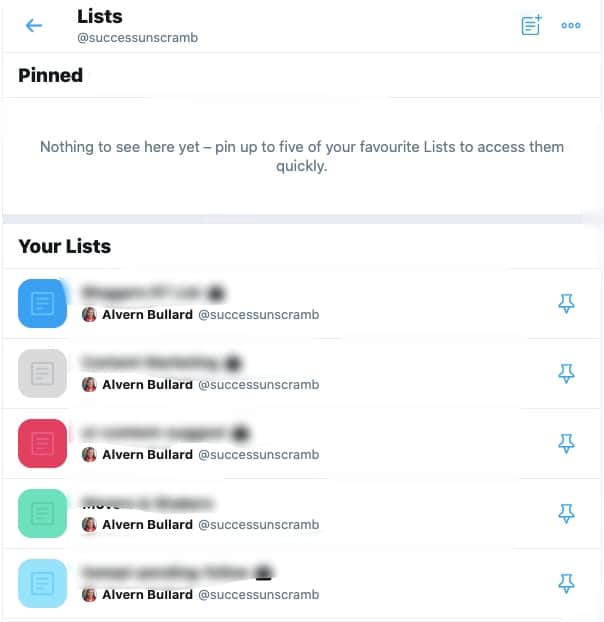 As you can see in the image above I have created five (5) lists so far of very special people.
In one of my lists, I have added 57 people and I decided to make that list private.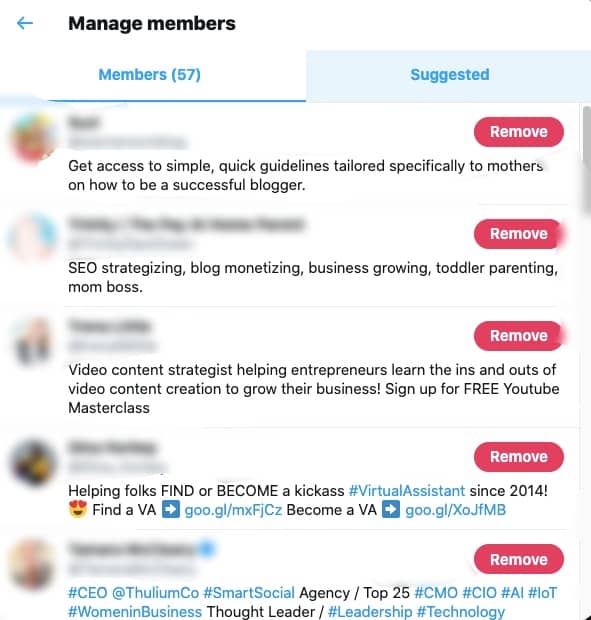 Now, I have to let you know that when you add people to a list they get notified. There's no need to freak out. Lol!!
Twitter will even give you a list of people similar to the ones you added to your list. See the 'suggested' tab in the image above.
I will tell you the value of this list later in this post.
2. Generate Leads
The one advantage of Twitter is that you have the ability to send direct messages to potential clients or collaborators.
You can also just promote links to a landing page to grow an email list.
I will be using it to generate leads shortly but in the past I have used it for different reasons.
Did you know that you can also run paid campaigns for Twitter via Quuu Promote?
There is also the option to do paid promotions directly on the Twitter platform using promoted tweets to amplify your message.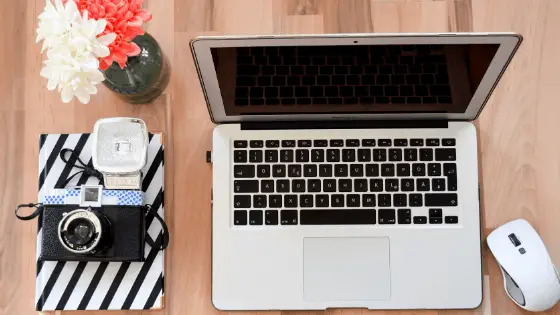 3. Create Meaningful Relationships
One of my favourite things to do on Twitter is creating meaningful relationships.
I know you are thinking that this sounds super scary but bear with me as I explain a real life example.
Last autumn, I wanted to do a collaboration post with the movers and shakers in the content marketing niche.
The first thing I did is created a list of potential people and place them inside a Twitter list.
Then I crafted an outreach message explaining why I was contacting them.
As a result, I created 15+ new business relationships that never existed before I came up with the idea.
This is a module I will be covering in great detail in my upcoming small group coaching around social media, you can join here.
4. Grow Awareness
This one is a given and it involves you simply promoting your content on the platform 24/7.
My favourite tool for accomplishing this task is Missinglettr which is very clever at what it can do.
I like to see it as creating a baseline of content 365 days a year for every single blog post.
For example, 6 months from now I know exactly what I will be publishing on Twitter. Check out the screenshot below to see for yourself.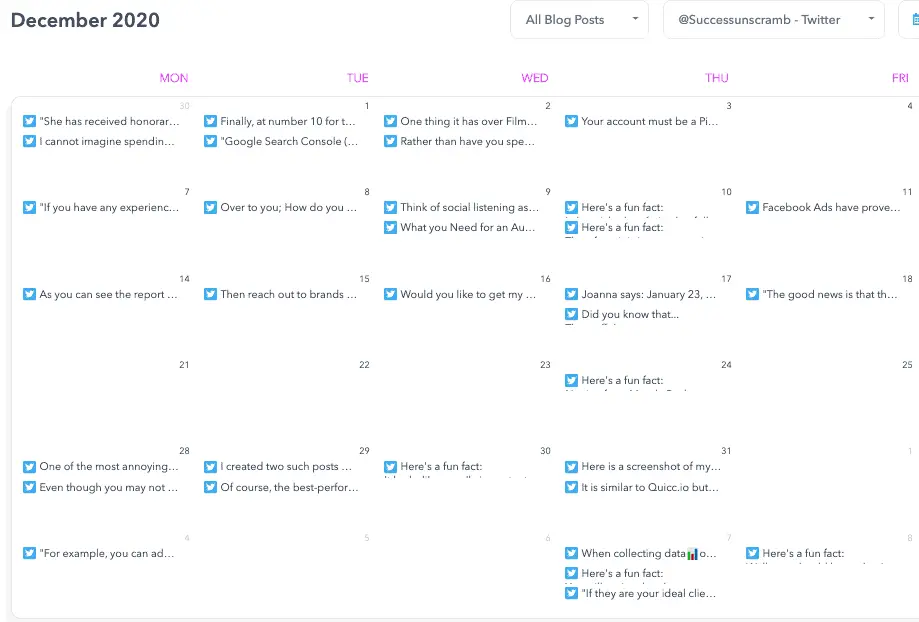 Take a look at my Missinglettr review here and get 50% off your first 3 months as well.
5. Campaign Promotion
I did mention this earlier in this post but another great way to use Twitter is by promoting your upcoming product or course launch.
In order to get your content to be seen by as many people as possible on Twitter is by using the correct hashtags and publishing 5-22 times a day.
At first glance, publishing content 22 times a day on one platform may sound crazy.
However, when you consider the speed at which things move on Twitter it is ridiculously fast.
There is a feature on Twitter called Automated Ads that cost $99.00 a month that gives you additional reach of 30,000 people.
You do have the option to manually create your ads and there isn't a minimum ad spend.
I have to say that the audience targeting on Twitter is not as sophisticated as the one on Facebook but it does the job.
Try spending $5 a week to see what kind of return you will get on that investment.
How to Get 207% More Profile Views
One of the keys to having a Twitter profile is getting more people to stop by and take a look or grow brand awareness.
Earlier this year and managed to do just that by increasing my profile views by 207%.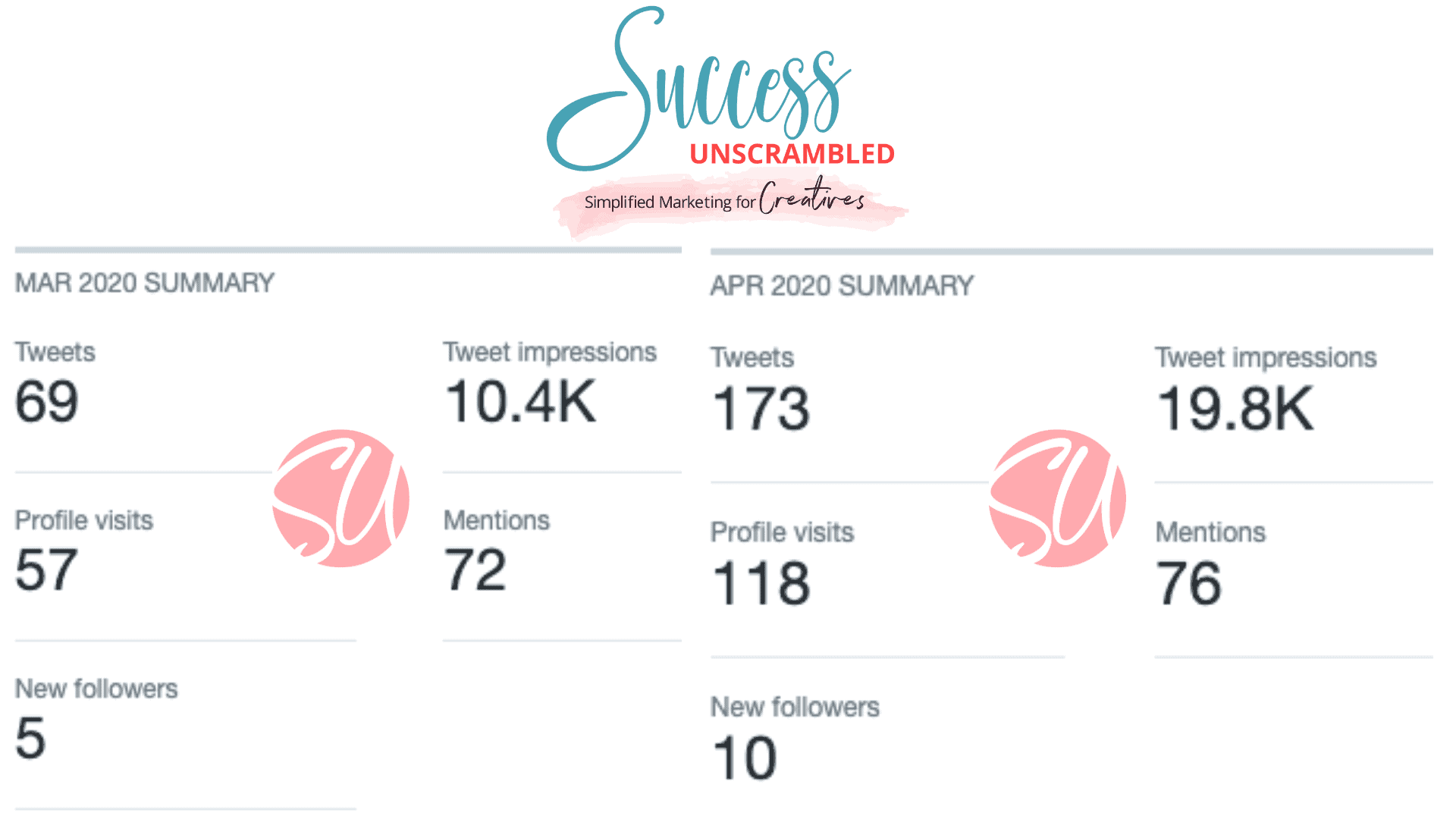 As you can see I had only 57 profile visits in March and in April that shot up to 118.
Think of it as 118 people visiting a specific landing page on your website or blog.
I have to tell you that I did this by simply engaging with other people's content.
In case you are wondering how that is even possible then check out my top 5 tweets for April.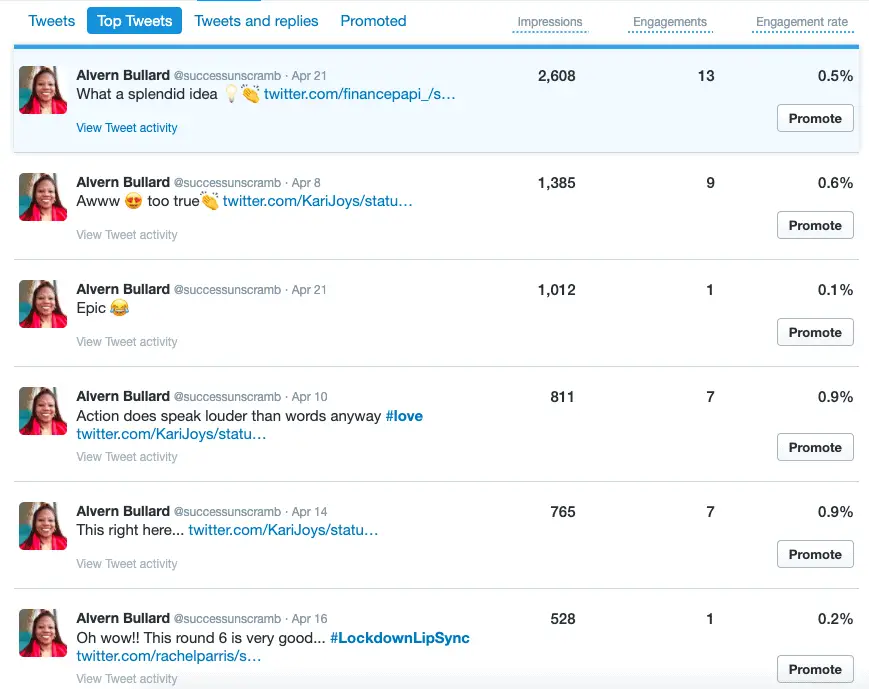 Can you guess what happened with the number 1 tweet for April? Let's take a look in more detail.

In case you are thinking that you need to create more content in order to get more people to see your profile that's not the case.
All you need to do is engage with other people's content on the platform by retweeting with a fitting comment.
How to Improve Your Engagement with a Single Post
The final piece of advice I can give you is to get the most out of every single post by doing this one thing.
One of the ways to build authority on the Twitter platform is by publishing other people's content.
It would appear very self-centred of you if every time you publish a piece of content is something from your blog or business.
In fact, you will be admired more if you spend time once a week featuring content from someone else in your niche.
I am not referring to retweeting I am talking about adding it to your queue in Buffer.
You will gain a lot more reach if when you publish the content if you remember to include this one thing.
It will be important to add the Twitter handle of the creator and anyone else mentioned in the article.
Below is an example where I added the Twitter handle of people mentioned in the article.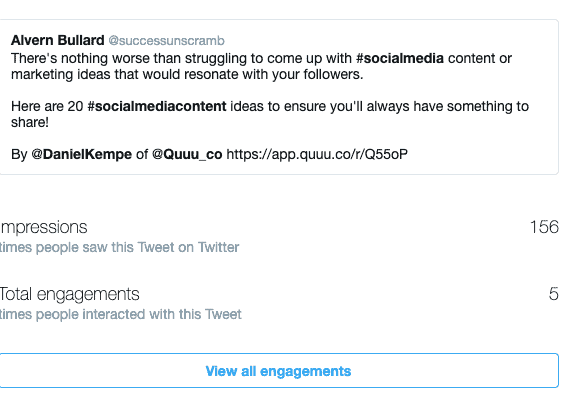 The beauty in doing this is that these people get a notification that they were mentioned and of course they engage with the post.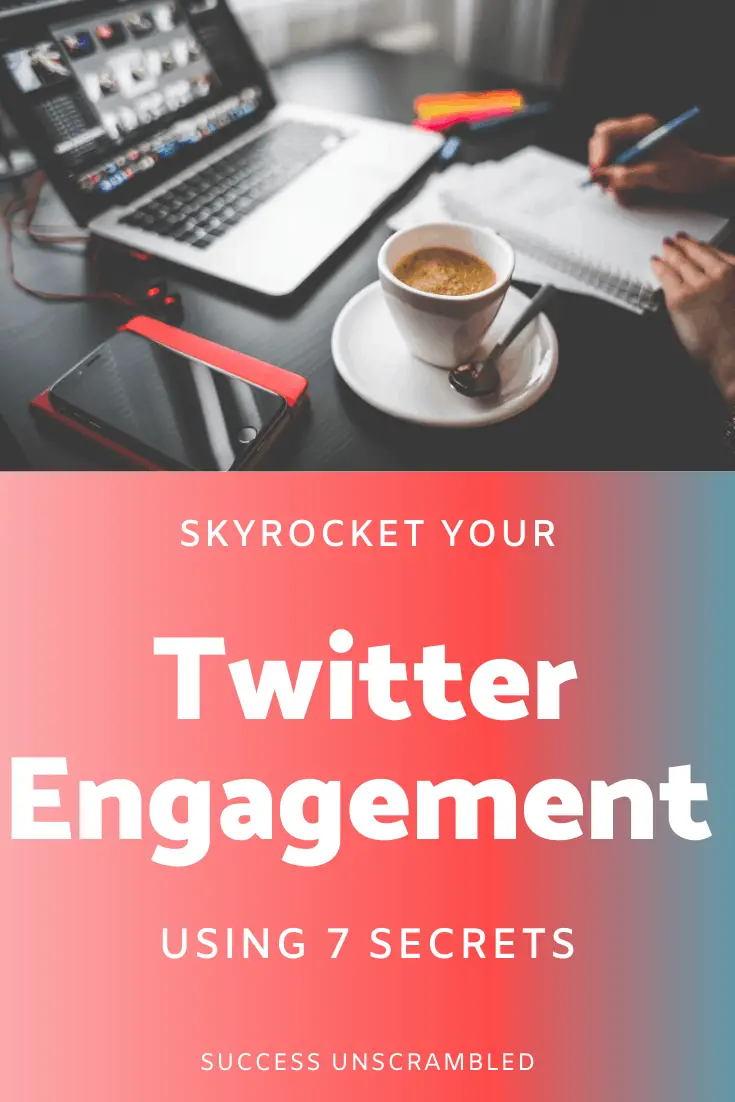 Summary
Twitter could be a very clever tool in your arsenal for building valuable business relationships that last a lifetime.
What I have learned is to take my eyes away from the mentality of follow and unfollow and instead think about collaborations.
When you are launching a product or service and you want to get the word out about it these people in your network can help.
You also can return the favour when they are promoting something.
The opportunities for business networking on Twitter are endless and I am about to get involved with another project with my peers.
Can you imagine reaching out to the Chief Marketing Officer (CMO) of a well-known company and getting them to participate in a post?
I did it and so can you. Yes, I was so nervous but I just made it happen.
A group program can support you in your social media efforts so feel free to join 20 Minute Social here.
Over to you, what has been your exciting experience with Twitter for your business?
Announcements
Remember to subscribe to the Success Unscrambled Podcast where you will be the first to hear what's happening in the entrepreneurial and digital marketing world.
Your positive review of this podcast is vital to keeping it alive and running for the next 12 – 24 months so please leave a positive review for us on iTunes, Spotify or any of your favourite podcast players.
If you are looking for a way to understand the effectiveness of your social media campaigns then grab this social media metrics resource.
Are you thinking of improving the performance of social media for your business? Then check out this free social media audit template.
Want to take advantage of the social media intelligence that is already available in your niche? Find out more about social listening here.
My passion continues to be helping creative female entrepreneurs to get more visibility using simplified marketing strategies.
So that they can skyrocket their business, spending more time in their zone of genius and with their loved ones.