Podcast: Play in new window | Download (Duration: 17:28 — 25.0MB) | Embed
Subscribe: Google Podcasts | Spotify | Amazon Music | Stitcher | Email | TuneIn | Deezer | RSS | More
Childhood is the most blissful time of life for many people. As an adult, you look back at that time and wonder why you're not achieving your dreams.
In fact, you may remember many adults around you encouraging you to chase your dreams and find fulfilment.
Let me know if this sounds familiar.
As a child, you wanted to become a doctor, lawyer, nurse, eye specialist, teacher, fireman, footballer or some other profession but things didn't work out.
Your parents got you gifts frequently to help you move along the path to that profession.
The gifts included a blackboard and chalk or stethoscope or gavel or fireman outfit, dollhouse or a soccer ball or other significant item
Something happened along the way but that dream started fading during your years at school.
The truth is that it is not your fault at all. No one ever teaches any of us how to achieve our goals or to turn our dreams into reality as teenagers.
In this post, you will learn the 11 things that you are doing wrong when it comes to fulfilling your long term dreams.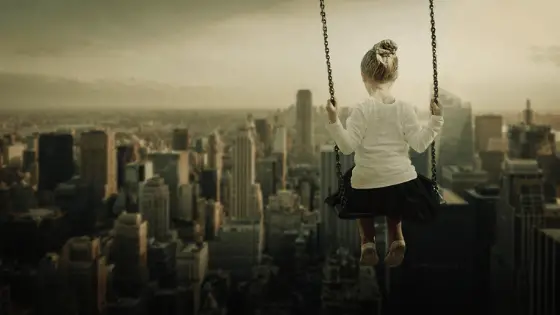 Dreams vs Goals
As I am sat writing this blog post, I can think of several reasons why it is so easy to get all confused when it comes to the topic of dreams.
For the purposes of this exercise I am not referring to nightmares or random dreams that you have at night.
The focus here are those dreams as it relates to positive or progressive things that can transform your life.
I will not be diving into the world of manifestation or supernatural things or astrology.
Everything will be practical and down to earth and include everyday actions that anyone can do comfortably.
Dreams in this post, will be related to life goals.
11 Things You are Not Doing
There are so many reasons why you are not achieving your dreams yet despite having the best intentions.
Here's a list of the top 11 reasons why your dreams have not yet come true.
Did not set goals
Goal not big enough
Unsure what's good for you
Not exercising skills or talent
You are not serious
In action
Stopped learning
Hiding from others
No collaborations
Have not hired a coach
Misaligned with God's will
Let's spend some time looking at each one of these individually to better understand how to turn things around.
1. Did Not Set Goals
In case you are new to this concept, it is often said that the first step to achieving your dreams is to write them down.
"A dream written down with a date becomes a goal. A goal broken down into steps becomes a plan. A plan backed by action makes your dreams come true."

Greg Reid
As you can see this is not something I invented recently. It is a quote by Greg Reid encouraging us to turn our dreams into goals.
Let me tell you that it was one of the hardest lessons for me to understand because I thought the exercise of writing down dreams was absolutely pointless.
In fact, the main reason for this is that the first time I wrote down my dreams nothing happened or so I thought.
The reality is that I did not have a good coach the first time I wrote down my dreams.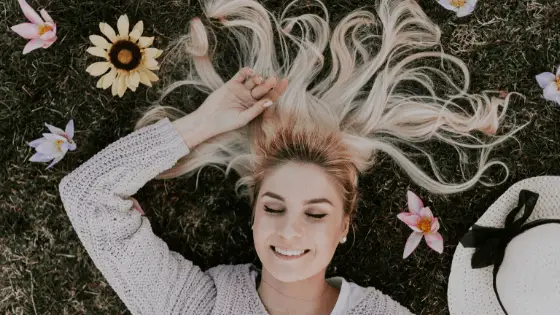 2. Goal Not Big Enough
Do you like playing small? What I mean by that is the fact that instead of making a plan for a big dream you start by going small.
For example, you may think that your goal is to be healthy which isn't a bad thing but is that really exciting?
"The size of your dreams must always exceed your current capacity to achieve them. If your dreams do not scare you, they are not big enough."

Ellen Johnson Sirleaf
While your health is your wealth it is more important to take the dream of being healthy and quantify it.
How will you know when you have reached to goal of being healthy? Is it by what you can wear, do or be?
For example, I would like to drop two dress sizes in 12 months is a dream that can be scary simply because it will take a transformation to get there.
Also, being healthy means different things to different people so ensure the dream is big, quantifiable and suitable for your situation.
3. Unsure What is Good for You
For many people, during childhood, your parents are there as a guide to help you to understand what is or is not good for you.
However, during adulthood things become very difficult as your age now dictates that you are old enough to make correct decisions.
This is not necessarily the case for everyone in all aspects of life. This is especially true when it comes to career and personal finance.
"When you finally figure out what you really want, everything else pales in comparison."

Tammara Webber
There are a few people in this life who know what they want with 90% accuracy from the time they are a teenager.
Others are not so lucky and they spend a large portion of time figuring out what they want in life.
Can you relate to this?
No matter which camp you fall into find out what you really want, find your purpose or be miserable and unfulfilled.
4. Not Exercising Skills and Talents
If you have a great understanding of your talents and skills then these gifts can be used to help you achieve your dreams.
By keeping them to yourself and not using them you are not only robbing the world of these precious gifts but you are hindering your progress to success.
"You are unique. You have different talents and abilities. You don't have to always follow in the footsteps of others. And most important, you should always remind yourself that you don't have to do what everyone else is doing and have a responsibility to develop the talents you have been given."

Roy T. Bennett
The teacher or career guidance officer at school told you that in order to become an astronaut you needed to do x, y and z in that order.
I have nothing against career guidance officers or teachers who mean well. However, if they have never been an astronaut how can they guide you?
There is so much information available in this world that it is possible to find a course, path or way to get to that end goal.
Even if it means taking the scenic route.
5. You Are Not Serious
A big reason why you are not achieving your dreams is the fact that you are not taking them or yourself seriously.
There may be a ton of people who would look at you and say that you are perfect to become the president of America and you are like, nope!
"If we keep telling that life is unfair but do nothing serious about it, then life will forever continue to remain unfair!"

Mehmet Murat Ildan
So many people look at injustice happening around them but they say that there is nothing that they can do.
Maybe your path to the presidency is one that is bound up in a career working for those being treated unfairly.
In case you are still not convinced, you need to read the story about everybody, somebody, anybody and nobody here.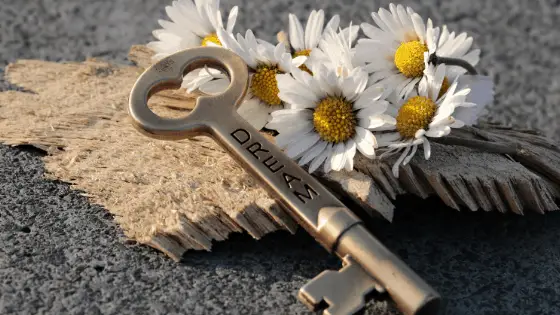 6. Inaction
After making a list of gorgeous SMART goals the next best thing to do is to break those goals into tasks.
Those tasks will lead to you taking action every single day.
If you are not taking action then you are also saying that you are not achieving your dreams.
"When it is obvious that the goals cannot be reached, don't adjust the goals, adjust the action steps."

Confucius
When you are feeling hungry you take determined action to get rid of those hunger pains.
The same is true with your dreams. It is only by taking action that you are able to "eat that elephant".
7. Stopped Learning
Is it true that you learn something new everyday? When was the last time you spent time learning a new skill?
I am a lifelong learner at heart and I get bored very quickly if I am not learning a new skill frequently.
"If you want something you never had, you have to do something you've never done."

Thomas Jefferson
That quote by Thomas Jefferson gives me goosebumps all the time. Everyone of us want something that we never had.
If this quote is true then why are so many people reluctant to learn a new skill or do something they never did?
8. Hiding Your Dreams
This one is hard. I can tell you from years of experience that sharing your dreams with others is one of the hardest things in the world.
Why? Because you will be afraid of being judged by your best friend, family, spouse or significant other.
Do you know what? The moment I decided to make my dreams public a whole lot of things started to happen in my life.
"When we were children, we used to think that when we were grown-up we would no longer be vulnerable. But to grow up is to accept vulnerability… To be alive is to be vulnerable."

Madeleine L'Engle
Making your dreams public means that you now become accountable and even vulnerable.
It also means that you are open to transformation in your life.
Almost a year ago I decided to make my dreams public so that I can become accountable and vulnerable.
You can take a look at my 50th birthday bucket list here in all its glory. Haha!
9. Not Collaborating
A great way to make other people aware of your dreams, goals and aspirations is via a collaboration.
The good thing is that collaborating with others can take several different formats and it can also be very enriching for both parties.
"Teamwork begins by building trust. And the only way to do that is to overcome our need for invulnerability."

Patrick Lencioni
Last year I decided that I needed to collaborate with my peers in the marketing niche even though I did not know them personally.
It was very hard because it means becoming vulnerable, feeling judged, fear and lots of human imperfections.
I wrote a blog post with 17 other collaborators and it was hard, amazing and rewarding on so many levels.
Trust me collaboration works, nobody said that it will not be awkward.
10. You Have not Hired a Coach
Okay, confession time. Haha!! For years and years I heard people say that the secret to getting ahead in life is by finding a mentor.
I searched high and low and could not find one. In fact, I had no clue how to actually find a mentor.
There are tons of sites on the Internet dedicated to this topic but they all seems weird.
"A coach is someone who tells you what you don't want to hear, who has you see what you don't want to see, so you can be who you have always known you could be."

Tom Landry
One day, the penny dropped what I actually needed was a coach someone who did it before, someone who walked that path.
A coach does not need to cost $5,000. In fact, your coaching can start as low as $27.00.
The truth is that coaches are available for many different budget levels so there are no excuses to get started today with a coach.
11. Not Aligned With God's Will
Okay there are many people who do not believe in God and that is fine by me.
However, I believe that God is in charge of life here on earth and he has a purpose for each of us.
The moment that our will is aligned with his will for our lives amazing things happen.
The fear of the LORD is the beginning of wisdom, and knowledge of the Holy One is understanding.

Proverbs 9:10
It does not mean that you will never struggle or make wrong decisions. God is in the business of giving people free will.
My preference is to make fewer mistakes and depend on God's wisdom simply because he knows the beginning from the end for everything, seen and unseen.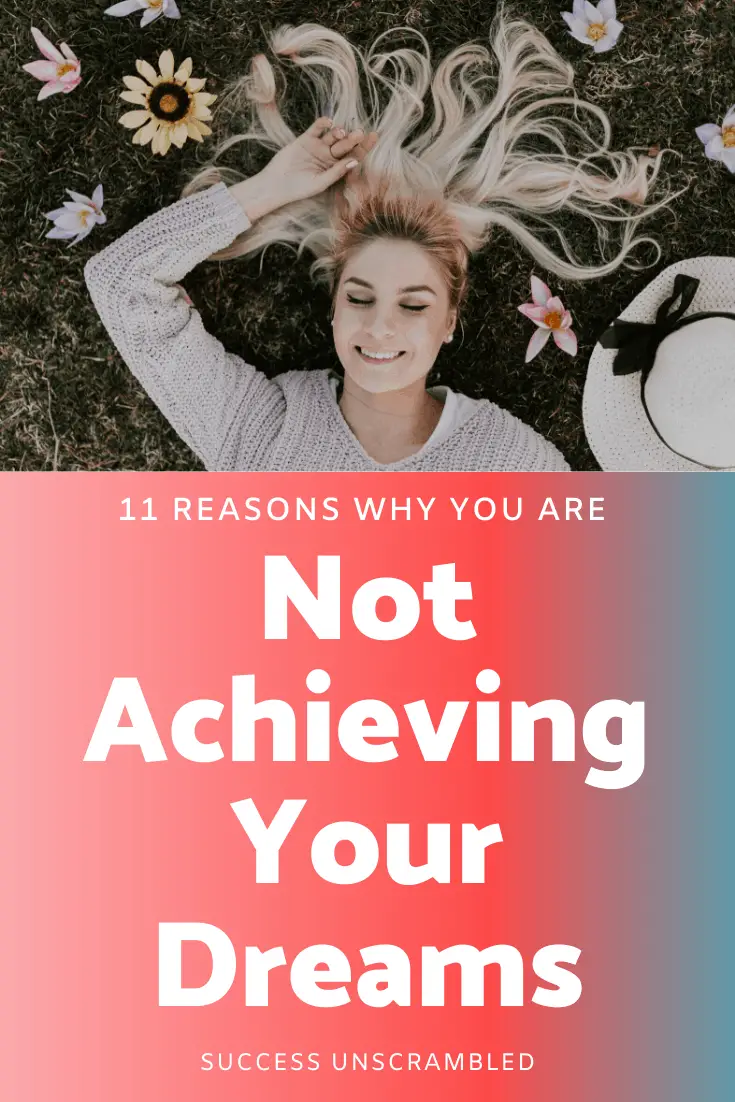 Summary
As you can see I am not one of those who believes in theories of manifestations where money appears in your bank account for no reason at all.
I am a very practical down to earth kind of person who believes in working the plan to get results.
The reason for this is that working on goals actually helps you transform into a better person.
As an entrepreneur, you not only work on a business but it is a journey of self-discovery and self-development.
The next time you find yourself struggling with the fact that you are not achieving your dreams, remember that there are steps to success.
Over to you, what has been your experience in moving from a life-long dream to reality?
Announcements
Remember to subscribe to the Success Unscrambled Podcast where you will be the first to hear what's happening in the entrepreneurial and digital marketing world.
Your positive review of this podcast is vital to keeping it alive and running for the next 12 – 24 months so please leave a positive review for us on iTunes, Spotify or any of your favourite podcast players.
If you are just at the start of your journey where you are wondering what is possible for you in the future then take a look at these 7 books for entrepreneurs.
Are you a interested in learning practical steps in goal setting? Grab this resource that shows you how to set and achieve goals.
Want to learn more about goal setting from a business point of view? Check out this advice from a business coach about achieving business goals here.
My focus continues to be simplifying marketing for creatives so that they can get the visibility they need to stay in their zone of genius.
It means that they also get to spend more time with their loved ones.