Podcast: Play in new window | Download (Duration: 25:30 — 35.7MB) | Embed
Subscribe: Google Podcasts | Spotify | Amazon Music | Stitcher | Email | TuneIn | Deezer | RSS | More
Are you wondering how to use TweetDeck to manage or get the most out of Twitter?
One of the ways to stay abreast of what's happening in the world is to use a social network like Twitter.
If you're like me and you dislike being fed items that have been selected by someone else to broadcast on the airwaves then stay tuned for alternatives.
While this article is not a rant on who's taking sides when it comes to what the media publishes daily.
It is an educational piece to help guide you into choosing the options best suited to your needs.
Tell me if these sound relatable.
You're sick and tired of wading through a ton of content every day that is irrelevant to your needs and interests.
Nearly every time you switch on the television or radio station you lose the ability to be selective about your news choices.
Even when you decide to use platforms like Facebook or Instagram there's still the challenge of finding something interesting to digest.
If only there was a way to set up your own selective news channels so that you get a real choice.
In this post, you'll learn how to use TweetDeck to get very selective about the choice and sentiment of the content in your own private feeds.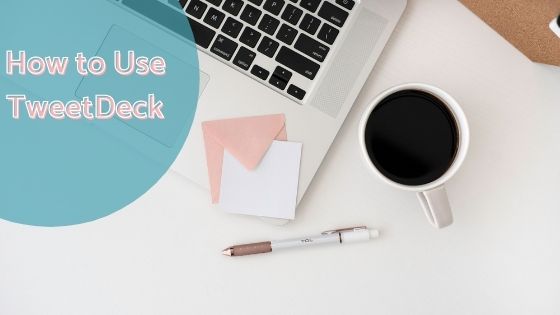 What is TweetDeck
If you've never heard of TweetDeck before or you've been meaning to take it for a spin this is your 2-minute description of this fabulous customisable tool.
TweetDeck is a social media dashboard application with functionality for managing Twitter accounts in real-time.
Think of a single interface to stream tweets across different types of columns and still access your home feed.
It was first released back in 2008 by Iain Dodsworth and was later acquired by Twitter in May 2011. This makes TweetDeck one of the only native Twitter apps where you'll get the latest tweets in a standalone setting.
You can think of TweetDeck with desktop client functionality to give you a bird's eye view of the things that you would like to see on Twitter.
Essentially, it gives you the ability to streamline the things you would like to see and eliminate the ones you don't want to see.
A great way to visualise this dashboard is seeing it as a tool to reduce the overwhelm associated with the Twitter platform.
There are at least 5 things that you can do on TweetDeck that's not available as standard directly on the Twitter platform.
Let's spend some time looking at some Twitter statistics so that you can see why using TweetDeck can be a game-changer for you.
Twitter Statistics
If I asked you how many people use Twitter daily you probably wouldn't know because it is not as popular as Facebook and Instagram.
On a daily basis, there are over 187 million people using Twitter regularly. According to this report by Hootsuite.
The average age range is 25 to 34 and in terms of gender 70% of the users are male.
Over 59% of people using Twitter use it as their source of daily news which is truly eye-opening.
5.8% of the world's population over 13 can be reached using Twitter Ads.
In terms of the predicted growth rate, Twitter is forecasted to grow by 2.4% this year.
What's really surprising is that Twitter is the number one social media platform in Japan.
When it comes to ranking in mobile apps worldwide, the Twitter app ranks in 6th place.
Have you ever wondered which are the top 5 user accounts on Twitter? Well, at the time of writing this post here are the top 5 Twitter profiles.
Barack Obama
Justin Beiber
Katy Perry
Rhianna
Cristiano Ronaldo
I don't know about you but I would have never guessed that Barack Obama would be the number one followed account on Twitter.
It's great to see that at least two women made it in the top 5 seeing that Twitter is a male-dominated social media platform.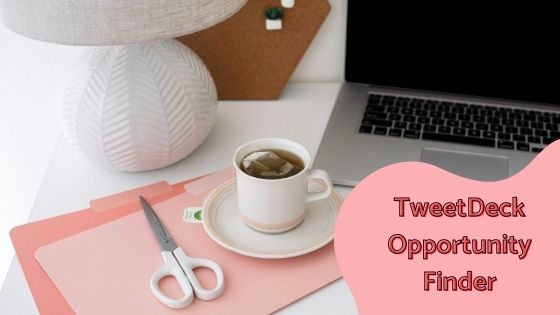 TweetDeck Features
Before looking at how to use TweetDeck let's spend some time looking at the features that are available natively inside the application.
TweetDeck is available as a standalone web application or desktop app. Unlike any third-party application available in the market, it allows you to conduct an advanced search.
You'll be prompted to sign in using Twitter after navigating to their web page or after downloading the app.
Simply enter your Twitter details and you'll be ready to use all that makes TweetDeck special.
Dashboard
Whenever you log into the application you'll be presented with a dashboard where you can see everything that's happening based on how you set it up.
Ideally, you'll have lists of different columns based on your Twitter feed (accounts you follow, etc) which is also known as your home feed.
You can also have columns set up to see your direct messages, notifications and hashtags that you follow. There's also the option to have collections but I'll cover that later.
Options
On the left-hand side, you'll see a menu giving you a number of options for you to choose.

These options include 'add column', accounts, settings as well as any columns that you already have set up with notifications and hashtags.
Add column
As the name implies, 'add column' gives you the ability to add as many columns as you want. You can think of it as your customised news feeds.
I think it is amazing because they are very flexible to move around and you can add and delete them as you need.
In other words, you are not locked into a specific choice for a long period of time.
Accounts
It is amazing that you also have the ability to manage multiple accounts from a single dashboard. This means that you can also manage Twitter accounts for your clients.
If you run a marketing agency, you can also give your team access to your client's accounts without giving them the password.
Settings
In the settings area, there are a few options that may come in handy over time. The settings area is found by the gear icon.
You'll get access to keyboard shortcuts, search tips and a further settings menu that looks very similar to the one below.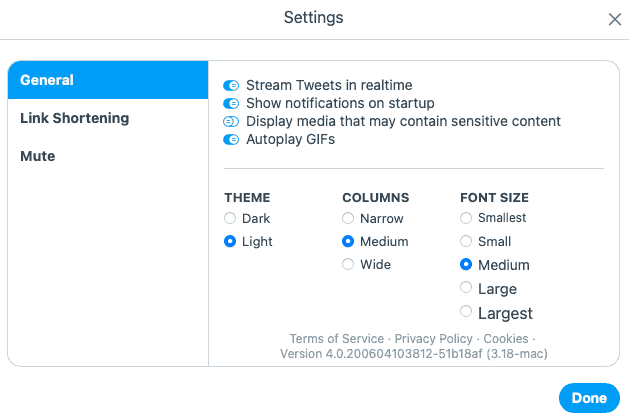 Profile
When I click on my profile name it just brings me to an image with a summary of all my important Twitter statistics.
Information like the number of followers vs following, total tweets, lists as well as the date I joined Twitter with this specific account.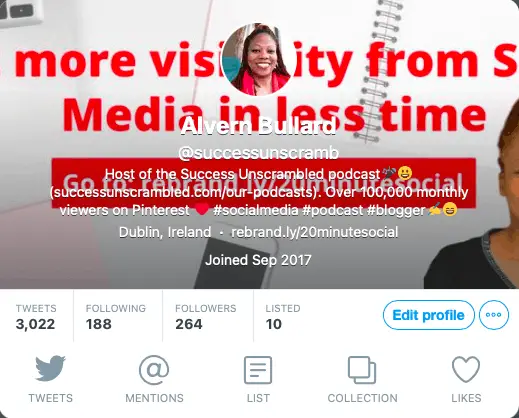 You'll also have the option to filter by any of the items with the icons at the bottom. So, in my case, I'll be able to drill down and see tweets, mentions, lists, collections and likes.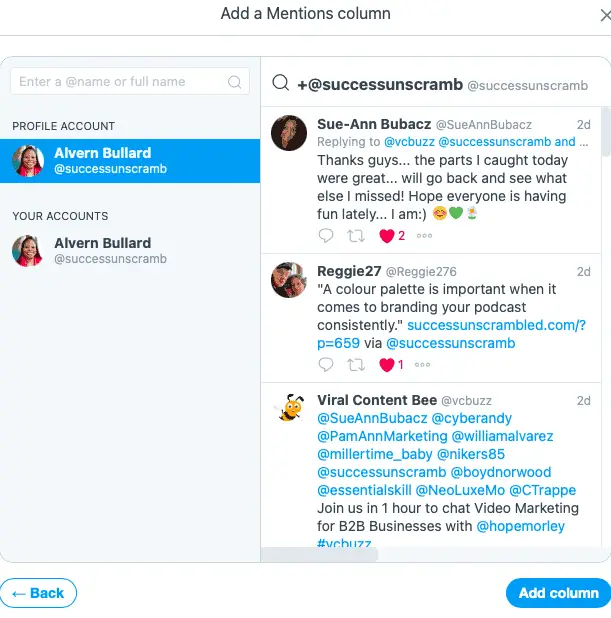 Team members
TweetDeck is great for individual users. However, if you are running a social media marketing agency, TweetDeck can help you manage multiple Twitter accounts.
As you can imagine you'll also need a team of social media managers to manage those accounts.
This is where the team management aspect of TweetDeck becomes invaluable.
Simply click on accounts and you'll see the 'manage team' option.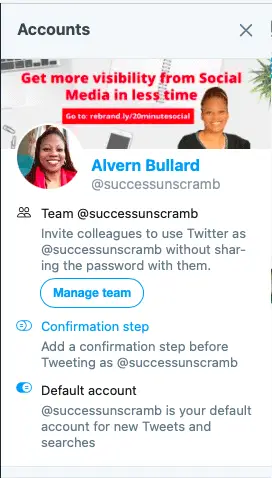 It will allow you to keep the passwords of your clients secure because there'll be no need to share your client's password.
When you click on manage team, you'll be brought to a screen to add your team members.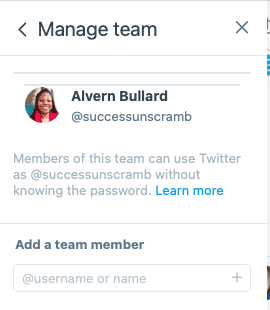 How to Use TweetDeck to Manage Twitter
Now that you know how to find your way around the TweetDeck platform let's look at specific ways to use it to make life easier.
While it offers a very simple interface don't underestimate the powerful features of this useful tool. It allows you to conduct powerful Twitter searches using particular words or specific topics.
You can even do a deep dive into a single user like a verified user with the blue icon.
It's great for news stories as well as any Twitter content that you find useful to boost your small business.
1. Social Listening
As a social media manager, you may need to conduct a 60-90 day social listening exercise for a client or your company.
TweetDeck can help you accomplish this very easily using the columns feature.
Simply click on the add column feature and click on the magnifying glass or search option.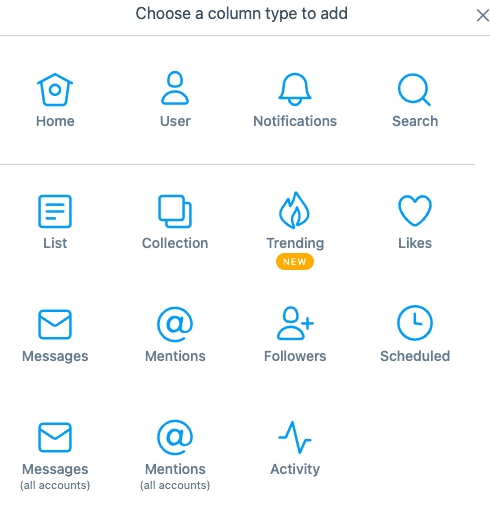 It will bring you to the top left search area where you can enter your specific hashtag or if you want, a specific account.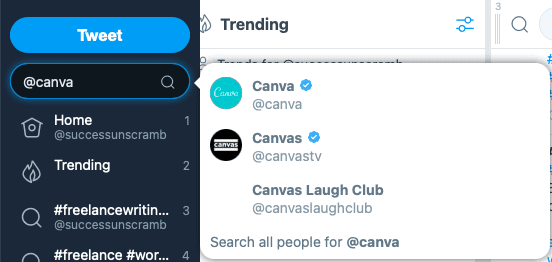 You'll see in the above example I did a search for the Canva account on Twitter. When I click on Canva I get a view that looks at their profile statistics.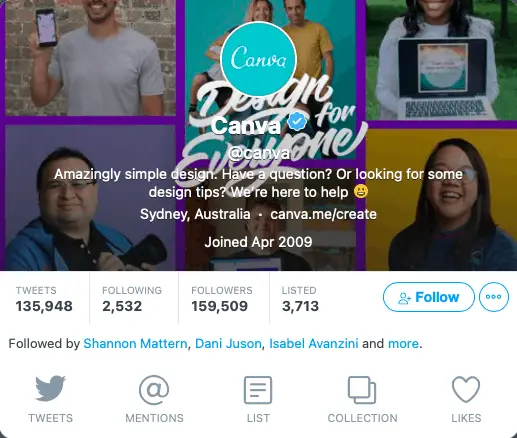 You can choose to listen to their tweets or mentions or even take a closer look at their lists and likes by adding it to a column.
When I click on likes it gives me this preview and I can decide to add it as a column inside TweetDeck.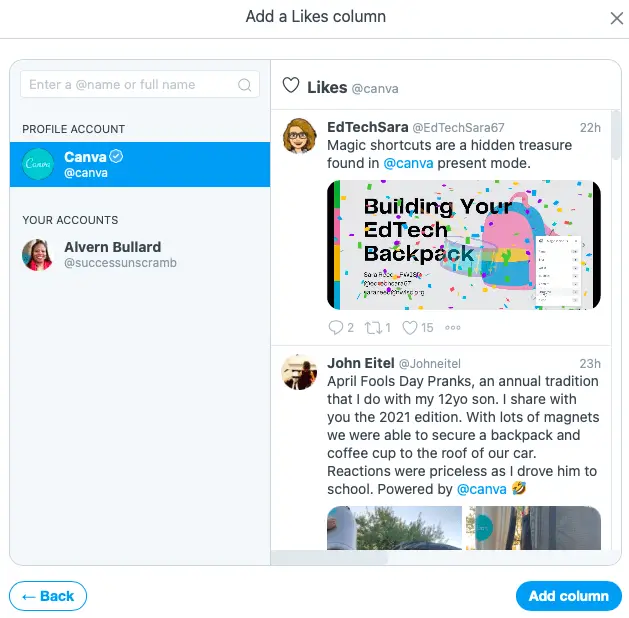 2. Sentiment Search
At the start of this post, I mentioned having the ability to create feeds that give you the information you want and excluding everything else.
Well, did you know that you can have only positive news and exclude everything that will affect you negatively?
If you are a social media manager you'll know how important it is to track the sentiment of tweets. Especially if you are managing multiple Twitter clients.
One clever way to accomplish this is by adding the positive emoji after your search term.
For example, if I am looking for positive tweets about things happening in New York, I would do a search for "New York :)".
Here are the results between positive and negative sentiments.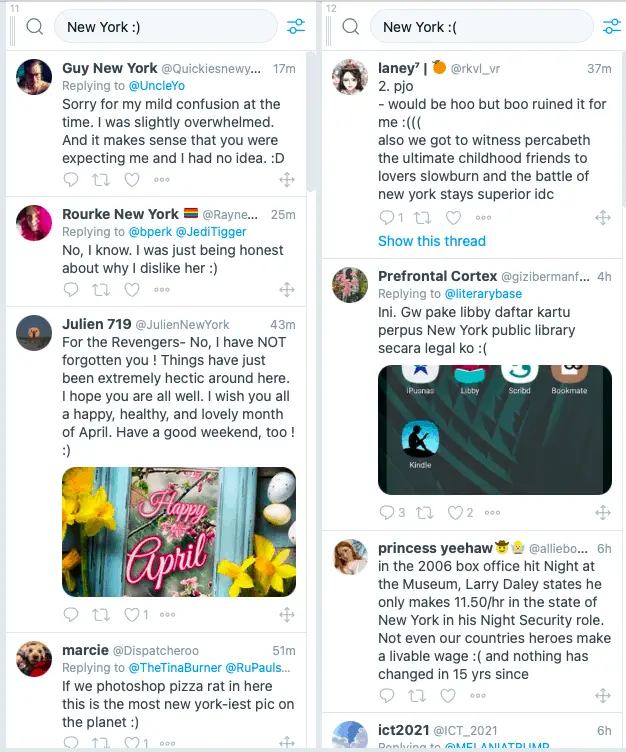 Social media managers know that keeping a positive sentiment of a brand or business is very important to their success.
This is why setting up a permanent social media listening campaign for sentiment will help them stay ahead of potential challenges.
3. Twitter Chats
If you are one of my regular listeners or readers you'll know that I believe that participating in Twitter chats are so powerful.
In fact, I participated in one just over 6 months ago and it was so much fun.
Without a tool like TweetDeck, it can be very difficult to follow Twitter chats on the native platform.
That's why using the TweetDeck dashboard can help you to keep your finger on the pulse of your favourite chats on Twitter by adding a specific column for that stream.
Here's the stream for #vcbuzz.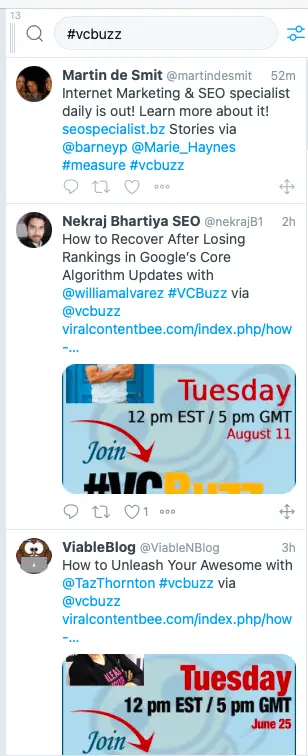 4. Collections
One of my favourite features on TweetDeck is collections. The reason why it is cool is that it allows you to add tweets into groups called collections.
You'll literally have your own separate collection column with a list of recent tweets that you want to save.
Let me give you an example of using this feature.
If you were doing some research via social listening and you found a few posts across several columns that you wanted to save for later.
There isn't a way to do this natively on Twitter so this is why collections are so important. Here are three streams or columns where I am listening to content related to social media.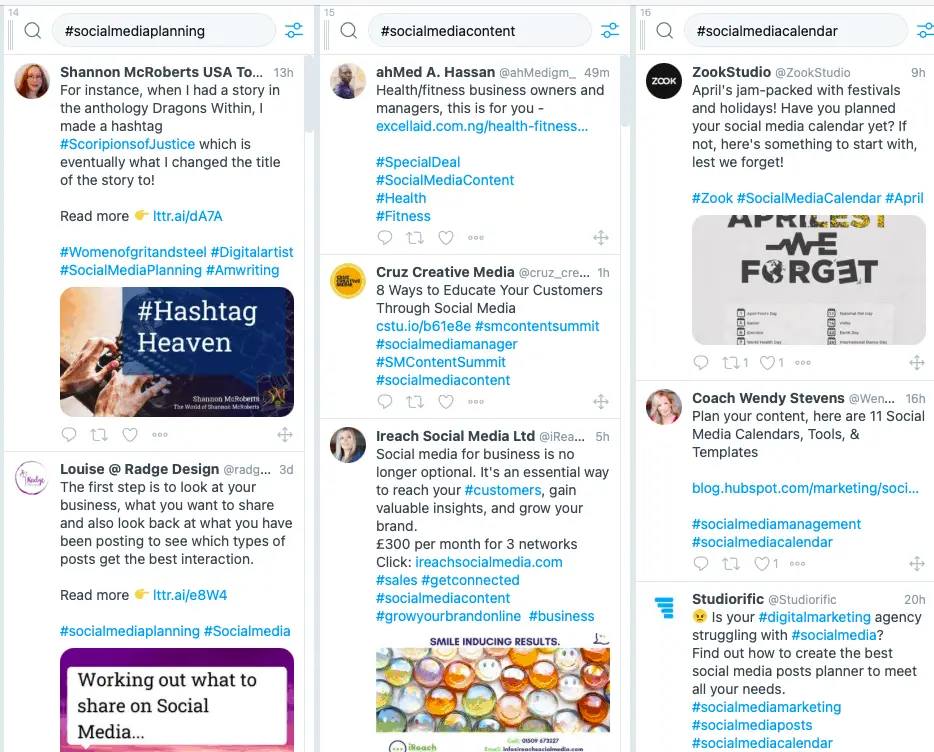 However, it will be difficult for me to keep up with all this content every day so what I can do is save the ones I want to a collection.
Add a column click on collection then create a collection and give it a name.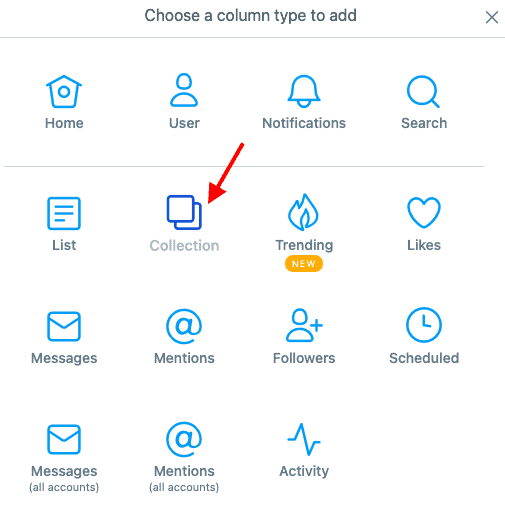 After giving it a name, click 'save'. After your collection has been created simply click on the 3 dots on the post you wish to save and you'll see the option to save it to a collection.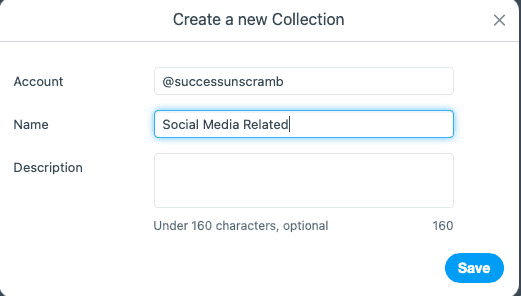 This feature alone can allow you to have your very own Tweet collection that will help you stay on top of important Tweets.
5. Filtering
Another way to get the absolute best content for your collections is by filtering your feeds by engagement.
What I mean by that is that you have the ability to apply a global filter to each column. There are many filters available as you'll see but adding engagement filters means that you only save the content that is performing well.
Simply click on the area up top that looks like volume controls.

You'll be presented with a drop-down menu for each category like content, location, Tweet authors and engagement.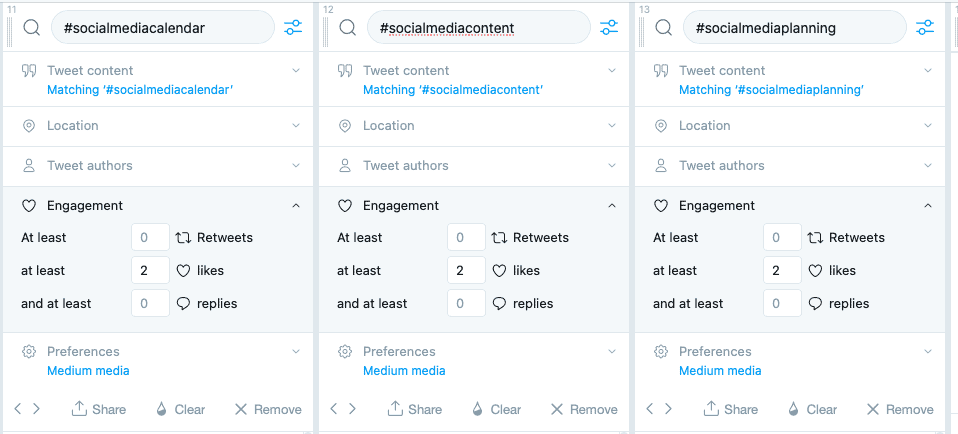 Always remember that you can filter by location, author, content and engagement inside TweetDeck columns.
After filtering, you'll have a stream of tweets that are carefully curated for you to use.
6. Schedule Tweets
One of the most exciting features inside TweetDeck is the ability to schedule tweets for a specific time.
While you can get similar kind of features inside other social media schedulers not many of them are very Twitter-specific.
The ability to schedule a tweet natively on Twitter is also not possible at the time of writing this post.
Depending on the size of your marketing agency you may have a team focused only on Twitter accounts for clients.
This is where TweetDeck comes in to save the day.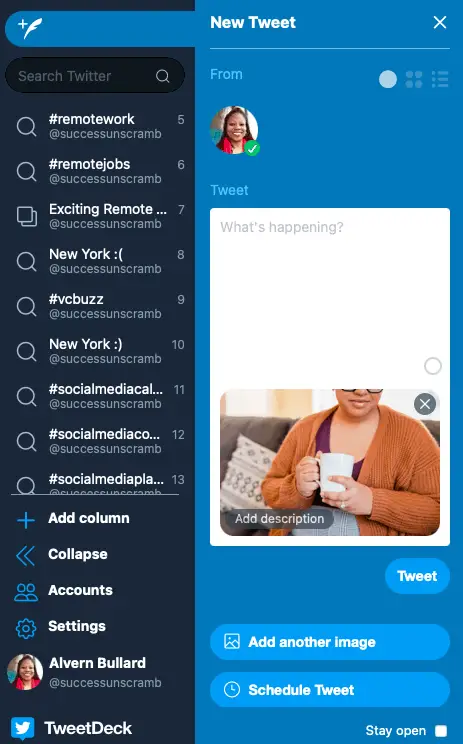 What's truly awesome about this feature is that it not only allows you to upload images. You can also add alt text catering to those who are visually impaired.
It will auto-post your scheduled tweet for you so that you can get back to doing what you love.
7. Twitter Lists
As you probably already know creating and using Twitter lists is a very powerful way to get seen by influencers.
Well, TweetDeck has the ability to 10X your results when you add layers of filters on your list feeds.
The best way to accomplish this is by adding a specific column that would accommodate the feed from your lists.
Here's a cross-section of my created lists, plus lists that I follow or I'm subscribed to at the time of this post.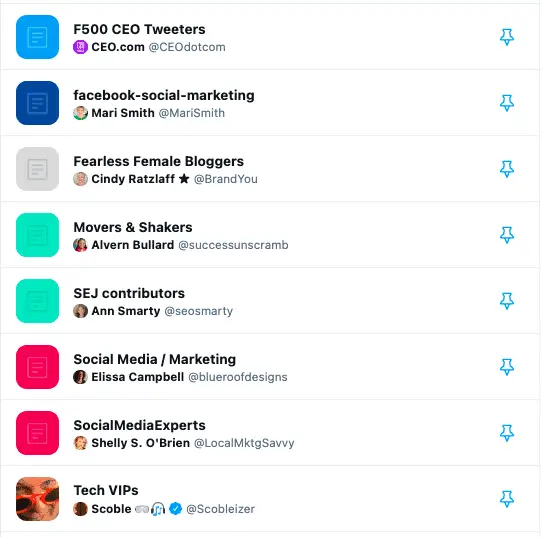 If you want to find a specific set of tweets that are made by verified users, contain videos and belong to a specific Twitter list you can do just that inside TweetDeck.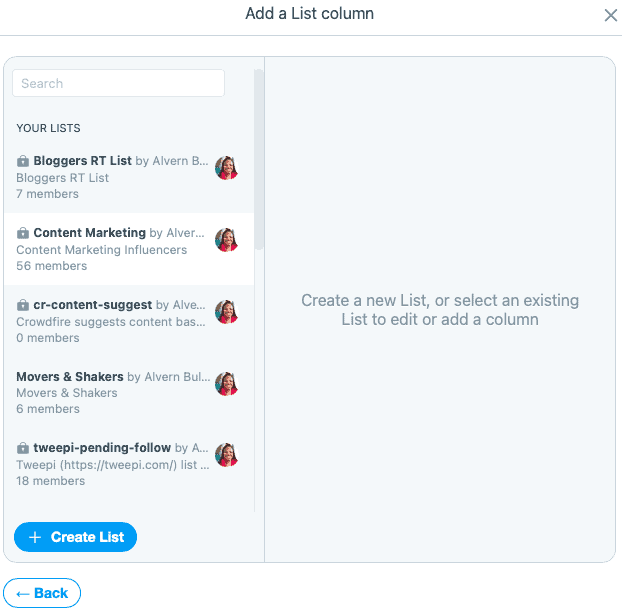 Simply add a column for a specific list then add your filters.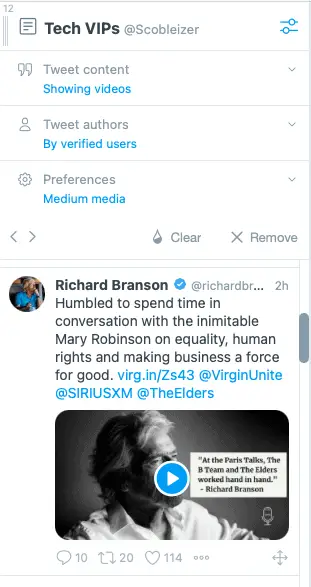 How to Use TweetDeck to Spot Business Opportunities
Now that you've become a TweetDeck Ninja, let's look at how to use it to spot opportunities for your business.
Previously, you saw how to set up a long-term social listening campaign using TweetDeck.
Well, using the same concept you can make a list of your top 5-10 competitors and listen to their customer feedback.
After making a list of your top competitors, make sure you obtain their Twitter handles or profile names.
Head over to TweetDeck, search for their Twitter handle one by one and hit enter.
This will automatically set up a new column for each competitor.
Here are three examples of how I did it for Amazon, Spotify and Facebook.
Amazon
When I set up the new column for Amazon, I entered the sad emoji in the top bar. Doing this helped me to filter out everything else and see all recent customer complaints.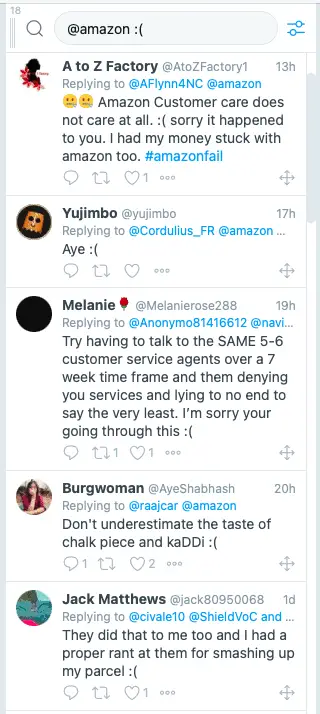 As you can see there are quite a number of people complaining about their experience with Amazon on Twitter.
Spotify
It probably never occurred to you that a platform like Spotify also experiences negative customer feedback.
However, remember that the larger you become as an organisation, the easier it is to get stuff wrong.
Customers also have no problem with using social media to voice their concerns.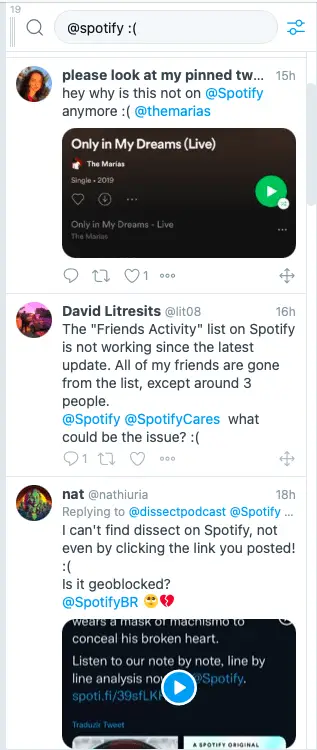 It appears that Spotify updated their app and accidentally removed a feature in this release. You can also see that finding a specific music item on Spotify is proving difficult for some customers.
Facebook
If you have been using Facebook for a number of years, you'll be aware of the fact that there can be a lot of challenges with the platform.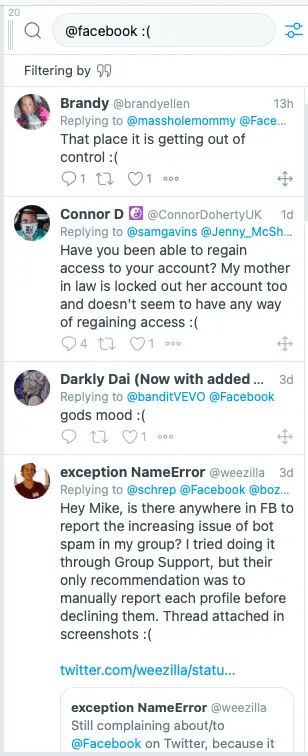 People experiencing account lock-out and spambots infiltrating groups are just a few of the plethora of issues.
Of course, for you as a small business, these are just examples and your competitors may not be as big as these industry giants.
Think of your 5-10 competitors and the kind of complaints they would experience.
Set up your social listening campaigns and see what kind of diamonds you can uncover.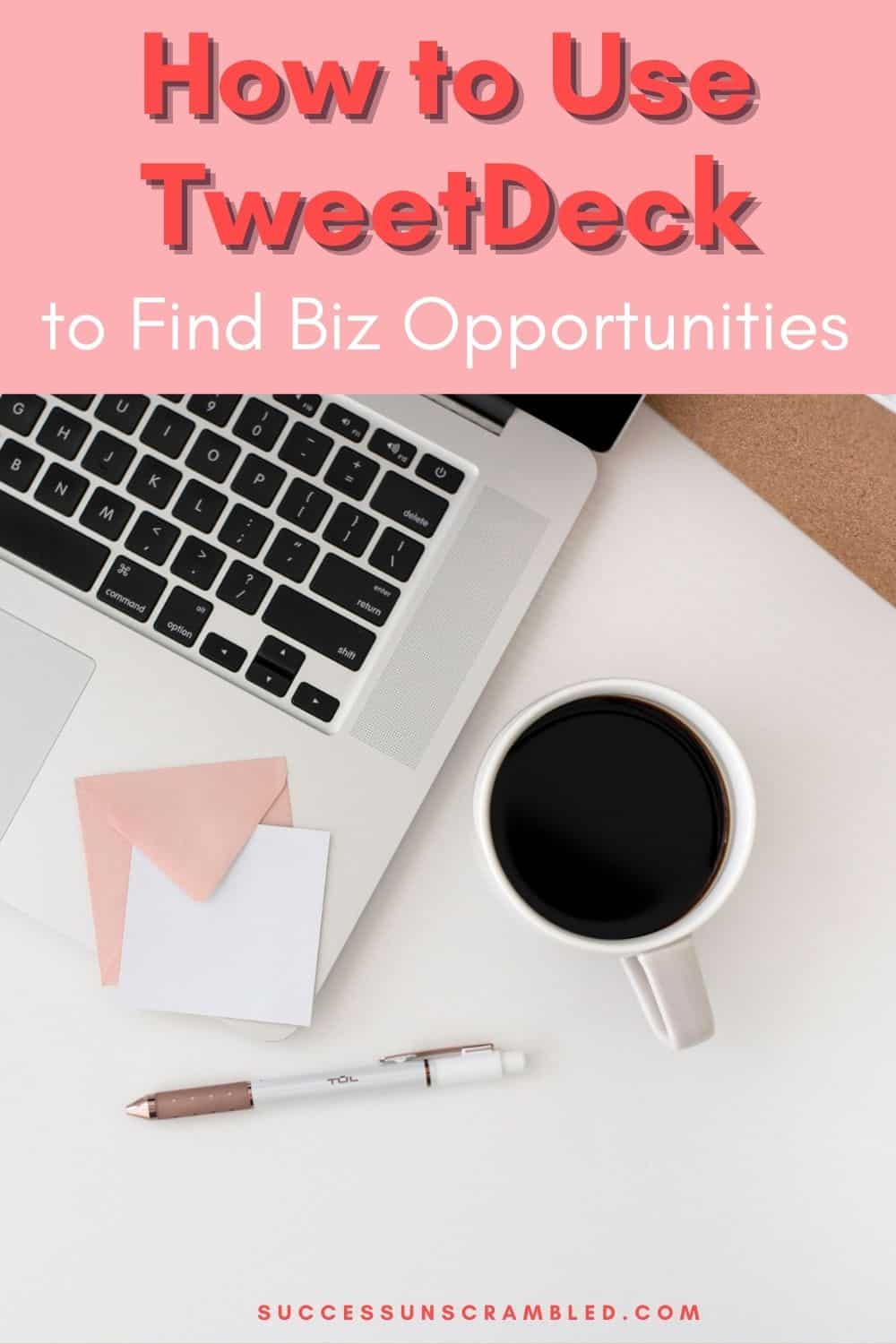 Summary
Prior to reading this post, you must have seen Twitter as just another social media platform with a lot of noise and heavily biased information.
However, with the help of TweetDeck, you can now consume content on Twitter by streamlining feeds to meet your needs.
In fact, learning how to use TweetDeck has literally turned the way you viewed Twitter in the past.
You now have the ability to create carefully curated lists, columns and feeds which is like creating your media experience on demand.
Using TweetDeck regularly means that you'll need to create a new habit where you design a media lifestyle to suit your preferences.
Because it is available as a web browser and desktop application you can take your curated media feed with you wherever you go. It is not currently available as a mobile app (the alternative solution is Hootsuite).
Goodbye depressing news, hello unique media feed by design.
Over to you what has been your experience using TweetDeck.
Announcements
Remember to subscribe to the Success Unscrambled podcast where you will be the first to hear what's happening in the entrepreneurial and digital marketing world.
Your positive review of this podcast is vital to keeping it alive and running for the next 12 – 24 months so please leave a positive 5-star review for us on iTunes, Spotify or any of your favourite podcast players.
Entrepreneurs generate income from solving big problems and challenges. You can find these gaps using TweetDeck quite easily.
I started this blog in 2017 because I had a burden on my heart to reduce women illiteracy globally.
Because this is a huge undertaking I have decided to help 1,000 women over the next 10 years to become wildly successful in their online business through simplified marketing strategies.
That way we can build a strong business network of women who can donate 1% of their profit and together we can help reduce women illiteracy worldwide.
Would you like to be part of this movement? Shoot me an email using alvern (at) successunscrambled (dot) com.