Podcast: Play in new window | Download (Duration: 25:09 — 35.1MB) | Embed
Subscribe: Google Podcasts | Spotify | Amazon Music | Stitcher | Email | TuneIn | Deezer | RSS | More
If you've been in business for a while you'll know that there are things to automate in a small business.
You'll also be aware that getting these things automated can be a bit of a challenge.
Automation can be a pipe dream for many entrepreneurs because setting up these workflows can take time.
Let me know if this sounds familiar.
The process of making money online can be a lot of fun when you enjoy what you do.
However, the process of optimising your income generating machine can be a bit of a nuisance because of the steps involved.
For example, if you are a blogger, dealing with brands can involve a host of emails and contracts to manage.
If you offer services, finding those clients, doing discovery calls, sending out contracts and taking payments can bog you down.
Owning an Etsy shop or selling on Amazon Seller Central can also be a challenge with getting reviews and keeping goods in stock.
As well as pricing, packaging, improving ranking and managing customer returns and feedback.
Wouldn't it be nice to automate as many steps as possible so that you can get more done in less time?
In this post, you will learn 20 business things to automate as well as what you can easily outsource to reduce overwhelm.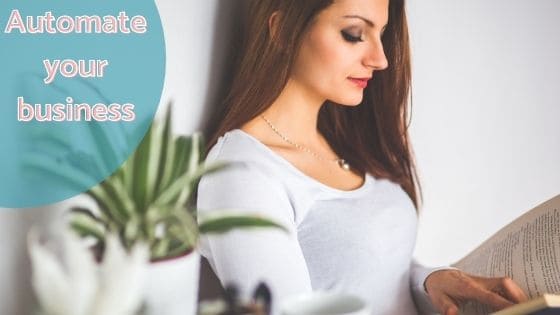 What is Business Automation?
Before diving into how to automate your business it would make sense to take a look at automation itself.
For obvious reasons, there are a number of aspects of any business that you will never be able to automate.
As an example, talking to someone in customer care is essential to keeping your customers happy.
Yes, with the rise of chatbots and similar initiatives businesses have been trying to answer common questions by automation.
However, there are many other tasks that have a repeatable process that can be easily automated by software.
Think of the things that you do in your business every day, week or month that has a step by step process.
Of course, this process should only require human intervention at the start but could be completed by one or several software applications.
Spend some time thinking of those repeatable processes in your business that can be completed by a robot.
21+ Things to Automate in a Small Business
Now that you have a clearer understanding of what automation looks like in a small business.
Let's spend some time looking at 25 business things that you can automate starting right now.
1. Onboarding a New Employee
If you have reached that point in your business where you started hiring virtual assistants to help with tasks then listen up.
Onboarding a new employee can be a bit of a headache because that person will need to know about the business.
As well as how things work to maintain certain levels of satisfaction.
The best way to get this done is by automating the process with the help of a welcome packet plus a series of videos.
You can use a tool like Asana to set up an onboarding process.
2. Onboarding a New Client
An equally important task in any business that is serviced-based is bringing a new client on board.
After a client has paid for their package the next step in the process is onboarding.
Where they become acquainted with you and your business as well as what they can expect in the coming days and weeks.
One other important element is getting the client to submit their items such as their branding portfolio and core values.
Two great platforms that can help with this are Dubsado and Honeybook.
3. Accepting Payments
On the topic of payments this is another aspect of your business that can be automated.
There are a number of service providers that can help you automate this process.
In order to request a payment from a potential client you'll need to send them an invoice.
Tools such as Dubsado, Honeybook, Zoho Books, Xero, Quickbooks, AndCo and Freshbooks are great for invoicing.
They are also useful for accepting payments through third party payment processors like Stripe.
Other useful payment processors include TransferWise and Payoneer.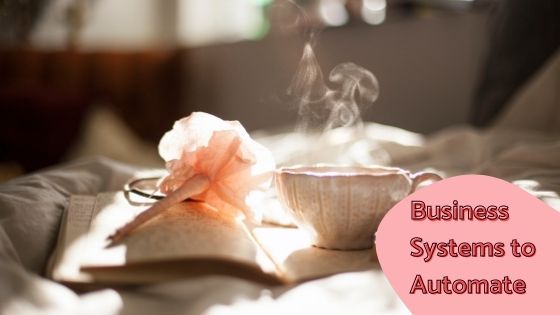 4. Client Contracts
Even before invoicing a client you should have a contract in place to protect the both of you.
A contract is also useful because it outlines the terms of service as well as payment terms.
Finding an application to handle this can be difficult sometimes.
Thankfully Dubsado and Honeybook can handle client contracts for you.
5. Posting to Social Media
As an entrepreneur or small business owner you know that sales is the life blood of your business.
You also know that in order to get sales you will also need to generate leads by promoting your business on social media.
However, the whole concept of posting to social media is a chore for you because it feels like a constant content hamster wheel.
Thankfully there is a way to automate this process via scheduling tools.
Learn how you can auto-post to Instagram Stories here. Understand the differences between Planoly and Later here.
6. Paying Monthly Bills
It is an absolute painful process to pay all your business bills manually but it would be nice to automate this process.
This is especially helpful with those items that have a fixed cost.
For example, website hosting, broadband bills, software subscriptions and many others have a fixed cost.
So, these can be easily automated with a quick set up by using Paypal or keeping your credit card or debit card on file.
7. Updating Plugins
If your website is on the WordPress platform then you will be familiar with the concept of updating your plugins for security reasons.
Doing this everyday can start to get annoying at times but the good news is that you can set all of them to update automatically.
The only drawback with automatic updates is when the latest version of a plugin is corrupted.
When a plugin is corrupted you may have to roll back your website to an earlier version.
A great way to handle this technical glitch is by outsourcing this to an IT person or company.
8. Researching Hashtags
If you use Instagram to promote your business you'll know that hashtags are important.
You'll also know that researching hashtags can be a boring and long process.
The good news is that you can semi-automate this process by using a tool called Flicktech to help you find hashtags faster.
It also helps you see which hashtags you rank on as well as how often you've used those tags.
9. Creating Images
As an entrepreneur who promotes your business weekly, you'll know that creating images helps with visibility.
If graphic design is not your zone of genius then you'll not enjoy this process at all.
One way to automate this process is by getting templates created for your business that's on-brand.
You can also outsource this task to a graphic design service like Design Pickle.
10. Client Enquiries
If you run a service-based business one of the things you need to do is get clients on discovery calls.
That process in some cases begins with a client enquiry via an online form.
Managing client enquiries can be as manual or as automated as you want it to be.
To help with this automation you can use a CRM application like Dubsado, Honeybook or Hubspot.
These tools can be integrated with Zoom so that after a potential client completes the form and chooses a time slot.
They are instantly sent a Zoom link so that they can join the call on the scheduled date.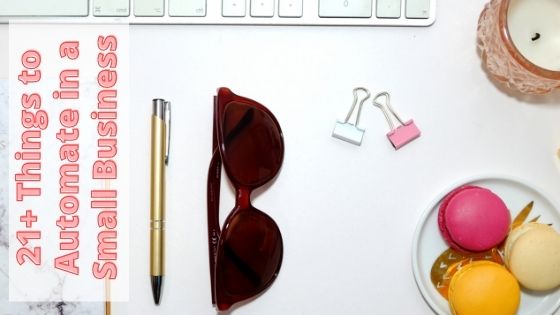 11. Gathering Testimonials
I have no idea how long you've been in business but one of the hardest things to coordinate from customers is a testimonial.
A part of the sales process should include a form attached to a repository for collecting testimonials.
Small business owners are super busy getting their stuff done so getting a review or testimonial from them can be challenging.
Using a tool like Airtable can be a great place to accept testimonials or reviews from clients.
12. Generating Leads
As a business owner you know that it is important to generate leads for your business on a regular basis.
A clever way to achieve this is by growing an email list.
Putting a system in place to grow your email list can seem quite daunting at first.
However, the setup process is quite straightforward, so here are a few tools that you will need.
lead capture form – MailMunch
Landing page or blog
Email service provider
Lead magnet – Canva
Welcome email
I wrote a very detailed post outlining 5 email service providers that you can use for free.
After you set this up it will continue to generate leads for you business every single week.
13. Generating Sales
In order to get consistent sales for your business you'll need to have a process in place to automate that sales process.
If you own an Etsy or Shopify store then you'll need to promote your products on a platform like Pinterest.
Maybe you generate revenue from your blog through affiliate marketing so you'll need a combination of Pinterest and Google traffic.
Using tools like Ahrefs and SEMRush can help you with keyword research so that you can increase blog traffic.
As a course creator, you'll need a combination of Pinterest, Google traffic and social media traffic to generate sales.
The biggest question for you is what does that sales process look like after the person makes a payment?
Is it automated enough for you to make money while you sleep?
This Thinkific vs Teachable comprehensive comparison will help you find a great course platform.
Take a look at these types of sales funnels to help you gain more clarity.
14. Answering Common Questions
Depending how long you've been in business you'll notice that some questions are asked over and over.
This is why it would make sense to set up a system to handle frequently asked questions.
There are 3 ways to solve this challenge in your business.
Frequently asked questions page
Knowledge base
Chatbot feature
If these tasks are too much for you to handle right now, consider hiring a VA to create these three for you.
15. Grammar and Spell Check
Writing content every week can take a toll on you as an entrepreneur.
This is why having a tool to help you check for grammar and spelling errors can ease that burden.
Grammarly is a great 3rd party tool that works on so many platforms to help you get your content right.
While it will not catch every single error it can greatly reduce the total number of errors in your content.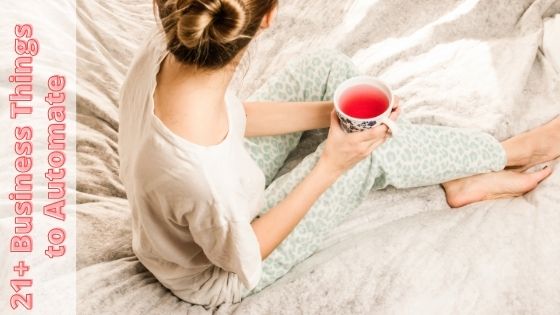 16. Publishing Blog Posts
Having a business blog means that you'll need to publish content on a regular basis to keep it updated.
One of the best ways to accomplish this is by batching your posts a few weeks ahead of time and scheduling them out.
By scheduling 4-6 weeks of post in advance means that you'll eliminate the need for any last minute hiccups.
This is because all the content including the copy, images and links are ready to go live.
17. Onboarding Course Members
As a course creator it is exciting to help your members to transform into a new version of themselves.
I mentioned previously what is involved to acquire these new members as well as ways to accept payments automatically.
However, what happens after they make a payment? Do you have a process in place to transition them into the course environment?
If you are using platforms like Kajabi, Thinkific, Kartra, Teachable or MemberVault the process can be seamless.
In some cases, you may need to use a 3rd party facility like Zapier for integrations.
Sometimes you'll need ThriveCart to assist with a seamless up sell and down sell process.
18. Monthly Reports
At the end of every month it would be great to generate reports from all your different systems.
Normally this is done manually because very few people think of automating monthly reports.
For monthly customer acquisition you can set up a reporting feature in Google Analytics to get this done based on your own parameters.
In terms of course platforms, Kajabi and Kartra tend to have detailed reporting that you can use.
Dubsado, the client CRM, also has amazing dashboards for revenue reporting for you to use.
19. Promoting Your Business
While using Google search traffic and social media traffic from Pinterest, Facebook, Twitter and Instagram are great.
Remember that there are other ways to promote your business to your potential audience.
These other ways can include getting in front of other people's audiences through paid ads, workshops, Summits and in Clubhouse rooms.
The two popular automated ways to get this done is via paid ads and in Clubhouse rooms.
Another clever tool that you can use to create and queue 26 pieces of content can be found here.
20. Launch Sequences
When you decide to live launch a product or service there are a number of things that go into the launch process.
For example, a live launch campaign can consist of a 5-day challenge followed by a live webinar.
During the webinar, the cart will be opened for potential customers to enrol in the membership for 5-10 days.
What you may not know is that in order for that launch to be successful there needs to be a social media campaign.
Plus a series of email sequences and funnels running in the background together with paid ads.
Yes, all of this can be automated so that you, the business owner, can focus on delivering value.
21. Email Newsletter
After someone signs up as a lead to your business, you'll need to send them weekly updates of what's happening in your world.
This will be in the form of a weekly or monthly newsletter where you keep them in the know about what's happening in the industry.
Apart from that you can also have an email nurture sequence that can last 2-3 years.
The goal of this nurturing process is to get your leads to convert to be paid customers.
22. Segmenting Leads
A great way to get a responsive email list is to ensure that you segment your email list properly.
In other words, you may have people sign up to your email list because of 4-5 different freebies.
So ensure that when you send them an email it is related to the information or content that interested them in the first instance.
23. Appointment Reminders
When potential clients book time in your calendar to do a discovery call one thing you would like them to receive is a reminder.
In fact, several reminders would be perfect to ensure that they turn up for the meeting.
Sending out reminders is one of things that you can automate in your business using a tool like Acuity.
Other similar tools that achieve the same goals include Dubsado and Calendly.
24. Getting Referrals
One of the best ways to acquire new customers or clients is via referrals from existing customers.
The process of asking them for a referral can cause you to become apprehensive.
However, if you make this an automated process in your business it will make things easier for you.
Remember that you can give them an incentive by offering them a coupon, voucher or cashback on their future bill.
25. Multiple Passwords
As a small business owner and/or a service provider there's one thing you'll have in common with many others.
The need to save dozens of usernames and passwords.
These logins can include CRM software, project management solutions, email marketing platforms.
Also, podcasting providers, web hosting companies, G-Suite and much, much more.
The one solution that you can use to store them all is LastPass which is a great way to automate your business.
9 Things You Can't Automate [and what to do instead]
Now that you have a fair understanding of the 20+ things that you can automate in your small business.
Let's look at 9 things that you will not be able to automate authentically and what to do instead.
i. Writing Blog Posts
While there has been countless speculation that very soon businesses will be able to use artificial intelligent robots to write articles.
Until that time arrives what you can do is outsource the blog writing task to an agency or a writer.
There are countless online services that offer writing services for small business owners.
However, my personal recommendation is to use The Content Authority.
ii. Create Graphic Templates
I mentioned previously that you can create your weekly images faster by using branded graphic templates for your social posts
Although you could just enrol in a stock photography membership that comes with graphic templates.
Your best option would be to get someone to create them for you from scratch.
One of my business besties, Laura, offers a great Design in a Day Service and you can send her a DM here.
iii. Caption Creation
The task of creating captions for IG, Facebook, Twitter and LinkedIn can be a daunting weekly task.
Although it cannot be automated you can certainly use a clever shortcut by acquiring fill-in-the-blank captions.
It is exactly what you get when you grab the 90 Days in 90 Minutes Content bundle.
You'll get access to over 365 days of fill-in-the-blank captions together with a 12-month done-for-you content calendar.
Grab the bundle here.
iv. Content Repurposing
If there is one thing that many small business owners forget to do it is repurposing their existing valuable content.
You spend so much time creating the perfect blog post, video or podcast episode only to promote it only once.
That valuable content can be transformed into 37 other pieces of content like GIFs, Memes, carousel posts, 15-second videos, presentations, quizzes, etc.
Are you wondering how to do content repurposing effectively?
Check out this step by step content repurposing resource showing you how to get it done here.
v. Podcast Outreach
If you are a podcaster and you do podcast interviews you understand the importance of finding awesome guests for your show.
While doing podcast outreach cannot be automated there are a few other options to help you find the best people to interview.
Your options are as follows:
Hire a virtual assistant to do podcast outreach
Join the podcast matchmaking platform
Follow the right people on Clubhouse
Book 7-figure interviewees using this advice
vi. Marketing Plans
You know that it is super important to promote your business every quarter to achieve your business goals.
It is also imperative to create a marketing plan about how to promote your business.
Although you may not be able to automate the creation of a marketing plan the option is there to hire a marketing strategist.
Hiring a professional can help you to set up the right plan for you and your business.
vii. Affiliate Outreach
Depending on where you are in your business growth you may want to consider getting affiliates to promote your products or services.
While affiliate outreach is not one of the things to automate in your business.
You can certainly hire a virtual assistant to help you to accomplish this task.
A great justification for outsourcing this task is that it will generate sales for your business, boosting your bottom-line.
viii. Monthly or Quarterly Content Calendars
One of the secrets to consistently show up on social media is to put in place a monthly or quarterly content plan.
The first step to planning out 13 weeks of high converting content is to create a quarterly content calendar.
There are several tools available to help you achieve this goal.
You can learn how to create a professional content calendar with Airtable here.
If you are looking for something more comprehensive then check out this colourful ClickUp content calendar instead.
ix. Trying New Software
As you business grows you will need to use new software to help you streamline your business.
With the need for new software comes the hassle of trying out new software as well as comparing apples with apples.
I know this because it is one of the services I do for clients.
They would narrow the list of possible applications down to two competing solutions and they need help differentiating them.
You can hire a virtual assistant to help you with the comparison or feel free to book some time in my calendar here.
Summary
Just when you thought that you were not able to keep your head above water as a business owner.
While spinning nine plates and still finding time for family and loved ones there's hope.
Automating your business systems does take time to set up.
Before setting these processes up it is a great idea to map out your various workflows in great detail.
It would save you a lot of time and prevent you from getting it wrong.
In case you need someone to talk to about setting up or automating various aspects of your business feel free to book time with me here.
Over to you what has been your experience of using business systems to automate your workflows?
Let me know in the comments.
Announcements
Remember to subscribe to the Success Unscrambled podcast where you will be the first to hear what's happening in the entrepreneurial and digital marketing world.
Your positive review of this podcast is vital to keeping it alive and running for the next 12 – 24 months so please leave a positive review for us on iTunes, Spotify or any of your favourite podcast players.
The idea for my business started after watching a video that outlined the fact that 20% of the population are illiterate.
75% of that figure are women wanting to transform their lives and the opportunities for their families.
I started this blog in 2017 because I had a burden on my heart to reduce women illiteracy globally.
Because this is a huge undertaking I have decided to help 1,000 women over the next 10 years to become wildly successful in their online business through simplified marketing strategies.
That way we can build a strong business network of women who can donate 1% of their profit and together we can help reduce women illiteracy worldwide.
Would you like to be part of this movement? Shoot me an email using alvern (at) successunscrambled (dot) com.
Posts Related to Business Things to Automate