Podcast: Play in new window | Download (Duration: 19:36 — 27.5MB) | Embed
Subscribe: Google Podcasts | Spotify | Amazon Music | Stitcher | Email | TuneIn | Deezer | RSS | More
Easily Start Valuable Conversations on Social Media Using These
You have decided that you need to get your hands on a stack of social media prompts.
Because you have made the commitment to post consistently between 3-5 times a week for the next 12 months.
The decision came after you learned about how social media can impact your business in a positive way.
Let me know if you can relate to this.
Social media is not a new concept to you at all. In fact, you've had accounts on 2-3 platforms for a few years.
However, each time you tried posting on social media in the past you will run out of ideas in a few weeks.
What you need is a consistent flow of ideas to last you for a good 90 days or even a year.
If only you can get your hands on a resource that not only give you social media ideas but also a good list of fill-in-the-blank options too.
In this post, you will learn more about what to post on social media and how to get access to 365 days of social media captions for your business.
All you need to do now is decide which two social media platforms you want to master.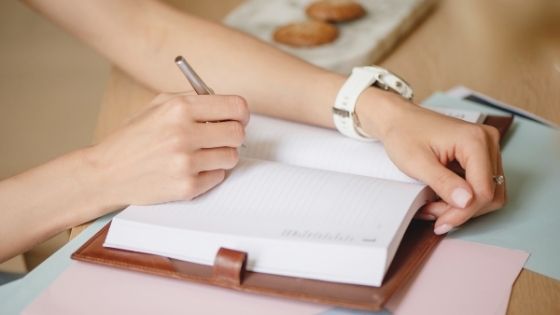 Why Social Media is Good for Business
In case you never really took social media seriously or if you are not clear about how to get results for your business this is for you.
Looking at social media's history you will see that the first social media site was called sixdegrees.com.
It was born way back in 1997 that is over 20 years ago which is amazing when you think of the age of social media.
However, the first social media site to hit one million monthly active users was MySpace and that was back in 2004.
Social media allows you the ability to make connections and even grow a network with like-minded people.
When you think about what it takes to grow a business from an idea to a multi-million dollar company it is all about connections.
"It takes a village to raise a child" is a very famous African proverb that makes a ton of sense.
John Maxwell said, "It takes teamwork to make the dreamwork" and he is so right.
Putting this into the context of social media and business, you will find the team you need to make your dream business work using social media.
Collaboration is the Secret
In recent times, I wanted to put the concept of collaboration into practice to see if it works.
If you are one of my regular readers you know I enjoy scientific experiments, at least the fun ones. Lol!!
I wanted to write a collaborative piece on content marketing so I reached out to 50+ people on social media asking for their input.
One of these people was the Chief Marketing Executive of a very popular company.
Would you believe that he responded to my request positively?
He even gave me the name and contact person in his organisation who I should collaborate with to get their input.
Since then I have managed to build up collaborative relationships with over 20 people who I never knew existed before my experiment.
As a result, my business continues to get exposure day after day from potential clients and collaborators in the business world.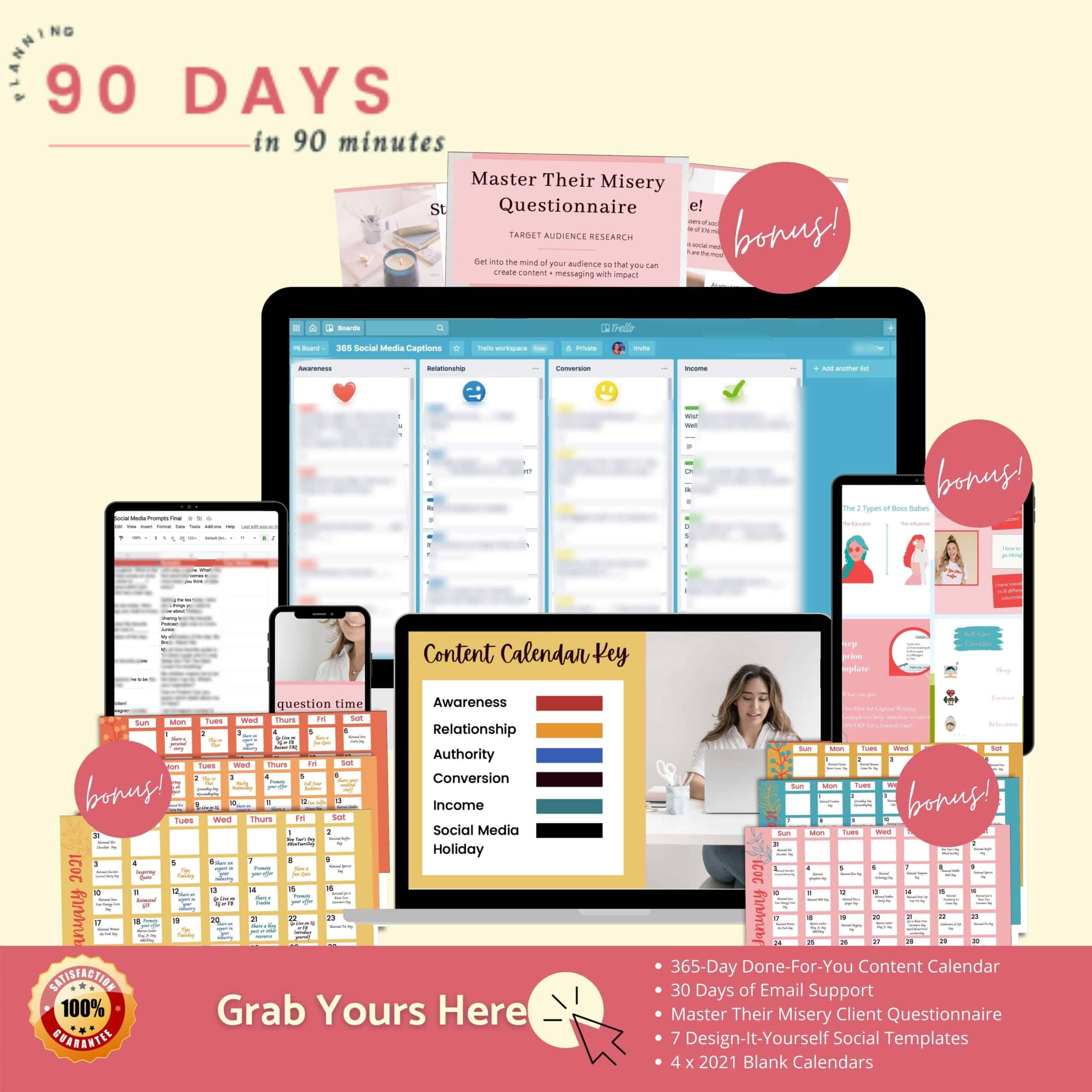 Presence is Important
There is something super important that I need to highlight before I tell you about social media prompts.
Imagine for a second that I decided to conduct this experiment but my social media accounts were abysmal.
In other words, people are constantly looking at what you are doing as well as how often you show up online.
When I did my social media outreach campaign, if my profiles were stale and dated do you think I would get a response?
Who would like their business to be associated with social media accounts with a questionable history?
What I am saying is this, if you want your business to grow ensure that your social media profiles are up-to-date.
Constantly ask yourself if one of the companies or influencers that you admire were to reach out to you will they think twice?
If the answer is, they will say yes straight away, then great job.
However, if you are cringing because you are in need of a bundle with social media prompts to get you up and running then hang out.
I will give you the option to grab some by the end of this post.
What to Post on Social Media?
At this point, you are probably thinking what you should be posting on your preferred social media platform.
Let's spend some time looking at each platform as well as what you can be posting to it to grow business awareness.
What to Post on Twitter?
As you probably know Twitter is one of those platforms that is vibrant and full of trending topics.
The truth is that of all the social media platforms, Twitter is the one where you can make a ton of mistakes and nobody will notice.
It is because if you want to be recognised on the Twitter platform you really need to be posting 5-22 times a day.
Yes, 22 times a day is a lot of content but it is doable if you plan your content right.
If you are blogger and you have a minimum of 12 blog posts, can you take 26 sentences from each of those 12 blog posts and turn it into a social media post?
That will equate to a total of 312 social posts that you can schedule to publish on Twitter.
Twitter also launched its new 'stories' feature called Fleets which means even more ways to grab the attention of your audience.
Here's a list of content ideas for your Twitter feed.
Go Live on Periscope
Upload a recorded video of a demo
Address 5 myths in your niche
Poll your audience
Share a blog post
Post a funny meme
Give an analogy of something relatable to your niche
Quote of the day
Tell a story using a funny GIF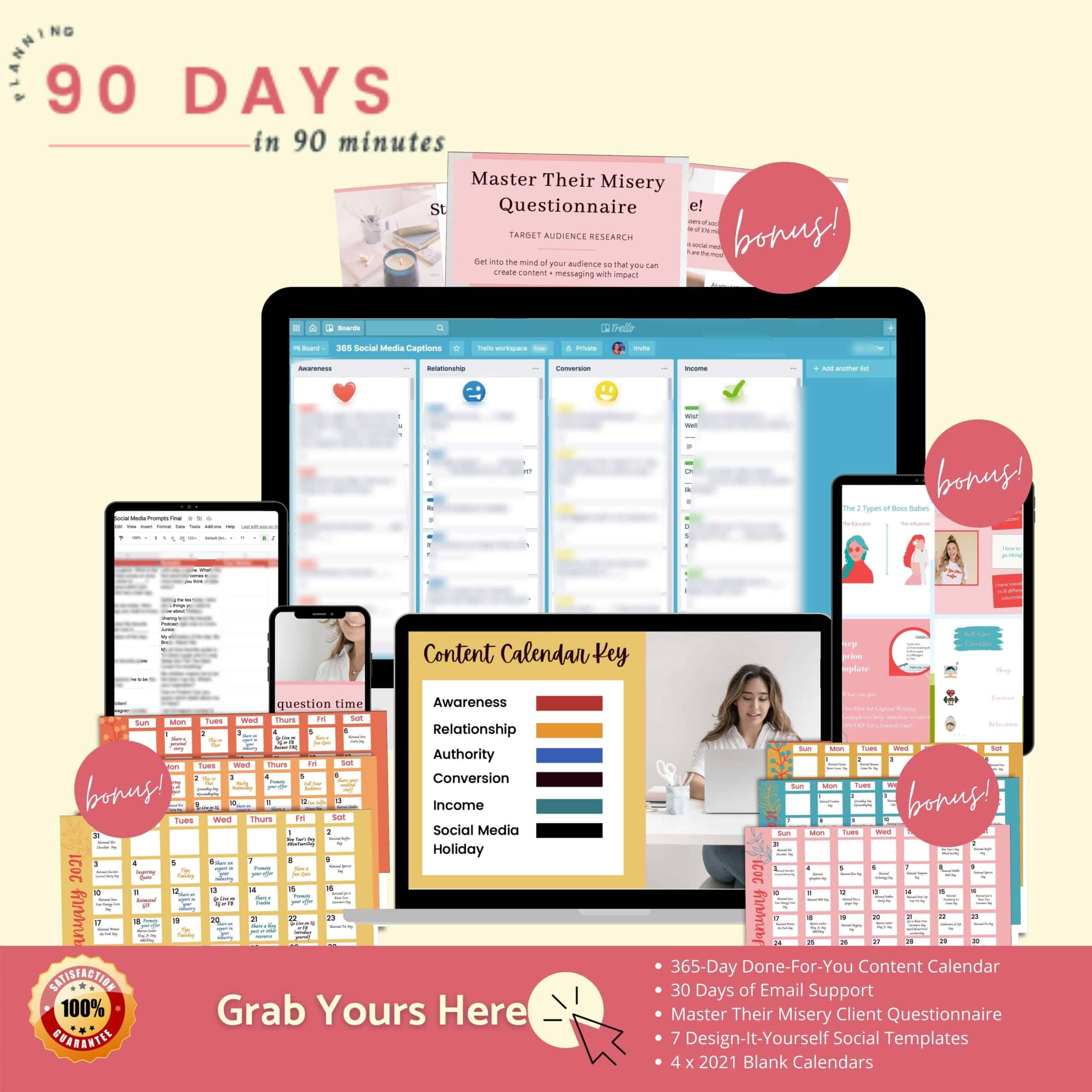 What to Post on LinkedIn?
As you probably know LinkedIn is a heavy business networking platform with a different atmosphere compared to Twitter and Instagram.
What you probably don't know about LinkedIn is that your followers and their followers do enjoy a bit of comic relief.
The one thing that has proven to work time and again on LinkedIn are videos about issues.
For example, a video addressing work from home issues, unfair treatment of employees, personal triumphs and even innovative ideas work quite well.
LinkedIn Stories was also launched recently and it will be interesting to see what kind of results businesses are experiencing from this feature.
Here's a list of ideas for content on LinkedIn
Upload a vertical video of any of the ideas listed above
Share a blog post
Poll your audience
Share a video someone else created and give them credit
Upload a short clip from a podcast as a teaser
Celebrate a win
Ask a question (this or that)
Address 5 myths in your niche
Offer a free valuable PDF (report or case study)
What to Post on Facebook?
If you have been using Facebook for business you will know that Facebook business pages do not perform well.
You will also know that it is against the terms of service to use your personal profile for business.
Facebook also has a story feature that has been around for some time so remember to create vertical videos that you can post to Stories.
One of the best ways to gain traction on Facebook for business is by going live on your page and also posting in FB Groups.
Here's a list of social post ideas for content on Facebook
Go live for 30 days
Upload a video of a demo
Share a blog post
Quote of the day
Address 5 myths in your niche
Share a client testimonial
Host an Ask me Anything
Interview an expert
Introduce yourself
What to Post on Instagram?
Of all the four popular platforms, Instagram is one of them that offers several different options.
These options include Reels, Stories, IGTV and the Feed.
Because there are so many options available it can be difficult to decide what to post on Instagram to get results.
The beauty with Instagram is that if you choose the right hashtags you can get almost instant feedback from your audience.
Here is a list of social media ideas for Instagram.
Share a client testimonial
Do a quiz
Poll your audience
Interview an expert
Answer FAQs about your offer
Host an Ask me Anything
Quote of the Day
Behind the scenes
Introduce yourself
Now that you have a fair idea of what you can post to social media across Twitter, LinkedIn, Facebook and Instagram let's look at a few myths.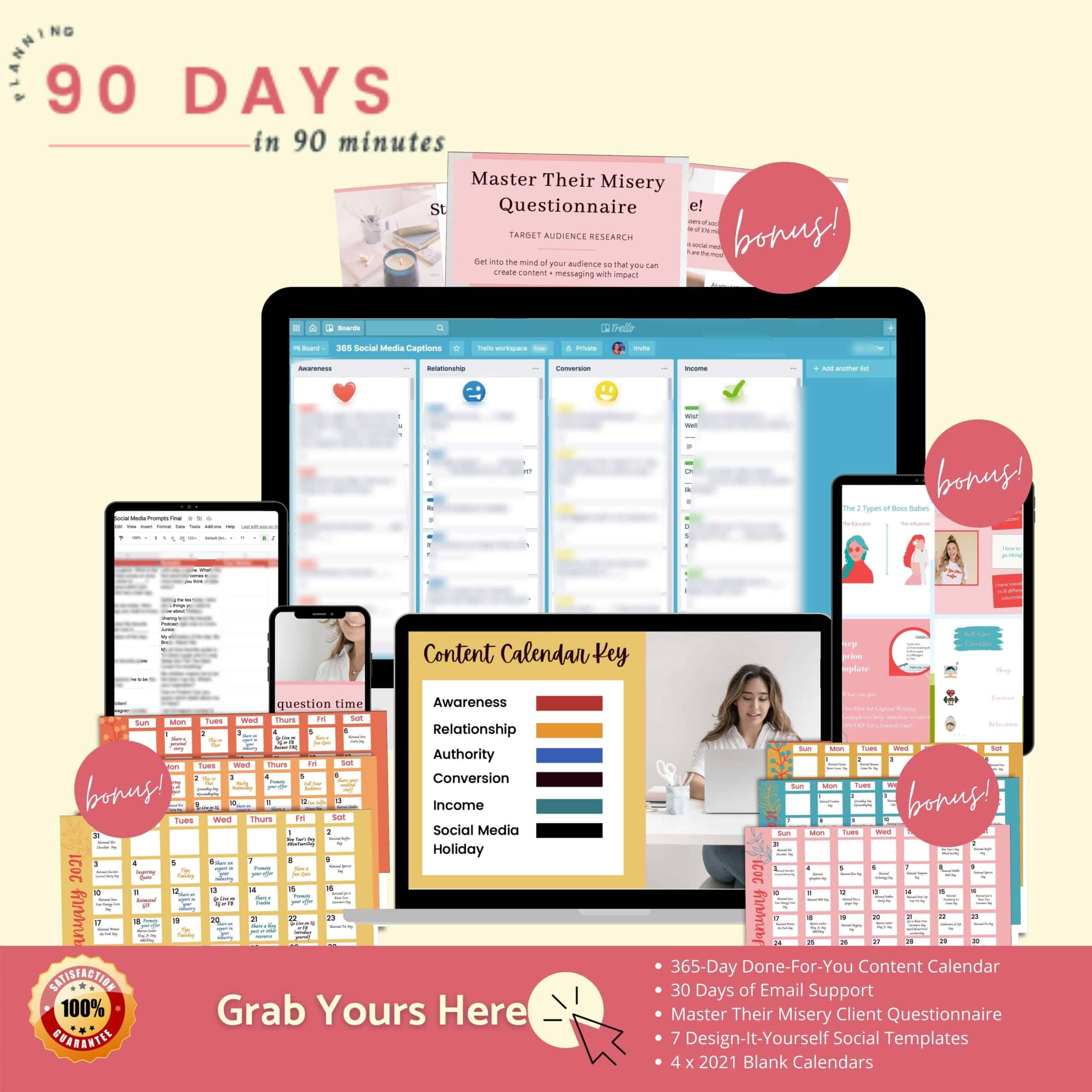 Social Media Myths
There is so much mis-information floating around the social media world when it comes to content planning and growing your accounts.
While this can cause a lot of anxiety for the small business owner it would make sense to know what is actually working for other entrepreneurs.
Here are a few social media myths that you may have encountered.
Grow your account using follow for follow

Only follow a handful of valuable accounts

You need to post 5-7 days a week for growth

2-3 times a week is fine just be consistent

Instagram accounts need gorgeous images to grow

Just do your best and your audience will follow you

You can only make money after reaching 10,000 followers

Definitely not true, small accounts can make 4-5 figures every month

Use generic and broad hashtags to go viral

Niche hashtag research is essential

Your account needs to be a perfect grid to get followers

The days of only perfect grid accounts are dwindling

No need to offer value to your audience, post and run

Your audience needs to 'know', 'like' and 'trust' you using value posts
As you can see these myths can cause a lot of extra anxiety and forces you to jump on a content hamster wheel that is overwhelming.
Engagement is the Social Currency
One of the best ways to gain feedback and growth on your social media accounts is by engaging with other people's posts.
Initially this may sound like a huge, overwhelming task.
However, there is a way to get this done by spending only 20 minutes a day on social media.
To get this done use the social media listening features in Hootsuite to help you find your ideal clients via hashtags.
Spend 20 minutes 3-5 times a week commenting on your ideal client's posts.
This technique will work really well for Instagram and Twitter.
Over time, you will notice a lot of activity on your account as well as individual posts.
51 Best Social Media Prompts
Now that you have a better idea about how to gain results from social media let's look at a ton of content ideas that you can post on social.
Why did you start in business?
Who does your business help?
What's your favourite dessert, how it relates to your business?
Your best weekend getaway experience
The best 2-week vacation experience you had
What was the worst experience of your life?
The best advice you received in business
Who is your hero or heroine
Your favourite quote of all time and why
How you save time cooking
Your favourite life planner
The best place to shop for office accessories
Your favourite office accessory of all time
3 of your favourite time-saving tools you use daily
Your favourite place to buy gifts for co-workers
Where you get luxury gifts for that special someone?
Your best technique for going live
The best way to batch your work and get stuff done
Your secret to achieving goals
What do you do to get visibility for your business?
Something that your audience don't know about you
A weird habit that you are trying to break
A timeline of your business journey
One secret to getting ahead in business
What instrument do you play?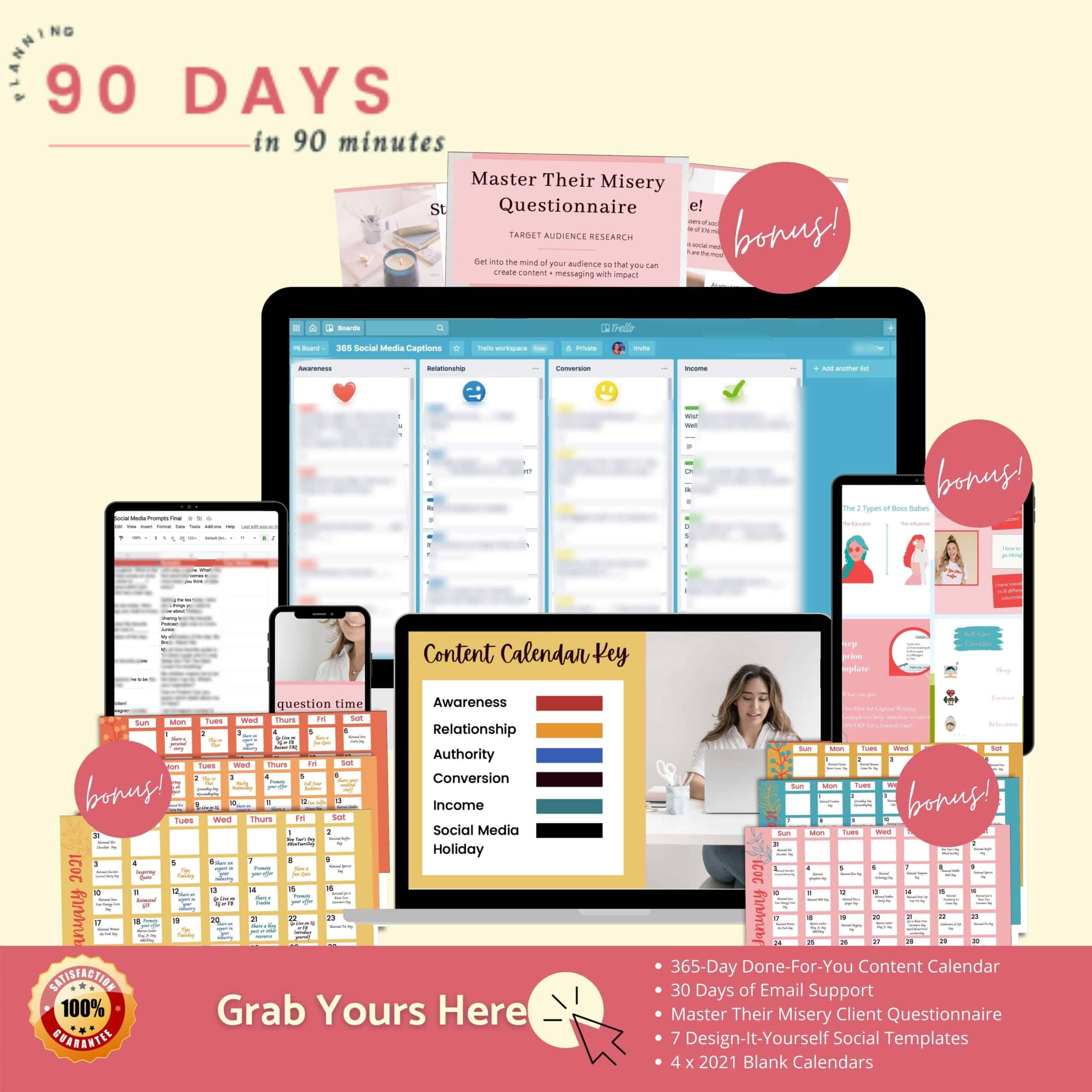 The Next 26 Social Media Ideas
That thing you do to switch-off daily
The worst business advice you received
Your favourite place to eat out
A favourite past time
What do you do when you feel stuck in business?
The best present you received from someone
What do you wear to feel motivated?
What do you listen to for motivation?
What's your favourite podcast?
Share your favourite playlist from Spotify or Apple Music
Where do you see your business in 3 years?
What's your morning routine?
Who do you go to when you need to make an important business decision?
Who are your 3 business besties?
What keeps you awake at night?
What motivates you to get out of bed daily?
What's your favourite weekly routine?
Share your self-care secrets
How do you communicate with your team?
A piece of art that inspired you?
What are 3 destinations on your bucket list?
What is the first dish you learned to make?
Your favourite dinner to eat
Your number one guilty pleasure
What are you binge-watching currently?
The best business investment you made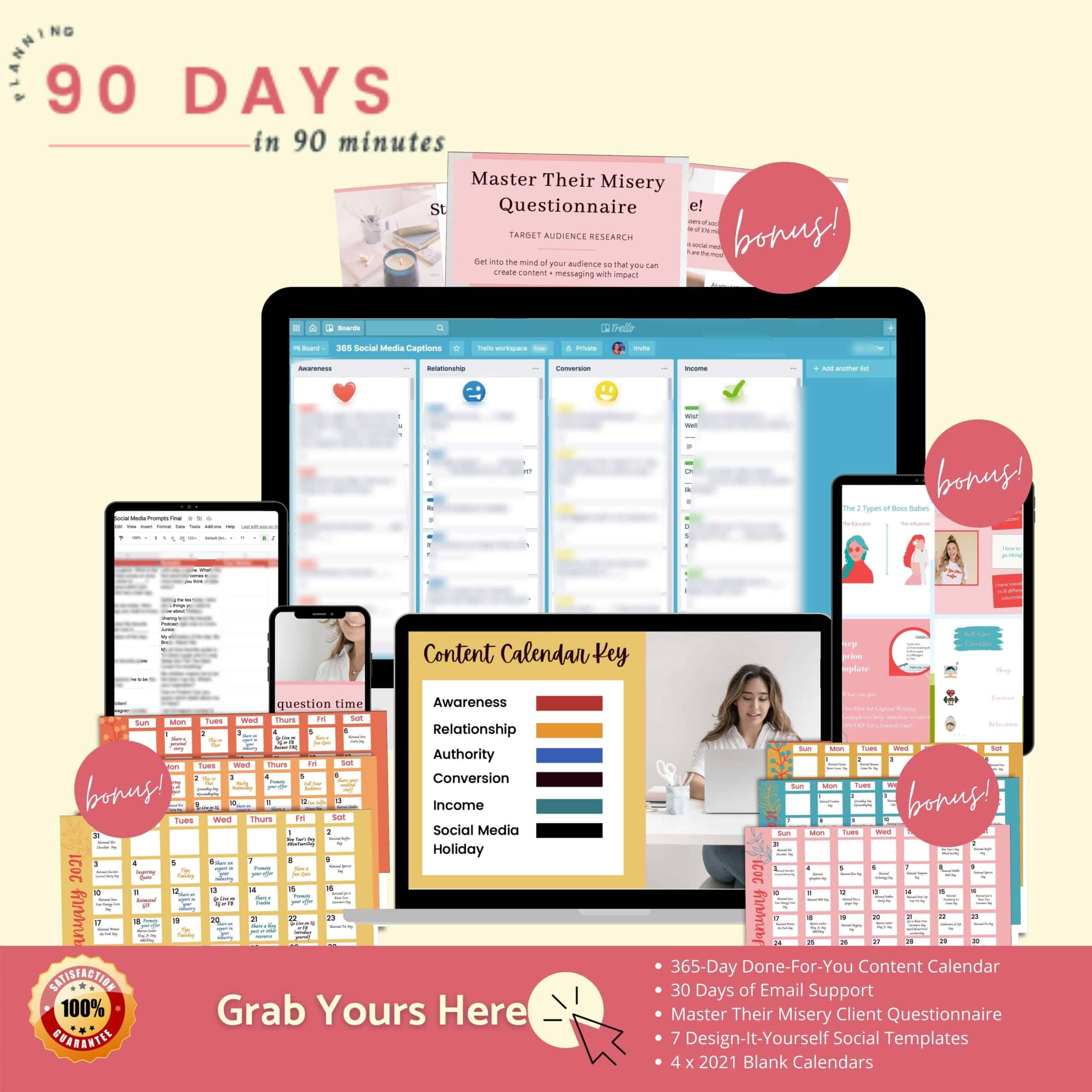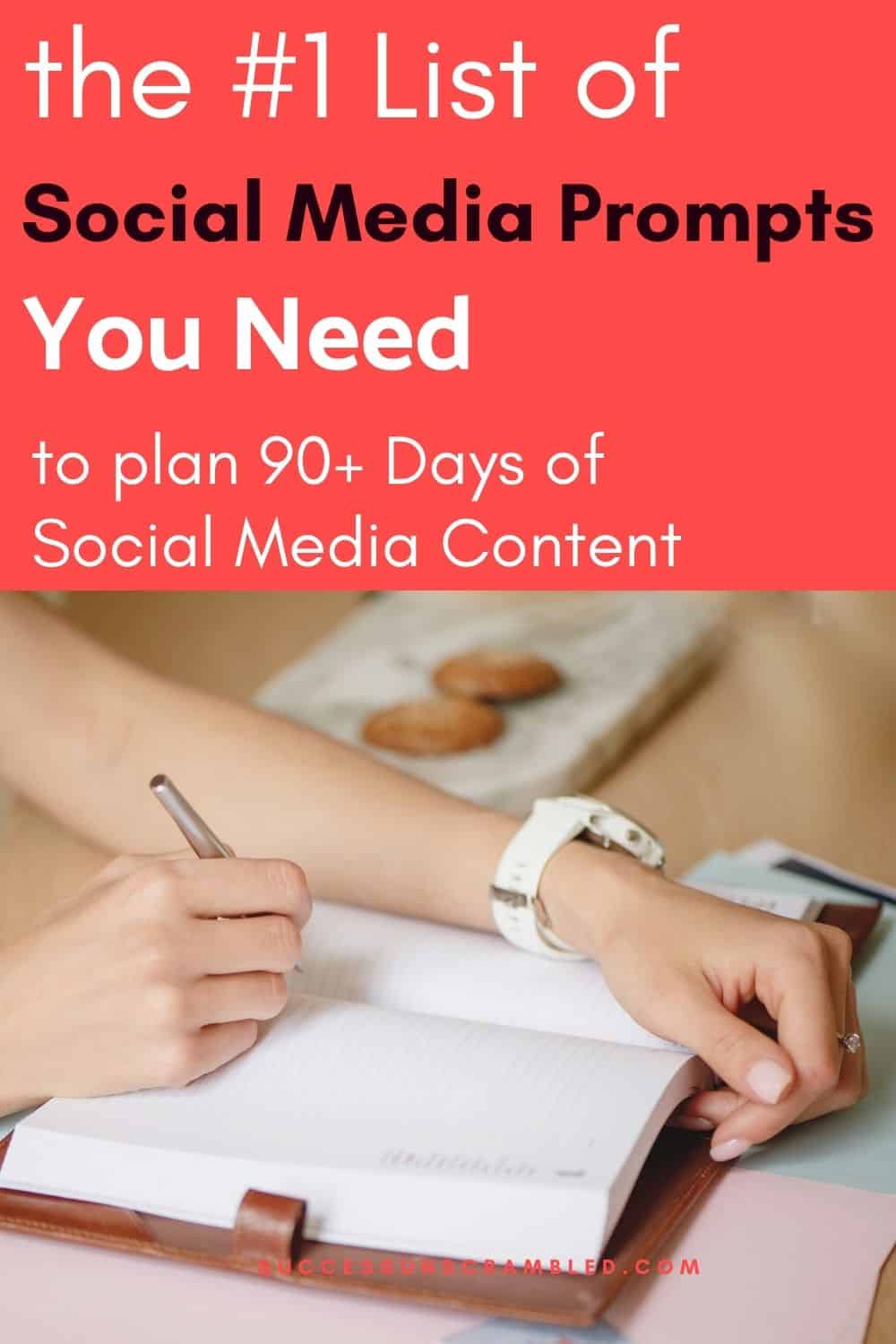 Summary
It took me less than an hour to come up with this list of content ideas that you can post on social media.
Depending on your niche, you will need to tweak each item to make it more suitable for your audience.
All you need to do now is spend time mapping these out on a 12-month content calendar.
If you are thinking that you don't have time to plan a 90-day or even a 12-month calendar then I have good news for you.
I have taken that boring task off your to-do list so that you can get back to doing what you do best.
Do you find yourself in the constant content hamster wheel? Would you prefer a set it and forget it option?
Are you dreading the thought of having to create another 12-month calendar to align with your business goals?
Interested in a done for you content plan to include social media holidays, a 12-month content plan, 365 days of fill-in-blank social media captions as well as social media graphics templates?
Introducing the Done-In-A-Day 90-Day Content Plan where you get everything you need to plan and map out content in 8 hours or less.
Announcements
Remember to subscribe to the Success Unscrambled podcast where you will be the first to hear what's happening in the entrepreneurial and digital marketing world.
Your positive review of this podcast is vital to keeping it alive and running for the next 12 – 24 months so please leave a positive review for us on iTunes, Spotify or any of your favourite podcast players.
Did you know that I started this blog in 2017 because I had a burden on my heart to reduce women illiteracy globally?
Because this is a huge undertaking I have decided to help 1,000 women over the next 10 years to become wildly successful in their online business through simplified marketing strategies.
That way we can build a strong business network of women who can donate 1% of their profit and together we can help reduce women illiteracy worldwide.
Would you like to be part of this movement? Shoot me an email using alvern (at) successunscrambled (dot) com.
Posts Related to Social Media Content Examples
Over 50 Social Media Conversation Starters