Podcast: Play in new window | Download (Duration: 16:54 — 23.7MB) | Embed
Subscribe: Google Podcasts | Spotify | Amazon Music | Stitcher | Email | TuneIn | Deezer | RSS | More
4 Unexpected Reasons to Choose Ivory Mix vs Styled Stock Society as Your Styled Stock Photo Membership
Are you on the brink of choosing between Ivory Mix vs Styled Stock Society for your stock photo and marketing template requirements?
As a small business owner you know how important it is to give your potential clients a great experience with your brand.
If you are like me, photography and graphic design is not part of your wheelhouse so you prefer to get someone else to do this job.
However, outsourcing to a Graphic Designer can be cost prohibitive at this stage in your business.
So, it would make more sense to get access to a constant source of fresh marketing templates and photos to keep your brand attractive.
Let me know if this sounds familiar.
You've had a look at several styled stocked photo websites including Haute Stock, Pixistock, OhTilly, Ivory Mix and Styled Stock Society.
Only to realise that choosing one of these is going to be a lot harder than you expected as they all have gorgeous photos and templates.
Ever wanted to get an insiders look of at least two of these memberships to understand what makes them different?
In this post, you will get a first-hand review of what it's like to be a member of two of Ivory Mix and Styled Stock Society.
You will also be able to understand the similarities and differences enabling you to make the best choice for your business.
Disclosure: Please note that this post may contain affiliate links which means that if you buy one of my recommended products I get paid a commission for sharing the link at no additional cost to you.  I only recommend products that I have tried myself and have experienced success.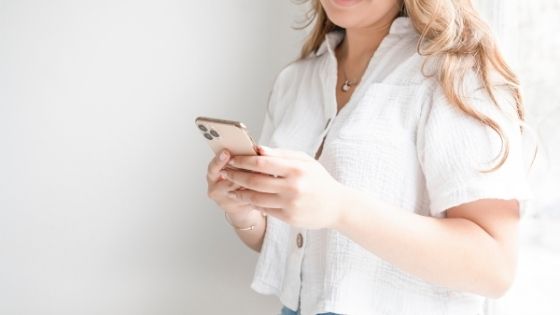 What is a Styled Stock Photo Membership?
A styled stock photo membership is a place where you can find photos for your brand or business.
These photos are basically styled in such a way that allows its members to use it to enhance their brand or business.
Not only are the photos beautifully styled but many of them come themed by category, season and/or colour scheme.
For example, photos can represent one of the four seasons of the year including Spring, Summer, Autumn or Winter.
Others represent different social media holidays like New Years Day, Cinco de Mayo, 4th of July and even Christmas.
The fact that it is a membership means that you can get access to 1,000s of images that come in different sizes with some horizontal and others vertical.
One really cool feature that is offered is the fact that the photos represent people from various ethnic backgrounds.
Also, they take into consideration the different types of businesses and styles of working from very relaxed all the way to creative home office.
Other Perks of a Feminine Stock Photo Membership
Many of the stock photography membership sites offer features and perks other than the standard styled stock photos.
It means that creative female entrepreneurs can get most of their marketing and promotional needs met in one location.
These additional features and perks come in a wide range but here is a brief list to help you to understand what to expect.
Product mockups templates
Workbook templates
Checklist templates
Cheatsheet templates
Ebook templates
Fill in the blank social media captions
Social graphics templates
Content calendar
Pinterest graphics templates
Instagram Story templates
Lightroom presets
Design training + tutorials
Branding elements (icons, arrows, frames, brushstrokes)
Instagram training
Pinterest training
Email list training
Photos by collections
Branding training
Phone photography training
Gift guide templates
Mood board templates
Commercial license use
Much, much more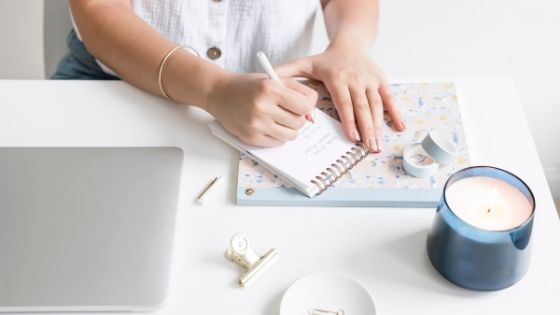 As you can see the list of perks are almost endless and they help creative female entrepreneurs with many areas of their business.
The difficulty arises when you will need to choose which one among the five membership sites is suitable for your needs.
Let's spend some time looking at Ivory Mix vs Styled Stock Society in a little more detail.
An Ivory Mix vs Styled Stock Society Comparison
The best way to understand the similarities and differences between the two feminine stock photo memberships is to look at each one individually.
With this in mind let's look at Ivory Mix.
Ivory Mix
This stock photo membership site was founded by Kayla Marie Butler back in 2015 after she received a camera for her birthday.
Several years later and with over 40,000 members Kayla continues to find new and innovative ways to support her growing membership.
She is based in Northern California with her husband and 3 kids.
Ivory Mix Pricing
There are three different plans available which is great because it means you will find one that is suitable for your budget.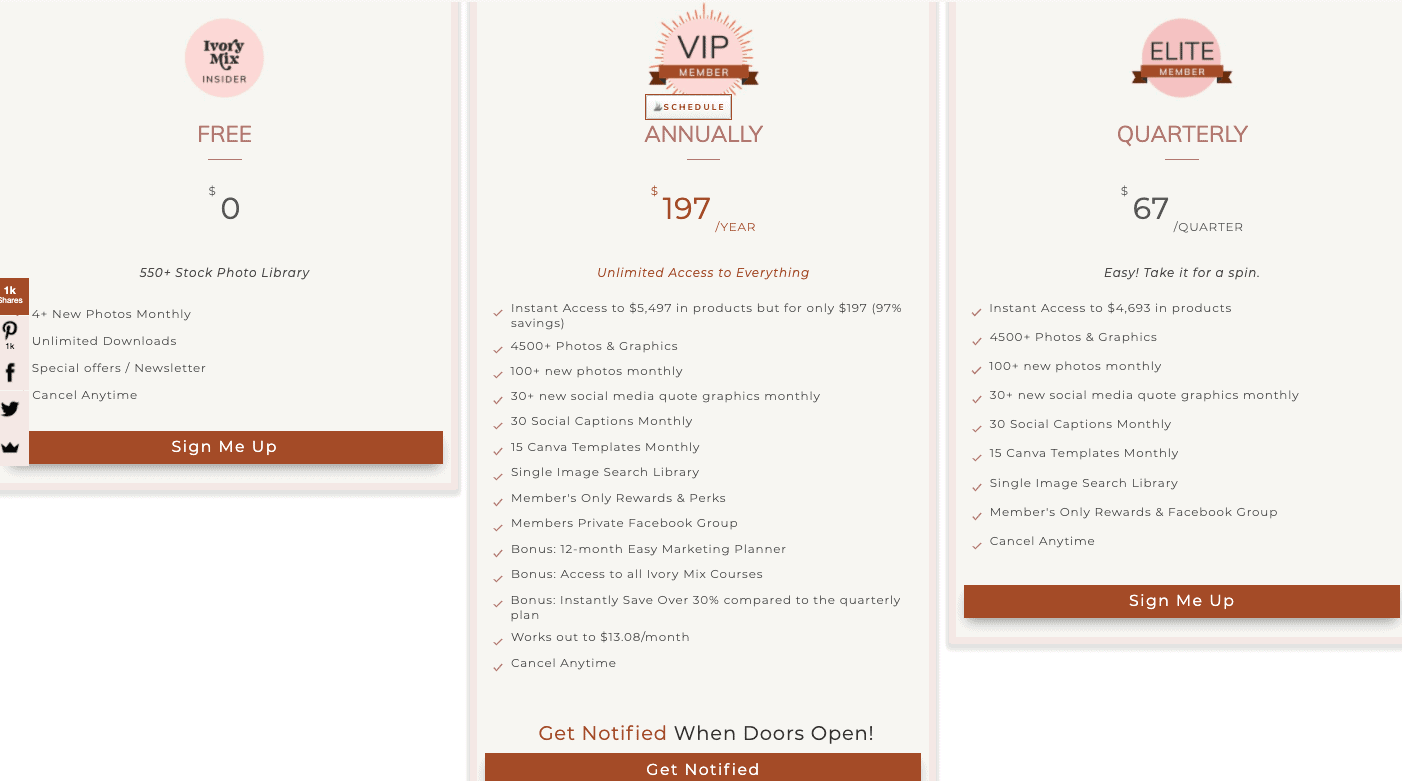 As you can see the VIP plan is a membership that renews annually and it comes with all the bells and whistles including:
Private member's Facebook Group
Access to Ivory Mix School
12-month easy marketing planner
Over 4,500 photos
100 new photos added monthly
15 new Instagram Canva templates every month
Single image search
30 social media quote graphics
30 social media captions
Monthly members-only workshops
Other rewards + perks
Ivory Mix School
When it comes to the Ivory Mix School, Kayla has over 11 courses on offer to help get the female entrepreneur to up-level her business.
These courses include an Advanced Pinterest marketing course, Content that Converts and Subscriber Rush.
Ivory Mix Workshops
In case those features and perks were insufficient Kayla also offers a library of over 27 workshops to help you gain clarity on your next steps as an entrepreneur.
These workshops include how to successfully launch your membership, how to develop an automated sales funnel.
Engagement hacking on Instagram stories, Instagram hashtag masterclass and launching a black Friday offer.
Styled Stock Society
Now that you have an in-depth review of what is included in the Ivory Mix feminine stock photo membership.
It is time to look at the Styled Stock Society membership in more detail so that you get a better understanding of what is included.
Styled Stock Society (SSS) was launched in 2016 by Elle Drouin. Most people know her through her Instagram famous dog Mochi.
With a background in marketing, Elle accidentally became a photographer after she realised that her clients needed better looking imagery for their business.
First up let's have a look at the pricing plans.
Styled Stock Society Pricing
In a similar fashion to Ivory Mix, the Styled Stock Society (SSS) has three different plans available.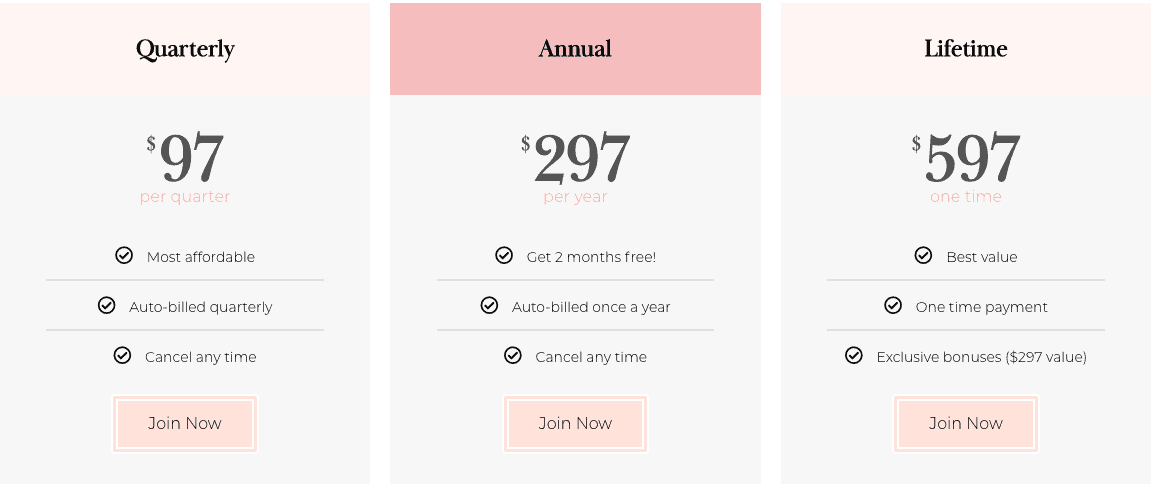 Two unique differences that you will see straight away is that SSS does not have a free option.
However, they do have lifetime pricing available which can be a huge benefit financially as you can get lifetime access to all her photos and templates.
You can also get a huge discount on the lifetime plan only during the Black Friday offers by clicking here.
What's Included at That Price
Investing in the lifetime membership of a feminine stock photography is a big decision.
So, getting to understand what's included at that price point can really help you decide if it is worth the investment.
Here's what you'll get:
Access to over 3,500 photos
Commercial image license
Unlimited downloads
New images every week
Over 500 Canva templates

Welcome guides
Gift guides
E-books
Social media graphics
Webinar slides
Roadmaps
Email opt-in
Mood boards

365 Instagram caption prompts
Animated GIFs
Stock video clips
Brand kits
When compared to Ivory Mix, SSS has a lot more Canva templates available and each template comes with a minimum of 20 types.
One example that comes to mind are the lead magnet templates that come with the Ivory Mix membership.
Here's what comes as standard in this category in the Ivory Mix membership.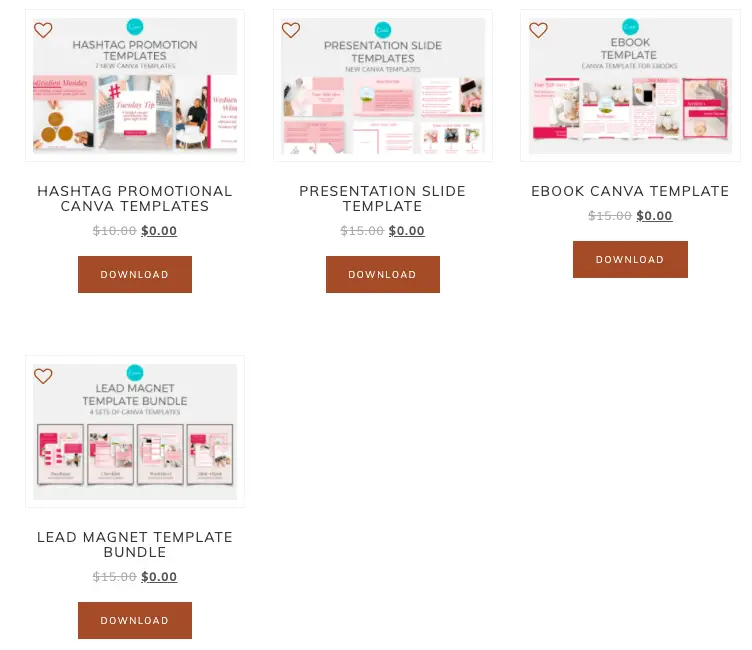 However, with Styled Stock Society membership you get many more options available.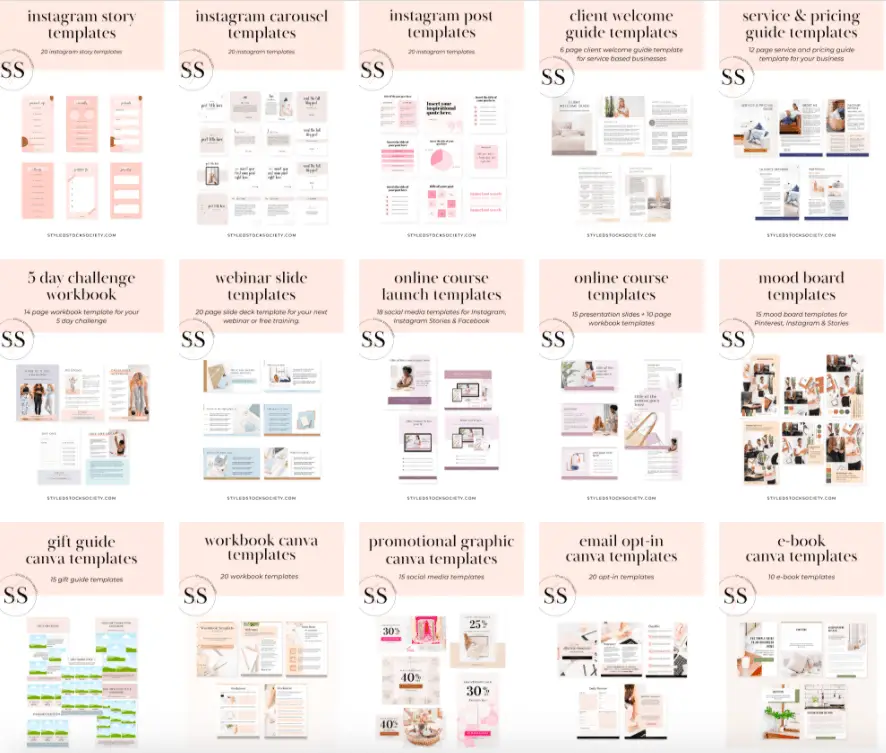 However, on the flip side of this Ivory Mix has a ton of perks around courses as well as monthly workshops available to members.
Ivory Mix vs Styled Stock Society Side by Side Comparison
One key way to help you to make the right decision for your business is by showing you a side by side comparison of both programs.
| Feature | Ivory Mix | Styled Stock Society |
| --- | --- | --- |
| 1000s of stock photos | Yes | Yes |
| New photos monthly | Yes | Yes |
| Canva templates | Yes | Yes |
| Canva lead magnets | Yes (limited) | Yes |
| Social media caption prompts | Yes | Yes |
| Monthly Fill-in the blank captions | Yes | No |
| Social Quotes | Yes | No |
| Ethnically sensitive photos | Yes | Yes |
| Image search | Yes | Yes |
| Commercial license | Yes | Yes |
| Social holiday themes | Yes | Yes |
| Sales page mockups | No | Yes |
| Marketing courses | Yes | No |
| Monthly workshops | Yes | No |
| Product mockups | Yes | Yes |
| Choose a Membership | Enrol in IM | Enrol in SSS |
After taking a look at this side by side comparison you may still have some more questions.
Since I have a membership with both platforms let me try and answer any further questions for you.
Styled Stock Society vs Ivory Mix FAQ
365 Instagram Caption Prompts from Styled Stock Society, how is it delivered?
You will receive a 27 page PDF document with a list of 365 social media caption suggestions.
What about the Instagram captions from the Ivory Mix, how is that delivered?
Each month you will receive a link to a google spreadsheet with 35 fill-in-the-blank captions across 7 categories showing examples.
Which set of captions do you prefer?
I personally prefer the ones from Ivory Mix because you get over 490 fill-in-the-blank captions plus every month you get another fresh set to use.
Which styled stock photo membership did you find more valuable?
It depends, Ivory Mix has workshops and courses that can give your business an advantage. Some months Ivory Mix has better photos other months SSS has better photos.
What other feature is valuable in the Ivory Mix membership?
The monthly social quotes are brilliant as you get 15 of them every month.
What is the one thing that SSS has over Ivory Mix?
The Canva template library is surprisingly quite extensive for a stock photo membership.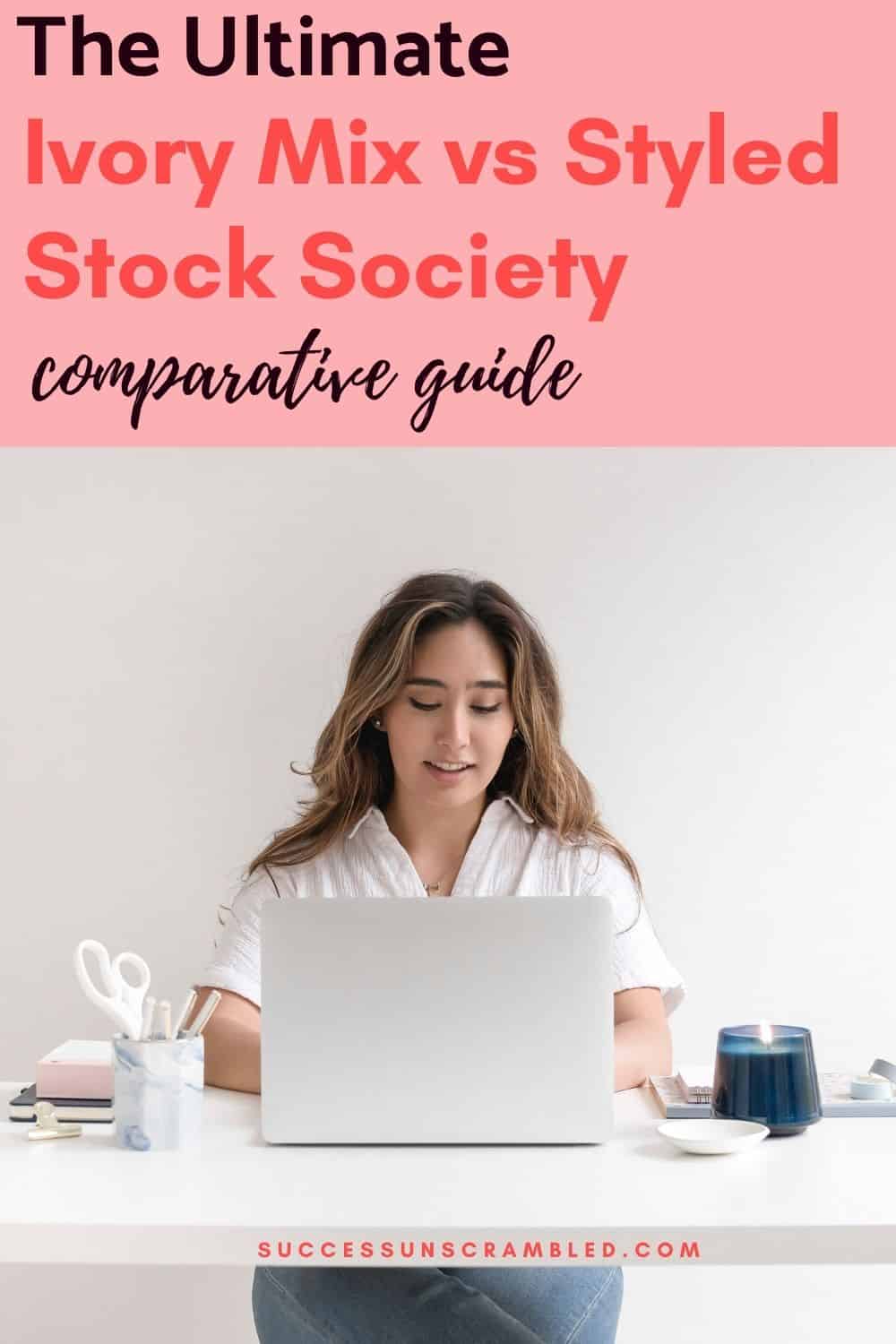 Summary
Finally, you have come to the point where it is time to make a decision.
I know it is going to be difficult to pick one over the other but the important thing to take into consideration is the needs of your business.
Do you need more canva templates or is there a more urgent need for captions, social quotes and training?
The good news is that you can get the best of both worlds by investing with the lifetime membership of Styled Stock Society at a discounted rate here during their Black Friday offers.
Then purchase the quarterly or annual membership from Ivory Mix by following this link.
At the end of the day there isn't a one size fits all solution but at the very least you can get everything you need for your daily or weekly marketing requirements.
Over to you, what has been your experience using stock photography membership sites.
Announcements
Remember to subscribe to the Success Unscrambled podcast where you will be the first to hear what's happening in the entrepreneurial and digital marketing world.
Your positive review of this podcast is vital to keeping it alive and running for the next 12 – 24 months so please leave a positive review for us on iTunes, Spotify or any of your favourite podcast players.
This blog was started in 2017 because I had a burden on my heart to reduce women illiteracy globally.
Armed with a bubbling enthusiasm for digital marketing together with a canny ability to make marketing practical and fun.
Because reducing women illiteracy is a huge undertaking I have decided to help 1,000 women over the next 10 years to become wildly successful in their online business through simplified marketing strategies.
That way we can build a strong business network of women who can donate 1% of their profit and together we can help reduce women illiteracy worldwide.
Would you like to be part of this movement? Shoot me an email using alvern (at) successunscrambled (dot) com.
Styled Stock Society vs Ivory Mix Related Posts
#1 Reason Why You Might Prefer Styled Stock Society vs Ivory Mix